When the Wizarding World of Harry Potter – Diagon Alley opened in July 2014, Universal unveiled one of the most immersive theme-park environments ever created, transporting Harry Potter fans to the most famous "high street" of the wizarding world – a place where wizards can purchase everything they might need for their magical lifestyles. Part of this greater-than-ever immersion was the introduction of interactive wizarding wands, which allow guests to "cast spells" that produce various effects throughout both Diagon Alley and Hogsmeade.
Skip to: Overview | Where to purchase | Wand designs | Casting spells | Finding spell locations
Interactive wizarding wands – a quick overview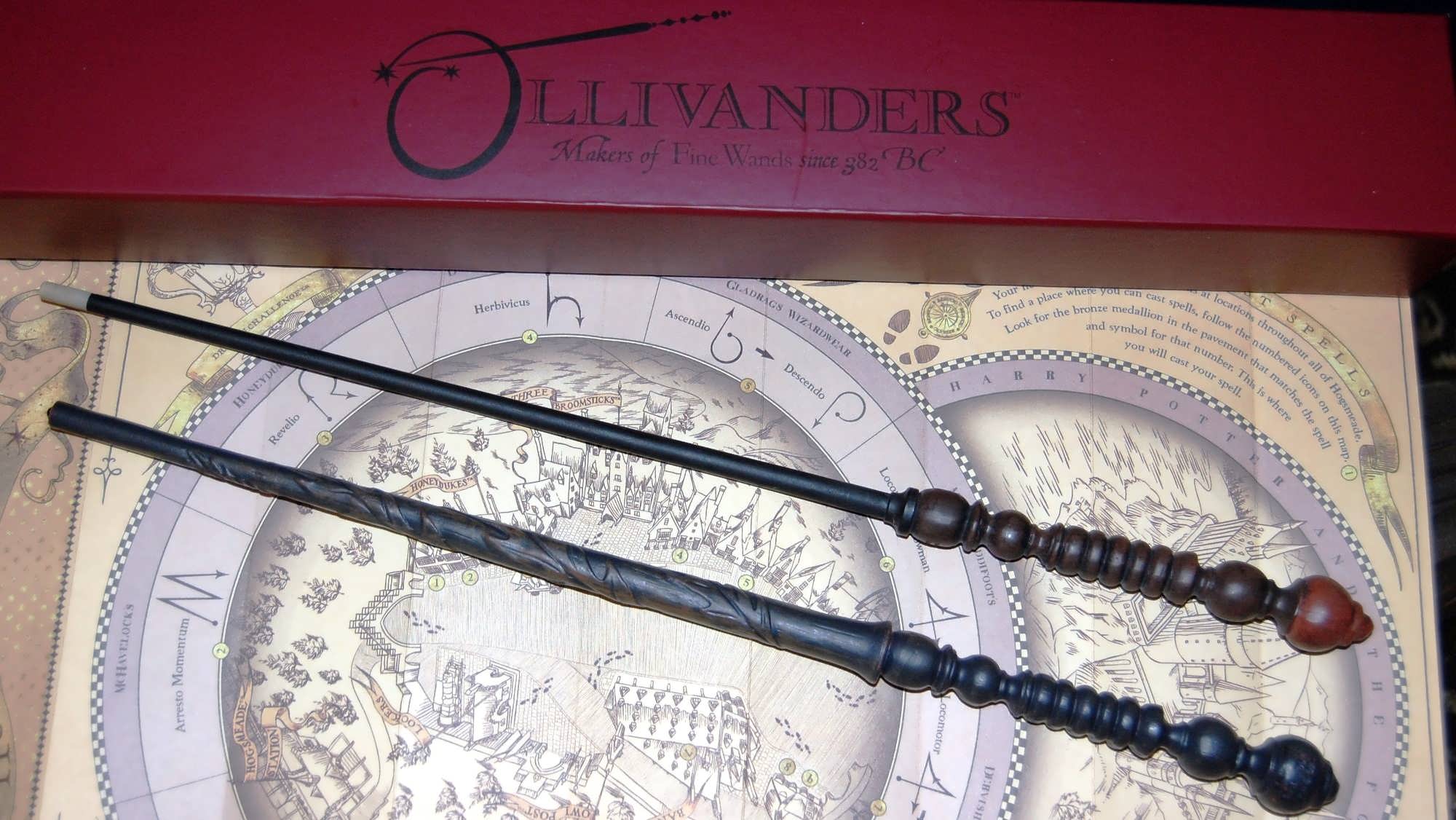 If you were one of the first visitors to Hogsmeade when it first opened over at Islands of Adventure in 2010, you were invited to purchase wands that were replicas of the ones used by our favorite witches and wizards from the Harry Potter books and movies. Hand-painted from sculpted resin, these original wands are, indeed, beautiful keepsakes and contribute to the immersive cosplay of many fans who visit the Wizarding World, but to produce any magical effects, guests with original wands must use their imagination.
With the opening of Diagon Alley, Universal introduced new, interactive wizarding wands that could actually be used to "cast" spells in the two Harry Potter lands. These "next generation" wand models are similar in appearance to the originals, but they are, generally, slightly thicker than their predecessors, with a translucent half-sphere at the tip. It is this technology at the top of the wand that enables them to produce their "magical" effects.
Where do I purchase an interactive wizarding wand?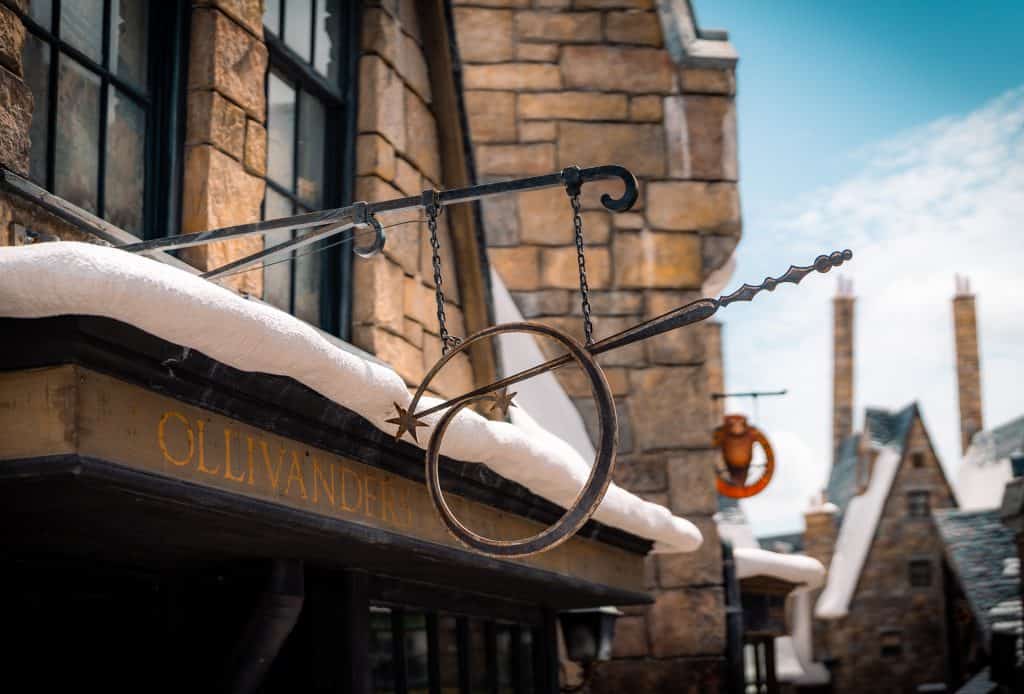 For the full, detailed experience, the best shop to purchase a wand is, of course, Ollivander's in Diagon Alley, makers of fine wands since 382 BC. Named after the family of its esteemed owner, Garrick Ollivander, Harry was brought here by Rubeus Hagrid to undergo that rite of passage in the wizarding world (since the store is, according to Hagrid, "the only place for wands").
However, wand-shoppers at Universal Orlando Resort do have more options, including the Ollivander's "branch" at Hogsmeade (purchases are actually made in Dervish and Banges), or at Wands by Gregorovitch in the Carkitt Market section of Diagon Alley, an alternative wand shop formerly helmed by the longtime competitor to Ollivander's. Wands can also be bought at the main Universal gift shops at the front of each park and at CityWalk, or online at Universal's official merchandise store.
Also, please note that each interactive wand comes in an Ollivander's box with a dual-sided map of spell locations around Diagon Alley and Hogsmeade.
How much do wizarding wands cost?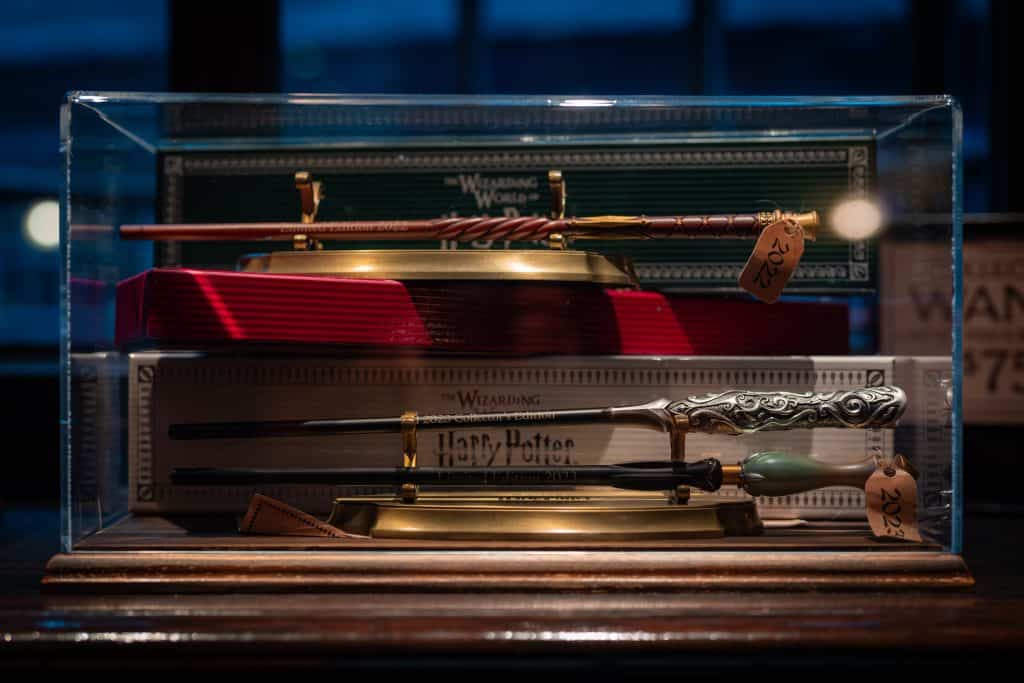 In addition to the style differences, there is also a price gap between the two wand types, with interactive ones starting at $63 (plus tax), and non-interactive originals at $55 (plus tax).
Wand collections and collector's edition wands are also available at a higher price point than the standard replicas and interactive wands as they occasionally come with accessories or include multiple wands. The price for these collections and limited-time variations may differ.
What are the interactive wizarding wand designs?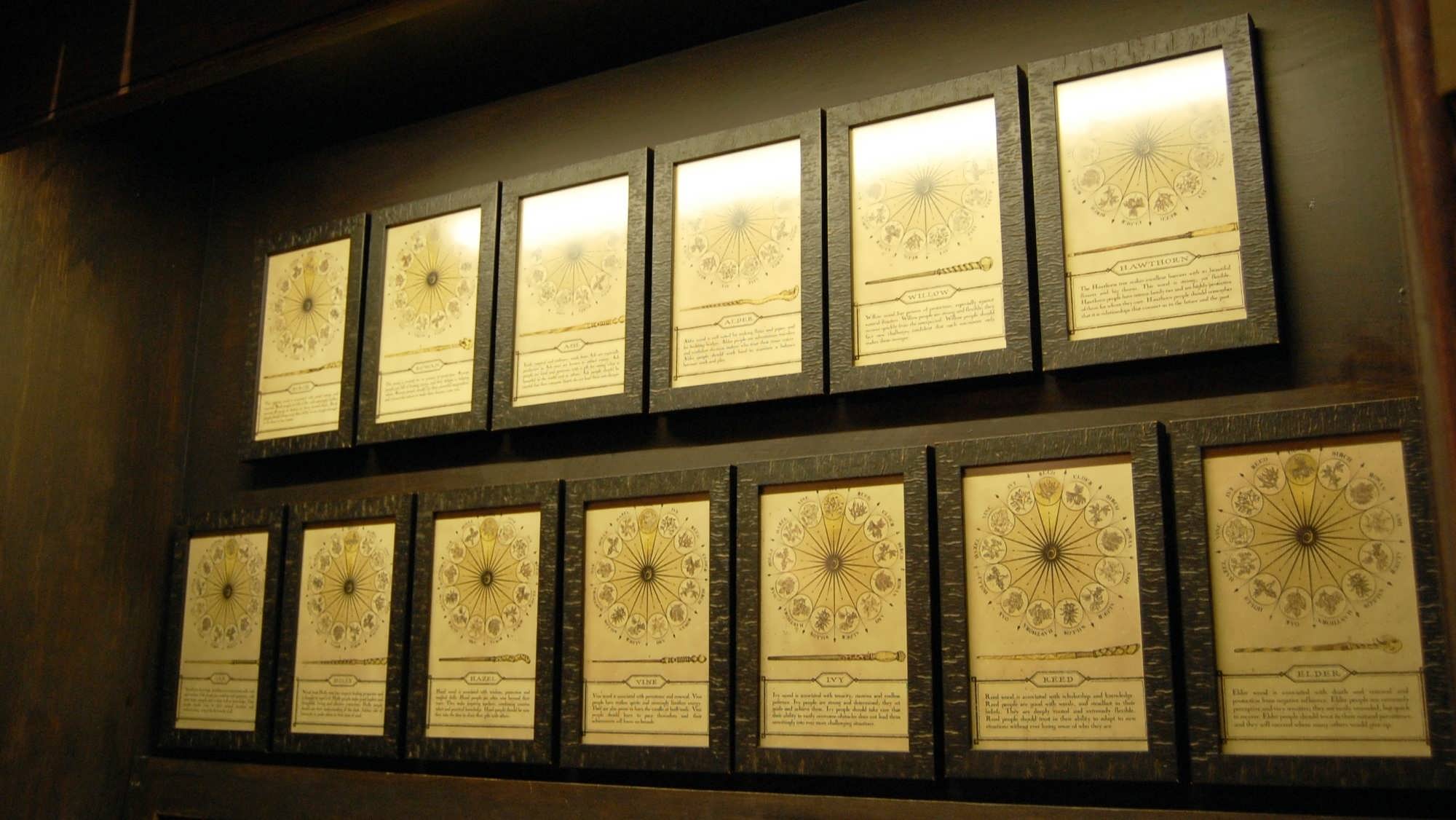 While guests can purchase an interactive wand modeled after the one brandished by their favorite characters, including Harry, Hermione, Dumbledore, Sirius, and more, there are also "unclaimed" wands that are not associated with any character in the Harry Potter books or films. While the decision of holly for Harry's wand was solely based on its arboreal properties, it was later discovered on the Celtic tree calendar that Harry was coincidentally given the correct wood for the day of his birth.
Here's a full list of the 13 types of wood, along with the time periods and attributes associated with each:
While you are wand shopping, feel free to speak to the shop attendants if you have any questions or need help making a selection, as they may allow you to try out the wands before you make your final decision (just don't try to open the boxes yourself!). Shop assistants may suggest using your birthday or a significant life event to help in your decision-making, and should you be the lucky wizard selected for the wandmaker's show at Ollivander's, the characteristics described by the wandmaker may also be based on your birthday.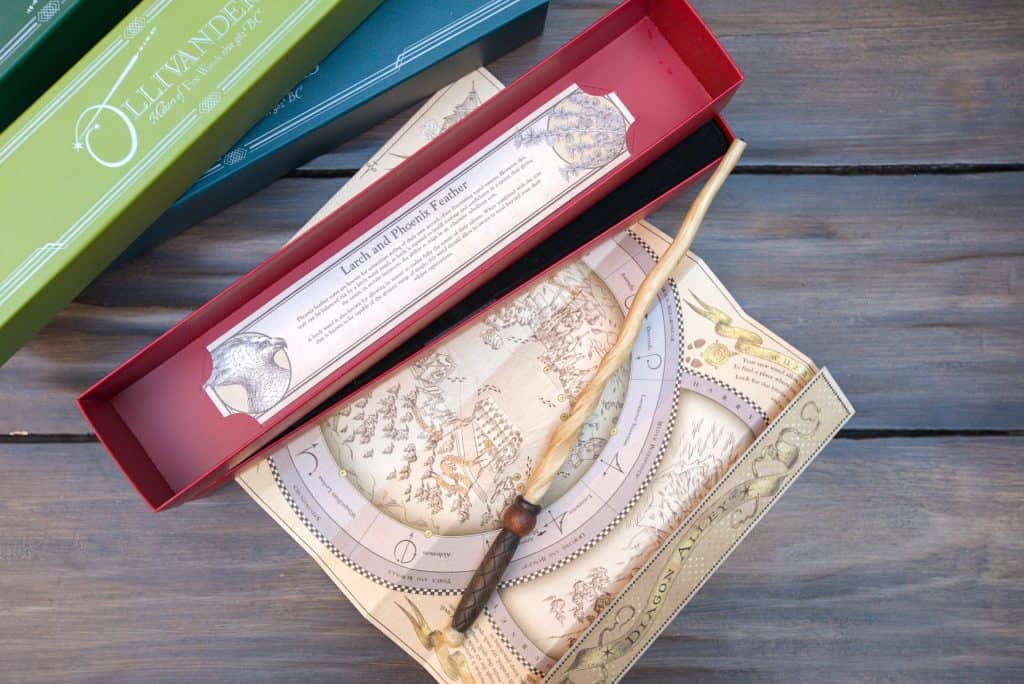 Toward the end of 2022, a new line of interactive wands was released that paired a wood type with one of three cores – unicorn hair, dragon heartstring, and phoenix feather. Included with the wand is a "wand lore" insert that describes the properties of that specific wand and the ideal owner's attributes. The larch and phoenix feather wand is exclusive to Universal Orlando Resort and can be seen above.
New Interactive Wands Photo Gallery
How do I cast spells with an interactive wizarding wand?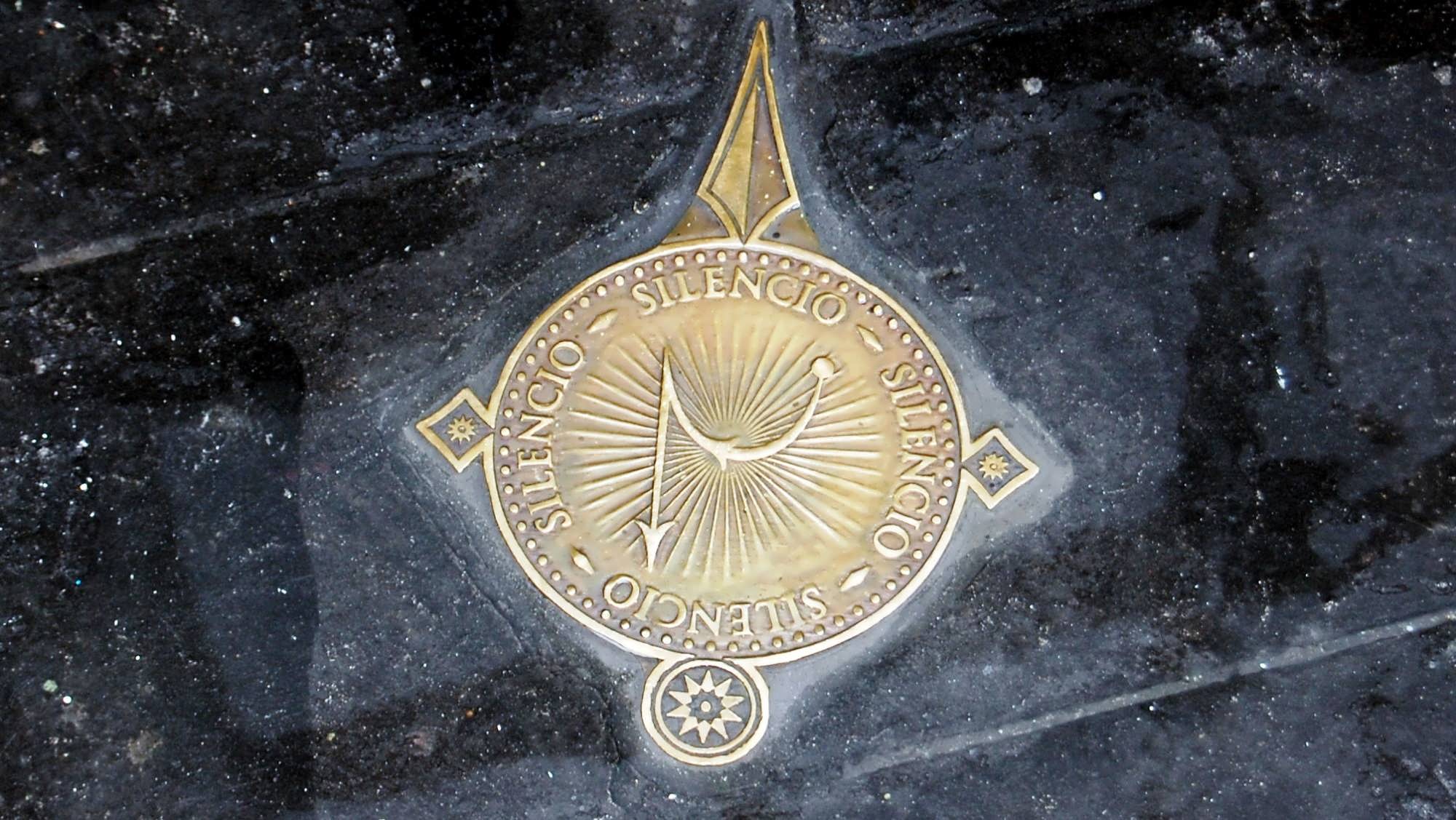 Once your wand has chosen you, dear wizard, you are ready to get out there and make some magic! Spell spots are marked by medallions set into the pavement, which can be located using your map (or the handy chart below). Each medallion indicates where you should stand to cast that particular spell, what direction to face, the wand movement required to cast the spell, and, finally, the words to be uttered while waving your wand.
Interactive wands cast their magic by reflecting to an infrared camera at each spell site. To guarantee success in casting a spell, you must aim your wand in the right direction, as indicated by the medallion. To preserve the integrity of the theming, the cameras are carefully camouflaged throughout the displays, so look up, down, and in the corners to locate them, and point your wand directly at the four dots of red light to ensure that the camera can see your movements. Keep your gestures small, as the camera's area of reception is limited. The best way to cast spells is without actually moving your arm – perform the required motion using only your wrist.
When using an interactive wizarding wand, saying the spell is completely unnecessary since the effect is based on motion only. However, carefully enunciating wingardium levio-saaaah is a part of the experience, so feel free to do your best Hermione impression. If you're still feeling bashful, you can simply wave your wand and claim that you're able to do non-verbal spells.
Finally, be aware that some interactions are trickier than others; some will perform every time, even with an imperfect motion, while others require a good bit of precision to work reliably. Practice your technique using these tips, and you'll be earning your Charms O.W.L. (Ordinary Wizarding Level) in no time at all!
Assistance with spell-casting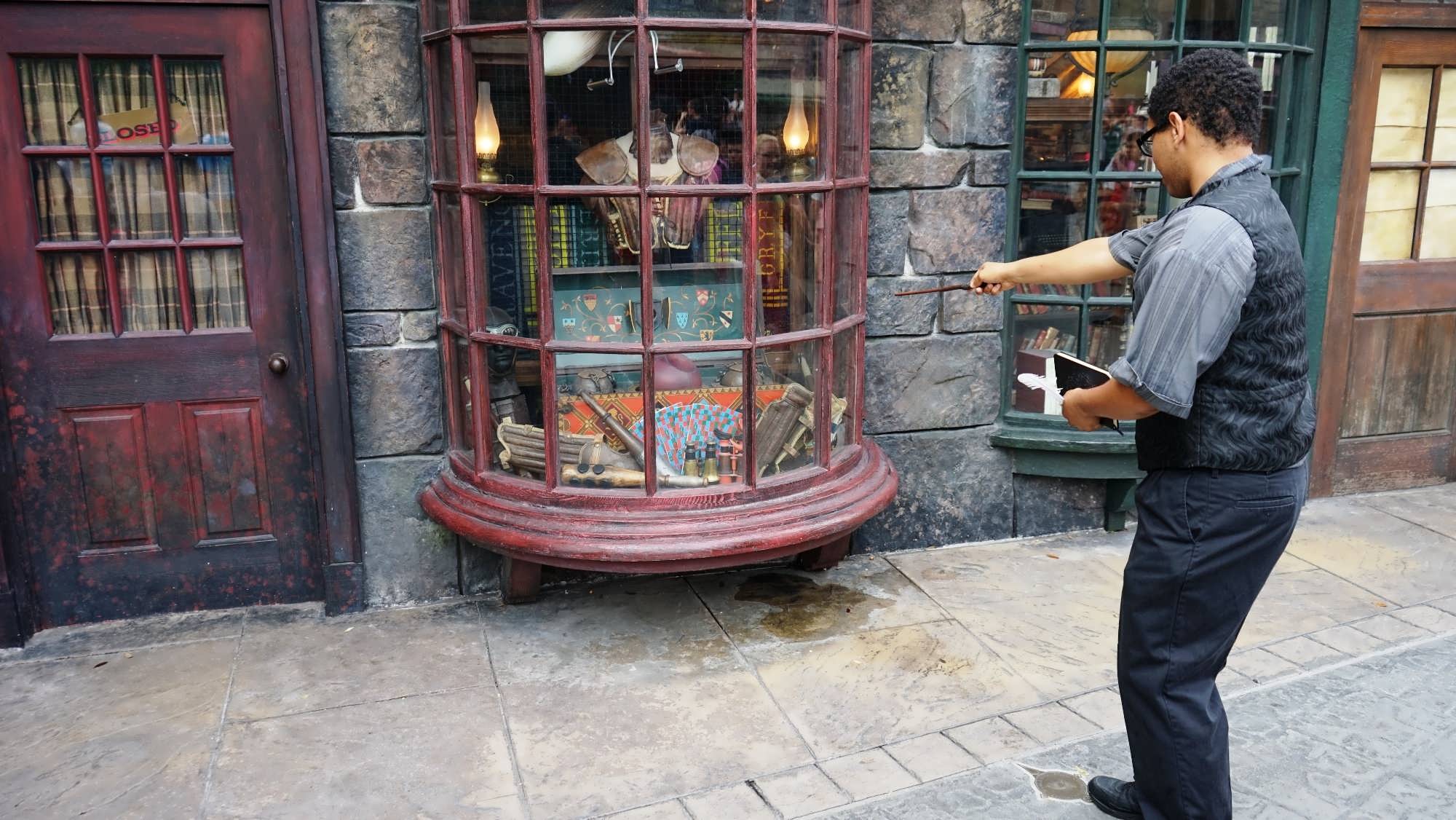 Most spell locations are overseen by a friendly expert spell-caster, who is trained to help guests perfect their spell-casting technique and can help correct your direction or gestures. These team members are also enthusiastic and engage with aspiring wizards and witches of any age, encouraging them and praising their efforts. Take the time to appreciate their enthusiasm; they're a great part of the interactive wand experience.
Anti-jinx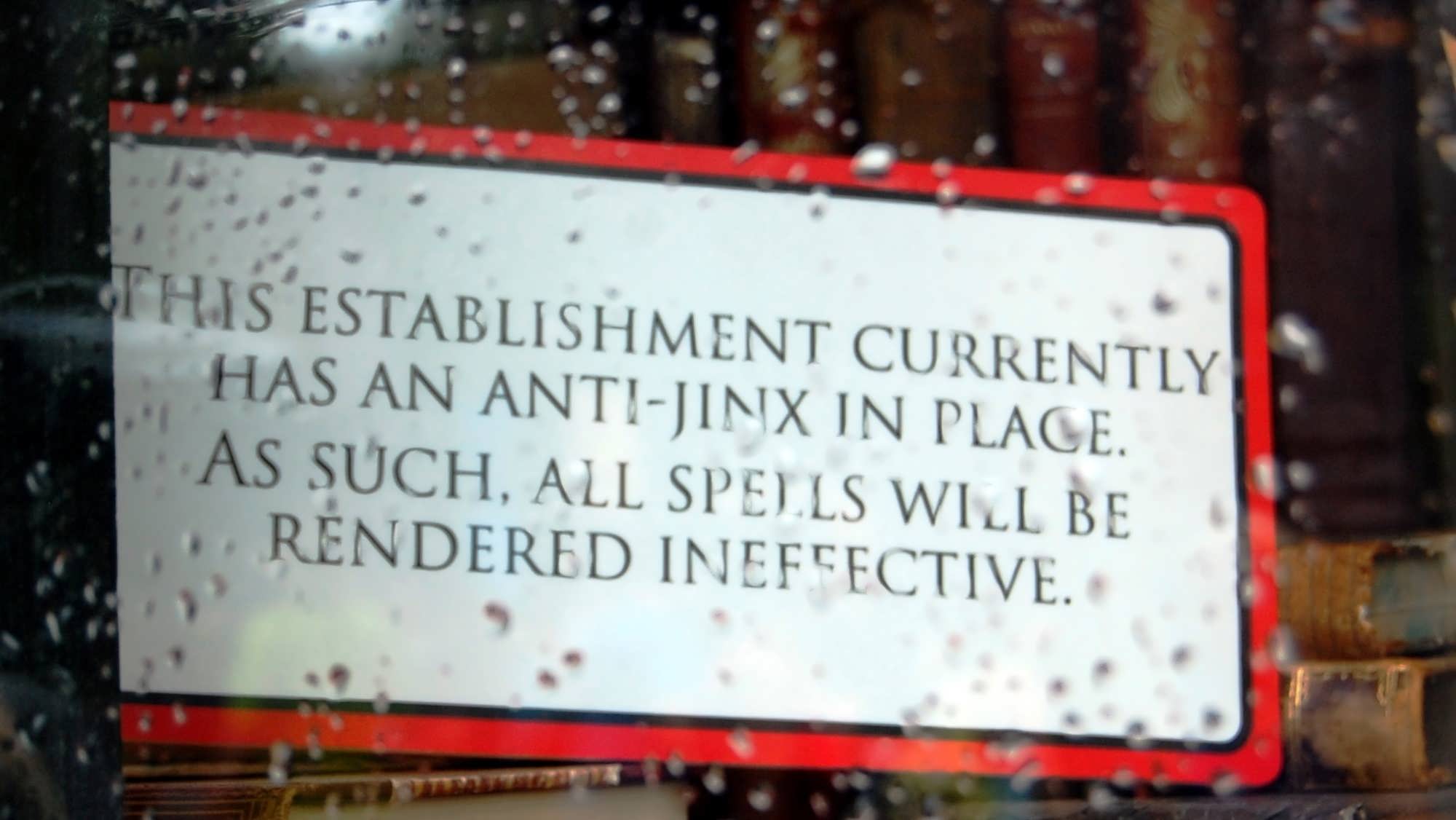 If a particular effect is not working, you may encounter a sign placed at that site, declaring that the spot has been magicked with an "anti-jinx" and that no spells will work there. If you see this sign on display, or if a team member tells you that the effect has been "jinxed," you'll know to move on to the next spell position.
Concerns about crowds
Ideally, aspiring witches and wizards should be able to stroll through the Wizarding World while casually attempting each spell, but, realistically, with the ongoing popularity of this property, crowds in the area can make spell-casting a little more challenging. At busy times, you may find a small line for a spell, but the queue usually moves quickly, without a long wait. The interactive element is also quite effective in the sense that, even if you have seen the spell effect while someone else is casting, there is still something thrilling about successfully pulling it off yourself.
Differences between Diagon Alley and Hogsmeade
Generally speaking, the interactive wand experience in Hogsmeade seems to be more difficult than the one in Diagon Alley. Not only are many of the spells more challenging to execute – some of the effects have been incorporated into existing windows, making the cameras harder to find and less effective at detecting wand movement – but some guests might be unaware of the experience and can walk, stand, or push in front of spell-casters. If you are accompanying a young witch or wizard, you may want to stand in the space beside a window to block interference while she is attempting to cast.
We recommend beginning your interactive wand experience in Diagon Alley to develop some magical expertise before heading over to Hogsmeade. It seems that there are not as many team members on-hand to assist at the latter, so London is the perfect place to start.
Tips and tricks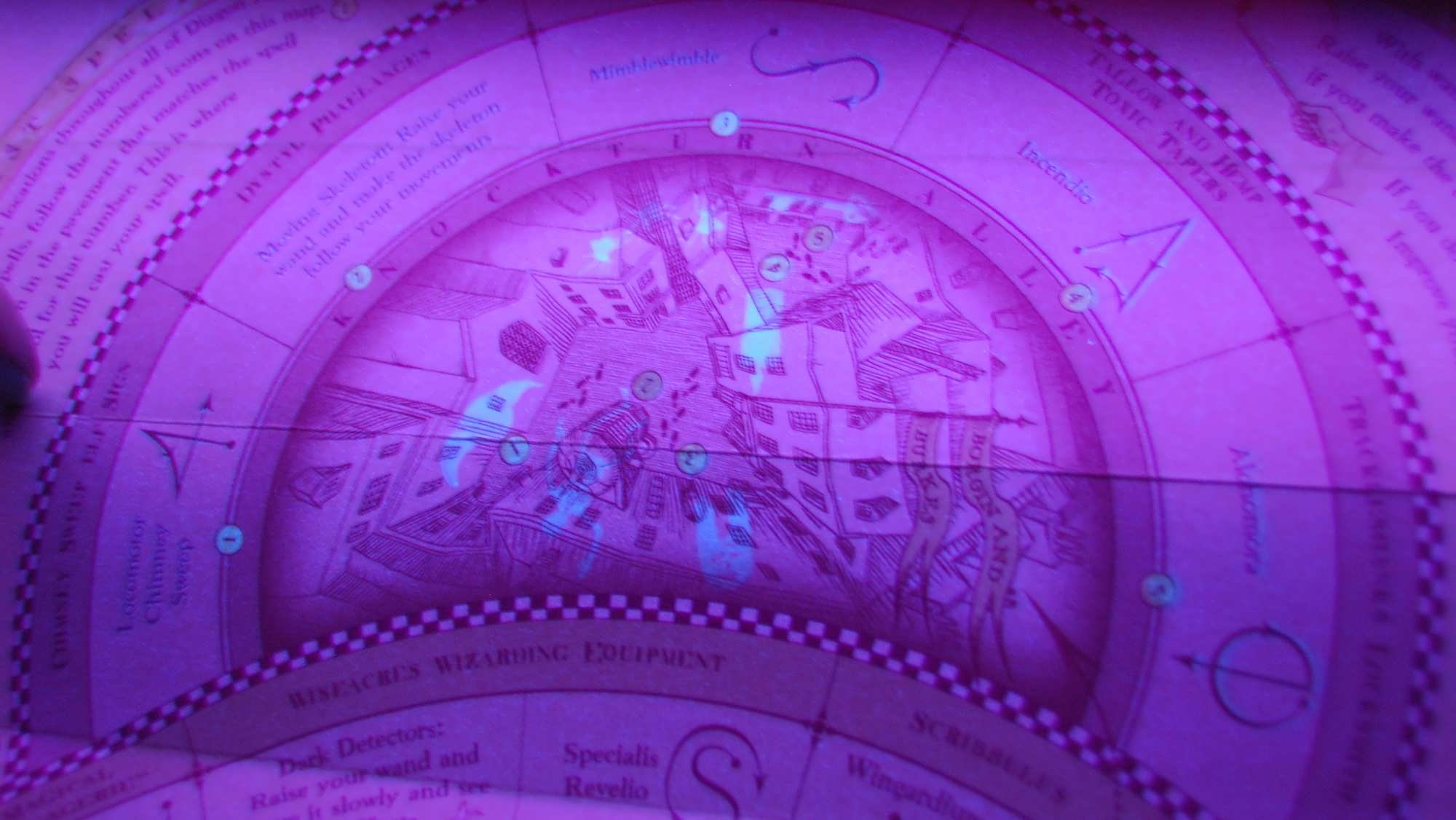 Our number-one tip is to keep and use your map. Many of the off-the-beaten-path spell stations are often empty because many folks don't know that they're there – all the better for you, wise magic user!
When in Knockturn Alley, check out your spells map under the blacklights. Each spell here is indicated by a small image – the one marked with a spider, for example, features a window where spider shadows are triggered by movement.
Finally, don't forget to visit the "secret" mystery spell locations, listed below, to impress your friends and family! If you see the characteristic four red dots of light from the infrared cameras, there's probably a spell to be cast. These secret spells usually respond to a triangle movement and tend to be easier to cast than others.
Where are the spell locations?
Below, we have compiled a list of all the spells in The Wizarding World of Harry Potter – Hogsmeade and Diagon Alley, including mystery spells that are not shown on the map, with numbering that corresponds to the numbers on said map. All spells in Hogsmeade are located in shop areas, while the ones in Diagon Alley are scattered throughout the titular alley itself, Carkitt Market, Horizont Alley, and Knockturn Alley.
Diagon Alley spells
Knockturn Alley spells
Hogsmeade spells
Character wands photo gallery