One of the most beautiful ways that Harry Potter's world of magic is brought to life is through fantastic food and beverages. When The Wizarding World of Harry Potter – Hogsmeade came into being, the world rejoiced at the chance to try Butterbeer, Pumpkin Juice, the sweets of Honeydukes, and many more food fantasies made real.
And now that The Wizarding World of Harry Potter – Diagon Alley's enchanted brick wall has opened for all to enter, there's plenty more delectable dishes to enjoy. And we've scoured these many new magical establishments to bring you our ultimate guide to the food and beverages of Diagon Alley.
Skip to… beverages | food | desserts | create your own

Specialty beverages
Whether witch, wizard, or Muggle, roaming the streets of Diagon Alley can work up quite the thirst. The amount of special beverages from which to choose is spellbinding. The iconic Butterbeer flows through Diagon Alley in a variety of establishments (The Leaky Cauldron, The Hopping Pot, and The Fountain of Fair Fortune), accompanied by plenty of other signature beverages.
Butterbeer – $6.99
This instant theme park classic got its start at Hogsmeade and is now more accessible than ever. You can choose between cold or the more popular frozen Butterbeer – and, if the season's right, the newer hot Butterbeer. The sweet, creamy flavor of the beverage itself is an intermingling of buttery caramel and butterscotch, with a mild taste reminiscent of cream soda. The sip-able cold confection is topped with foam that is simply dreamy.
To take your Butterbeer collecting to the next level, be sure to visit The Fountain of Fair Fortune for an exclusive mug.
There's so much we have to say on Butterbeer, we have an entire insider's guide devoted just to it. You can find that here.
Pumpkin Juice – $4.49
While we don't count ourselves among them, there are some people who enjoy Pumpkin Juice more than Butterbeer. This sweet juice has a nice layer of spice that feels like autumn in juice form – just watch out for the aftertaste. You can buy it from the tap at the various restaurants or pubs for $4.49; a bottle at the drink stands will run you $7.50 ($7.45 at Eternelle's Elixir of Refreshment).
Fishy Green Ale – $4.99
This murky pale-green drink is certainly a head turner. Don't be surprised when you get lots of inquisitive looks from fellow guests or when you're asked "what is that?" as you sip on your specially-sized, wide black straw. On its own, the intriguing combination of mint and cinnamon would be enough to make this an interesting drink, but then the component of pearl-sized bubbles bursting with blueberry flavor that rest at the bottom of the cup makes this one of the most unique beverages offered in all of the Wizarding World. (Note: this is a non-alcoholic beverage.)
Tongue-Tying Lemon Squash – $4.99
This iced lemonade-style beverage is a pretty simple drink choice. While its flavor profile and ingredients are not overly unique, there is something to be said about its simplicity. The added fresh-squeezed lemon, squashed right in front of you when you order, adds a nice, fresh touch. On a hot day in Diagon Alley, sometimes you just need simple refreshment.
Otter's Fizzy Orange Juice – $4.99
Perhaps the surprise hit of Diagon Alley's beverages is the Fizzy Orange Juice. The fruity orange juice is elevated to an unique creation thanks to the delicate fizzy carbonation. Yet the element that makes this drink an attractive choice is the cinnamon sugar on the rim. An orange slice is added as the finishing touch. While its flavors are a little heavier than, say, the Lemon Squash, it is still a very refreshing drink.
In the Harry Potter books and films (specifically, Harry Potter and the Half-Blood Prince), Fred and George Weasley created this drink when they opened Weasleys' Wizarding Wheezes. Leave it to the Weasley brothers to develop the new hit drink in The Wizarding World of Harry Potter.
Peachtree Fizzing Tea – $4.99
Contrary to the aforementioned Fizzy Orange Juice, the Peachtree Fizzing Tea is relatively straightforward. If you love iced tea, then you're sure to enjoy this beverage; otherwise, it may be a slight disappointment. Lightly-flavored peach iced tea is enhanced ever so slightly by light carbonation.
It's important to note that this tea is not sweetened, aside from the delicate peach flavor.
Gilly Water – $4.50
The best way to hydrate and beat the heat is good ol' H2O. Gilly Water is Diagon Alley's bottled water of choice, and it is an excellent way to get finicky kids – and dads – to drink the best thing for them. The styled, long, slender bottle with black, artsy label make this a visually appealing bottle of water. On its own, the water is cold, crisp, and replenishing. Gilly Water is sold at all food and beverage locations throughout Diagon Alley, but there is one place in all of Diagon Alley that can turn your Gilly Water into a potion.
Eternelle's Elixir of Refreshment is a beautifully-detailed beverage kiosk in the Horizont Alley section of Diagon Alley (adjacent to Carkitt Market). Four thirst-quenching potions can be purchased and added to your bottle of Gilly Water, magically transforming plain water into a brightly-colored, hydrating elixir. Each flavored potion is served in a keepsake vial, which makes a fun memento, and, at $4.25 a piece, you should make the most of your purchase.
The one downfall of this form of hydration is that, when coupled with a bottle of Gilly Water, the entire purchase of one bottle of water and one elixir costs $8.75. Still, the flavors are lovely, and there's no rule against bringing your own bottled water along and adding the elixir to it.
Fire Protection Potion (light red orange) – $4.25
A sweet blend of watermelon with hints of peach and strawberry. Summer in a bottle.
Babbling Beverage (red) – $4.25
A fruit punch with layers tropical fruits.
Draught of Peace (blue) – $4.25
Bursting berry flavors of blueberry, blackberry, raspberry, and a hint of cherry. This is one of the more popular flavors.
Elixir to Induce Euphoria (green) – $4.25
Pineapple with notes of green apple and mint. Cool and calming.
Diagon Alley specialty alcoholic drinks
Universal's three newest lands (Hogsmeade, Springfield, and Diagon Alley) have each brought their own specialty alcoholic drinks into the world. Most of these are beers – craft beers, to be exact, exclusive to their respective lands and bursting with unique flavor.
But just nine short months after Diagon Alley opened, Universal decided to also unleash its very first signature liquor: Fire Whisky, that oft-mentioned libation from the Harry Potter novels.
Wizard's Brew and Dragon Scale – $8.99
Wizard's Brew is a deep, dark porter. It is full of malty flavors and has a very strong, sweet finish. In fact, both beers have a sweet streak in them, though Wizard's Brew is definitely the sweeter of the two. Dragon Scale is a much brighter beer that has slightly more drinkability, but it's by no means a whimpy beer – it's not too hoppy, but very malty.
These beers are available at Leaky Cauldron, Hopping Pot, and Fountain of Fair Fortune.
Fire Whisky – $10.50
The Wizarding World's first exclusive liquor can best be compared to Fireball Whisky, though smoother and not as "hot." Some Orlando Informer readers have described it as fizzy apple juice – that is to say, it's a tasty whisky and is easy to go down.
A single shot will cost you $10.50, while a double comes in at $15.50. If you wanted to mix it in with Strongbow – a perennial favorite among muggles and wizards alike – it'll ring up at $13.
Look for Fire Whisky at The Leaky Cauldron, The Hopping Pot, and The Fountain of Fair Fortune.

Specialty food
In Harry Potter's world, Diagon Alley is a secret, magical place hidden behind an enchanted brick wall in London. Therefore, the food found inside Diagon Alley and along the London waterfront are familiar favorites often found in England and throughout the UK.
There are four locations that offer food and snacks, two of which are in the London area and two of which are in Diagon Alley.
London taxi hut (London waterfront)
The perfect choice for a quick – yet satisfying – bite, with five quick and convenient food choices offered.
The theme park staple, a Hot Dog with Crisps, is $11.69. However, it's the jacket potatoes (known as baked potatoes here in the US) that are really worth the visit. It can be difficult to choose between the four toppings here, which are beans and cheese, broccoli and cheese, shepherd's pie, and loaded. Each are $7.99, and the most popular two are the loaded (cheese, bacon, chives, and sour cream) and the shepherd's pie (ground beef and veggies in a savory sauce topped with shredded cheese).
The ever-present Golden Wonder potato crisps (potato chips) are available here, among many other locations, at $3.25 each.
King's Cross Station (London waterfront)
For the first time in Universal theme park history, an attraction's queue is also a food-and-beverage destination. At any mass-transit establishment, you are bound to find some sort of cart, kiosk, or stand that offers food and drink for weary travelers, and Universal's version of King's Cross station is no exception.
The food and beverage market inside King's Cross station is a great option when you want something quick or lighter than the heavy and rich fare offered in the rest of the Wizarding World. There are four food choices here, plus a variety of potato crisps and a chocolate candy straight out of the UK. The four grab-and-go-style food options are all served chilled in plastic containers that are perfect for the journey from London to Hogsmeade Village. Plus, on a hot day, they are a great choice for anyone wanting something cold and light.
Fruit and Cheese Platter – $7.49 – $12.49
This is one of the best values, as it is easily shared and offers a pretty bountiful selection of four kinds of cheese, four kinds of fruit (two fresh, two dried), and a handful of crackers.
Hummus Tray – $6.79 – $11.79
A generous serving of classic hummus with a side of sliced pita bread and celery and carrot sticks.
Fruit Plate – $7.49 – $12.49
What better way to nourish yourself than with a heaping serving of fresh fruit? Sliced melon, pineapple, watermelon, and grapes are bursting with juice – a great way to stay hydrated.
Ham and Cheese Sandwich – $9.79 – $14.79
A soft, white bread sandwich roll is stuffed with honey-roasted ham and Swiss cheese. A creamy Dijon mustard is served on the side. A bag of crisps is provided, as well, though on some days we have been surprised to find cinnamon-flavored apple chips.
The Leaky Cauldron (Diagon Alley)
To learn the ins and outs of, and what to expect at, Diagon Alley's premiere dining establishment, check out our OI Universal Center page dedicated to The Leaky Cauldron. To learn more about the specific details of the food offered within, read on.
Note: breakfast is advertised primarily to guests with a vacation package and a reservation. However, on most days, regular park guests are also able to step inside and enjoy breakfast. It's typically served until 10:00 am, though that is dependent upon availability and the level of crowds. We don't have breakfast covered here, but we do have the full menu published on our Leaky Cauldron page.
For lunch and dinner, the Leaky Cauldron offers a bounty of British favorites that are hearty and satisfying.
Toad in the Hole (traditional sausage baked into a Yorkshire pudding and served with onion gravy) – $9.49
For most American guests, the name itself is enough to pique your curiosity. While a very popular choice, in part thanks to the relatively lower price point when compared to the other options on the menu, the portion size is slightly smaller than expected. The sausage itself could use a juicier texture and a bit more spice, but the accompanying mixed veggies and minted peas are wonderful.
Cottage Pie (a savory combination of meat and vegetables in a potato crust) – $12.49
This choice is very reminiscent of the pie offered over at The Three Broomsticks at Hogsmeade. It is very hearty and rich.
Bangers and Mash (traditional roasted sausages with creamy mashed potatoes) – $12.49
If you want a larger serving of sausage than the Toad in the Hole, this is a better choice. Two sausages are placed on a bed of mashed potatoes and topped with sauteed onions. The portion of potatoes could be a little more generous, but the veggies continue to be a nice touch.
Fisherman's Pie (salmon, shrimp, and cod baked together under a potato crust) – $14.99
The priciest pie is also one of the most noteworthy. For being a counter-service location, many diners are surprised at the generous amount of salmon, cod, and shrimp found beneath the pillow of potatoes. It is a very rich dish and could be suitable for sharing, depending on your appetite.
Beef, Lamb, and Guinness Stew (served in a bread bowl) – $13.49
One of the most popular choices, this stew is very satisfying, with plenty of beef and lamb that is slow-cooked and oh-so-tender. The thick broth has a light flavor of Guinness and the bread bowl is the best way to finish off your meal. The accompanying side salad is a nice light touch to break up the hearty stew.
Fish and Chips – $13.99
A simple classic. Three to four portions of North Atlantic Cod are battered and fried to perfection. The outside is crispy, yet the white, flaky fish is still juicy.
Soup and Salad – $9.49
A more budget-friendly option, you can recreate a moment from Harry Potter and the Prisoner of Azkaban, because as the shrunken head of the Knight Bus says, "If you have the pea soup, make sure you eat it before it eats you!"
Banger Pub-Style Sandwich, served with potato wedges (or a side salad upon request) – $12.49
For sausage fans, this is another good choice. This sandwich is actually very flavorful thanks to the sauteed cabbage and onions, deli mustard, and roasted tomatoes. The crusty bread, however, swallows up the sausage and toppings and is just a bit too big when compared to what it holds.
Specialty Chicken Sandwich, served with potato wedges (or a side salad upon request) – $11.99
This is the surprise hit of the menu! For its price point, this is a great choice and a wonderful value overall. Chicken sandwiches can sometimes be very boring, but such is not the case here. A curious topping of apple butter mayo is just the beginning; add on Colby cheese, apple-smoked bacon, and roasted tomatoes, and you've got a very flavorful sandwich.
Ploughman's Platter (a feast of English cheeses, crusty bread, cornichon pickles, apple beet salad, Branston pickle, and a Scotch egg) – $19.99
Perhaps the most talked-about item on the menu is the Ploughman's Platter. It is great shared among friends and a few cold beers. While designed for two, the portions are generous enough for sharing with more.
Scotch Eggs – $2.89
While not on the menu on their own, you're able to purchase scotch eggs individually. These make for a quick little snack or a nice add-on to any
The Hopping Pot (Carkitt Market)
This walk-up counter is best known for offering all of the specialty beverages of Diagon Alley, as well as a variety of draft beers (all covered at the top of this article). However, you can also pick up a quick snack, though we think there is a missed opportunity here to offer more choices.
Cornish Pasties – $6.99
Three pastries are filled with ground meat, a savory gravy, and minced veggies. They pair well with any of the draft beers.
Golden Wonder Potato Crisps – $3.25
While potato chips/crisps aren't a big deal, there are two flavors that has everyone's curiosity: Smoked Bacon and Prawn Cocktail.

Sweets and desserts
In the Harry Potter books and films, there is no shortage of candies to interest your sweet tooth, and we've all dreamed of "taking the whole lot" from the candy trolley on the Hogwarts Express or indulging in a feast of sweets at the Great Hall in Hogwarts. Just as Honeydukes does in Hogsmeade, Diagon Alley brings to life more sought-after sweets.
Florean Fortescue's Ice-Cream Parlor
As Universal did with Three Broomsticks and Butterbeer, an instant theme-park classic has been born yet again: Florean Fortescue's Ice-Cream Parlor.
Soft-Serve Ice Cream – $5.49 in a cup, $6.49 in a cone, $9.99 in a souvenir glass
There are 10 soft-serve flavors, plus the iconic Butterbeer flavor, which is pretty much in a category all its own. All soft-serve varieties are vanilla at their base, but then a flavor explosion is brought forth thanks to the magical use of the "flavor burst" technique, which creates both a visual and flavorful treat. The colored flavor syrup lines the outside ridges of the ice cream, with bursts of flavor found within the folds.
The most popular flavors (besides Butterbeer) are Orange Marmalade, Granny Smith, and Toffee Apple. The Toffee Apple is actually a combination of the toffee flavor and the Granny Smith flavor – a delightful combination, since the Granny Smith is nice and tart, while the toffee is super sweet. The pistachio can be a bit of a letdown for anyone who is a fan of this classic gelato or glace flavor. Classics like chocolate and strawberry will easily please the simplest of palates.
Hard-Packed Ice Cream – $5.99 in a cup, $6.99 in a cone, $9.99 in a souvenir ice cream glass
As if 10 flavors of soft serve wasn't enough variety, there are 10 more flavor choices for hand-scooped ice cream. Each is more unique than the last, so it is difficult to choose a favorite. Apple Crumble is an instant hit, while Salted Caramel Blondie, Sticky Toffee Pudding, and Chocolate Chili also receive a lot of buzz. For something more unique and very different, the Earl Grey and Lavender flavor is refreshing, while Clotted Cream, for those unfamiliar with the real deal found in the UK, starts off sweet and creamy but ends on a sour note, reminiscent of sour cream, which is very surprising.
Any of the ice cream flavors can be topped with a variety of fun toppings, like meringue pieces, shortbread crumbles, and chopped nuts (.79 cents each), or can come as a sundae for $6.99 with your choice of hot fudge, caramel, or strawberry topping.
Eton Mess, served in a souvenir glass – $12.99
This traditional English dessert is simply divine. Vanilla soft serve is topped with strawberry topping, meringue bits, and heavy whipped cream. Currently, there is not a way to order this treat without the souvenir glass.
Desserts at the Leaky Cauldron
There are three sweet indulgences offered at Leaky Cauldron, and you can't go wrong with any of them.
Chocolate Potted Cream – $4.49
This rich, thick chocolate cream is chocolate heaven in an adorable glass jar. The chocolate cream is dark chocolate with a heavy-yet-whipped consistency. While this dessert would be monotonous on its own, the dab of whipped cream and the candied cherry, along with a drizzle of cherry syrup, add some simple variety.
Butterbeer Potted Cream – $5.29
The latest addition to the Butterbeer family is the sibling to the Chocolate Potted Cream seen above. The best way to describe this treat is a Butterbeer-flavored pudding. Unlike Butterbeer ice cream, the potted cream isn't extremely sweet, though it is topped with a dab of whipped cream. It's served in a glass jar that is not, unfortunately, a souvenir.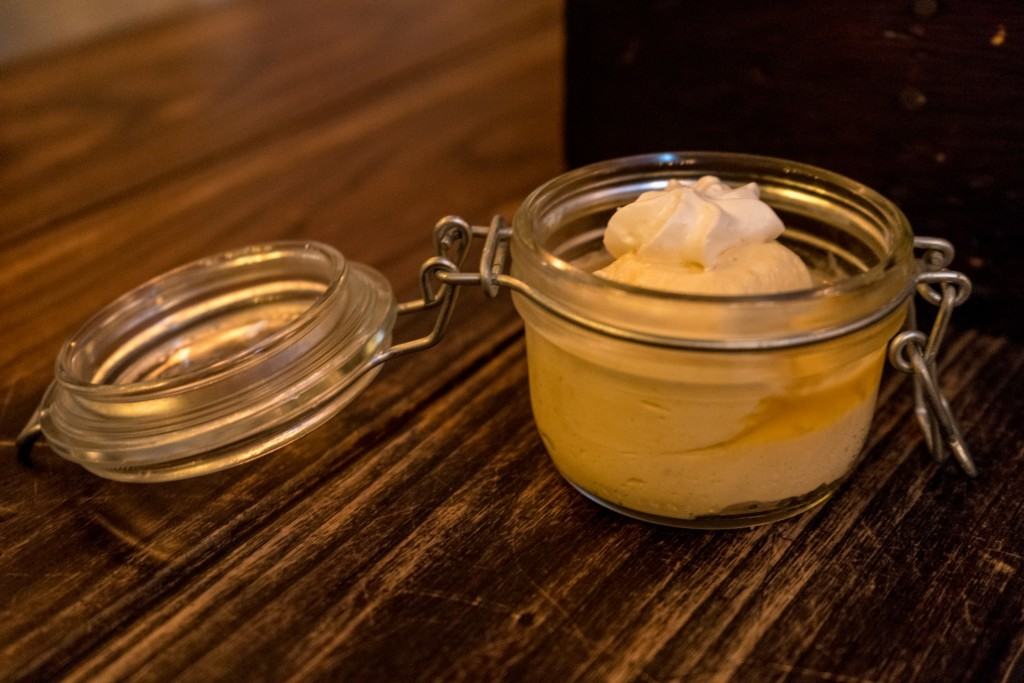 Sticky Toffee Pudding – $6.99
Definitely bring someone along to share this sticky, caramelly goodness. A warm, ooey, gooey toffee-flavored bread pudding is topped with melty vanilla ice cream and a flowing layer of sticky, caramel-like treacle syrup.
Cranachan – $5.99
With such heavy entrees offered at The Leaky Cauldron, it is nice to have a dessert that is on the lighter side – although one that is still full of flavor. Heavy cream is blended with honey, then layered with raspberries and raspberry jam. Toasted oats are placed on top to add a little crunch.
Candies
Those ingenious Weasley brothers are perhaps most famous for their sweets that produce interesting side effects perfect for practical jokes and getting out of school. While the treats available in the Weasleys' Wizarding Wheezes shop are suitable for Muggle consumption, they do come with a warning label printed on the back indicating that there may – or may not – be magical effects associated with the consumption of such treats.
Priced at $6.95, you can chose from four Weasley creations: Fainting Fancies, Fever Fudge, Nosebleed Nougat, and Puking Pastille. Or, if you are indecisive and/or want to surprise the Potter head in your family, the Skiving Snack Box offers all four treats in a beautiful box that makes a great presentation. The price tag is a bit heavy at $39.95, though.
The most popular of the Weasley treats are the Fainting Fancies, which are orange and lemon gummies, and the Nosebleed Nougat, which is milk chocolate with pistachios and creamy white pearls on top.
Over at Gringotts Money Exchange, you can snatch up a sack of gold galleons ($6.99). However, these little beauties are chocolate treats rather than a form of currency – though they could be used for bartering with a chocolate-loving Potter devotee.

Create your own delight
Maybe it's the magical atmosphere or the enchanting details throughout Diagon Alley, but there is something in the air that is inspiring guests to get creative – many visitors are combining Diagon Alley food and drinks to make their own creations.
The Butterbeer Float is the most popular and most-talked-about creation. This concoction is do-it-yourself-only and is easiest to make by visiting The Fountain of Fair Fortune (this location is also a great way to get Butterbeer ice cream if the line at Florean Fortescue's is too long, we should add).
It's up to you if you wish to use frozen Butterbeer or the regular, cold variety, though the cold version most resembles an actual float, since it is essentially a soda. It's best to drink your Butterbeer down until about three-fourths full, then place about two or three spoonfuls of Butterbeer ice cream into the cup with a few light stirs. This creation is so super sugary, it is near impossible to finish by oneself (challenge accepted, right?).
For adults, there's another kind of Butterbeer float, using actual beer! The best option by far is to use the dark and sweet Wizard's Brew stout. We've also tried using Dragon Scale beer, and the combination does not go as well, but it is doable. If you choose to create your own Butterbeer Beer Float, be sure to drink it quickly – otherwise, the cream does get a little chunky (eeeeew!).
One of the most refreshing creations you can make involves two of the signature beverages. On its own, the Peachtree Fizzing Tea can leave a little to be desired. However, a popular drink here in America is an Arnold Palmer (named after the local golfer), which is half lemonade and half tea. So take your Peachtree Fizzing Tea, drink about half of it, and then pour in half of your Tongue-Tying Lemon Squash. You've got yourself a Harry Palmer!
As you can see, The Wizarding World of Harry Potter – Diagon Alley presents a feast full of food and beverage options. Be sure to plan enough time – and save enough room in your stomach – to try these magical creations!
Do you have a question about the information on this page, would like to provide feedback, or did you spot an inaccuracy? Please let us know by posting in our
Universal Community Facebook group
.