One of the evocative ways that Harry Potter's magical world is brought to life in The Wizarding World of Harry Potter is through the fantastic food and beverages available to guests. While the village of Hogsmeade introduced us to Butterbeer, Pumpkin Juice, and the sweets of Honeydukes, Diagon Alley showcases even more delectable dishes to enjoy.
We've frequented these enchanting establishments to bring you our ultimate guide to the specialty food and beverages of Diagon Alley.
Skip to: Specialty beverages (non-alcoholic) | Adult refreshments (alcoholic) | Fabulous food | Delicious desserts | Creative concoctions
What specialty beverages are available in Diagon Alley?
Whether you're a witch, wizard, or muggle, you can work up quite the thirst while roaming the streets of Diagon Alley, so check out the specialty beverages available at The Leaky Cauldron, The Hopping Pot, The Fountain of Fair Fortune, and Eternelle's Elixir of Refreshment.
Butterbeer – $7.99
This instant theme-park classic debuted at Hogsmeade, but now has six varieties, all non-alcoholic, despite the "beer" misnomer. Guests can choose between cold, frozen, ice cream, fudge, potted cream, and hot Butterbeer. The sweet, creamy flavor of the drink versions is an intermingling of butterscotch and a mild cream soda, crowned with a sugary, whipped topping.
There's so much we have to say on the subject, we have an entire insider's guide devoted to it alone.
Pumpkin Juice – $4.99
One of Ron, Harry, and Hermione's favorite beverages, this sweet juice has a nice layer of spice that feels like autumn in a bottle (just watch out for the aftertaste!). You can buy it from the tap at various restaurants or pubs for $4.99.
Fishy Green Ale – $5.49
Unique to Universal's Wizarding World, this intriguing beverage is a combination of mint and cinnamon flavors, with blueberry boba masquerading as fish eggs that float along the bottom of your cup. Just like how Butterbeer really isn't "beer," this "ale" isn't really ale and, thus, contains no alcohol.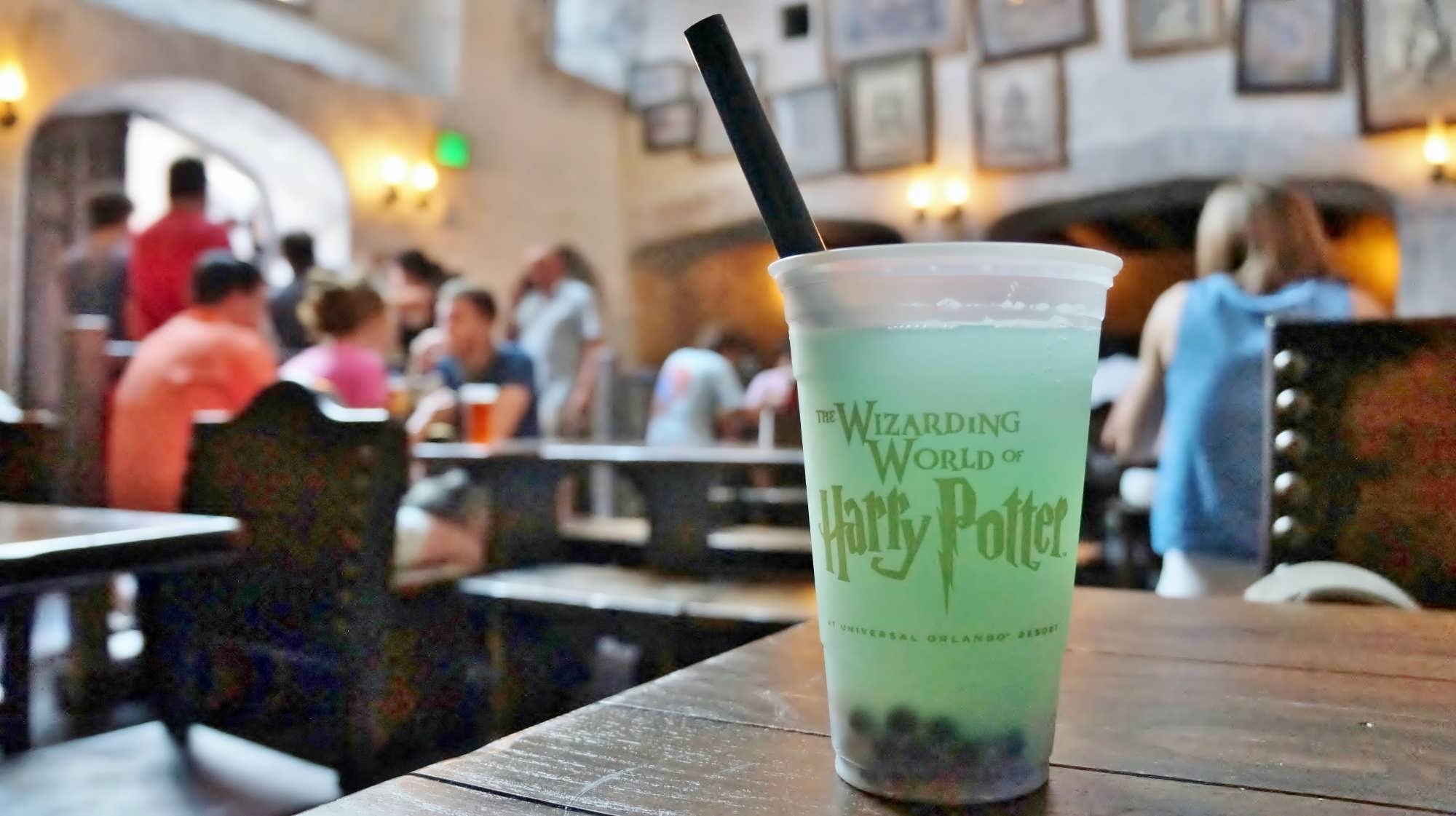 Tongue Tying Lemon Squash – $5.49
If you've ever been to an English pub, you'll know that "squash" is a refreshing lemon drink. Possibly named after the tongue-tying curse, this sweet iced lemonade-style beverage has a straightforward, refreshing flavor profile. On a hot day in Diagon Alley, sometimes you just need a simple quaff to quench your thirst, and the fresh-squeezed lemon, squashed right in front of you when you order, is sure to satisfy.
Otter's Fizzy Orange Juice – $5.49
Otter's Fizzing Orange Juice is perhaps the surprise hit of Diagon Alley's beverages. The orange flavors and delicate fizzy carbonation, with cinnamon sugar on the rim, make for a zingy combination. While its flavors are a little heavier than, say, the Lemon Squash, it is still a very refreshing drink.
Leave it to Fred and George to have developed the new hit drink in the Wizarding World!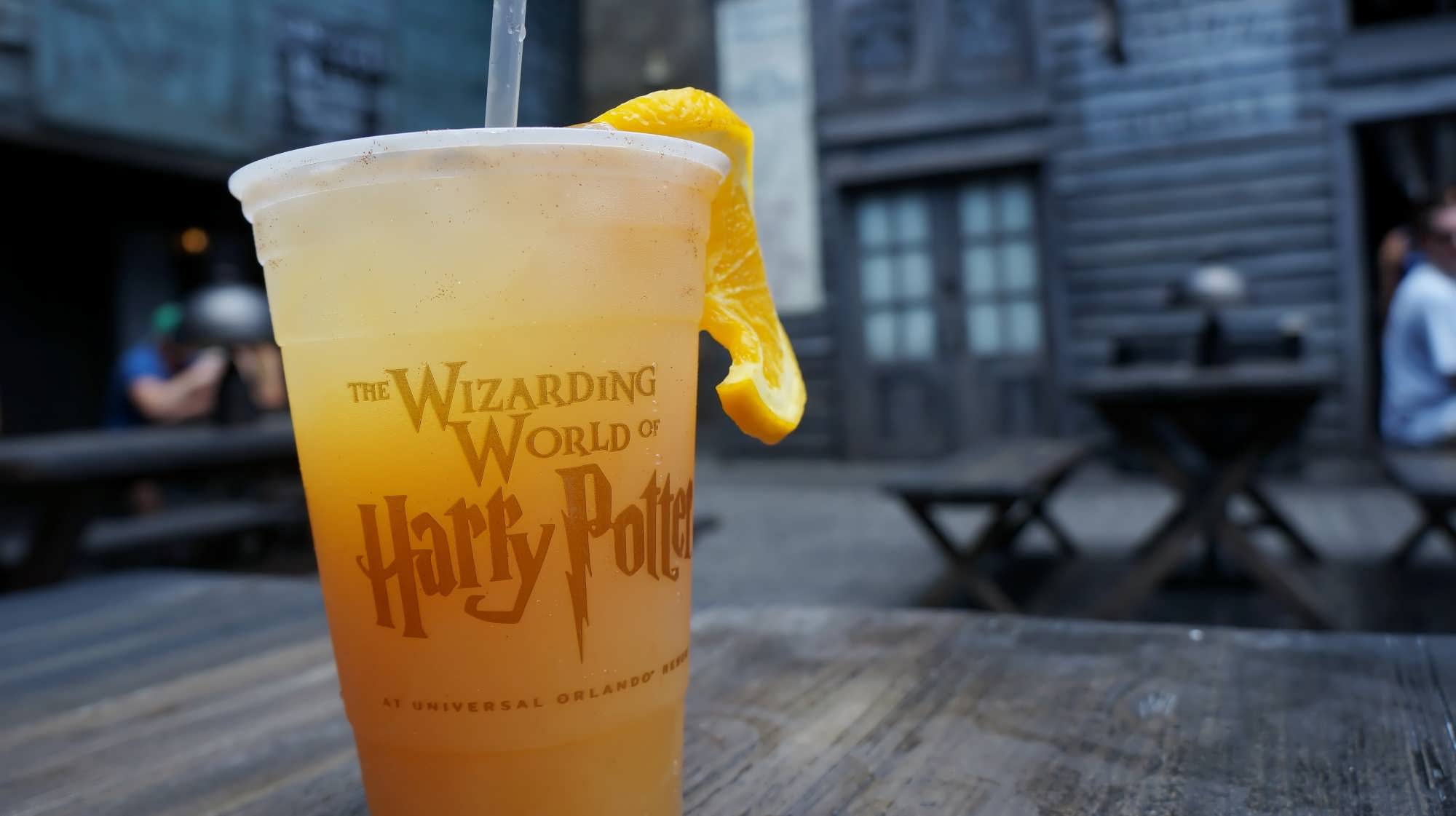 Peachtree Fizzing Tea – $5.49
If you love iced tea, then you're sure to enjoy this beverage – subtly flavored, slightly sweet, this peach iced tea is enhanced by light carbonation. According to traditions dating back to 1876, Peachtree Fizzing Tea is made with magic and has a fizzing volume of 87 percent.
Gilly Water – $5.50
The best way to hydrate and beat the heat is with good ol' H2O. Gilly Water is Diagon Alley's bottled water of choice, and it is an excellent way to get finicky kids – and dads – to drink what's best for them. The stylized, long, slender bottle with its black, artsy label make this a visually appealing bottle of water; on its own, the water is cold, crisp, and replenishing.
Gilly Water is sold at all food and beverage locations throughout Diagon Alley.
Potions of Eternelle – $4.25
Eternelle's Elixir of Refreshment is a beautifully detailed beverage kiosk in the Horizont Alley section of Diagon Alley, adjacent to Carkitt Market. Four thirst-quenching potions can be purchased and added to your bottle of Gilly Water, magically transforming plain water into a brightly colored, hydrating elixir. Each flavored potion is served in a keepsake vial, which makes for a fun memento, but if you're taking your bottle home, make sure you either empty the vial or pack it away in your carry-on luggage.
The one downfall of this form of hydration is that, when coupled with a bottle of Gilly Water, the entire purchase of one bottle of water and one elixir costs $9.75. Still, the flavors are lovely, and there's no rule against bringing along your own bottled water and adding the elixir to that.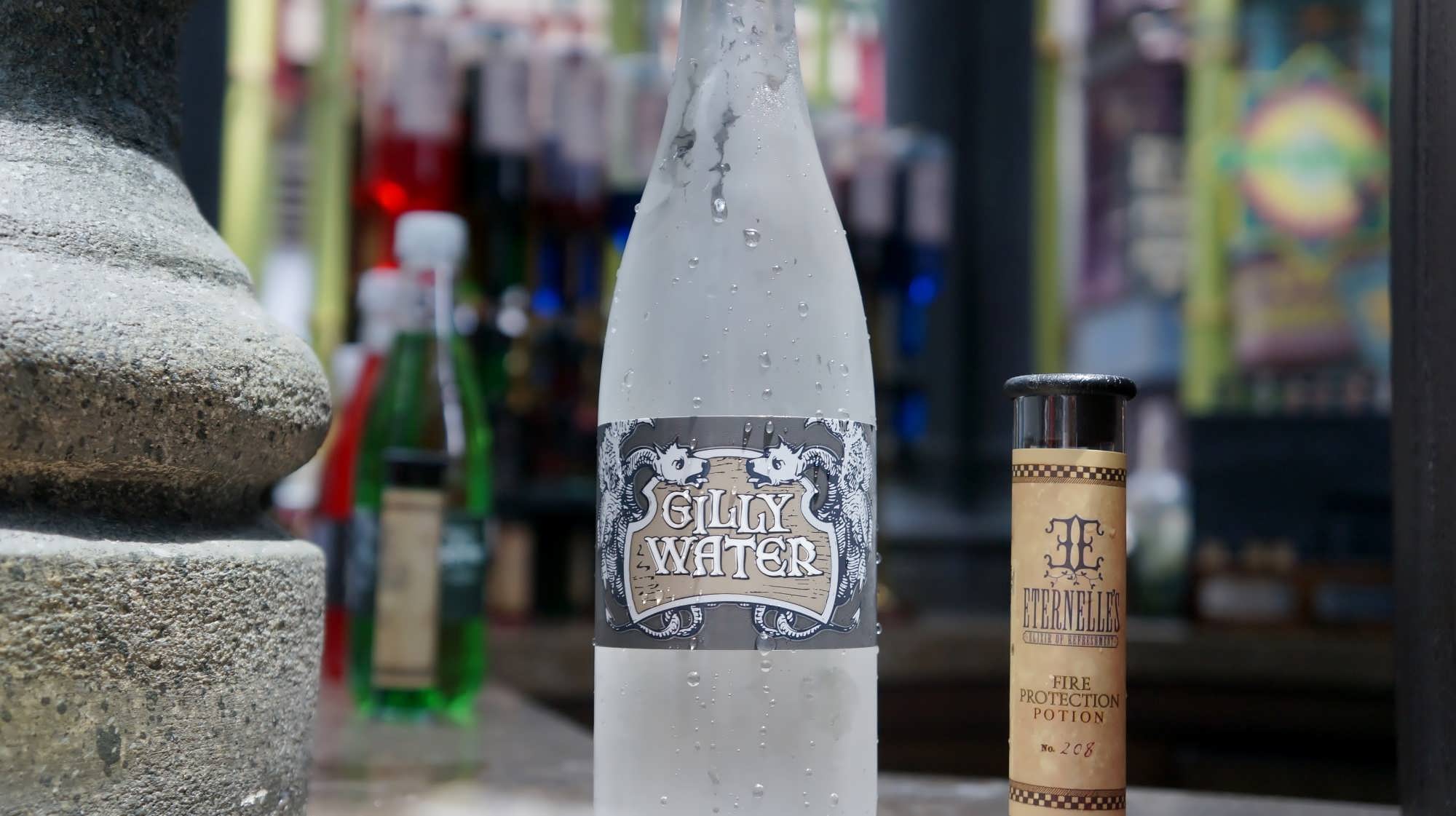 Fire Protection Potion (light red/orange)
A sweet blend of watermelon with hints of peach and strawberry.
Babbling Beverage (red)
A fruit punch with layers of tropical fruit flavors.
Draught of Peace (blue)
Bursting berry flavors of blueberry, blackberry, raspberry, and a hint of cherry. This is one of the more popular flavors.
Elixir to Induce Euphoria (green)
Cool and calming pineapple flavor, with notes of green apple and mint.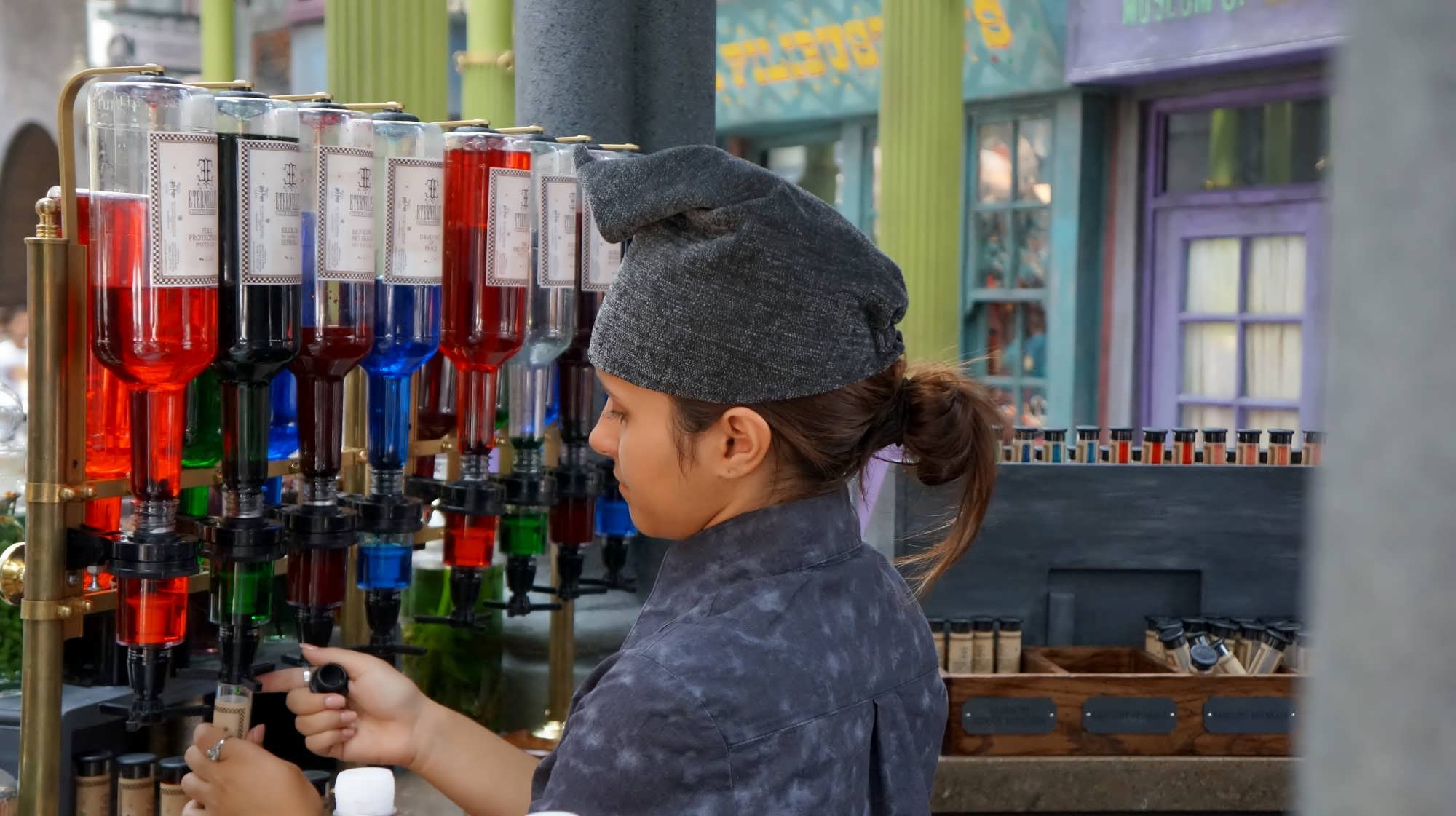 Are there specialty alcoholic drinks in Diagon Alley?
Universal's Wizarding World boasts two craft beers and a signature whiskey, which can all be found at The Leaky Cauldron, The Hopping Pot, and The Fountain of Fair Fortune.
Wizard's Brew – $12.00
Wizard's Brew is a deep, dark porter, full of malty flavors with a very strong, sweet finish. In fact, both beers have a sweet streak, though Wizard's Brew is definitely the sweeter of the two.
Dragon Scale – $12.00
Dragon Scale is a much brighter beer that has slightly more drinkability, but it's by no means a light beer – it's not too hoppy, but very malty.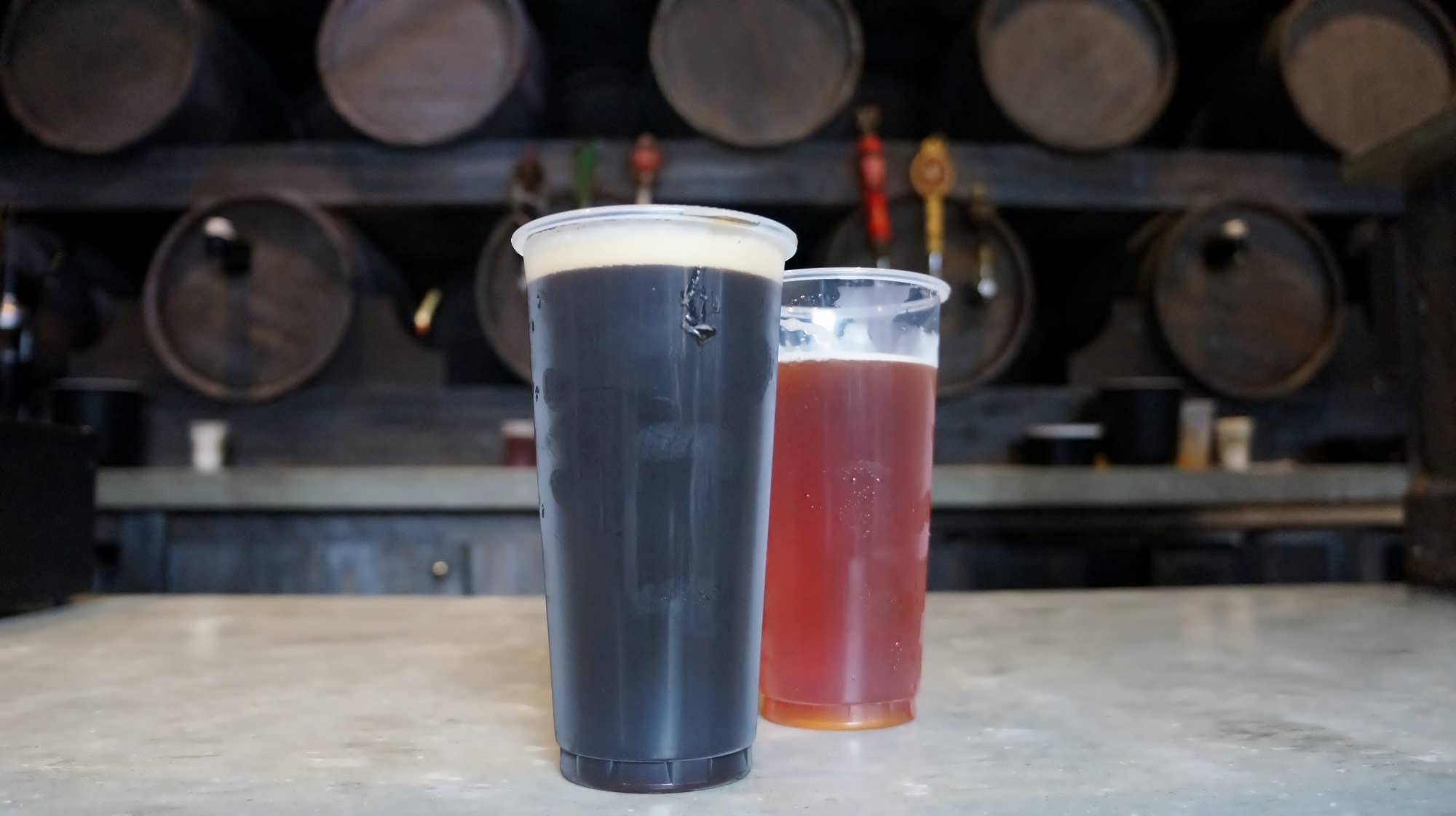 Blishen's Fire Whisky – $11.50
The Wizarding World's first exclusive liquor is a cinnamon-flavored whiskey that is smooth, but not too spicy. While Ogden's Old Fire Whiskey makes several appearances in the books, Blishen's Fire Whiskey can be enjoyed by both wizards and muggles alike. Make yourself a whiskey cider by combining the "King of Whiskeys" with a glass of Strongbow.
What are the specialty food items?
In Harry Potter's world, Diagon Alley is hidden behind an enchanted brick wall in the city of London, so the food found here (and along the London waterfront) are familiar favorites from across the pond – with some whimsical twists, of course.
Jacket potatoes – $10.49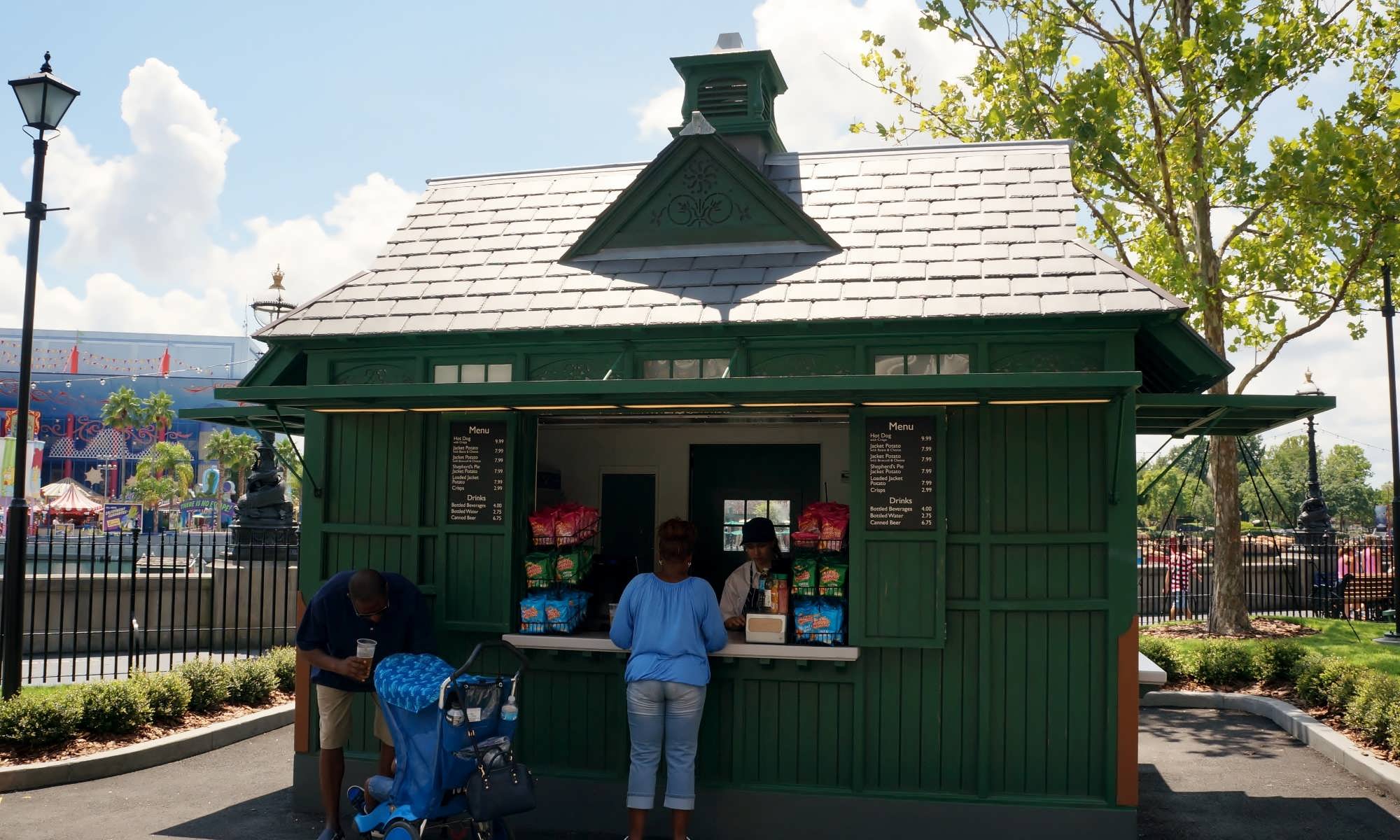 Jacket potatoes can be found at the London Taxi Hut, a food stand inspired by the small green buildings built by the Cabmen's Shelter Fund in the late 1800s, to give respite to the drivers of the city's hackney carriages. The taxi hut is the perfect place for a quick bite, but make sure you understand the lingo! In England, potato chips are called "crisps," while fries are known as "chips." Confused yet? Bear with us – a pie can be savory instead of sweet, and "jacket potatoes" are what we Yanks know as baked potatoes. Finally, we can all breathe a sigh of relief because a "hot dog" is still just a hot dog. You can also get crisps (chips) here for $3.25 per packet, as well as bottled water, bottled sodas, and cans of British beer.
Options for jacket potatoes include baked beans and cheese, broccoli and cheese, shepherd's pie (ground beef, peas, and carrots in a savory sauce covered with shredded cheese), or "loaded" with cheese, bacon, chives, and sour cream.
King's Cross Station snacks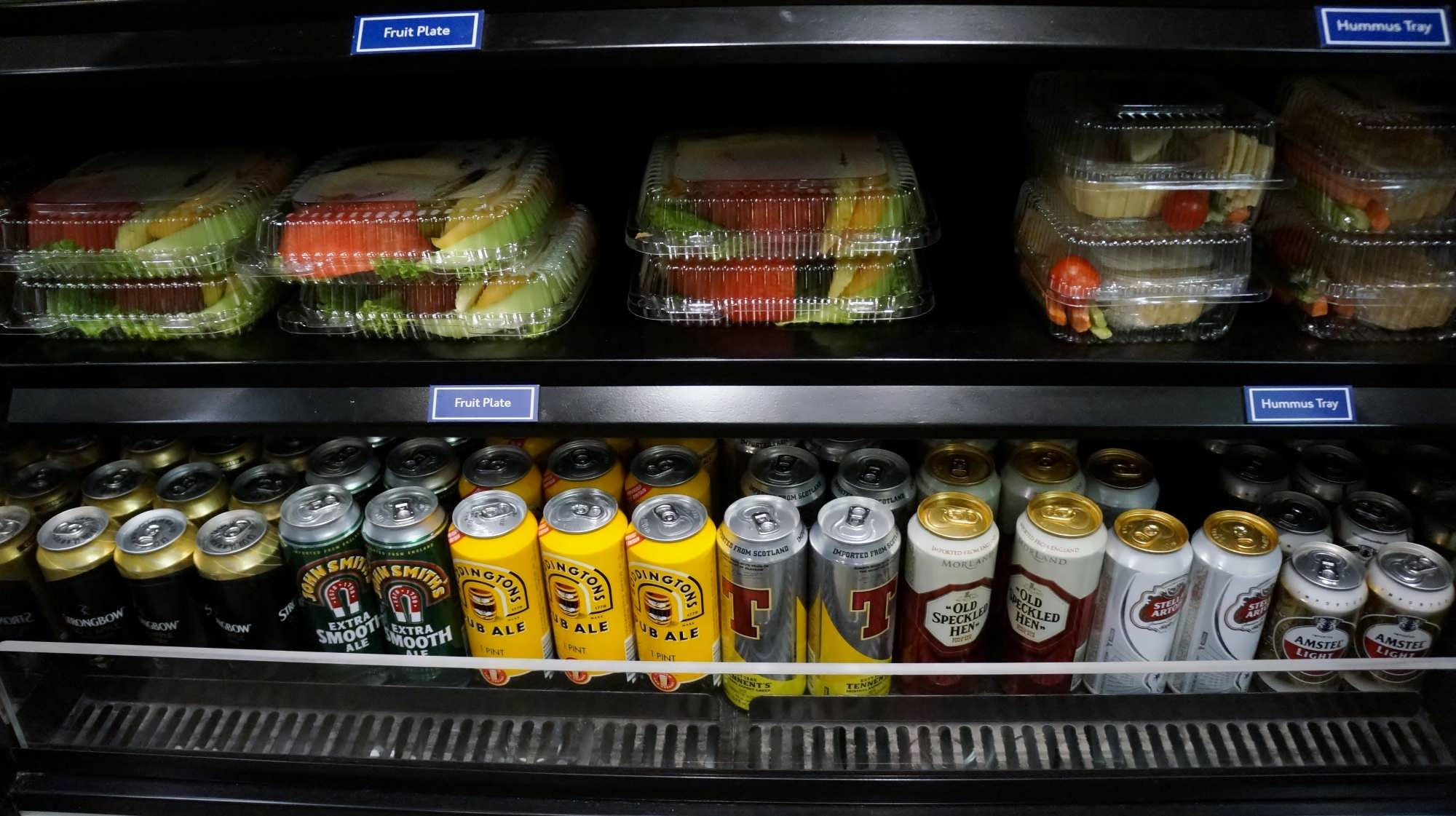 For the first time in Universal's theme-park history, an attraction's queue is also a food-and-beverage destination. Designed to emulate the neighborhood off-license that provides refreshment to weary travelers, the King's Cross kiosk serves up pre-packaged snacks that are perfect for a train ride to destinations unknown (or just Hogsmeade Village). Options include fruit plates, veggies with hummus, cheese and fruit platters, and a classic ham and cheese sandwich, served with crisps.
Also available are authentic crisps, sodas, beers, and chocolate bars from the UK.
Toad in the Hole – $13.99
For most American guests, the name itself is enough to pique one's curiosity. Served at The Leaky Cauldron, this dish is not, in fact, made with amphibians but is a traditional English sausage baked into a Yorkshire pudding (a type of bread roll), and served with onion gravy. While a very popular choice, the portion size is slightly smaller than expected, but it does come with mixed veggies and minted peas. If you are trying to make up your mind while in the parks, check out the food displays at the entrance to Leaky Cauldron to see what you'll be getting before you commit.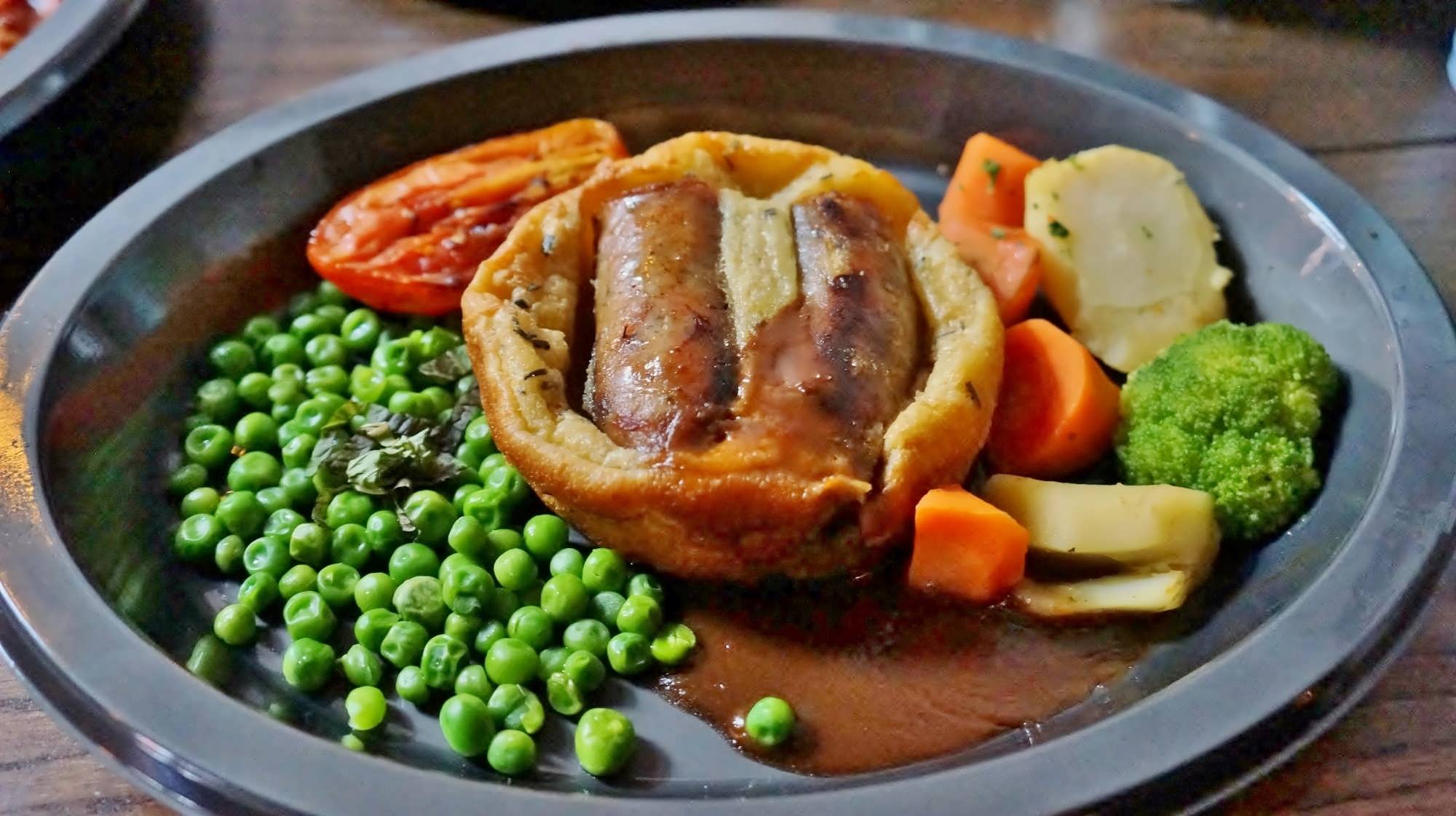 Cottage Pie – $16.99
Another British staple found at The Leaky Cauldron, this savory combination of ground beef and vegetables with a mashed-potato crust top, served with a side salad, is a rich and hearty choice.
Bangers and Mash – $14.99
If you want a larger serving of sausage than the Toad in the Hole, this is a better choice. Two sausages are placed on a bed of mashed potatoes and strewn with sauteed onions and cabbage. The portion of potatoes could be a little more generous, but the roasted veggies and minted peas continue to be a nice touch.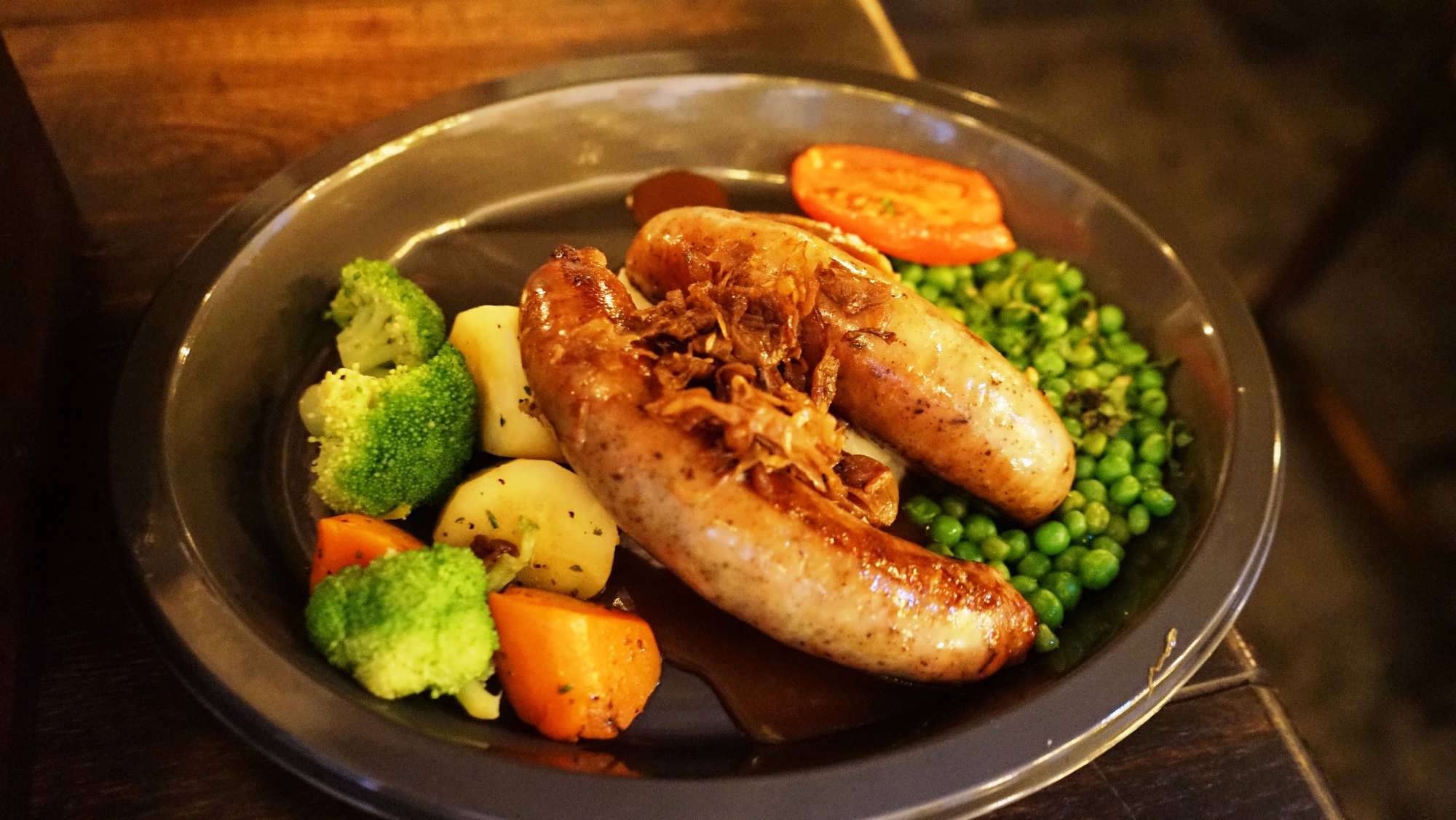 Fisherman's Pie – $17.99
The priciest pie is also one of the most noteworthy, and many diners are surprised at the generous amount of salmon, cod, and shrimp found beneath the pillow of potatoes in this dish. It is a very rich entree and could be suitable for sharing, depending on your appetite.
Beef, Lamb, and Guinness Stew – $16.99
One of the most popular choices, this stew is very satisfying, with plenty of slow-cooked beef and lamb that is oh-so-tender. The thick broth has a light flavor of Guinness, and the bread bowl is the best way to finish off your meal. The accompanying side salad compliments the hearty stew.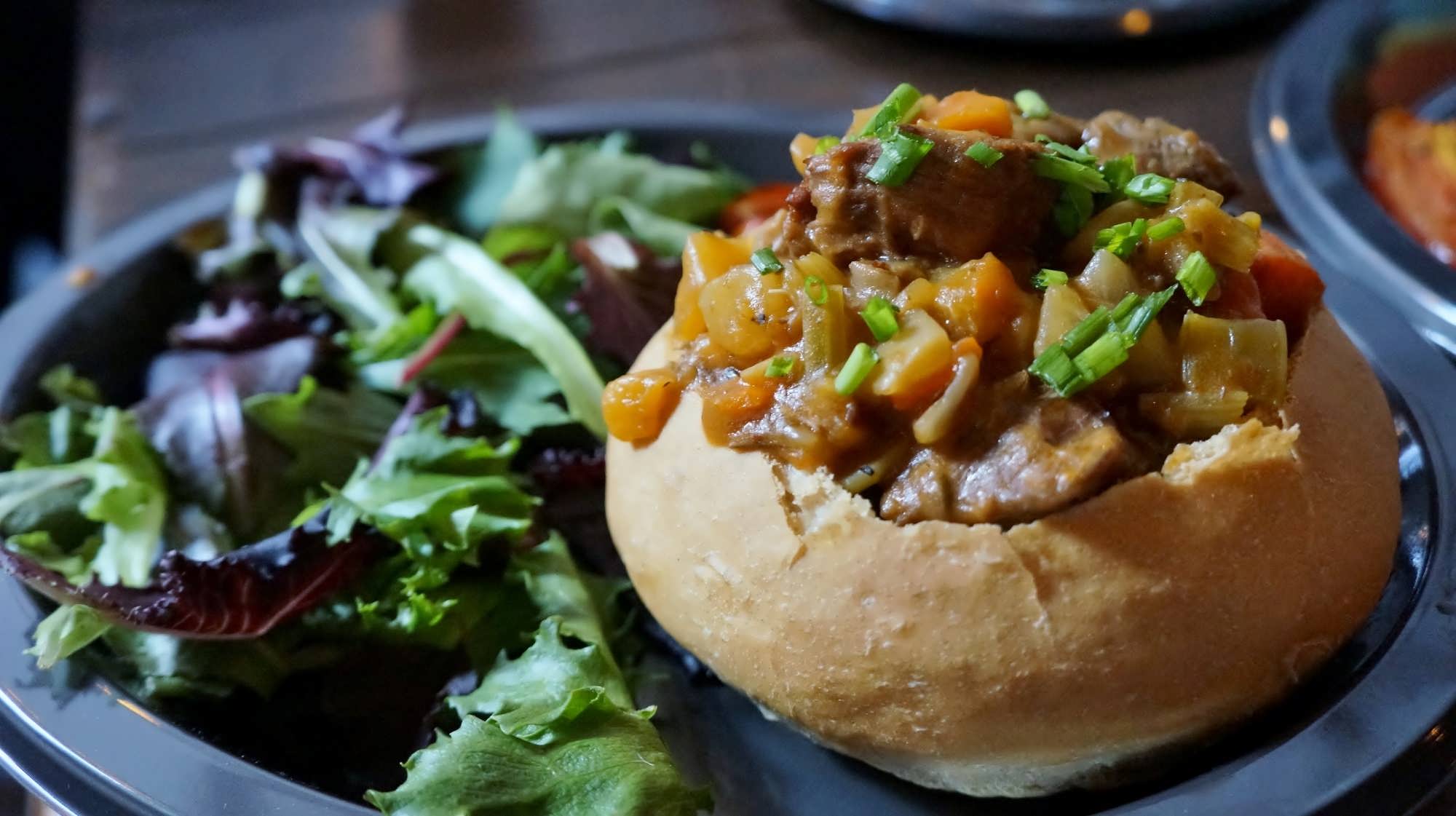 Fish and Chips – $16.99
A simple classic of three to four portions of North Atlantic Cod are battered and fried, and served up with a heaping portion of chips (a.k.a. fries). The outside of the fish is crispy, while the white, flaky fish inside is still juicy; a drizzle of malt vinegar is all you need to perfect this tasty fish dish.
Banger Pub-style Sandwich – $13.49
For sausage fans, this is another good choice, and this sandwich is very flavorful thanks to the sauteed cabbage and onions, deli mustard, and roasted tomatoes. The crusty bread, however, swallows up the filling and is just a bit too big when compared to what it holds, but the potato wedges are always a welcome side.
Specialty Chicken Sandwich – $14.99
Despite the economical price point, this is not your typical chicken sandwich. A grilled chicken breast is spread with the unique flavors of apple-butter mayo, then stuffed with Colby cheese, apple-smoked bacon, roasted tomatoes, and served on a specialty bun with a side of wedges (or salad, upon request).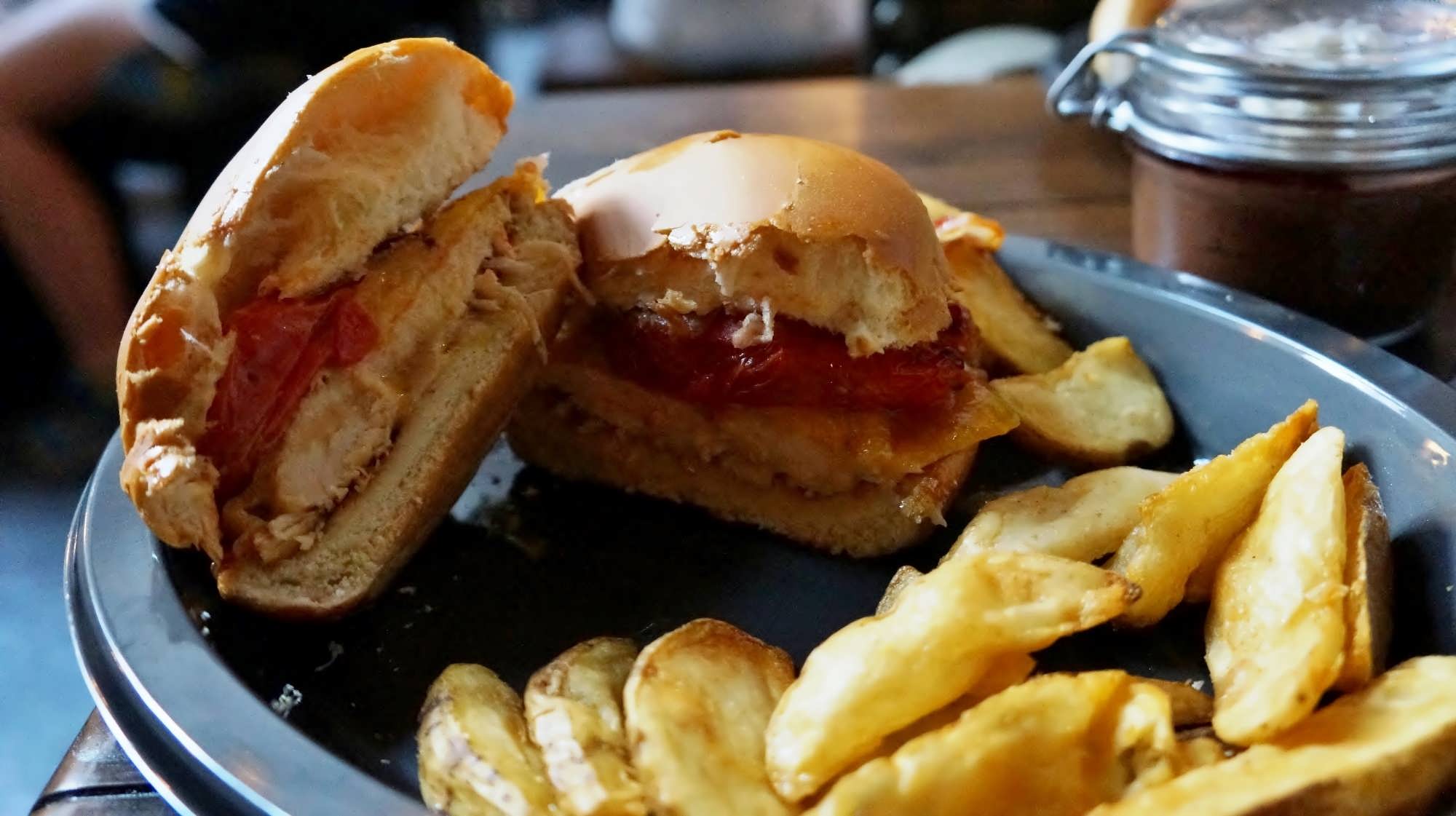 Ploughman's Platter – $21.99
This feast of English cheeses, crusty bread, cornichon pickles, apple beet salad, Branston pickle (a type of chutney), and a Scotch egg is perfect for sharing among friends with a few cold beers.
Scotch Eggs – $5.49
While not on the menu on their own, you're able to purchase scotch eggs individually. These make for a quick little snack or a nice add-on to any entree.
Beef Pasties – $10.99
Three potato-crust pastries are filled with ground meat, a savory gravy, and minced veggies and pair well with any of the draft beers. The Hopping Pot in Carkitt Market is a walk-up counter best known for offering all of the specialty beverages of Diagon Alley, as well as a variety of draft beers; the pasties are tasty and you can get a scoop of Butterbeer for dessert, but we think there is a missed opportunity here to offer more food choices.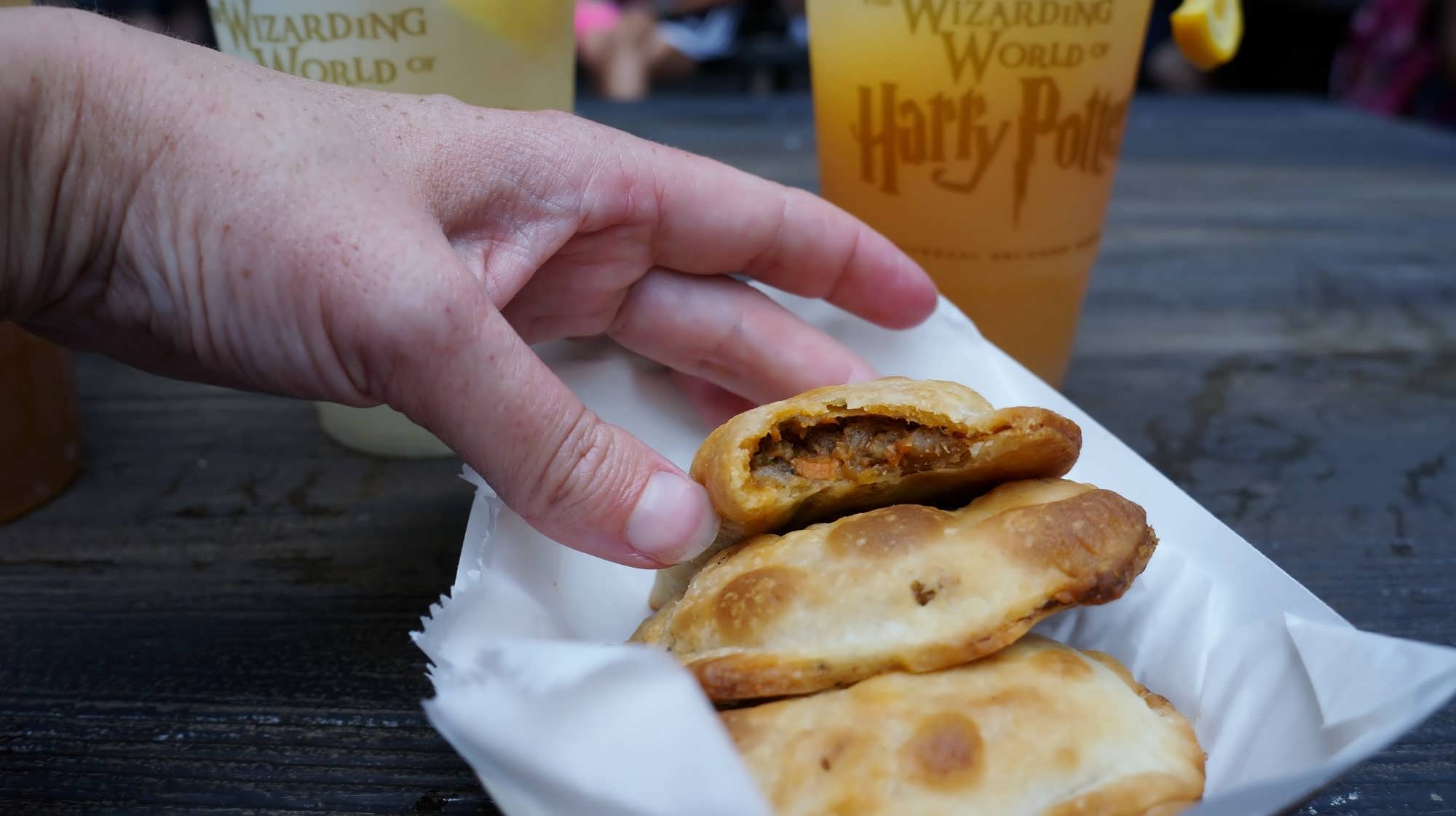 Golden Wonder Potato Crisps – $3.49
While potato chips/crisps aren't exactly a foreign food in America, there are two flavors that have captured everyone's curiosity: Smoked Bacon and Prawn Cocktail. Stop by the Taxi Hut or King's Cross Station to pick up a packet of crisps to munch on while you shop and explore.
What delicious sweets and desserts can I sample?
In the Harry Potter books and films, there is no shortage of candies and treats to tempt your sweet tooth, and we've all dreamed of "taking the lot" from the candy trolley on the Hogwarts Express or indulging in a feast of desserts at the Great Hall in Hogwarts. Diagon Alley gives guests the chance to pick up a cone at Florean Fortescue's Ice-Cream Parlour, where Harry often studied while staying at The Leaky Cauldron (sadly, not an actual inn at the Universal version) and sample the sweets that the Weasley twins were always "testing" on Hogwarts' willing students and unwitting teachers.
Soft-serve ice cream – $5.99 in a cone, $8.49 in a souvenir glass
Florean Fortescue's Ice-Cream Parlour dishes out 10 soft-serve flavors, plus the iconic Butterbeer flavor, which is in a category all its own. All soft-serve varieties have a vanilla base with a swirl of flavored syrup that creates a visual and flavorful indulgence.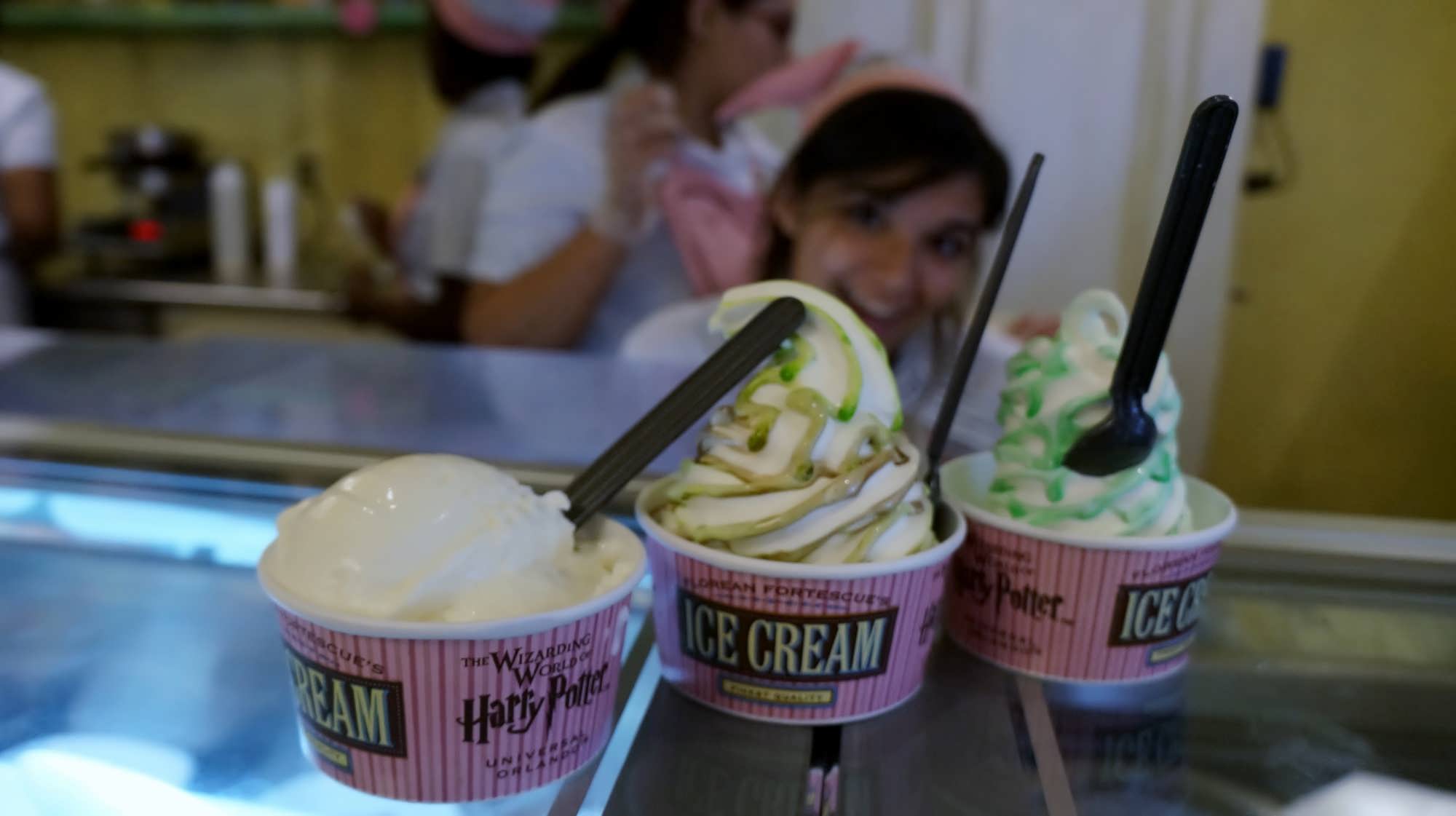 The most popular flavors (besides Butterbeer) are Orange Marmalade, Granny Smith, and Toffee Apple. The Toffee Apple is actually a combination of the toffee and Granny Smith flavors – a delightful combination of tart and sweet. The pistachio is more subtle and sweet than a classic gelato flavor, while classics like chocolate and strawberry are definitely crowd-pleasers.
Hard-packed ice cream – $6.99 in cone, $9.49 in a souvenir glass
As if 10 flavors of soft serve were not enough variety, there are 10 more flavor choices of hand-scooped ice cream. Apple Crumble was an instant hit, while Salted Caramel Blondie, Sticky Toffee Pudding, and Chocolate Chili also get a lot of buzz from guests. For something unique, the Earl Grey and Lavender flavor is refreshing, while Clotted Cream, for those unfamiliar with the real deal found in the UK, starts off sweet and creamy but ends on a surprisingly sour note to balance out the sweetness.
A variety of toppings are available for $1.19 each, such as shortbread crumbles, waffle cone pieces, crystals (sugar sprinkles), chocolate chips, hundreds-and-thousands (rainbow sprinkles), and chopped nuts. Or you can go all the way and order a sundae for $10.49 with your choice of hot fudge, caramel, or strawberry sauce – finished off with whipped cream and a cherry, of course!
Chocolate Potted Cream – $4.99
Back at The Leaky Cauldron, this rich, thick chocolate cream is chocolatey heaven in an adorable glass jar. The cream is dark chocolate with a heavy-yet-whipped consistency, while the dab of whipped cream and candied cherry, along with a drizzle of cherry syrup, add a bit of balance and tang.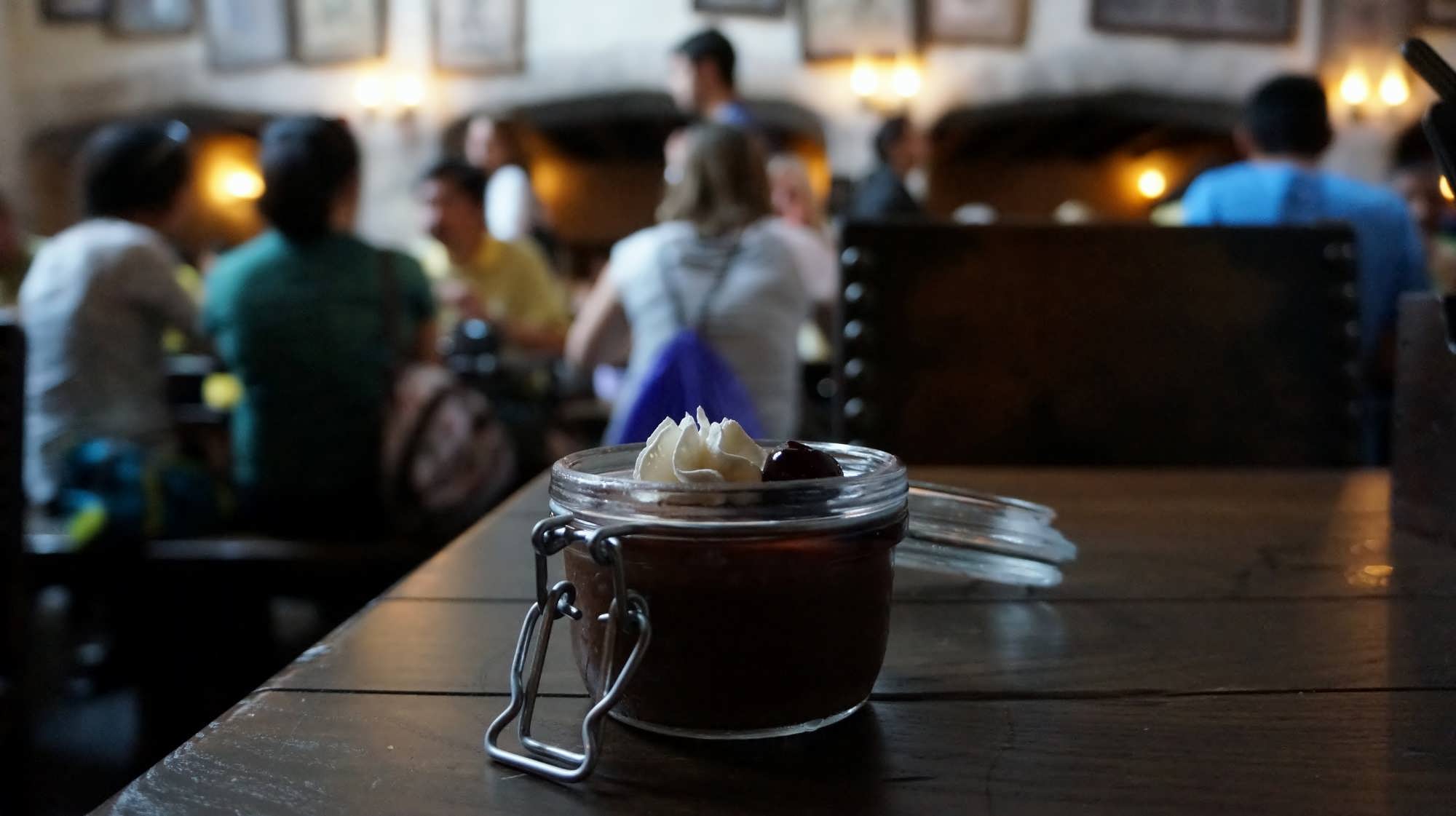 Butterbeer Potted Cream – $5.99
Yet another Butterbeer variation, the best way to describe this dish is a Butterbeer-flavored pudding. Unlike Butterbeer ice cream, the potted cream isn't extremely sweet, and it comes with a dab of whipped cream.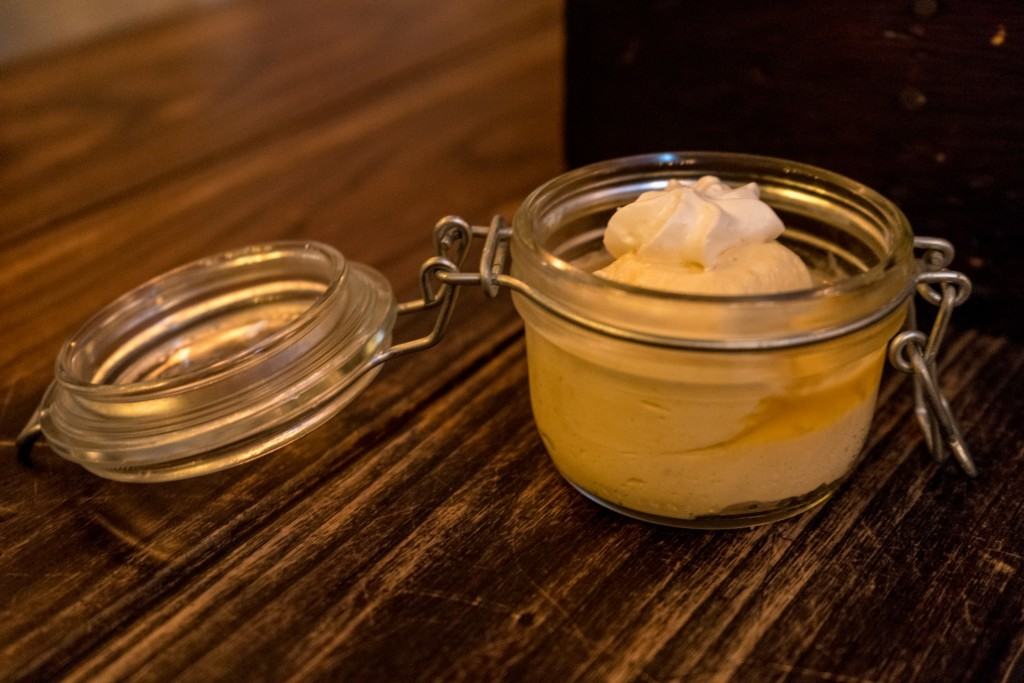 Sticky Toffee Pudding – $7.49
A scoop of vanilla ice cream is lumped on to a warm, gooey, toffee-flavored bread pudding and smothered with a flowing layer of sticky butterscotch sauce.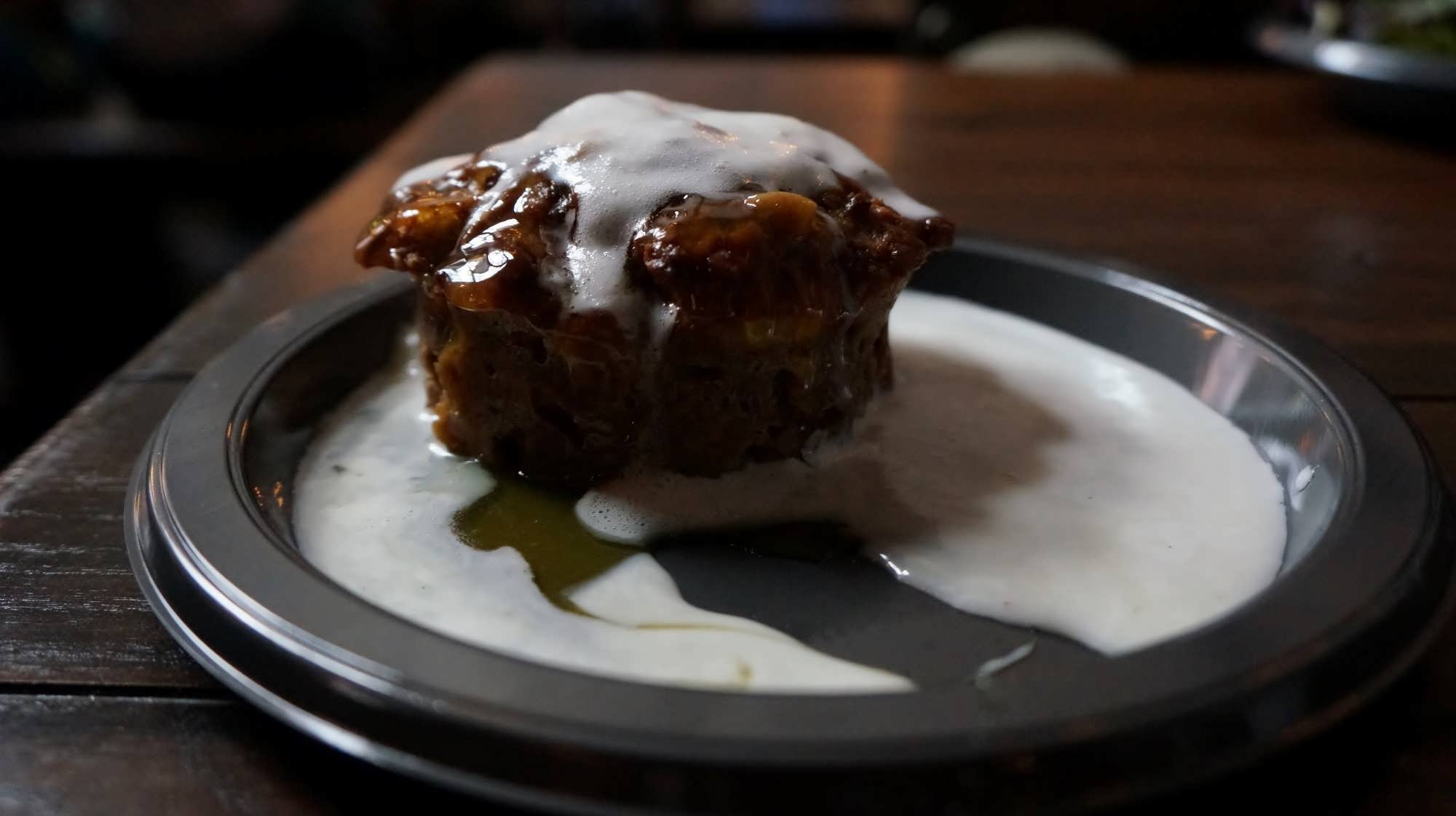 Cranachan – $6.99
With the heavy entrees offered at The Leaky Cauldron, it is nice to have a dessert on the lighter side, that is still full of flavor. Heavy cream is blended with honey, then layered with raspberries and raspberry jam. Toasted oats are sprinkled on top to add a little crunch.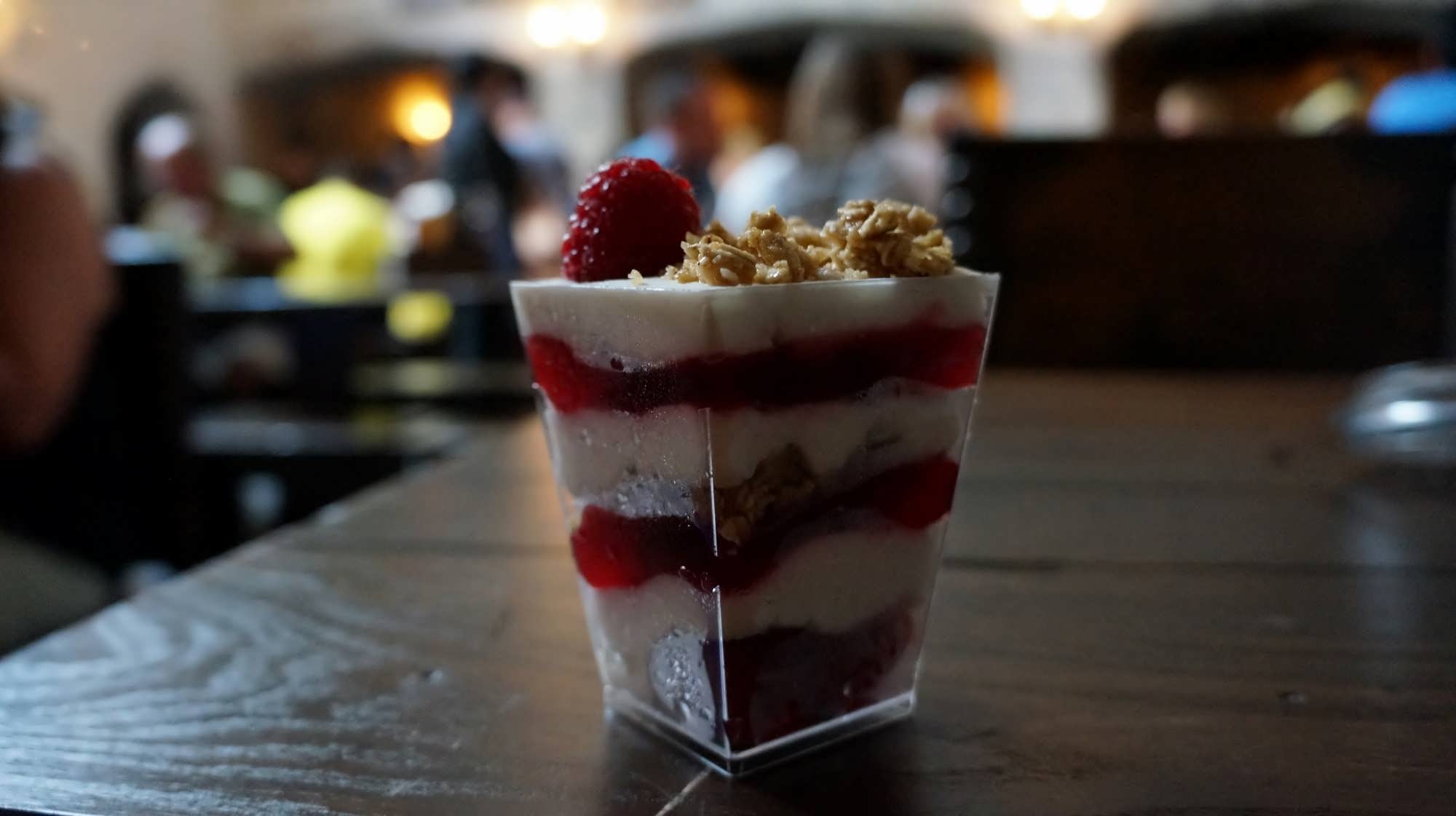 Weasleys' Skiving Snackbox – $39.95
Those ingenious Weasley brothers are perhaps most famous for their sweets that produce bizarre side effects – perfect for practical jokes and getting out of school. While the candies available at Weasleys' Wizard Wheezes are suitable for muggles, they do come with a warning label printed on the back indicating that there may – or may not – be magical side effects associated with the consumption of such treats.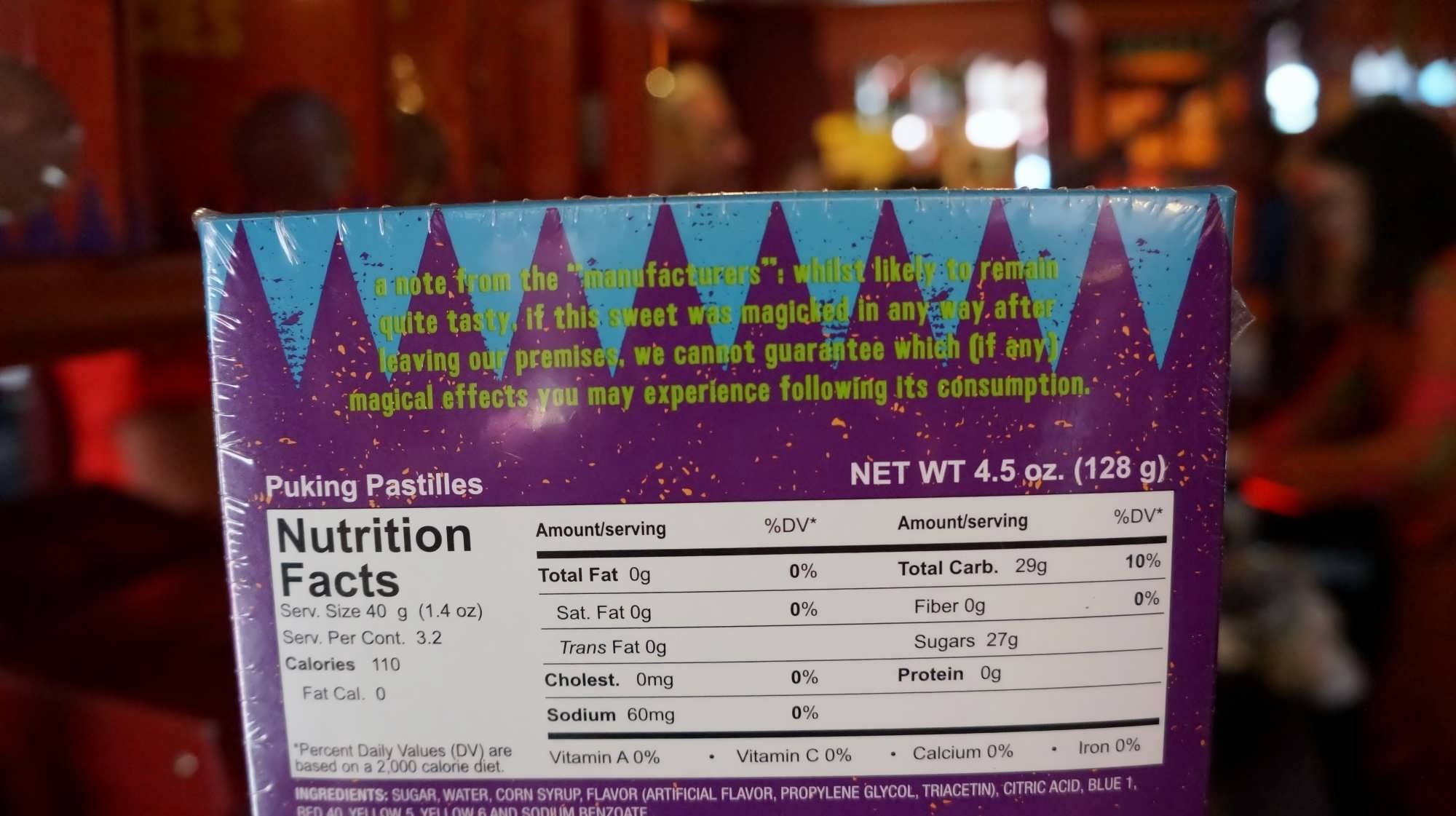 Priced separately at $6.95 each, you can choose from four Weasley creations: Fainting Fancies, Fever Fudge, Nosebleed Nougat, and Puking Pastilles. Or, if you are indecisive and/or want to surprise the Potter head in your family, the Skiving Snack Box offers all four treats in a beautiful box that makes a great presentation for $39.95.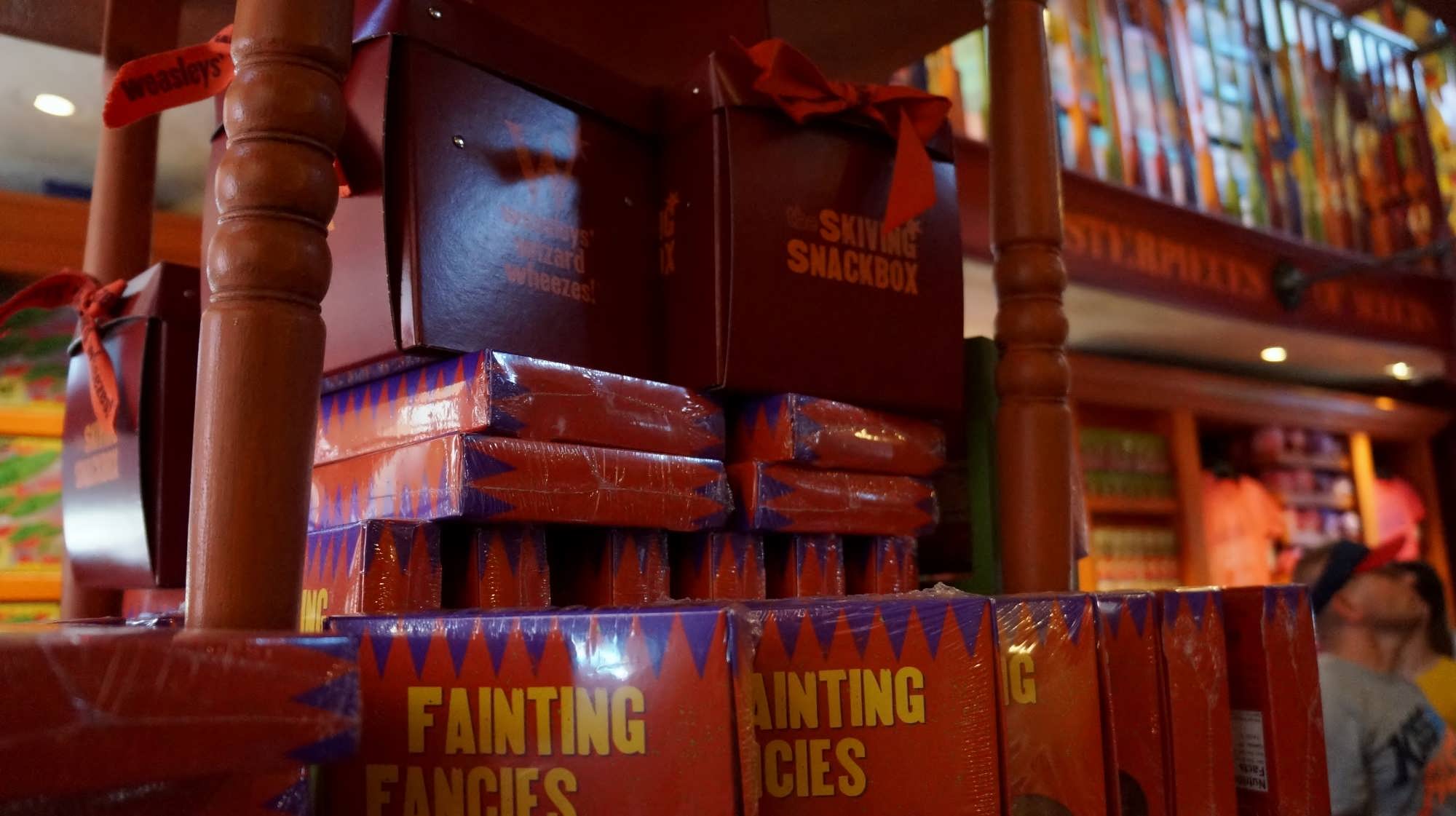 Chocolate Gold Galleons – $6.99
Over at Gringotts Money Exchange, you can snatch up a sack of gold galleons. However, these little beauties are chocolate rather than a form of currency – though they could be used for bartering with a chocolate-loving Harry Potter devotee.
Can I create my own wizardly concoctions?
Maybe it's the magical atmosphere or the enchanting details throughout the newer Wizarding World of Harry Potter land, but there is something in the air that is inspiring guests to get creative, and many visitors are combining Diagon Alley food and drinks to make their own creations.
The Butterbeer Float is a delicious do-it-yourself treat and is easiest to make by visiting The Hopping Pot. Order a Butterbeer of any variety, along with a cup of Butterbeer ice cream. Drink a bit of your Butterbeer to give you some room in the cup before stirring in your Butterbeer ice cream – as much or as little as you'd like – and prepare for the ultimate Butterbeer sugar rush!
For adults, there's another kind of Butterbeer float, using actual beer. The best option is to use the dark and sweet Wizard's Brew stout; we've tried this with the Dragon Scale beer and the combination does not go as well, although it's still doable. If you choose to create your own Butterbeer Beer-Float, be sure to drink it quickly – otherwise, the cream does get a little chunky.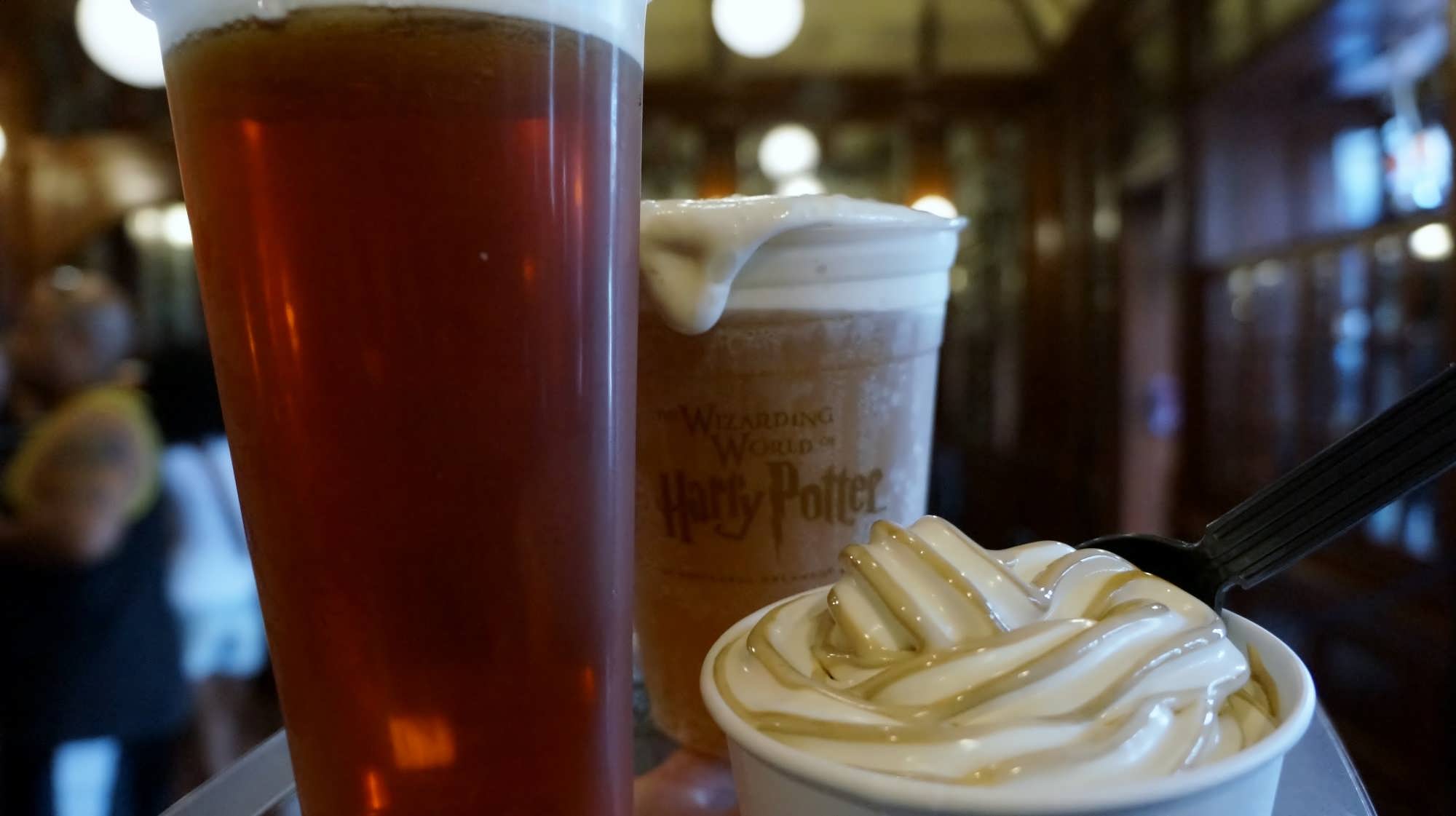 One of the most refreshing creations you can make involves two of the signature beverages. On its own, the Peachtree Fizzing Tea can leave a little to be desired; however, a popular drink here in America is an Arnold Palmer (named after the local golfer), which is half lemonade and half tea. So take your Peachtree Fizzing Tea, drink about half of it, and then pour in half of your Tongue-Tying Lemon Squash. Yer a wizard, Harry Palmer!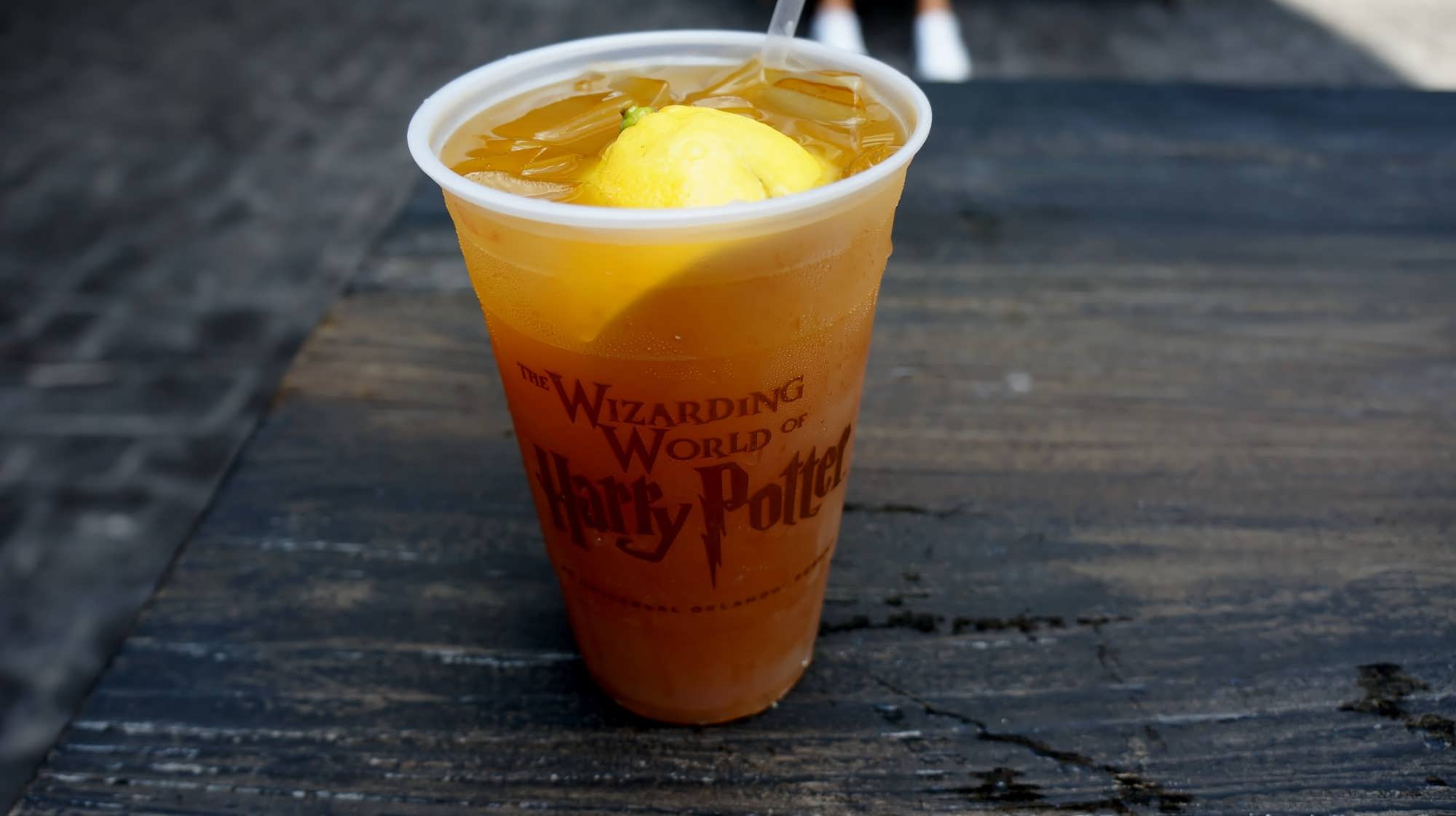 As you can see, The Wizarding World of Harry Potter – Diagon Alley offers a fine feast of food and beverage options. Be sure to plan enough time – and save enough room in your stomach – to try all of these magical creations!
Do you have a question about the information on this page or would you like to provide feedback? Please let us know by posting in our
Universal Community
Facebook group.