Skip to: Overview | Location | Restrictions | Fear factor | Fun fact | Guest reviews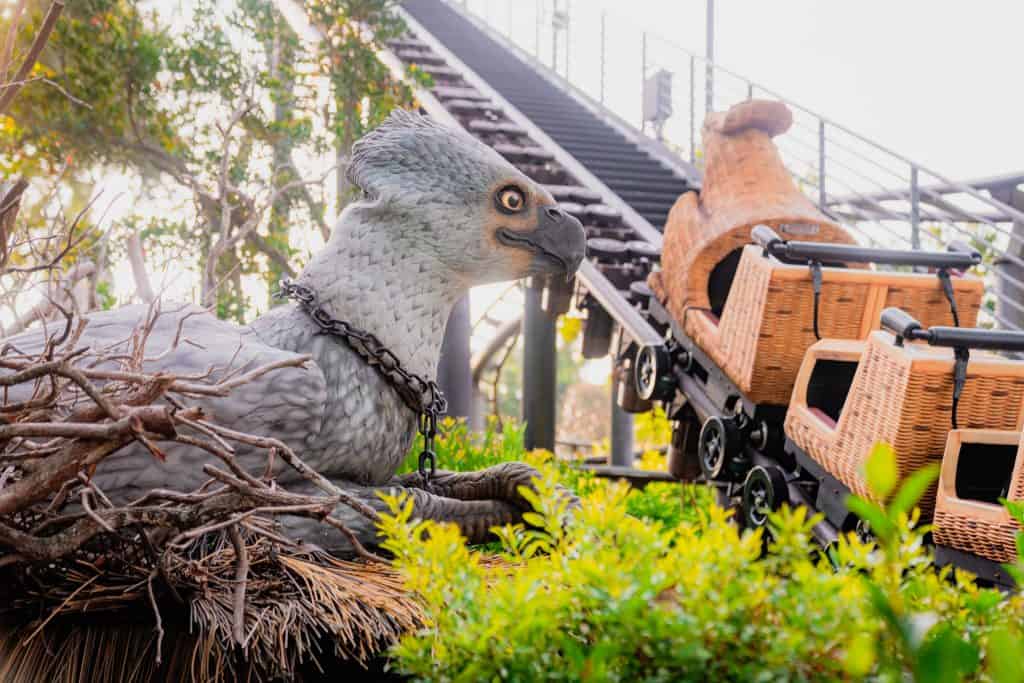 What is Flight of the Hippogriff?
The Flight of the Hippogriff roller coaster brings you into the Forbidden Forest, past Hagrid's hut, and face-to-face with a magical creature named Buckbeak (the titular hippogriff). Although Flight is an outdoor kiddie coaster, it is surprisingly rambunctious – in a good way – and it offers fantastic views of Hogwarts Castle and Hogsmeade Village. Don't miss it!
Where is Flight of the Hippogriff located?
In The Wizarding World of Harry Potter – Hogsmeade, which is in Islands of Adventure.
Flight of the Hippogriff – height restrictions and other factors
Height requirement is 36 inches; has Express Pass access; Child Swap available.
Flight of the Hippogriff – what you wish you knew before you experienced it
Just how much fun it really is, despite its being a kiddie attraction. And be sure to go back and ride it at night, when Hogsmeade Village sparkles and the ride seems entirely new.
How scary is Flight of the Hippogriff?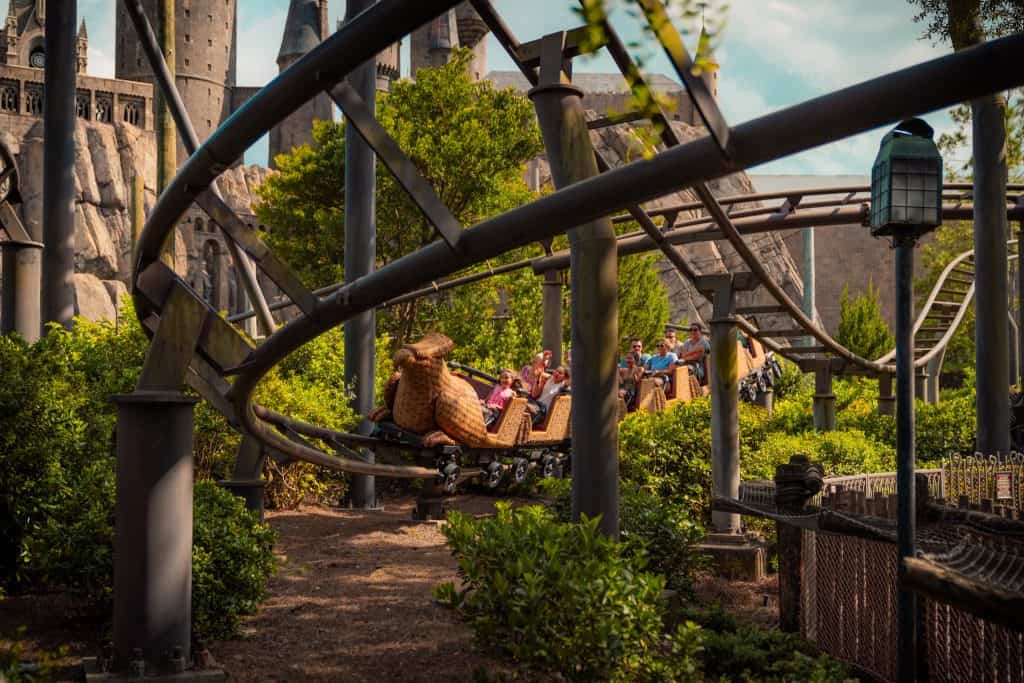 We rate this ride two out of five hippogriffs in terms of fear factor, simply because it is a rollercoaster. However, there's not much to fear here as you soar across the rather tame track.
How long is the wait for Flight of the Hippogriff?
It is rare to see wait times longer than 40 minutes, even on the busiest of days.
What was Flight of the Hippogriff's opening date?
June 18, 2010
Flight of the Hippogriff – OI fun fact
Before The Wizarding World of Harry Potter, Flight of the Hippogriff was called Flying Unicorn, and it was actually shuttered for two years while it – and the rest of the area around it – was given the Harry Potter makeover.
(You can read more about Flying Unicorn and its Merlinwood-themed section in our Islands of Adventure retrospective.)
Flight of the Hippogriff – photo gallery
Flight of the Hippogriff – real guest reviews
Flight of the Hippogriff
Average rating:
11 reviews
May 27, 2014
Family fun
Date Of Last Visit:
02/22/2014
This is a fun option for the whole family. As a potter fan, I really appreciated the attention to detail in all of the scenes that the roller coaster passes through. The ride does not have any large drops and is very short. Great for kids and potter fans!
May 26, 2014
Say hello to Buckbeak!
Date Of Last Visit:
03/09/2014
I am not one to go on this ride every trip. I find it very kid-friendly, however. The lines can get a bit long, which is strange....

As a Harry Potter fan myself, I do appreciate the detail and references put into this ride. However, it isn't my first resort coming to the park. I'll usually ride it when the lines are short.
May 25, 2014
Buckbeeeeeeeak!
Date Of Last Visit:
April 2014
First, if you're not a Harry Potter fan, you can go to USF and ride the Woody Woodpecker ride without such a long line. If you want a thrilling coaster, there are others in the park. But seriously, who's not a Harry Potter fan?!!! The cons: the line is usually too long and the ride is too short. The pros: Buckbeak, Hagrid's cabin, the views and a fun little coaster. Buckbeak greets you as you climb the first hill. That's when you see the stunning views of the park and Hogwarts and Hogsmead. Hagrid's cabin is just like the movie come to life. The coaster ride is fun and fast but no really steep drops. I wish it would roll twice instead of stopping. Are you listening Universal???
May 24, 2014
A fun Potter family coaster
Date Of Last Visit:
12 June 2013
The Flight of the Hippogriff is a coaster for the whole family. We had 15 in our family ride this ride ranging from age 3 to 55 years and everyone had fun. It doesn't jerk you around very much so anyone can ride it. It was great to see Hagrid's hut and Buckbeak too.
Apr 19, 2014
Buckbeak and Hagrid
Date Of Last Visit:
April 9
This is a small roller coaster. Some might say its just for kids but I love it. My only complaint would be that the ride time is so short and the line is quite long. If you love small roller coasters like me then maybe it's worth the wait. You also get to see Hagrid's Cabin while waiting and when riding!
Do you have a question about the information on this page or would you like to provide feedback? Please let us know by posting in our
Orlando Informer Community
on Facebook.