Skip to: Overview | Location | Theming | Merchandise | Fun facts | Guest reviews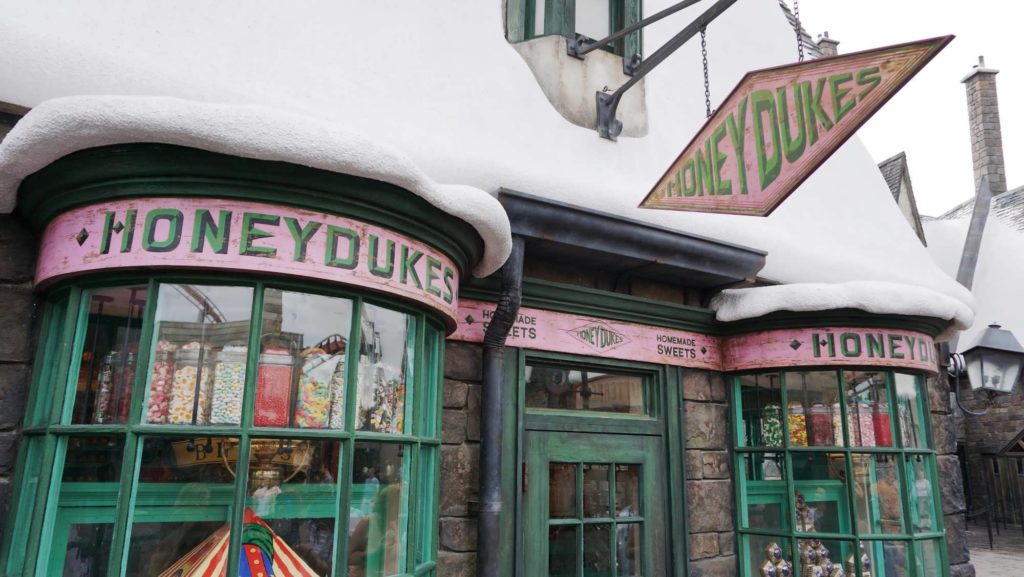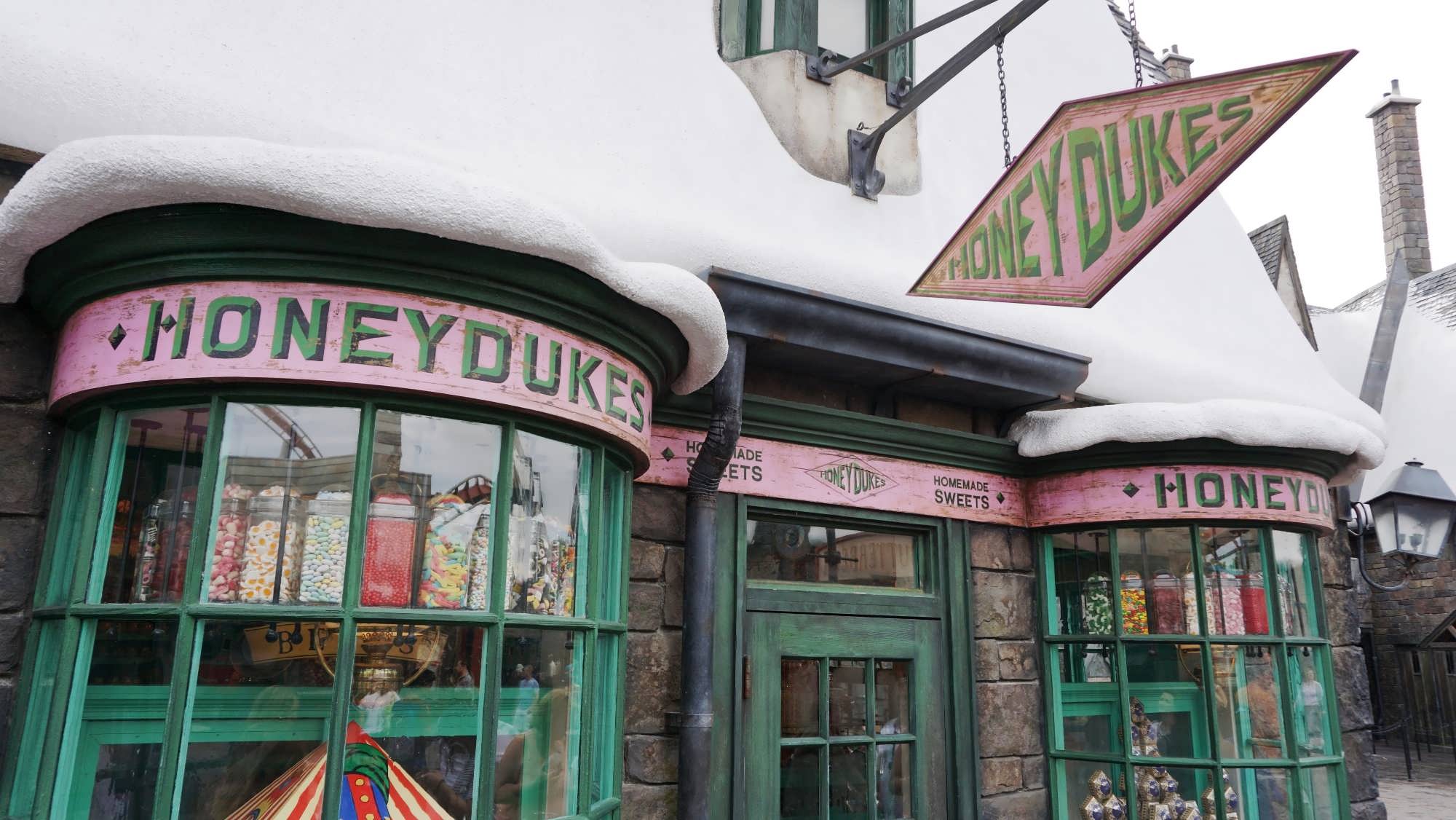 What is Honeydukes?
The flagship wizarding shop of The Wizarding World of Harry Potter – Hogsmeade, Honeydukes looks almost exactly like it does in the movie Harry Potter and the Prisoner of Azkaban, and it's filled with many of the same delicious sweets and candies. Half-candy shop, half-bakery, Honeydukes has expanded into the former Zonko's Joke Shop to offer even more sugary goodness. The moving window displays and whimsical interior décor are absolutely not to be missed.
Where is Honeydukes located?
In The Wizarding World of Harry Potter – Hogsmeade, which is in Universal's Islands of Adventure.
Honeydukes – theming
Bright, vivid, and fanciful, Honeydukes is filled with color, from the peppermint-green, frosting-covered shelves to the cacophony of display jars that line the walls. The store design echoes the sweet shops of 1950s Britain (many of which still exist today), down to the Edwardian-revival brass lamps popularized in the late 1960s – with a decidedly magical twist. Each item has its own unique Wizarding World packaging to maintain the otherworldly immersion.
What food and merchandise are sold at Honeydukes?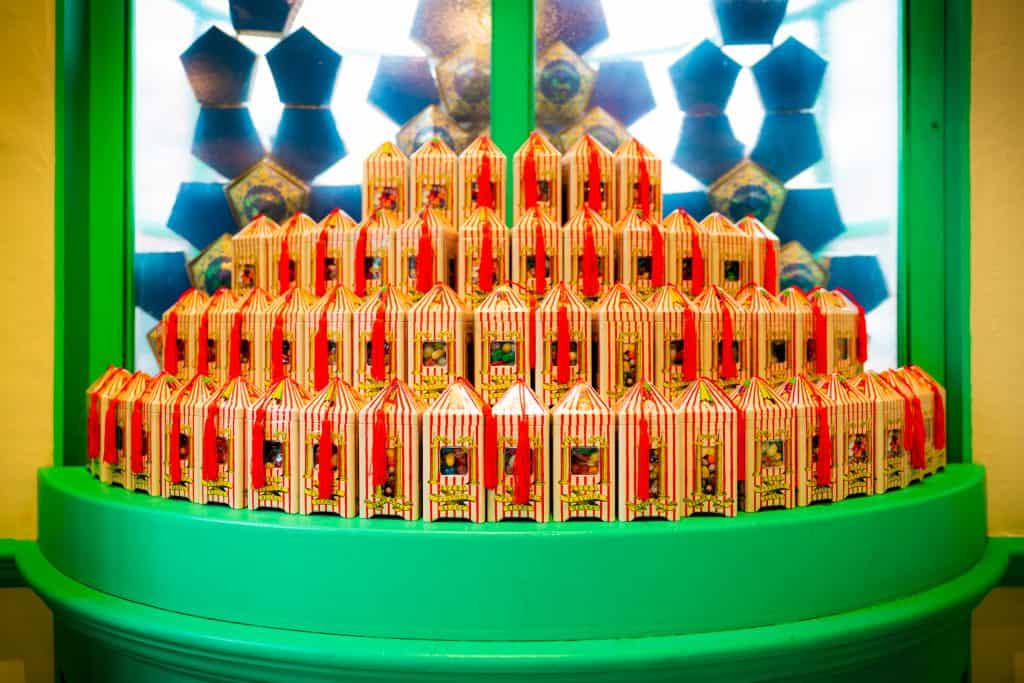 Candy, candy, and more candy! The (wizarding) world-famous Chocolate Frogs and Bertie Bott's Every Flavour Beans can be found here, but don't forget Cauldron Cakes, dipped apples, Pumpkin Pasties, and the entire fudge section that sits in the back half of the shop. You can easily spend a half-hour in here just taking in all the different delectable victuals.
Other items include:
Acid Pops
Exploding Bonbons
Assorted Sours
Chocolate Cauldrons
Chocolate Skeletons
Edible Dark Marks
Fainting Fancies
Fever Fudge
Fudge Flies
Jelly Slugs
Sherbet Lemon (one of Dumbledore's favorites)
Honeydukes – OI fun facts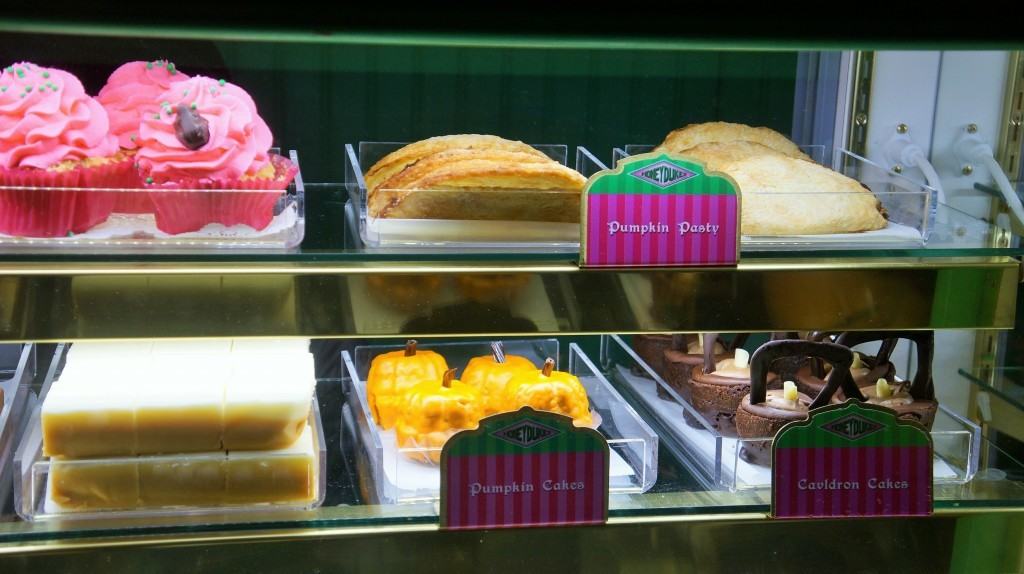 Honeydukes was the only candy shop in The Wizarding World of Harry Potter for five-and-a-half years, until Sugarplum's Sweet Shop opened in Diagon Alley in 2016.
Make sure to snap a photo with the creepy Eyeball Bonanza machine, which is featured in the films Prisoner of Azkaban and Half-Blood Prince both.
Each Chocolate Frog comes with a collectible wizard card in every box! The original cards featured all four founders of the Hogwarts houses (Gryffindor, Ravenclaw, Slytherin, and Hufflepuff), but new wizard cards are added into the mix every few years (or so).
Honeydukes – photo gallery
Honeydukes – real guest reviews
Orlando Informer
Average rating:
0 reviews
Do you have a question about the information on this page or would you like to provide feedback? Please let us know by posting in our
Orlando Informer Community
on Facebook.