The Wizarding World of Harry Potter is, by far, the most exciting thing to happen to Orlando's theme parks over the last decade – its tremendous attention to detail and the one-of-a-kind experiences it offers to Central Florida visitors has made Universal Orlando more popular than ever. Meanwhile, Volcano Bay does for water parks what the Wizarding World has done for traditional theme-park lands, and no visit to the resort can be considered complete without checking out both of these massive, game-changing additions.
If you're planning a visit to either the Wizarding World or Volcano Bay during a time when there will be moderate to busy crowds (see our FREE 12-month Universal Orlando crowd calendar to double check), then we strongly recommend that you obtain access to Early Park Admission (EPA) – a perk that will get you into one of the two theme parks and, in some cases, Volcano Bay a full hour before the general public.
This page offers a complete guide to Universal's EPA, with every detail you'll need to get the most out of your extra hour.
Skip to: EPA overview | EPA at the Wizarding World | How can I get EPA? | EPA at Volcano Bay | FAQs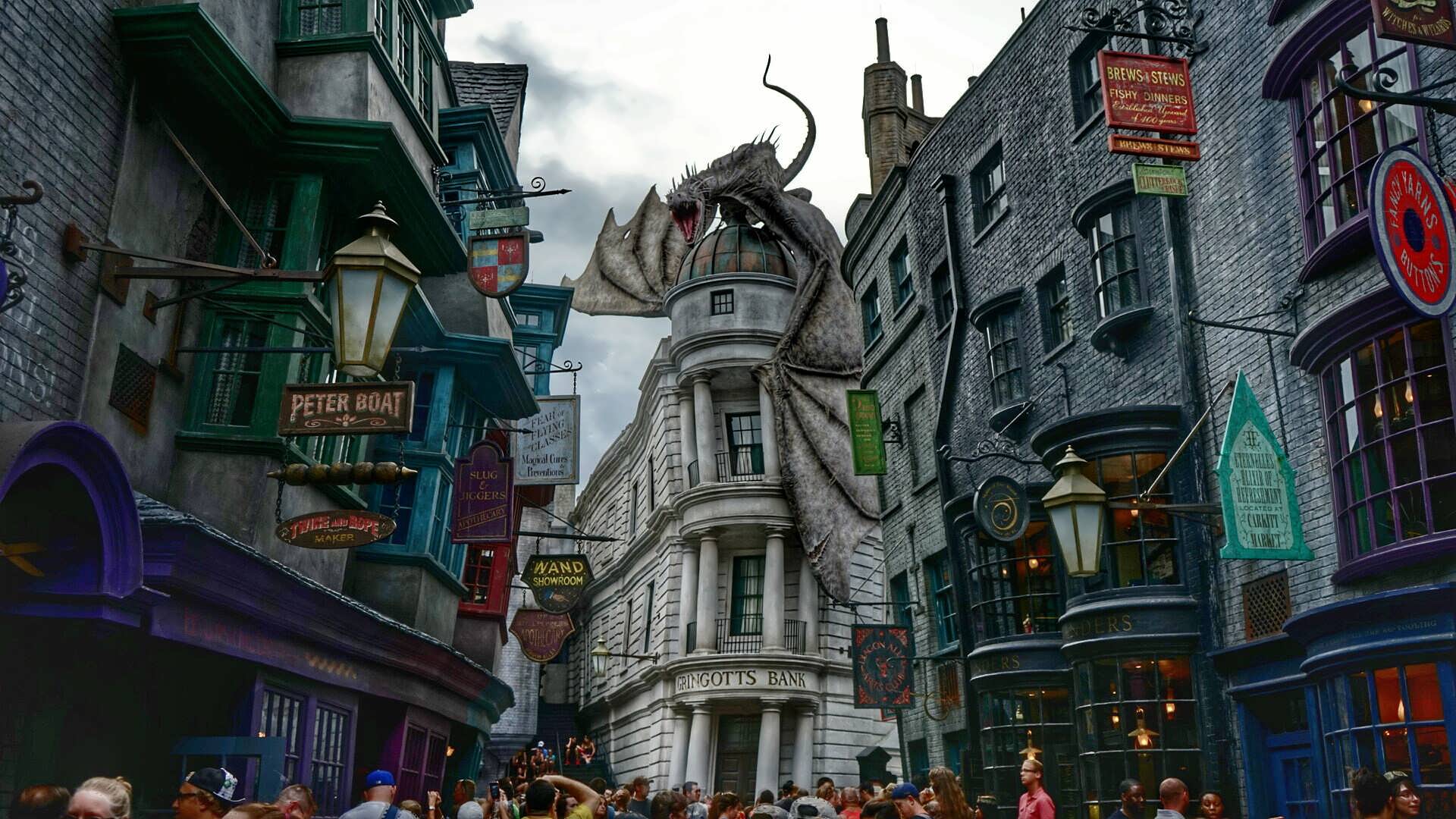 What is Early Park Admission?
Guests with Early Park Admission have the benefit of entering either Universal Studios Florida or Islands of Adventure (as selected by Universal) and, additionally, Volcano Bay an hour before the parks open to the general public. For most of the year, this early-entry period at the theme parks starts at 8:00 am, meaning everyone else will be allowed in around 9:00 am. During the busier seasons, Universal may open one or more of the parks an hour before that, with EPA starting at 7:00 am and allowing other guests in at 8:00. And during the peak season, Universal may opt to have EPA at both theme parks simultaneously.
Even with Early Park Admission, we recommend arriving at the turnstiles 30 minutes before the gates open, although you may want to get there 45 minutes or a full hour beforehand if you're heading to one of the most popular rides or if you're visiting during a busy period.
Early Park Admission to The Wizarding World of Harry Potter
Typically, Early Park Admission will allow guests into either The Wizarding World of Harry Potter – Hogsmeade in Islands of Adventure or The Wizarding World of Harry Potter – Diagon Alley in Universal Studios Florida. To find out if you will have EPA at Diagon Alley or Hogsmeade (or both) during your visit, click on the relevant dates in our crowd calendar.
Do I really need Early Park Admission to the Wizarding World?
In a word, yes. The peak seasons tend to produce a sea of muggles; when the parks are slow, the Wizarding World is busy, and when the parks are busy, the Wizarding World is crushed.
Is there anything else open in the theme parks besides The Wizarding World?
Yes! When Early Park Admission is at Universal Studios Florida, Despicable Me Minion Mayhem will be open to delight guests; when it's at Islands of Adventure, meanwhile, early attendees can hop on Jurassic World VelociCoaster (though, when things get really busy during the peak season, The Incredible Hulk Coaster and/or Doctor Doom's Fearfall get temporarily added to the lineup, as well). Remember that these are the attractions available in addition to all those within The Wizarding World.
How do I get Early Park Admission to The Wizarding World of Harry Potter?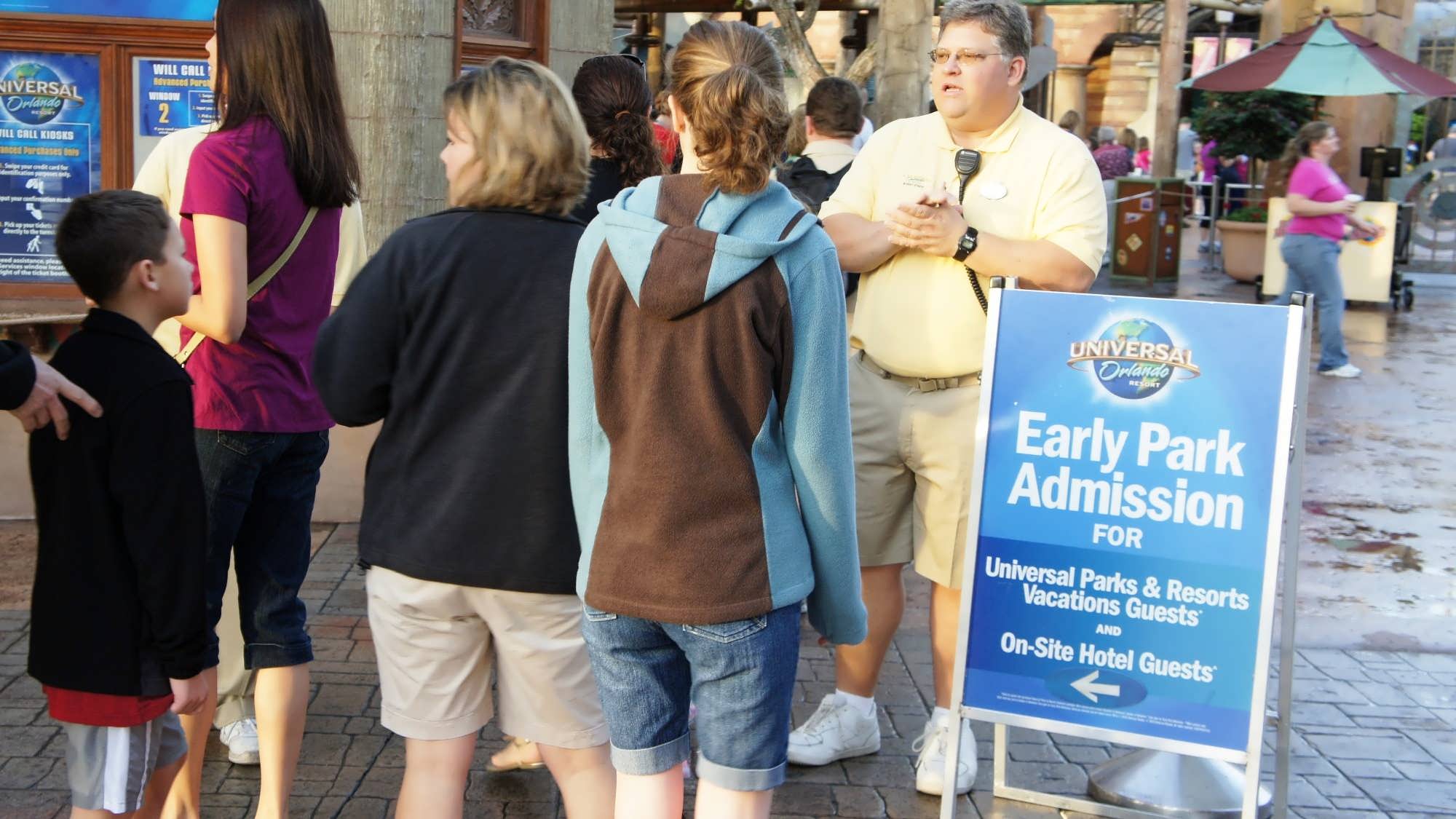 There are three ways to get in on Early Park Admission to The Wizarding World of Harry Potter, and since the details can be complicated, we'll walk you through each one.
Stay at a Universal Orlando hotel
The first method is to stay at one of Universal's hotels, which include Portofino Bay Hotel, Hard Rock Hotel, Royal Pacific Resort, Sapphire Falls Resort, Cabana Bay Beach Resort, Aventura Hotel, and Endless Summer Resort. All guests staying at a Universal resort, regardless of how they booked their rooms or which venue they chose, will get EPA as a benefit, including on both their check-in and check-out days. Just make sure to have your room key-card ready to show as you enter the park.
Book a Universal Orlando vacation package
The second way to get Early Park Admission is to book a Universal Orlando vacation package, which must include, at the very least, accommodations and theme-park tickets. As far as accommodations go, you can choose from over 20 Universal partner hotels, which tend to be mid-range and quite affordable. With such a broad selection, you should be able to find something to match your budget and style, so check out our guide to Universal vacation packages for more information.
We must emphasize that staying at a partner hotel alone is not enough to get EPA; you must book a Universal Orlando vacation package, which includes both that hotel stay and park admission, to be granted the benefit. There are many third-party travel agents who can sell you a vacation package, in addition to going through Universal's own website. However, if you aren't booking directly with Universal, make sure you get an E-Travel Document that states your Early Park Admission eligibility.
Purchase a Preferred or Premier annual pass
Finally, if you don't need a place to stay but still want that hour of early park access, consider purchasing a Universal Orlando annual pass, as both Preferred and Premier passholders receive EPA. (Just please be aware that there are blockout dates for Preferred passes, and the benefits are subject to change at any time.)
Is there Early Park Admission at Universal's Volcano Bay?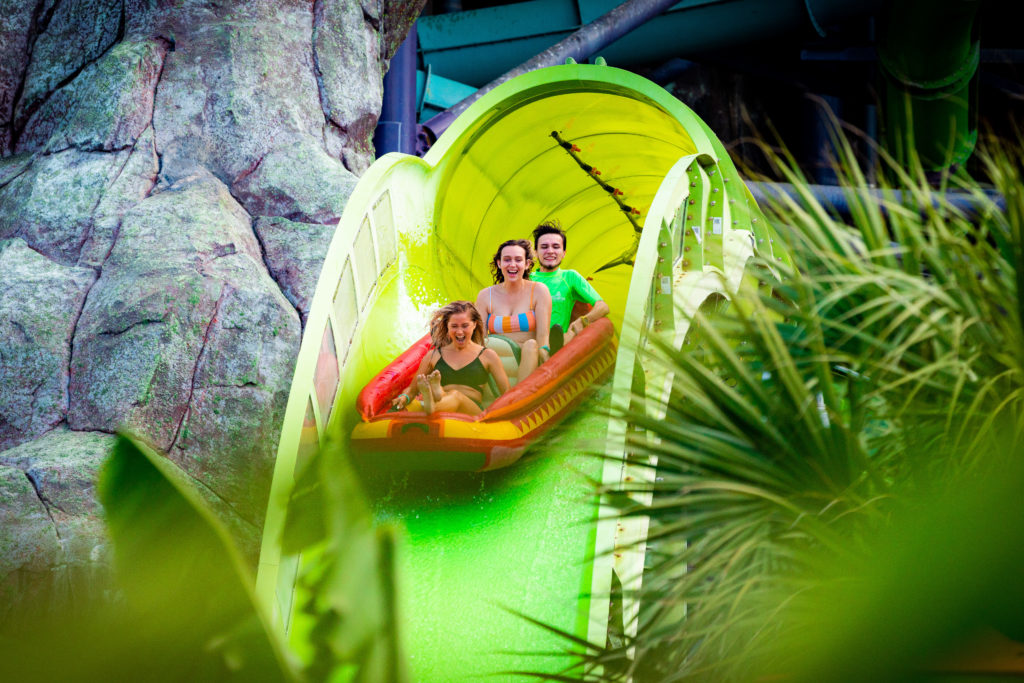 Early Park Admission is now offered at Volcano Bay for any Universal hotel guests or for those staying at a partner hotel with an eligible vacation package. The whole process is similar to that for the original two theme parks, where you will show either your room key or E-Travel Document.
We should emphasize that EPA at the water park isn't a typical benefit for annual passholders, even those with a three-park pass. It still, however, may be offered at certain times during the year – to confirm your dates and AP benefits, visit Universal Orlando's page. (Or pick up your Volcano Bay tickets here.)
What attractions are open during Volcano Bay's Early Park Admission?
The following slides are available to start your morning with a good soaking when you arrive at the Waturi people's island oasis, Volcano Bay:
Ohyah of Ohyah & Ohno Drop Slides
Ohno of Ohyah & Ohno Drop Slides
Honu of the Honu Ika Moana
ika Moana of the Honu ika Moana
Krakatau Aqua Coaster
Ko'okiri Body Plunge
Waturi Wave Pool
Early Park Admission – frequently asked questions
We've compiled this handy list of FAQs for you regarding Early Park Admission at Universal Orlando Resort.
Are there any blockout dates for Early Park Admission?
Early Park Admission is always at the discretion of Universal and is subject to change, so be sure to check with the company for any updates on which park(s) are eligible for early entry during your vacation. But with that said, yes, Preferred annual passholders do have seasonal blackout dates when it comes to EPA, as outlined by Universal.
Can I use Early Park Admission on my check-in and check-out days?
If you are eligible for Early Park Admission through your hotel, you can use it each day you are checked in to the venue, including your check-in and check-out days. If you book one night at, say, Cabana Bay Beach Resort, you will get the benefit of two days with early entry: both the morning you check in and the morning you check out. We have helped many guests book one night at a resort – even an economy partner hotel – just for the two days' worth of EPA to The Wizarding World of Harry Potter and Volcano Bay.
How do I go about using Early Park Admission on my check-in day?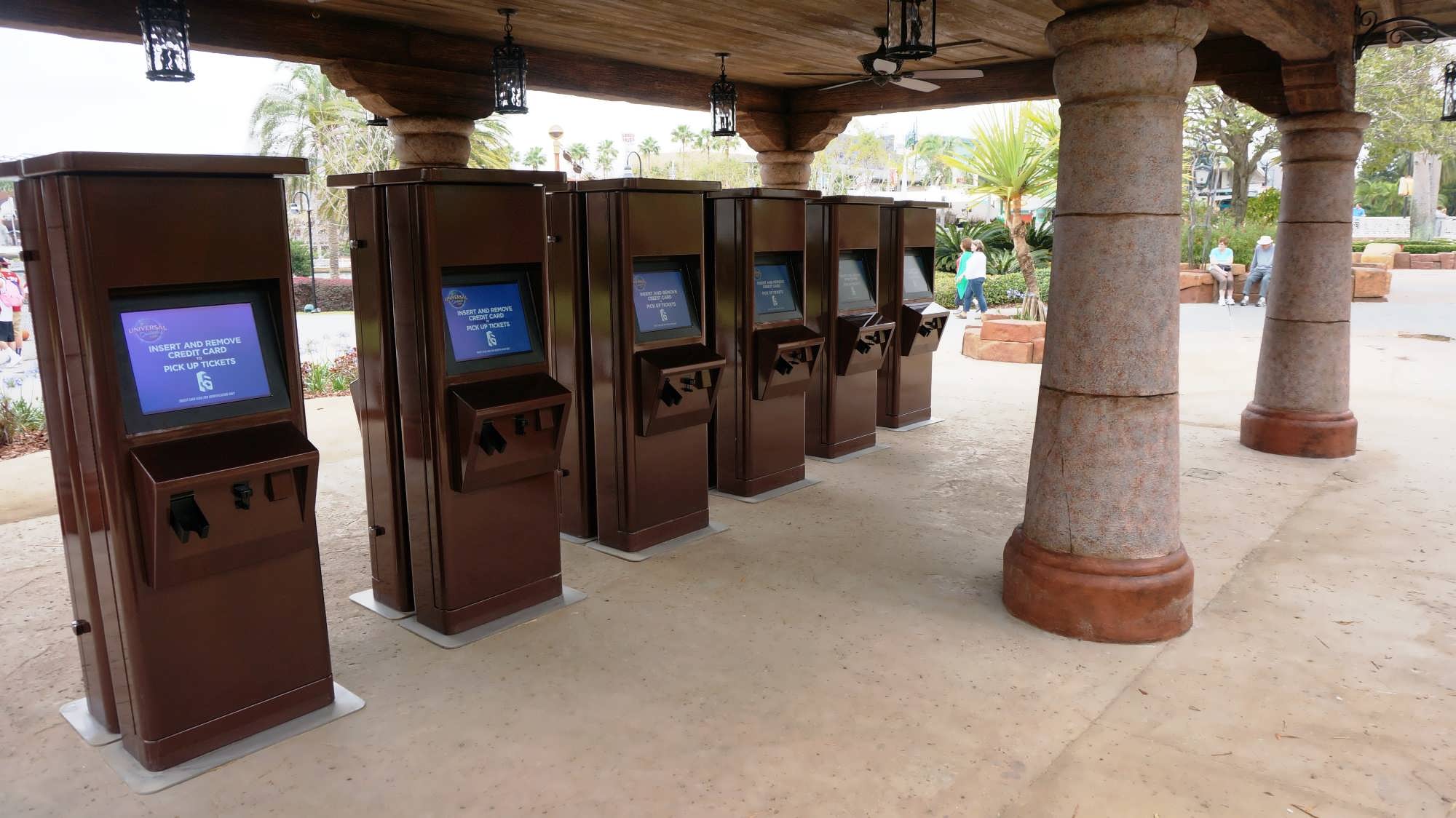 The answer to this question depends on whether you are staying at a Universal property or at one of the independent partner hotels.
If you are at the former and want to use Early Park Admission on your check-in day, we recommend arriving at your resort one to two hours before early entry officially starts. Although your room will most likely not be available just yet, guests may still check in to receive a room key for each member of his party, to serve as proof of your hotel stay (as well as your key to resort-wide charging, guest security gates, the parking areas, and, eventually, your hotel room). Leave your cell number with the front desk so that they can text you when your room is ready, and drop your bags at luggage services. If you need theme-park admission, you can visit the Universal ticket desk at the venue to purchase them (or print out will-call passes if you've ordered ahead). That's it – you're ready to hit the parks!
If you are staying at a partner hotel with a Universal Orlando vacation package, you can go directly to the parks – you don't have to check in first. If you need to pick up your admission, visit the electronic will-call kiosks located in front of either Universal Studios Florida or Islands of Adventure, on the right-hand side as you approach the entrance. Once you have your passes, you can proceed to the Early Park Admission entrance. It's also a very good idea to carry your E-Travel Document with you – that's the document Universal or your travel agent provides to you that lists your package benefits. If there happens to be any confusion with your tickets, your E-Travel Document will show that the package you paid for includes the EPA benefit.
If you do want to check into your partner hotel before going over to the theme parks, you will need to confirm their policies for early check-in procedures and whether they have luggage services available to hold your bags while you're in the parks. And here's one last note of caution: most partner hotel shuttles do not leave early enough to arrive at the parks for the start of Early Park Admission, so you might want to consider alternate transportation when trying to hit that early-entry hour. If you must rely on the complimentary transportation provided as a package benefit, you will need to verify exactly how it works with your hotel, travel agent, or Universal's vacation-package department. The good news is that most partner hotels are very close to the parks, so a cab ride – if you have to use one – will be inexpensive.
If I use Early Park Admission, do I still have to get to the park(s) early?
Yes, we can't stress this enough! In the case of Diagon Alley, and with the intention of riding Harry Potter and the Escape from Gringotts, we recommend that you get to the turnstiles at least 30 minutes before Early Park Admission starts. Universal occasionally begins to let guests into the park a little before the official opening time, and you don't want to be at the back of the pack, especially if you're trying to hit a headliner first thing.
What if I can't get Early Park Admission?
Guests without Early Park Admission can still get some advantage over everyone else, if they're willing to get to the front gates just as early. If early admission is at Universal Studios Florida, team members will usually – though not always – start processing visitors through the turnstiles during the EPA period and allow them to queue in the front of the park, typically by Hollywood Rip Ride Rockit. This enables two time-saving strategies: if Despicable Me Minion Mayhem is operational that morning, guests can actually ride it right away, before the park officially opens – and then, afterwards, they can start lining up for Rip Ride Rockit, Shrek 4D, or Transformers: The Ride – 3D. Considering how long Minion Mayhem's line can grow as the day goes on, this can really save you a good chunk of time.
For more tips and strategies for visiting The Wizarding World of Harry Potter, we recommend that you read through our page on making your trip to the Wizarding World a success.
Early Park Admission at Hogsmeade – photo gallery
Do you have a question about the information on this page or would you like to provide feedback? Please let us know by posting in our
Orlando Informer Community
on Facebook.