Skip to: General information | Rooms | Pools & public spaces | Dining and lounges | Distance from the parks | Value vs. prime value | Is Surfside like the other hotels? | Vacation-planning tips
Surfside Inn and Suites – general information
Relax in a beachside resort that intertwines the surf, sun, and sand to create a carefree getaway. Opened in June of 2019, Surfside Inn and Suites is the first half of the Endless Summer Resort hotel complex and features 750 rooms, 390 of which are two-bedroom suites for summery family escapades at Universal's lowest room rates ever.
Surfside Inn and Suites is the first value hotel at Universal Orlando Resort (not to be confused with Cabana Bay Beach Resort or Aventura Hotel, which are prime value properties). Its guests have access to the other part of Endless Summer, Dockside Inn and Suites (which opened December 2020), including its additional slate of amenities – namely, five food or drink venues and two more pools. (In case you were wondering, while this may be the first Universal resort to contain multiple venues, it actually isn't the first to open in different phases; Cabana Bay's two courtyards bowed three months apart, with its tower expansion following three whole years later.)
Endless Summer is built on the 64-acre plot of land that used to house Wet 'n Wild Orlando, the 1977 water park that Universal purchased in 1998 (and demolished in 2016) – meaning it's a good five-to-10-minute bus ride away from Universal Studios Florida, Islands of Adventure, and the CityWalk hub. While this might seem like a bit of a drive, it's actually not that much longer than the trip from Cabana to CityWalk and the two theme parks.
Address: 7000 Universal Blvd, Orlando, FL 32819
Phone: 407-503-7000; Fax: 407-503-7010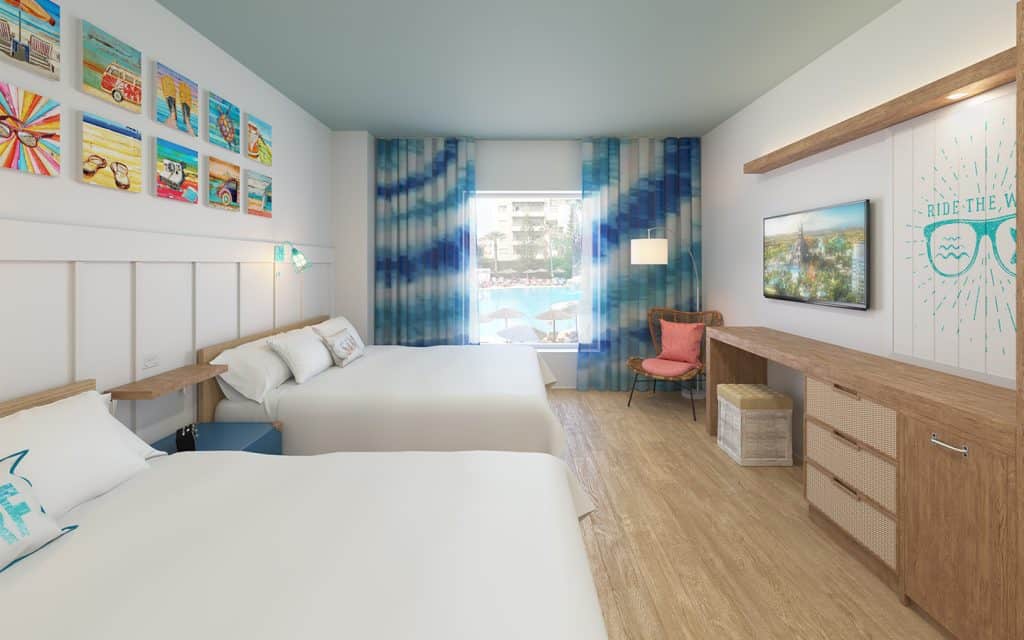 All rooms at Surfside Inn and Suites feature bright, beachy designs with fun surfing-related touches. Prices for standard rooms range between $147 and $279 per night. Ideal for families, the two-bedroom suites are 440 square feet and sleep up to six, featuring two queen beds in one room and one queen bed in the other. Free wifi is available for up to four devices per room, but faster online connectivity for up to eight devices is available for $14.95 per day. There are no club-level rooms at Surfside.
Endless Summer Resort – Surfside Inn and Suites is home to 750 total rooms, with sizes that start at 313 square feet:
175 standard double queen
185 double queen pool view
261 standard two-bedroom suite
75 two-bedroom suite pool view
54 two-bedroom suite water view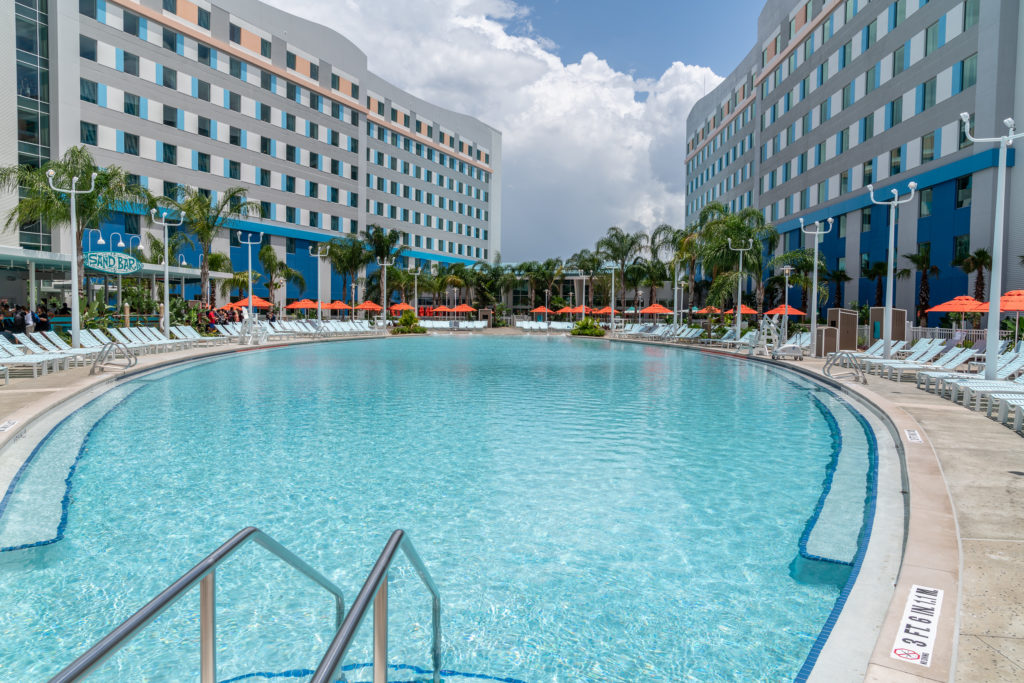 Despite its designation as a "value" hotel, Universal did not skimp on the design and theming of the shared spaces at Surfside, including: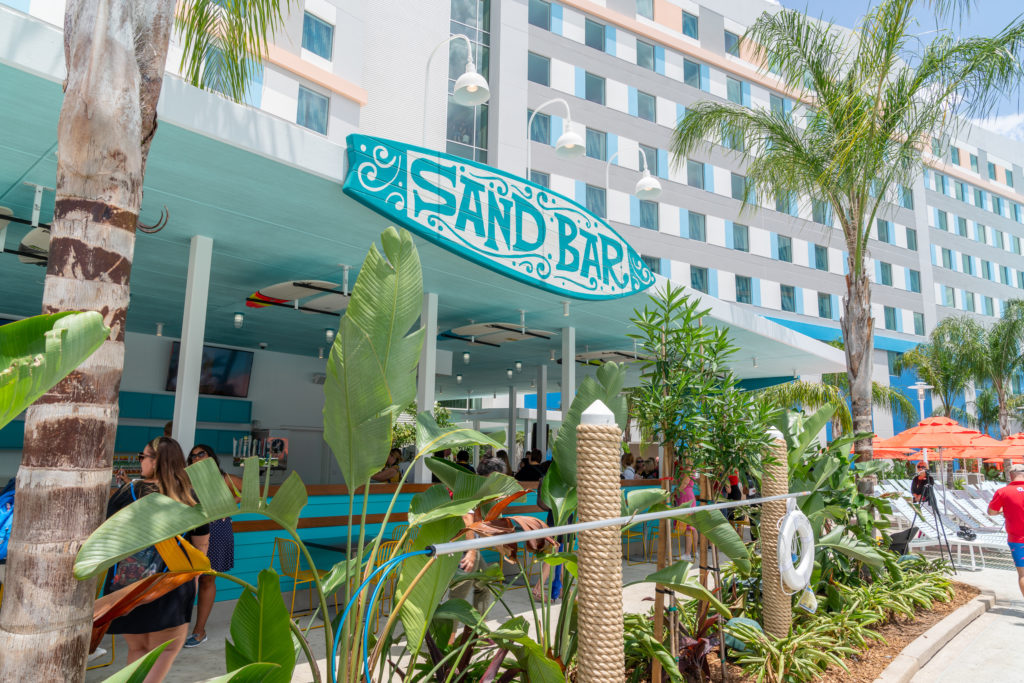 Although there are no full-service restaurants, Surfside still has all the basics you'll need to sate your hunger during your stay. The Beach Break Cafe has pantry staples, grab and go snacks, as well as a hot food counter, while the in-house Starbucks lets guests get their coffee fix. The poolside Sand Bar is drinks-only, but you can get pizza delivery right to your hotel room.
For more info on the food and dining options, check out our full Surfside dining guide.
Surfside Inn and Suites is located on a plot of land that isn't contiguous with Universal Orlando's main campus, which means patrons won't have the option of using the water taxis that service four of the six other resorts. Again, the prime-value hotels only offer shuttle bus transportation to CityWalk, and even though they're on the road for roughly the same length of time, it's still important to point this out.
A word on value versus prime-value hotels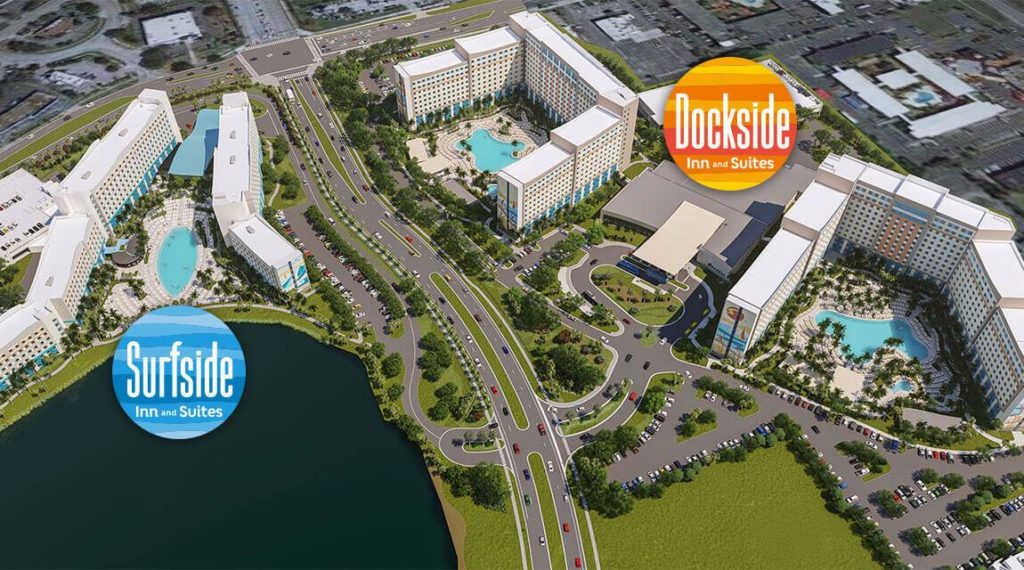 As already noted, the two properties of Endless Summer Resort represent an entirely new category for Universal's resort hotels: the value category now joins the ranks of premier, preferred, and prime value. This may cause guests some confusion, so we figured we'd spend just a moment to clarify what the differences between the two value classifications are.
The "value" part of their designations means that, as one might expect, these four venues offer the most inexpensive room rates to be found all across Universal Orlando Resort. Where the "prime" part comes into play is in two benefits that both Cabana Bay Beach Resort and Aventura Hotel offer that Surfside and Dockside Inn and Suites don't (and, in fact, can't): closer proximity to the theme parks and direct access, via private entrances, to Volcano Bay (which, if you're planning on going to the water park, is actually a huge perk – waiting to be transported via shuttle can take a fair chunk of time, particularly if one does so from CityWalk as opposed to from any of the other hotels).
Furthermore, guests of Surfside do not have "pool hopping" privileges at the other hotels but can utilize the pool areas at Dockside, giving families plenty of pool spaces for your vacation enjoyment.
Is Surfside Inn and Suites like the other Universal Orlando hotels?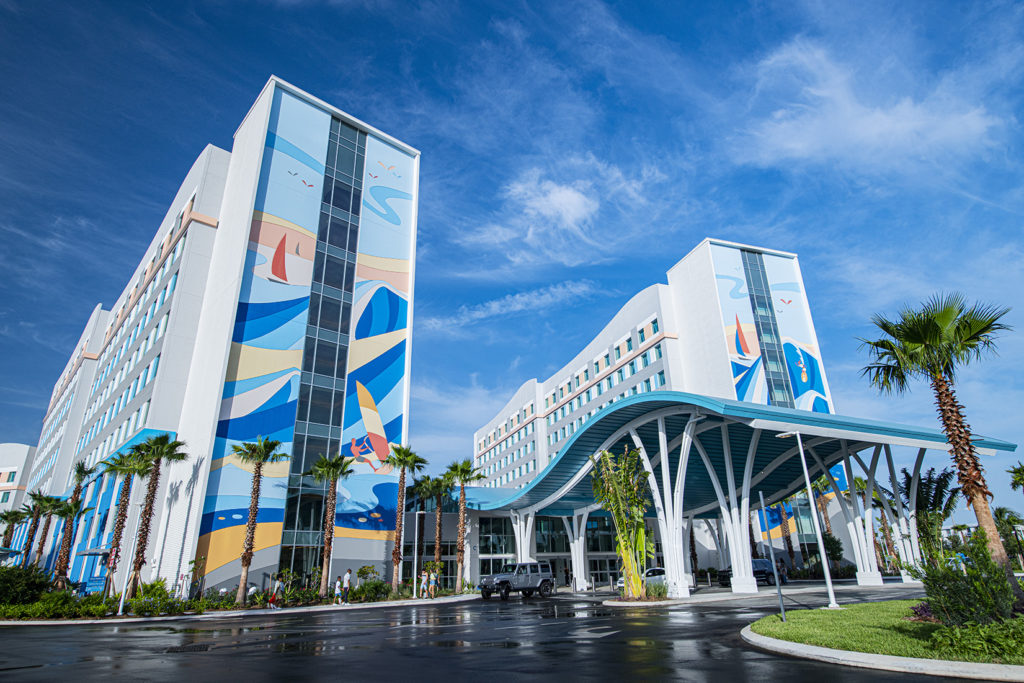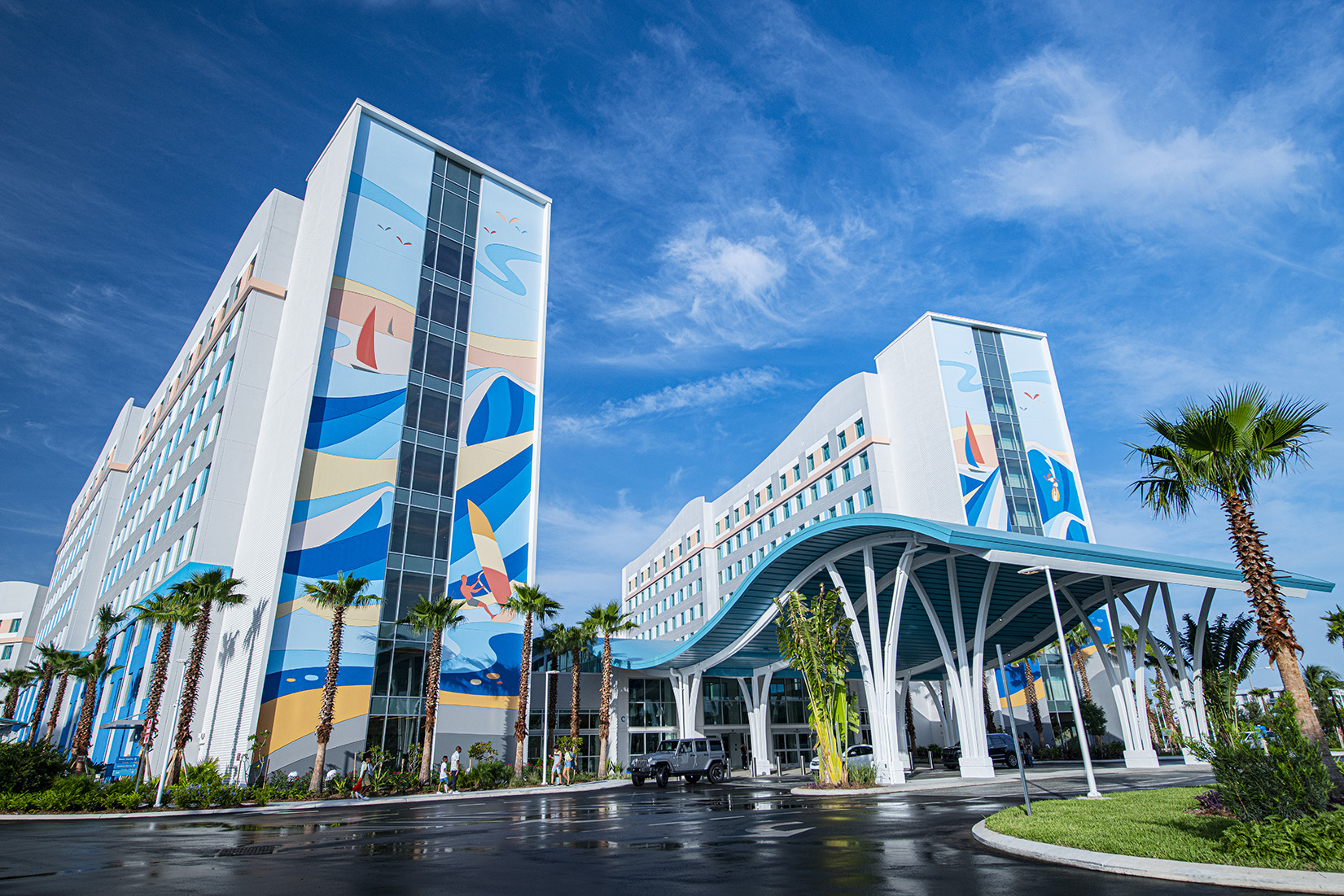 Given that Endless Summer Resort – Surfside Inn and Suites sits on its own little chunk of land out on Universal Boulevard, one is inclined to ask: is the new value venue technically still a Universal Orlando Resort hotel? In a word, yes.
Surfside still offers the same level of theming and service that can be found at the other Universal properties, along with – more importantly – most of the same bevy of benefits, such as Early Park Admission, resort-wide charging privileges, and package deliveries to your room. And as far as the distance from the parks and CityWalk, it actually is extremely comparable to that of Cabana Bay (less than five minutes, according to Universal), with the only difference being what is on the land that lies between the hotels and CityWalk's transportation area.
What are the top vacation-planning tips for Surfside Inn and Suites?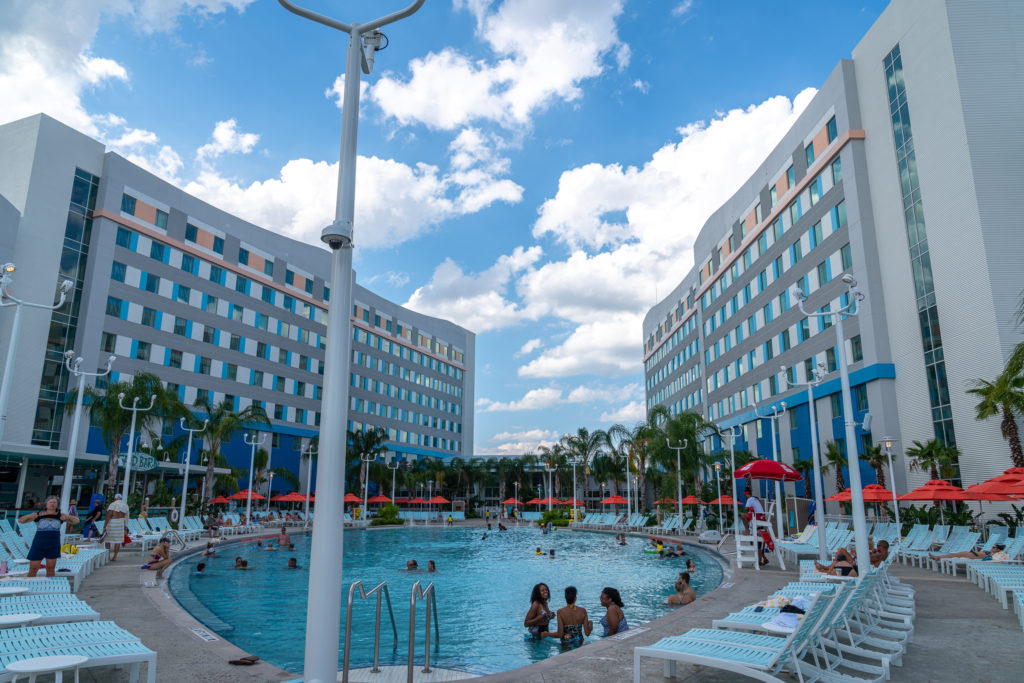 We've already gone over a few of these points regarding Endless Summer Resort – Surfside Inn and Suites, but we're going to do so again, as it doesn't hurt to have them all collected in one convenient location (nor to repeat some of these finer points).
The first value hotel (complex) at Universal Orlando delivers guests the lowest resort room rates that Universal has ever offered, but it also means that certain hotel benefits won't be present, starting with the most important one of them all: guests staying at the resort will not receive unlimited Express Pass access. This is widely regarded as the single best benefit of staying at the three premier properties (Portofino Bay Hotel, Hard Rock Hotel, and Royal Pacific Resort), especially considering that complimentary Express Passes hold a value of up to $170 per person, per day, if you were to purchase them outright.
Second, guests staying at Endless Summer don't receive the benefit of priority seating at the full-service restaurants inside Universal's theme parks or at CityWalk.
Third, Surfside doesn't allow pets.
Finally, the ability to pool hop – that is to say, to take your room key from Surfside Inn and Suites and then go to, for example, Hard Rock Hotel's pool area to enjoy the amenities there – is also absent here. (And, conversely, those staying at the other six venues aren't able to use any of the three pools at the overarching Endless Summer Resort complex, either.) This, presumably, is to prevent the several thousand guests staying at Universal's two new value hotels from flooding all the rest of the resort (and vice versa).
(For more on pool-hopping around Universal Orlando, please see our adventures in pool-hopping article.)
Despite the absence of these perks, there are still benefits to be had by staying at Endless Summer over a non-Universal hotel:
Since all resorts located at Universal Orlando are operated by Loews, they all feature the same cancellation policy: if you cancel your reservation six or more days in advance, you will receive a full refund. If it's anything fewer than five days beforehand, however, you will be charged one night's room rate, plus tax.
How much does it cost to park at Surfside Inn?
As with all Universal Orlando Resort hotels, guests must pay a fee to park. Here, it costs overnight guests $15, plus tax, per night, to park a car (paid at time of check-in). For daytime guests, parking is free for under five minutes, $8 for less than 30 minutes, $45 for anything over half an hour, plus tax, per day, per vehicle.
Do you have a question about the information on this page, would like to provide feedback, or did you spot an inaccuracy? Please let us know by posting in our
Orlando Informer Community
on Facebook.