Welcome to Orlando Informer's coverage of Universal's Endless Summer Resort – Surfside Inn and Suites, the first value on-site hotel at Universal Orlando Resort (not to be confused with Cabana Bay Beach Resort and Aventura Hotel, which are prime value properties). We'll be expanding and updating this page as we inch closer to the new addition's grand debut, which is June 27, 2019.
There are two very important items to keep in mind when discussing this new hotel. First and foremost is its location: it is being built on a 64-acre plot of land that used to house Wet 'n Wild Orlando, the 1977 water park that Universal purchased in 1998 (and demolished in 2016) – meaning it's a good five-minute bus ride away from the main Universal Orlando campus. While this might seem like a bit of a drive, it's actually not that much longer – if any at all – than the trip from Cabana Bay Beach Resort to CityWalk and the two theme parks, which form the heart of Universal Orlando.
Secondly, Surfside Inn and Suites is part of the overarching Endless Summer hotel complex, which will also consist of Dockside Inn and Suites starting in May 2020. Once this sister property is up and running, all Surfside guests will have access to its additional slate of amenities, which will include a Starbucks and two more pools.
(In case you were wondering, while this may be the first Universal resort to contain multiple venues, it actually isn't the first to open in different phases; Cabana's two courtyards bowed three months apart, with its tower expansion following three whole years later.)
OI fun fact
Surfside Inn and Suites will sit on the land that formally housed Wet 'n Wild itself, while the larger Dockside Inn and Suites will occupy the space that was dedicated to the ex-water park's parking lot and ancillary buildings (such as employee offices).
Skip to: Value vs. prime value | Is Surfside on-site? | Theming | Lobby | Rooms | Room rates | Dining and lounges | Amenities | Transportation | On-site benefits | Rates | Cancellation policy
A word on value versus prime value hotels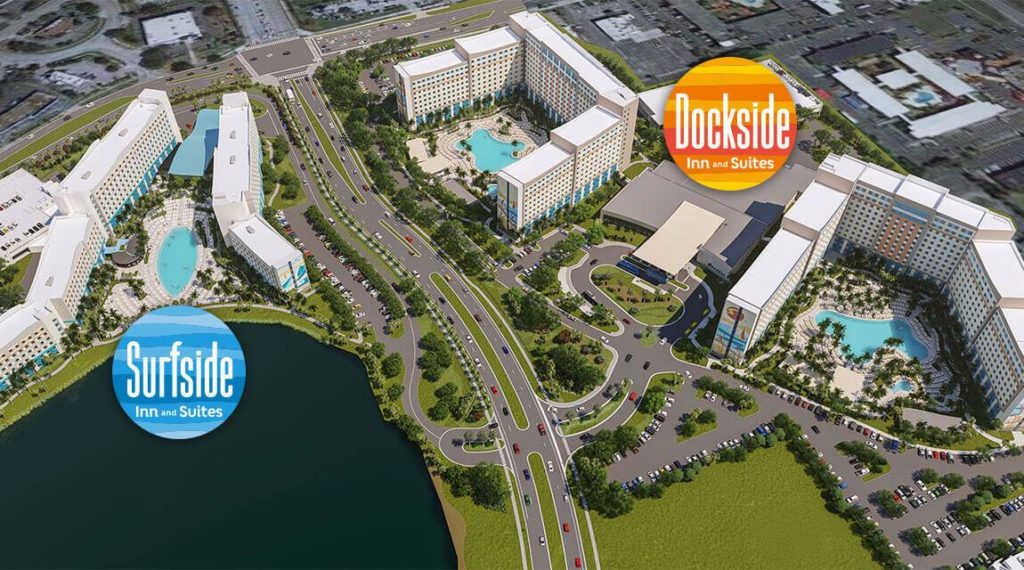 As already noted, the two properties of Endless Summer Resort represent an entirely new category for Universal's on-site hotels: value, which now joins the ranks of premier, preferred, and prime value. This may cause guests some confusion, so we figured we'd spend just a moment to clarify what the differences between the two value classifications are.
The "value" part of their designations means that, as one might expect, these four venues offer the most inexpensive room rates to be found all across Universal Orlando Resort. Where the "prime" part comes into play is in two benefits that both Cabana Bay Beach Resort and Aventura Hotel offer that Surfside Inn and Suites doesn't (and, in fact, can't): closer proximity to the theme parks and direct access, via private entrances, to Volcano Bay (which, if you're planning on going to the water park, is actually a huge perk – waiting to be transported via shuttle can take a fair chunk of time, particularly if one does so from CityWalk as opposed to from any of the other hotels).
Is Surfside Inn and Suites still an on-site hotel?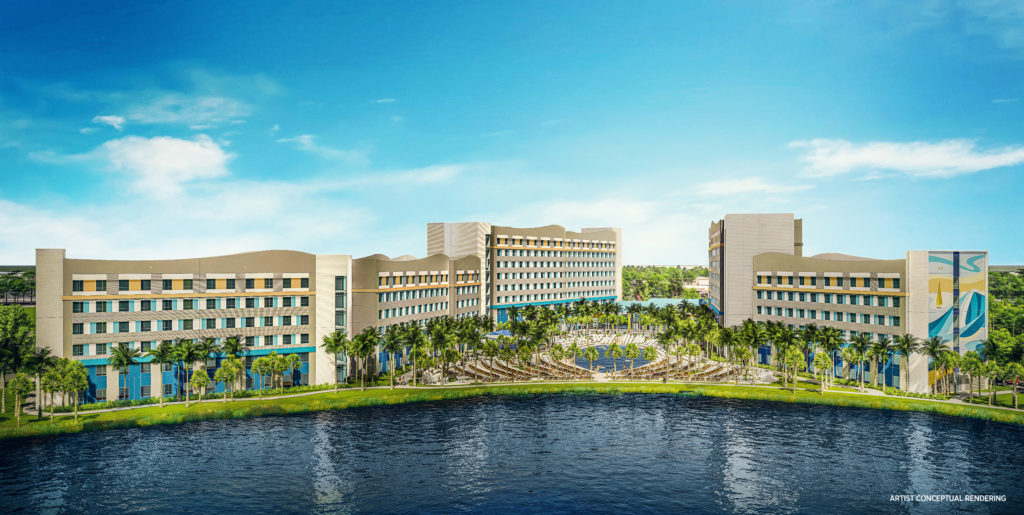 Given that Endless Summer Resort – Surfside Inn and Suites will be sitting on its own little chunk of land out on Universal Boulevard, one is inclined to ask: is the new value hotel actually on-site? In a word, yes.
Surfside will still offer the same level of theming and service that can be found at the other six Universal properties, along with – more importantly – most of the same bevy of benefits, such as Early Park Admission, resort-wide charging privileges, and package deliveries to your room. And as far as the distance from the parks and CityWalk goes, it actually is extremely comparable to that of Cabana Bay, with the only difference being what is on the land that lies between the hotels and CityWalk's transportation area. Yes, this, in turn, will affect the walk from the new resort to Universal proper, but, then again, we don't expect a number of guests to make that attempt in the first place – after all, most don't walk from Cabana, and the company laid out a nice pathway for that very purpose.
(We should also add that having non-contiguous parcels of real estate to build upon will now be the name of the game for Universal in Florida, as the main area's approximately-725 acres have all been [largely] accounted for, and the company keeps scooping up additional tracts of land further on down the road – as we've noted in our Endless Summer announcement article here.)
Theming at Surfside Inn and Suites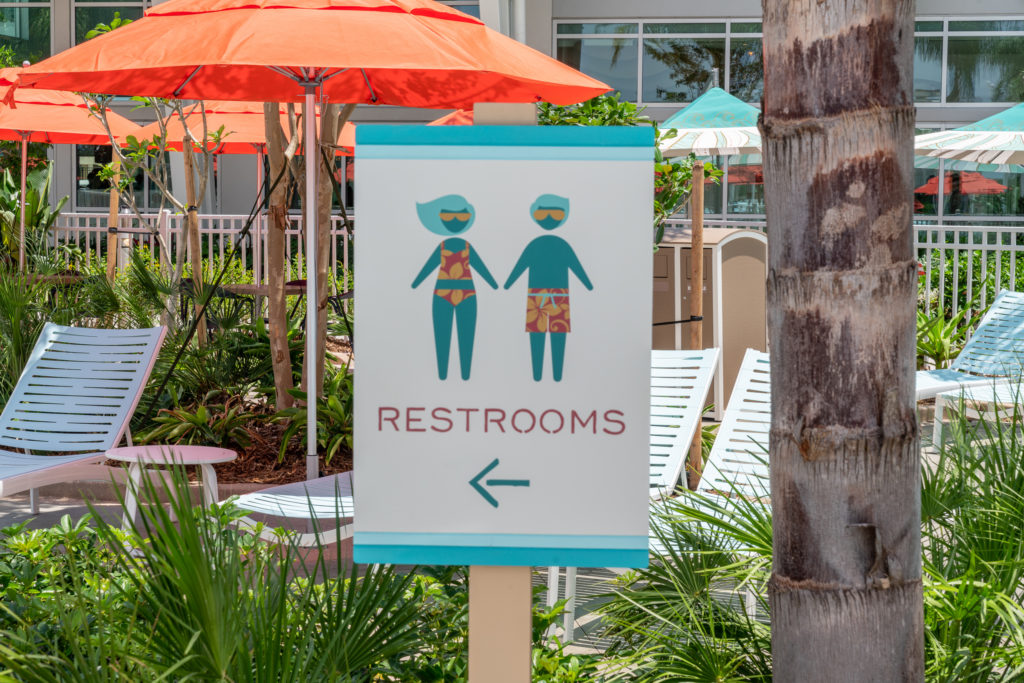 Because Surfside Inn and Suites is the single most inexpensive on-site resort – we'll get to the specific rates in just a moment – the theming won't be anywhere near as pronounced as what one can find at, say, Sapphire Falls Resort or Portofino Bay Hotel (although it should still offer up more than the minimalist-by-design Aventura Hotel, we should add). Expect to see a sun-and-surf vibe running all throughout the property, with a particular emphasis on the ocean, helping to form the place where "the sun, surf, sand, and water meet." Universal says that the hotel is "washed in the colors of nature" and evokes a coastal lifestyle, thanks in part to the vibrant color palette, the towering exterior murals, and the neighboring lake, which should provide some pretty spectacular views from Surfside's rooms.
Surfside Inn and Suite's lobby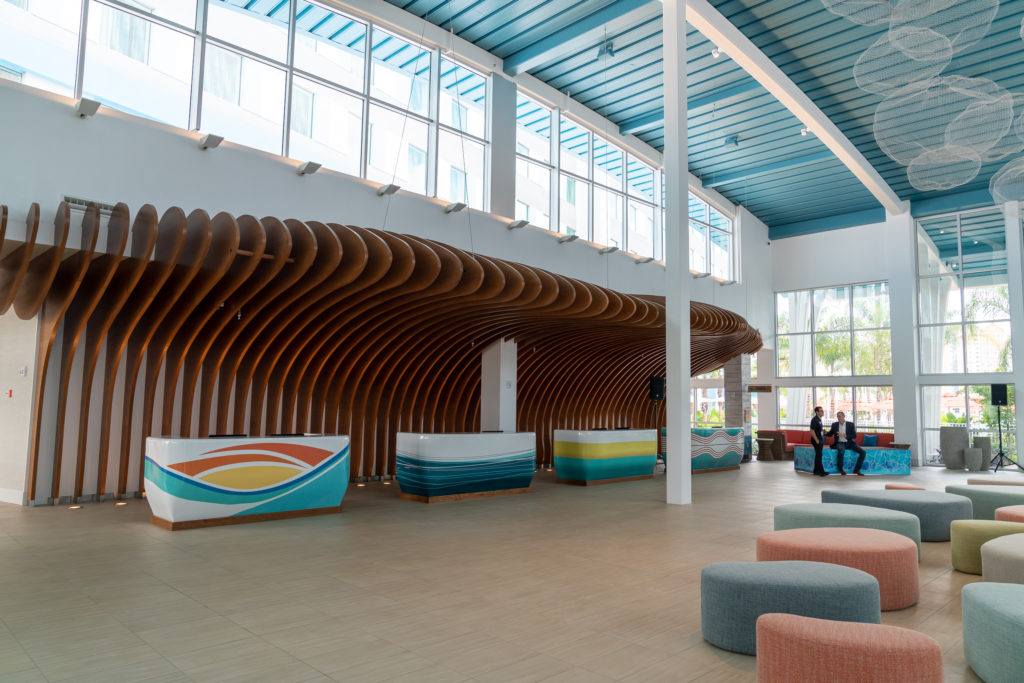 The big, open, and spacious lobby is meant to make guests feel as if they've entered the ocean's depths, featuring "vibrant surf- and wave-like" designs, a sand-colored floor, sea glass-inspired couches, and a chandelier that is designed to resemble bubbles forming from the crash of a blue wave overhead.
Rooms at Surfside Inn and Suites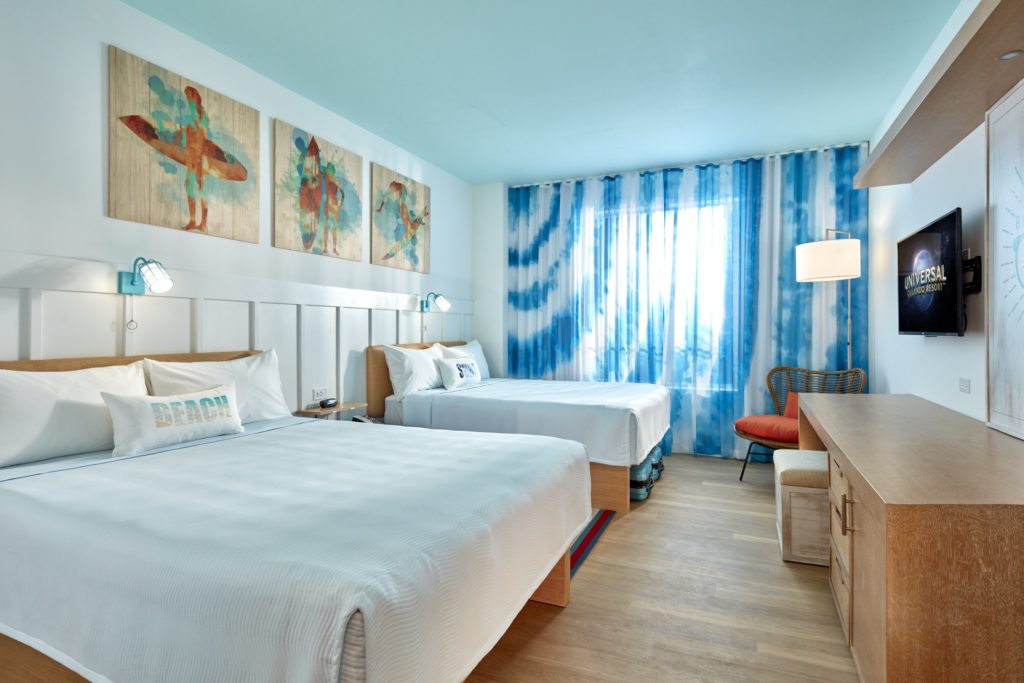 Endless Summer Resort – Surfside Inn and Suites will consist of 750 rooms that are "bright, beachy, open, and soothing," inviting the Florida sun in. They will contain the following room types:
Standard rooms
Standard double room (sleeps up to four)
Double room with pool view (up to four)
Standard two-bedroom suite (up to six)
Two-bedroom suite with pool view (up to six)
The two-bedroom suite is, really, the star of the show here. One of its two bedrooms will house two queen beds, while the other, separated one will feature a single queen (which is how it can sleep up to six). It will feature a kitchenette and dining area, a bathroom with separate shower and two-sink vanity areas (so that the whole family can get ready at the same time), and, perhaps most interestingly, a "cool" picnic table for meals and some family time (which looks like it'll be located in the bigger bedroom). Situated close by the picnic table is a shortboard surfboard, which goes with the colorful artwork and tie-dyed curtains to seal the beach feel.
Dining and lounges at Surfside Inn and Suites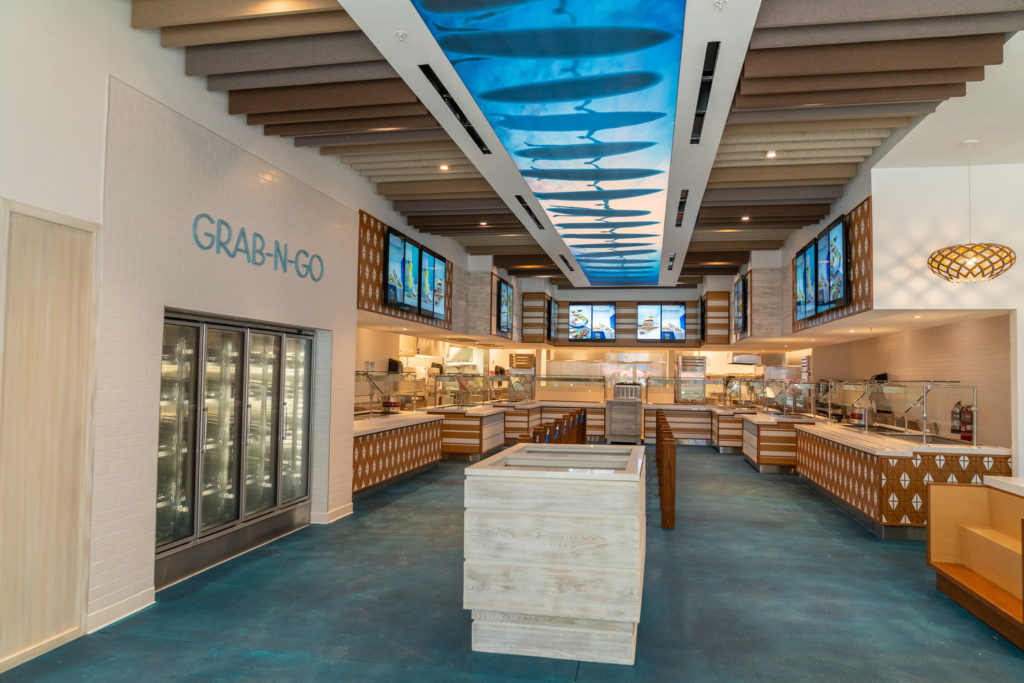 Surfside Inn and Suites's eateries will consist of a Starbucks in the lobby; Sand Bar, the poolside bar; and Beach Break Cafe, the casual-dining food court (oh, and let's not forget about the in-room pizza delivery, too, whose family combo of a 16″ pizza [with any toppings], salad, breadsticks, and two 20-ounce beverages costs less than $10 per person).
The only one of these venues to get any sort of real information thus far is the food court, so that's exactly where we'll start our overview. Beach Break Cafe will be divided up into four different sections, and its offerings sound like they may be a bit all over the culinary map: they'll be surfer-inspired (as the name might suggest), feature Southern California flavors and fresh ingredients, incorporate culinary options from around the world, consist of unique cuisine and comfort food both, and take a nod from food trucks, local joints, and backyard barbecue – all of this in a "care-free, cool, and exciting setting" (phew!). Furthermore, its decor will be just as eclectic, for example brandishing surfers that are attempting to ride the next big wave above you while you wait in line.
There are two specific items to point out about the venue: first, it will serve Endless Summer Rum, which is made by a family in Miami exclusively for the hotel complex, and, second, all of its entrees are priced at $12 or below – something which Universal is quick to point out is pretty aggressive pricing.
All right – now it's time to take a peek at Beach Break's menu directly: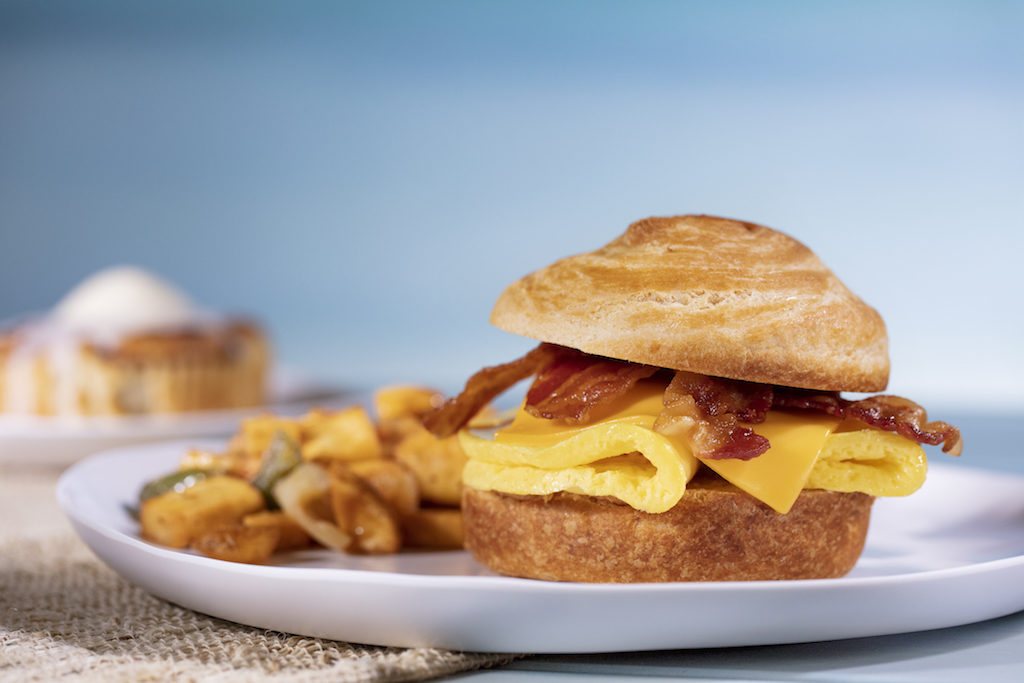 Bacon Egg and Cheese Croissant – served with breakfast potatoes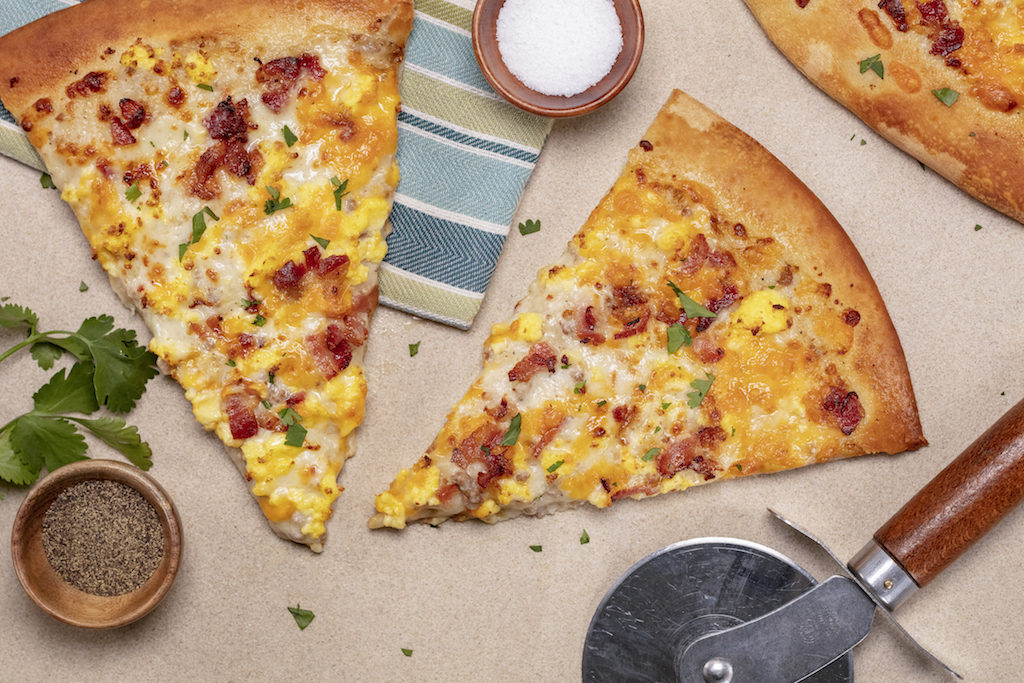 Breakfast Pizza – sausage gravy, bacon, scrambled eggs, mozzarella, and cheddar cheese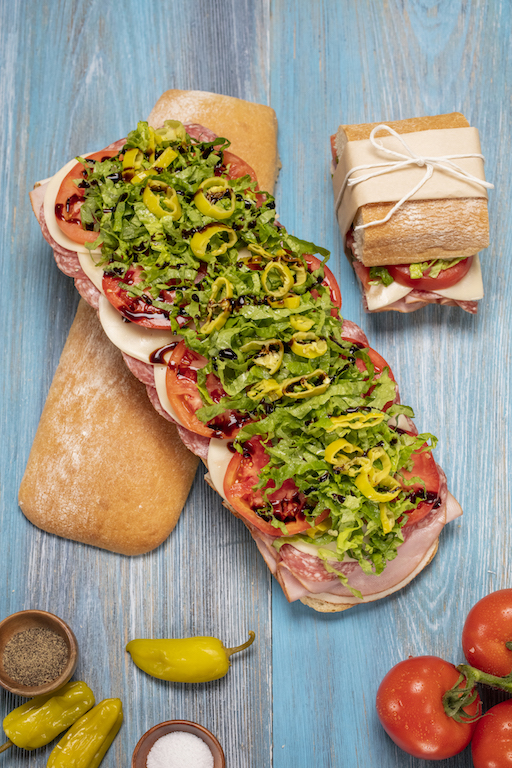 Italian Ciabatta – ham, capicola, Genoa salami, provolone, red onion, tomato, shredded romaine, pepperoncini, red wine vinaigrette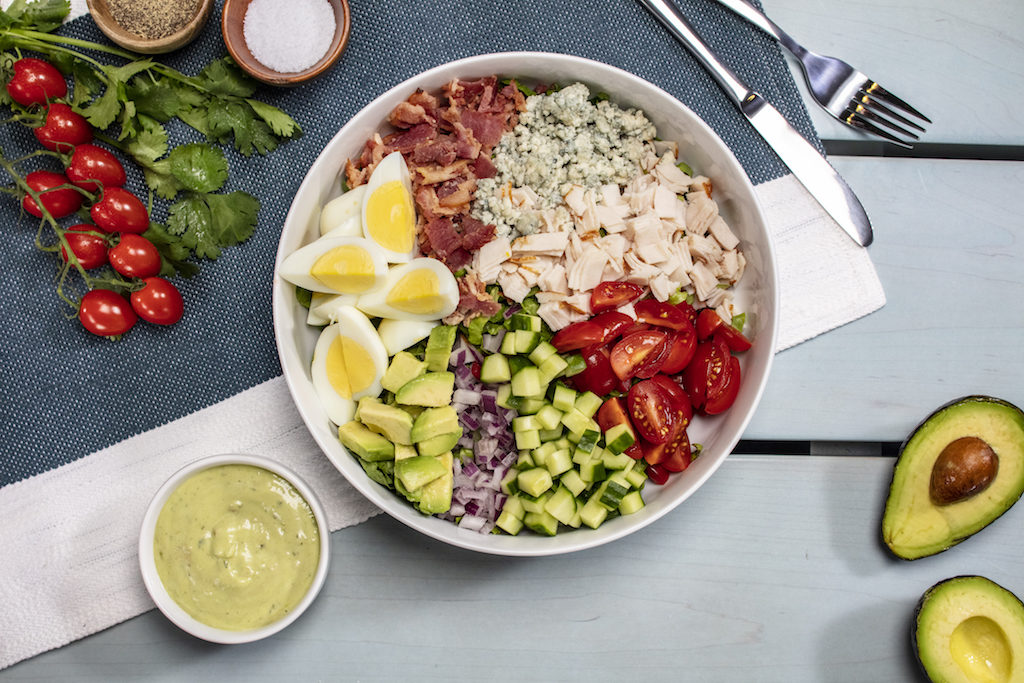 SoCal Cobb Salad – chopped lettuce, tomatoes, avocado, blue cheese, bacon, hard-boiled egg, and avocado ranch dressing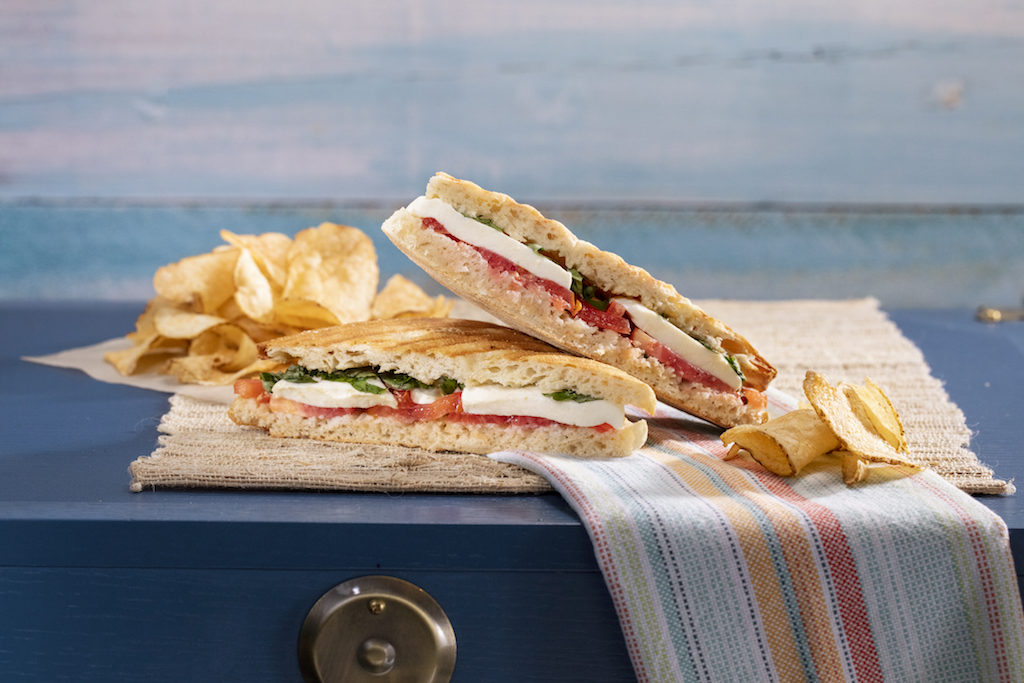 Caprese Panini – tomato, mozzarella, fresh basil, balsamic glaze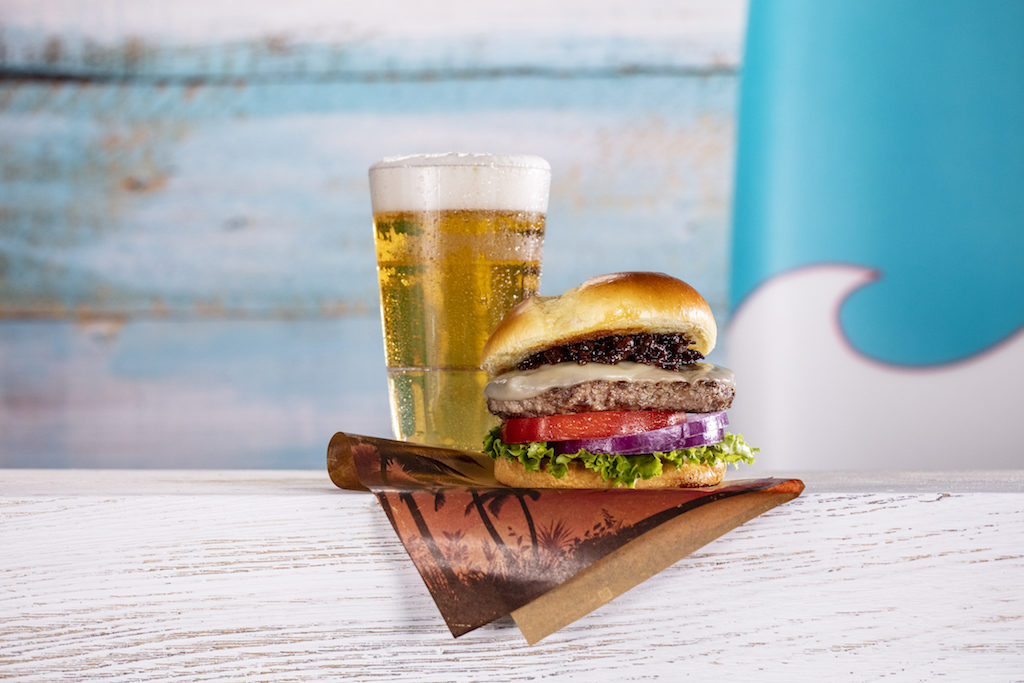 Pipeline Burger – beef patty topped with caramelized onion, bacon jam, and provolone cheese, served with crisp lettuce and vine-ripe tomatoes on a toased bun (inspired by the classic wave)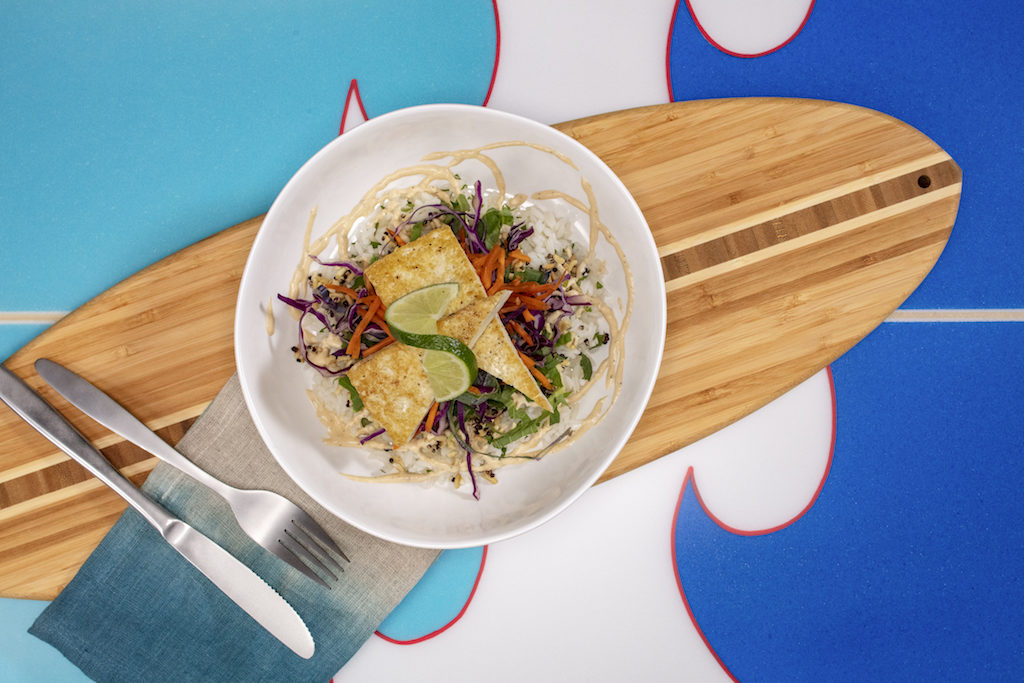 Tofu Power Bowl with Baja Sauce – cilantro lime rice, quinoa, kale, red cabbage, pickled carrots (tofu can be substituted with chicken or carne asada)
Over at Sand Bar, the poolside bar, meanwhile, we've gotten a look at some of the adult beverages that will be on hand: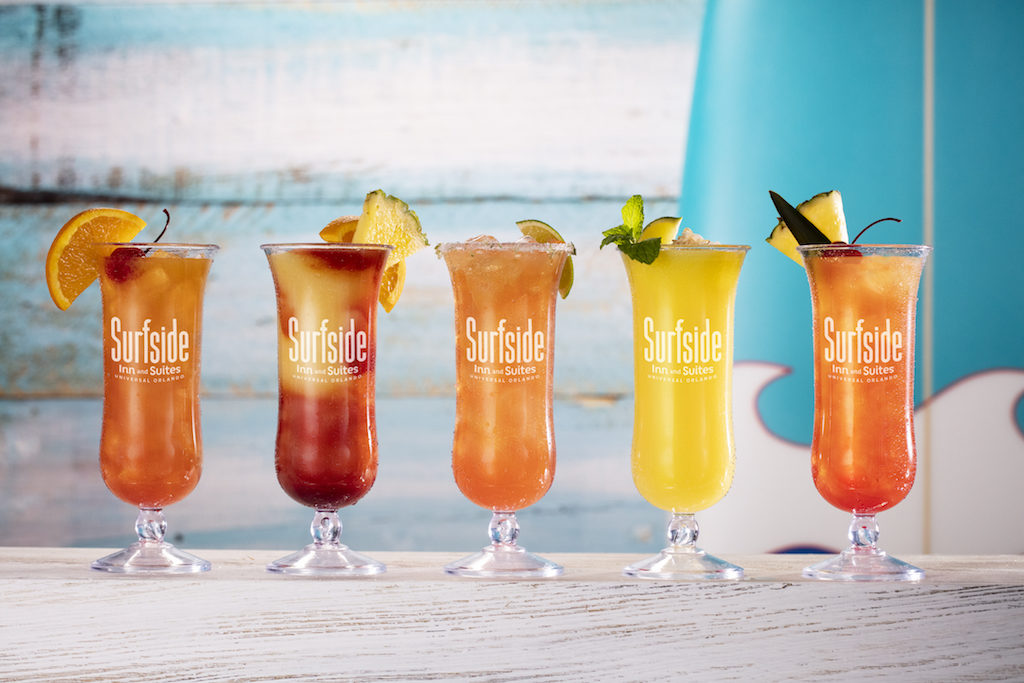 Orange Surf Board – orange vodka, coconut rum, triple sec, orange juice, and a splash of cranberry
Tidal Wave – Endless Summer Rum, peach vodka, gin, peach schanpps, orange juice, and pineapple juice
Surf En La Paloma – tequila, blood orange, grapefruit juice, and soda
Epic Sunset (frozen) – vodka, mango colada, and strawberry island oasis
Toasted Coconut Mango Mojito (frozen) – coconut rum, mango, and mojito island oasis
Amenities at Surfside Inn and Suites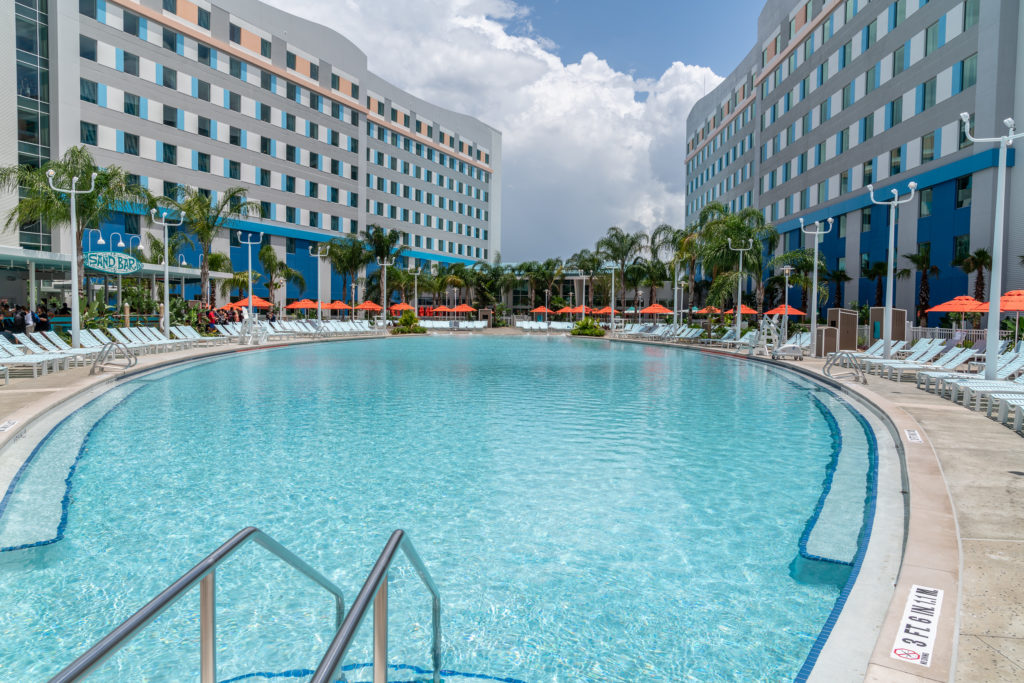 Beyond the pool at Surfside Inn and Suites – which is shaped like a surfboard, but of course – also expect to find a fitness center, game room, and a Universal Studios Store. In addition, like the six other Universal Orlando on-site resorts, there will be such poolside activities as Ping-Pong and Connect Four.
Transportation at Surfside Inn and Suites
The water taxis that service all of Universal's premiere and preferred hotels won't, of course, extend all the way down Universal Blvd to Endless Summer Resort, meaning that shuttles will be the only method of transportation from the new resort to Universal Orlando proper – just as with the prime value hotels.
On-site benefits at Surfside Inn and Suites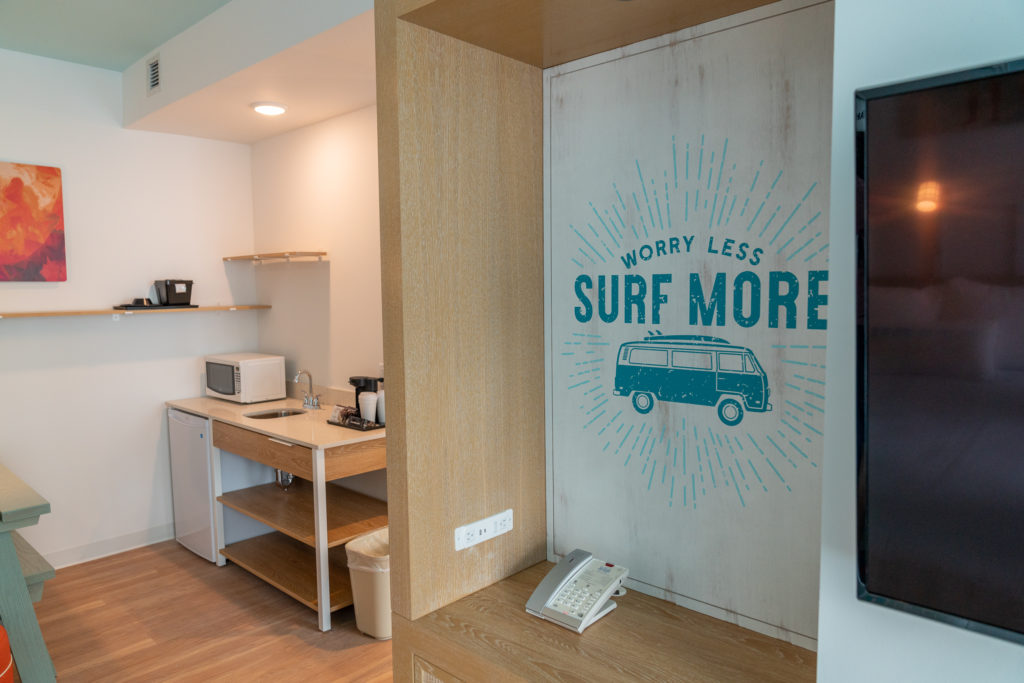 This newest value on-site hotel will carry almost the full complement of on-site perks that its two counterparts, Cabana Bay Beach Resort and Aventura Hotel, offer: Early Park Admission to both The Wizarding World of Harry Potter and Volcano Bay, resort-wide charging privileges with its room keys, and the ability to have packages sent directly to its rooms.
Missing from this lineup is the ability to pool hop – that is to say, to take your room key from Surfside Inn and Suites and then go to, say, Hard Rock Hotel's pool area to enjoy the amenities there. (And, conversely, those staying at the other six venues won't be able to use any of the three pools at the overarching Endless Summer Resort complex, either.) This, presumably, is to prevent the several thousand guests staying at Universal's two new value hotels from flooding all the rest of the resort (and vice versa).
(For more on pool-hopping around Universal Orlando, please see our Adventures in pool-hopping article.)
Furthermore, it should be noted that the complimentary Express Passes that the three most expensive venues (Portofino Bay Hotel, Hard Rock Hotel, and Royal Pacific Resort) brandish are also absent here.
Rates at Surfside Inn and Suites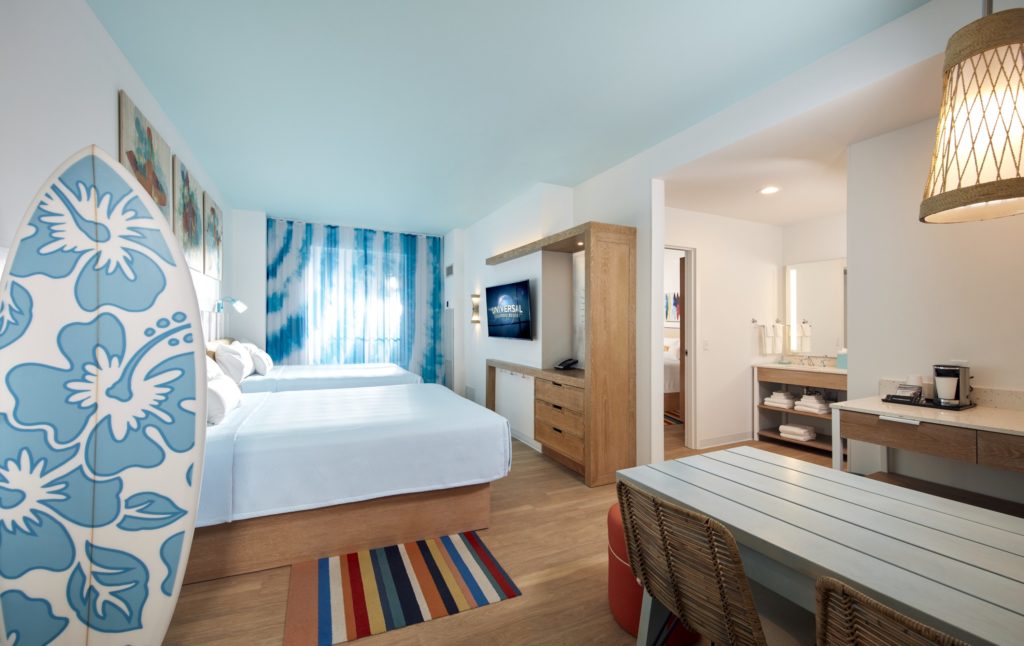 Although both halves of the Endless Summer Resort complex are almost exactly alike in terms of their room types (and, as we'll see, in their amenities, as well), there is a slight difference in their room rates, which we'll compare using the standard rates (that is to say, without applying any kind of multi-night-stay discount, which is what Universal usually employs in its advertising): Surfside Inn and Suites's standard rooms start at $85, while its two-bedroom suites begin at $131; Dockside Inn and Suites's numbers are $89 and $136, respectively.
What explains the barely-more-expensive prices at Dockside? Easy – the different times that the hotels open up. This means that you can expect Surfside's rates to be identical to its counterpart's in 2020.
Universal Orlando's on-site hotels – cancellation policy
Since all (soon-to-be) eight on-site hotels are operated by Loews, they all feature the same cancellation policy: if you cancel your reservation six or more days in advance, you will receive a full refund. If it's anything fewer than five days beforehand, however, you will be charged one night's room rate, plus tax.
Surfside Inn and Suites's lobby – photo gallery
Surfside Inn and Suites's two-bedroom suite – photo gallery
Surfside Inn and Suites's standard room – photo gallery
Surfside Inn and Suites's Beach Break Cafe – photo gallery
Surfside Inn and Suites's pool – photo gallery
Surfside Inn and Suites's fitness center – photo gallery