Transportation is a critical component in planning a successful trip, and Orlando has all the options you would expect from the top vacation destination in the United States. From taxis, town cars, limos, shuttles, and trolleys, we will break down all of your options for getting around Orlando during your stay.
Skip to: Private transfers | Other airport transportation | Exploring Orlando | Taxis and ridesharing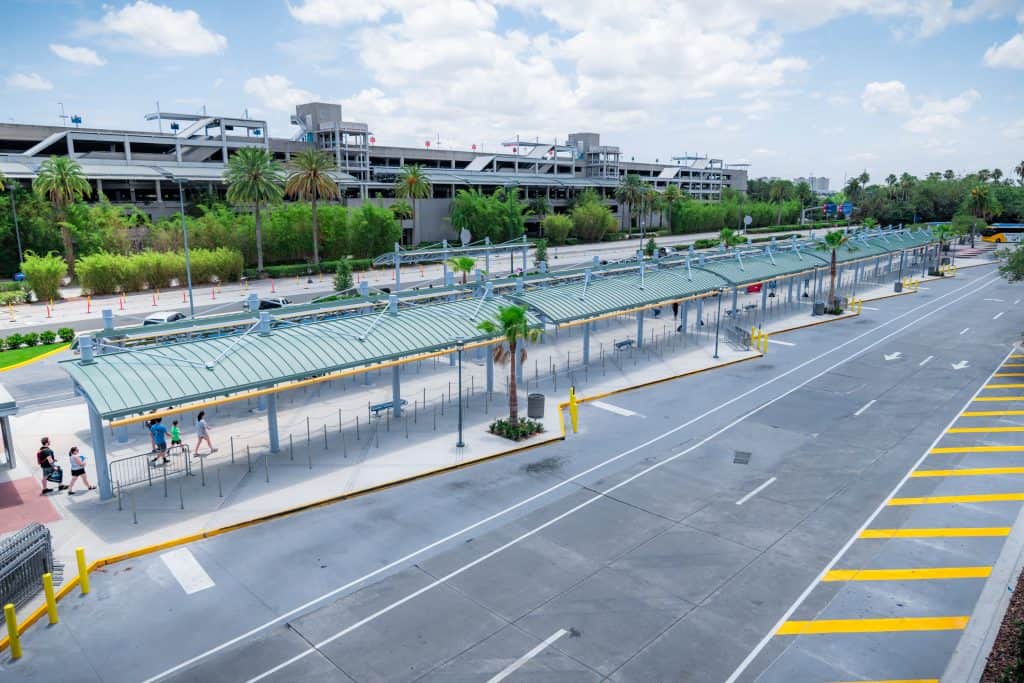 What's the best option?
For many visitors who need to get from the airport to their resort destination, ride-sharing is the way to go. Uber and Lyft provide services throughout the Orlando area and are easy to use once you've downloaded their respective app. This will also guarantee that you don't have to worry about tolls or navigating the sometimes trafficked roads.
Do your due diligence before you arrive to cost-compare rates with both Lyft and Uber, keeping in mind that the rideshare apps might have promotions that you can take advantage of. Also be aware that they're both subject to surge pricing, depending on where you're going and the time of day; for example, if you're trying to book a Lyft out of Magic Kingdom right as the fireworks end for the night, you might find significantly higher prices than if you'd tried to leave the park at 2:00 pm.
Universal, in particular, has made a commitment to working with the rideshare companies, to create a safer, more comfortable pick-up spot, which is currently located on the top level of the parking complex. Any Uber rides that pick up from Universal will automatically add a $4 surcharge, so be sure to price-check against other options.
What are my other options when arriving from Orlando International Airport (MCO)?
How you'll get to your resort destination all depends on where you're going. Although we recommend that guests always cost-compare with a private transfer, there are other options available:
Walt Disney World
Mears Connect offers transportation from Orlando International Airport (MCO) to Walt Disney World Resort area hotels. When using their standard service round-trip, you can utilize this offering for $32 per adult and $27 per child. With multiple stops, this service will bring your party and luggage to your Walt Disney World Resort area hotel for check-in as well as assist in your return to MCO when your visit has concluded. Mears Connect also offers an express service that ensures your party will be the first stop. Please note that this comes at a higher cost than the standard offering with the price tag of $250 for four adults round-trip.
Universal Orlando
While Universal Orlando does not have a shuttle option available to the general public, we recommend utilizing services like Uber or Mears to arrive at Universal Orlando Resort from MCO.
Busch Gardens Tampa
While Busch Gardens Tampa does not have a transfer option directly from MCO, it does offer a free bus service for ticket holders from various stops around Orlando (including Universal Orlando Resort, ICON Park, SeaWorld, Maingate Lakeside Resort in Kissimmee, and the Publix on Vineland Ave) that will take you to and from the theme park in Tampa. The ride takes about one-and-a-half to two hours, depending on the number of stops.
LEGOLAND Florida
LEGOLAND recommends guests reach out to them directly for the specific shuttle information. You can find answers to FAQs and contact information here.
What's the best way to get around Orlando?
In addition to the transportation methods that are unique to the resorts, there are several options for visitors who want to explore all that Orlando has to offer as a city in its own right, particularly if they're not staying on theme-park property.
I-RIDE Trolley
One of the most economical options in and around Orlando, the I-RIDE Trolley is a very inexpensive way to get around International Drive. At $2 per ride ($1 for kids aged three to nine traveling with a paying adult), the trolley will take you as far north as the Orlando International Premium Outlets and the hotels across from Universal Orlando Resort, and all the way down to the Orlando Vineland Premium Outlets across the highway from the Disney Springs area. I-RIDE also sells a variety of day passes, ranging from $5 for a one-day ticket up to $18 for a 14-day pass, giving tourists a modestly priced travel option around International Drive.
Shuttle and bus services
An affordable way to travel around Orlando outside of the I-Drive area is by shared shuttle service, which is an excellent way to visit local attractions and also get to some of the further-out spots, like Cocoa Beach, the Tampa area, or the Kennedy Space Center. Before you pay for a shuttle, always check with your hotel to see if they offer a complimentary shuttle service, as many offer free rides to popular locations, including theme parks and outlet malls. Keep in mind that resort shuttles are limited as far as departure times from the hotels and the parks go, so plan accordingly. If you want the flexibility of coming and going as you please, a paid option is more likely to fit your plans.
Gray Line of Orlando is one service that receives very good reviews. Starting at $157, you'll get round-trip transportation, tickets, and more for your visit to the Kennedy Space Center. They also offer tours and transportation to Clearwater, St. Augustine, Miami, and more. Fabulous Buses, meanwhile, operates comparable tours with similar rates to that of Gray Line for the Kennedy Space Center, as well as shuttles around Orlando that will take you between the theme parks for about $15.
What about taxis?
Another transportation option that is largely operated by Mears (under various cab-company names), taxis can be pricey, but at least you won't have to share the route with other passengers who may be going to alternate destinations. Taxis are still very convenient for many overseas guests who might not have data plans available in the US, but who can ask their hotel concierge to ring for a taxi (or use the phone in their accommodations).
As a note of caution regarding taxis, we recommend travelers use only metered ones when at all possible (all of the Mears options – Yellow Cab Company, Checker Cab Company, and City Cab Company – are of this variety). If you have to use a non-metered cab that is not one of the reputable ones listed previously, you run the risk of being overcharged – and speaking of being overcharged, bear in mind that taxis will charge extra for stops and "caught in traffic" time, so if you do get stuck in a traffic jam, the fare increase can add up very quickly.
Do you have a question about the information on this page or would like to provide feedback? Please let us know by posting in our
Orlando Informer Community
on Facebook.