Skip to: General information | Rooms | Pools and public spaces | Dining and lounges | Distance from the parks | Vacation planning tips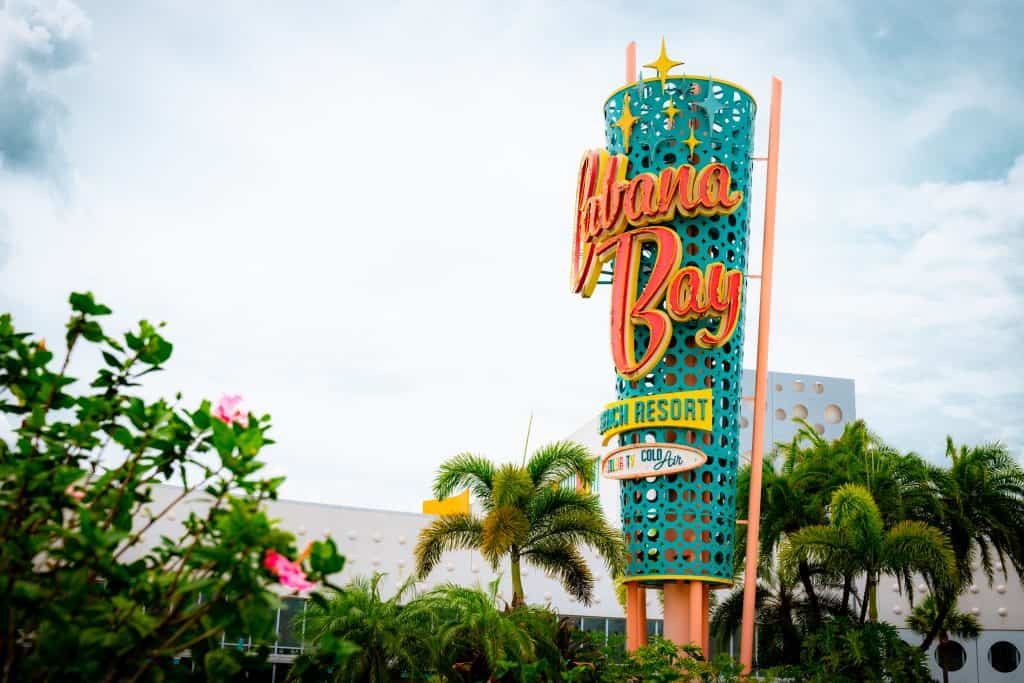 Cabana Bay Beach Resort – general information
Splash back to the 1950s and '60s for endless family fun at Universal's Cabana Bay Beach Resort. Sporting hip, vintage designs, from the moment you arrive you will be transported to the iconic beach resorts of the era and the hotel's 2,200 rooms provide a high-quality, high-value option for families that want an affordable resort experience.
Cabana Bay Beach Resort holds a special place in Universal Orlando history: for over a decade, the resort was home only to three premier hotels (Portofino Bay Hotel, Hard Rock Hotel, and Royal Pacific Resort). This changed with Cabana Bay's 2014 grand opening when 1,800 moderate- and value-priced rooms were added to the mix, all served up in a vintage look pulled right from the blockbuster TV show Mad Men (with a dash of Old Florida thrown in for good measure).
The undertaking proved to be so successful that Universal expanded the venue in 2017 (to coincide with the grand opening of Volcano Bay), adding on two new towers that contain 200 additional rooms apiece. At a new total of 2,200 rooms, it surpasses its closest Universal competitors, Royal Pacific and Sapphire Falls Resort, which each furnish 1,000 rooms (and Cabana Bay still sells out during certain times of the year!). However, the two sides of Endless Summer Resort give Cabana Bay a run for its money in the discount department, and the competition should only be to the benefit of guests looking for that "prime value" at a reasonable price.
Address: 6550 Adventure Way, Orlando, FL 32819
Phone: 407-503-4000; Fax: 407-503-4010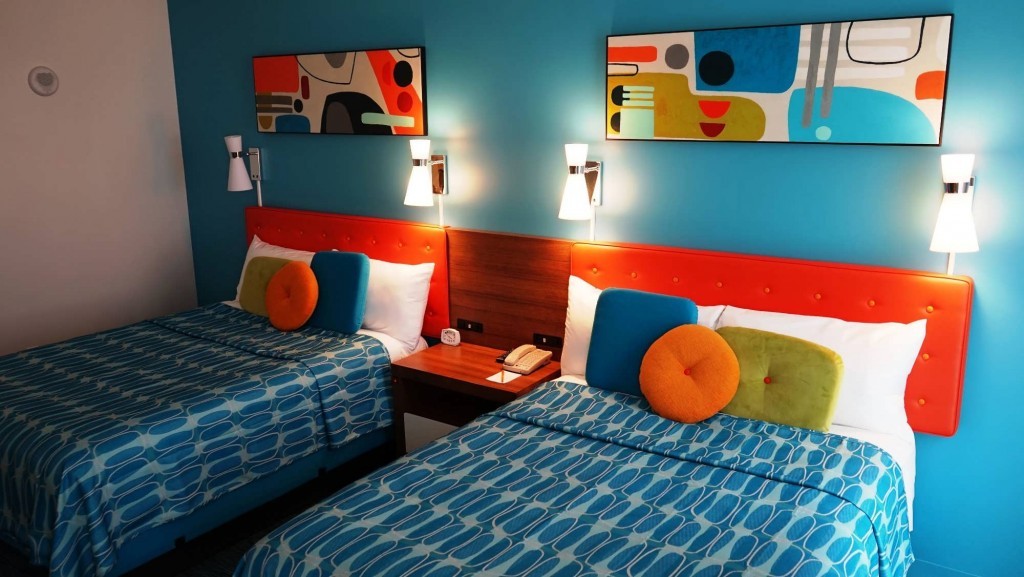 Cabana Bay is home to a whopping 2,200 rooms:
315 courtyard family suites (North Courtyard)
285 courtyard family suites poolside (North Courtyard)
184 tower family suites (South Courtyard)
116 tower family suites poolside (South Courtyard)
915 standard rooms (South Courtyard and 2017 expansion)
365 standard rooms poolside (South Courtyard)
20 two-bedroom suites (2017 expansion towers)
Cabana Bay opened in phases, with the North Courtyard opening on March 31, 2014, followed by the South Courtyard on June 16, 2014. The two expansion towers did not open for three more years, on May 26, 2017. Prices for standard rooms range between $144 and $239 per night, depending on the season, and all guest rooms feature a bold design, period colors, and a neon/retro feel – complete with themed amenities such as V05 shampoo and Zest soap.
Standard rooms measure in at 300 square feet, followed by the family suites at 478 square feet, and for those who want more than double the space of a standard room, the two-bedroom suites are 772 square feet. Larger families may be interested to know that 70% of rooms are connecting rooms. Standard rooms sleep up to four guests; family suites, up to six guests; two-bedroom suites, up to eight guests, but no rollaways are available. There is not a club level or concierge lounge, but free hotel-wide WiFi is available for registered guests.

A bright, open lobby and the resort buildings surround two massive pool complexes, with plenty of spaces to explore for fun and relaxation, including:
A 10,000-square-foot pool in the Atomic Courtyard, featuring zero entry pools, a sand beach, iconic dive-tower water feature, a 100-foot water slide, and plenty of poolside activities, such as hula hoop contests, dive-in movies, ping pong, pool tables, and more
A 6,000-square-foot pool in the Lazy River Courtyard, featuring zero entry pools, a sand beach, and Universal's first lazy river
For family fun, Galaxy Bowl, a ten-lane bowling alley and full-service restaurant, offers everything needed for a boisterous bowling experience. Features include food and beverage options (soda, beer, wine, hot dogs, churros) and music with video screens.
A Universal Orlando Resort Store offering sundries, guest necessities, newspapers, magazines, etc., as well as Universal and Cabana Bay Beach Resort logo merchandise
The Jack LaLanne Physical Fitness Studio, complete with cardiovascular equipment, an open area with mats, medicine balls, Bosu Balls, rubber dumbbells, and locker rooms
A Game-O-Rama game room with plenty of modern arcade games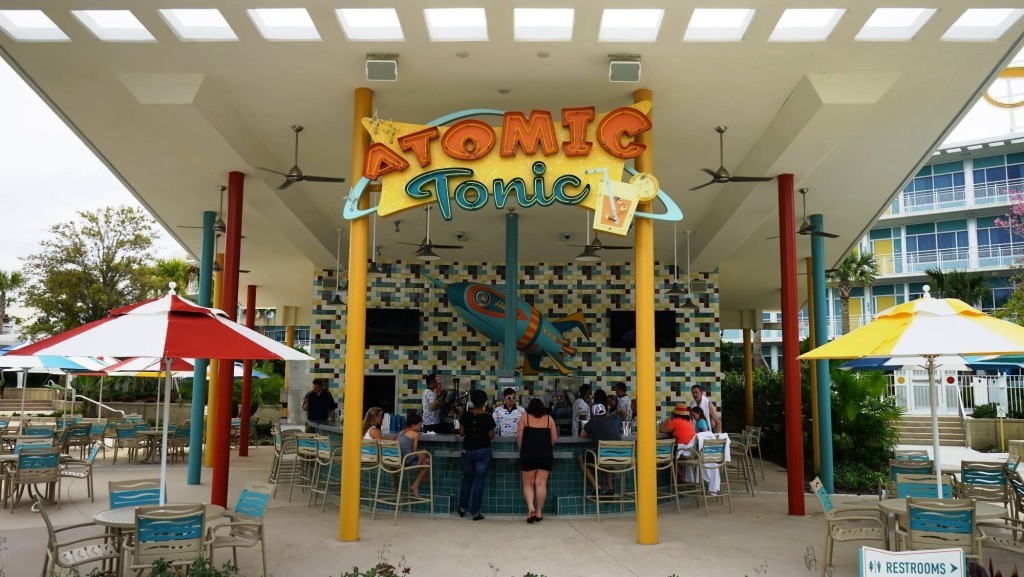 The centerpiece of Cabana Bay's dining options is the Bayliner Diner food court where guests can dine-in or "grab-and-go" at the 600-seat food court that features a variety of food stations, including burgers, pizza, pasta, and sandwiches. If you are looking for a chilly sweet treat, head over to Shakes Malt Shoppe for a variety of milkshakes, floats, sundaes, and more. Not just a bowling alley, Galaxy Bowl offers a limited-seating, full-service dining option, with a menu that includes appetizers, sandwiches, burgers, pizza, and hot dogs.
Cabana Bay features two outdoor food and drink locations, Atomic Tonic and Hideaway Bar and Grill, but guests can also have pizza delivered right to their rooms. Finally, the ubiquitous Starbucks coffee shop is worth a look for the mid-century modern theming alone.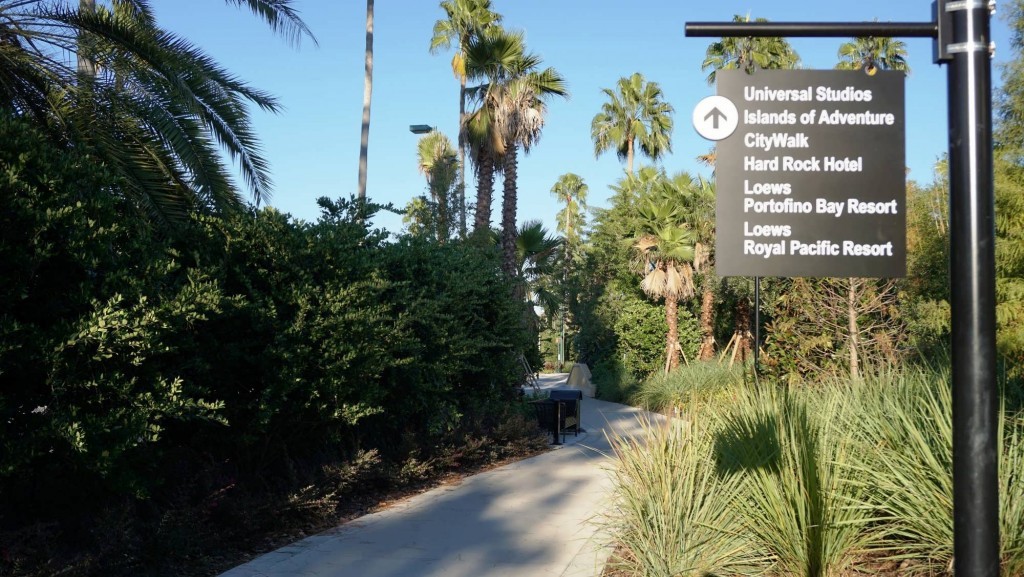 Cabana Bay is not connected to CityWalk and the theme parks via the waterway, which means that guests at the hotel will not have the option of using the water taxis to get to and from the parks. Instead, guests will have the option of (a) using resort shuttle buses, or, (b) walking. We estimate it takes 20 to 30 minutes to walk from Cabana Bay Beach Resort to CityWalk, depending on exactly where your room is located on the Cabana Bay property. To learn more, visit our Cabana Bay: Distance from the parks page.
What are the top vacation planning tips for Cabana Bay?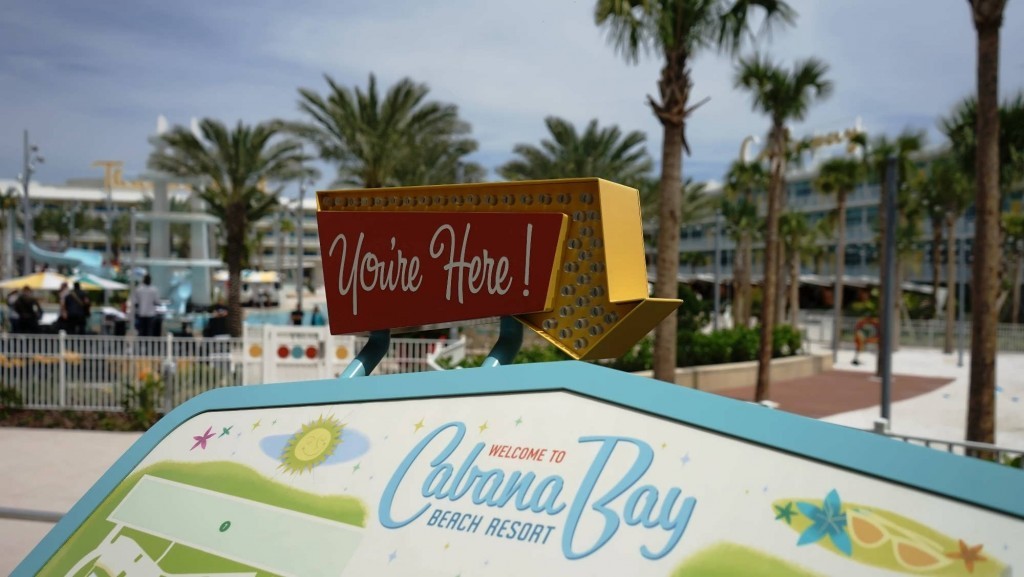 We have plenty to discuss about Cabana Bay Beach Resort in all of our pages, but, initially, we want to cover a few key points.
Staying at Cabana Bay will help save your family money versus Universal's premier and preferred resort hotels – especially if you have six people in your party and can now occupy one family suite instead of two standard rooms – but there are trade-offs. First, and perhaps most importantly, guests staying at Cabana Bay will not receive unlimited Express Pass access. This is widely regarded as the single best benefit to staying at Portofino Bay, Hard Rock, or Royal Pacific (not to mention that complimentary Express Passes hold a value of up to $170 per person, per day, compared to buying them separately). Second, guests staying at Cabana Bay Beach Resort don't receive the benefit of priority seating at the full-service restaurants inside Universal's theme parks or at CityWalk. Finally, Cabana Bay doesn't allow pets.
Despite these drawbacks, the advantages to staying at Cabana Bay Beach Resort start with its next-door proximity to Volcano Bay, which allows guests the ability to simply walk right over and hop on all the magnificent water slides; all other guests at all the premier, preferred, and value hotels have to take a bus to Universal Orlando's water theme park. (Also, Cabana Bay's two towers feature some rooms that directly overlook Volcano Bay in all of its glory, making for some truly spectacular views, especially at night.) This may not seem like much at first, but trust us when we say that it's actually a considerable benefit.
Since all resorts located at Universal Orlando are operated by Loews, they all feature the same cancellation policy: if you cancel your reservation six or more days in advance, you will receive a full refund. If it's anything fewer than five days beforehand, however, you will be charged one night's room rate, plus tax.
As always, there are all the other perks common to most Universal Orlando Resort hotels:
Complimentary package delivery to your room
Resort-wide charging privileges with your room key
Complimentary scheduled transportation to SeaWorld and Aquatica
Access to the other amenities at Universal's other resort hotels, including the pool areas (this excludes the pool areas at Endless Summer Resort and is subject to change, so please verify when you make your reservation). For more on pool-hopping around Universal Orlando, please see our adventures in pool-hopping article.
And, of course, guests staying at Cabana Bay will have the opportunity to relax at what is arguably Universal's most fun resort!
How much does it cost to park at Cabana Bay Beach Resort?
Oh, are you wondering about parking? Yes, Cabana Bay guests have to deal with the biggest complaint about all of Universal's resort hotels: the per-night self-parking fee. Here, it costs overnight guests $18 per night to park a car (paid at time of check-in). For daytime guests, parking is $10 (plus tax) for up to 30 minutes and $45 for up to 24 hours.
Do you have a question about the information on this page or would like to provide feedback? Please let us know by posting in our
Orlando Informer Community
on Facebook.