Skip to: General information | Rooms | Pools and public spaces | Dining and lounges | Distance from the parks | Vacation planning tips
Portofino Bay Hotel -general information
This AAA 4-Diamond award-winning hotel is modeled after the famous fishing village of Portofino on the Italian Riviera. Nestled around a picturesque harbor, the design and amenities of this premier hotel are all intended to immerse guests in a fun and romantic Mediterranean escape. Everywhere you look you'll find architecture, landscaping, and décor that will transport you right to the heart of Italy.
As Universal's flagship hotel property, Portofino Bay offers the most luxurious accommodations and best amenities of all the resort venues. Announced in 1996 and opened in 1999, this was the first real effort to transform Universal Orlando from a side-trip for travelers mainly staying at Walt Disney World, to a world-class, stand-alone vacation destination.
Address: 5601 Universal Blvd, Orlando, FL 32819-7888
Phone: 407-503-1000; Fax: 407-503-1010
With 750 rooms, Portofino Bay is one of the smaller resort hotels, but the rambling and verdant grounds, filled with unexpected surprises and theming, are spacious enough to accommodate all the rooms its guests could want, and include:
198 garden-view standard rooms
242 bay-view standard rooms
94 club level deluxe rooms
18 Despicable Me-themed kids' suites
12 Portofino suites
Six Villa suites
Two Governatore suites
One Presidente suite
Each room offers the epitome of European luxury and elegance with authentic Italian furnishings and marble accents, and the modern amenities of flat-screen TVs, Keurig coffee makers, minibars, and clock radios with iPhone docking stations. Rooms sizes start at 450 square feet, with standard rooms ranging between $329 and $544 per night. Club level rooms are located throughout the hotel, and give guests access to a 3,500 square foot private lounge, complete with snacks and drinks. Pets are permitted with a $100 pet fee (restrictions apply).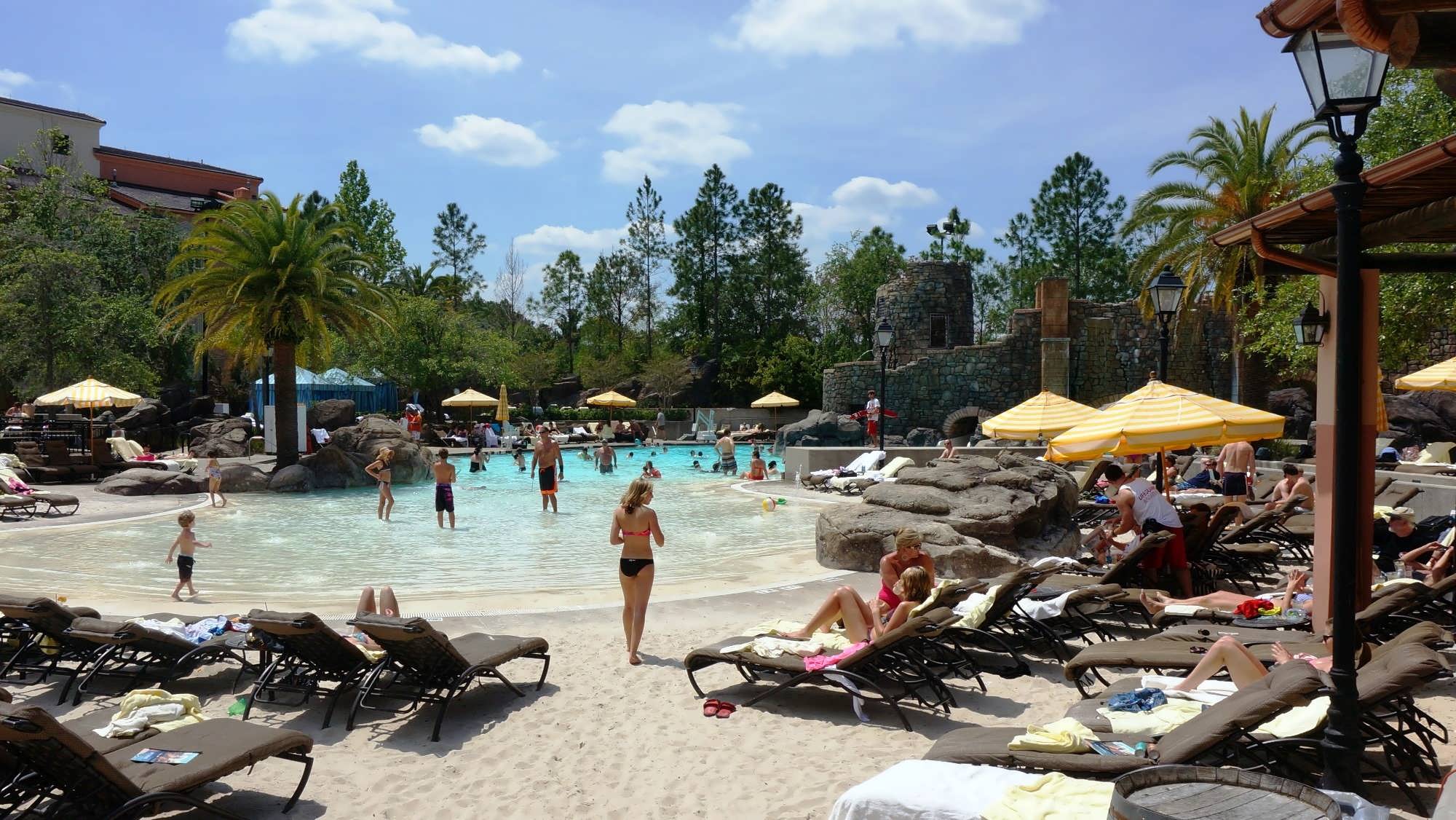 Wandering through Portofino Bay, you'll find three pools and plenty to explore, all themed to evoke a quaint waterside town in Italy. Areas include:
The Harbor Piazza surrounds Portofino Bay, and is where you'll find most of the dining and shopping locations, as well as the water taxi dock and walking path that leads to CityWalk. Most nights see a performance of "Musica Della Notte," a showcase of classic opera and romantic music at sunset. Every few months Portofino Bay also hosts Harbor Nights, a quarterly wine-tasting and jazz event designed to capture the ambiance of the Mediterranean.
The Beach pool is an ideal place for the family to spend a day together, complete with a pool bar and eatery, white sand beach, Roman aqueduct-themed waterslide, cabanas for rent, poolside activities by day (such as ping-pong and bocce ball), and dive-in movies by night.
The Villa Pool, aptly named for the Villa wing area where it is located, is a more exclusive pool experience with cabanas available for rent.
The Hillside Pool is much smaller, but conveniently accessible to guests staying in the east wing of the hotel, and perfect for anyone looking for a quiet place with more privacy.
Mandara Spa provides services that include massage, skin care, beauty, body treatments, hydromassage, steam and sauna, lounges, refreshments, and hair and nail care.
Piazza Centrale is a small square with planters and a fountain that provides a lovely view for rooms with windows that look out on this area.
The hotel offers five different retail stores, from an art gallery to the latest in resort and Universal Orlando wear.
Conference and meeting space is available for corporate events or celebrations.
Portofino Bay is the place to stay for a myriad of dining options, with three restaurants, two quick-service storefronts, a poolside bar and grill, a Starbucks, and two hotel bars, as well as 24-hour room service. Trattoria del Porto serves up the hotel's breakfast, full-service lunch, and dinner, mixing American favorites with well-known Italian dishes – a good first stop for any picky eaters. If you're looking for something more authentically Italian, turn to Mama Della's Ristorante for southern Italian home-cooking, or consider a night out at Bice for an elegant dinner featuring northern Italian options.
For a quick and easy bite, check out Sal's Market Deli, which has a good selection of grab-and-go sandwiches, salads, snacks, and a quick service counter that will bake you up a pizza or calzone. Just across the piazza you'll find the Gelateria, serving breakfast sandwiches in the morning, plus artisan gelato, smoothies, milkshakes, and coffee throughout the day. If you're lounging poolside, get a burger and fries at Splendido Bar and Grill, or check out the cocktail options at The Thirsty Fish, located on the piazza, or Bar American, located just off the lobby.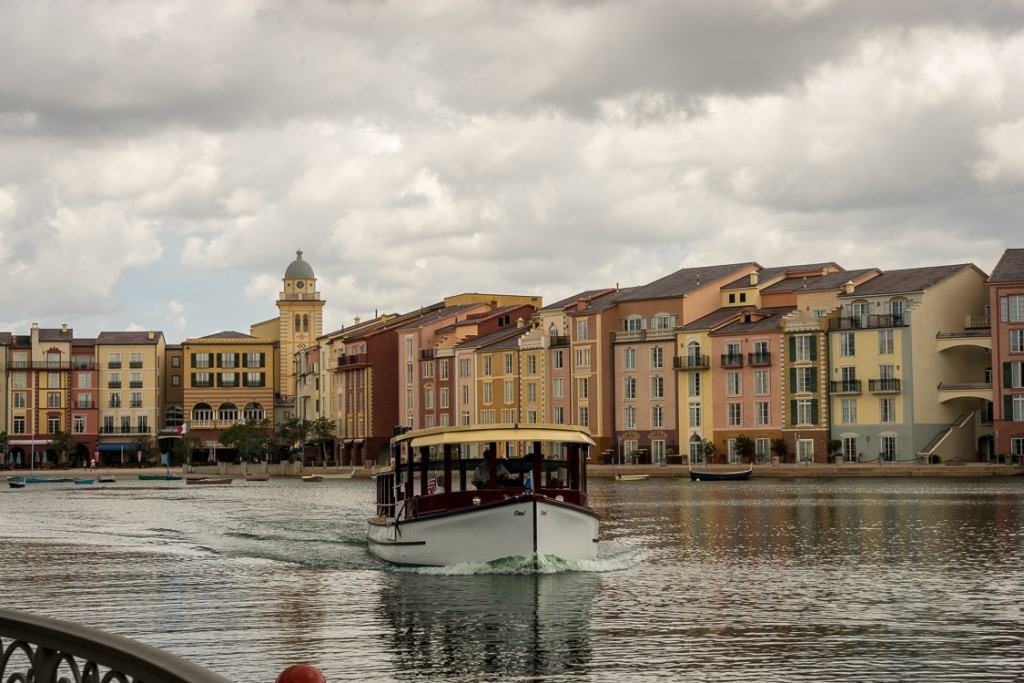 Portofino Bay Hotel is connected to CityWalk and the theme parks via the waterway, from a dock located in the Harbor Piazza. This means that guests at the hotel have the option of using the quick and convenient water taxis to get to and from the parks. Alternatively, guests can walk the meandering garden path, which passes by the Hard Rock Hotel and has its own security screening and entrance into CityWalk. To learn more, visit our Portofino Bay Hotel: Distance from the parks page.
What are the top vacation planning tips for Portofino Bay Hotel?
As a premier hotel guest, you'll find the highest class of service at Portofino, along with the very best perks, such as the unlimited Express Passes available to all guests, preferred seating at some restaurants within the Universal parks and CityWalk, and pet-friendly rooms, as well as the perks found at most Universal Orlando resort hotels, including:
Complimentary package delivery to your room
Resort-wide charging privileges with your room key
Complimentary scheduled transportation to SeaWorld and Aquatica
Access to the other amenities at Universal's other resort hotels, including the pool areas (this excludes the pool areas at Endless Summer Resort and is subject to change, so please verify when you make your reservation). For more on pool-hopping around Universal Orlando, please see our adventures in pool-hopping article.
Since all resorts located at Universal Orlando are operated by Loews, they all feature the same cancellation policy: if you cancel your reservation six or more days in advance, you will receive a full refund. If it's anything fewer than five days beforehand, however, you will be charged one night's room rate, plus tax.
How much does it cost to park at Portofino Bay Hotel?
As with all Universal Orlando Resort hotels, Portofino Bay charges a parking fee for both day guests and those staying at the hotel overnight. Hotel guests pay $28 (plus tax) per vehicle per night for self-parking. For anyone visiting during the day, five minutes or less is complimentary, up to 30 minutes is $10, and anything over that is $45 for the day.
Do you have a question about the information on this page or would you like to provide feedback? Please let us know by posting in our
Orlando Informer Community
on Facebook.