Skip to: Overview | Location | Restrictions | Story | Queue | Ride experience | Fear factor | Lockers | Fun fact | Guest reviews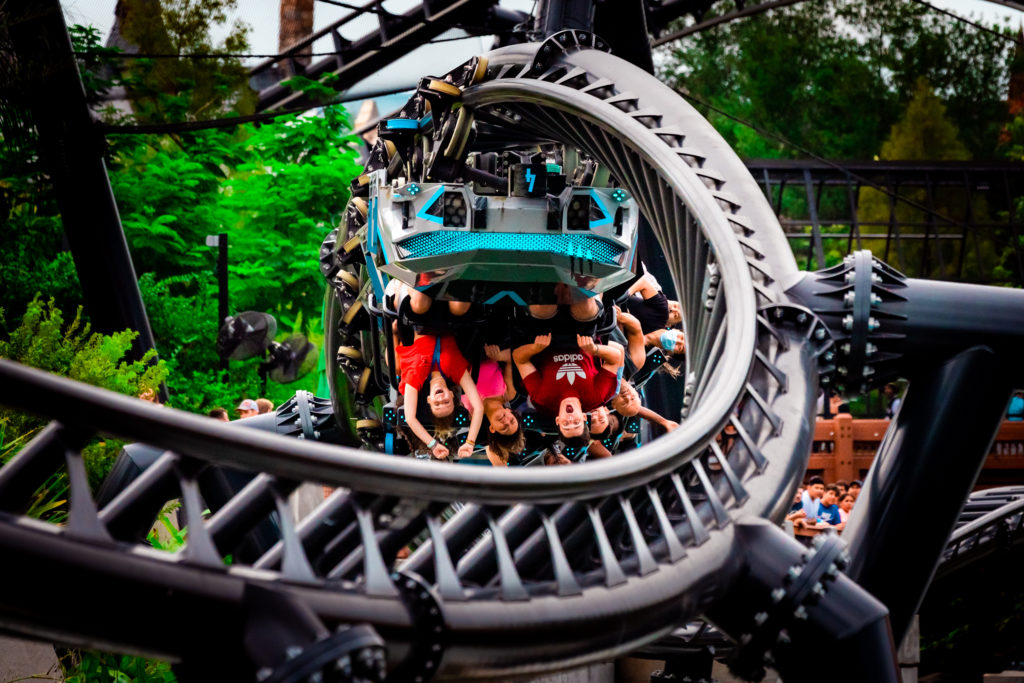 What is Jurassic World VelociCoaster?
Race alongside a pack of velociraptors on Jurassic World VelociCoaster, which is Florida's fastest and tallest launch roller coaster. The experience is the most thrilling one yet at any of Universal's five theme parks worldwide.
Where is Jurassic World VelociCoaster located?
In Jurassic Park, which is in Islands of Adventure.
Jurassic World VelociCoaster – height restrictions and other factors
Height requirement is 51 inches; has Express Pass access and a single-rider line that is open intermittently.
What's the story of Jurassic World VelociCoaster?
The management team of the Jurassic World theme park wants to up the game of its "carnivore expansion" by allowing its guests to "embark on a high-speed chase and feel the rush of the hunt" amidst a pack of its titular prehistoric predators. Along the way, the core Jurassic World cast makes appearances: Owen Grady (Chris Pratt), Claire Dearing (Bryce Dallas Howard), Dr. Henry Wu (BD Wong), and, of course, the raptor pack of Blue, Charlie, Delta, and Echo.
What is the Jurassic World VelociCoaster queue like?
Jurassic World VelociCoaster's queue sets the stage for the thrills that are in store on the ride itself. If you're invested in the story of the attraction, you'll want to start paying attention as soon as you step under the ride's torch-adorned marquee and the Jurassic World theme music hits your ears.
The entry
It's worth mentioning that the entirety of VelociCoaster's queue is indoors – a welcome reprieve from the Florida heat, and a perfect match for the futuristic atmosphere. As you first step inside, you're met with thin, neon lights across the walls and ceilings that pulse between shades of red, blue, and purple. Mounted televisions display the attraction's logo, and audio overhead welcomes you to the raptor paddock. The modern, near-monotone space is centered around a striking, elevated centerpiece: four steel velociraptors surrounding a model of the coaster's signature top hat.
The launch view
As you pass the iconic statues and curve around a lit corner, you're faced with VelociCoaster's second launch. First, you'll catch a real-life coaster train take off – then, the windows transform with a special effect to make it appear as though a raptor pack is chasing after it.
Raptor training room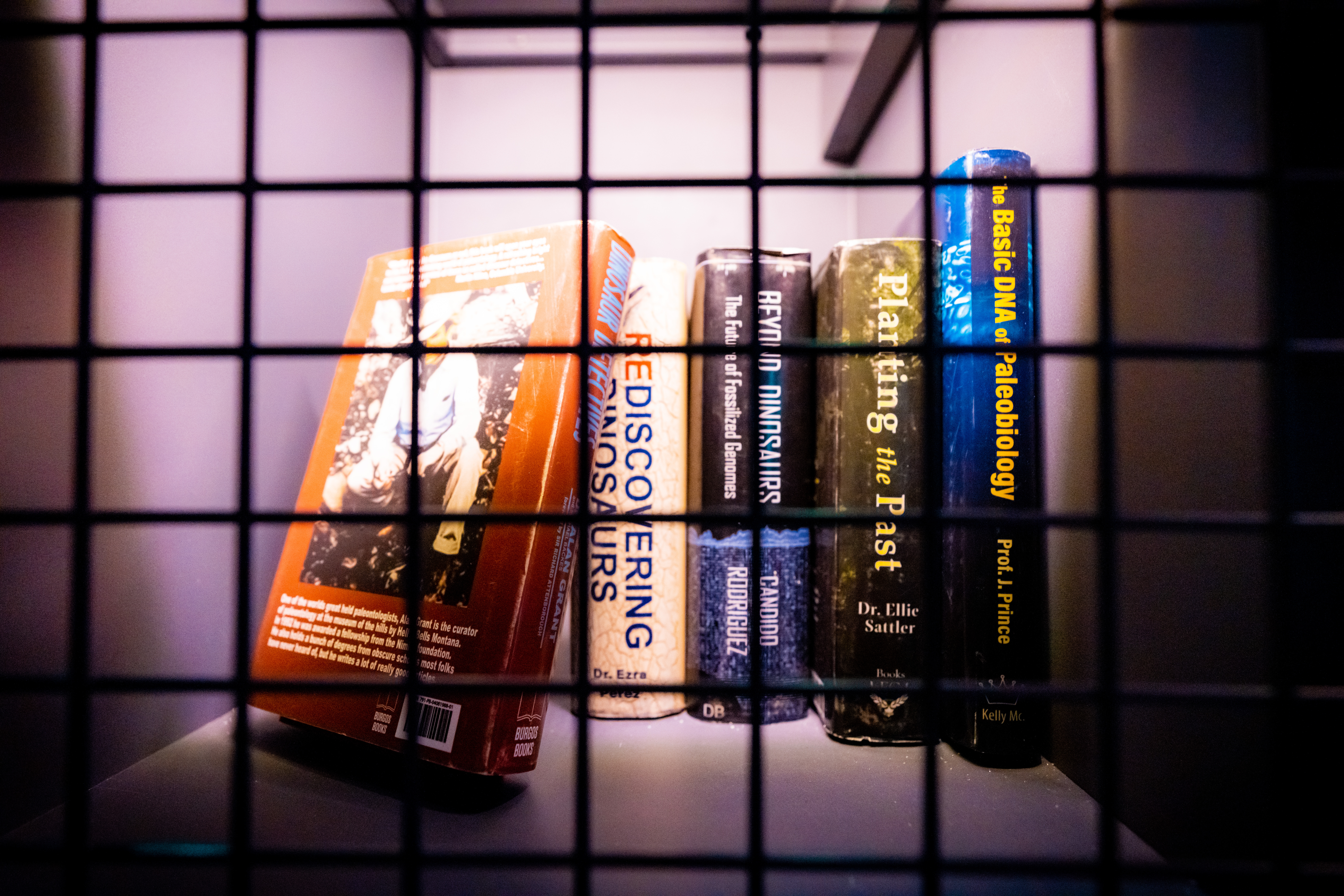 Is this room full of dino-mite details? You bet Jurassic is. What will first capture your attention is the video of Dr. Wu playing on the television. The scientist behind the dinosaur creations is here to brief you on the raptor paddock's history and provide safety information regarding the ride. What will keep you captivated are the metal cages along the walls, full of books, artifacts, and more from the Jurassic universe; here, you'll find familiar names and faces, such as Ian Malcolm and Dr. Alan Grant.
The stable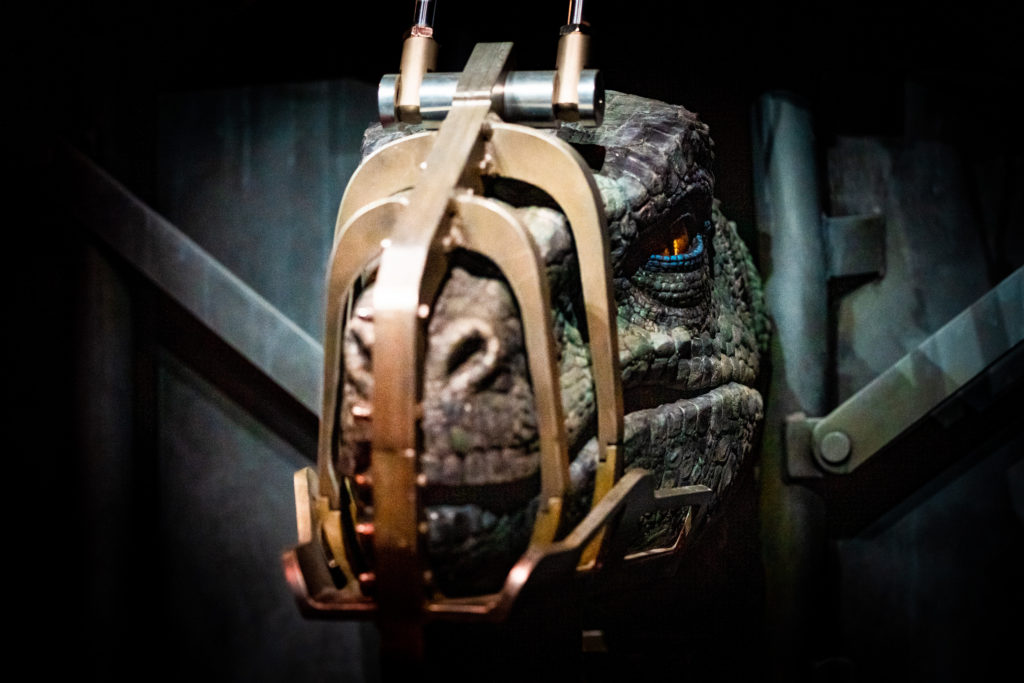 It's the moment you've been waiting for – coming face-to-face with the impressive, animatronic velociraptors. With eyes darting and nostrils flaring behind the metal restraints, you're close enough to count the scales on their intimidatingly realistic faces as you pass by.
The locker bay
If you thought Mr. DNA's technology was impressive, just wait until you see VelociCoaster's dual-sided lockers. Because those dropping off and picking up their belongings are now separated into two rooms, it's easy to breeze through this area. The space might seem simplistic at first glance, but you'll quickly notice Jurassic World posters lining the walls, advertising everything from Jurassic Park River Adventure to Camp Cretaceous (a possible reference to Universal Studios Beijing).
The screening room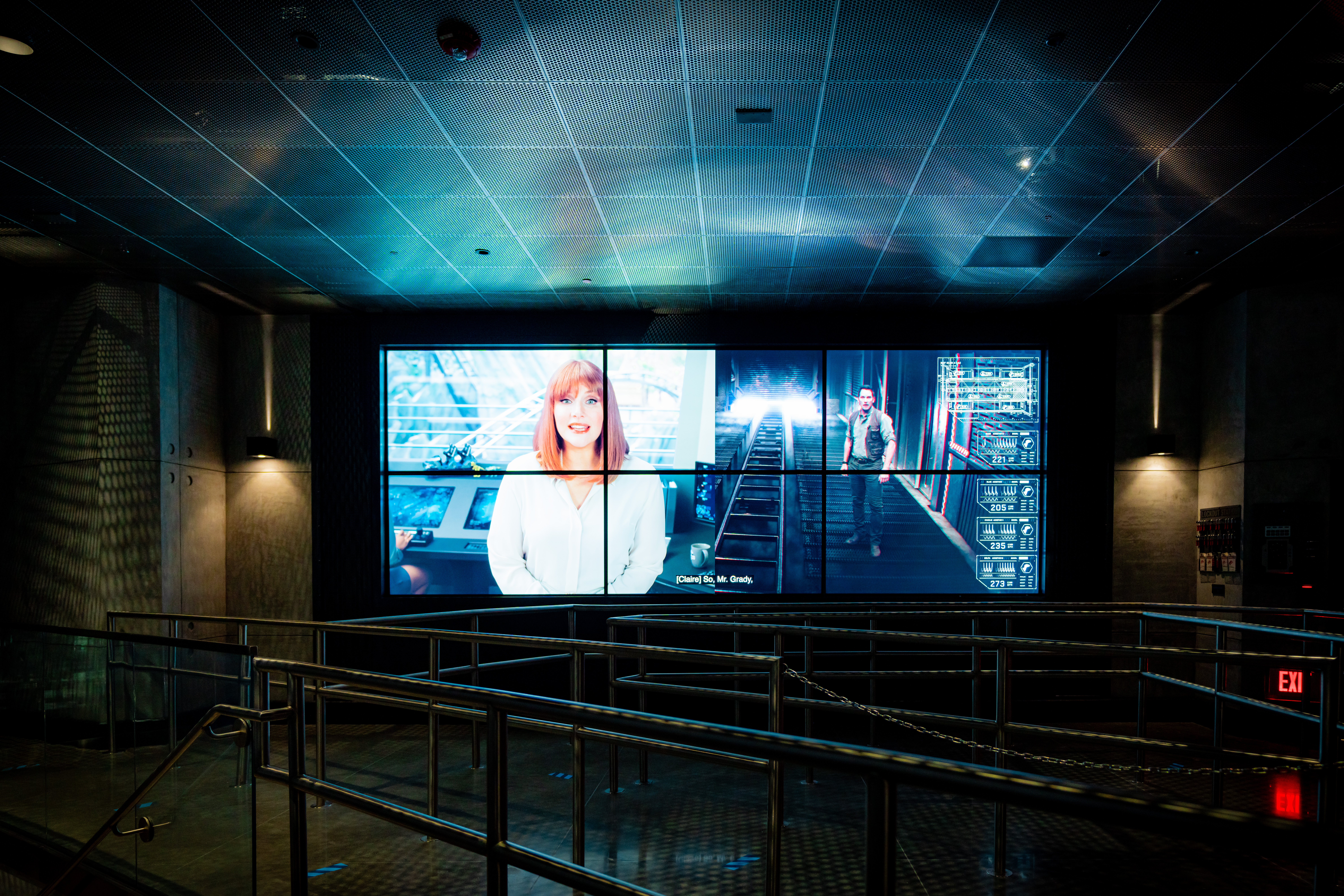 "But where's Chris Pratt?" you ask. Don't worry – both he and Bryce Dallas Howard are waiting for you in a spacious chamber up two sets of stairs from the locker bay. The stars, of course, reprise their roles as the two most iconic characters from the Jurassic World series, Owen Grady and Claire Dearing, as a video of them plays on a giant screen at the front and center of the room. Claire can be found calmly informing us about our upcoming raptor experience, while Owen expresses his hesitancy to combine a roller coaster with live dinosaurs. This is where the sense of danger – and excitement – really kicks in.
The loading station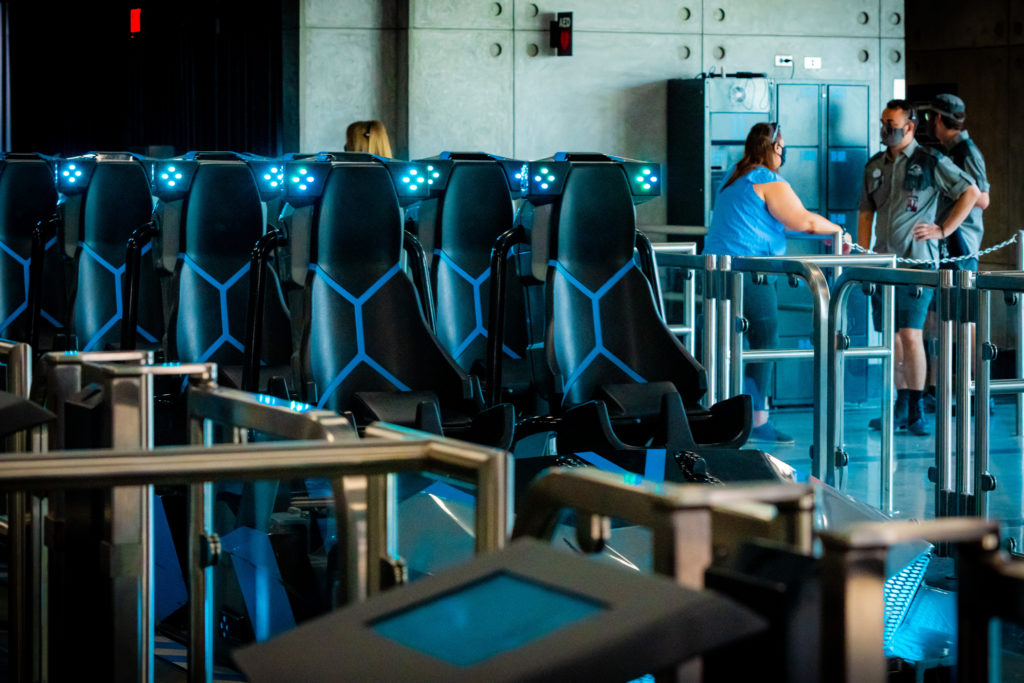 After exploring the many dark, indoor rooms of the queue, the outdoor view provided by the loading station's floor-to-ceiling windows is that much more striking. You'll find yourself torn between staring at the exterior scene and gazing at the ride vehicle awaiting you as you're filed into assigned rows. Finally, the gates open, you're seated with your restraints in place, and you're headed towards your first launch.
What is the Jurassic World VelociCoaster ride experience like?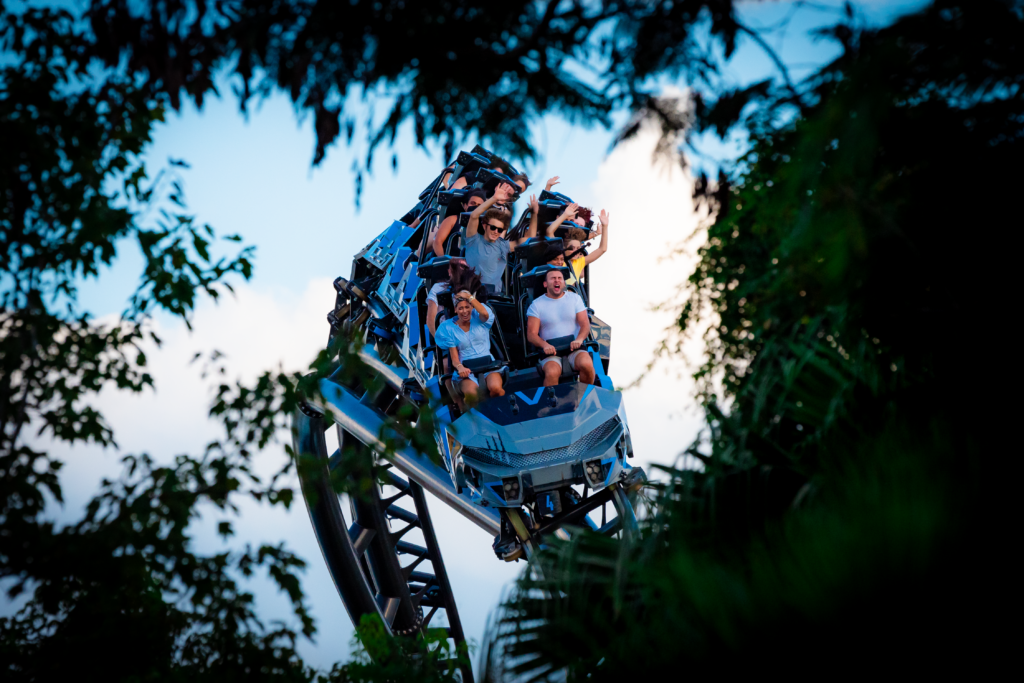 In broad strokes, VelociCoaster puts guests on an "extreme adventure" that has them ripping and roaring not only through the air, but also through Jurassic World's raptor paddock, which comes replete with intricate rockwork, lush foliage, and an elevated watch tower (along with its searching spotlight during night-time rides).
To get into the exact specifics of the ride experience, you're probably going to need to sit down first.
The roller coaster employs a "revolutionary" ride vehicle that has been "specially designed to intensify the thrills." Those thrills occur across 4,700 feet of track, some of which sits just inches above the water of Islands of Adventure's central lagoon. It features a few near-misses and two launches, with one occurring within Jurassic World's raptor paddock and the faster of the two hitting 70 mph in just 2.4 seconds. This second launch marks a pivotal moment in both the coaster's story and design; the first half of the coaster winds through the foliage and rock work of the paddock, while the second half thrusts riders up and away from danger and into a series of untamed inversions over the lagoon.
There are four inversions, some of which brandish such descriptions as "one of a kind" and "the first of its kind": a 360-degree barrel roll above water and a zero-gravity inverted stall that lasts for some 100 feet. And then there's that massive, 155-foot hill, which contains an 80-degree drop. All told, Universal promises a total of 12 seconds of airtime – an exhilarating amount of time for riders to be lifted out of their seats.
But, best of all, the coaster – not unlike Hollywood Rip Ride Rockit at next-door Universal Studios Florida – only features a lap bar.
(For a more in-depth recounting of Jurassic World VelociCoaster's ride experience, please see our review.)
How scary is Jurassic World VelociCoaster?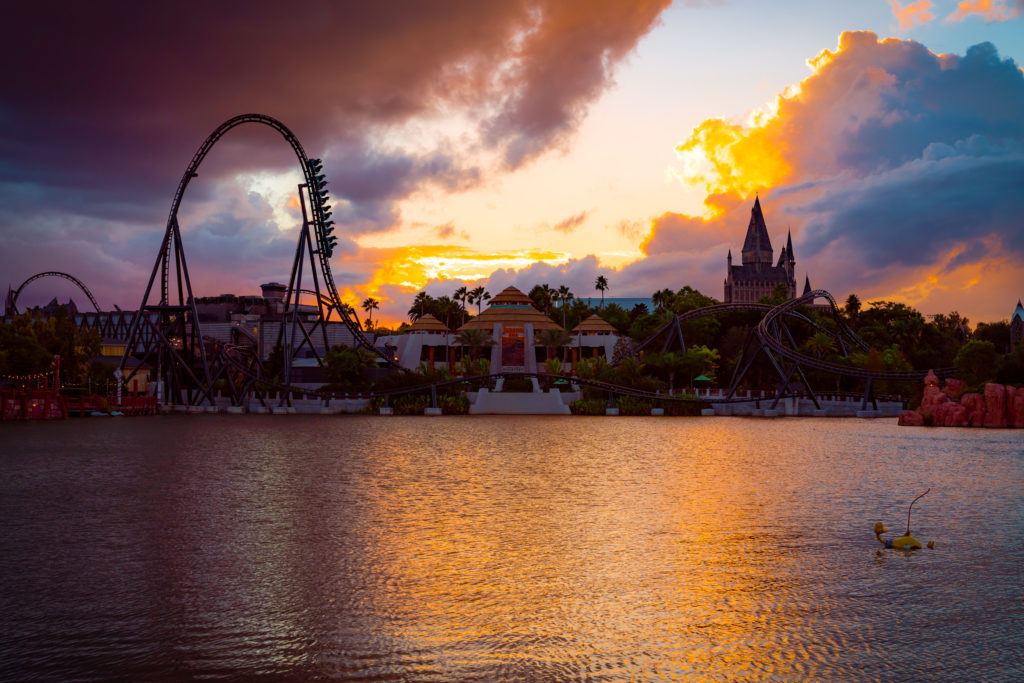 Given its 155-foot-tall hill (with an 80-degree drop, no less), just looking at VelociCoaster strikes fear in some. The ride itself is even more intimidating than it looks – action-packed with multiple launches, a barrel roll, a zero-gravity stall, and so much more, you hardly have a chance to catch your breath as you race through the raptor paddock. For this reason, Jurassic World VelociCoaster earns itself five out of five raptor claws in terms of fear – and is arguably the scariest attraction at Universal.
How do Jurassic World VelociCoaster's lockers work?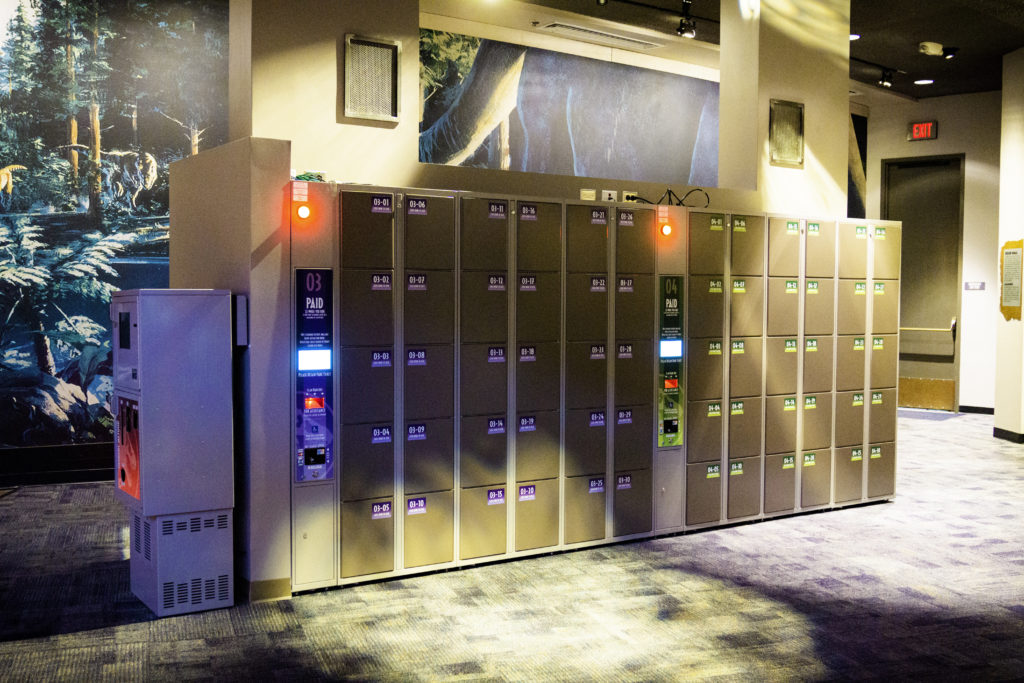 VelociCoaster's main lockers are just as smooth and innovative an experience as the ride itself is. Thanks to their double-sided design, guests dropping off and picking up their belongings are now separated into two different areas, eliminating the congestion that is so common in other attractions' locker bays. You insert your items on one side of the locker before boarding, and then open it on the other side to retrieve them upon exiting. (Yes, it's just as life-altering as it sounds.) The best part is they're located towards the end of the queue, so you can hang on to your cameras and phones for photos throughout most of the line.
The larger of VelociCoaster's lockers are available at a premium on the bottom floor of Jurassic Park Discovery Center.
(For everything you could ever possibly want to know about lockers at Universal Orlando Resort, please see our complete insider's guide.)
What was Jurassic World VelociCoaster's opening date?
June 10, 2021
Jurassic World VelociCoaster – OI fun fact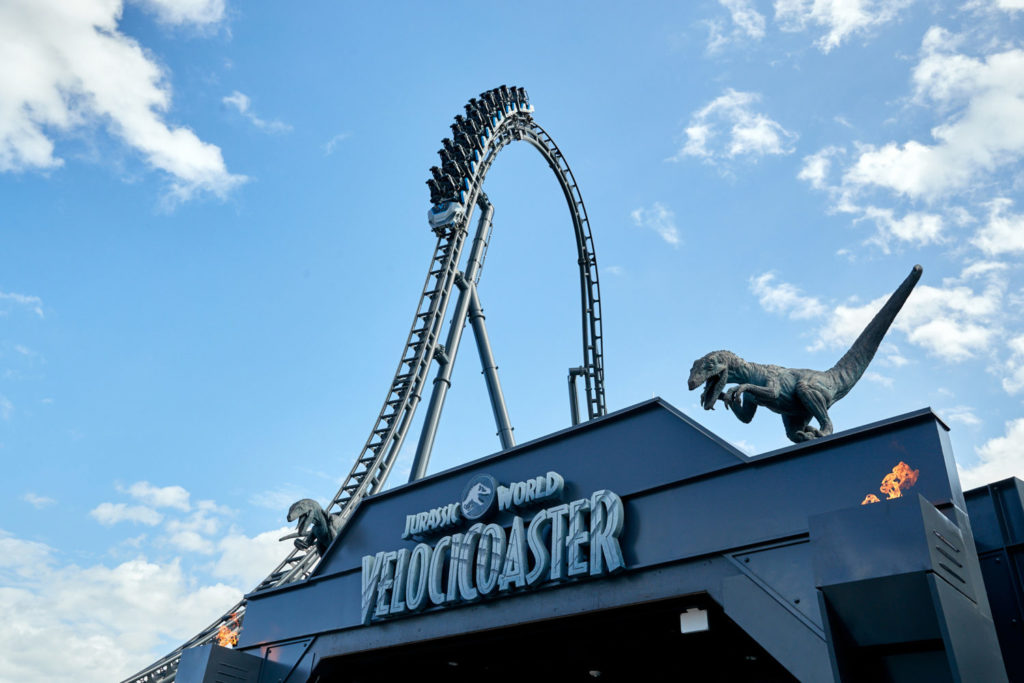 The two raptors perched on the top of VelociCoaster's marquee are meant to be a loose homage to another classic Universal coaster, Dueling Dragons, which originally had – you guessed it – two dragons facing off against one another at the start of its queue. (This facade, unfortunately, was lost when the attraction eventually became Dragon Challenge, once The Wizarding World of Harry Potter – Hogsmeade arrived at Islands of Adventure. [Today, the space that used to house both Dueling Dragons and Dragon Challenge is home to Hagrid's Magical Creatures Motorbike Adventure – yet another iconic ride!])
For even more fun facts and cool Easter eggs, be sure to check out our big write-up.
Jurassic World VelociCoaster – real guest reviews
Orlando Informer
Average rating:
0 reviews
Do you have a question about the information on this page or would you like to provide feedback? Please let us know by posting in our
Orlando Informer Community
on Facebook.