Skip to: Overview | Location | Restrictions | Fear factor | OI tip | Guest reviews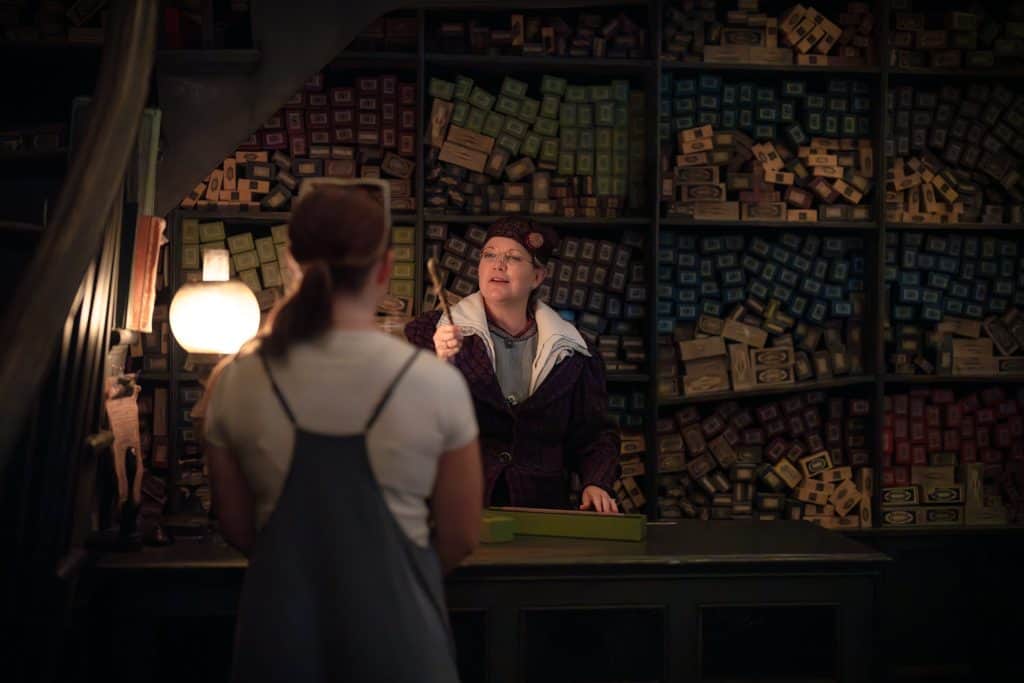 What is Ollivanders in Hogsmeade?
Ollivanders Wand Shop is a super-immersive experience within The Wizarding World of Harry Potter that is a must-do for fans of the books or movies. With locations in both Hogsmeade and Diagon Alley, Ollivanders recreates the ritual of "the wand choosing the wizard." For each performance, a small group enters the "shop," and one guest is chosen to test out various wands until he or she finds a match, in a production punctuated by music and special effects.
Where is Ollivanders located?
In The Wizarding World of Harry Potter – Hogsmeade, which is in Islands of Adventure.
Ollivanders – height restrictions and other factors
All are welcome at Ollivanders, and there are no height restrictions (nor is there Express Pass access). The show runs continuously throughout the day, with a line that isn't usually more than 30 minutes long.
Ollivanders – what you wish you knew before you experienced it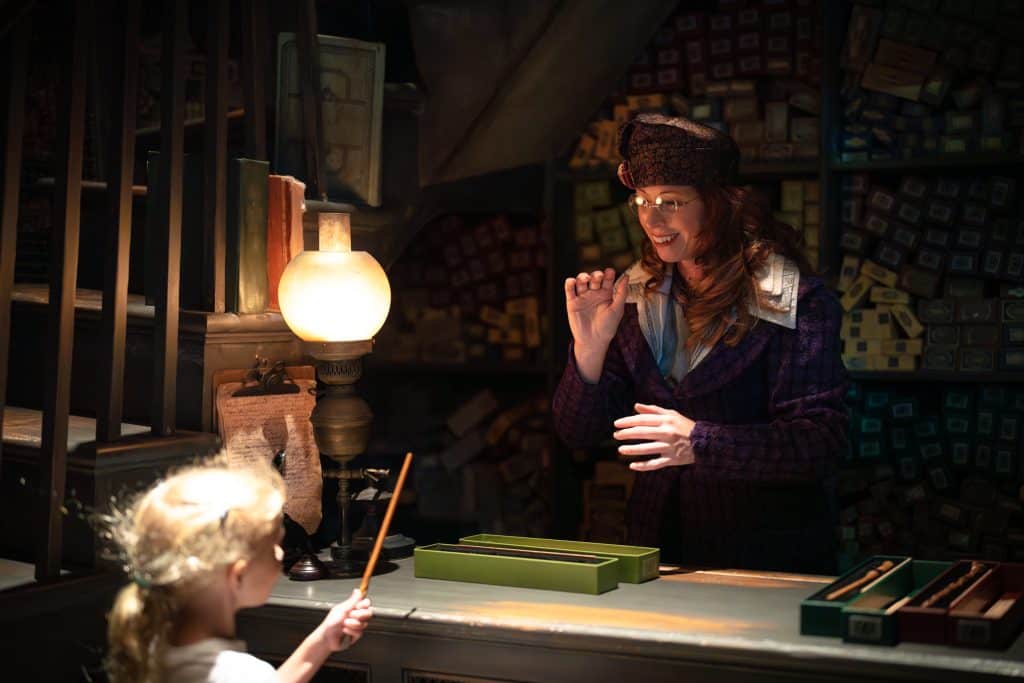 If you or your child are chosen to participate in the show, it will be a priceless memory that you'll treasure for a lifetime. However, you'll want to have your wallet at the ready, because – even if the wand chooses you – you'll still have to purchase your magical item if you want to take it home.
How scary is Ollivanders?
We rate Ollivanders zero out of five wizard Galleons in terms of fear factor. While the shop attendant does have a few tricks up his sleeve, there's nothing to fear here.
What was Ollivanders in Hogsmeade's opening date?
June 18, 2010
Ollivanders – OI tips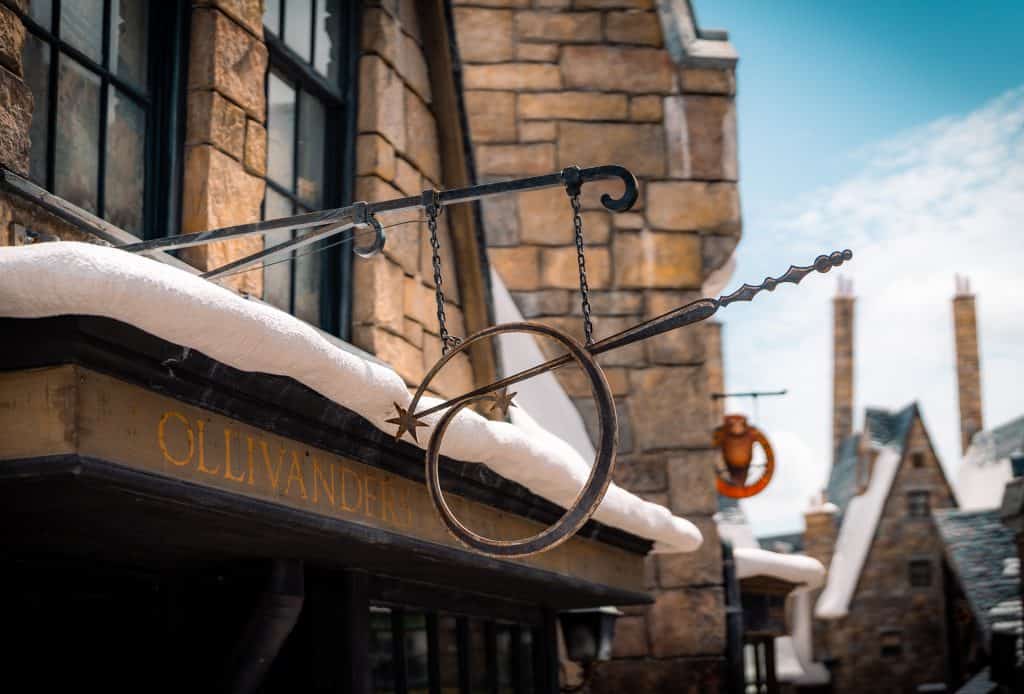 Ollivanders in Hogsmeade has just one showroom, whereas the location in Diagon Alley has two. If you see a long line in Hogsmeade and you have plans to visit Diagon Alley later, feel free to keep touring the parks and experience this attraction over in London instead.
Need help picking out a wand? Our wand guide has the secrets that were used to help choose which wand went with which wizard – and it can help you out, too!
Ollivanders – photo gallery
Ollivanders – real guest reviews
Ollivanders Wand Shop
Average rating:
12 reviews
May 27, 2014
Magical Experience
Date Of Last Visit:
September 2010
As a fan of the Harry Potter movies and books, it was really cool to see Ollivander's Wan Shop in the flesh. It felt like every person there had taken on the role of Harry and you were just waiting for the wand that belonged to you. I liked the setup of it all, as it makes you suspend your disbelief and get lost in the scenery of it all. Wands are a wizard's best friend!
May 26, 2014
Fun
Date Of Last Visit:
02/22/2014
I thought this was a fun experience, but I may be slightly biased since I was one of the lucky few that actually get chosen for the wand experience. It seemed like everyone else had fun watching the show though! My only complaint is that the line to get in is very slow and there isn't much in the way of entertainment while you are waiting.
May 26, 2014
So I'm NOT the chosen one?
Date Of Last Visit:
03/09/2014
Okay, so as a Harry Potter fan myself I HAD to do this. When I was in line I was really excited and I felt as if I would be picked. I was so excited, but I also had to consider that there was going to be another 24 or so people. So when we got near the entrance, a special group or something cut the whole line and got right in front of us, and then my group that waited in line followed suit.



To my disappointment someone from that group was chosen, just as I speculated. I can't blame anyone, and I understand the chances of someone being chosen is about 1/25.



Other than that, the experience was amazing, I love the spell action!
Nov 11, 2013
cramped
Date Of Last Visit:
12/15/12
This was not for us. Maybe with children. My wife is in a wheel chair and this is not set up very well to accommodate us. Might of liked it if it had more space. We found the same thing for a few shops in Potter land. Very cramped. Loved the rides, not the shops.
Nov 11, 2013
Loved it, but can cause some tears
Date Of Last Visit:
11/10/13
I absolutely loved this attraction, however, you may want to read on if you have children that will be experiencing this with you. A group of 25-27 people enter a small wand shop. One person (usually a child) is chosen to be measured and test out wands until the right wand choses that child. The first time through, my son was not picked but it was very cool to watch the reenactment of that scene from Harry Potter with the child that was chosen. When it was done, my son was disappointed that he wasn't chosen, but agreed that it was fun to watch and spent time in the actual shop finding just the right wand for himself.



The reason I say it may cause tears and gave it 4 instead of 5 stars is because if you have a child who will be upset if they are not chosen it could put a damper on your vacation if you have to console him/her for some time because they wanted to be "the one". You could wait in line for quite a while only to face disappointment if you have a child who may react like this. In that case I suggest you enter the wand shop through a different door and look at all the wands available and skip the show (which is about 4 1/2 minutes long).



Overall this was one of my favorite attractions, especially on our second time through when my son was chosen and I watched him up there with his birthday button getting his special wand for his 11th birthday. It truly was magical. When we return we will go through it again I'm sure.
Do you have a question about the information on this page or would you like to provide feedback? Please let us know by posting in our
Orlando Informer Community
on Facebook.