You've planned the travel dates and made all the reservations for your Universal Orlando Resort vacation, and the kids are so excited, they can't wait. Now, it's time to think about packing, and Orlando Informer is happy to help you get started with our certified "Happy Family" list. Below, you'll find everything from the vacation standards to expert advice designed to make traveling with the kids safer and easier.
First tip: there's no reason planning and packing should be a one-person affair. Get the whole family involved in determining exactly what your clan needs to make everyone comfortable while out of town. This is just one way to extend the fun of travel!
Skip to: Flying to Orlando | Driving to/around Orlando | Last-minute planning | Hotel room | At the parks | Dressing comfortably | Seasonal items | At the parks with kids
What should I pack for flying into Orlando?
As with all air travel, if you will be flying to Orlando, be sure to brush up on the FAA rules for packing. Start here for reminders of regulations, such as luggage size, as well as permitted and prohibited items. Also, make sure you know what fees your airline charges for checked bags and what penalties they may collect for "overweight" bags.
If you have the room, it's always a good idea to pack a change of clothes and the minimal toiletry essentials for each member of your family (like a toothbrush and toothpaste) in a carry-on. Hopefully, you won't need them, but you'll want them should there be any mix-up with your luggage.
If you will be flying with young children, your carry-on should include a parents' survival kit for airport and airplane time. While the details will depend on your children's ages, interests, and abilities, some items to consider for this include:
Bottles and snack items (again, check those FAA rules)
Pencils, crayons, notebooks, and coloring books
Portable DVD player or other media player – even just your smart phone – with headphones (be sure to follow all flight crew instructions for use of electronics while on the plane)
Any medications or health supplies your child may need
Extra suitcase or duffel bag for all your shopping and souvenirs. There's nothing like spending too much on park merchandise to then realize you have to buy another piece of luggage, too
What should I pack for driving to and around Orlando?
Your needs in this department will vary considerably, depending on where you are driving from and, once in Orlando, where you are staying. If your hotel is at Universal, you may not end up doing much driving around the City Beautiful (unless you have several off-site activities planned, like a day at SeaWorld or Walt Disney World Resort). If you are renting a vacation home, you'll want to make sure you can find not only the theme parks, but grocery stores and other necessities, as well.
For getting to and around Orlando, consider:
Entertainment the whole family can enjoy (car games, scary tales in audible format, etc.)
Extra in-car storage, like this
Proof of insurance for rental cars
Maps (even though you probably have access to a GPS app on your phone, some individuals may still want to consider this)
A GPS system, such as a Garmin device (same note as above)
Car or booster seats for your kids. The Florida child restraint laws may differ from those of your home state, so you'll want to visit this page for the latest legal guidelines
Keep in mind that it is always less expensive to buy anything off-site than it is at the theme parks, whether we're talking necessities, groceries, or, even, souvenirs, and Orlando is just like any other town in that we have our fair share of Walmarts, Targets, CVS stores, Walgreens, liquor stores – you name it. It's a great idea to become familiar with the location of the closest retail establishments to where you'll be staying – even though Universal's hotels don't provide complimentary transportation to them, ride-shares are always available, and there is a plethora of options within a five-minute drive.
What to pack – last-minute planning
We know there is an incredible amount of information on our website for Universal Orlando vacation-planners, and, because of this, we also know it's impossible to effectively use all of our resources without dedicating at least a few hours to reading through our pages. Well, when do some family members have a few hours to spare? Often during travel to Orlando!
It's a great idea to visit the OI Universal Center table of contents right before you leave and see what pages you might want to freshen up on. (The same goes for all of our blog posts, too!)
What should I pack for the hotel room?
These packing tips are geared toward families staying in hotel rooms, whether at a Universal or third-party property; your list will be more extensive – and customized to your needs – if you have chosen alternative housing, such as camping or a vacation home. (We're not listing clothes here, because you know how long your stay will be and how many pairs of socks you need.)
Given all this, the basics for a hotel stay should include:
Extra snacks. Many families like to pack simple breakfast foods to enjoy in their hotel rooms. To keep certain items chilled, either bring a cooler (and use free ice machines for cooling) or take advantage of the in-room refrigerators you can find at some hotels, such as at Universal Orlando's.
Resealable plastic baggies in different sizes. These are good for holding snacks as well as packing a bathing suit that's still damp on the day you leave.
Flat sink stopper to accommodate any kind of sink and soap for emergency clothes washing. If you are traveling with kids, there is a strong likelihood that you will need to wash something, sometime, during your trip. (Universal hotel guests should note that the resorts do provide pay-per-use laundry machines.)
Small rope or cord and some clothespins. With these, you can string a makeshift clothesline in your bathroom or on your balcony for drying bathing suits or washed items.
Family first-aid/health kit. Be sure to include everything from prescription to over-the-counter medications, such as pain relievers and allergy pills, and also consider packing anti-nausea/motion-sickness medication, depending on your family's needs. Include a thermometer and medicine measuring cups or spoons for children's liquid medicine. (If you're going to spend a late night at CityWalk but still have to get up with the kids in the morning, you might want a bottle of this stuff, too!)
Extension cords that support multiple plug-ins. This accessory will ensure you don't have to tear apart your hotel room to find the closest outlets to your bed – and it will prevent arguments when everyone goes to plug in their phones at the end of the night.
One-dollar bills in US currency. In addition to tipping at restaurants, remember that it is considered courteous to tip when you receive personal service from bus/shuttle drivers, bell staff, parking valets, and others, including – possibly – room attendants (and do so each day since they rotate rooms). If you'd like more advice on tipping, we have guides for Universal, specifically, and Orlando, generally.
Finally, our favorite hotel travel accessory: SleepPhones. Can't image trying to stay anywhere overnight without them!
What should I pack for a day at the parks?
If you are traveling with children or seniors, you definitely want to take a daypack of some sort along as you visit the Universal Orlando parks – and even without kids or seniors, a pack of some sort will come in handy to hold camera equipment, sunscreen, and other personal items. (Remember, everything is more expensive to buy on-site!) We suggest using a backpack or fanny pack, but a diaper bag, tote bag, or large purse will also get the job done.
Whatever you choose to use, consider the following ideas:
Daypack items for Universal Studios and Islands of Adventure
Your OI touring plan. The more prepared you are, the better your day will go! (If you don't feel like printing it out, you can always just peruse our touring plans on your phone.)
IDs. While it's a good rule of thumb for everyone old enough to have a valid, government-issued ID, it is a requirement for each person who is 21 or older and wishes to purchase alcohol. Keep in mind, for alcohol, it must be a government-issued photo ID – those papers you get when you lose your license don't count. Also keep in mind you may need your Florida state-issued ID for certain Florida-resident discounts.
Camera, an extra camera battery, and an extra memory card. If you happen to forget any of these items, the My Universal Photos stores at the front of each theme park can help, but get ready for some sticker shock.
Extra cell phone batteries or external phone chargers. Universal does not provide any charging stations inside the parks but will rent you a FuelRod for a fee. Since you'll likely be touring for many hours at a time, taking photos, posting to Facebook, etc., there is a very good chance one charge simply won't cut it.
Rain ponchos. You really will get soaked on the water rides at Islands of Adventure, and, in Orlando, it rains every day in the summer.
Sunscreen (because it's Florida).
Postcard stamps and addresses for where to send postcards. You'll get those mementos mailed off sooner if you've already brought postcard stamps from home. (Want to send real postcards but don't want the hassle of mailing them? There's an app for that.)
Bandages and antibiotic cream. And be prepared for blisters.
Hand sanitizer. Lots of guests have clinched the hand bars on Hollywood Rip Ride Rockit before you, after all.
Travel packs of facial tissues.
Medications, over-the-counter pain relievers, as well as prescriptions.
Motion-sickness medications. This one will depend on your family's needs.
Necessary personal toiletry items.
Small hair brush and/or comb. You'll have lots of photo opportunities, and it only takes one trip around Popeye & Bluto's Bilge-Rat Barges to ruin your hair for the rest of the day!
Souvenir money. Credit/debit cards are easier to carry around and accepted practically everywhere, so we recommend getting pre-paid debit cards for convenience and to create spending caps. If your vacation is primarily at Universal Orlando, you can also consider Universal's gift cards. Keep in mind it's always a good idea to have some cash, too, just in case.
Waterproof pouch for the most sensitive items, like cash or a passport.
Plastic grocery bags wadded up (or plastic zipper bags). These are useful for wrapping up items before the water rides if not using a locker.
Extra pair of socks. We personally recommend wearing shoes like Tevas or Chacos, but if you wear closed-toed shoes to the parks (out of preference or because it's cold outside), an extra pair of socks can be the difference between staying at the parks for a full day and calling it early to go home because of blistered feet. Plus, changing your socks is an easy and surefire way to feel clean.
Daypack items for Volcano Bay
Some things to leave at home: Pool noodles, inner tubes, and other pool toys are not allowed, so be sure to leave those behind. Don't worry, you'll be plenty entertained without them! You also can't bring your own umbrella or beach chair, but Volcano Bay has plenty of those to offer as well.
Food and beverages
Universal states that you cannot carry in full meals or any food that requires heating, so your daypack must remain limited to snacks.
For drinks, you are perfectly welcome to bring in bottled water, sports drinks, etc. For those on a budget, one of our favorite tips is to bring in a beverage container that can be filled at the water fountains for free, then add a splash of flavor with a Mio or a similar product.
Reminder: no glass containers and no alcohol may be carried in.
If you're wondering how big of a daypack or backpack you can bring into Universal Orlando Resort and store in its lockers, visit our complete guide to lockers.
What should I pack to dress comfortably at the parks?
You know what you and your kids will be most comfortable in, but, just in case, don't forget:
Comfortable walking shoes. We can't stress this enough.
Additional sun protection: hats, sunglasses, bandanas
Flip flops or other shoes you don't mind getting wet (if you don't want to store your shoes and socks in a locker for the Islands of Adventure water rides)
Cargo pants or shorts with pockets that secure with a zipper. The more things you can put in your pockets, the fewer things in your daypack. And no matter what clothing you wear, remember this advice: the deeper the pockets, the better
Tip: it is not unusual to walk five miles or more during a typical day at the parks, which makes your family's shoe selection very important. There are no "requirements" imposed by Universal, but since achy feet will quickly turn into cranky attitudes, some careful thought should be put into footwear.
What should I pack to dress comfortably at Volcano Bay?
You're headed to a tropical island, so be sure to dress for the occasion!
Flip-flops or sandals: You'll need to remove shoes for any rides, so the more convenient, the better.
Swimwear: This is required for all rides at Volcano Bay, whether you prefer a bikini or swim trunks! When not riding, you're welcome to wear clothing over your swimwear to cover up. Water shirts and rash guards are allowed on most rides, except for trap door slides.
Additional sun protection: hats, bandanas, etc.
If you feel like you forgot something while packing, or didn't dress appropriately, don't panic – the two shopping locations in Volcano Bay (Krakatoa Katy's and Waturi Marketplace) offer many of the items listed above, including swimwear. (But, of course, you'll be saving quite a bit of money by coming prepared!)
What to pack – seasonal items
Depending on the season of your visit to Orlando, you may find the following to be helpful:
Sun hats, bandanas, sunglasses, sunscreen (yes, this really does bear repeating!)
Misting fan
Lightweight jacket (something easy to carry around – a hood is nice for the kids)
It's always good advice to dress in layers. This is particularly true during the winter months in Orlando, when bright sunshine can make the midday warm enough for t-shirts and shorts but when the nights get chilly enough for long sleeves and pants.
What should I pack for a day in the parks with kids?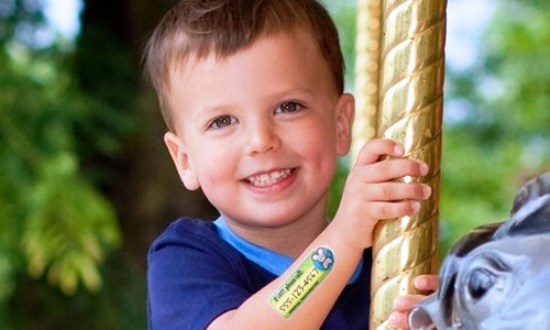 And, finally, our last list is geared specifically to parents with young children:
Diaper bag with all the necessities. (If you run out of an essential, certain items can be found at First Aid.)
Small snacks. Sometimes a hungry child's meltdown comes when it's really hard to purchase a snack, like when you're halfway through the line of a popular attraction. A small snack pulled out of your cargo pants pocket just might save the day!
Disposable cups with lids. Your budget may not require this, but it makes it easy to split a drink between small children.
Child identification. Include the phone number for the cell phone you will have in the parks. Some parents write this essential information on a piece of masking tape that's placed inside the back collar of the child's shirt, but other ideas include travel ID bands or, for more of a fun vacation feel, personalized ID tattoos.
Theme-park veterans know these final tips, but for first-time visitors with young kids, here are a few more ideas to note: at the beginning of each day, take a photo of your children. Should someone get lost, this photo will allow you to show park employees exactly what your child looks like and what s/he is wearing that day.
It is also important to inform your children that, should they get lost, they can approach any team member (if at Universal) or cast member (if at Disney) for help. All park employees are required to wear official name tags when they are in public – and that's the key to determining who is and who is not someone your child can ask for assistance. When you first arrive, show your children what the park's official name tag looks like, and let them know to look for that if help is needed (likewise, kids shouldn't accept help from anyone not wearing a name tag).
Last but not least, as an added measure of safety, consider coordinating your children's shirts and selecting bright colors – a neon yellow or pink shirt can be easily spotted from a distance. Or take this idea one step further with a custom design!
Time to hop to it!
Certainly, your packing needs will be unique to your family, but with this list and our ideas, we hope you'll have almost everything covered for a great Universal Orlando family vacation. (Please note that this page does contain affiliate links, so a small portion of your purchase may go towards maintaining our website!)
Do you have a question about the information on this page or would like to provide feedback? Join us in our OI Community Facebook group, and let's talk about it!
OI Universal Center » The Script: TICKETS, PACKAGES & PLANNING