Preview this Page
Overview
It's a lot more fun to talk about the attractions, but for first-time visitors, it is just as important to familiarize yourself with the logistics of actually getting into Universal Orlando Resort. Below, you'll find everything you need to know to plan your arrival at Universal in our comprehensive guide to parking, drop-off, and the transportation hub.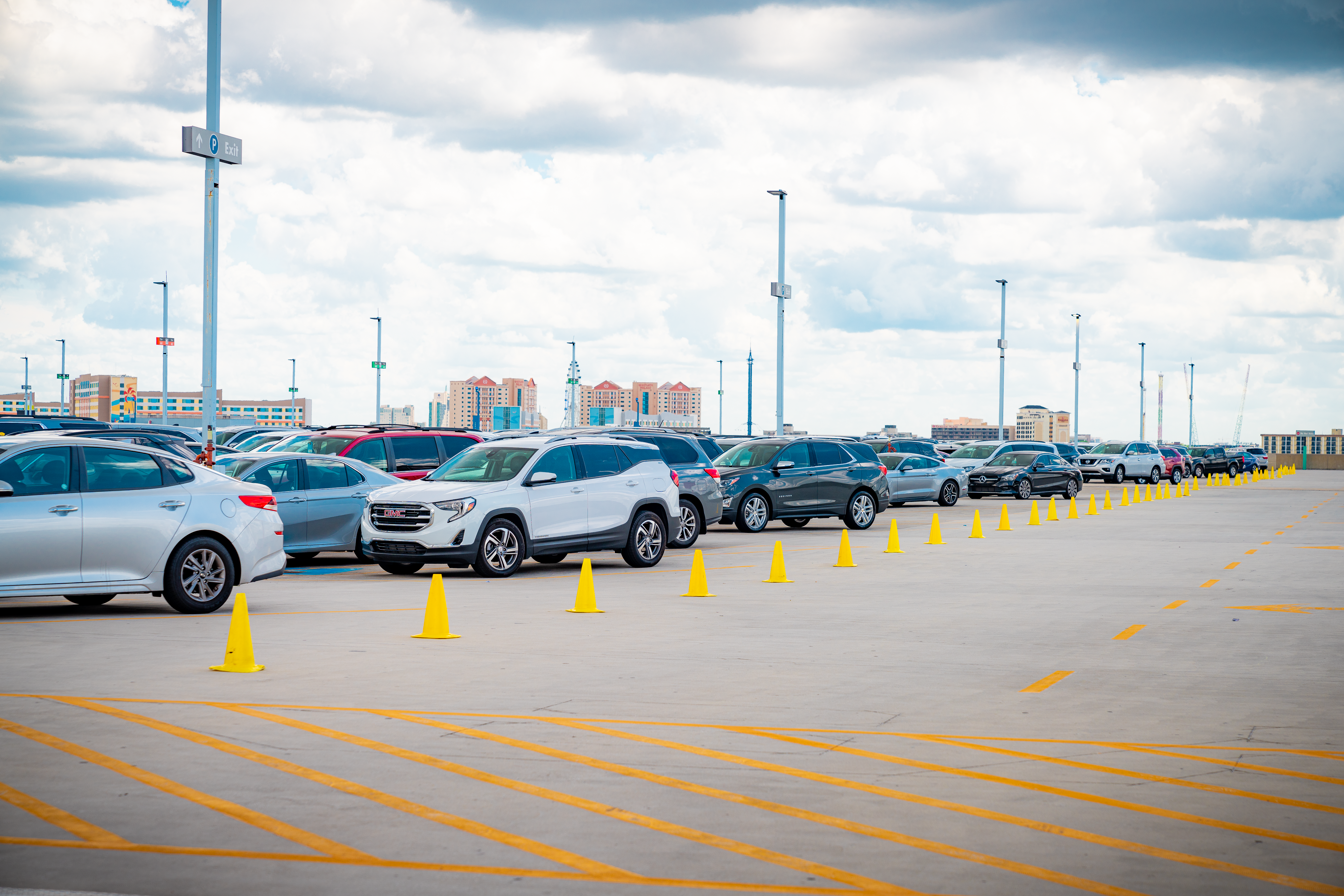 Driving to Universal
If you are driving to Universal Orlando, write yourself a big sticky-note reminder to put this address into your GPS: 6000 Universal Blvd, Orlando, FL 32819. Once you are on Universal property, it's crucial to follow the posted signage, as traffic patterns are subject to change.
Universal's parking complex and transportation hub
Universal Orlando has a giant parking and transportation structure consisting of two enormous multi-story parking lots and a centralized transportation hub that allows you to access CityWalk, Universal Studios Florida, Islands of Adventure, and Volcano Bay.
Each parking section in the garage is named for a different Universal character, so you'll want to remember your character, level, and row number. For example, if you're parked in "Cat in the Hat 457," you'll find your car in that section, on the fourth level, in row 57. Be sure to take a picture of your section when you're headed into the parks – you will embark on many adventures before returning to your car at the end of the day!
Once parked or dropped off, escalators and moving walkways deliver you into the transportation hub, where you will find security checkpoints, restrooms, vending machines, souvenirs, and a food and beverage kiosk. After security, another series of moving walkways brings you into CityWalk, and from there you can access the destination of your choice. It may take five to eight minutes to walk from your car to the central transportation hub, and another 15 minutes to get from the hub to the entrance of either theme park.
The only exception to this is the transportation to Volcano Bay, which we will discuss in detail further down.
Parking Prices Breakdown:
Prime Parking: $50 – $60
Prime Upgrade: $20 – $30
Regular Parking: $30
RV/Bus Parking: $40
Free Parking available for all guests after 6 p.m.
Accessible parking
If you require accessible parking, tell the attendant at the toll plaza when you pay for parking, who may then ask you to turn on your hazard lights and direct you to the correct lane. Accessible parking is typically on level three – the same level as the moving walkways – and, if needed, wheelchairs can be rented at the transportation hub.
Security checks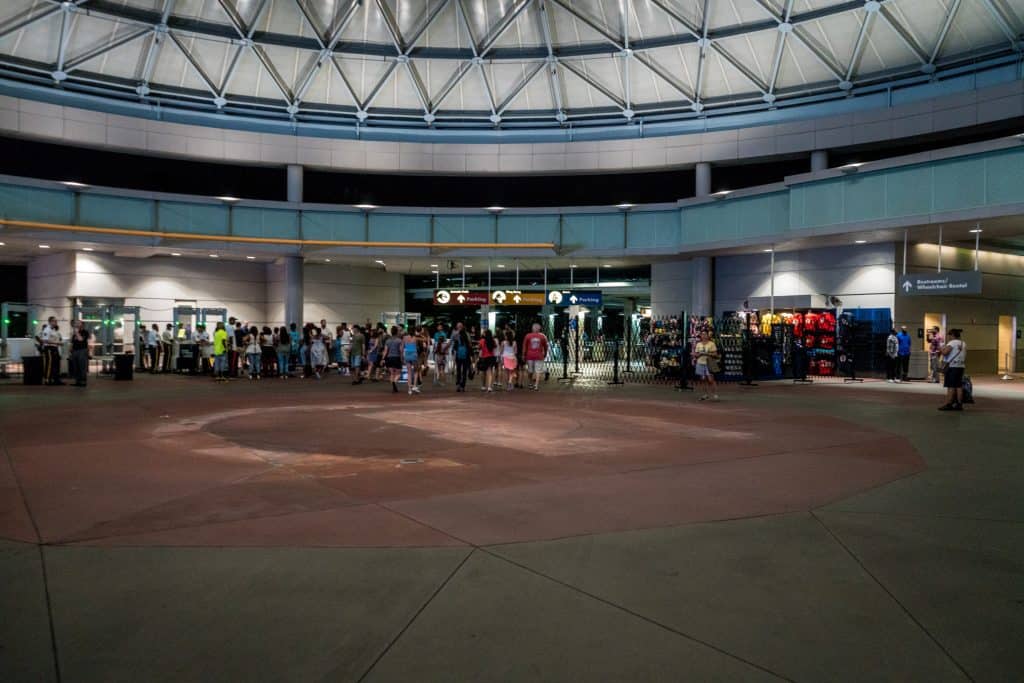 Security bag check and metal detectors are located in the transportation hub, not at the entrances to Universal Studios Florida or Islands of Adventure, allowing Universal to increase the span of its secure areas – which, in turn, keeps all of us safe. All guests must pass through a scanner and have their bags inspected or x-rayed before entering CityWalk, but if you are coming from a Universal hotel, you will pass through a security screening either along the pedestrian walkways to CityWalk or before you board the water taxi. Be sure to review Universal's list of restricted items and conditions of entry and leave any prohibited items at home.
Parking at Universal's hotels
Universal Orlando's hotels have their own dedicated parking lots, so if you are staying at one of them, you will want to drive directly to it. It's important to note that the resorts charge a nightly parking rate that is separate from the Universal parking superstructure, so be sure to factor this into your budget when planning.
Once you're parked at your hotel, it will be easy to hop on the bus and/or water taxi to the parks, CityWalk, and Volcano Bay.
Car trouble?
If you have any car trouble in the parking garages, Universal recommends that you lift your hood and notify the nearest parking attendant. For this or any other issues, you can also pick up one of the security phones located on each level (and note that Universal offers free battery jumps to get you rolling again).
Parking options and pricing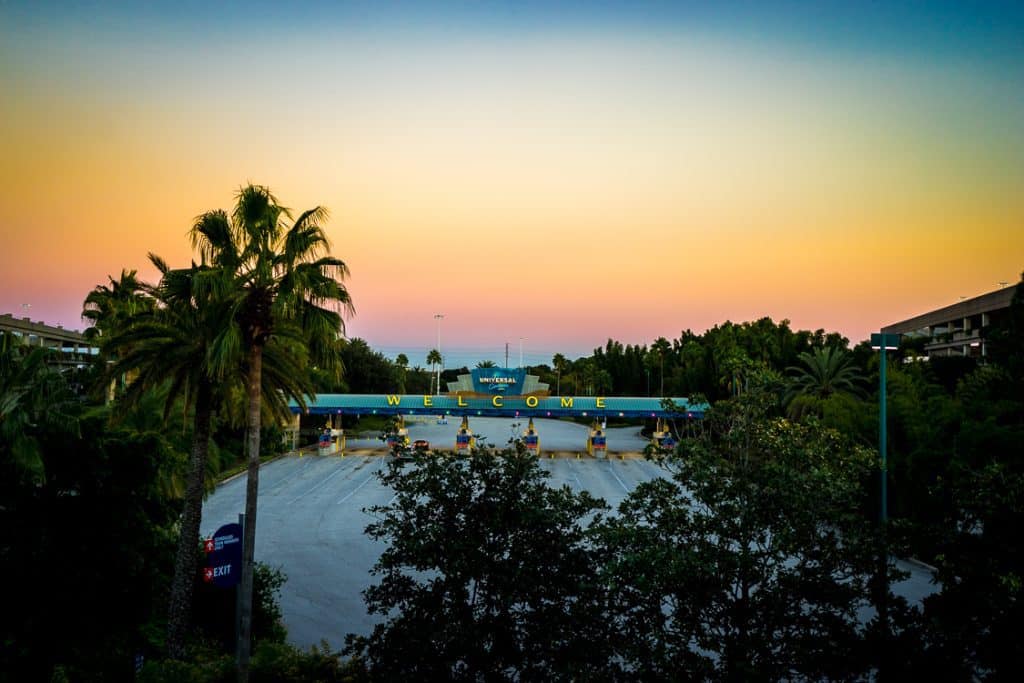 Once you arrive, you have three options for parking your vehicle:
Self-parking
Self-parking is $30 per vehicle, giving you a spot in one of the parking garages. If you arrive after 6:00 pm, parking is free, except on Halloween Horror Nights and other select event nights.
Please note that parking for recreational vehicles and buses is $40.
Prime parking
Prime parking is $50 – $60, and you will be directed to one of the lower levels of the parking garage. However, depending on your arrival time, you could be even further down the row than if you had just used the regular self-parking. It's not the level that matters as much as your space in the row and how far your row is from the escalators, so here is the best advice we can give: if you are arriving first thing in the morning, you should have a superb chance of parking closer using Prime. On the other hand, if you arrive after the morning rush, paying extra for Prime parking probably won't get you significantly closer.
Guests who rent a car from Avis or Budget at Orlando International Airport can get a complimentary upgrade to Prime parking by requesting a voucher from the car rental desk upon arrival at the airport. You may need to show both your voucher and your car rental receipt at the Universal toll plaza to receive your free upgrade.
(Please note that Prime parking can go up during the busiest times of the year.)
Valet parking
Valet is once again available, although in a limited capacity. This just means that availability might fill up faster than usual, so be sure to speak with an attendant if you are unsure.
The Valet parking area is separate from the garages, so be sure to watch for the Valet signs as you enter Universal property. If you do not mind spending the extra money, Valet will get you quite a bit closer to the CityWalk entrance, shortening your walk overall. Valet parking has its own security checkpoint, and it is customary to tip the valet a few dollars when picking up your car, but keep in mind that, at busy times – such as at park closing – you could be waiting a while to retrieve your car.
How much you will pay for Valet depends on how long you park:
Two hours or less – $30
Over two hours (before 6:00 pm) – $65 – $75
Over two hours (after 6:00 pm) – $40 – $75
Electric Vehicle Parking
There is electric vehicle parking available at Universal Orlando Resort. While the charging stations do not require a fee for use, you must pay for Valet parking as they are located within that lot. Please notify the attendants upon arrival that you need electric vehicle parking.
Bike Parking
Bike parking is available near the King Kong parking area. Bicycles are required to be parked inside a rack with a lock. Please note that this is daily parking and bikes will be removed after 24 hours.
What if I have an annual pass?
Annual passholders receive parking discounts, depending on the type of pass: Premier passholders get free Valet or Prime parking. Preferred passholders get free Self Parking or can Valet for 50% off. Power and Seasonal passes do not include any parking discounts.
Passholders should note that these discounts are only valid at the Universal Orlando parking garages – not the resort hotels. In addition, you won't be able to use your discount on event nights such as Mardi Gras concert nights, the Fourth of July, Halloween Horror Nights, and New Year's Eve.
(For more on annual passes, please see our complete insider's guide to annual passes.)
I am just going to CityWalk. Do I still have to pay for parking?
Unless you arrive after 6:00 pm, or are going to see a daytime movie, then you will have to pay for parking. Because there is only one parking complex for Universal Studios Florida, Islands of Adventure, Volcano Bay, and CityWalk, you must pay to enter the garages, regardless of your destination.
If you are going to a matinee show at Universal Cinemark, the theater offers free self-parking for matinee movie showings with the purchase of two or more movie tickets. It's important to note that you will still have to pay up front when entering the parking garage and then get reimbursed by showing your movie tickets and parking receipt to the Universal Cinemark box office.
And although several once did, CityWalk restaurants no longer offer parking validation.
I just need to stop at Universal for a few minutes – do I still have to pay for parking?
Because parking is a flat rate, it's the same price regardless of whether you are parking for 10 minutes or 10 hours. Even if you decide on Valet parking, there is still a charge of $30 if you're parking for less than two hours.
However, you can avoid a parking fee by having someone drop you off at the parking complex – something we'll discuss a little further down this page. If you are dropped off, you can run into CityWalk to do what you need to do and then meet your driver back at the drop-off area when you're done. Keep in mind that the driver will need to leave the drop-off area and circle around until you are ready to be picked up, so make sure you can call to let them know when you're ready for pick-up.
Do parking prices go down in the evening?
The good news here is that parking is free after 6:00 pm throughout most of the year, but you must be aware that prices will not be reduced on special event nights, such as Halloween Horror Nights or Mardi Gras Concert nights – always check before you set out for the parks.
If I leave Universal and come back the same day, do I have to pay for parking again?
You only have to pay once per day, even if you leave the parking garage; all you need to do is show your same-day receipt at the toll plaza upon your return.
Can I park at Universal hotels instead?
While there is parking available at Universal Resort hotels, it is intended for hotel guests and is not free. Universal Resort hotels charge varying rates for overnight guests and day guests that are not any more cost-effective than parking in the garages, and you will find yourself even further from the theme-park action. The price for day guests to park at Cabana Bay is especially steep, as any stop over 30 minutes will cost you $45 plus tax. Furthermore, the businesses outside and around Universal Orlando Resort actively tow, so it's not worth the risk of a major towing fine to try to avoid the Universal parking fees.
Guest drop-off and ride share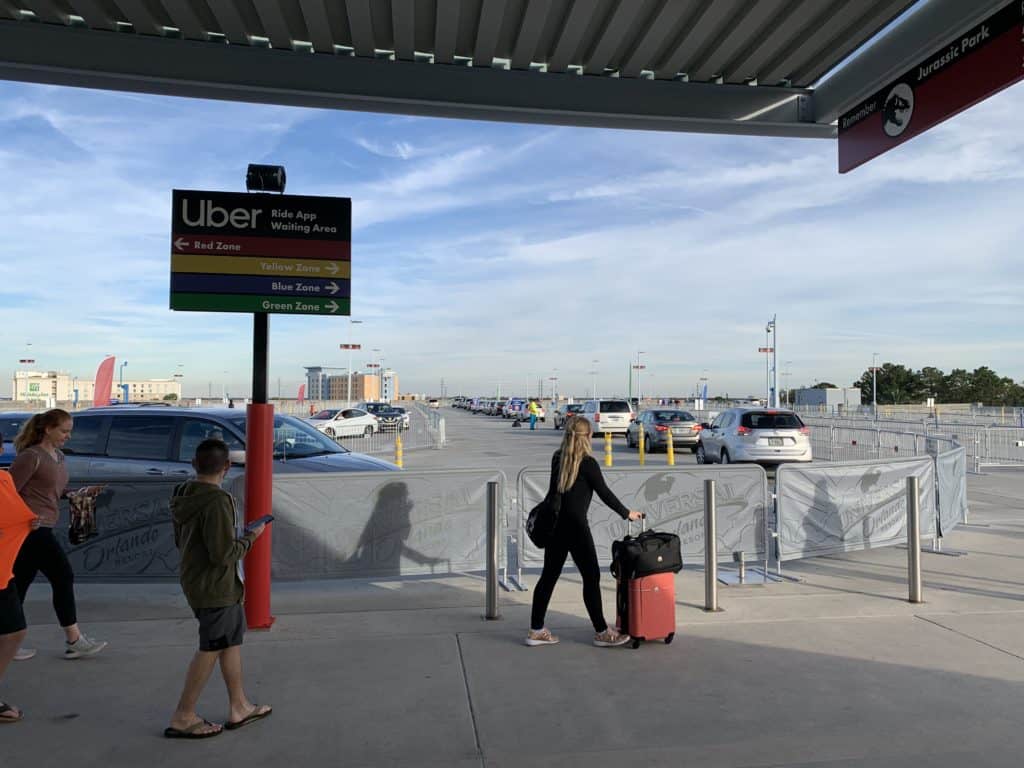 If you are being dropped off by a friend or ride-share company, you will be brought to the fifth floor of the north parking garage (in the Jurassic Park section). There is a dedicated lane for this, and no parking fee will be charged to the driver. From there, you will walk over to the main transportation hub, where the security checkpoint is set up.
If you are being dropped off by a taxi or bus (including Universal's own on-site transportation), you will be brought to a large drop-off area right beside the transportation hub. From there, you will take an escalator (or elevator) up to the security checkpoint. This area is located outside of the parking garage toll booths, so those drivers won't have to pay for parking, either. This is also the same spot where you can catch a cab back to your hotel at the end of the day.
Getting to Volcano Bay
Even though Volcano Bay is on the other side of the resort, guests who are driving in to Universal will still park in the central parking garages. As you approach the toll plaza, keep an eye out for signs to the dedicated Volcano Bay parking area on the first level of the garage. After you park, follow the crowd and even more signs for the complimentary shuttle over to the water park. Visitors staying at a Universal Resort hotel can catch a bus directly from their hotel to Volcano Bay – there's no need to first go to CityWalk or the transportation hub.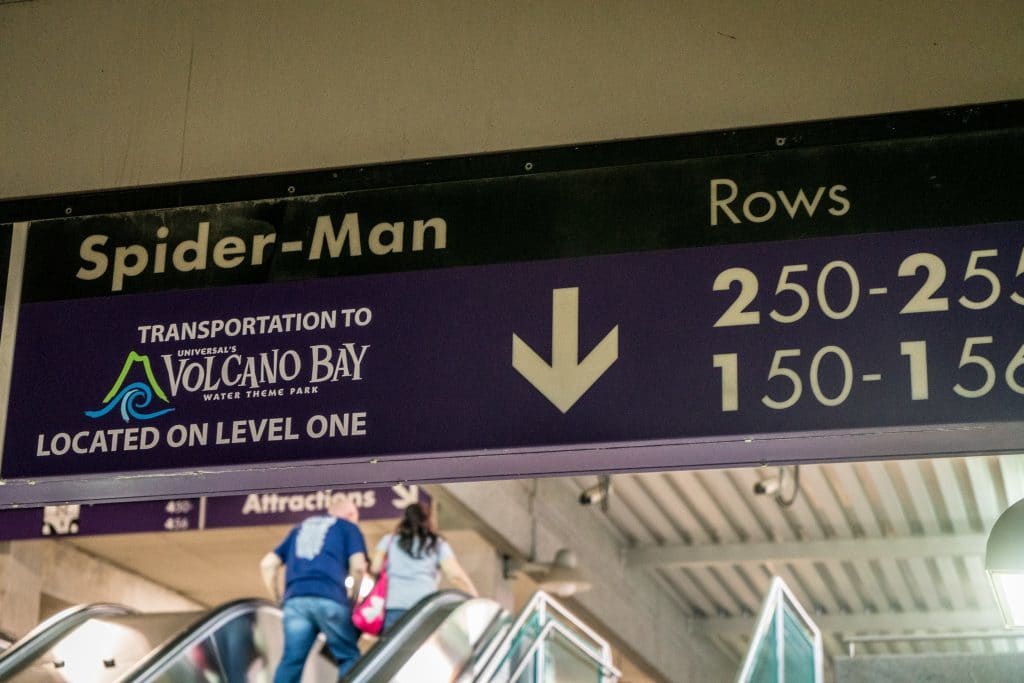 Located here are all the services you'll need: a ticket counter, will-call kiosks, Guest Services, security, and, of course, the buses themselves. The ride to Volcano bay is only about five minutes long, and then you'll be able to splash, eat, and relax your day away.
Universal Orlando's transportation hub photo gallery
Below, we've included a photo gallery of the transportation hub area so you can get a better look at things before you arrive.

Do you have a question about the information on this page or would you like to provide feedback? Please let us know by posting in our
Orlando Informer Community
on Facebook.