Skip to: What's available | Merchandise locations | Special services | Tips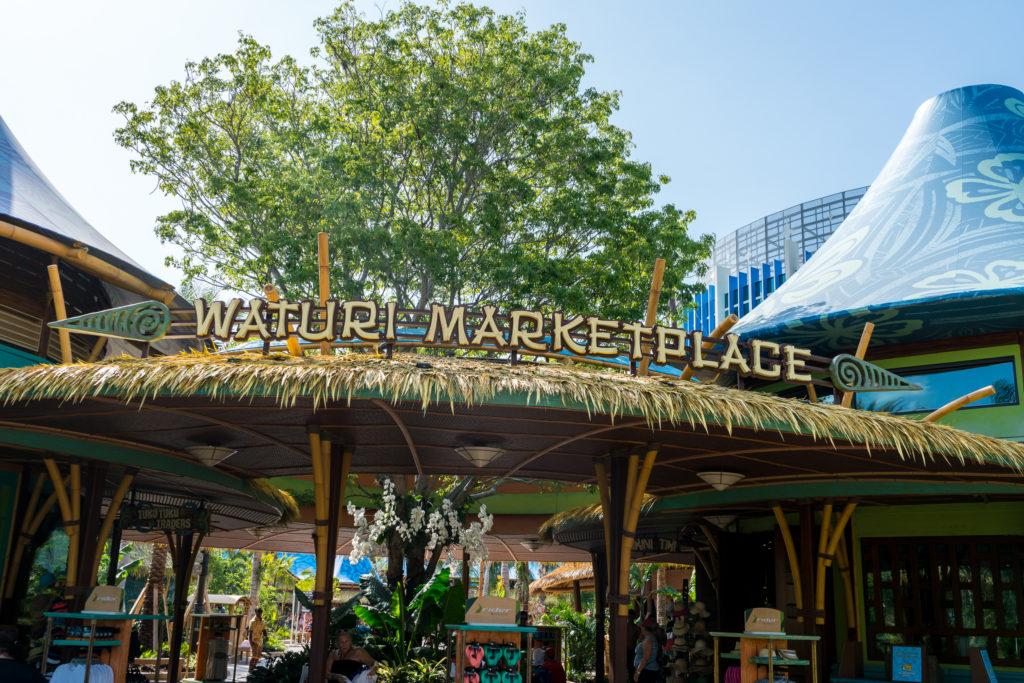 Universal's Volcano Bay is a park with a heavy emphasis on theming – and that theming extends to the souvenirs and merchandise! Below, we've compiled an overview of the types of merchandise available for purchase, locations to purchase merchandise, and how much you can expect to pay. Volcano Bay also features a number of additional services, such as a cashless payment option and package delivery, which you'll find detailed at the end of this page.
What's available
Similar to the other Universal Orlando Resort parks, merchandise available for purchase at Volcano Bay includes collectibles, decorations, cups, pins, key chains, tumblers, backpacks, tote bags, jewelry, sunglasses, shirts, bathing suits, hats, and towels. In keeping with the island themes of the park, many of these items have a tropical twist. For example, you can pick up a surfboard keychain with the Volcano Bay logo, or a straw hat to shield yourself from those harsh rays. There are also some more unique merchandise options, including a portable waterproof smartphone locker to keep your cell phone safe from the surf and sand.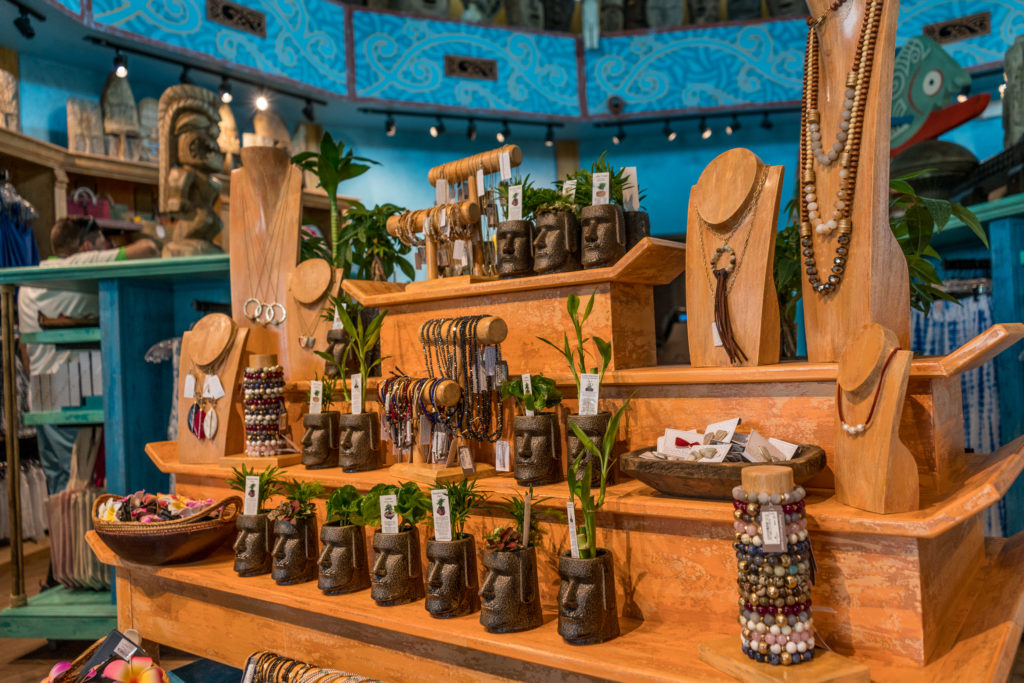 The aforementioned surfboard keychain goes for $9, while the straw hat will run you $25 to $27, depending on the style you choose. All of the towels are priced at $25. T-shirts range in price from $18.99 to $40, and you can pick up a Volcano Bay branded hoodie for $60. Bags also range in price depending on style, from $17 for a dry bag to $25 for a drawstring backpack. The portable smartphone lockers cost $15, or you can opt for a smaller $10 version that can hold your cash or credit cards.
Where to purchase merchandise
Volcano Bay has two main shopping locations: Waturi Marketplace and Krakatoa Katy's. Both are located in the Wave Village area near the entrance of the park. Waturi Marketplace can be found by entering the park and turning left. It consists of two smaller shops, Bikini Tiki and Tuku Tuku Traders. While Bikini Tiki is a women's boutique, Tuku Tuku Traders carries men and kid's apparel. In addition to bathing suits, you can pick up beach apparel, footwear, and other sundries.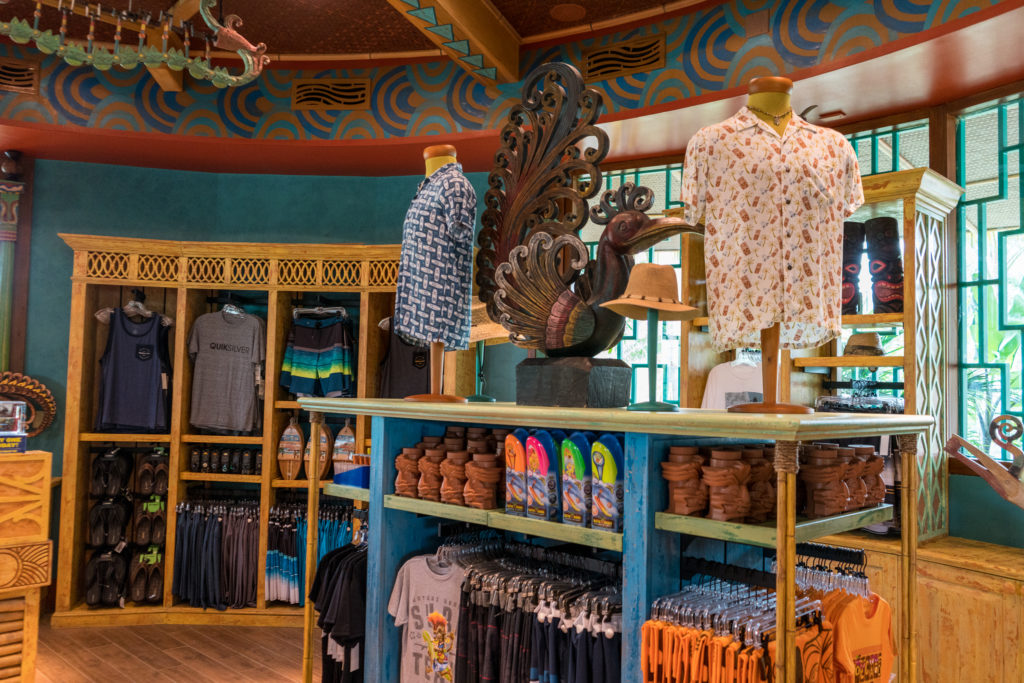 Turn right upon entering the park and you'll find Krakatoa Katy's. Like Waturi Marketplace, this store carries supplies you might need for a day in the sun, including sunglasses, swim shirts, beach towels, accessories, and souvenirs. Although the prices of the apparel in both shops are a bit steep, we would still recommend stopping by, even if just to cool off and browse the uniquely-themed collectibles.
Package delivery
Just like the other parks, Volcano Bay offers a package delivery service for guests who would like their purchases sent to the front of the park for pick up later in the day. Both Krakatoa Katy's and Waturi Marketplace offer package delivery, although the pick-up location can be found at Waturi Marketplace. Your package should be ready for pick-up within three hours from the time of purchase and drop-off.
Guests who are staying on-site at one of Universal's hotels can also choose to have their purchases sent to their rooms for free. In-room package delivery occurs between 9:00 am and 4:00 pm the next day, so this service is not available on the day of check-out. However, guests can still have purchases sent to the front of the parks for pick-up on those days. Home delivery is also an option for an additional fee.
TapTu Pay cashless payment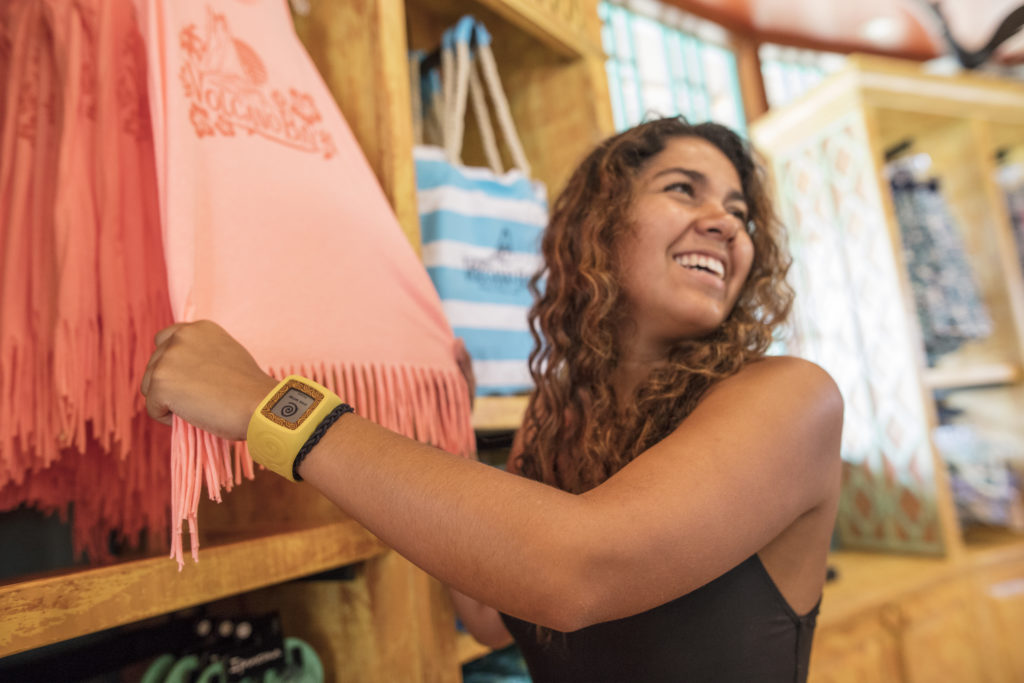 A unique feature of shopping at Volcano Bay is cashless payment via the TapuTapu system. With TapTu pay, you can purchase food, drinks, and merchandise with a simple tap of your TapuTapu wearable. All you have to do is create an account on the Universal Orlando Resort app, link your ticket and a credit card, and you're good to go!
Tips for saving money
If you're looking to save rather than splurge, we would recommend packing as many essentials as you can for your day at Volcano Bay. This includes the obvious things, like bathing suits and towels, along with the more understated necessities like sunscreen and sunglasses. Volcano Bay offers all-day locker rentals for $12, so you can save some money by packing the essentials and storing them in a locker instead of buying them on-site. You're free to access them as many times throughout the day as you'd like, so don't worry about paying again every time you need to reapply sunscreen.
When it comes to souvenirs, we recommend having a budget ahead of time and doing your best to stick to it. An easy way to do this for the whole family is with Universal gift cards! You can purchase each family member a Universal gift card with the amount of money that you want them to spend, and once they spend it all, they're done. Getting a card ahead of time is a great way to build enthusiasm for the trip, and you can always add more cash to the card later if you so choose. In addition to buying these online, gift cards can be purchased at many locations throughout the parks. Oh, and the credit on the cards never expires, so no worries there.
Before and after your trip
If you have a difficult time during your vacation deciding what you want, don't sweat it! Many of the popular items found at Volcano Bay are available on the Universal Orlando Resort online merchandise store.
Merchandise shops at Volcano Bay – photo gallery