On this page in our OI Center, you'll learn about Volcano Bay tickets! Although Volcano Bay is Universal Orlando's third park, it is a water park and, thus, features admission that's a bit different from the other two parks, Universal Studios Florida and Islands of Adventure.
Skip to: Ticket requirements | Florida-resident tickets | Ticket prices | Annual passes | Express Passes | Vacation packages

Volcano Bay ticket requirements
With one key exception, guests who wish to visit Volcano Bay must purchase a three-park ticket (the one- and two-park options will only grant you entry to the two theme parks). And just to make it a little on the tricky side, these three-park passes only start at the two-day option, going all the way up to five days (with the pricing per day getting progressively better, just as with the theme parks' admission).
Back to that one exception: there is a simple, one-day, Volcano Bay-only ticket available, as well. It is, as you'd imagine, the least expensive option out there, although it is – obviously – only good for the water park by itself. (And if you wanted to go for two days or more, you'd have to go back to that default three-park pass we were just talking about.)
(If you purchase your tickets with us, we'll help walk you through all these ins and outs.)
Volcano Bay Florida-resident tickets
Prices for Florida-resident tickets to Volcano Bay start at $70 and fluctuate depending upon the day of the year (much like with its theme-park brethren). This, again, is just for one-day tickets; if you're a local who would like to spend more than just one afternoon or evening splashing around in the Waturi's home, you'll have to default to the three-park option that we were just talking about above.
There are, however, two restrictions that should be noted. Firstly, Florida resident tickets expire 180 days after first being purchased (traditionally, that grace period has been one year); secondly, proof of in-state residency is, of course, required.
Volcano Bay ticket prices
The stripped-down, one-day, Volcano Bay-only ticket costs $80. Unlike with one-day theme-park admission, which fluctuates depending on the season (that is, slower days are cheaper and busier ones are more expensive), the water-park passes are always the same price, no matter the time of the year – unless, again, you live in Florida.
If you'd rather go the multi-park route, online store ticket prices currently begin at $318.99 for an adult, three-park, two-day pass (park-to-park), with the children's version running $308.99. This ticket allows you to hop from one park to the next as often as you'd like across two days, and while these two days do not need to be consecutive, you will need to complete that pass within a seven-day period (for example, you could visit Universal Studios Florida and Volcano Bay on Monday, take Tuesday off, and then enjoy Islands of Adventure on Wednesday).
If you're interested in just hitting up one park a day, your cheapest option is the three-park, three-day ticket (one park per day), which starts at $281.99 for an adult and $271.99 for children. This ticket allows you to pick which park (including Volcano Bay) you'll visit for that day, and then confines you there.
Volcano Bay annual passes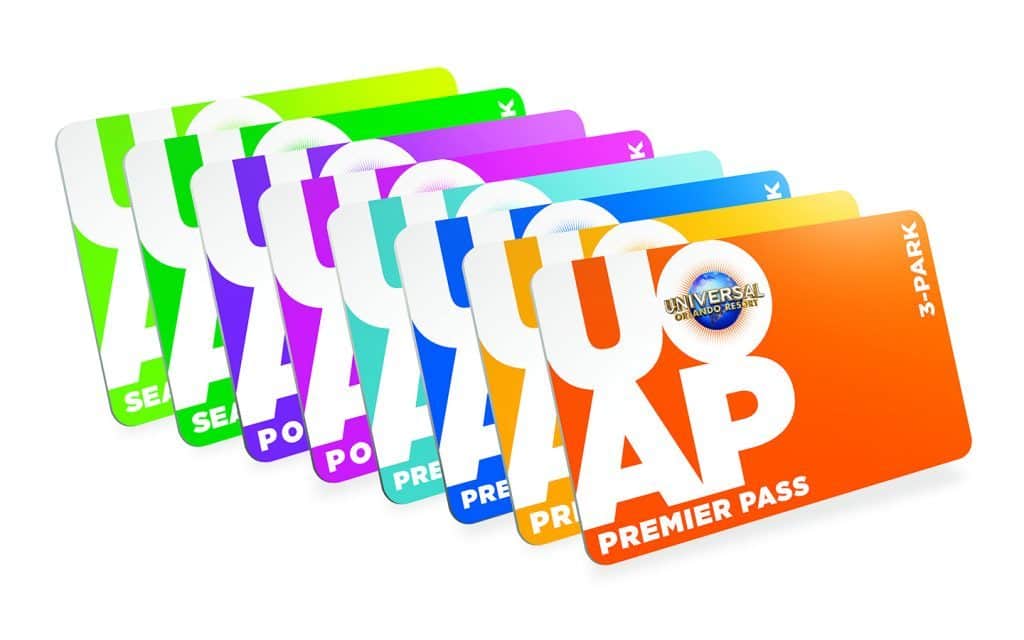 Before Volcano Bay debuted in May 2017, Universal Orlando Resort boasted four different annual-pass tiers: Seasonal, Power, Preferred, and Premier. After the water park's arrival, those four different echelons remained, but a whole new option was added to each: two-park or three-park. As you might imagine, based on all of the previous items in this guide, the two-park version of any annual pass is only valid at the two theme parks of Universal Studios Florida and Islands of Adventure, while the three-park iteration adds on access to Volcano Bay.
In addition, there's one last AP item that you'll need to keep in mind: all of the benefits that you might already be used to at the two theme parks don't necessarily carry over to Volcano Bay – specifically, Early Park Admission and complimentary Express Passes after 4:00 pm (for Premier passholders). Keep this in mind as you start to plan out your day with the Waturi.
(If you'd like even more info on all eight varieties of annual passes, be sure to check out our complete guide.)
Volcano Bay Express Passes
How does Express access work at a park that utilizes a Virtual Line for each and every attraction? Easy – you won't have to worry about securing a return time; you can just waltz right on to any ride that you like (just as with either Race Through New York Starring Jimmy Fallon or Fast & Furious – Supercharged over at Universal Studios Florida).
There's just one small problem with this scenario: Universal has been constantly tweaking the availability of Express Passes as it constantly tweaks the crowd control of Volcano Bay as a whole. As such, Express was available for the first week or so of the park's operation, then was taken down for several months, and now has been reinstated.
Here's the deal, at least for the time being: Express Passes can be purchased either online or at the park's concierge huts, although they're still more limited in quantity than what we had originally seen all the way back in May 2017. And, starting in April 2018, they have been divided up into two different tiers: basic will allow you to skip the virtual line on seven of Volcano Bay's various rides (Krakatau Aqua Coaster, Punga Racers, Taniwha Tubes, and the two double-headers of Honu ika Moana and Maku Puihi); Plus, meanwhile, works on a total of 11 (adding in Ko'okiri Body Plunge, Kala and Tai Nui Serpentine Body Slides, and the double Ohyah and Ohno Drop Slides).
Prices vary on the day (the last time we went, they were $50 for basic and $80 for Plus) and quantities are extremely limited.
For more information on Express access, please see our complete guide.
Volcano Bay vacation packages
Unsurprisingly, Universal has worked Volcano Bay access into various of its vacation packages, which you can get a current accounting of at the company's official site. Before you run off and book one, however, we really strongly suggest you check out our guide here first – it may end up saving you a few bucks.