On this page in our OI Center, you'll learn about Universal's Volcano Bay tickets! Volcano Bay is Universal Orlando's third theme park. However, the water theme park admission is a bit different from the other two parks, Universal Studios Florida and Islands of Adventure.
Universal's Volcano Bay ticket requirements
With one key exception, guests who wish to visit Volcano Bay must purchase a three-park ticket (the one- and two-park options will only grant you entry to the two theme parks). And just to make it a little on the tricky side, these three-park passes only start at the two-day option, going all the way up to five days (with the pricing per day getting progressively better, just as with the theme parks' admission).
Back to that one exception:  there is a simple, one-day, Volcano Bay-only ticket available, as well. It is, as you'd imagine, the least expensive option out there, although it is – obviously – only good for the water park by itself. (And if you wanted to go for two days or more, you'd have to go back to that default three-park pass we were just talking about.)
Universal's Volcano Bay Florida resident tickets
Florida residents are able to buy discounted tickets for Volcano Bay – that's no surprise.  What is surprising is that one-day passes aren't available to Sunshine State dwellers; they'll have to settle for two- and three-day options only. And, yes, those have to be three-park tickets, as well, just as with all the out-of-state guests.
There are two restrictions that should be noted. Firstly, Florida resident tickets expire 180 days after first being purchased (traditionally, that grace period is one year). Secondly, proof of in-state residency is, of course, required.

Universal's Volcano Bay ticket prices
The stripped-down, one-day, Volcano Bay-only ticket costs $67. Unlike with one-day theme park admission, which fluctuates depending on the season (that is, slower days are cheaper and busier ones are more expensive), the water park passes are always the same price, no matter the time of the year.
If you'd rather go the multi-park route, online store ticket prices currently begin at $259.99 for an adult, three-park, two-day pass (one park per day), with the children's version running $249.99. This ticket allows you to visit one park per day for three days, and while those three days do not need to be consecutive, you will need to complete them within a seven-day period.
If you would like to add on even more days to this particular ticket, just tack on $10 per day to the price. This means, for example, that a three-park, five-day pass is $279.99 for adults and $269.99 for children.
If you're interested in park-to-park access that includes Volcano Bay, your cheapest option is the three-park, three-day ticket (park-to-park), which runs $314.99 for an adult and $304.99 for children. This ticket allows you to visit Universal Studios Florida, Islands of Adventure, and Volcano Bay as many times as you want for three days over a seven-day period – meaning you could visit Universal Studios and Volcano Bay on Monday, take Tuesday off, and then hit up Islands of Adventure on Wednesday. And since this is a park-to-park ticket, it enables you to ride the Hogwarts Express, to boot.
Just as with the single-park version of this pass, additional days come in at $10 a pop.  Once again, a three-park, five-day ticket would run you $334.99 for adults and $324.99 for children.
Universal's Volcano Bay annual passes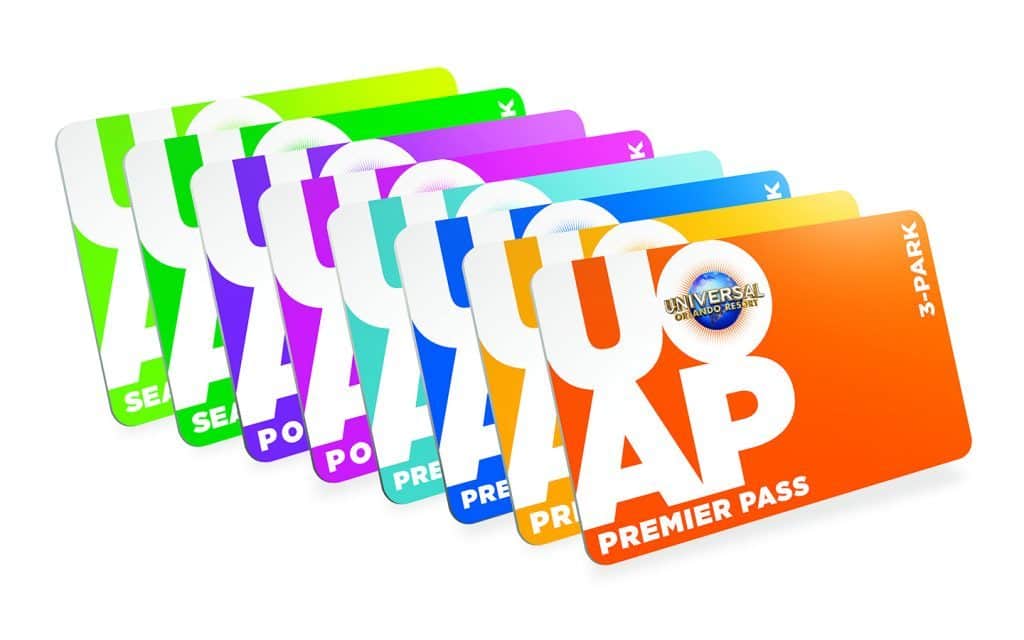 How both pre-existent and brand-new annual passes work with Volcano Bay is actually kind of convoluted, giving guests a lot to digest. We'll run the basics down for you here, but if you'd like the full, exacting scoop – including exclusive tips and expert pieces of advice – you can check out our full article.
If you don't yet have an annual pass and would like to buy one that includes admission to the new water park, you will need to purchase a three-park AP. There are four different tiers available; the lowest of these, the Seasonal Pass (which allows you to visit Universal Orlando only during certain seasons of the year), costs $383.99, while the highest level, the Premier Pass (which contains no blockout dates and comes with a bevy of additional perks), clocks in at $688.99. (Don't worry – we'll have complete pricing information for you to look at in just a moment.)
For all of you who already possess a two-park annual pass, you'll need to pay a fee in order to upgrade it to the three-park version – $99 for the three bottom categories, and $149 for the top. Passholders had until April 30, 2017 to conduct the transaction.
Here's what the complete new pricing structure looks like:

Oh, one last thing: all of the AP benefits that you might already be used to at the two theme parks don't necessarily carry over to Volcano Bay – specifically, Early Park Admission and complimentary Express Passes after 4:00 pm (for Premier passholders). Keep this in mind as you start to plan out your day with the Waturi.
(If you'd like even more info on all eight varieties of annual passes, be sure to check out our complete guide.)
Universal's Volcano Bay Express Passes
How does Express access work at a park that utilizes a Virtual Line for each and every attraction? Easy – you won't have to worry about securing a return time; you can just waltz right on to any ride that you like.
There's just one small problem with this scenario: Universal has been constantly tweaking the availability of Express Passes as it constantly tweaks the crowd control of Volcano Bay as a whole. As such, Express was available for the first week or so of the park's operation, then was taken down for several months, and now, as of early October, has been reinstated in a limited fashion.
Here's the deal, at least for the time being: basic Express Passes (that is to say, they can be used on all participating rides just one time) are currently available for purchase at the park's concierge huts only on a first-come, first-serve basis, at a price of $34.99 per ticket. Please note that (1) you can't buy them online, (2) quantities are extremely limited, and (3) Express access has been at least temporarily revoked from the various drop slides (such as Kala and Tai Nui Serpentine Body Slides).
When Universal did offer the front-of-line tickets on a normal, routine basis, prices varied from $24.99 to $49.99 for the basic variety and $49.99 to $79.99 for Unlimited.
For a complete list of which watery attractions feature Express access, please see our complete guide.
Universal's Volcano Bay vacation packages
Splash, Stay, and Play vacation packages are now on sale! These packages include four-night hotel accommodations; three-park, four-day tickets (one park per day); and Early Park Admission to The Wizarding World of Harry Potter and Volcano Bay.