A day at Universal Orlando Resort's Volcano Bay is both fun and relaxing in its own right, but for those who want to enhance their water theme-park experience, two premium add-ons are available to make guests feel right at home in paradise: private cabanas and Premium Seating.
Skip to: Private cabanas | Premium Seating | Costs and how to book
What is a private cabana?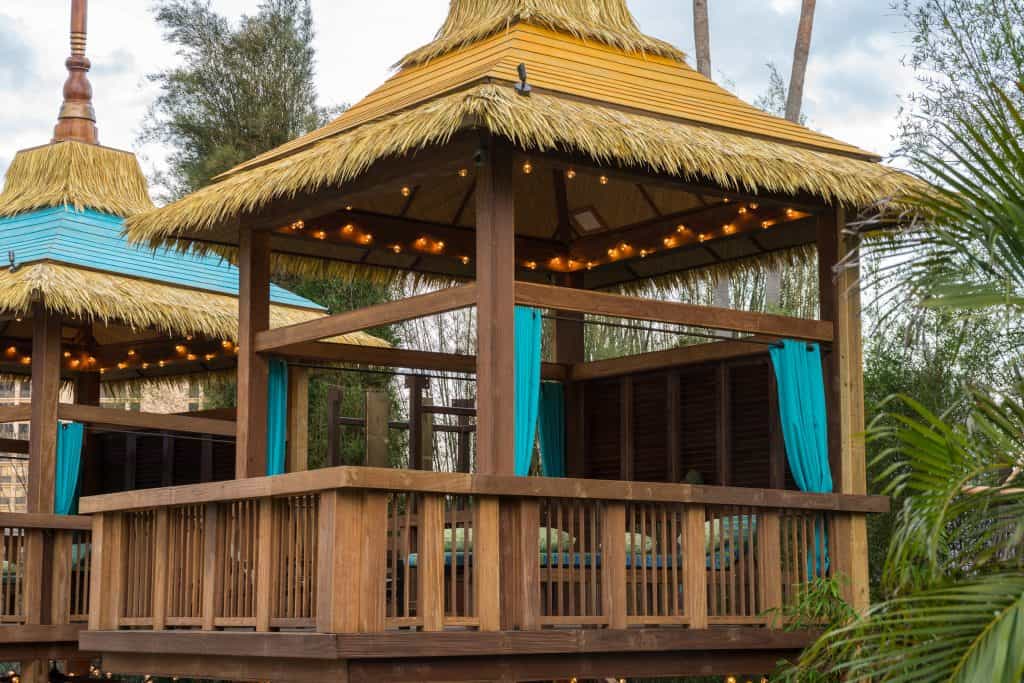 Similar to the cabanas that are for rent at Universal Orlando's various hotels, Volcano Bay's private cabanas are meant to be your home base of operations while splashing and playing with the Waturi. Cabanas come in one- and two-story varieties, are located all throughout the park, and have a bevy of furnishings:
Towel service
Padded lounge chairs
Complimentary fruit and snack basket
Small fridge (replete with bottled water)
Concierge service
That last item is of particular note – it enables you to get any item from any of Volcano Bay's four restaurants or two bars.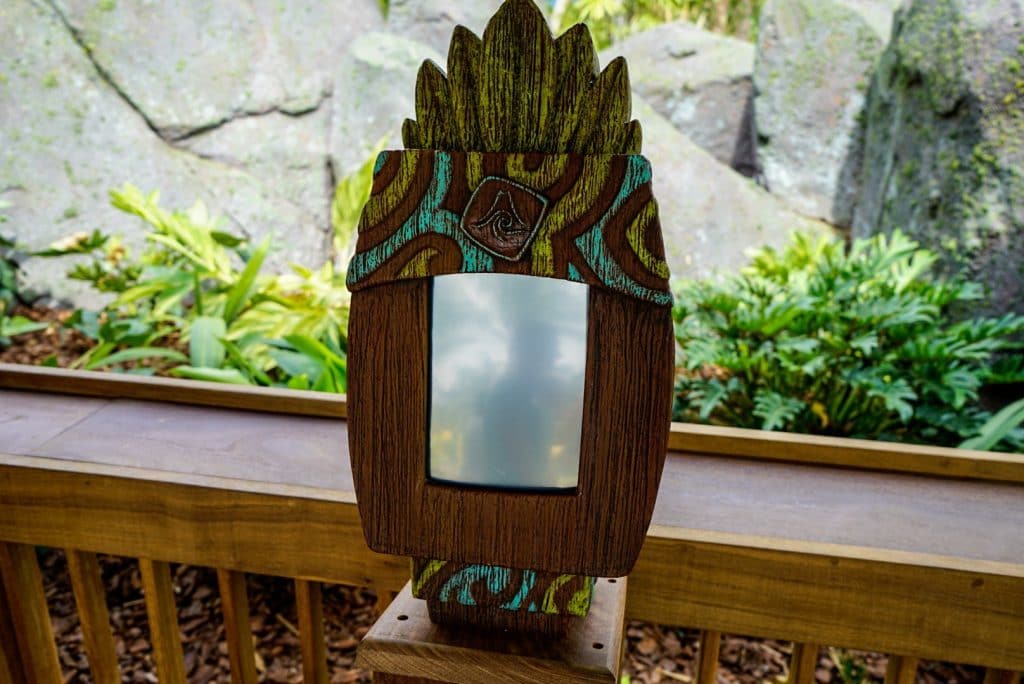 But that's not all – as you first enter the water park, a concierge will greet you and escort you to your home-away-from-home for the day. And the greatest benefit of them all comes in the form of the Guest Experience Transformation (GET) tablet, which allows you to book and modify your place in all of the various attractions' Virtual Lines right from the comfort of your cabana (that's right – you don't have to run all over the park swiping your TapuTapu at each individual slide's TapTu Ride point). We already assume that this will be the deal-maker for many a vacationer, just as free Express Passes when staying at the three premier hotels are the main draw for many guests there.
What is Premium Seating?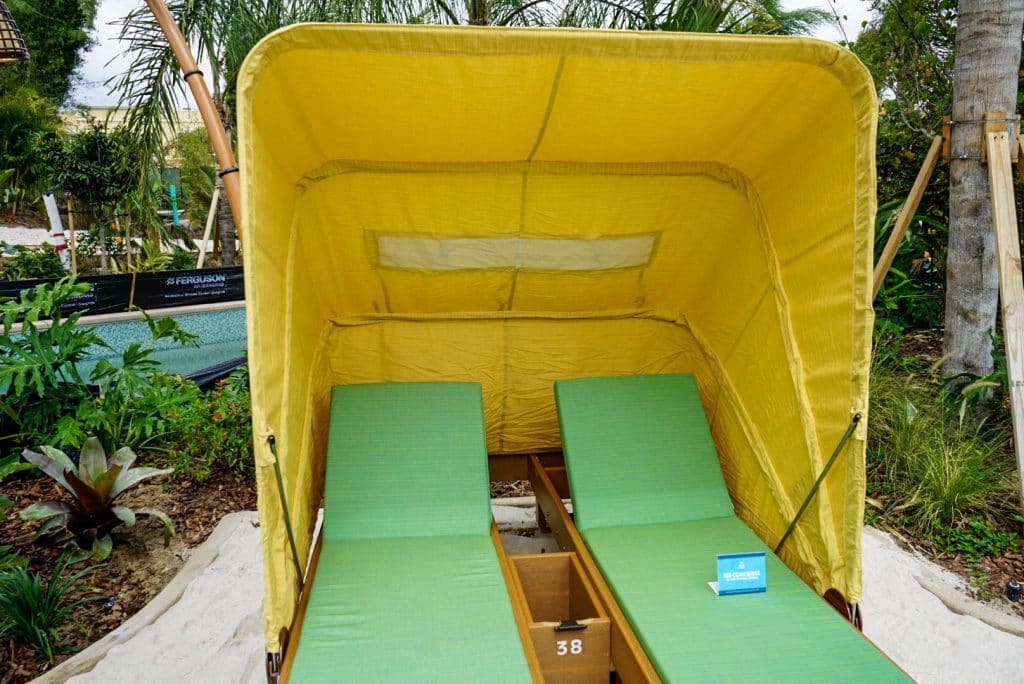 Whereas a cabana will entitle you to a sheltered area that you can call your own (well, for the day, at least), Premium Seating will nab you a stretch of real estate – located in several different zones all throughout the water park – that will also be marked off just for you. Although it doesn't come with an actual building to hide away in, it does come with a pair of padded loungers that are equipped with an adjustable shade canopy and a built-in storage lockbox. You'll also receive an area attendant who will take your food and drink orders – and, yes, an escort who will show you where your reserved seating is when you first enter Volcano Bay for the day.
How do I book this, and what will it cost me?
How much you'll pay for a cabana depends on when you go and what type of unit you'd prefer. With only 51 cabanas (which includes 10 tower units and only two family units), you'll want to reach out to Universal to book as soon as your dates become available. A single cabana, which holds up to six people, comes in a couple of different flavors: a stand-alone building (for more privacy) or the ground floor of a two-story unit (for convenience and accessibility, though you'll more than likely be sharing the second level with another group) both start at $159.99 and go all the way up to $449.99 per day. The upper level (which, Universal promises, will offer spectacular views) will cost you anywhere from $199.99 to $549.99 – or higher.
A family suite cabana, meanwhile, holds up to 16 people and will automatically grant you a large stand-alone building. Pricing here starts at $299.99 and can reach at least $599.99.
Here's a handy secret, however, for getting a nice little discount off of the cabanas: should one become available later on in the afternoon (when the previous occupants decide to leave the park earlier in the day), Universal will offer it to you with 30% off. It's a bit of a gamble to see if a unit becomes available on the day of your visit, but it's a nice reward, nonetheless, if you and your family are willing to take the risk. (Are you worried that the previous renters will want to come back, after all, and snatch the cabana away from you? Don't be, as they can't – they sign a document when departing that definitively states they won't be returning.)
Another way to save on your visit to Volcano Bay is to purchase your tickets at a discounted rate through Orlando Informer!
Finally, Premium Seating, which is also date-specific, ranges from $29.99 to $139.99 (or more!) per day. Be careful on this point, however – that price includes two loungers, so don't accidentally get double the amount you need (or spend twice as much).
Here are two important notes about this pricing: again, we strongly recommend that, if interested in either of these premium add-ons, you book them as early as you possibly can, preferably when you buy your theme- and water-park tickets – Universal clearly expects these items to sell out, particularly during the summer. Unfortunately, bookings are completely non-refundable, regardless of the circumstance. Bookings for either option are not available online, so you'll have to call Universal reservations for cabana reservations at 877-801-9720 and premium seating reservations at (877) 489-8068.
Do you have a question about the information on this page or would you like to provide feedback? Please let us know by posting in our
Orlando Informer Community
on Facebook.