I have a confession: I didn't care much about pressed pennies until I became a parent. When I was younger, they were okay to collect for a bit, but now that I have a youngster of my own, I am back to having fun with them. They do make for an inexpensive souvenir at Orlando's theme parks, and the interaction with your child – selecting the design they want and helping to make the machine work – is a fun memory itself.
There are so many pressed-penny locations throughout Universal Orlando Resort that I've decided to help you spend your pennies wisely. Here are my picks for the top five – plus a few bonuses, too.
5. Marvel superheroes throughout Marvel Super Hero Island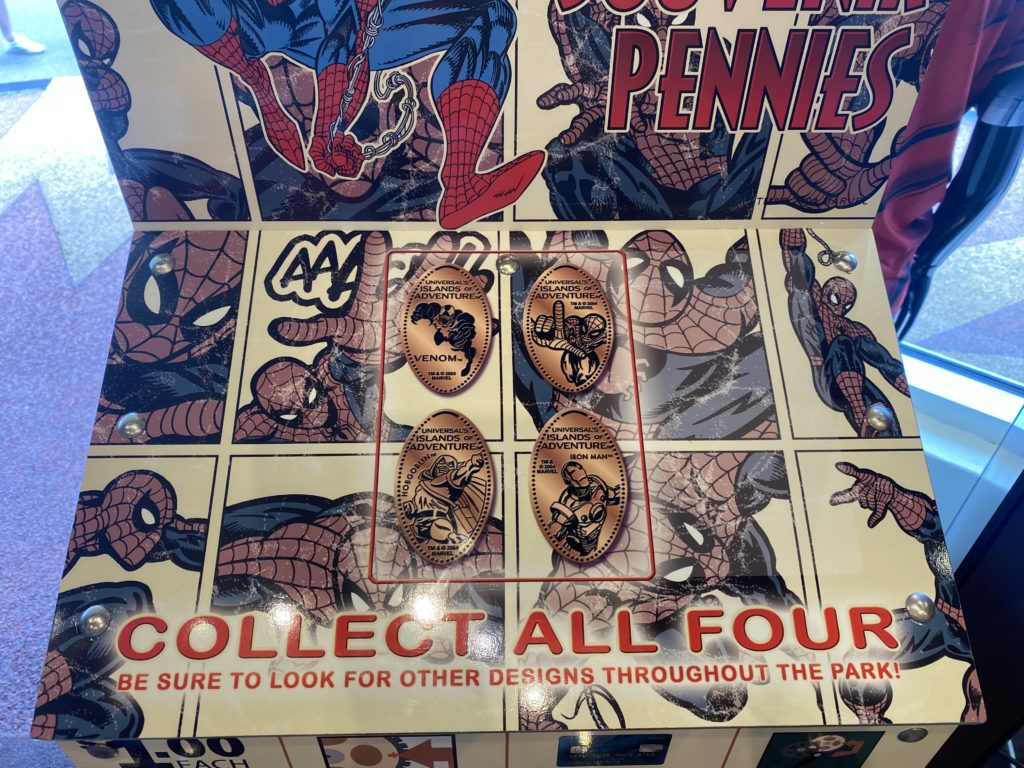 With so many superheroes in the Marvel Universe, it comes as no surprise that there are lots of locations in Marvel Super Hero Island. I am pretty sure this land inside Islands of Adventure has the most machines in all of Universal, in fact. Heading to Marvel Boutique, the merchandise shop that The Amazing Adventures of Spider-Man exits into, as well as the Marvel Alterniverse Store across the street will result in multiple opportunities to press those pennies.
Naturally, Marvel Boutique has two Spider-Man-themed machines, including designs featuring the baddies Venom and the Green Goblin. These are both a little rough to get to, though, as the store has a constant flow of guests pouring into it from the exit of the Spidey attraction.
(Pro-tip: if you are a big fan of the Avengers, then you'll want to consider heading to Islands of Adventure Trading Company at the front of the park. There, you will find a location that produces a set of eight pennies, each one a different Avenger.)
4. Jaws/Amity Island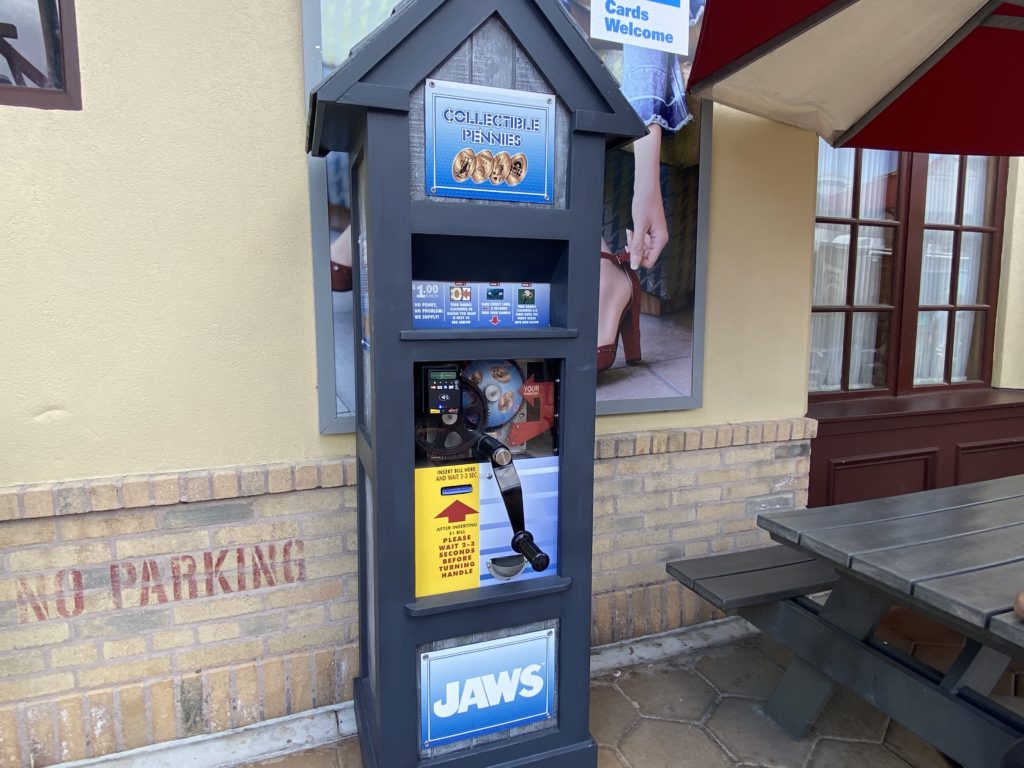 Quite simply, if you've been a fan of Universal Orlando for a long time, you have to make a stop at the pressed-penny machine located in San Francisco, across from Chez Alcatraz. You can find it facing the iconic Bruce the shark photo-op along the lagoon. This one is all about Jaws, with designs to choose from. Heck, even the machine itself is nautical-looking!
(Pro-tip: inside the San Francisco Candy Factory, you'll find another opportunity to press pennies. This one currently has three designs: one for The Secret Life of Pets, one for Trolls, and one for Back to the Future. So, if you're a retro Universal Orlando fan, be sure to head here, too! )
3. Retro attractions at Universal Legacy Store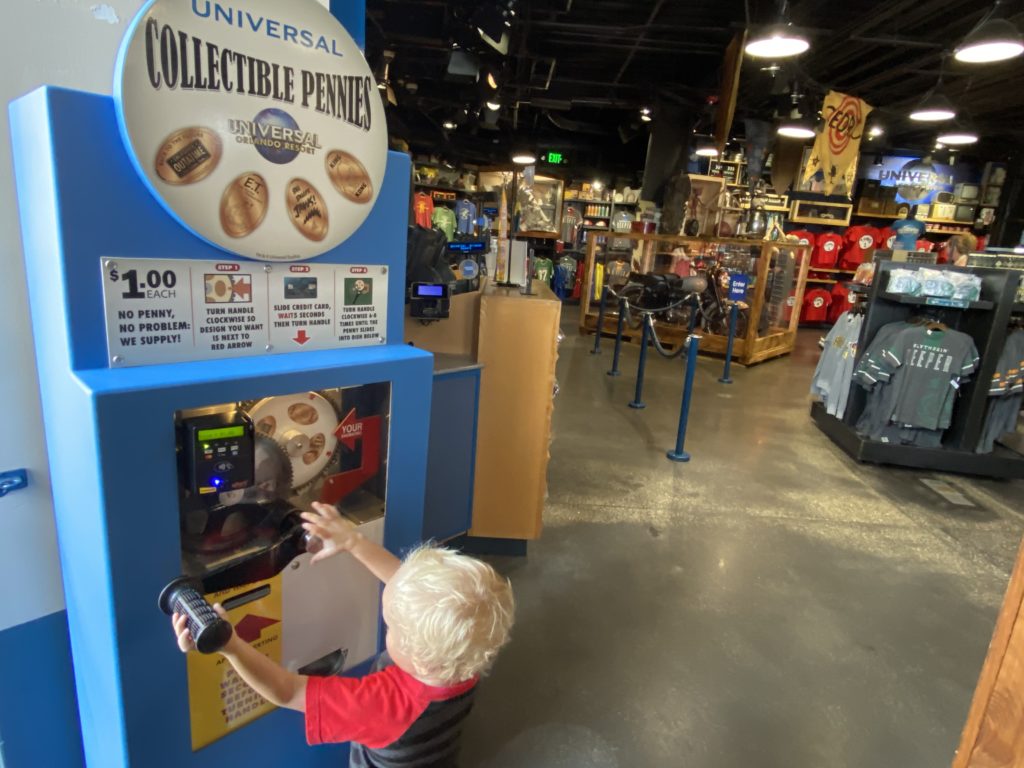 Speaking of old Universal attractions, visiting the Universal Legacy Store in CityWalk is a must. This shop has everything fans of the original Universal Studios Florida will love; there is not only lots of merchandise, but the decor is also full of props, blueprints, models, and other cool items, too. And part of the retro celebration is the chance to press some pennies with the designs of four original rides: Back to the Future, Jaws, E.T. Adventure, and Kongfrontation.
2. The Wizarding World of Harry Potter at Islands of Adventure Trading Company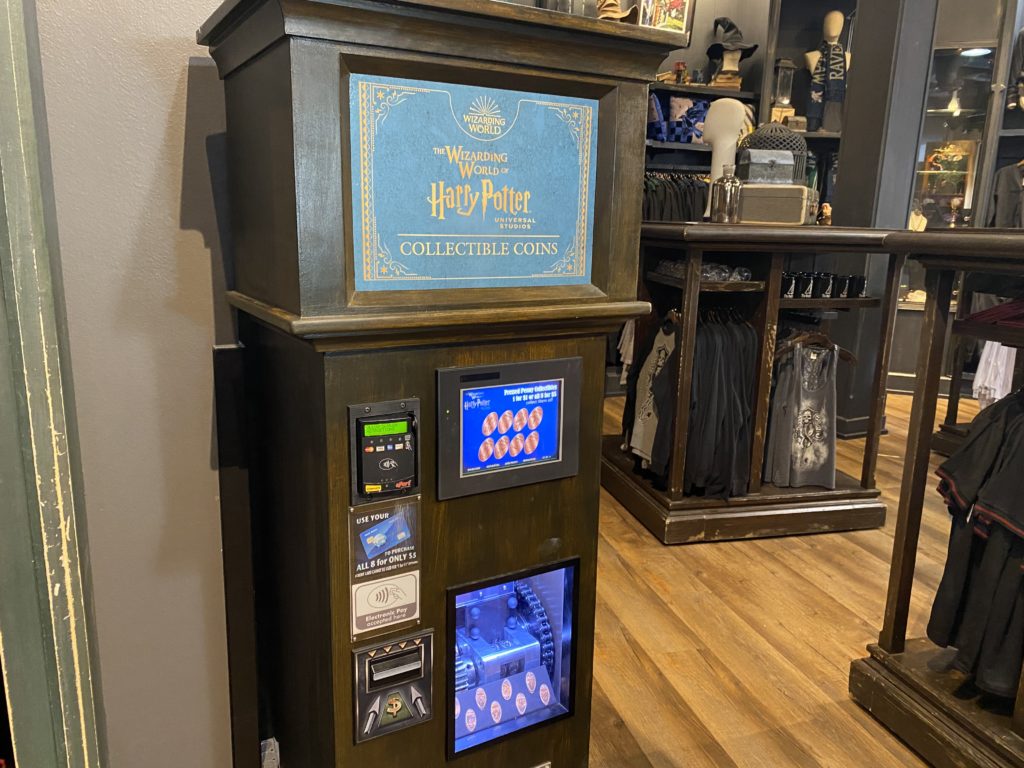 To keep with the immersive theming of The Wizarding World of Harry Potter, there are no pressed-penny spots in either Hogsmeade or Diagon Alley. However, over in Port of Entry, you'll find the massive Islands of Adventure Trading Company, which has, in the Harry Potter merchandise section, a machine that features eight different designs. Any wizarding fan will love these!
1. Jurassic World/Velocicoaster grand opening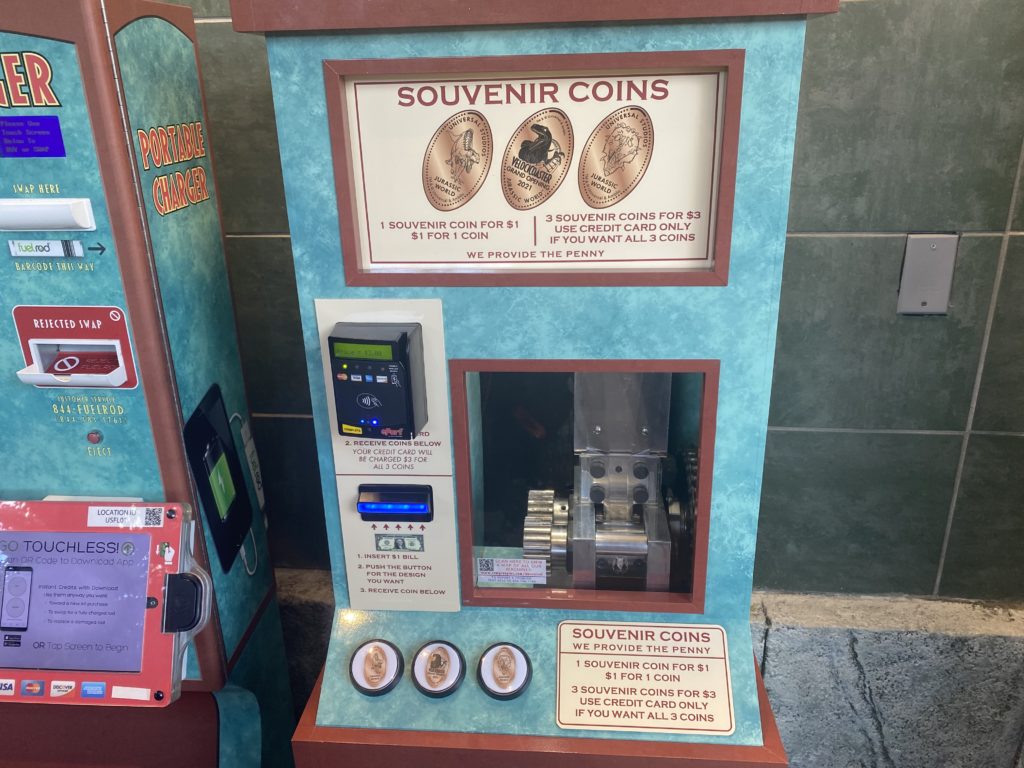 You can press pennies at two different locations inside Jurassic Park: one outside the merchandise shop near Jurassic Park River Adventure, and the other near the restrooms that are close by the splashdown portion of that attraction.
This second machine currently features two dinosaur designs, including a special one commemorating the grand opening of Jurassic World VelociCoaster. There's no indication of how long this particular penny will be available, so if you're heading to Islands of Adventure anytime soon, add this to your must-do list.
Honorable mention – Margaritaville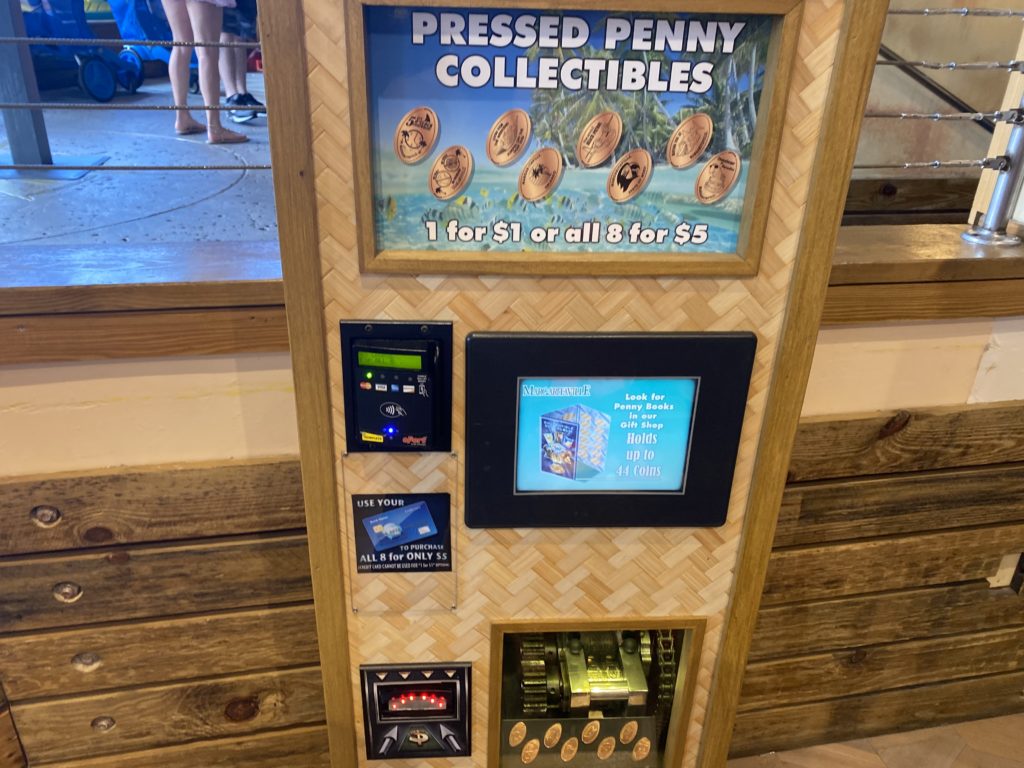 I've got to admit my own bias. I am a big Jimmy Buffett fan, and it is the Margaritaville at Universal Orlando that made me that way. (It was also the catalyst for making me an annual passholder.) So, the pressed-penny opportunity here at the Smuggler's Hold gift shop is, naturally, a favorite of mine. There are eight Margaritaville designs that any Parrothead will love – one of which is a special Margaritaville Orlando deal.
Bonus honorable mention – CityWalk "I survived" collection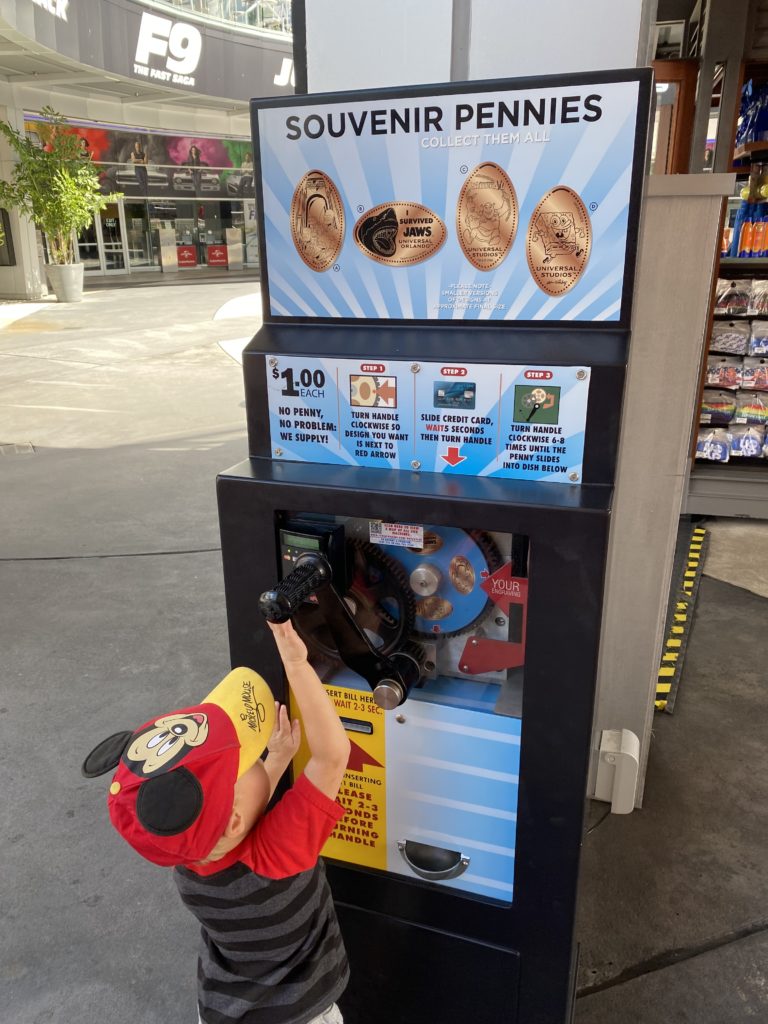 These next two locations deserve their own call-out. They are situated outside the Universal Cinemark, and they feature some of the best designs for park-goers (even though they're not in the parks!). Each machine has four images total, the majority of which features multiple Universal attractions. There are even a few "I survived" ones, including for The Incredible Hulk Coaster, Jurassic Park River Adventure, and Jaws, which is (sadly) long gone.
The best of the rest – Islands of Adventure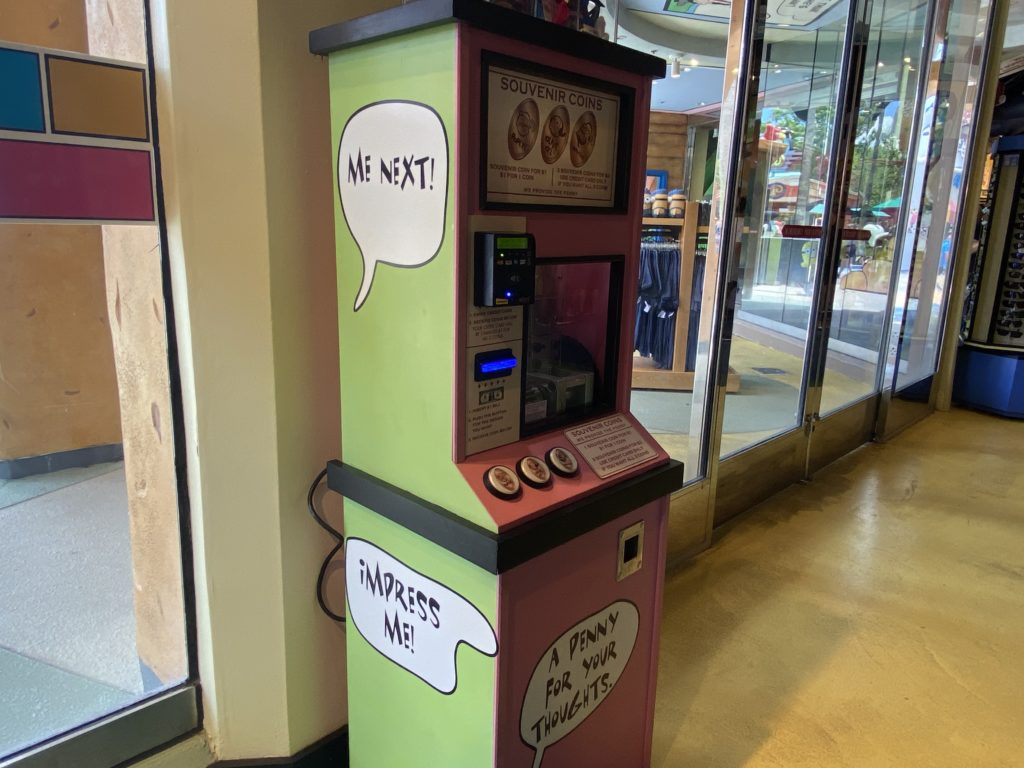 During my time researching pressed pennies throughout Universal Orlando, I snapped photos of a lot of machines. I came across a whole bunch more at Islands of Adventure that are also worth including in this list, even though I do not consider them to be in the top five:
Hulk, Daredevil, and Spider-Man with a 2003 stamp at Islands of Adventure's Entrance Hunhow Plaza
SpongeBob SquarePants characters at Islands of Adventure Trading Company
Dr. Seuss characters with "Islands of Adventure" written in Seussian font at Mulberry Street Store
Popeye characters (check out the puns on the sides of the machine!) at the Toon Extra store
Penny for your (final) thoughts
Be sure to read the full instructions before you press any pennies – there are three different kinds of machines, including a hand-crank one, a push-button one, and eight coin-collection ones.
Each machine accepts $1.00 bills, as well as credit cards. Be careful with your card, though! Many of these machines will automatically charge you $3.00 and spit out each of the three designs it houses. Also, please note that you don't need to bring your own pennies – they're supplied for you, and, for the most part, they are nice and shiny and new.
Finally, one last warning: please use caution, because you may end up like me and become a newly minted pressed-penny collector without even realizing it!
---
Do you have a favorite location to press your vacation pennies? Or is there a different collectible you hunt down at Universal Orlando? Share your stories with 125,000+ other theme-park fans in our Orlando Informer Community on Facebook.
And be sure to follow Orlando Informer on Facebook, Twitter, and Instagram for the latest news and tips at Universal Orlando, Walt Disney World, and other Orlando destinations.