Welcome to THE BIG 5, a definitive top five list of various Orlando related, uh, stuff. THE BIG 5 is wide ranging, and will run the gamut from the top five "Hidden Mickeys" at Universal, to the top five snacks at Halloween Horror Nights, to the top five ways you could lose your mind while waiting in line 300 minutes for Test Track, and everything in between.
To view all of THE BIG 5 posts so far, click here.
This week's list is the Top Five Pressed Pennies available throughout the Universal Orlando Resort. Not only are pressed pennies available at both Universal Studios Florida and Islands of Adventure, but several restaurants at CityWalk have machines as well, and you can even find pressed pennies in the main hub of the Universal parking garage!
#5 – Despicable Me
Despicable Me Minion Mayhem is a true gem at Universal. It has everything you could ask for in an attraction: it appeals to all ages, it's funny, has great effects, and it is full of heart. There's a good amount of pressed pennies dedicated to the Despicable Me brand; they can be found in Super Silly Stuff (the attraction's gift shop) as well as outside the park and in the Universal parking garage. Keep your eyes open and you'll be able to get pennies based on Gru, Agnes, Margo, Edith, the minions and more.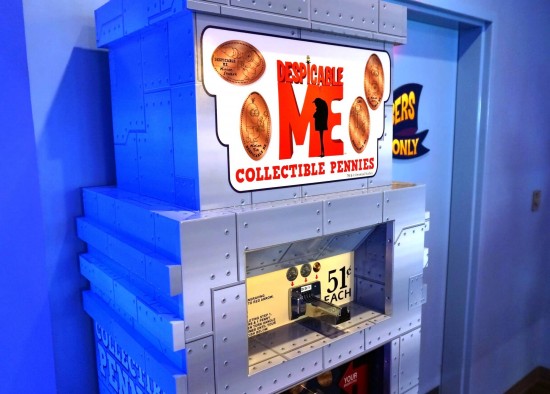 #4 – The Simpsons
There's plenty of good options for fans of The Simpsons, with several pennies based around the Simpsons logo and all of the main family. My favorite penny related to the Simpsons has Homer, Moe and Barney enjoying a couple of Duff beer's in Moe's Tavern (and if the rumors are true, guests of Universal will be able to enjoy their own Duff beer at Moe's Tavern in the near future!)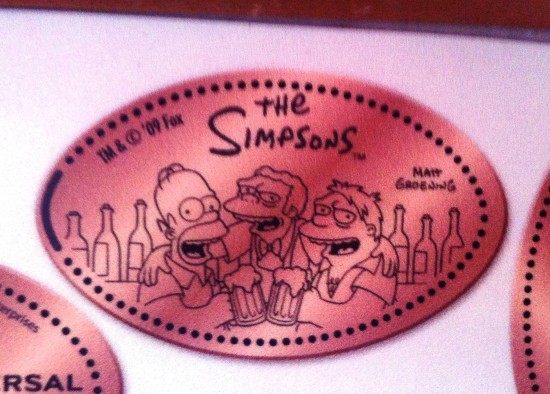 #3 – Marvel Super Heroes
If you have a son or daughter who is a fan of the Marvel and pressed pennies, IOA's Marvel Super Hero Island has everything you could want and then some. Not only are all the major characters represented (Spider-Man, The X-Men, The Hulk, Captain America, etc) but you can also find pennies based on Marvel Comics characters that go deep into the library including The Punisher, Daredevil, Spider-Woman and more.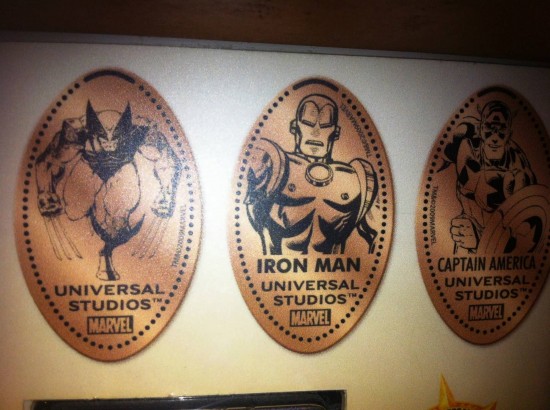 #2 – Universal's Classic Monsters
It looks like USF fans are going to be losing the Monster's Café at some point in 2013, and with it will go a connection to one of Universal's greatest strengths, it's Universal Classic Monsters brand. The Wolfman. Dracula. The Creature From the Black Lagoon. These famous monsters all have their iconic images coming straight from movies made by Universal Studios. It will be shame to see less of them in a Universal park, but at least we got these cool pennies to collect.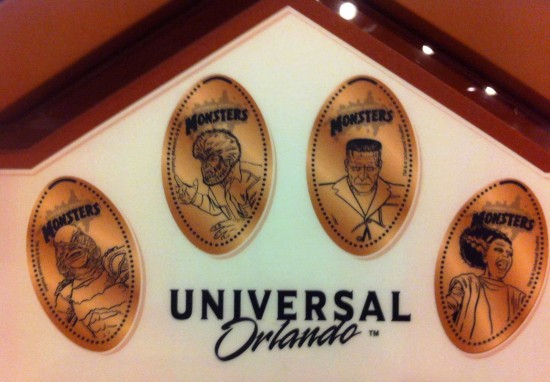 #1 – JAWS
My all-time favorite movie is JAWS and the pressed pennies for this legendary movie are amazing. You have a penny based on the famous movie poster of the huge shark head heading up towards an unsuspecting swimmer; you have a penny based on the humorous moment in the movie where local kids defaced a billboard; and you have  a penny based on the intense ending where Chief Brody, slowly sinking into the ocean, is about to shoot a bullet into the mouth of an oncoming shark. Below is just one photo, but there are several more in the photo gallery at the bottom of the post.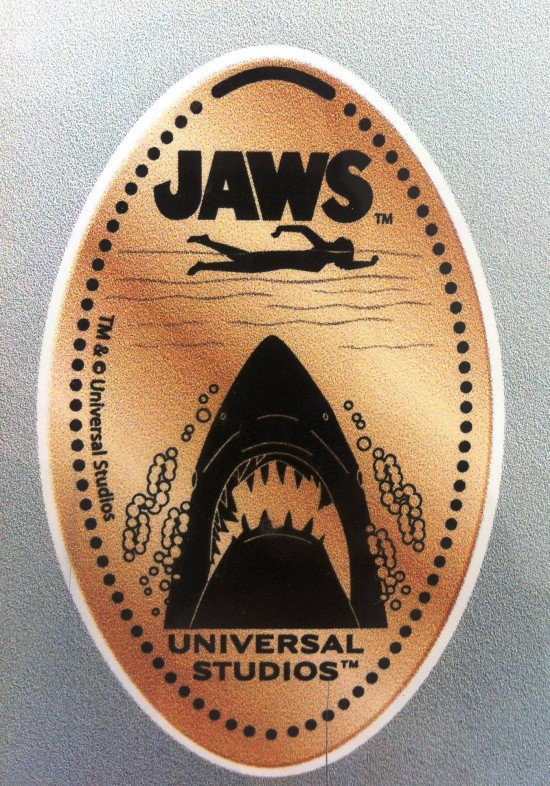 While I had many problems with the Universal attraction based on JAWS (I think it had one of the worst pre-show queues, in terms of story, of any major ride in any Orlando theme park), I have nothing but high praise for the pressed pennies based on a movie the American Film Institute consistently includes on their Top 100 movies of all time list.
Honorable mentions
There's a lot of good pressed penny options at Universal, and here are few that didn't make my list. Themed pennies for Rip Ride Rockit, Bubba Gump Shrimp Co (which have several available based around the movie Forrest Gump), Jurassic Park and classic USF attractions such as ET and King Kong.  But my favorite pressed penny theme that didn't make the top five is the one based on the attraction Twister… Ride It Out.
The Flying Cow Squadron, how great is that? There is actually a rather large gift shop with some pretty unique items all dedicated to what I would consider a below average attraction. But if you want t-shirts, plush dolls and even a pressed penny based around the concept of a cow flying through the air, then you need to head to "the aftermath" gift shop.
Final thoughts: My "wish list" of pressed pennies not currently available include: the Hollywood Drive In mini-golf area, Harry Potter, and more of the side characters in the Simpsons universe (Comic Book Guy, Mr. Burns, etc).
That's it for this edition of the BIG 5! We'll see you again real soon.
Pressed pennies at Universal Orlando – photo gallery
Click any image to view it full-screen. When the full-screen image is open, click to the right or use the right arrow on your keyboard to advance through the gallery. If several thumbnails are missing, try reloading this page in your browser.
[sws_author_bio user="derekburgan" size="105″ authorposts="More OI posts by Derek" name_format="About the author"] [/sws_author_bio]