Skip to: Overview | Location | Restrictions | Fear factor | Fun fact | Guest reviews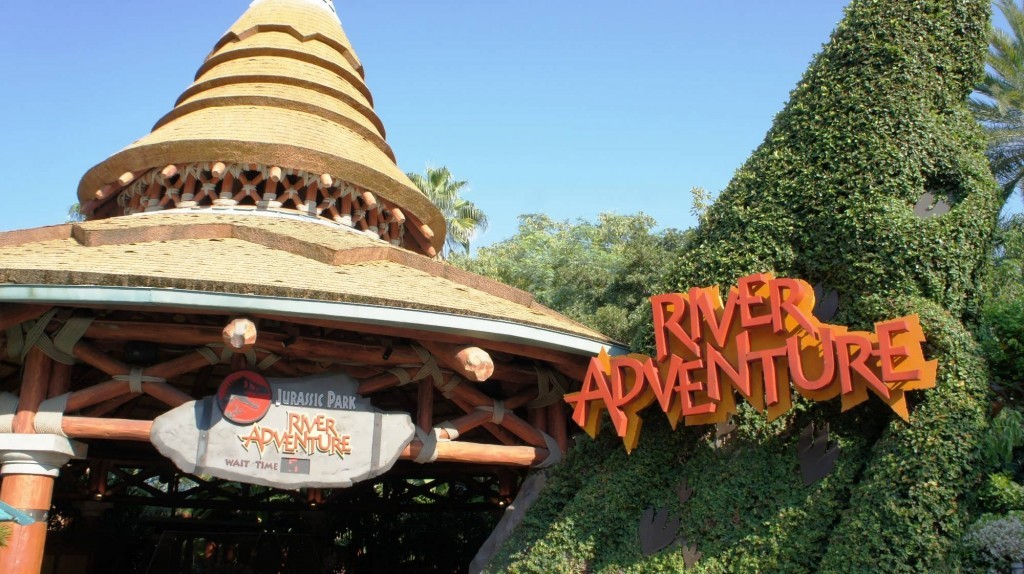 What is Jurassic Park River Adventure?
Sixty-five million years in the making, your boat ride through Jurassic Park will be chalked full of education – until the boat goes off course. This flume ride starts out immersing you in the natural dinosaur habitat and ends with a dramatic, 85-foot plunge that will get you soaked.
Where is Jurassic Park River Adventure located?
In Jurassic Park, which is in Islands of Adventure.
Jurassic Park River Adventure – height restrictions and other factors
Height requirement is 42 inches; has Express Pass access and a single-rider line; there are lockers near the attraction's entrance that can be used for a small fee, but you are not required to stow loose articles in them (just be sure to note there is no storage on the Jurassic Park ride vehicles).
Jurassic Park River Adventure – what you wish you knew before you experienced it
If you end up in front, you are probably going to get soaked. If you sit in the back, it may not be that bad.
How scary is Jurassic Park River Adventure?
We rate Jurassic Park River Adventure four out of five T-rexes in terms of fear factor. With some intense dinosaur action and an 85-foot, super-steep plunge ending in a giant splash, you'll want to be prepared – both mentally and with a towel.
Don't be scared out of riding, though – the story and experience far outweigh the thrills and spills.
What was Jurassic Park River Adventure's opening date?
May 28, 1999
Jurassic Park River Adventure – OI fun fact
When the attraction opened in 1999, it featured the largest theme-park water descent ever constructed.
Jurassic Park River Adventure – photo gallery
Jurassic Park River Adventure – real guest reviews
Jurassic Park River Adventure
Average rating:
20 reviews
Sep 22, 2014
Fun Ride
Date Of Last Visit:
09/21/2014
My husband and I took a short afternoon trip today with the intention of riding a water ride. As it happened the park was closing at 7PM and we found ourselves at 6:45 having not ridden one yet. Luckily, we were close to Jurassic Park, so we headed for the River Adventure. We got right in and there was no one else waiting, so they put us right on a raft to ourselves. They advised 4th row middle seats for minimum splash. We had so much fun - when you go "off course" it felt more real since it was just the 2 of us. The big splash got us in the face but the rest of us stayed pretty dry. We bought plastic covers for our wallets and phones, and they were perfect for the afternoon at the park. I will ride this one again for sure!
May 26, 2014
A must-do!
Date Of Last Visit:
03/09/2014
This ride is so fun! Very family oriented! I love it!



The last time I rode it I was in the Splash-Zone area watching all the people drop... some carts had less than 10 people on it and others were filled. Some people were getting SOAKED and others were as dry as a bone. I'm guessing it's all about the weight and stuff on the cart.



Anyways, so after watching a few carts go down I decided it was my turn to ride. I hadn't been on in a while and I couldn't remember everything. As soon as I sat down (I sat on the right edge in some middle row) the seat was wet... immediately as we started moving up a hill, I thought we were going to go smoothly down.. then the cart stopped abruptly and I yelped... everyone next to me was laughing because there was a sign right there that said "No Screaming" or something... Haha! Oh well!



Later throughout the ride... when the T-Rex shows up (right before the big drop) I was like, oooohh here's the big drop! And I took off my sunglasses so I could see... The water splashed ALL IN MY FACE and I was like OH NO NO NO... I had ruined my mascara!! So I had to walk off the ride with my glasses on to cover the smudges until I reached the bathroom! HAHA! That was NOT expected!



So ladies, if you plan on wearing makeup and plan on going on a water ride... I WARN YOU! 🙂
May 26, 2014
Perfection!
Date Of Last Visit:
4/26/2014
Jurassic Park River Adventure has it all. There is an impeccably themed queue that sets up the story of the ride, as well as a large ride vessel so that the line moves quickly. Then you get on your raft and the ride begins. The music swells, and those great gates swing open, and you really feel like you are in the movie. I love the gentle beginning, the tension building middle, and the terrifying end of this ride. No matter how many time I ride it, that T-Rex makes me scream! You will most likely get very wet on this ride, so be prepared. Another element that I love about this ride is that the raft seats five people per row. It is rare that my family of five does not have to split up on rides, so we really like this one!
May 26, 2014
Mrs
Date Of Last Visit:
04/03/13
It was my husband's first time on this ride he usually does not get scared but the terrified look on his face when he saw the we were about tto get attacked made my vacation
May 26, 2014
Prepare to get soaked!!!
Date Of Last Visit:
August 2014
Jurassic Park River Adventure is such a great ride. I love the start as you hear the theme and the gates open "welcome to Jurassic Park" it is like you ars there.



The animatronics are superb, the dinosaurs are so life like and it starts a nice quite educational journey.



Then it all goes down hill (quite literally), the big T-Rex is excellent as it run towards you. The drop is actually quite fast and I always seem to get well and truly soaked.



Great ride, my favorite water ride at Universal!
Do you have a question about the information on this page or would you like to provide feedback? Please let us know by posting in our
Orlando Informer Community
on Facebook.