2021 is shaping up to be a pretty big year for Universal CityWalk – something which, perhaps, no one saw coming, given the prolonged closures and massive uncertainties that were unfurled during the pandemic year of 2020.
Let's put everything in a bit of historical context before diving into the latest, though, shall we? After first opening in 1999, Universal Orlando's dining/shopping/entertainment complex more or less stuck with the status quo until '14, when a massive makeover was unleashed, resulting in a whole cavalcade of new venue openings and updated aesthetics for the entire district (such as the mandate of open kitchens and al fresco dining). Now, all those new crowds that were descending on the resort due to the just-debuting Wizarding World of Harry Potter – Diagon Alley and Cabana Bay Beach Resort had a smorgasbord of Universal originals (Antojitos Authentic Mexican Food, Bread Box Handcrafted Sandwiches) and national favorites (Cold Stone Creamery, a newly relocated and expanded Starbucks Coffee) to choose from and chow down on.
This mini-explosion of culinary goodness cooled off immediately afterward, but it contained enough residual heat to maintain a consistent opening schedule thereafter – from 2016 to '19, one new restaurant premiered each and every year, consisting of The Toothsome Chocolate Emporium & Savory Feast Kitchen, NBC Sports Grill & Brew, Voodoo Doughnut, and, lastly, Bigfire. 2020 saw an abatement of all this activity – perhaps fittingly, given the sudden arrival of COVID-19 – and one could be forgiven if he assumed that Universal's mini-vacation from new CityWalk activity would have continued on into 2021.
What has happened instead, however, is pretty much the polar opposite. In February and March, the site of the old Universal Studios Store – what is supposed to operate as the flagship retail location of the entre resort – transitioned over to its new Universal Legacy Store identity; the replacement Universal Studios Store opened up at its new and expanded digs across the way on April 1; and, finally, Fusion Bistro Sushi & Sake Bar unexpectedly closed its doors (er, serving window) on April 27. All this activity, in turn, has paved the way for yet another brand-new property to arrive at the area: Bend the Bao, which will take up residence at the former Fusion Bistro and which will serve up – what else? – bao buns.
Well, just calling them baos is a bit on the deceptive side. Here's how Universal itself bills the new quick-service eatery:
[Bend the Bao features] a variety of delicious items that fuse popular Asian cuisine with diverse ingredients like crab cakes, pork belly, kimchee fried chicken, and more – creating an entirely new mash-up that "bends" the idea of a traditional bao.
Here's the menu, replete with pictures:
Shrimp Bao – fried shrimp, shredded cabbage, avocado, pico de gallo, chipotle crema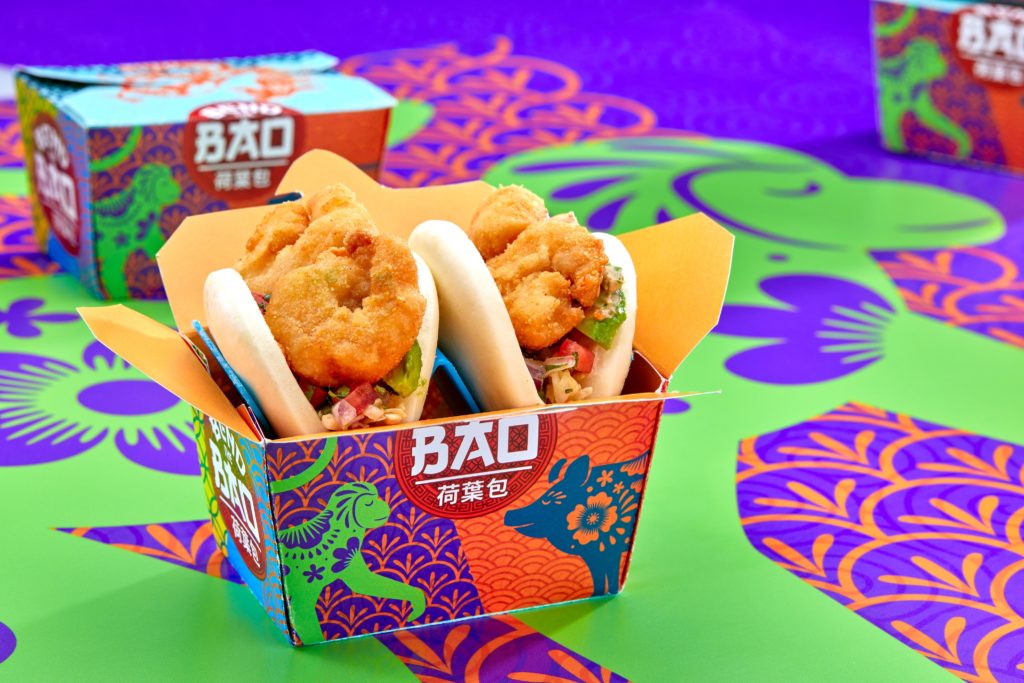 Veggie Bao – roasted oyster mushrooms, spinach, sweet potato, caramelized onion, smoked ricotta cheese, tomatillo salsa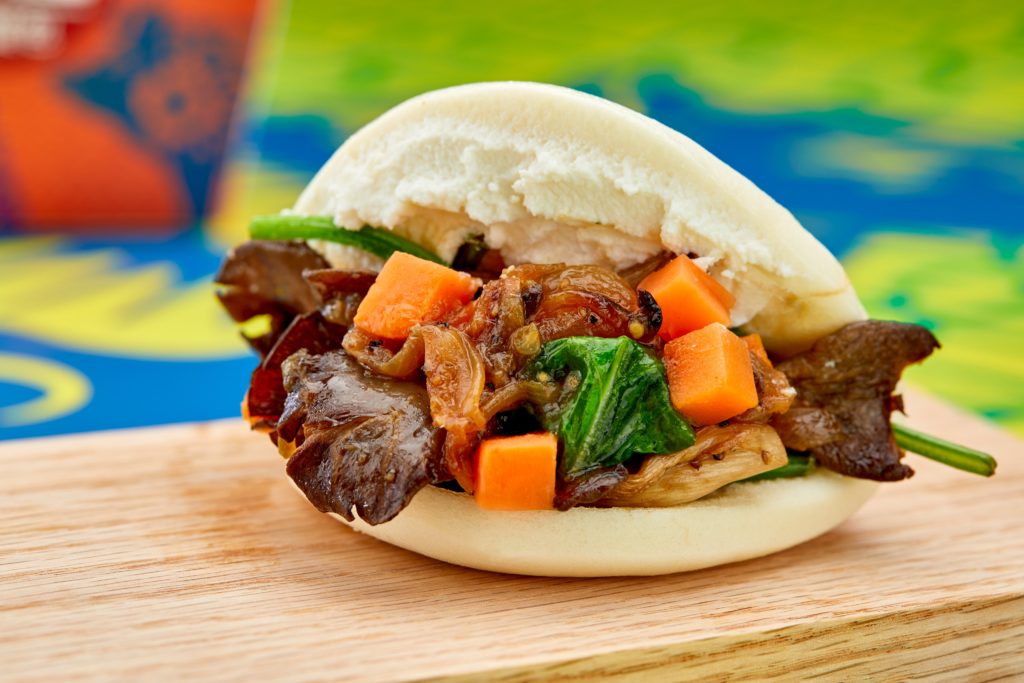 Crab Cake Bao – Maryland-style crab cake, shredded lettuce, diced tomato, mustard aioli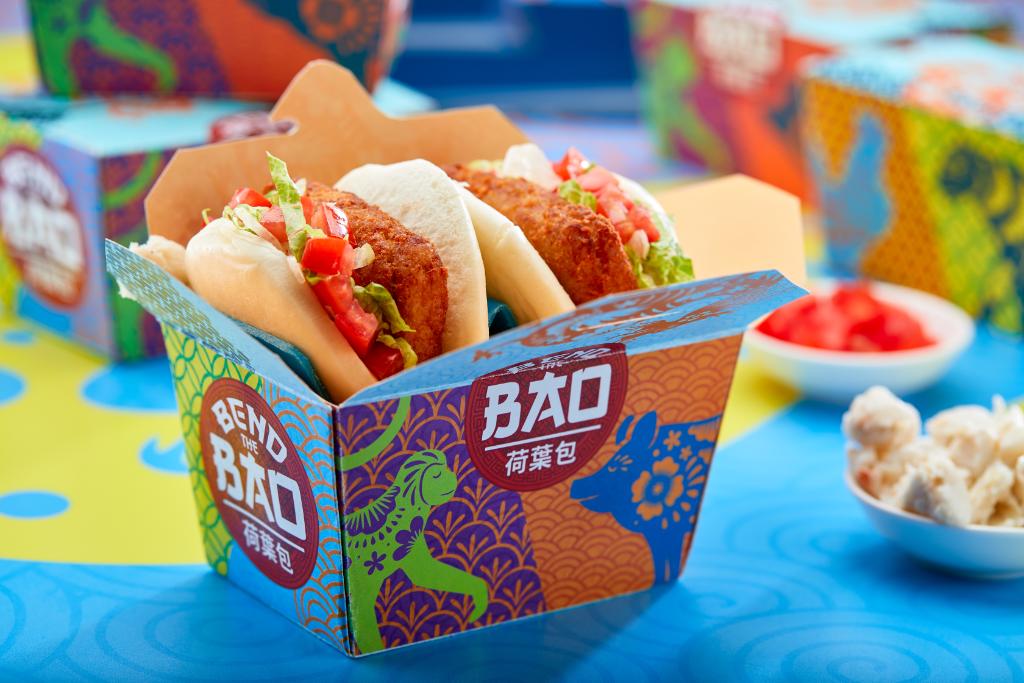 Beef Brisket Bao – beef brisket, fried jalapeno, pickled red onion, cilantro, avocado lime crema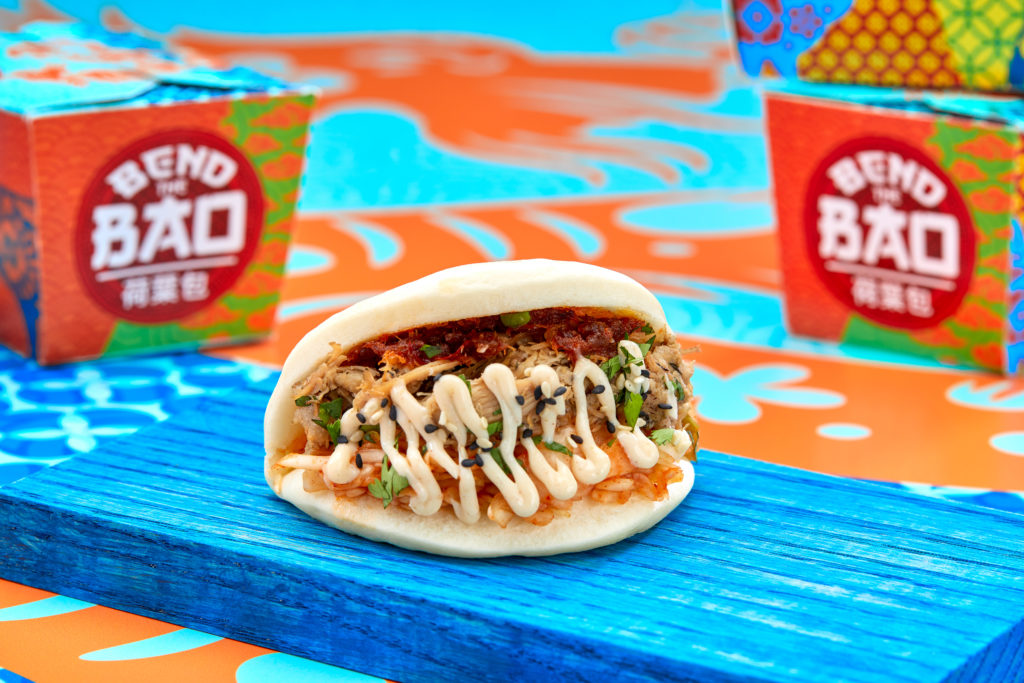 Pork Belly Bao – pork belly, scallions, cucumber, honey-roasted peanuts, cilantro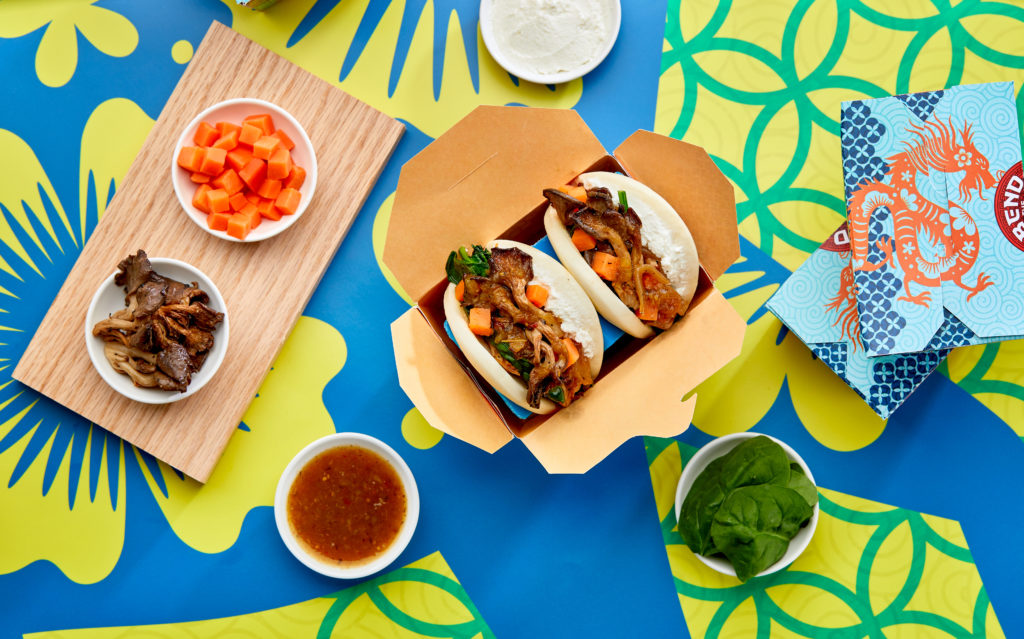 Duck Bao – braised duck, kimchee slaw, XO sauce, cilantro, five-spice aioli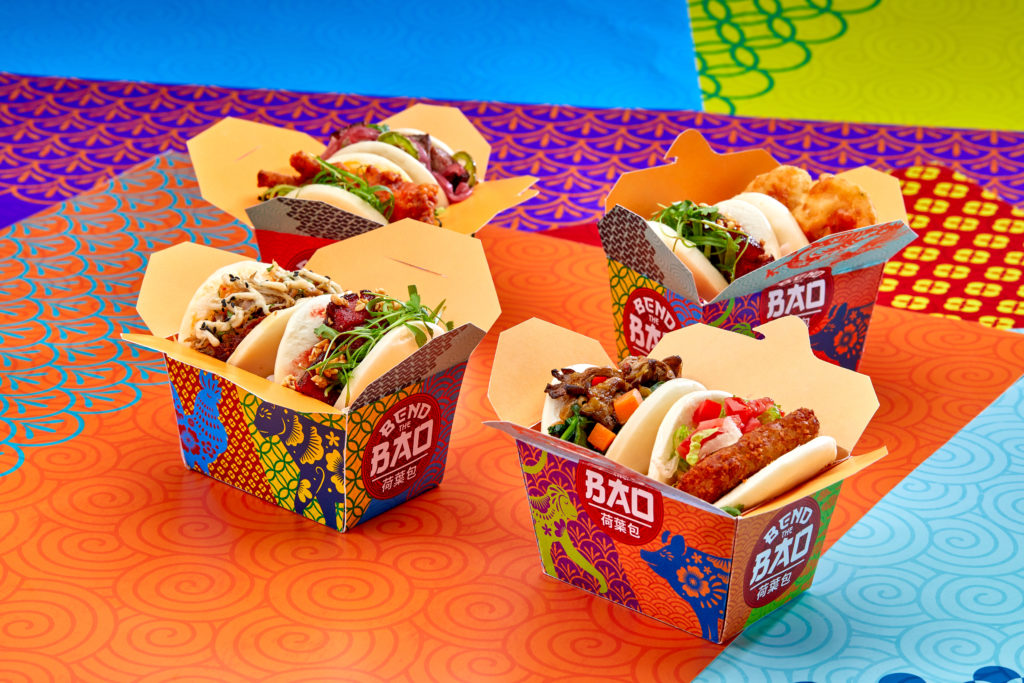 This is a notable development for two reasons. Firstly, having a presence at the back of CityWalk's second floor, near the exit of Universal Cinemark, is an important addition that was only added about halfway through the complex's lifespan; it wasn't until January 2010 that Fusion Bistro first opened, adding a much-needed venue to an otherwise-empty space. (Just as with its attractions over at Universal Studios Florida, Universal has tended to multiply its experiences over the decades, continuing to expand its roster and making it a more attractive destination for more swaths of visitors.)
And, secondly, a key part of that expansion has been plugging in the culinary holes that CityWalk was suffering from – whether it be Bubba Gump Shrimp Co. with its seafood, Antojitos with its authentic tapas dining (and tequila), Red Oven Pizza Bakery with its Neapolitan-style pizza, or Toothsome and Voodoo with their crazy, over-the-top milkshakes and donuts, respectively. Bend the Bao obviously continues this historical trend, providing some much-needed Asian specialties – and making sure cuisine from that region of the world will continue being represented at Universal Orlando Resort.
Bend the Bao opens tomorrow, Tuesday, June 15. Its hours will be from 10:30 am to 11:00 pm daily.
---
Are you hyped for Universal baos? What's your current favorite restaurant at CityWalk? Share your thoughts with 125,000+ other theme-park fans in our Orlando Informer Community on Facebook.
And be sure to follow Orlando Informer on Facebook, Twitter, and Instagram for the latest news and tips at Universal Orlando, Walt Disney World, and other Orlando destinations.