Location
Woody Woodpecker's KidZone.
Restrictions and access
34 inches; has Express Pass access.
Two sentence insider summary
Help E.T. save his dying planet! This attraction, designed for the whole family, is a gondola-style dark ride that is very similar to Peter Pan's Flight at Magic Kingdom (with a little alien spin on It's A Small World at the end).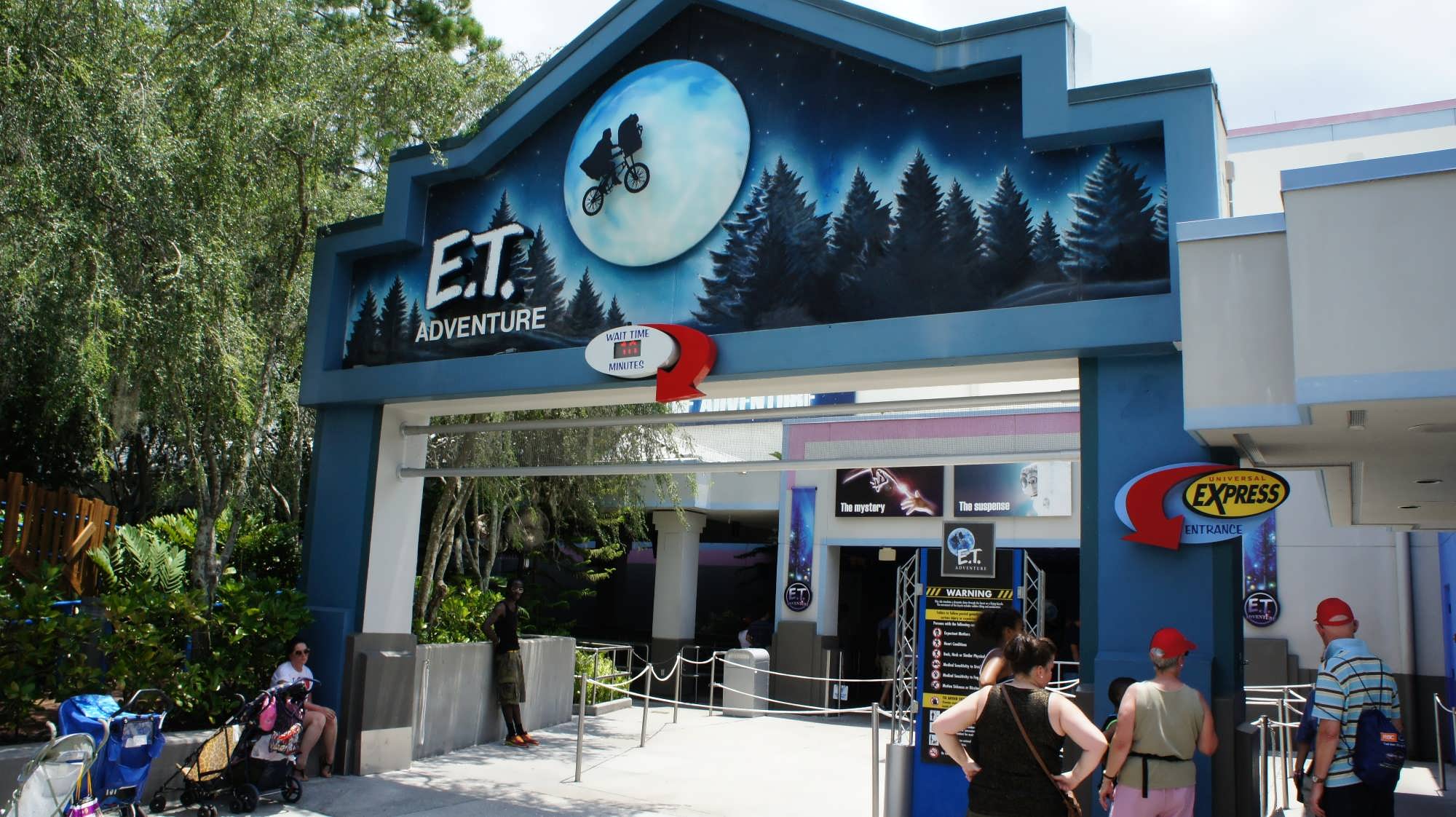 E.T. Adventure at Universal Studios Florida.
Fear factor
1 out of 5.
What you wish you knew before you experienced it
When asked, you should have given the ride attendant a funny nickname for yourself. Also, keep in mind that if you have small kids who haven't seen E.T. yet, his appearance and that of his friends may be a bit off-putting.
OI fun fact
During the ride, notice that E.T. only appears in your bike basket when you are about to fly!
Opening time reminder
When crowd levels are slow to moderate, the attractions inside Woody Woodpecker's KidZone, including E.T. Adventure, typically do not open until 10:00am. When crowd levels are busy to very busy, the attractions typically open when the park opens at 9:00am. Visit our Universal Orlando crowd calendar (the link will open in a new window) to determine the crowd levels for your travel dates.
The opening time for each of the KidZone attractions is listed in Universal Orlando's in-park map, which you can pick up at the front of the theme parks.
E.T. Adventure – photo gallery
E.T. Adventure – real guest reviews
Average rating:
63 reviews
Dec 27, 2017
ET best family ride
Date Of Last Visit:
June 2015
Enjoyed the ET ride as I don't enjoy over the top rides that can make you feel sick I will never understand why they closed the jaws ride as it was great fun and "everlasting" like et .big excitement when your name gets called but disappointing as it was inaudible or out of sync
Jun 19, 2017
The E.T. Adventure Has Always Been My Favorite
Date Of Last Visit:
May 20th 2013
I have grown up riding this ever since I was nine years old in 2001. I know that most rides now are super-high tech with a lot of simulation and screens, but that's just it. That's all those new rides really turn out to be. There is something to be said for rides like this in which you KNOW you could just reach out and really TOUCH a character if you really wanted to or were allowed to.The older rides like this bring in a ring of reality that you just can't get on most other rides nowadays. Also, for the curious, when I last went, this ride had just been updated with a whole new set of computer systems. So, it HAS been updated. Also, the ride may smell like chlorine, but for me, that doesn't take away from the experience at all. I feel that sight, (knowing you could) touch and smell all bring this attraction into our sense of reality. The feeling is amazing and if you have a small child that has seen and enjoyed the E.T. film, they are going to love this with all of their heart.I have seen little four year olds grin with excitement when their parents tell them that they are going to go on this ride, just as excited as I was when I first got on it.
Sep 10, 2016
Extremely outdated!!!
Date Of Last Visit:
September 4,2016
They just need to let ole E.T. go home and stay there. The entire ride looks like it was created in 1984. It is really weird....aliens are a little creepy and it smells really bad inside. I adore E.T. and this ride does not do him justice. They either need to give it a complete overhaul, or replace it altogether.
Dec 30, 2014
E.T GO HOME !!!
Date Of Last Visit:
December 2014
Any chance of capturing the magic of this timeless film were lost once we went through the arrival doors at this ride !!!. If you hadnt seen the film before the ride you sure wouldnt after it..... We know it was a 1980's film but PLEASE bring it into the 2000's....
Aug 20, 2014
Welcome Home, You've Arrived
Date Of Last Visit:
8/18/14
Though it's old, full of creepy looking aliens, and generally weird, this ride is a classic at Universal. It functions on the same level that the classic Peter Pan Dark Ride does in Fantasyland at Magic Kingdom. I love it, but let's just say I never want to visit E.T's home planet for longer than 2 or 3 minutes.

Fun Tip: Wakabayashi is my favorite name in the E.T database, and he will say your name at the end of the ride in gloriously outdated fashion.
E.T. Adventure – map
Click any marker to display the attraction or venue name. To scroll or zoom, use the controls on the top-left of the map. You may also switch to different map views by using the buttons on the top-right of the map.
View OI's map to Universal Studios Florida.