When thinking about Universal Orlando and its theme parks, Universal Studios Florida and Islands of Adventure, one might not think of much in the way of romance. But the resort does have quite the romantic side (don't we all?). With Valentine's Day upon us again today, we thought we'd take this opportunity to present our list of the most romantic things to do on-site:
#5 – Visit the water's edge at CityWalk
Universal CityWalk, Orlando's dining and entertainment capital, might seem like a place full of hustle and bustle and one dancing mirror lady. But when nighttime falls, grab your special someone and take a seat near the lagoon. Enjoy the glitter of the lights and the sounds of happiness as you make plans for your night of adventure!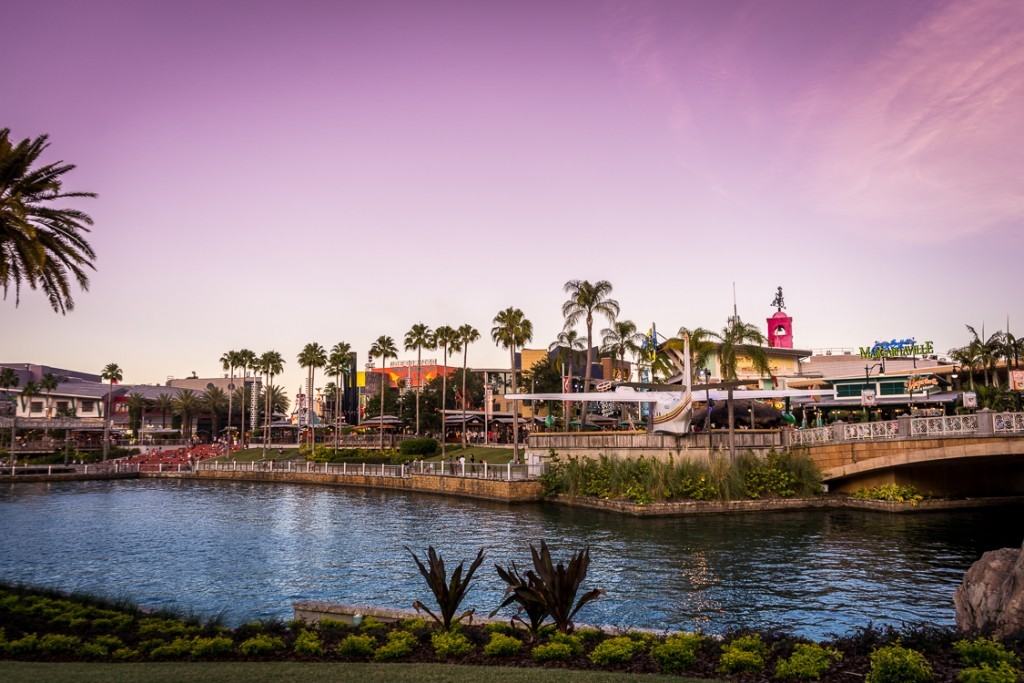 Universal Orlando CityWalk at Dusk
Looking for a bit of privacy? The small stretch of walkway at the lagoon's edge, starting at Jimmy Buffet's Lone Palm Airport tiki bar, is usually the most deserted.
#4 – Stroll through the parks after sunset
Universal Orlando is full of magic, and once the sun begins to set and the lights turn on, it creates a whole new magical atmosphere. Taking a stroll throughout the parks, hand-in-hand, with the beautiful scenery and lighting is very romantic.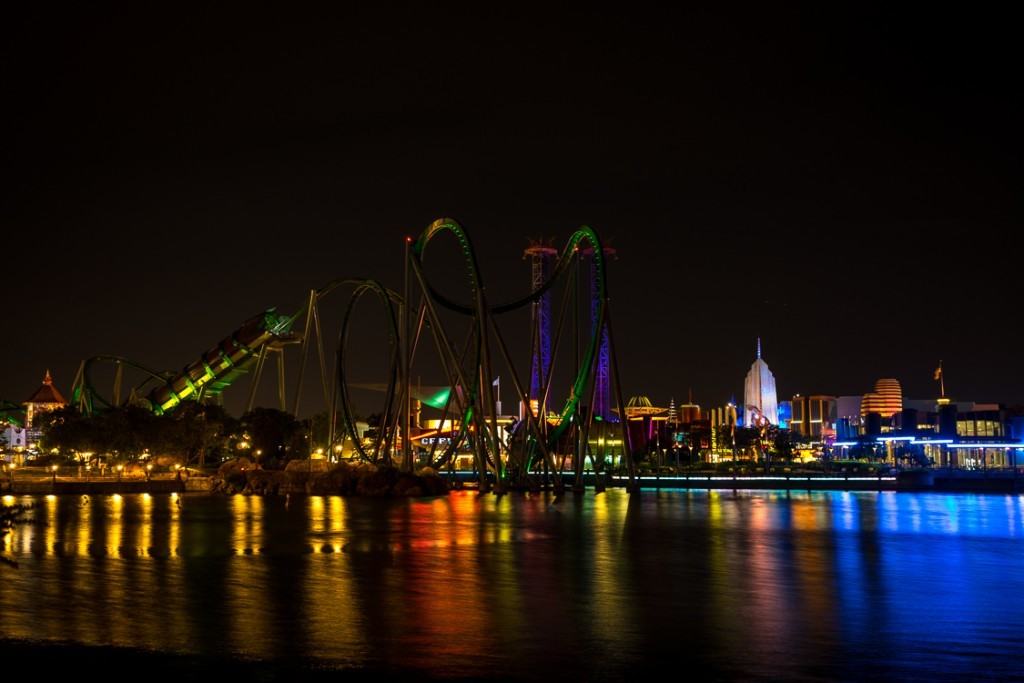 Universal's Islands of Adventure after the sun sets.
If you'd like to add a little suspense and thrill to your evening stroll, trying taking a turn into Camp Jurassic inside Islands of Adventure. You'll have to hold your loved one close as you brave the twisting paths, overgrown shrubs, huge rock piles, and dimly-lit tunnels, all while the wails and cackles of dinosaurs race around you. This is a true place for romance.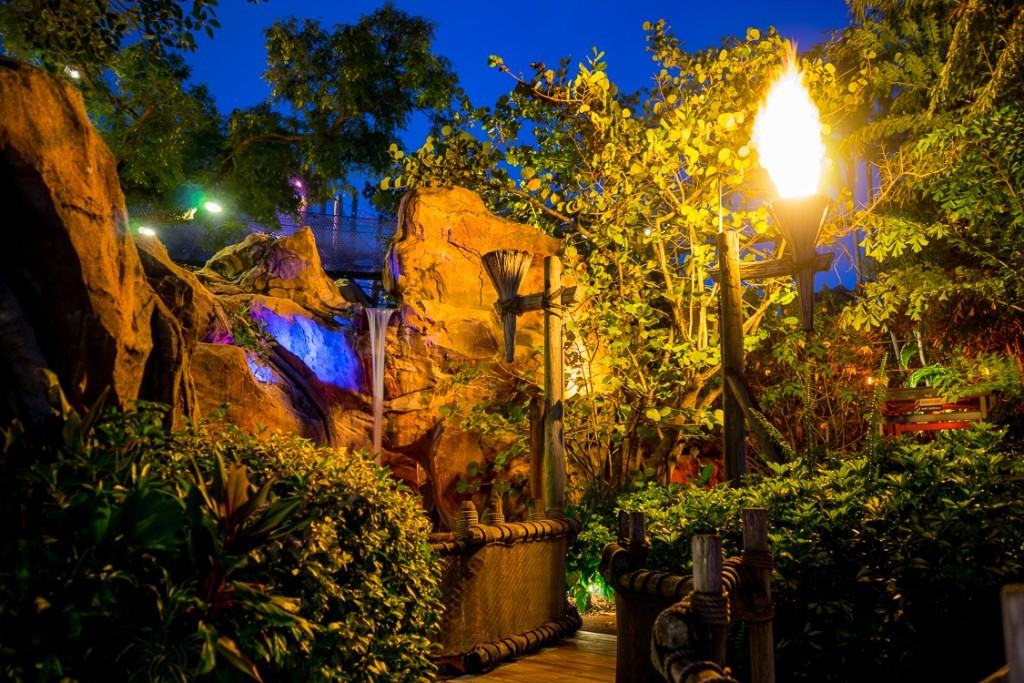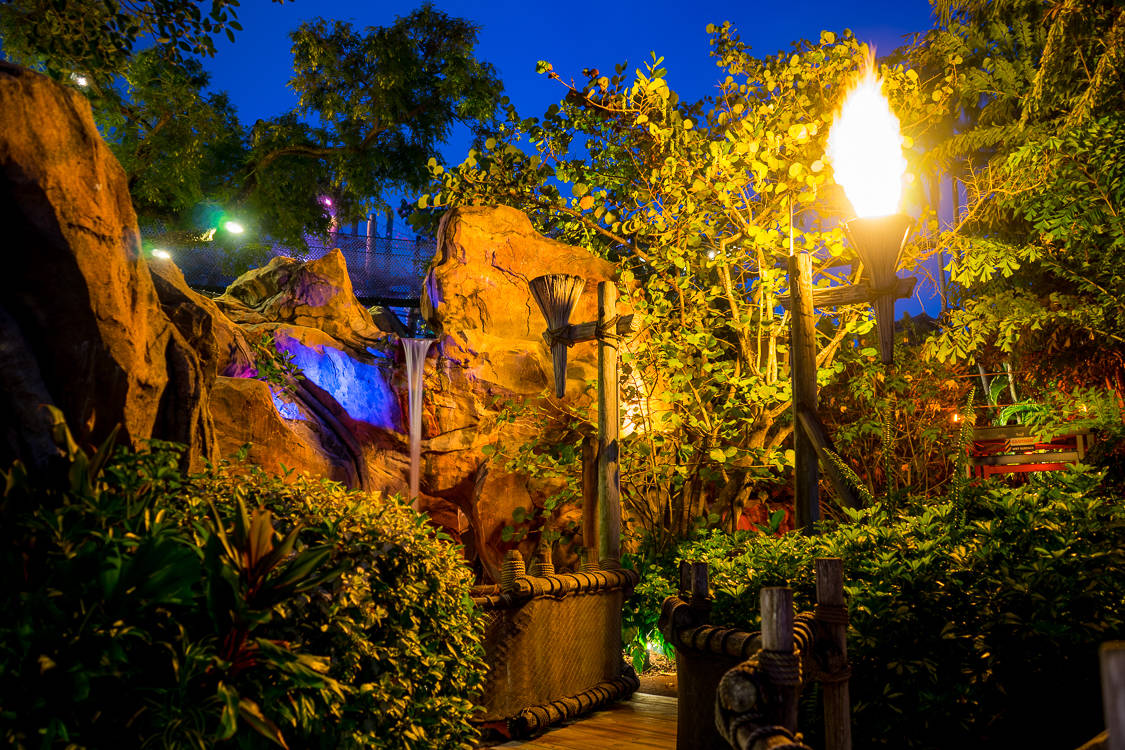 Camp Jurassic at Islands of Adventure.
#3 – Dinner & a movie
Is there a more classic night of romance – especially for a first date – than dinner and a movie? Probably not, so it's a good thing you can easily do both at Universal Orlando.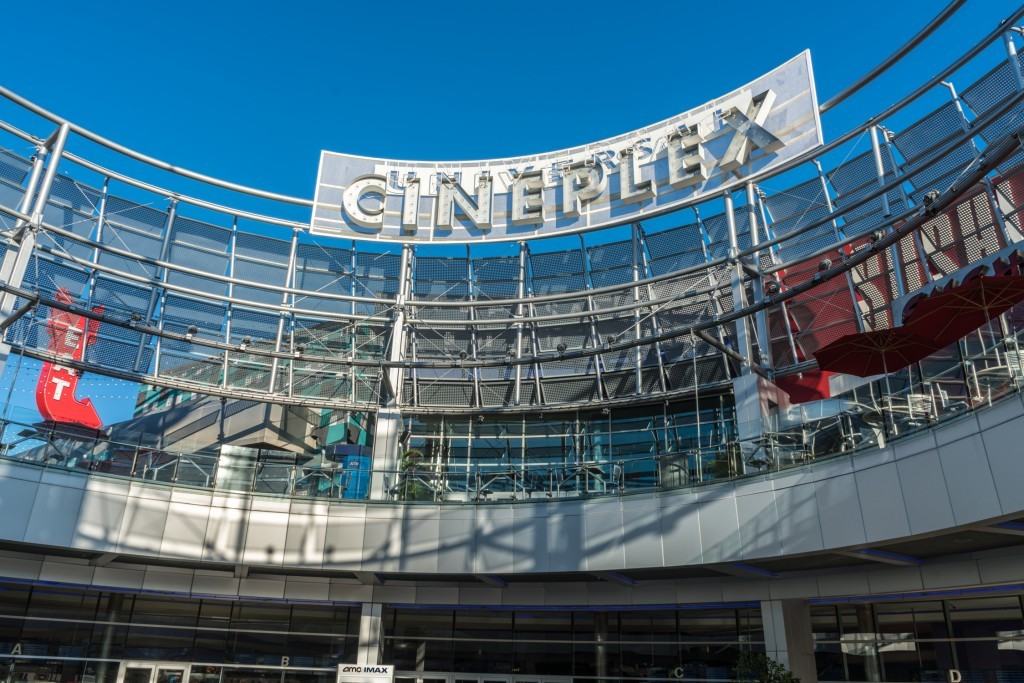 AMC Universal Cineplex 20 at CityWalk.
And to make the offer even more enticing, check out the Meal & Movie deal offered at CityWalk's AMC Universal Cineplex 20. This is one of Universal's beat deals that many guests don't even know about. Or, for those wanting to dance the night away with their special someone, check out the CityWalk Party Pass & Movie deal. More info about both can be found in the "Add-Ons" section of Universal's online ticket store.
#2 – Lose yourself in the tropics at Royal Pacific Resort
There is always something romantic about a tropical setting, be it the sounds of bamboo swaying, light flickering off the water, or the warm breeze spilling over a lover's embrace. If this sounds like the perfect place for you and you-know-who, make your way to Universal's Royal Pacific Resort and enjoy the tropical scenery together. Start the evening off with a drink at Jake's American Bar, then head over to Emeril's Tchoup Tchoup for a romantic dinner (reservations highly recommended).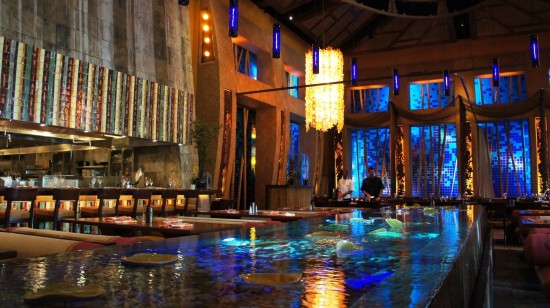 Inside Emeril's Tchoup Chop at Royal Pacific Resort.
At the end of the evening, we encourage you to find your way down the Garden Walkway between Royal Pacific and CityWalk, where the glow of the lighthouse may just be the spark you need for that first kiss!
Want a classic Emeril's meal without having to go to one of the on-site hotels? You're in luck, because Emeril's Orlando, located at Universal CityWalk, delivers a whole extra set of delicious offerings.
#1 – Explore the Italian Riviera at Portofino Bay Hotel
Portofino Bay Hotel has much to offer when it comes to romance! Take a stroll together around the gorgeous Harbor Piazza, where you can stop by the Gelateria for some sweet treats and coffee, or take a seat at one of the piazza tables and enjoy the beautiful views of the harbor together.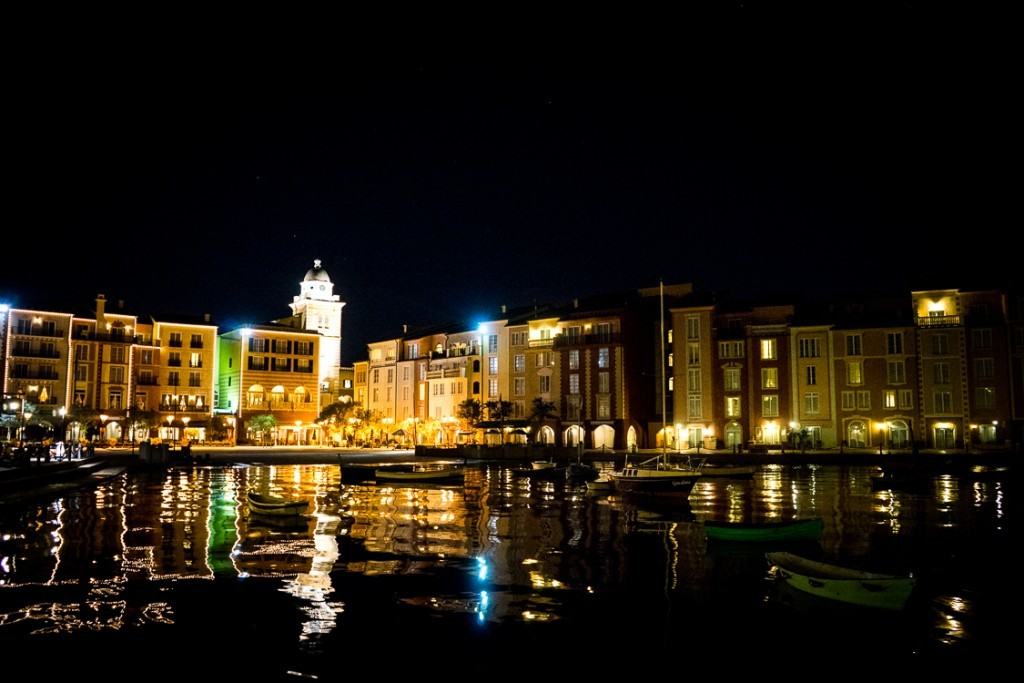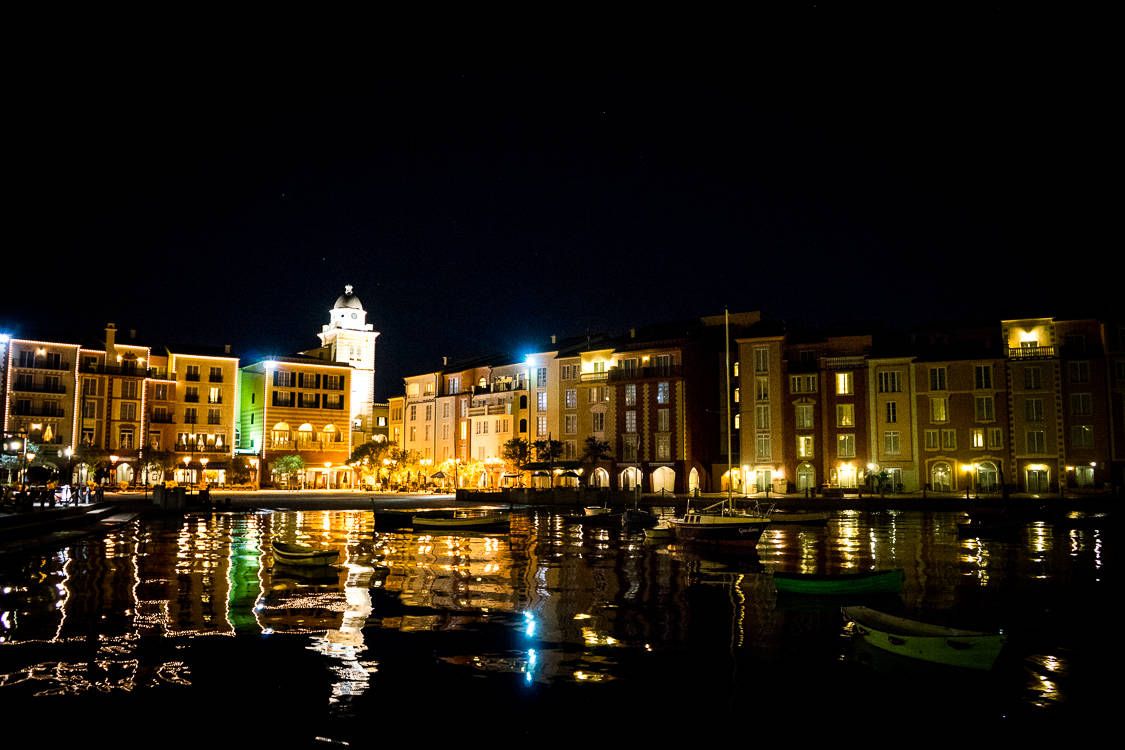 Loews Portofino Bay Hotel at night.
But if you really want to impress the love of your life, stop by the on-site Mandara Spa for a couples massage.
To end your visit, wait until dusk, when the hotel celebrates Musica Della Notte, a unique blend of classic opera and romantic and festive music, along with "popera" favorites, performed live at the Harbor Piazza.
Honorable mention – love birds at Islands of Adventure
Before you leave the park, know that you and your partner aren't the only two animals in love at Universal! See if you can spot these two love birds in the Port of Entry area at Islands of Adventure:
https://www.youtube.com/watch?v=zAB_kjiakxo
If you liked this article, you can see all of our BIG 5 blog posts, or start planning the rest of your Universal Orlando vacation completely for free in the OI Universal Center.