Skip to: Overview | Location | Atmosphere | Merchandise | Fun facts | Guest reviews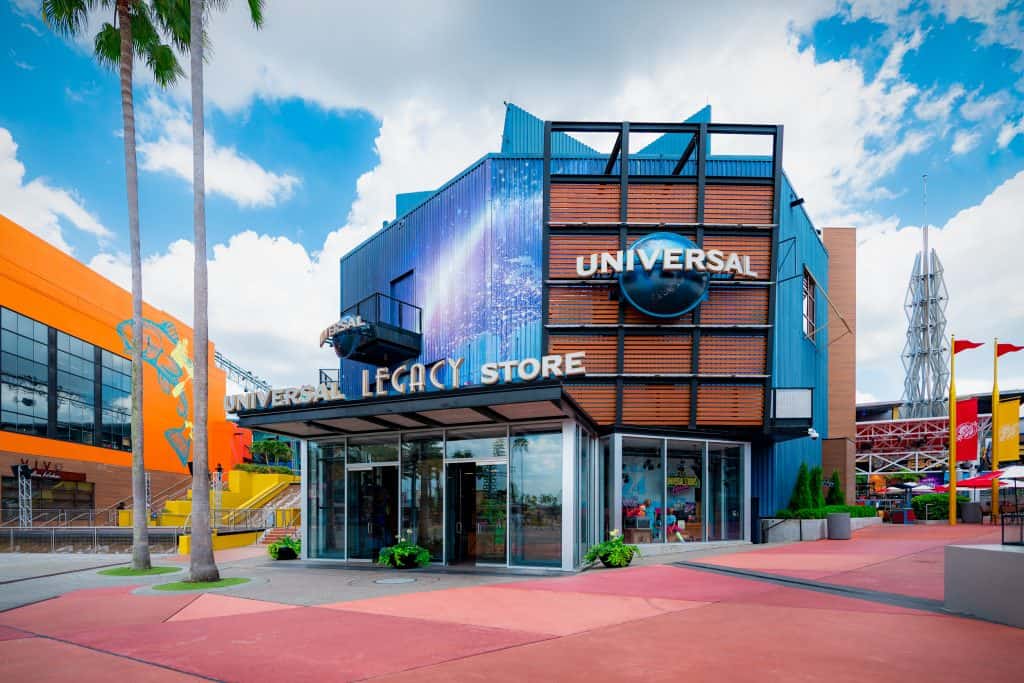 What is the Universal Legacy Store?
Formerly the flagship Universal Studios Store, the Universal Legacy Store now has been solely dedicated to retro wares and vintage props. This transition has turned the location into a type of Tribute Store for Universal Orlando Resort as a whole (back at the beginning of that retail space's history, that is, when it was more focused on memorabilia than on the theming of a roster of intellectual properties).
Visiting Legacy, then, is like a trip in the way-back machine, and seeing all those old pictures and videos (as well as hearing snippets of all those old soundtracks) of your favorite former attractions is sure to put a smile on your face. Oh, yeah – since this is also a store, you can pick up a fun souvenir or notable keepsake while you're there, too.
Where is the Universal Legacy Store located?
At Universal CityWalk Orlando, in front of the lagoon and right behind/next to Hot Dog Hall of Fame.
What is the atmosphere of the Universal Legacy Store like?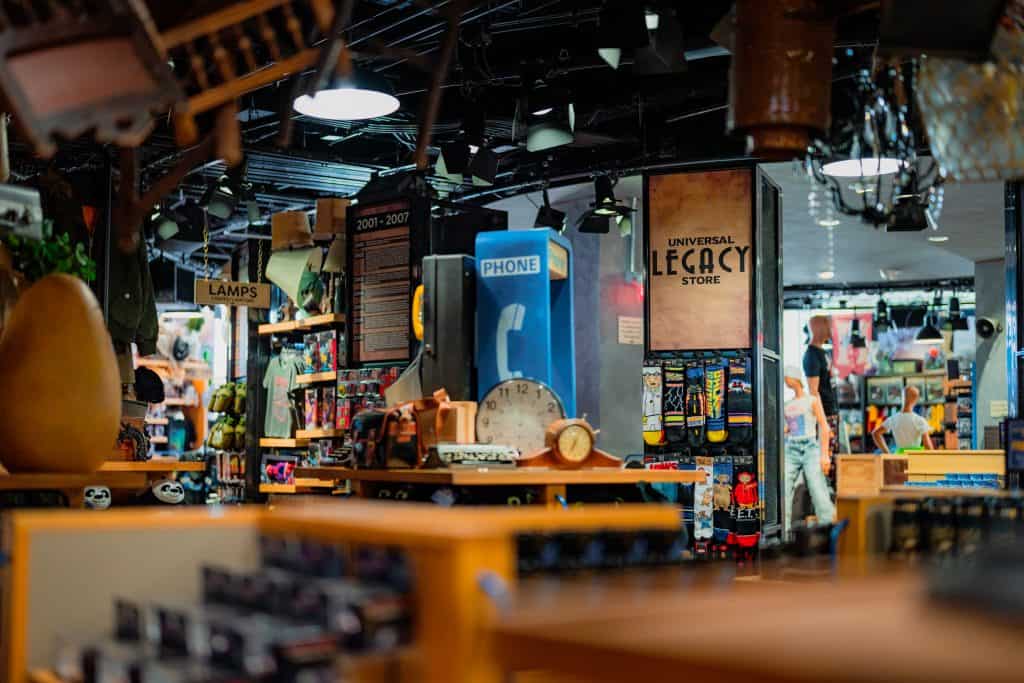 The bulk of the Universal Legacy Store's wares is still dedicated to the more-or-less common merchandise that you can find all throughout Universal Orlando, such as Simpsons t-shirts, Minions plushies, and The Wizarding World of Harry Potter candies. You'll find these arrayed all throughout the venue, not too dissimilarly from how they were before its retro transformation.
Everything that's around all those souvenirs, however, is completely new. Set up in the middle of the shop is a personalization section, where various items can be heat-pressed, embroidered, or engraved with your own customizations. The six video columns that ring it, meanwhile, have been given over to virtual crates that are unboxed in front of your eyes, unleashing a treasure trove of behind-the-scenes photos, contemporaneous advertisements, and, even, snippets of extinct preshows from throughout the resort's 31-year history. (You'll see everything from Ghostbusters Spooktacular to Back to the Future: The Ride represented here.)
Surrounding the monitors is a collection of miscellanea from a huge swath of classic attractions, both past and present – there is a concept model of the Enchanted Oak Tavern restaurant, or a prop gun from Terminator 2 3D: Battle across Time, or design sketches of Hogwarts Castle. And, finally, the last layer of Legacy's theming has more of a general film-prop-warehouse vibe, depositing filmmaking equipment or signage in every nook and cranny.
(For even more on the atmosphere front, please see our full write-up.)
What merchandise is sold at the Universal Legacy Store?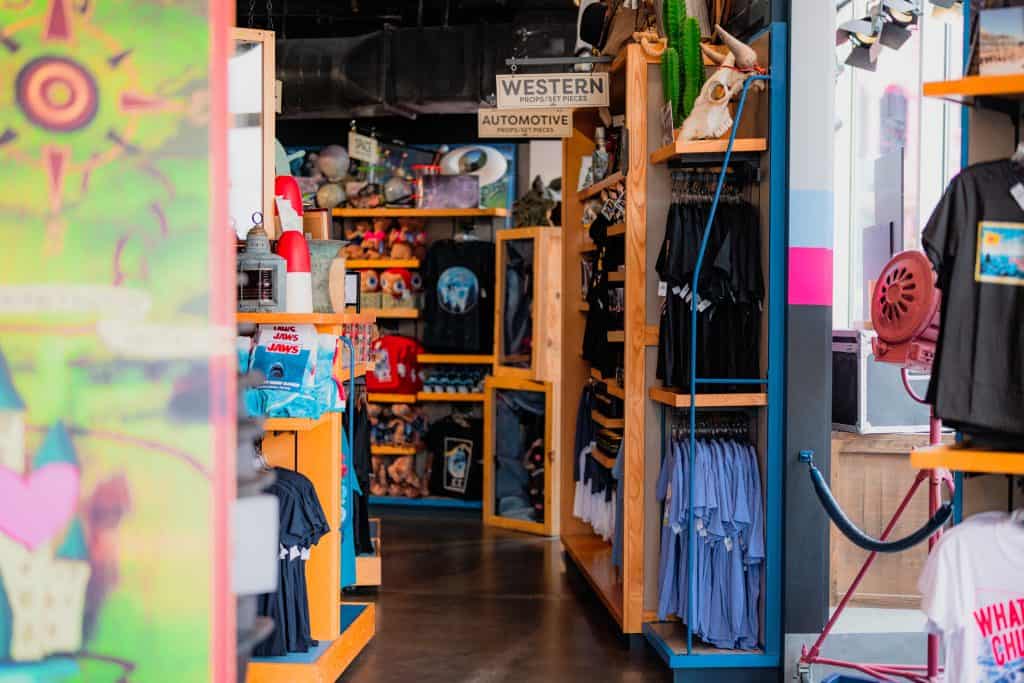 A lot of Universal Studios apparel and tchotchkes, along with various character-specific products, remain the bread and butter of the Universal Legacy Store; however, that doesn't mean that a goodly number of vintage attractions aren't represented, as well. Look for mini-sections devoted to Jaws, E.T. Adventure, Back to the Future: The Ride, and more sprinkled throughout the retail space. (There's even a Mold-a-Rama machine devoted to Jaws!)
What was the Universal Legacy Store's opening date?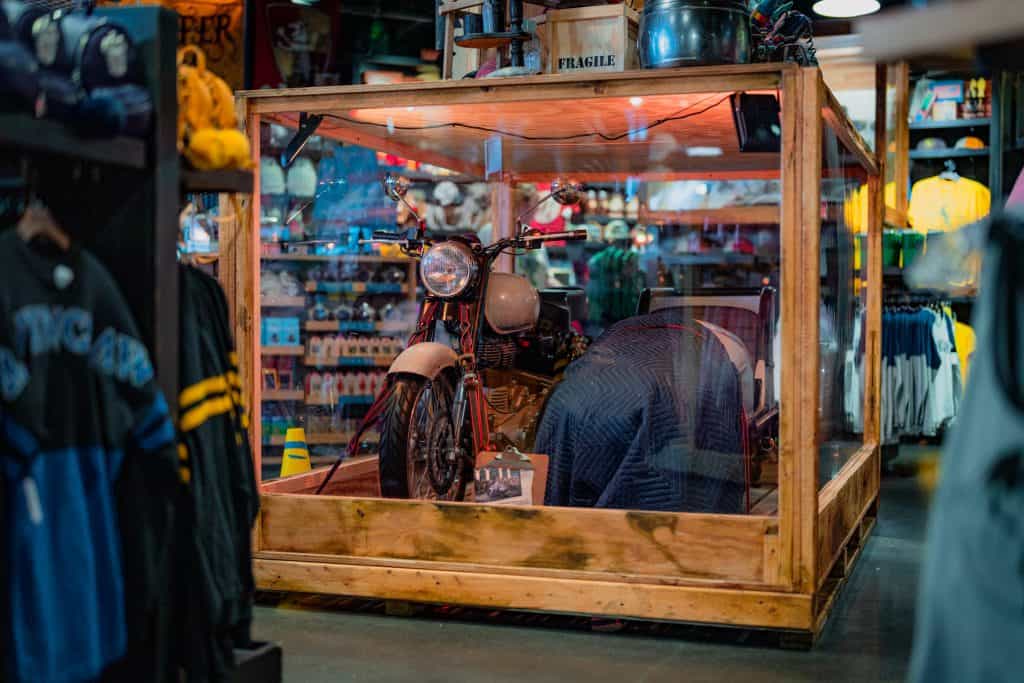 February 25, 2021 is the date when Universal started to transition the store from its old contents to its new ones; March 24 is the day when the new "Legacy" sign went up on the building's marquee.
Universal Legacy Store – fun facts
To learn about this particular venue's history, including its major 2014 makeover when it was still the original Universal Studios Store, please see our complete write-up.
Universal Legacy Store – photo gallery
Real guest reviews of the Universal Legacy Store
Orlando Informer
Average rating:
0 reviews
Do you have a question about the information on this page or would you like to provide feedback? Please let us know by posting in our
Orlando Informer Community
on Facebook.