There was a time when exiting an attraction only to find a gift shop was more of a chore than a delightful surprise. To be sure, one of the best jokes on The Simpsons Ride is near the end of the experience, when Kang and Kodos appear and say, "Foolish Earthlings! Don't you know all rides must end near the gift shop?!" (It's just one of the reasons why the attraction has the best finale at Universal Orlando Resort.)
However, in the last few years, Universal has crafted a number of elaborately themed stores, attached to rides or otherwise, that are filled with unique and exclusive merchandise. Thanks to their hard work, guests are now more likely to find themselves browsing for a trinket to commemorate their experience rather than rushing to get back to the theme-park action as quickly as possible.
Let's take a look at some of the best gift shops that Universal Orlando has to offer. (Warning: your wallet may not escape these stores unscathed.)
5. The Super Silly Store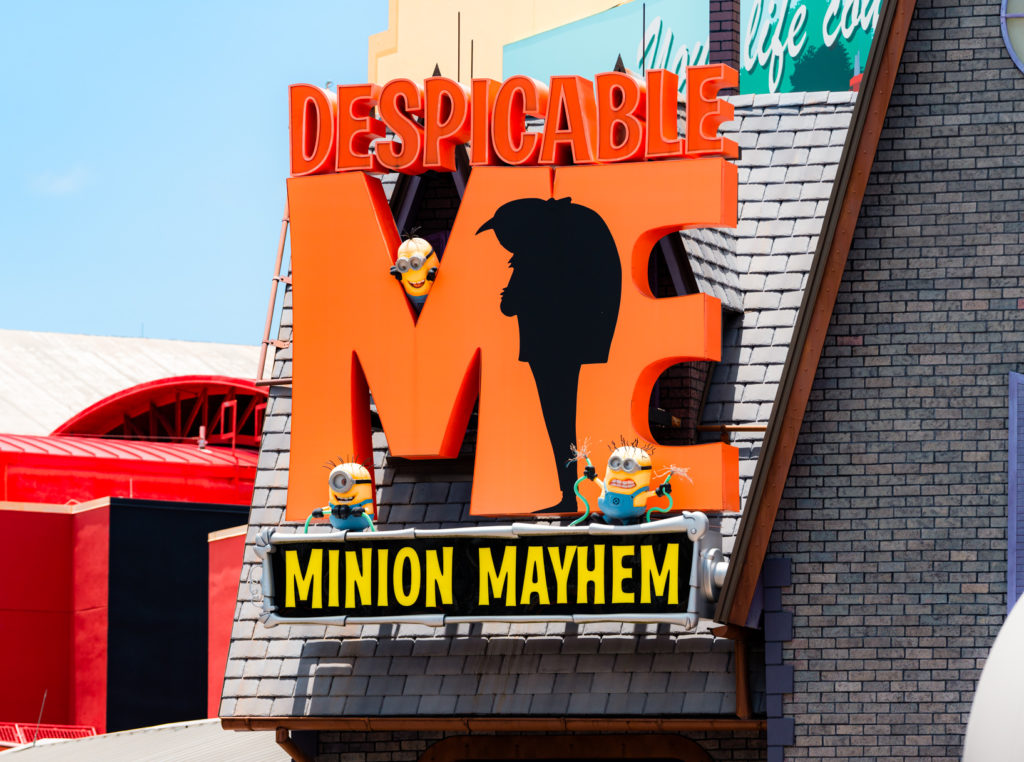 The Super Silly Store is everything the new generation of theme-park gift shops should strive to be. It seamlessly flows from Despicable Me Minion Mayhem to a fun dance party and then brings guests straight to the merchandise. The store is filled with items unique to the Despicable Me franchise – and this is a huge plus, because there's nothing worse than being in an attraction's gift shop and seeing the same generic merch that you can find in the rest of the park. You can pick up exclusive pieces, such as a Build-a-Minion toy, "Girl Scout" cookies like the ones that Margo, Edith, and Agnes sell in the first movie, and, even, a Mr. Gru plush doll that's a key component in the ride itself!
4. Honeydukes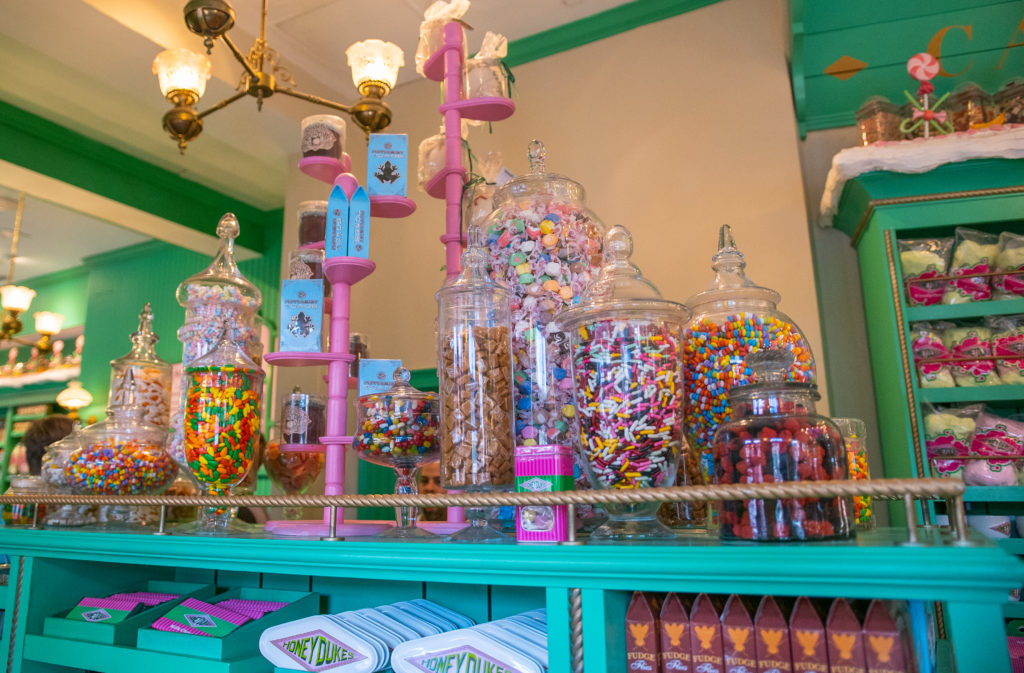 Every theme park has a sweet shop, but Honeydukes takes it to the next level.
Located in The Wizarding World of Harry Potter – Hogsmeade, this store offers authentic treats from the world of the Boy Who Lived. In fact, chocolate frogs may be one of the most perfect pieces of theme-park merch ever made – each box comes with a trading card representing some of the most famous witches and wizards throughout history, and all of the cards are exclusive to Universal. (On top of all of that, the chocolate frogs are delicious, too!)
But the selection doesn't stop at chocolate frogs; other treats straight out of the Potterverse can be found here, including Cauldron Cakes, Fizzing Whizbees, Peppermint Toads (a personal favorite), and Bertie Bott's Every-Flavour Beans. There are many other Honeydukes-branded sweets, too, such as chocolate wands and Dark Mark-shaped lollipops, as well as a refrigerated case filled with Pumpkin Juice. Time to get your snack on!
3. The Kwik-E-Mart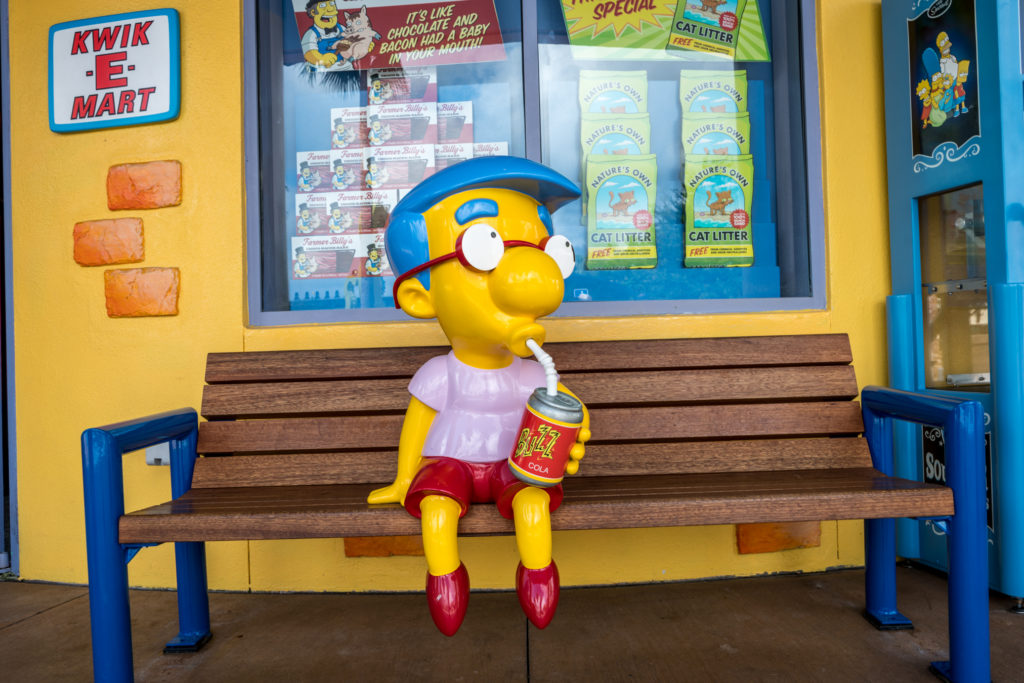 Everything about Springfield: Home of the Simpsons at Universal Studios Florida is themed to perfection, and the Kwik-E-Mart is no exception. With the same biting satire of the TV show, the store advertises fake products on the outside and is filled with laugh-out-loud funny items on the inside. For example, you can pick up fake theme-park posters like the ones seen on The Simpsons Ride's façade, including Captain Dinosaur's Pirate Rip-Off.
The only drawback of the Kwik-E-Mart is that it doesn't carry Squishees, the shop's signature beverage from The Simpsons, but don't worry – you can pick one up right outside at Duff Brewery. And don't forget to take a photo with Milhouse on the bench in front of the building!
2. SpongeBob StorePants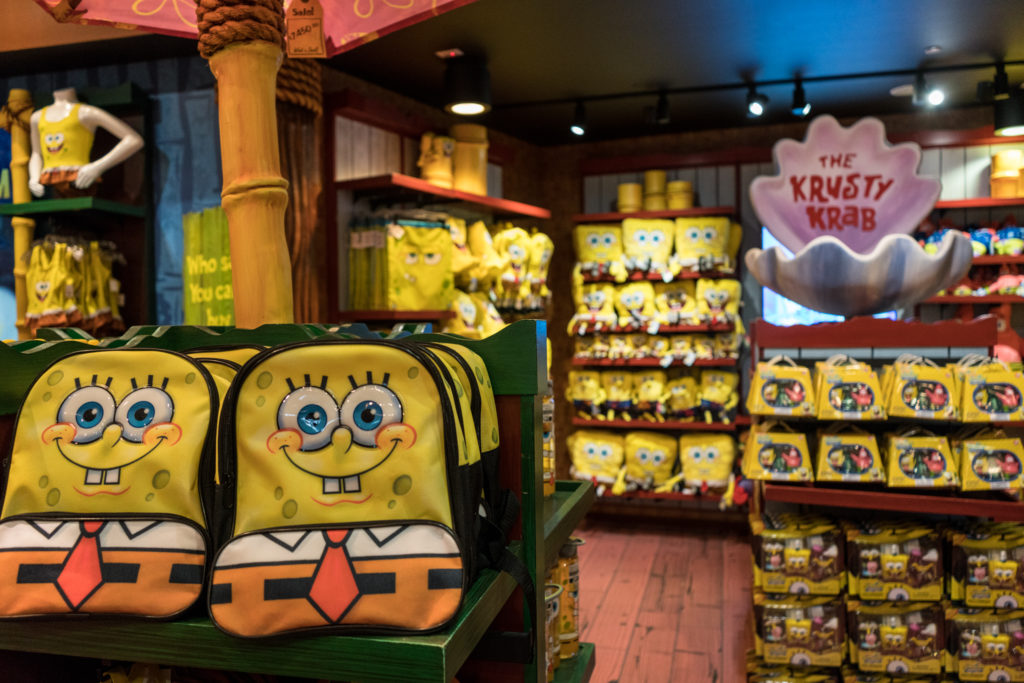 SpongeBob StorePants is highly interactive for a theme-park gift shop. Filled with family-friendly humor and inside jokes, the retail space has several areas for kids to explore while their parents shop. There's also an area to meet-'n'-greet with SpongeBob, Patrick, and Squidward. Like the Kwik-E-Mart, this store has a great sense of humor about itself, such as a poster advertising "The Krabs Policy," which includes a 300% restocking fee and threatens would-be shoplifters with a walk down the plank.

Personally, I would consider SpongeBob StorePants one of the only gift shops in any theme park worth checking out even if you have no interest in buying anything – it's so good, it's almost an attraction unto itself. (Fans of SpongeBob SquarePants should be sure to check out the interior of SpongeBob's pineapple home for a fun Easter egg and photo op!)
1. Islands of Adventure Trading Company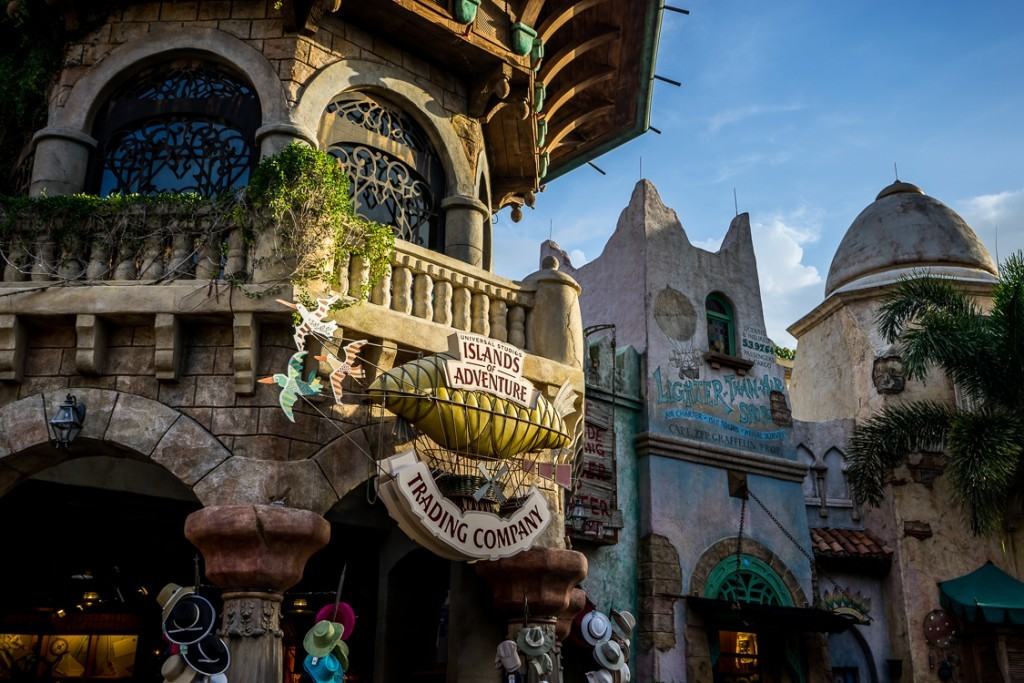 There's something to be said for the term "bigger is better," and this store is big. Located right in Islands of Adventure's Port of Entry, the Trading Company has an adventurous vibe and is filled with items that encompass pretty much every brand within both of Universal Orlando's theme parks: you can browse sections devoted to Harry Potter, Seuss, and Marvel, along with checking out a wide selection of Universal logo items.
Many people will miss the little details throughout the store – and some might even miss the huge details, like the dinosaur skeleton hanging from the ceiling – but everyone will appreciate the long walk through the air conditioning on a hot Florida afternoon. And even without the cool air, traveling through the Trading Company at the end of the day is like reliving a "greatest hits" package of your time in the parks.
Honorable mention: The Halloween Horror Nights Tribute Store
Since the Halloween Horror Nights Tribute Store isn't open outside of the fall, it doesn't quite qualify for my list proper – but it's still worth mentioning, because, for the part of the year that it does exist, it's easily the best gift shop on property. With multiple rooms that are themed to align with each year's event, the Tribute Store is an experience in and of itself. A trip to Horror Nights simply isn't complete without at least walking through and taking in all of the themed merchandise, decorations, and event Easter eggs!
With this year's Halloween Horror Nights canceled for the first time in the event's history, the Tribute Store is more important to HHN fans than ever. Currently, it boasts a room themed to Frankenstein's laboratory and Jack the Clown's circus, and there's additionally a yet-to-be-revealed third area. If you're like me and know you'll be missing HHN this year in a big way, you'll definitely want to stop by and soak up all the spooky goodness!
---
Did your favorite Universal Orlando gift shop make the list? Or do you prefer elsewhere for your theme-park shopping needs? Let us – and 100,000+ other Universal fans – know over at our Orlando Informer Community on Facebook.
And be sure to follow Orlando Informer on Facebook, Twitter, and Instagram for the latest news and tips at Universal Orlando, Walt Disney World, and other Orlando destinations.