Location
Marvel Super Hero Island
Restrictions and access
54 inches; loose articles must be stowed in free lockers across the walkway from the attraction's entrance (next to Cafe 4); has Express Pass access; also has a front row line.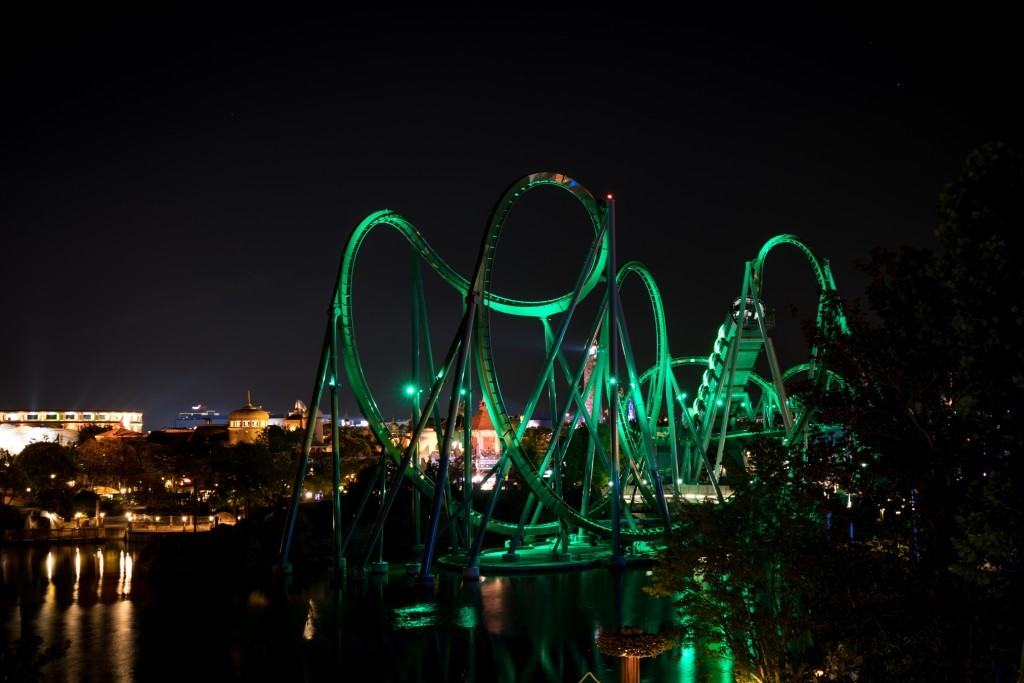 Two sentence insider summary
This high-speed rollercoaster is arguably the best coaster in Orlando. And, despite its menacing size, it is an extremely smooth ride that you will get pushed into doing once, but then want to do over and over again.
Fear factor
5 out of 5. This ride features seven inversions, a 110 foot cobra roll, a max speed at 67 MPH and produces 4Gs (which is the same amount of Gs that a Top Fuel drag racer experiences during launch). However, it is worth noting that most of the fear happens while you're anticipating the ride, not when you're actually on it!
Wait times

What you wish you knew before you experienced it
This one's bite is not nearly as bad as its bark. In addition, the coaster launches in front of the bridge leading from Port of Entry to Marvel Super Hero Island, further creating the illusion of immense speed and height. However, in the end, the smooth ride makes Incredible Hulk almost all thrills and surprisingly little fear.
OI fun facts
The launch takes you from zero to 40 mph in two seconds flat.
Hulk was featured in the 1999 film House on Haunted Hill. In the film, it took on the name Terror Incognita.
The track length of the Hulk Coaster track is 3,700ft and the ride time is 2 minutes and 15 seconds.
When it opened, the launch of the Hulk uses so much power, the City of Orlando wouldn't allow Universal to use their power, so Universal has onsite turbines that generate energy to propel the hulk coasters every 20 seconds.
Hulk underwent an 11 month makeover, reopening in August 2016 with an all new track, lighting package, on-board audio, and more.
The Incredible Hulk Coaster – HD video
The Incredible Hulk Coaster – photo gallery
The Incredible Hulk Coaster – real guest reviews
Average rating:
31 reviews
Jul 16, 2014
the incredible hulk coaster
great roller coaster, really enjoy the fast start out of the tunnel, is always a favorite and top rated roller coaster in the country,you have to ride it at least once in the front row, even if you are afraid of heights, you get shot out of the tunnel so fast you don't have time to have any fear
May 28, 2014
The Hulk
Date Of Last Visit:
July 2013
This ride is incredible. I'm a coaster enthusiast and this ranks way up there on the 'will definitely ride again' ride-o-meter.
May 26, 2014
HULK SMASH
Date Of Last Visit:
03/09/2014
This is my FIRST STOP when I come to Islands of Adventure!! I love rollercoasters! The sound that emits from this coaster is INCREDIBLE! I love sitting in the back row! My favourite part is when riders are launched out , like a pinball machine!
If you are NOT a rollercoaster person and gets sick easily, I wouldn't recommend this. Even for me, my head hurts a bit when I get off. But it's so worth it!!
May 26, 2014
Incrediblely Awesome
Date Of Last Visit:
September 2010
The Incredible Hulk Coaster is the smoothest, yet heart-pounding roller coaster in Island of Adventure. The beginning is my favorite part too where the acceleration is ridiculously rapid fast. It has everything that roller coaster enthusiasts love and enjoy about coasters in loops, corkscrews and speed. This is the 1st ride that I must get on every time I enter this park. It's usually the coaster I like to finish the day off with too. I can't get enough of the Incredible Hulk Coaster because it's mean, green and one gnarly machine!
May 25, 2014
Smashing
Date Of Last Visit:
April 2013
The Incredible Hulk Coaster is the first thing you see when you're through the entry gates and it makes a great big green impression. It's fast, it's loud, it's high. For true roller coaster fans, it's a must-do! And as always at USF, the queuing experience is also fitting with the theme.
The Incredible Hulk Coaster – map
Click any marker to display the attraction or venue name. To scroll or zoom, use the controls on the top-left of the map. You may also switch to different map views by using the buttons on the top-right of the map.
View OI's map of Universal's Islands of Adventure.