Skip to: Overview | Location | Restrictions | Fear factor | Fun fact | Guest reviews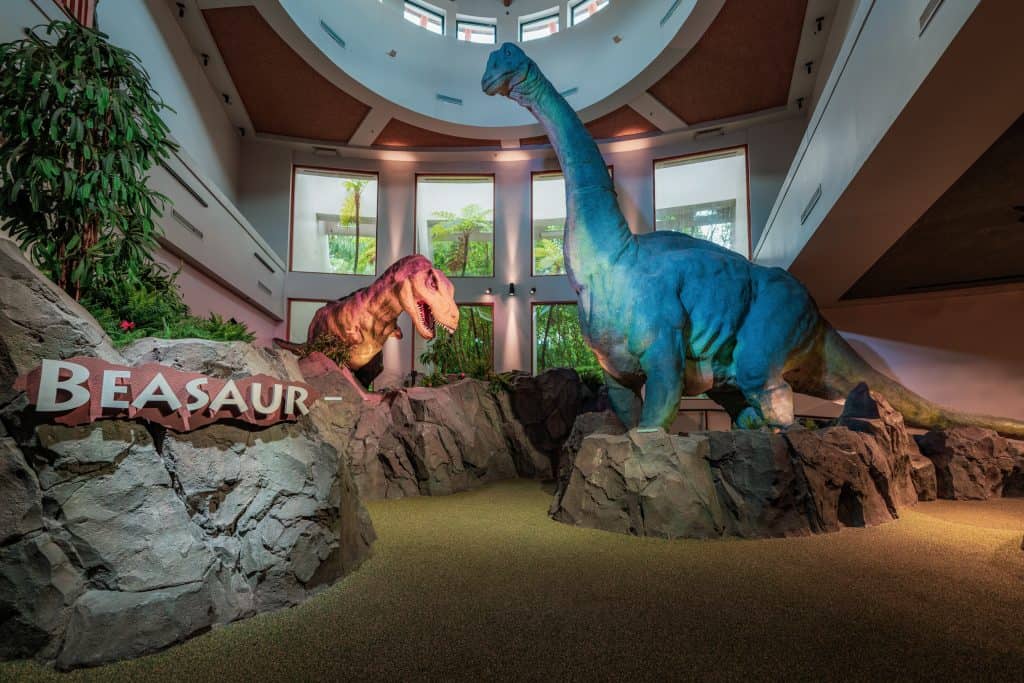 What is Jurassic Park Discovery Center?
This interactive play center features several areas where the family can learn about dinosaurs, participate in a dig, help with DNA sequencing, and, even, witness the birth of a baby velociraptor. The Discovery Center is hardly ever busy, making it a great (and air-conditioned!) spot to relax indoors for a bit and snap some cool photos.
Where is Jurassic Park Discovery Center located?
In Jurassic Park, which is in Islands of Adventure.
Jurassic Park Discovery Center – height restrictions and other factors
Since this is a walk-through attraction, there are no restrictions of any kind.
How scary is Jurassic Park Discovery Center?
We rate Jurassic Park Discovery Center zero out of five dinosaur game-show hosts in terms of fear factor. It's an interactive play area made expressly for kids!
What was Jurassic Park Discovery Center's opening date?
May 28, 1999
Jurassic Park Discovery Center – OI fun fact
During the COVID-19 pandemic, the Discovery Center has been closed – well, mostly. Universal decided to take advantage of the down time by installing a temporary Universal Orlando Annual Passholders' Lounge all throughout the bottom floor of the space, where annual passholders can go to relax and get a bite or drink.
We are pleased to announce that Discovery Center is open and fully operational. After the temporary installation of the Annual Passholders' lounge, the Discovery Center underwent minor updates and is now open to dino enthusiasts young and old.
Jurassic Park Discovery Center – photo gallery
Jurassic Park Discovery Center – real guest reviews
Jurassic Park Discovery Center
Average rating:
1 reviews
May 24, 2014
You are never too old for dinosaurs..
Date Of Last Visit:
January 2014
I have been coming to Universal Studios Orlando since I was four years old (I am now 19) and not a vacation has gone by that I have not ran excitedly towards the Jurassic Park Discovery Center. The Discovery Center is a great mix of both good ol' theme park fun and interactive learning. The outside of the Discovery Center plays homage to the main lobby from the Jurassic Movie. As you go inside the main entrance, to your right is a place to eat that has pretty good burgers but usually has a long wait on busy days. Then, to your left there is a gift shop that has all the Jurassic merchandise a kid (and adult) could want. The actual Discovery Center is down the stairs. There is all kinds of fun stuff to do! There is a wall filled with dinosaur bones where everyone can take a chance to find the bones of their favorite dinosaurs. Additionally, there are a million other interactive learning stations throughout the building including a game show which is always a must for my family, to see who knows the most about dinosaurs (I am still the reining champion!). Also, defiantly one of my favorites is the hatching of a baby dinosaur! Universal team members always make an announcement beforehand to make sure no one misses it. With a little science and maybe a little magic a baby dinosaur is born right before your eyes! P.S. Families need to include children in this experience.. they may be so lucky to name the little baby dino. I got to when I was little.. I named it Britney.. that is right I named a baby dinosaur after Britney Spears. Haha!

I only have one really negative thing to say about this place. From what I have noticed the building and pretty much everything in it has not been updated since the park opened.



Anyways, this discovery center is a great place for both children and adults to get away from the hustle and bustle outside and learn and experience something that is 65 million years in the making!
Do you have a question about the information on this page or would you like to provide feedback? Please let us know by posting in our
Orlando Informer Community
on Facebook.