Welcome, party people, to the biggest bash this side of the bayou! You've just found the world's most popular insider's guide to the biggest Mardi Gras celebration in Orlando.
Every spring, the fun and excitement of the Big Easy makes its way to Universal Orlando Resort for an authentic celebration that completely transforms Universal Studios Florida into a family-friendly version of the famed New Orleans street party.
To learn everything there is to know about Mardi Gras 2021 – most especially how this year differs from all the others, thanks to the COVID-19 pandemic – we strongly recommend that you read this guide from top to bottom.
Skip to: Overview | Concerts | Parade | Food and drinks | Tribute Store | Scavenger Hunt | FAQ
Mardi Gras 2021 – overview and explanation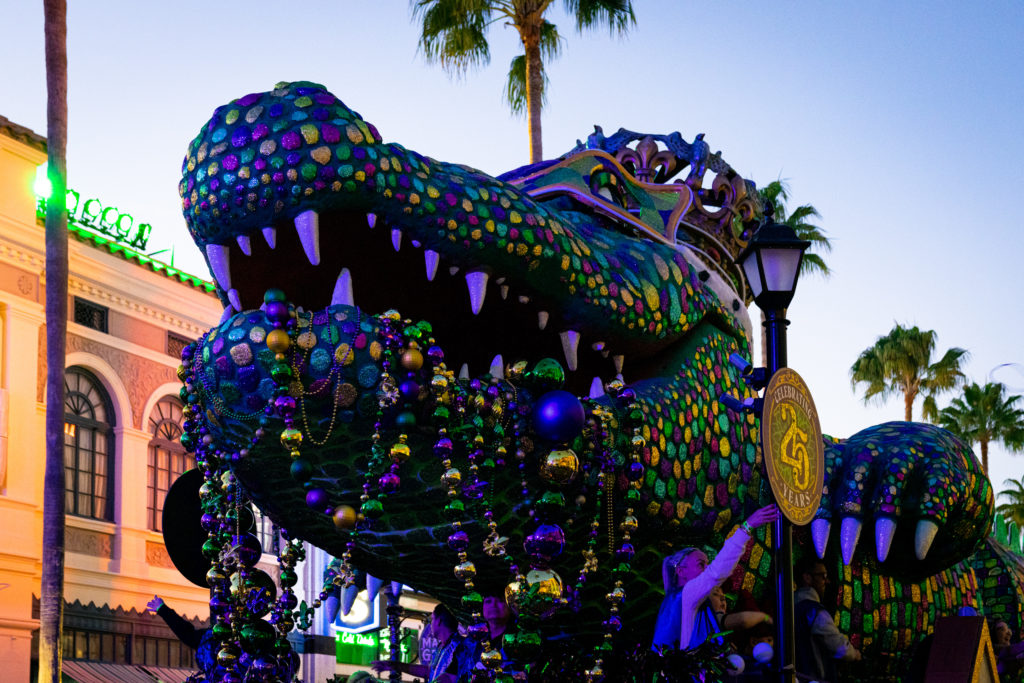 In some ways, Mardi Gras 2021 is the same as it's ever been, in all those pre-pandemic years; in other ways, however, it's quite different. We're going to tackle each of these differences one at a time, step by step, both here and in our exclusive food and drink guide.
The annual event runs daily from Saturday, February 6 through Sunday, March 28, ending about a week earlier than usual. All those colorfully costumed performers and authentic New Orleans bands that guests have come to know and love will be returning, but the two crowd-favorite components of the Mardi Gras parade and weekly headliner concerts have been nixed – though the former does have a type of replacement experience lined up.
To fill the void – and to double down on an element that has, in recent years, clearly come to be one of the most beloved at Universal's festivities – the company has greatly expanded its lineup of delicious Cajun cuisine, broadening it to include carnavals from all over the world and locations all over Universal Studios Florida (instead of having it be mostly confined to the French Quarter Courtyard in the New York backlot). The event has even been given an official subtitle for the very first time, acknowledging this new gastronomical status quo: International Flavors of Carnaval.
What about admission?
Here's the best part about the Big Easy party – it's completely free! As long as you have a ticket to get through the theme-park turnstiles on a Mardi Gras event date, you have access to everything, from the music to the food.
What about the weather?
Concerned about the weather the night you plan on getting some beads? Check out our Orlando weather page to learn more and be fully prepared for your visit.
Mardi Gras 2021 – concerts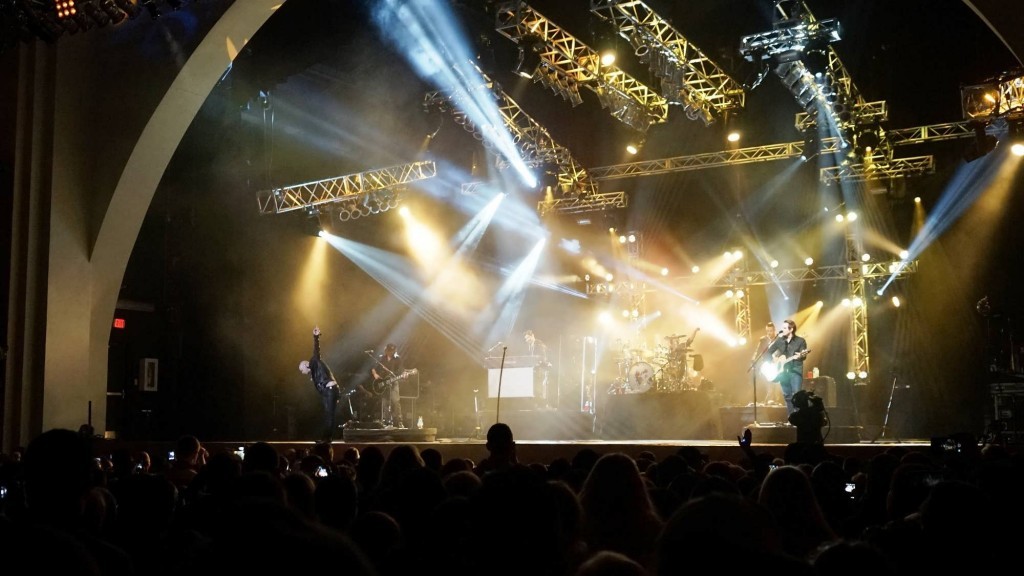 Music constitutes such a big part of New Orleans's Mardi Gras traditions, and, ordinarily, it's no different at Universal Orlando. For 2021, however, big crowds are to be avoided, given the still-ubiquitous presence of the coronavirus; as such, all of the concerts have been cancelled.
But if you're still looking for some music to lift up your spirits as you watch the stilt walkers go by and as you down some more of that King Cake, worry not! Universal will still have roving big-brass bands moving along the streets of Universal Studios Florida, creating the soundtrack of your stay.
Mardi Gras 2021 – parade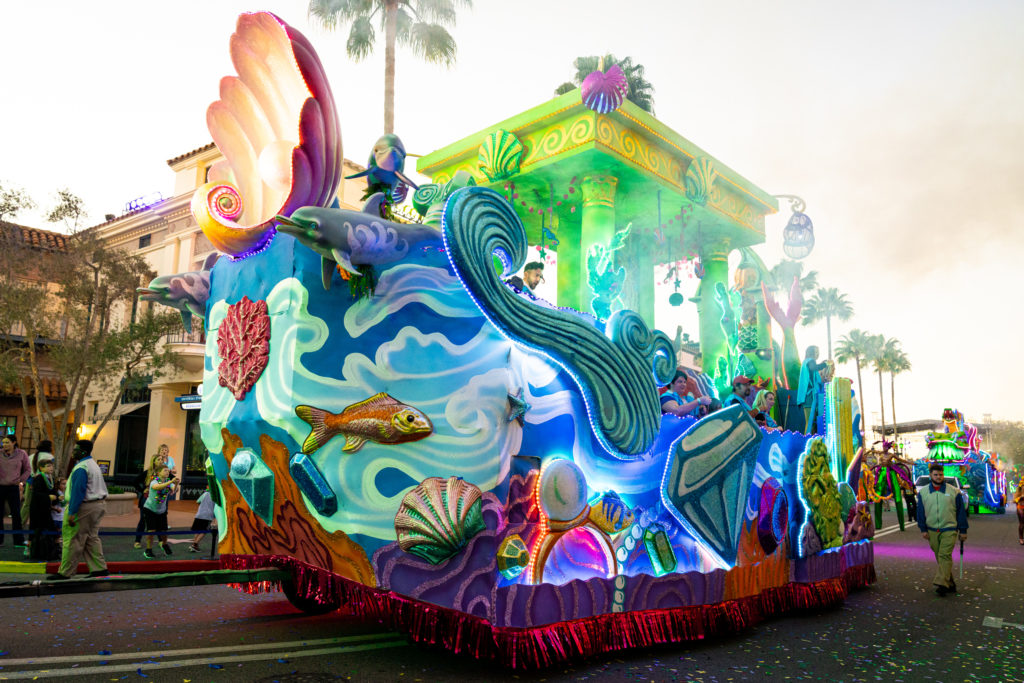 Alas, that other headlining element of Universal's Mardi Gras, the parade, has likewise gone the way of the weekly concerts, given that health mandate of maintaining six feet of distance between groups of individuals.
To fill that void, Universal is taking something of a page out of its recent Holiday Experience Featuring Macy's Balloons, which saw a number of the floats from the traditional Holiday Parade be laid out in a soundstage for guests to peruse at a leisurely pace (with the occasional Christmas character still on-hand, as well). For Mardi Gras, the parade floats will be situated all throughout the park as opposed to within one (giant) building, and a number of performers, stilt walkers, and dancers will likewise be making their way around them (along with those mobile musicians, of course) as they make their laps around the park.
Even more intriguingly, Universal has mentioned that not only will a number of the classic floats from years past be deployed, so will a "fleet of Pirate Treasure-themed" ones – were these the new items fashioned by Kern Studios, the company that has been building floats for the New Orleans parades since 1947 and that has reliably turned out custom creations for Universal Orlando each and every year? (You can read more about the Mardi Gras parade replacement in our devoted guide.)
There will also be a brand-new place to sit back, relax, and enjoy some of these floats – the Music Plaza Stage area, which will be festooned with three of the parade units and tables for lounging and eating.
Speaking of which…
Mardi Gras 2021 – food and drinks
Even more than ever before, Universal's annual event features an array of delicious "N'awlins-style food and spirits," including over 70 dishes and drinks from 13 different carnaval countries or cities.
It's so much, in fact, we have a whole guide devoted just to it. You can find the complete insider's guide to Mardi Gras's exclusive food and drinks here.
Mardi Gras 2021 – Tribute Store
For only the second time, Universal is applying the Tribute Store template to Mardi Gras! This is not only a reflection of the element's growing importance across nearly all of Universal Orlando Resort's annual events, it also provides another great opportunity for a fully themed, in-depth experience.
For those unfamiliar, Tribute started off life as a part of Halloween Horror Nights 2015, instantly becoming a fan-favorite – and, therefore, a perennial – part of the event (which is Universal's biggest, and the one that Mardi Gras seems to inch more closely towards with every passing year). Traditionally placed right next to Revenge of the Mummy in the New York backlot, it has grown in size and sophistication over the years; in addition to housing a veritable avalanche of HHN-themed goodies, it has also become something of a themed experience unto itself, containing lots of scenes or Easter eggs from one attached property or another (three of the rooms in 2020's Halloween Tribute Store, for example, were themed to Frankenstein's Monster, Jack the Clown, and Beetlejuice).
The Mardi Gras Tribute Store continues to be no different. Last year's three rooms were devoted to a small French Quarter jazz parlor, Lafayette Cemetery No. 1, and a bayou; this year, using descriptions directly from Universal itself, we're getting:
A hopping jazz parlor straight out of the 1920s, with dueling pianos and bellowing brass
A flower-filled nautical cemetery, where many sea captains were laid to rest
A waterfront warehouse, where all manner of smuggled treasures and trinkets are stashed
If these contents are anything like 2020's, they will all be highly detailed and utilize sound and smell effects in addition to visual cues in order to create a highly immersive experience – the perfect environment in which to buy some exclusive merchandise and take advantage of the specially arranged photo ops.
But the biggest news on this front is that Mardi Gras 2021's Tribute will continue the trend that was begun by Halloween 2020's and continued by Holidays 2020's – the presence of pastries, treats, and other types of baked goods. Given how much fun this proved to be last year, we're more than excited to see what this spring has in store.
(You can read all about Tribute's history here.)
Mardi Gras Tribute Store – photo gallery
Enjoy this look at last year's Mardi Gras Tribute Store before this year's opens.
Mardi Gras 2021 – Scavenger Hunt
It turns out the Tribute Store isn't the only annual-event item that's being deployed year-round now.
After starting with the Holiday Tree Hunt in 2019 and then proceeding to the Scarecrow Stalk in '20, Universal's scavenger hunt will be making the transition to Mardi Gras for 2021. While no details are available just yet, it's safe to assume that it'll be the same basic concept as in those previous showings: trot out to different places across Universal Orlando Resort, get your map stamped, and then turn it in at the end for some sort of prize.
Mardi Gras 2021 – FAQ
Let the good times roll with these answers to your questions about Universal Studios Florida's Mardi Gras bash.
Is Mardi Gras at Universal Studios Florida appropriate for young kids?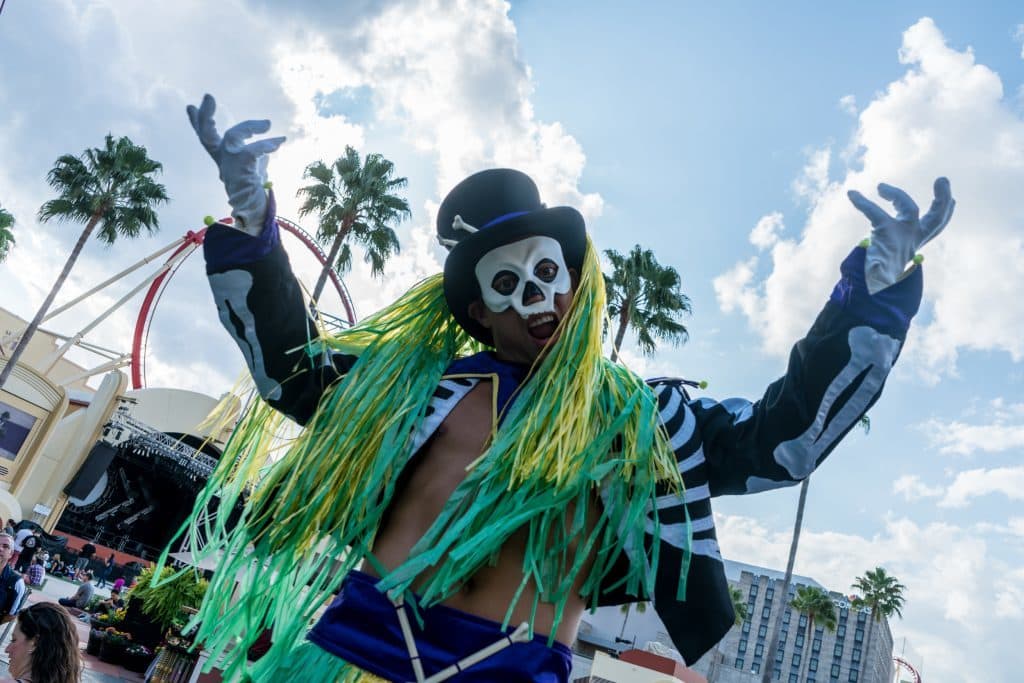 In a word, yes. Everything is totally kid-friendly, and we definitely recommend bringing along everyone in the family. Many Mardi Gras "characters" walk the streets, handing out beads and posing for photos. Mixed with the New Orleans party music filling the air, it's a very festive atmosphere.
I need beads, beads, and more beads, please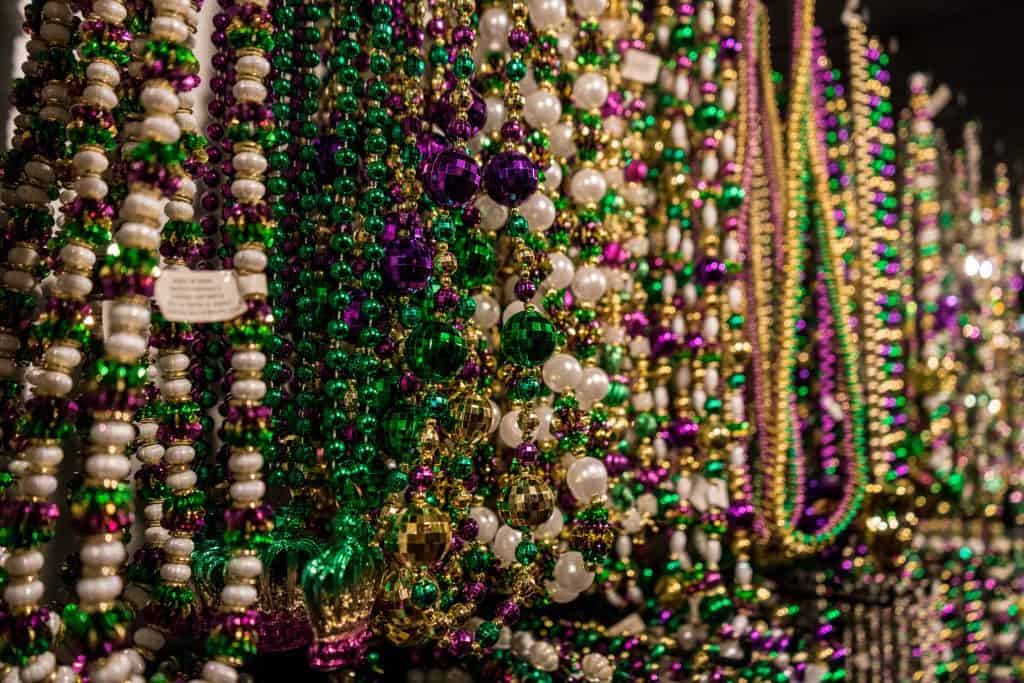 Beads are the central icon of Mardi Gras, and don't you worry – you'll be able to collect them 'til your little heart's content. And, even better, the vast majority of these quintessential items are absolutely free to you.
How do you collect beads? This year, there seems to be just the one way: by meeting-and-greeting with the Mardi Gras "characters" that will be walking the streets (though sometimes they'll make you earn your beads, such as by dancing with them).
And in case the standard-issue beads just aren't to your liking, Universal also sells specialty ones (for $3.99) at the main Universal Studios Florida gift shop and at two merchandise stands: one across from Race Through New York Starring Jimmy Fallon and the other across from Fast & Furious – Supercharged.
Are there any benefits for annual passholders?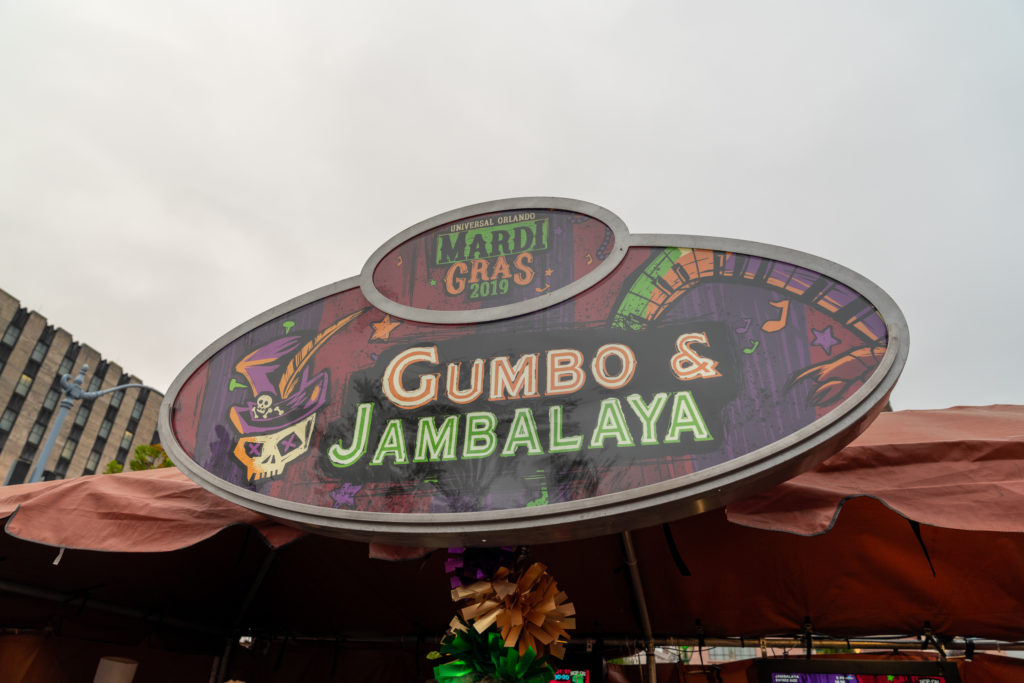 Yes, there are, though there aren't quite as many as normal years, given the lack of the Mardi Gras Parade. Still, there's the discount at the food tents (10% for Preferred and 15% for Premier) and, usually, the exclusive access to the food tents at the very beginning of the event, which we'll need to confirm is still happening for 2021.
(Need some more info or explanations on what all these various levels of Universal Orlando's annual passes are? No problem – check out our complete guide to annual passes.)
Do you have a question about the information on this page, would like to provide feedback, or did you spot an inaccuracy? Please let us know by posting in our
Orlando Informer Community
on Facebook.
Universal Orlando Resort » Events