Welcome, party people, to the biggest bash this side of the bayou! You've just found the world's most popular insider's guide to the biggest Mardi Gras celebration in Orlando.
Every spring, the fun and excitement of the Big Easy makes its way to Universal Orlando Resort for an authentic celebration that completely transforms Universal Studios Florida into a family-friendly version of the famed New Orleans street party.
To learn everything there is to know about Mardi Gras 2020 – from the food in the French Quarter Courtyard to how you can sign up to ride a parade float – we strongly recommend that you read this guide from top to bottom.
Skip to: Overview | Concerts | Parade | French Quarter Courtyard | Food and drinks | Add-on experiences | FAQ | Photo galleries
Mardi Gras 2020 – overview and explanation
From Saturday, February 1 to Thursday, April 2, 2020 (which is approximately the same length of time as 2019's event), Universal Orlando's Mardi Gras celebration combines unparalleled theme-park entertainment with an elaborate Mardi Gras parade, dozens of colorfully-costumed performers, authentic New Orleans bands, and delicious Cajun cuisine (the last two of which can be found in the French Quarter Courtyard). On select nights, there's even live concerts by nationally- and internationally-recognized recording artists.
It used to be that the parade and food vendors were relegated to specific nights only (typically on the weekends). Fortunately, Universal changed that starting in 2017; now, guests can get fully into the Big Easy swing every single night of the event's two-month-long run.
What about admission?
Here's the best part about the whole set of festivities — they're completely free! As long as you have a ticket to get through the Universal Studios Florida turnstiles on a Mardi Gras event date, you have access to everything, from the concerts to the parade to the French Quarter Courtyard.
What about the weather?
Concerned about the weather the night you plan on getting some beads? Check out our Orlando weather page to learn more and be fully prepared for your visit.
Mardi Gras 2020 – concerts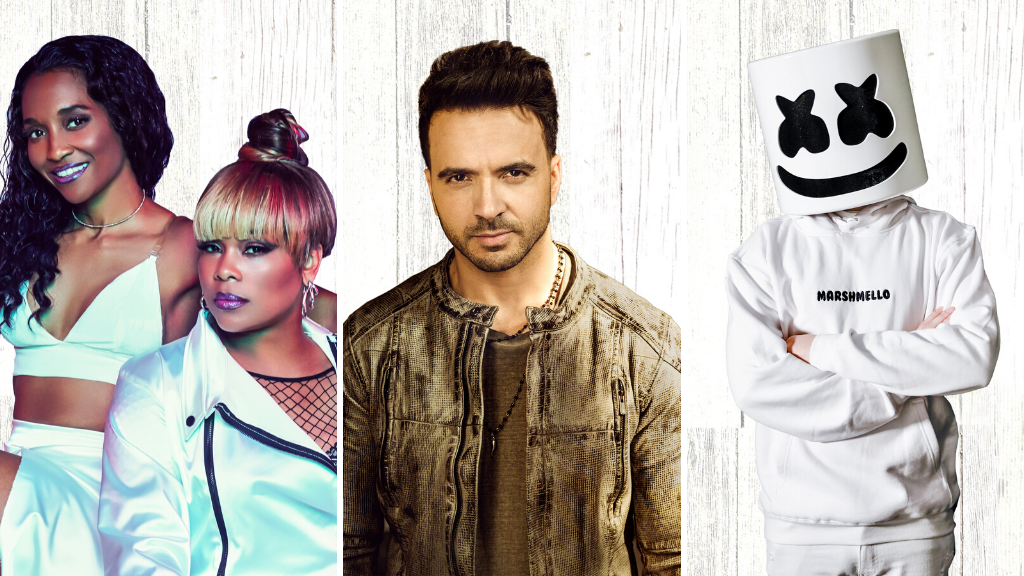 Music constitutes such a big part of New Orleans's Mardi Gras traditions, and it's no different at Universal Orlando – in fact, the concerts are easily the most popular part of the resort's annual celebration.
The concerts this year all begin at 8:30 pm, not too long after that night's parade wraps up (you can see below for a full list of the parade start times, but we can tell you right now that it starts at 7:45 on concert nights). You should double-check the park map for all times that evening, however, just to be safe.
What is this year's concert lineup?
Here is the full roster of the musical acts that will be descending upon Universal Studios Florida for Mardi Gras 2020. (Please note that dates that appear in bold are either Fridays or Sundays; all the others are Saturdays.)
Saturday, February 1: The Roots (official site, popular video, @TheRoots)
Saturday, February 8: Karol G (official site, popular video)
Saturday, February 15: Bell Biv DeVoe (official site, popular video, @OfficialBBD)
Sunday, February 16: Live (official site, popular video, @Freaks4Live)
Saturday, February 22: Kool & the Gang (official site, popular video, @KoolntheGngLIVE)
Saturday, February 29: TLC (official site, popular video, @OfficialTLC)
Saturday, March 7: REO Speedwagon (official site, popular video, @kcreospeedwagon)
Sunday, March 8: Dustin Lynch (official site, popular video, @dustinlynch)
Friday, March 13: Luis Fonsi (official site, popular video, @LuisFonsi)
Saturday, March 14: The All-American Rejects (official site, popular video, @therejects)
Sunday, March 15: Diana Ross (official site, popular video, @DianaRoss)
Friday, March 20: Chris Young (official site, popular video, @ChrisYoungMusic)
Saturday, March 21: Earth, Wind, & Fire (official site, popular video, @EarthWindFire)
Sunday, March 22: Marshmello (official site, popular video, @marshmellomusic)
Saturday, March 28: Why Don't We (official site, popular video, @whydontwemusic)
Sunday, March 29: Gavin DeGraw (official site, popular video, @GavinDeGraw)
How does concert seating work? How far in advance should I get there?
In order to talk about seating at the Mardi Gras concerts, we first have to say that there are actually no seats to be found; it's all general standing. The Universal Music Plaza is an open field, so to speak, so you get to watch the performance from wherever it is that you're standing when they start playing music. There is no VIP area to upgrade to, and there is no special viewing section to access, whether you have Express Passes or are staying on-site at one of Universal's hotels (though we should probably note right here that there is, indeed, an ADA viewing area, which is located in the middle of the Music Plaza and which is accessible via the side facing Race through New York Starring Jimmy Fallon. See the team members that are working the concert for assistance).
So, given all this, how early do you need to get there? If you want to be somewhat close to the stage, you need to get to the plaza at least two to six hours before the concert starts — the more popular the musical act, the earlier you need to get there. Saying that the area gets very crowded is a bit of an understatement — so if you just have to get good "seats" for a particular band, plan on skipping that night's parade and waiting in line instead.
(Crowd levels will also be influenced by spring break, so you will want to review our Universal Orlando crowd calendar.)
Front-row alert: want to see your favorite artist from the front row at Universal Music Plaza? There are no special requirements for this other than a willingness on your behalf to line up in the morning for an evening concert. These Matchbox Twenty fans, for instance, were lined up before 10:00 am to see their favorite band up close:
The line has started for the @MatchboxTwenty concert at @UniversalORL Mardi Gras tonight pic.twitter.com/Dyna6ixuIM (h/t @TopHatCharlie)

— Orlando Informer (@OrlandoInformer) March 16, 2013
Mardi Gras 2020 – parade
Universal's Mardi Gras parade is an elaborate affair, providing guests with the chance to dance along with street performers and collect beads by the handful as the colorful floats wind down the streets of Universal Studios Florida.
Each year, Universal adds a few new floats to its reportorie, replacing some of the older ones and thereby keeping the proceedings fresh and engaging. In 2015, for example, a "party" float was added to the lineup (and the crowd-favorite Gator and Riverboat floats were returned after a lengthy refurbishment period); 2016 saw four newcomers that celebrated different cultures and festivals from around the world (Venetian Carnival, Oktoberfest, Fourth of July, and Rio de Janeiro Carnival); in 2017, a massive six additions were trotted out, all based off of mythical creatures (Manticore's Majesty, The Rise of the Garuda, The Dance of the Dragon, Phoenix from the Flames, Garden Sprites, and The Flight of the Pegasus); six more brand-new floats were injected into the 2018 proceedings, with each being themed to the zodiac (Taurus, Virgo the Maiden, Scorpius, Andromeda, Orion the Hunter, and Orphiuchus); and, finally, six "party animals" got introduced in 2019 (including from arctic, jungle, ocean, and swamp environs).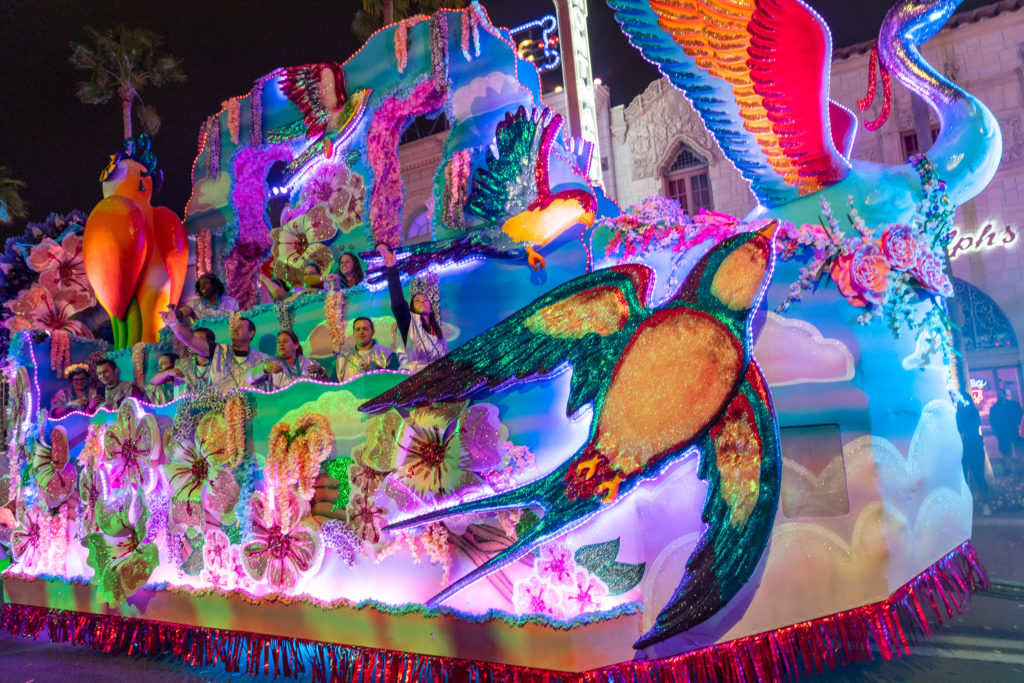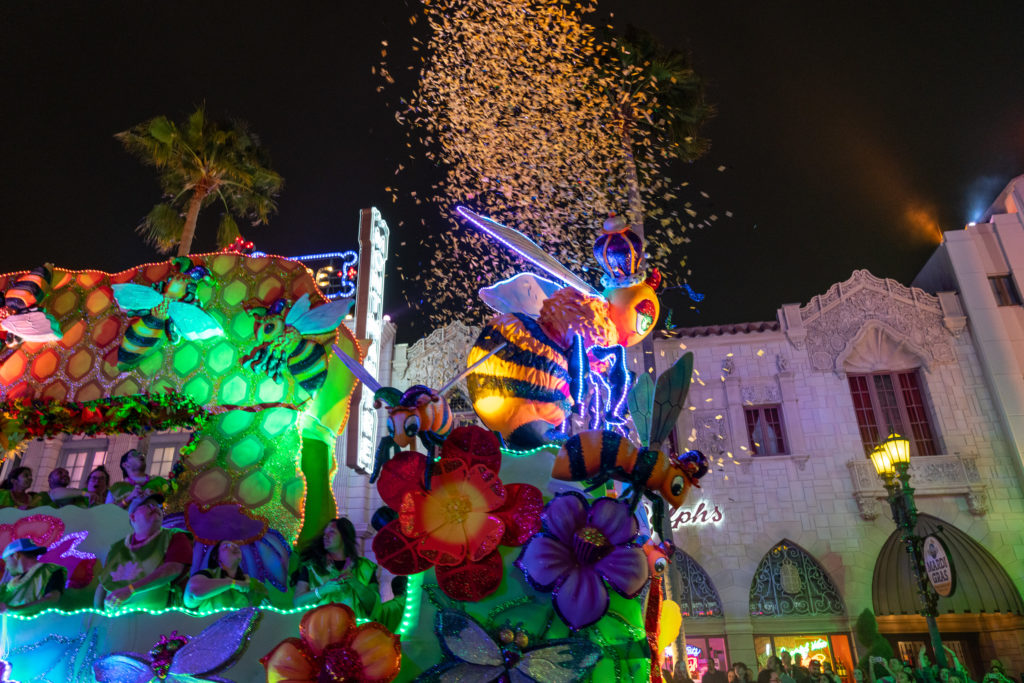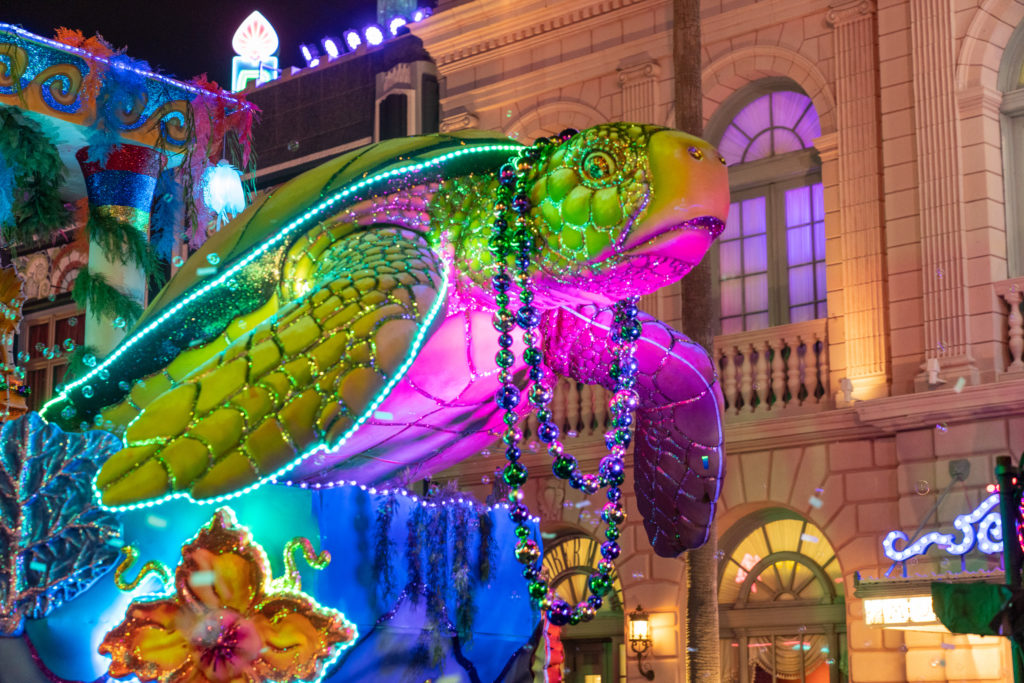 For 2020, we're getting "Treasures of the Deep" as the 25th anniversary theme, with each of the six new "intricately detailed" floats and its "vivacious" performers taking you on an adventure: expect to see (the mystical) Creatures of the Deep, a Treasure Map, the Sunken City of Atlantis, and, of course, a treasure-filled Shipwreck Island. And, once again, the fan-favorite King Gator and Riverboat floats will be returning, replete with anniversary regalia.
(Yes, Universal's parade floats are still being hand-crafted by Kern Studios, the company that has been creating Mardi Gras floats since 1947.)
Parade times
Here is a list of the parade times throughout 2020's run, for your convenience:
The parade starts at 6:00 pm on Feb. 2-7
It starts at 6:15 pm on Feb. 9-14, 17-21, 23-28, Mar. 1-6
It starts at 7:30 pm on Mar. 9-12, 16-19, 23-27, 30, 31, Apr. 1, 2
It starts at 7:45 pm on Feb. 1, 8, 15, 16, 22, 29, Mar. 7, 8, 13-15, 20-22, 28, 29
As a friendly reminder, the Mardi Gras parade is about 20 minutes in length, from beginning to end.
Where is the best place to watch the parade?
The Mardi Gras parade starts at the bottom of the map seen below, right next to the Horror Make-Up Show theater, and then it follows the purple line all the way around Universal Studios Florida, ending back where it began.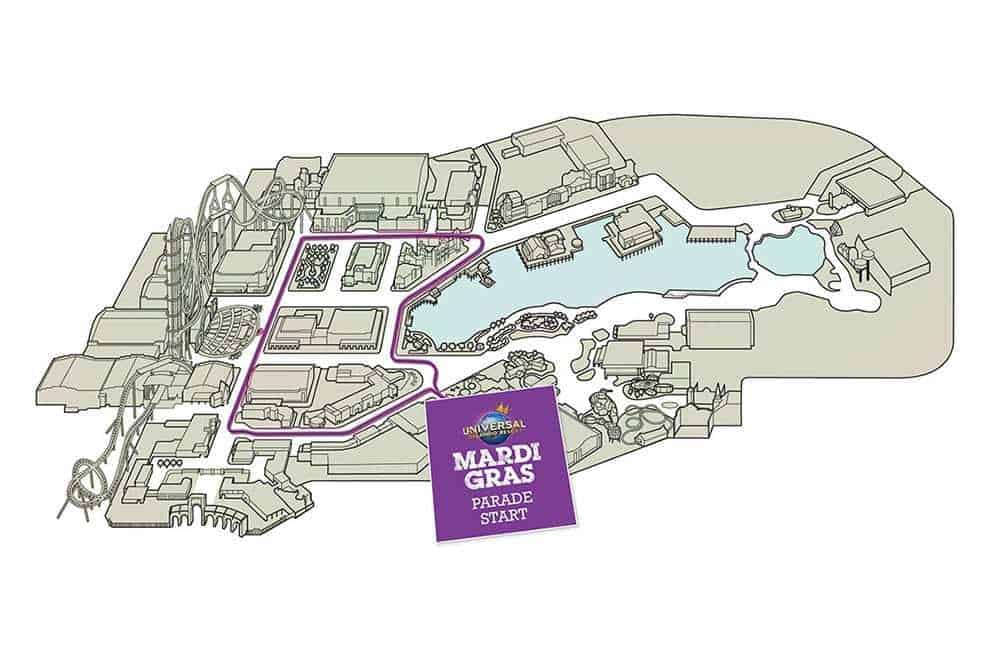 So, where's the best spot to watch the parade? For this event, it's more about finding a strategic area based on what you're most interested in:
I'd like to leave the park as quickly and as early as possible. Then you will want to line up along Hollywood Blvd, in front of the Brown Derby Hat Shop and where the Little Jester's parade viewing area is located. This will allow you to quickly exit Universal Studios after the parade has passed.
I'd like to have an opportunity to see the parade twice. In this case, you will want to line up in front of Mel's Drive-In, located on Hollywood Blvd. Because the parade's route has it beginning and ending at the same spot, anyone near Mel's will be able to see it twice.
I'd like the best spot for taking pictures. This is somewhat a matter of opinion. Nevertheless, based on our experience, lining up in the New York backlot near Finnegan's Bar & Grill or Louie's Italian Restaurant will get you the best pictures. We believe this is because the building facades along Delancey Street really help the parade floats look like they're traveling down a real city street, like you might actually see in New Orleans.
I'm going to the concert afterwards. If you want a good spot for the concert, you'll need to skip the parade altogether (as we've already discussed). But if you really want to see both, then for the parade you will want to line up in Production Central, basically as close as you can get to Universal Music Plaza.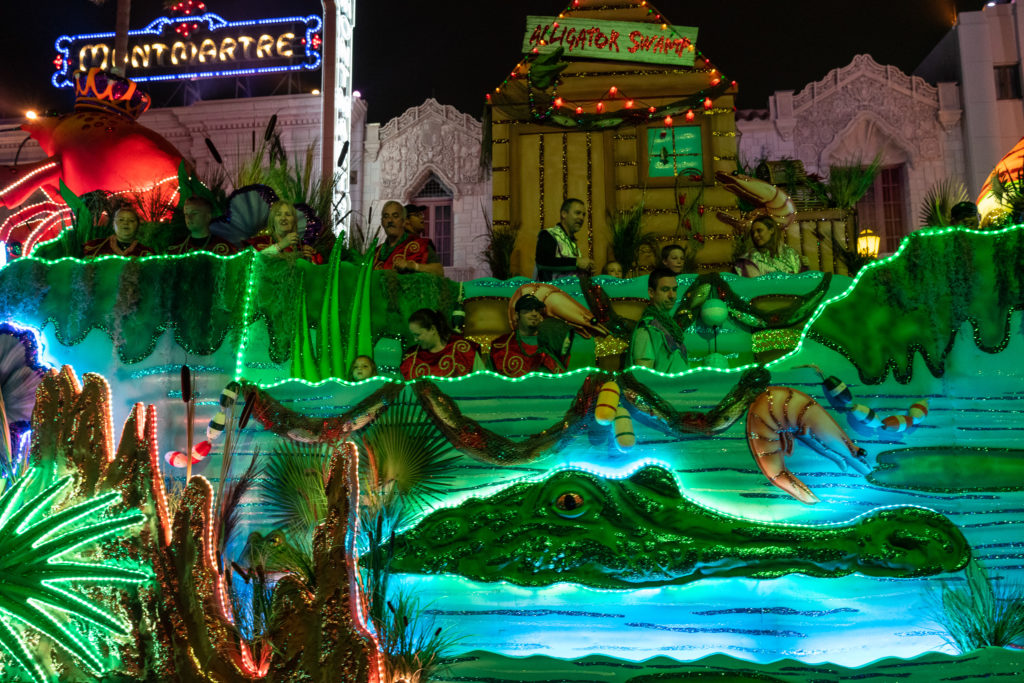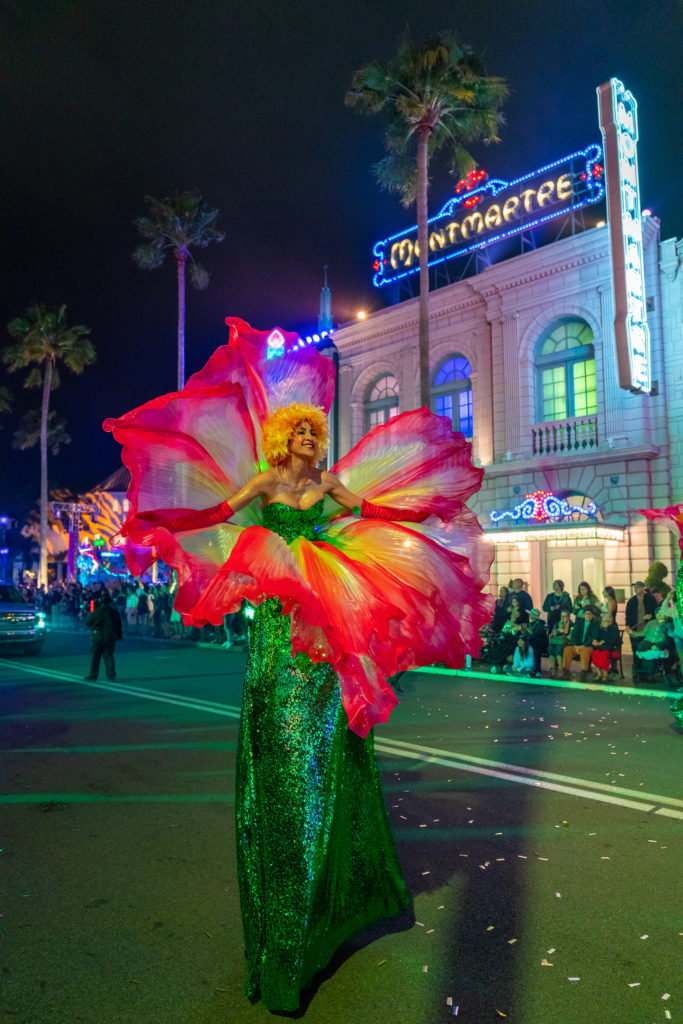 Because the Mardi Gras floats are mostly two-story, and because virtually all the street performers are on stilts, you don't lose much not being in the very front of the crowd. Of course, wherever you choose as your viewing area, being in the front of the crowd will give you the best shot at collecting beads and taking the least-obscured photos. To do this, choose your area based on the information above and get there 45 minutes to an hour before the parade start time.
Special parade-viewing areas
The Little Jester's viewing area for kids is located in front of the Brown Derby Hat Shop, near the very front of the park.
The ADA viewing area is in front of the Macy's facade in the New York backlot, right by Revenge of the Mummy.
The annual passholder viewing area is in front of Mel's Drive-In, right at the start of the parade.
How do I sign up to ride a Mardi Gras parade float?
Although, in the past, there were a few different ways that a guest could attempt to ride one of the colorful parade floats through the streets of Universal Studios Florida, tossing beads to thousands of cheering spectators, for 2020 there's just one:  you need to be an annual passholder.
There is a sign-up form that passholders can access, which formally requests a spot on one of the floats. Before we share the link with you, there are a few lines of fine print that you should be aware of first:
Space is limited, and signing up does not guarantee a spot
Must be 18 years of age (or accompanied by an adult)
Must be at least 48 inches tall
No bags or strollers
Floats can accommodate guests in push wheelchairs with advance notice
Got all that? Good! You're now free to sign up on Universal's form, which you can find here.
One last thing!
Once the parade starts going, it keeps going for the next 20 (or so) minutes – if you're on the wrong side of the route, you won't be able to cross it in order to leave Universal Studios Florida. Families (especially those with young children) should certainly make note of what time the parade starts that night and take pains to not get stuck in the park.
Mardi Gras 2020 – French Quarter Courtyard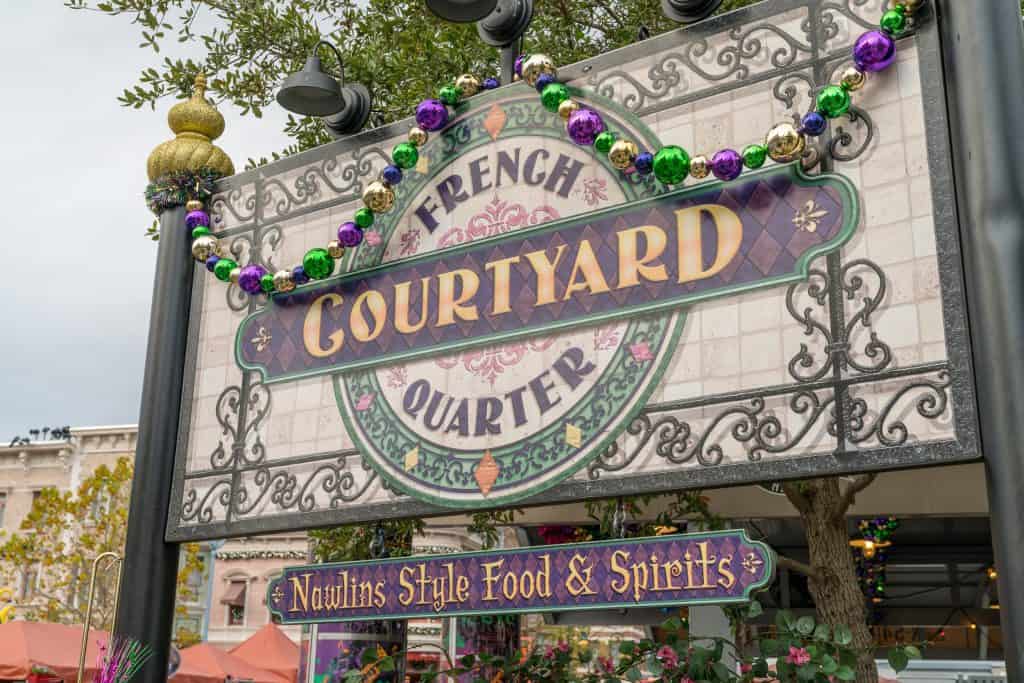 The heart of Universal's Mardi Gras is located, ironically enough, in New York. This section of Universal Studios Florida is where the French Quarter Courtyard can be found, which is home to "character" meet-'n-greets (that is, some of the colorful dancers that are part of the parade) and authentic New Orleans music.
Yes, that's right – guests can groove to the soulful sounds of real, live bayou bands "pulled straight from Bourbon Street" every night of the festivities. Since 2006, nearly two dozen musical groups have traveled straight from the Big Easy to Universal Orlando to perform blues, jazz, and zydeco music for party-goers, adding to the vibrancy of Universal's Mardi Gras celebration.
French Quarter Entertainment Lineup
This year, you can dance (and eat!) to the sounds of:
Feb. 1-13: Dirty Bourbon River Show
Feb. 14-29, Mar. 1-5: Free Agents Brass Band
Mar. 6-21: New Breed Brass Band
Mar. 22-31, Apr. 1, 2: Naughty Professor Brass Band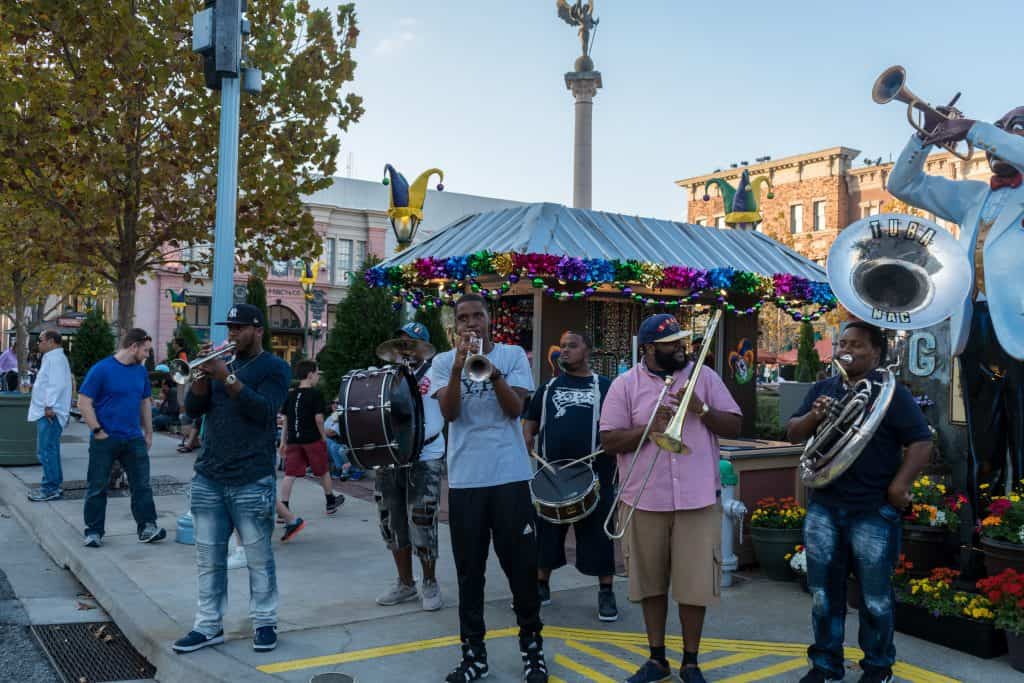 For 2020, Universal continues the tradition (which started back in '17) of having these bands perform on the street throughout the area instead of having them be perched on a small nearby stage.
But the real star of the French Quarter Courtyard is…
Mardi Gras 2020 – food and drinks
Universal's annual event features an array of delicious "N'awlins-style food and spirits" that, for just the second time, are mostly served up in tasting sizes (which goes a long way to alleviating the previous guest complaints that their stomachs couldn't keep pace with the delectable variety of treats being offered). And to make it easier to try out all of the various dishes, Universal once again has the Mardi Gras Tasting Lanyard on hand, which is actually something we'll need to cover in some depth first before getting on to the marvelous culinary lineup.
Mardi Gras Tasting Lanyard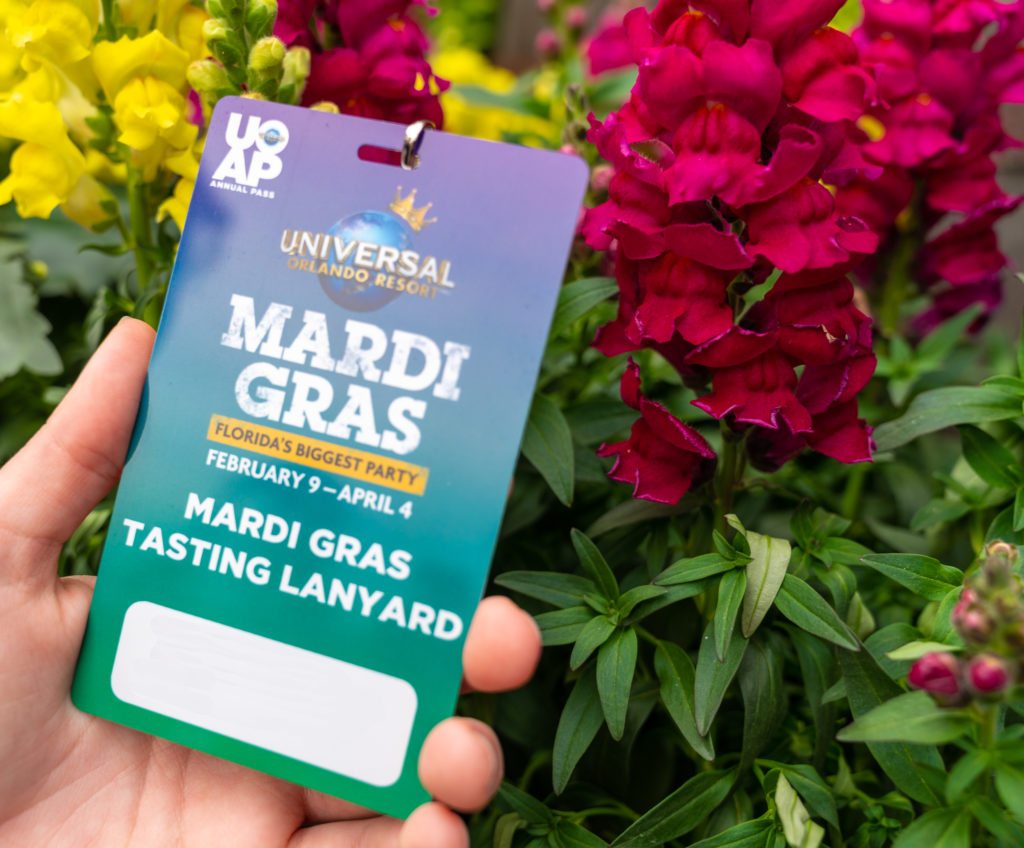 This lanyard allows guests to try out a number of different food and beverage tasting portions just for one flat price – with that price depending, of course, on how many entries the lanyard is good for:
Five items – $30 (or $6 per item) 2019 pricing
10 items – $50 ($5 per item) 2019 pricing
15 items – $60 (exclusive to annual passholders) ($4 per item)
These dishes and drinks can be found in the French Quarter tent area, with a special icon located next to their names on the various menus. However, as something of a bonus, Universal will also allow you to use your Tasting Lanyards on a couple of normal snack items that can be found all throughout Universal Studios Florida, Islands of Adventure, and CityWalk during normal park hours: soft pretzels, regular popcorn, and bottles of water. Choose wisely!
If you don't use up all of your credits by the end of the day, worry not – they don't expire, although, obviously, Mardi Gras comes to an end on April 2, and you would then be forced to use your lanyard only on the regular theme-park snacks. If, on the other hand, you do burn through your points and would like more tasting-size samples to munch on, you can reload your Tasting Lanyard at the same places you bought it in the first place: the French Quarter Courtyard, Universal Studios' Classic Monsters Cafe, the Bone Chillin' drink stand in front of the Cafe, and at the Reservation Cart, which is located at the entrance to the theme park.
The food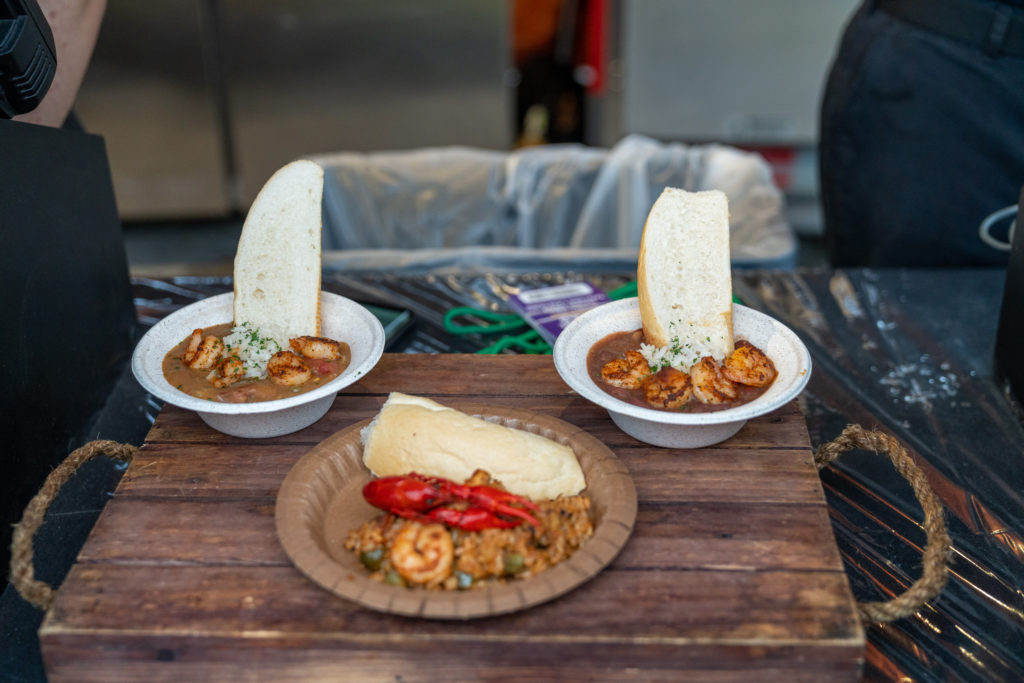 As has been the custom for many years now, a whole series of food tents comprise the bulk of Mardi Gras's offerings (which are open every night of the annual event, from 4:00 pm onward). But 2020 throws in an added wrinkle: the brand-new Carnival around the Universe tasting tent, where cuisine inspired by carnivals from throughout the world is on hand. And even more interestingly, Universal has promised that new menu items will be rolled out bi-weekly throughout the entire Mardi Gras run, which should encourage more repeat visits than ever before.
The only dishes confirmed for 2020's festivities thus far are gumbo, jambalaya, and po'boys.
Pro tip: if you're an annual passholder, be sure to use your pass for a discount off of your purchase at the food tents!
The drinks
No information for 2020 has been announced as of yet.
Mardi Gras 2020 – Add-on experiences
Just in case Mardi Gras was starting to look like Halloween Horror Nights a little too much, there's also a fair bit that's being imported from Universal's Holidays celebration, as well – and nowhere is this clearer than in all of the premium add-on experiences that are now tacked on to the event's run.
Bayou Boil
This two-part extra starts off with an all-you-can-eat Louisiana-style crawfish boil in Battery Park that features crawfish, shrimp, potatoes, corn on the cob, and, upon request, chicken and andouille sausage jambalaya, along with one alcoholic drink and unlimited soft drinks (sodas, sweet tea, lemonade, and water). Then, afterwards, guests are treated to an exclusive viewing area for the Mardi Gras parade in front of Cafe La Bamba that comes replete with unlimited desserts (namely, King Cake and beignets), sparkling wine, and non-alcoholic drinks. (Note that additional alcoholic beverages can be purchased during either portion of the event.)
When one adds in the meet-'n-greet element (Mardi Gras performers during the boil and various Universal characters at the parade viewing area) in addition to all of the food and drinks, the Bayou Boil is, hands down, a great value – and, in our opinion, a must-do experience. It is nothing short of a great enhancement to the overall Mardi Gras vibe.
The price is $59.99 for adults and $39.99 for children (ages three to nine), plus tax; Premier, Preferred, and Power Passholders get a 20% discount. Please note that the Bayou Boil is only available on the following nights:
Feb. 1, 8, 15, 16, 22, 29
Mar. 7, 8, 13-15, 20-22, 28, 29
And one final thing: even though there are multiple slots per evening, seating is still limited, which makes reservations highly recommended – just call 407-224-FOOD.
Mardi Gras Feast & Floats Dessert Party
This long-named add-on gives guests an exclusive viewing area for both of Universal Studios Florida's nightly spectacles during this time of year: the Mardi Gras parade and Universal Orlando's Cinematic Celebration nighttime show. For the former, participants will lounge at Cafe La Bamba and munch on specialty desserts, sparkling wine and cider, and non-alcoholic drinks; for the latter, they'll recline on blankets in the nighttime spectacular's VIP area (located in Central Park) and sip on non-alcoholic drinks.
The price is $49.99 for adults and $29.99 for children (ages three to nine), plus tax; Premier, Preferred, and Power Passholders get a 20% discount. Please note that the Mardi Gras Feast & Floats Dessert Party is only available on the following nights:
Mar. 9-12, 16-19, 23-27, 30, 31
Apr. 1, 2
Mardi Gras 2020 – FAQ
What – you still have questions about Universal Studios Florida's Mardi Gras bash? No problem – we've got the answers for you.
Do you have any tips or tricks?
Boy, do we:
Is Mardi Gras at Universal Studios Florida appropriate for young kids?
The French Quarter Courtyard, the pre-party, and the parade are well done and totally kid-friendly. We definitely recommend bringing along everyone in the family! Many Mardi Gras "characters" walk the streets near Universal Music Plaza and the French Quarter Courtyard, handing out beads and posing for photos. Mixed with the New Orleans party music filling the air, it's a very festive atmosphere.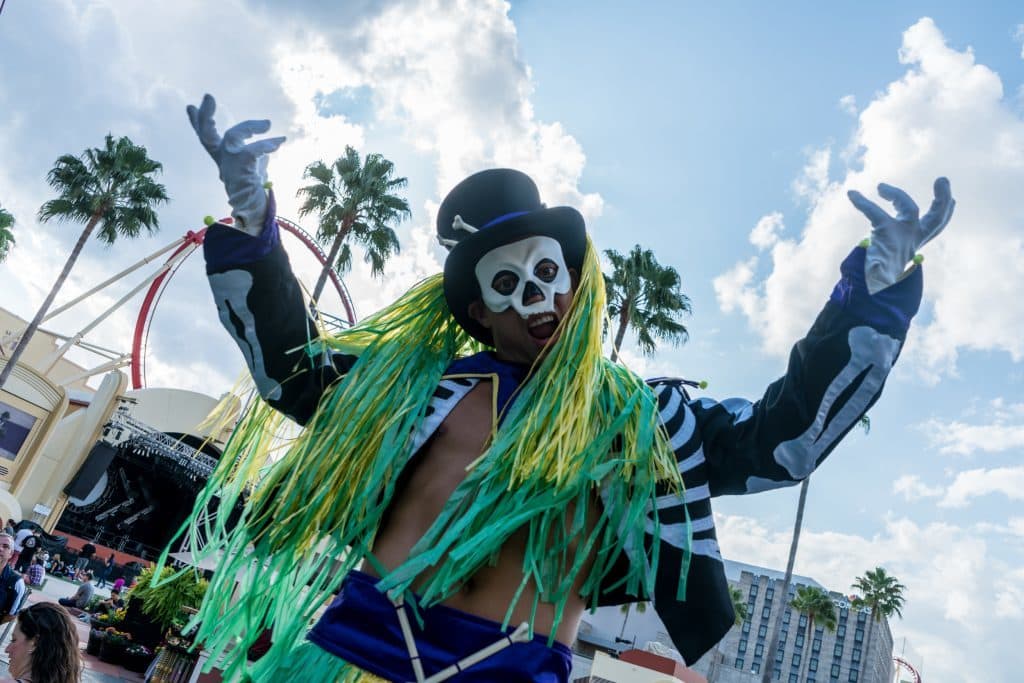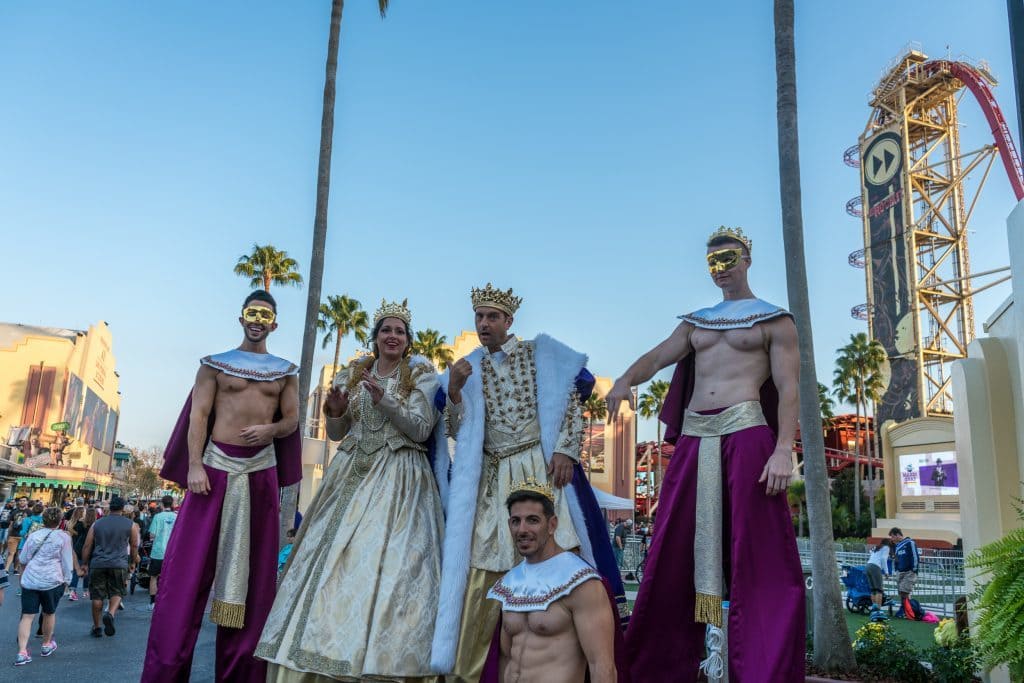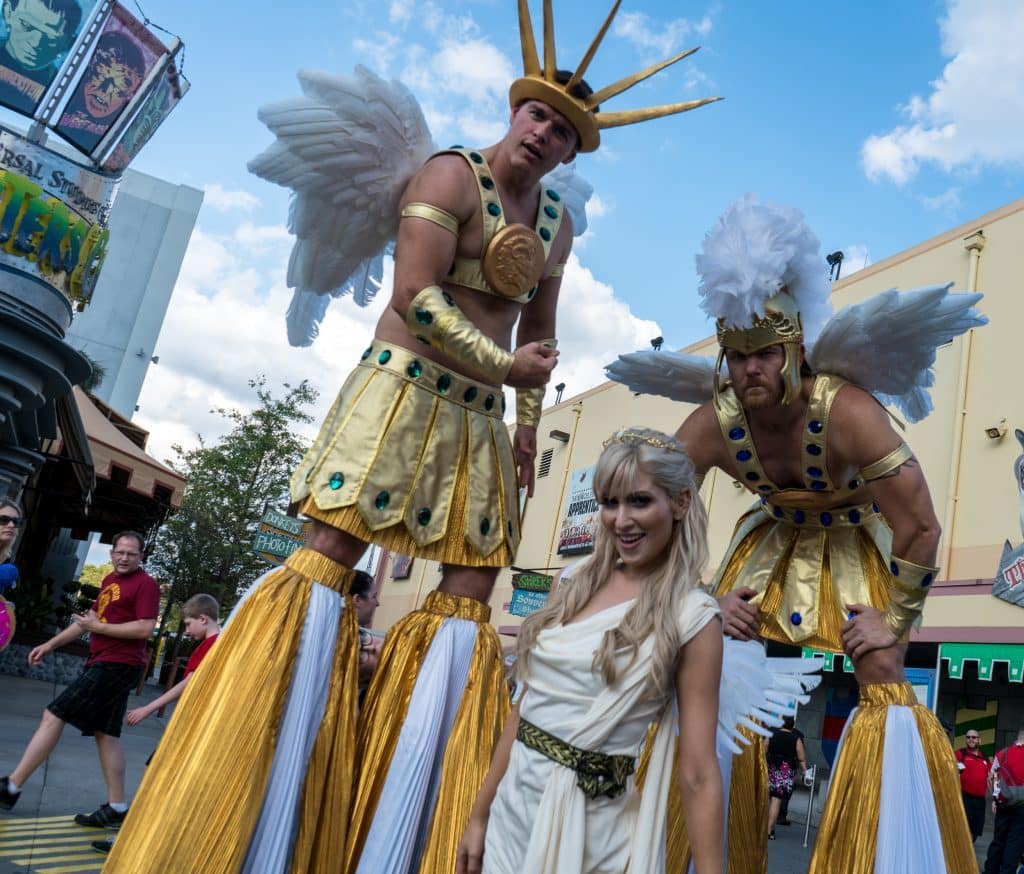 The part of Mardi Gras that may not be quite so family-friendly is the free concert on select nights after the parade. Universal is able to get some pretty big names to play, and since the concert is free to anyone who has admission to the park, they can get packed – and we mean packed. We wouldn't recommend bringing the kids around the Universal Music Plaza anytime towards the end of the night, unless you happen to be going when a decidedly unpopular or older band is playing.
Luckily, it's very easy to enjoy Mardi Gras's family-friendly party atmosphere and parade while steering clear of the Music Plaza. In fact, Universal has set up a special parade viewing area just for kids called Little Jester's – it's located in front of the Brown Derby Hat Shop, and it opens an hour before the parade starts. And, surely by design, Universal has put this special viewing area right next to the park exit, so you can easily leave with your kids once the parade passes.
I need beads, beads, and more beads, please
Beads are the central icon of Mardi Gras, and don't you worry – you'll be able to collect them 'til your little heart's content. And, even better, the vast majority of these quintessential items are absolutely free to you.
How do you collect beads? There are two central ways: by watching the parade (a number of employees and guests line the floats and fling the coveted items 'til their arms are sore and about to fall off) and by meeting-and-greeting with the Mardi Gras "characters" that line the streets by the Music Plaza and French Quarter Courtyard (though sometimes they'll make you earn your beads, such as by dancing with them).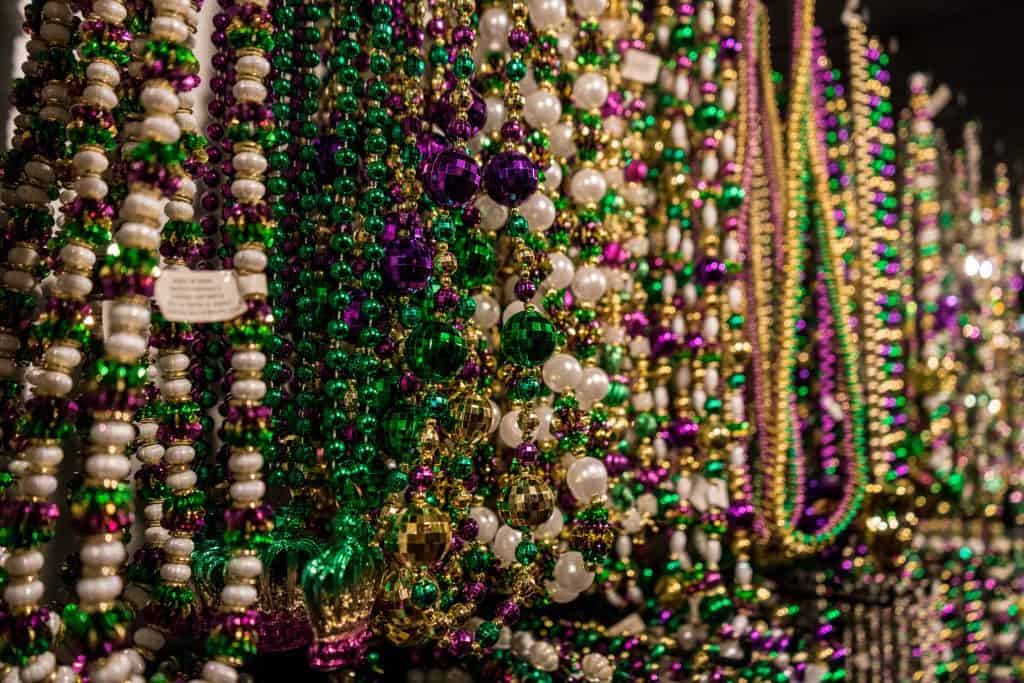 And in case the standard-issue beads just aren't to your liking, Universal also sells specialty ones (for $3.99) at the main Universal Studios Florida gift shop and at two merchandise stands: one across from Race through New York Starring Jimmy Fallon and the other across from Fast & Furious: Supercharged.
What about Universal's Superstar Parade?
Universal's Superstar parade, the daytime processional that similarly makes is way through Universal Studios Florida, continues to run daily during the Mardi Gras season. The only change to note is that, on Mardi Gras event dates, the parade is scheduled at 3:00 pm; on non-event dates, the parade runs at its usual time of 5:00 pm.
Are there any benefits for annual passholders?
Yes!
Annual passholders are eligible to sign up to ride the parade floats, get a special viewing area in front of Mel's Drive-In, receive a discount at the French Quarter food tents (10% for Preferred and 15% for Premier), and are granted exclusive admission to the food tents on Saturday, February 1 – the first day of the festivities – from 3:00 to 4:00 pm.
Finally, it should be noted that Seasonal Passholders aren't eligible to attend Mardi Gras concerts, as all of them fall under blackout dates.
(Need some more info or explanations on what all these various levels of Universal Orlando's annual passes are? No problem – check out our complete guide to annual passes.)
Mardi Gras 2019 – photo galleries
Below are our various photo galleries from Unviersal's Mardi Gras 2019.
Mardi Gras 2019 – pre-party photo gallery
Mardi Gras 2019 – parade photo gallery
Mardi Gras 2019 – concert photo gallery
We have an entire community of Universal fans discussing the event right now! When you're done here, join us for vacation planning and more in our Facebook community.
Universal Orlando Resort » Events