By day, Universal CityWalk is a family-friendly shopping, dining, and entertainment hub for guests looking to take a break from the thrill of the Universal Orlando parks. By night, the area is still relatively family-friendly, but it's also the place to go for those who want to dance (or drink) the night away. With five different clubs to choose from, each offering a unique atmosphere and style, there is more than enough opportunity to do so.
We've broken down each club below so you can plan the perfect night out, whether you're looking to be the next big karaoke star or just want to tear up the dance floor.
Skip to: Clubs at Universal CityWalk | CityWalk Party Pass | FAQ | Gallery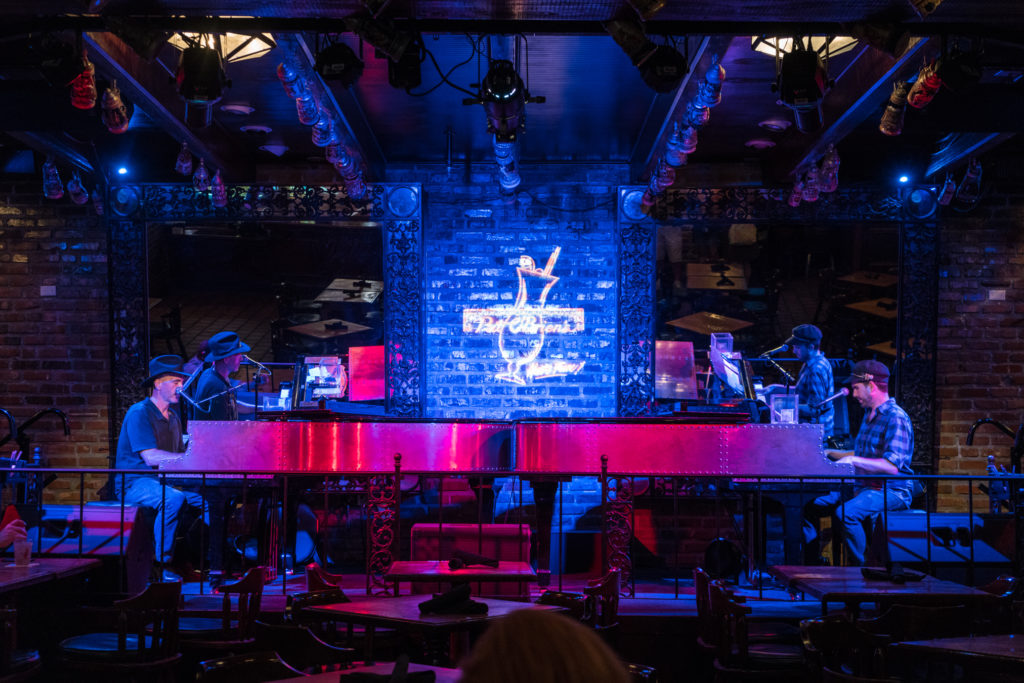 Clubs at Universal CityWalk
Bob Marley – A Tribute to Freedom
A full-service restaurant combined with a club, you can enjoy Jamaican-influenced cuisine and the smooth tunes of Bob Marley here. The location serves as a replica of Marley's Jamaican home, with special artifacts, black-and-white photos, and video monitors to take you through the journey of his life and career. The open-air courtyard features live reggae and a DJ beginning nightly at 8:00 pm.
As the resident karaoke bar at Universal Orlando, Rising Star offers guests the opportunity to belt out their favorite tunes for all their friends (and plenty of strangers) to hear. What sets this club apart is the inclusion of a live band and backup singers on Tuesday through Saturday evenings. (On Sunday and Monday, karaoke is still offered, but with a backing track instead.) Singing is as easy as dropping your name and song selection in a jar at the front of the stage; once the host picks your name, it's your time to shine! VIP service is available at this venue, as well.
An authentic reproduction of the famous New Orleans hot spot, this bar features dueling pianos (nightly from 5:00 pm to 2:00 am), a mesmerizing flaming fountain, and, of course, the Hurricane specialty drink. There's also a full menu that includes some of the very best Cajun food you can find east of the Big Easy. Even better, since the restaurant is tucked away in the back corner of CityWalk, you won't have to put up with many of the crowds that can be an issue at some of the more prominent venues.
This club combines Cuban flair and tiki chic for the ultimate blend of music and glamour. Dance floors are located on the first floor, while a more intimate dining area can be found upstairs. The outdoor patio also offers a fantastic view of CityWalk – especially at nighttime. On select nights, a live band performs covers of Top 40 hits, '80s favorites, and dance and Latin music from 8:00 pm to midnight, followed by a DJ from midnight to 2:00 am. Libations include signature martinis and an extensive selection of wines and specialty drinks. Like the groove and Rising Star, VIP service is available for those interested in an elevated experience.
Clubs at Universal CityWalk – FAQ
Are there age requirements to enter the CityWalk clubs?
For the most part, yes. Pat O'Brien's and Bob Marley–A Tribute to Freedom is open to guests of all ages, but the other two clubs have restrictions:
Red Coconut Club – must be 21+ with a valid ID to enter
Rising Star – all ages welcome Monday–Wednesday, 18+ to enter Thursday–Sunday
How much does it cost to enter a CityWalk club?
There are no current cover charges at CityWalk, but this is always subject to change. It's also worth noting that there's no additional charge to sing karaoke at Rising Star.
Do the CityWalk clubs have a dress code?
Pat O'Brien's, Bob Marley – A Tribute to Freedom, and CityWalk's Rising Star have no specific dress code. Red Coconut Club has a casual-chic dress code, although they make the extra request that guests refrain from wearing hats or tank tops.
Clubs at Universal CityWalk – photo gallery
Do you have a question about the information on this page or would you like to provide feedback? Please let us know by posting in our
Orlando Informer Community
on Facebook.