Skip to: Overview | Location | Hours | Menu | Guest reviews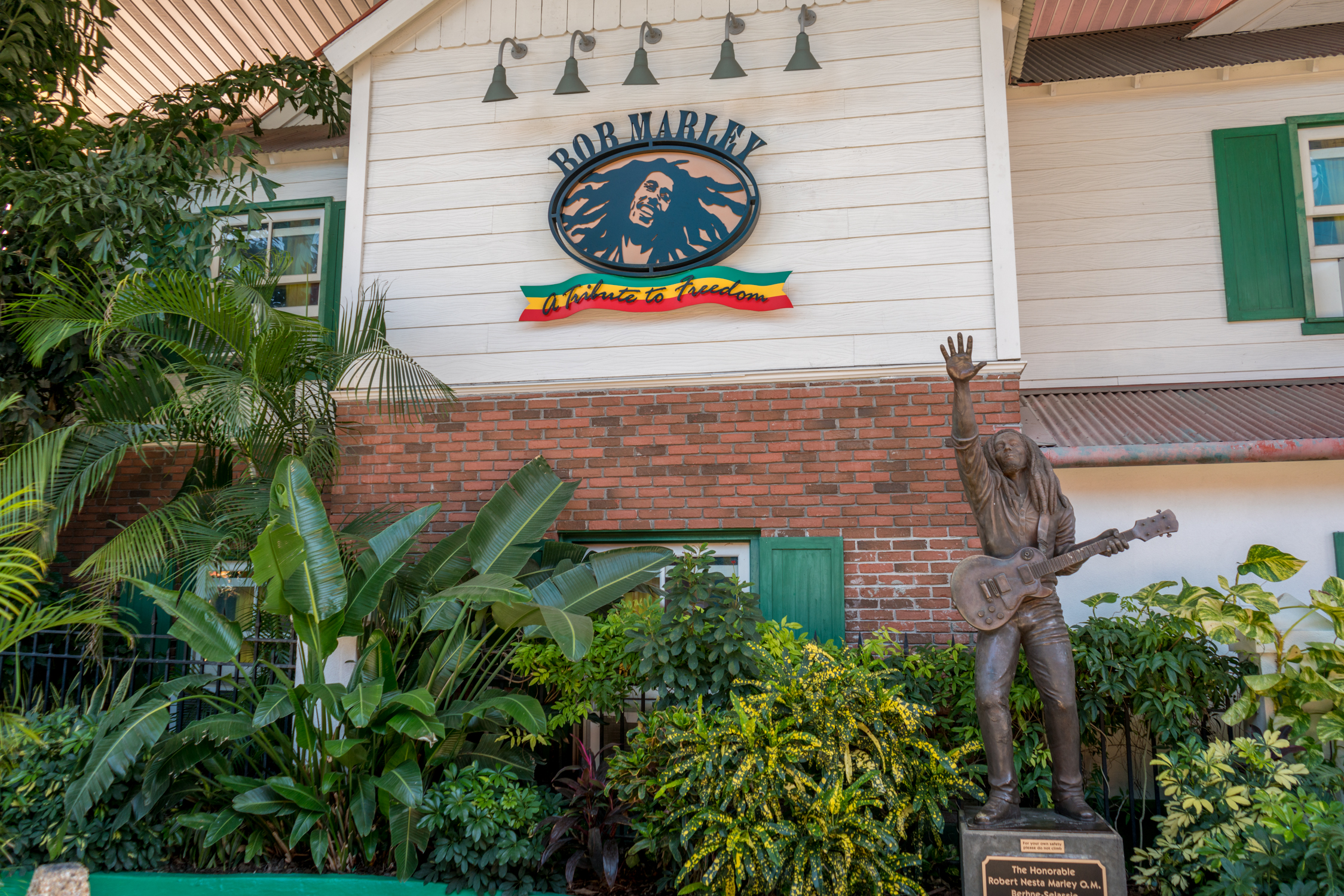 What is Bob Marley – A Tribute to Freedom?
Bob Marley – A Tribute to Freedom is a full-service restaurant serving Jamaican-influenced cuisine mixed with smooth reggae tunes, all located in a replica of Marley's Jamaican home. Historic memorabilia, black-and-white photos, and video monitors will take you on a journey with this legendary musician, showcasing his life and career. Come pay tribute to Marley and his spirit of love and freedom while enjoying island flavors and exotic cocktails, and peruse the gift shop for Rasta-themed gifts.
Where is Bob Marley – A Tribute to Freedom located?
At Universal CityWalk Orlando.
Bob Marley – A Tribute to Freedom – hours and reservations
Bob Marley's restaurant is open Thursday through Saturday from 4:00 pm until 10:00 pm (hours subject to change).
Reservations are available to book online.
What's on the menu at Bob Marley – A Tribute to Freedom?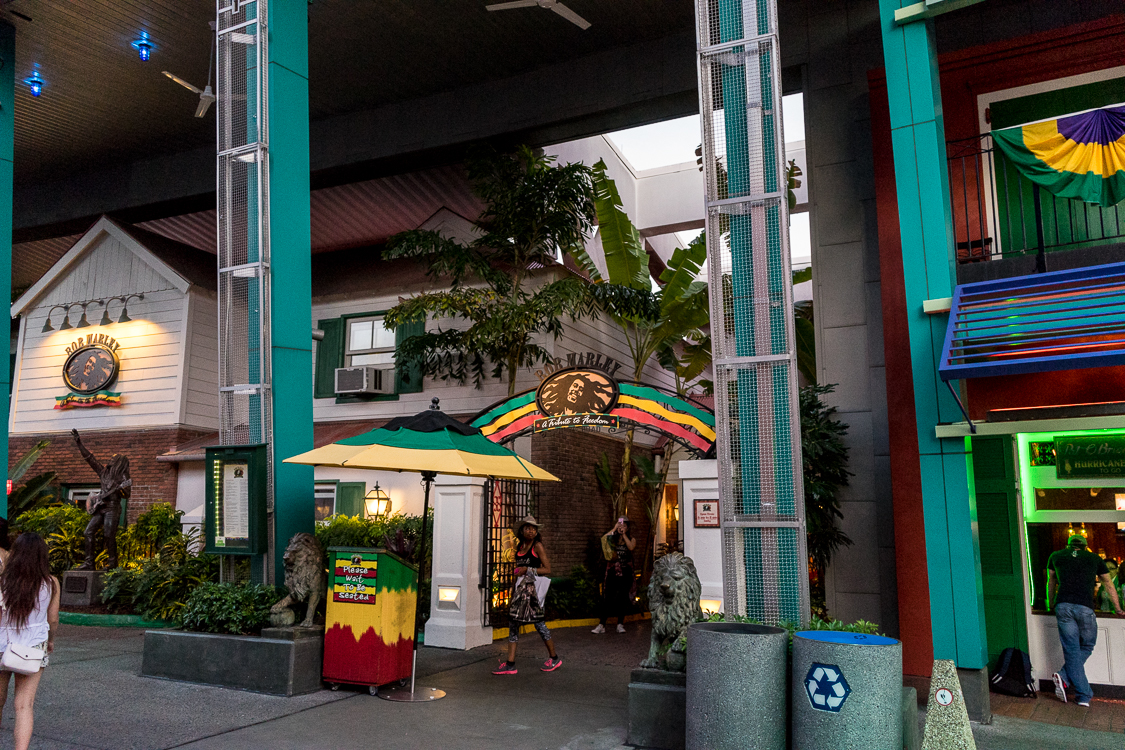 Rita's Appetizers
Taste of Jamaica – $16.95
A tour of island flavors featuring veggie and beef patties, jerk wings, and yucca fries
Jammin' Chips and Salsa – $7.95
House-made black bean corn salsa, jerk-seasoned pita, and plantain chips
Buffalo Soldier Jerk Wings – $15.95
Crispy fried, tossed in our own jerk sauce, with celery and cucumber sauce
Jerk Cauliflower Bites – $11.95
Crispy fried cauliflower tossed in our own jerk sauce, celery, and cucumber sauce
Get Up, Stand Up Mango Wings – $15.95
Crispy fried, tossed in our own mango sauce, celery, lime ranch
Salads
"No Woman, No Cry" Jerk Chicken Salad – $16.95
Grilled jerk chicken, seasonal greens, hearts of palm, avocado, orange segments, tomatoes, citrus vinaigrette
Jamaican Side Salad – $5.95
Romaine lettuce, red beans, radish, cucumber, tomato, mango salsa, jerk vinaigrette
Soup
Pepper Pot Soup – $9.95
Spicy vegetable soup served with housemade dumplings and a side of plantain chips
Scratch Kitchen Entrées
Reggae Jamaican Jerk Chicken – $19.95
Half chicken, marinated in Jamaican spices and scotch bonnet peppers, char-grilled, chopped, rice and peas, sweet plantains
Ital Eats Stuffed Peppers – $13.95
Oven-roasted vegetable- and rice-stuffed peppers, zesty tomato sauce, seasonal vegetables, and spinach
Belly Full Beef Patties – $14.95
Two house-made pastries, coco bread, yucca fries, seasonal vegetables, ith smoky ketchup
Natty Dread Vegetable Patties – $13.95
Two house-made pastries filled with sweet potatoes, red beans, spinach, carrots, onions, coconut milk, coco bread, yucca fries, and smoky ketchup
Curried Chickpeas – $13.95
Curried chickpeas, coconut rice, Jamaican slaw
Catch a Fire Chicken Char-Grilled – $16.95
Jerk seasoned chicken breast on coco bread, avocado, seasonal greens, tomato, jerk BBQ sauce, with yucca fries
Oxtail Stew – $23.95
Traditionally prepared, served over rice and peas, with seasonal vegetables
Rasta Pasta – $23.95
Jerk shrimp, skirt steak, bell peppers, onions, jerk cream sauce, scallions
Curried Goat Stew – $19.95
Slow-cooked Jamaican spiced curry served with rice & sweet plantains
Ital Pumpkin Pasta – $15.95
Penne pasta, roasted sweet potatoes, bell peppers, and butternut squash, tossed in a creamy coconut pumpkin sauce
Catch of the Sea
Roots, Rock, and Reggae Chefs Catch – $23.95
Deep-fried market fish, escovitche peppers, served with Island rice and Bammy
Curry Shrimp – $19.95
Pan-seared shrimp in a house-made Jamaican curry sauce, sweet corn, okra, white rice, seasonal vegetables, and spinach
Grilled Mahi-Mahi – $21.95
Jerk seasoned mahi fillet, rice and peas, seasonal vegetable, with mango salsa
Rock Steady Sides
Sweet Plantains – $5.95
Rice And Peas – $4.95
Coco Bread – $1.95
Yucca Fries – $5.95
White Rice – $3.95
Seasonal Vegetables – $4.95
Bammy – $5.95
Pepper Pot Soup – $6.95
Rastafarian Tings
All drinks are non-alcoholic (no refills)
Island Sodas – $5.00
Jamaican ginger beer, Jamaican cream soda, Kola Champagne, pineapple soda, or refreshing Ting grapefruit soda
Tropical Juices – $4.50
Your choice of refreshing papaya, mango, or guava juice
Cool Ya Down (Frozen) – $5.75
Pineapple with orange, guava, and mango juices
Mighty Good Drink (Frozen) – $5.75
A blend of pineapple, strawberry, and coconut juices
Freedom Freeze (Frozen) – $5.75
A tropical blend of pineapple, papaya, piña colada, and orange juice
Non-alcoholic Drinks
Fountain Soda – $4.49
Coke, Diet Coke, Coke Zero, Sprite, Fanta Orange, Ginger Ale, Lemonade
Iced Tea – $4.49
Sweet or unsweetened
Bottled Water – $5.50
Acqua Panna Still, San Pellegrino Sparkling
Hot Tea – $3.49
Lemon, mint, orange spice, green, English breakfast
Hot Coffee – $3.49
Regular or decaf
Lil' Legends Menu
Items for children nine and younger
Jamacaroni and Cheese – $8.95
Mac and cheese, yucca fries, grapes
Lil' Reggae – $8.95
Crispy chicken tenders, white rice, grapes
Island Flavor – $8.95
Beef or veggie pattie, white rice, grapes
Desserts
Chocolate Jamaican Sensation – $8.95
Guava chocolate cake, dulce de leche sauce, powdered sugar
Cocktails
Island Mai Tai – $15.00
Caribbean classic cocktail made with Cruzan Light rum, Pyrat XO Reserve rum, orange curaçao, orgeat and simple syrups, lime juice
Dark & Stormy – $14.50
Gosling's Dark Seal rum, Gosling's ginger beer, lime
Uncle Wray's Rum Punch – $14.50
Wray and Nephew rum, grenadine, creme de banana, amaretto, orange juice, pineapple juice
One Love – $14.50
Chambord, Bacardi Limón rum, Bacardi Raspberry rum, blue Curaçao, mix sour, pineapple juice
Legendary Mojito – $14.50
Bacardi Light rum, simple syrup, soda, fresh mint, lime
Jamaican Freeze – $14.00
Frozen – J. Wray Gold rum, Midori Melon liqueur, Bacardi Piña Colada, strawberry mix
Spicy Mango – $14.50
Patrón tequila, mango and lime juice, a dash of scotch bonnet peppers sauce
Guava Mama – $14.00
Three Olives Coconut Vodka, guava and fresh lemon juice
Banana Jammin' – $15.00
Frozen – Bacardi Black, coffee and banana liqueur mixed with piña colada
Beer
Draft
Yuengling
Bud Light
Blue Moon
Stella Artois
Guinness
Red Stripe
Angry Orchard
Goose Island IPA
Bottles
Yuengling
Bud Light
Coors Light
Miller Lite
Carib
Mackeson
Corona
Fat Tire
Guinness Stout
Heineken
Imperial
Presidente
Presidente Light
Red Stripe
Sol
Wine
Whites
Bollini Pinot Grigio , Italy
KJ Chardonnay Vinter's Reserve , California
A to Z Riesling , Oregon
Reds
Wente Cabernet Sauvignon , California
Mark West Pinot Noir, California
Trapiche Malbec , Argentina
Bob Marley – A Tribute to Freedom – photo gallery
Bob Marley – A Tribute to Freedom – real guest reviews
Bob Marley - A Tribute to Freedom
Average rating:
0 reviews
Do you have a question about the information on this page or would you like to provide feedback? Please let us know by posting in our
Orlando Informer Community
on Facebook.