Orlando Informer readers can now share their experiences at Universal Orlando on this page!
Below our information, you'll find real guest reviews and your chance to submit your opinion.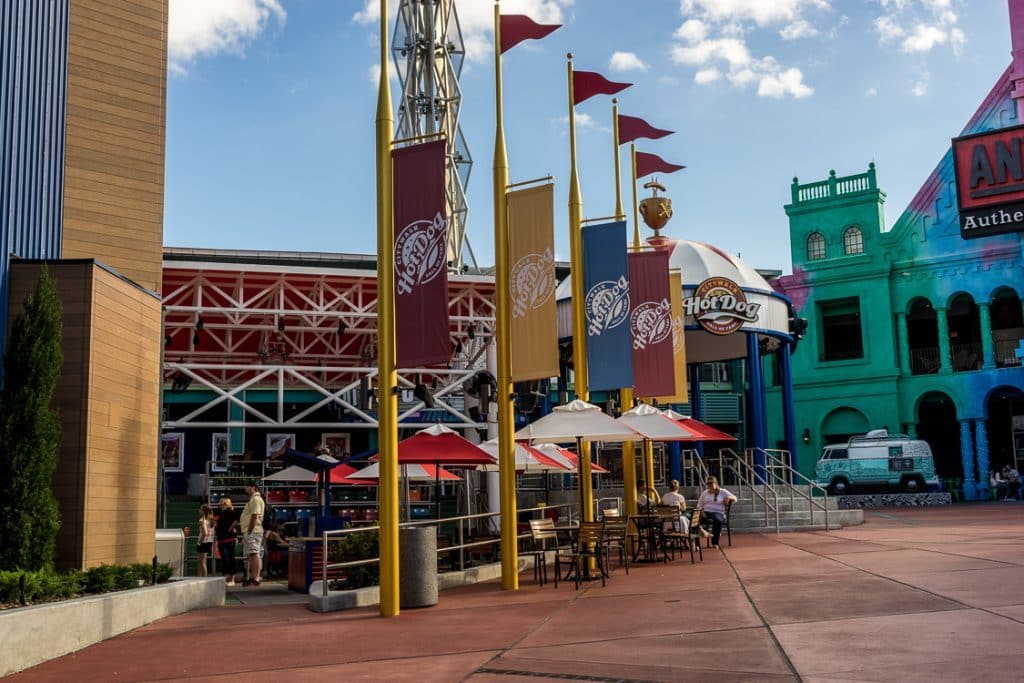 Hot Dog Hall of Fame – overview
What may initially sound like the most boring CityWalk location is quickly proven to be one of the most intriguing. The Hot Dog Hall of Fame features the "Starting Line-Up 9," a series of nine different specialty hot dogs that hail from different ballparks all over the country (who knew that each region prepared its franks so differently?). The dogs themselves range from Vienna all-beefs to bratwurst sausages, and their toppings are truly eclectic – everything from the standard mustard and diced onions to pulled pork and smoked bacon.
Rounding out the experience is the authentic stadium seating (which actually is authentic, as many of the seats did come from various baseball stadiums across the nation), artificial turf, field lights, and more to make this the most immersive hot dog experience available anywhere. It's a great deal of fun and not a venue to pass by.
Hot Dog Hall of Fame – hours and reservations
11:00 am – 11:00 pm, Sunday through Thursday; 11:00 am – 1:00 am, Friday and Saturday.
Reservations are currently not accepted.
Hot Dog Hall of Fame – menu
Hot Dogs
Served with French fries
Chicago – $9.99 – Vienna all-beef dog, poppy-seed bun, neon relish, sport peppers, diced onions and tomatoes, celery salt, pickle
Kansas City – $9.99 – Vienna all-beef dog, pulled pork, coleslaw, pickles, barbecue sauce
Washington – $9.99 – Hebrew National dog, buffalo sauce, coleslaw, blue cheese dressing, celery salt
Arizona – $9.99 – Vienna all-beef dog, smoked bacon, pinto beans, grilled peppers & onions, cheese
Detroit – $9.99 – Koegel dog, Abbott's Coney chili, diced onions
Two Foot Dog – $16.99 – Vienna all-beef dog, baguette, choice of two toppings
Colorado – $8.99 – Nathan's Famous hot dog, grilled peppers & onions, sauerkraut
Boston – $8.99 – Kayem all-beef dog, toasted New England-style bun, spicy brown mustard, diced onions, relish
New York – $8.99 – Sabrett all-beef dog, sauerkraut, mustard
Milwaukee – $8.99 – Bratwurst sausage, hoagie roll, grilled onions, spicy brown mustard
Foot Long Dog – $12.99 – Vienna all-beef dog, foot long bun, French fries, choice of two toppings
Italian Sausage
Italian Sausage – $8.99 – Provolone cheese, grilled onions and peppers, French fries
Sides
Side of Fries  – $2.99
Roasted Peanuts – $3.49
Cracker Jacks – $3.49
Toppings
Additional toppings $0.75 unless otherwise noted
Bacon
BBQ Sauce
Beans
Blue Cheese
Cheese Sauce ($0.79)
Chili
Cole Slaw
Jalapeños
Neon Relish
Onions (diced or sauteed)
Pickle
Pepper (sports or sauteed)
Pulled Pork ($3.00)
Red Onion Sauce
Sauerkraut
Shredded Cheese ($0.79)
Sweet Relish
Tomato
Beverages
Fountain Soda – $3.29 – Coke, Diet Coke, Coke Zero, Sprite, Pink Lemonade, Root Beer
Iced Tea – $3.29 – Green, Sweet, Unsweet, Raspberry
Bottled Water – $4.50 – Resource Natural Spring Water
Apple Juice – $2.29
Draft Beer
Budweiser
Miller Lite
Blue Moon
Bud Light
Yuengling
Sam Adams
Hot Dog Hall of Fame – photos
Hot Dog Hall of Fame – real guest reviews