Orlando Informer readers can now share their experiences at Universal Orlando on this page!
Below our information, you'll find real guest reviews and your chance to submit your opinion.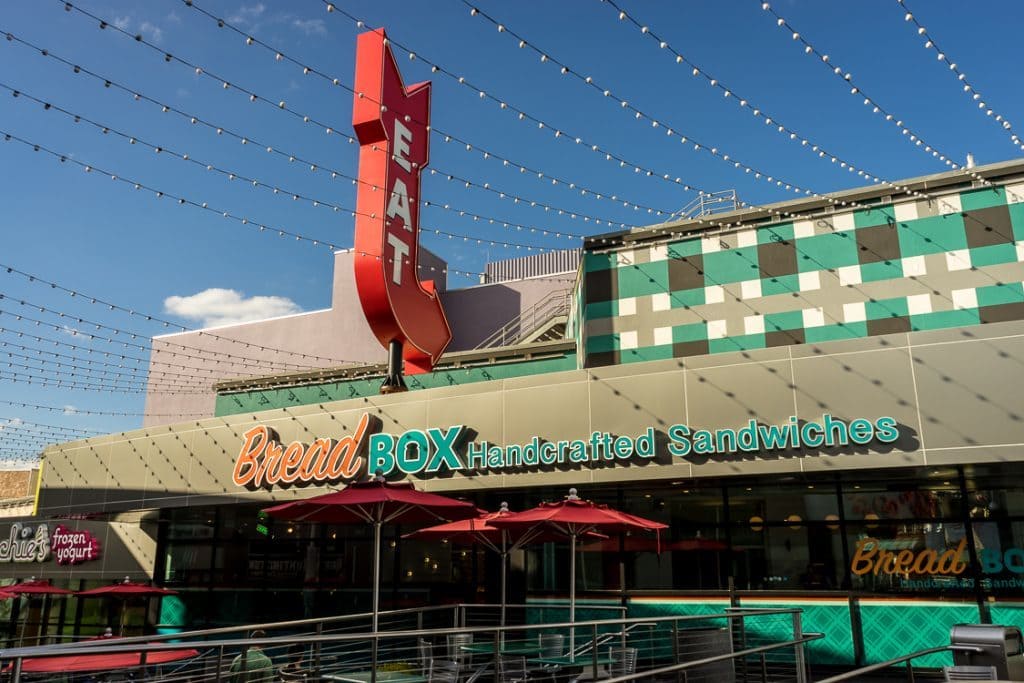 Bread Box – overview
Bread Box Handcrafted Sandwiches was meant to be, in many ways, the superlative CityWalk quick-service restaurant – high-quality grab-and-go options, ranging from cold sandwiches to hot melts (even grilled cheese!), soups, and some pretty yummy milkshakes. What puts this venue over the top is its quirky decor, which includes multi-colored lunchboxes lining one wall and booth benches that are suspended from the ceiling by chains.
Bread Box is best for when you want to snack on your food back in the comfort of your hotel room or when your party wants just a quick meal but to still enjoy the fun and atmosphere of CityWalk. (We should probably note that Orlando Informer Editor-in-Chief Taylor Strickland counts this quick-service stop as his favorite restaurant in all of CW.)
Bread Box – hours and reservations
10:30 am – midnight, Sunday through Thursday; 10:30 am – 1:00 am, Friday and Saturday.
Reservations are currently not accepted.
Bread Box – menu
Bread Box Melts
All sandwiches come with fries or tater tots
4 Cheese

– $7.99 – Muenster, fontina, Wisconsin cheddar, Parmesan, sliced brioche

Tomato & Mozzarella

– $8.99 – Mozzarella, sun-dried and oven-roasted tomatoes, basil, sun-dried tomato pesto, balsamic glaze, ciabatta bread

Veggie

– $9.99 – Portobello, avocado, tomatoes, caramelized onions, Swiss cheese, arugula, truffle oil, basil pesto, multi-grain

Hot Turkey

– $11.99 – Smokehouse turkey, applewood bacon, smoked Gouda, tomato, tomato aioli, multi-grain

Roast Beef

– $11.99 – Slow roasted, aged cheddar, chopped greens, tomatoes, horseradish cream, toasted ciabatta

Smokey Beef Brisket

– $11.99 – Hickory smoked, shaved thin, smoked Gouda, caramelized onions, horseradish cream, multi-grain

NY Style Pastrami

– $11.99 – New York style, Swiss cheese, Bread Box sauce, marble rye

Patty Melt

– $10.99 – Ground beef, fontina, muenster, cheddar, caramelized onions, Texas toast
Deli Fresh
All sandwiches come with fries or tater tots
Chicken Salad

– $10.99 – Tender chicken, apple crisps, arugula, walnut oil, toasted multi-grain

Egg Salad

– $8.99 – Fresh-made egg salad, tomatoes, lettuce, toasted pumpernickel

Buffalo Chicken

– $10.99 – Crispy-fried chicken, buffalo wing sauce, lettuce, tomato, blue cheese dressing, Texas toast

Italian

– $10.99 – Mortadella, salami, ham, capicola, provolone, sweet red peppers, tomatoes, chopped greens, red onion, toasted ciabatta

Ham & Brie

– $10.99 – Shaved ham, brie cheese, French-style bread

Tuna

– $9.99 – Solid white tuna, muenster, chopped greens, tomatoes, avocado, wasabi mayonnaise, toasted multi-grain

BLTA

– $8.99 – Applewood bacon, arugula, tomato, balsamic mayonnaise, avocado, Texas toast

Turkey

– $10.99 – Carved turkey, applewood bacon, Swiss, tomato, avocado, toasted multi-grain
Salads
Caesar

– $8.99 – Romaine lettuce, Caesar dressing, Parmesan, croutons

Chop

– $10.99 – Chopped lettuce, turkey, egg, cucumber, tomatoes, blue cheese, avocado, bacon, white balsamic dressing
Sides
Fries

– $2.99

Cole Slaw

– $1.99

Chocolate Chip Cookie

– $2.45

Apple Chips

– $3.25

Tater Tots

– $2.99

Potato Salad

– $1.99

Potato Chips

– $2.95

Fruit Cup

– $3.79
Fresh Soups
Cream of Tomato

– $3.49 – vine-ripened tomatoes, cream

Soup of the Day

– $3.49
Shakes
Vanilla Sky

– $6.25 – French vanilla ice cream, milk, whipped cream

Chocolate Hazelnut

– $6.25 – Nutella, French vanilla ice cream, milk, whipped cream, chocolate crumbs
Draft Beer
Pabst Blue Ribbon
Stella Artois
Blue Moon
Bud Light
Yuengling
Soda/Tea
Coke, Diet Coke, Coke Zero, Sprite, Hi-C Lemonade, Fanta Orange, Green Tea, Sweet Tea, Unsweet Tea, Raspberry Tea

– $3.29

Vitamin Water

– $4.00

Odwalla Juice

– $3.99

Resource Water

– $4.50

Apple Juice, Orange Juice

– $2.29
Bread Box – photos
Bread Box – real guest reviews