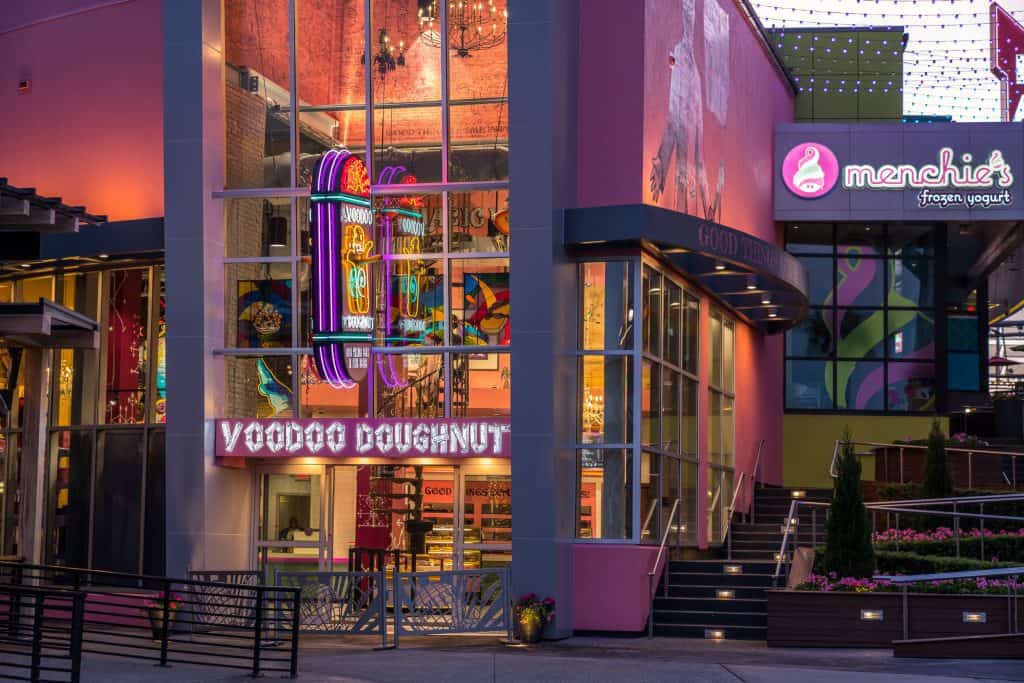 Voodoo Doughnut at Universal CityWalk Orlando
Voodoo Doughnut – overview
Just because The Cowfish Sushi Burger Bar and Toothsome Chocolate Emporium and Savory Feast Kitchen just weren't quirky enough…
Voodoo Doughnut is a fast-growing West Coast chain, making its very first appearance east of the Mississippi at CityWalk Orlando. Its forte is some of the most eccentric doughnuts you can think of – covered in Tang, frosted with grape dust, flavored with Butterfingers, or topped by a piece of bubblegum (still in the wrapper, thank you). And that's just scratching the surface: you can find vegan options, get your doughnuts served up in a wooden coffin, or, even, get married at the location.
Such oddities make Voodoo a must-do stop at Universal's restaurant complex, but it's the quality that will keep you coming back once the novelty of eating Voodoo doll-fashioned doughnuts wears off. You'll quickly find yourself itching to try at least one entry per category, from the raised and cake doughnuts (such as Oh Captain, My Captain and Diablos Rex, respectively) to the cruellers and fritters (Lemon Chiffon and Memphis Mafia).
Insider tip
We know that you'll be good vacationers and have your top three (or four or five) doughnuts picked out well before you step up to the counter to order, thanks to the menu being listed on this guide page here and to the plethora of displays they have stationed throughout the store there. However, there's something pretty important you'll need to keep in mind: once a particular doughnut has sold out, that'll be it until the Voodoo employees can get the next batch cooked, decorated, and restocked on the shelves. Be sure to have a back-up list in mind should your favorite treat(s) be MIA.
Voodoo Doughnut – pre-order!
Don't want to have to worry about the hassle of waiting in line (or of having your favorite doughnut be sold out by the time you get to the counter)? No problem! As of late May, the store has just instituted a special pre-order system: you can call, text, or email Voodoo two hours in advance with your order, and they'll have it waiting for you by the time you arrive. (There's a catch, though – there's a dozen-doughnut minimum.)
The phone number is 407-267-6897, and the email address is voodoo-doughnut@universalorlando.com. Happy pre-ordering!
Voodoo Doughnut – story
No, Voodoo doesn't feature a fictitious backstory like Toothsome Chocolate Emporium does, but the ever-expanding company does have one of the most compelling narratives out there. To get an idea of its history and a general accounting of its extracurricular activities, from its indie recording label to its tie-in liquors, see our original article here.
Voodoo Doughnut – hours and reservations
Sunday through Thursday, 7:00 am to 12:00 am; Friday and Saturday, 7:00 am to 1:00 am.
Reservations are currently not accepted (nor are they needed, it being a doughnut shop and all).
Voodoo Doughnut – fun facts
Have we mentioned just how quirky Voodoo Doughnut is yet? Just in case the doughnuts themselves aren't enough to convey this, the restaurant's decor more than closes the gap, placing fun secrets seemingly around every corner (or, even, on the spiral staircase that leads to nowhere). We've compiled this handy-dandy list for you to check out while you're waiting for your baked deliciousness to be served up:
Before you even enter the store, be sure to check out the massive doughnut throne outside (and take a few pics of yourself on it, of course). Out of the seven Voodoo Doughnut locations across the country, this kingly gastronomical seat is exclusive to just this one.
Be sure to pay attention to Voodoo's stained-glass murals, as they're actually representative of real people. The ones on the left and right are of the company's founders, Kenneth "Cat Daddy" Pogson and Tres Shannon, while the middle one is of the former CEO, Robert "Lobster" Ludwig, who died from brain cancer in January 2015.
Once inside, check out the supports that go up to the roof in the middle of the eatery – they have the Voodoo alphabet on them.
The left-hand wall features the numbers 97204, which is the ZIP code of Portland, Oregon, the site of the chain's very first store. (Side fun fact: there's an additional Voodoo in Portland [with a different ZIP], along with a permanently-stationed food truck, as well.)
That spiral staircase we mentioned is actually imported from Toothsome Chocolate Emporium and Savory Feast Kitchen; after having it in its gift shop for a year-and-a-half, Universal pulled it out in order to free up more space for merchandise. Toothsome's loss is Voodoo's gain, of course.
Keep your eyes peeled for the portrait of the comedian Carrot Top hidden amongst the restaurant's eclectic bric-a-brac; this is the Orlando location's "spirit channeler," a local who is lovingly rendered in a velvet painting.
The other feature exclusive to CityWalk Orlando's Voodoo Doughnut is the decorating counter, where you can watch the next batch of donuts get, well, decorated.
Above the kitchen area, you'll find a huge mural made entirely out of duct tape.
Orlando Informer was the very first ones to purchase the wooden coffin of doughnuts in Florida. Go, team!
(We have pictures of many of these goodies. Be sure to check out our photo gallery at the bottom of the page.)
Voodoo Doughnut – menu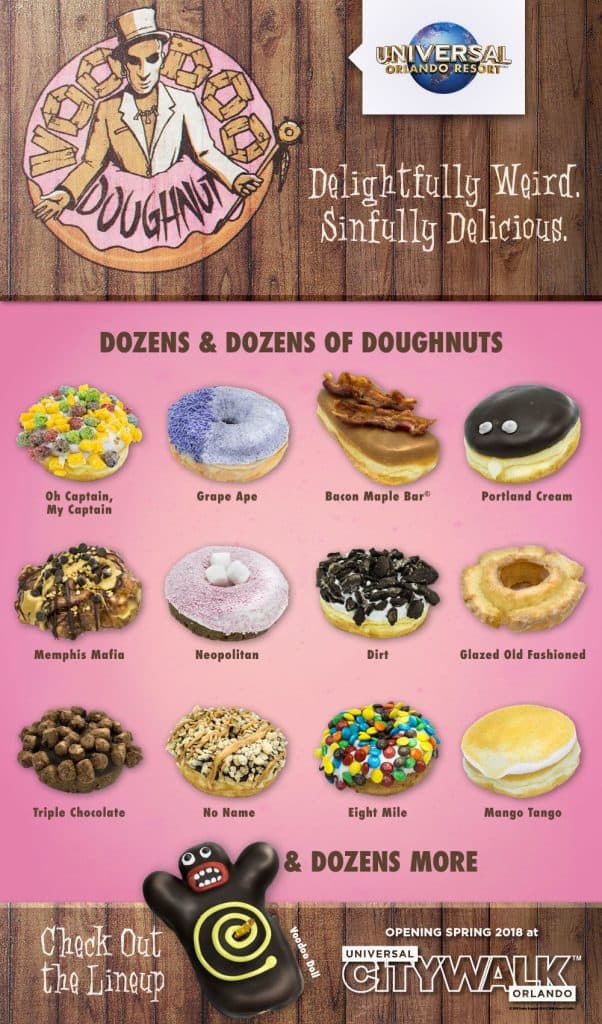 Cake Doughnuts
OLD FASHION CAKES
Chocolate Old Fashioned – $1.50 – Cake with chocolate frosting
Glazed Old Fashioned – $1.60 – Glazed cake doughnut
PLAIN CAKES
Plain Cake – $1.50 – Plain cake doughnut
Chocolate Cake – $1.60 – Plain cake doughnut with chocolate frosting
Peanut Cake – $1.60 – Plain cake doughnut with vanilla frosting and peanuts
Sprinkle Cake – $1.60 – Plain cake doughnut with vanilla frosting and sprinkles
Cinnamon Sugar Cake – $1.55 – Plain cake doughnut with cinnamon sugar
Eight Mile Cake – $2.00 – Plain cake doughnut with vanilla frosting and mini M&M's
Blueberry Cake – $1.60 – Blueberry cake doughnut with a glaze
Powered Sugar Cake -$1.55 – Plain cake doughnut with powdered sugar
Tangfastic Cake – $1.70 – Plain cake doughnut with vanilla frosting, Tang, and three marshmallows
DEVIL'S FOOD CAKE
Double Chocolate – $1.65 – Chocolate cake doughnut with chocolate frosting
Chocolate Coconut Cake – $1.65 – Chocolate cake doughnut with chocolate frosting and coconut flakes
Diablos Rex – $2.00 – Chocolate cake doughnut with chocolate frosting, red sprinkles, a vanilla frosting pentagram, and chocolate chips
Neopolitan – $1.65 – Chocolate cake doughnut with vanilla frosting, strawberry dust, and three marshmallows
Butterfinger – $1.95 – Chocolate cake doughnut with vanilla frosting and Butterfinger crumbles
Triple Chocolate – $1.95 – Chocolate cake doughnut with chocolate frosting and Cocoa Puffs
Mexican Hot Hot Hot Chocolate – $1.65 – Chocolate cake doughnut dusted in cinnamon sugar and cayenne pepper
FRITTERS
Apple Fritter – $2.95 – Fried dough doughnut with apple chunks and cinnamon, covered in a glaze
Memphis Mafia Fritter – $5.25 – Fried dough doughnut with banana chunks and cinnamon, covered in glaze, drizzled in chocolate and peanut butter, and topped with peanuts and chocolate chips
Raised Doughnuts
RINGS
Glazed – $1.50 – Raised yeast doughnut with glaze
Chocolate Ring – $1.60 – Raised yeast doughnut with chocolate frosting
Little Pink – $1.75 – Raised ring doughnut dipped in strawberry-flavored icing and a smattering of round sprinkles
The Loop – $2.00 – Raised yeast doughnut with vanilla frosting and Fruit Loops
Oh Captain, My Captain – $2.00 – Raised yeast doughnut with vanilla frosting and Captain Crunch
Grape Ape – $2.00 – Raised yeast doughnut with vanilla frosting, grape dust, and lavender sprinkles
Dirt  – $2.60 – Raised yeast doughnut with vanilla frosting and Oreo cookies
ODB – $2.60 – Raised yeast doughnut with chocolate frosting, Oreo cookies, and peanut butter
No Name Doughnut – $2.25 – Raised yeast doughnut topped with chocolate frosting, Rice Crispy treats, and a drizzle of peanut butter
Chuckles – $2.75 – Raised yeast doughnut with chocolate frosting, dipped in mocha powder, and topped with peanuts and caramel and chocolate drizzle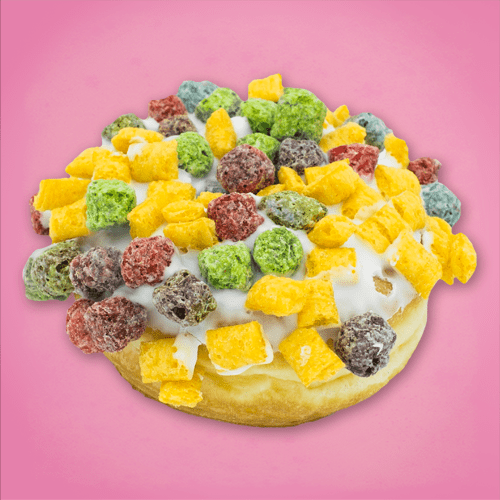 BARS
Bacon Maple Bar – $3.65 – Raised yeast with maple frosting and bacon on top
Maple Bar – $1.60 – Raised yeast with maple frosting on top
Buttermilk Bar – $1.70 – Buttermilk dough with a glaze
Pride Bar – $2.00 – Raised yeast chock full of luscious Bavarian cream and topped with vanilla frosting and all the colors of the rainbow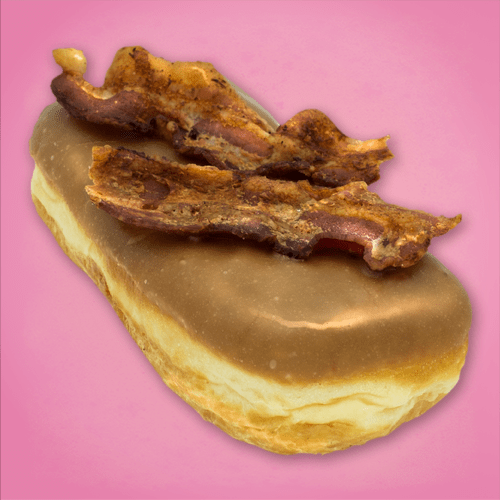 SHELLS
Portland Cream – $2.45 – Raised-yeast shell filled with Bavarian cream and topped with chocolate and two eyeballs, representing the vision of the great city of Portland
Mango Tango – $2.65 – Raised-yeast shell filled with mango jelly and topped with vanilla frosting and Tang
Raspberry Romeo – $2.15 – Raised-yeast shell glazed and filled with raspberry or lemon jelly (depending on location)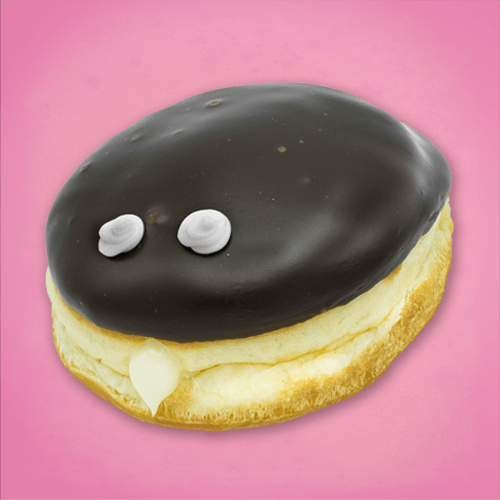 SPECIALTIES
Voodoo Doll – $3.20 – Raised yeast filled with raspberry jelly and topped with chocolate frosting and a pretzel stake
Texas – $9.95 – Giant equal in size to six regular glazed doughnuts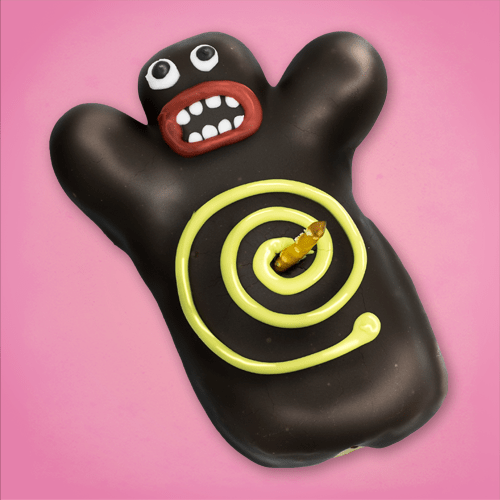 Vegan Doughnuts
Vegan Coconut – $2.15 – Vegan plain cake dipped in vanilla frosting and toasted coconut
Vegan Chocolate Cake – $2.00 – Vegan chocolate cake
Vegan Cake – $2.00 – Vegan cake
Vegan Sprinkles Cake – $2.10 – Vegan cake with sprinkles
Vegan Apple Fritter – $3.45 – Vegan dough with apple chunks and cinnamon, covered in a glaze
Vegan Chocolate Frosted – $2.10 – Vegan dough with chocolate frosting
Vegan Dirt – $3.10 – Vegan plain cake dipped in vanilla frosting and crushed Oreo cookies
Vegan Glazed – $2.00 – Vegan plain with glaze
Vegan Maple Cake – $2.10 – Vegan cake with maple frosting
Vegan Portland Cream – $2.95 – Vegan shell filled with vegan cream
Vegan ODB – $3.10 – Vegan cake with chocolate frosting, Oreo cookies, and peanut butter
Vegan Voodoo Doll – $3.70 – Vegan cake filled with raspberry jelly and topped with chocolate frosting and a pretzel stake
Vegan PB&J – $2.95 – Vegan cake filled with raspberry jelly, topped with peanut butter
Voodoo Doughnut – photos