Skip to: Overview | Location | Hours | Story | Theming | Menu | Guest reviews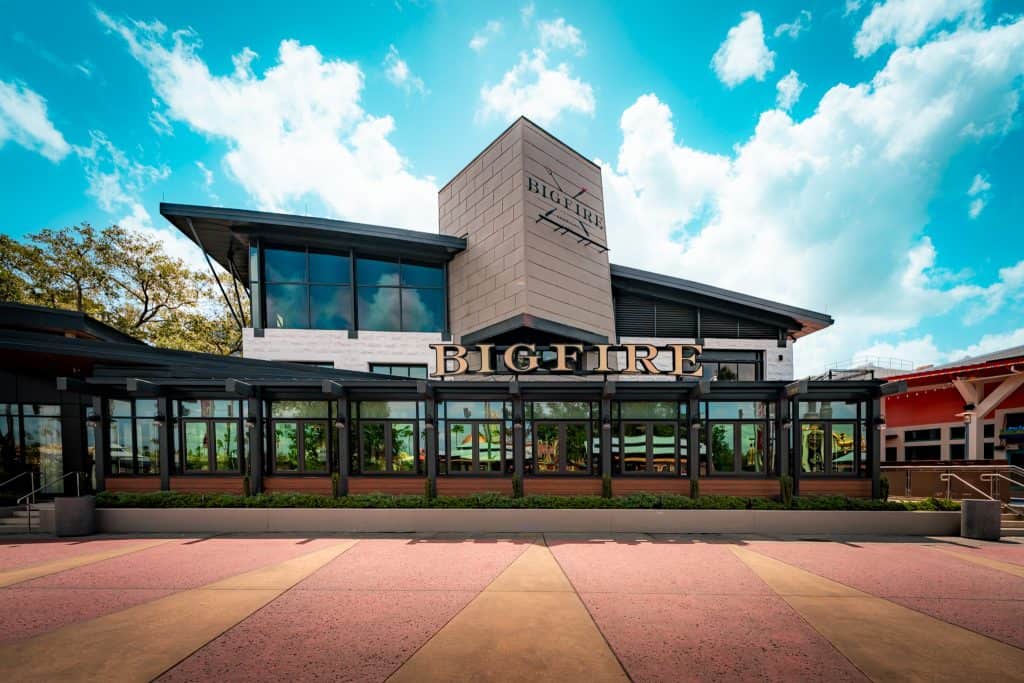 What is Bigfire?
A giant, custom-made wood-fire grill is situated in the very heart of Bigfire, allowing guests to see the food cooked right in front of their eyes. But this dominating feature also sets the stage for the entire dining experience; "fire-kissed" American fare, from steaks and burgers to salmon avocado toast, is presented in a warm, cozy atmosphere designed to conjure nostalgic feelings of summers by the water. One of the big draws here is the special type of wood, whether that be Cherrywood or Pecanwood, that is used to complement each dish on the menu so that the smoked flavor is always just right.
Where is Bigfire located?
At Universal CityWalk Orlando.
Bigfire – hours and reservations
Bigfire is open for dinner year-round and for lunch during peak periods. Hours, however, are subject to change.
Sunday – Thursday 3:00 pm – 11:00 pm
Friday – Saturday 3:00 pm – 12:00 am
Reservations are available here.
What's the story behind Bigfire?
For the full scoop on Bigfire's backstory, please see our complete write-up.
Bigfire – theming
Conceived in conjunction with Universal's theme-park designers, just as the impeccable Toothsome Chocolate Emporium and Savory Feast Kitchen was, Bigfire consists of small touches throughout, making this one of the most detailed venues at CityWalk (even if that theming is meant to be more subtle than bold). The restaurant is designed to feel like a grand lakeside lodge, employing warm colors, cast-iron and wood accents, retro camp lanterns, a cozy fireplace inside, and a fire pit outside in order to pull off the effect. Every outdoor seat comes with a tableside s'mores kit, and there are also oversize plaid blankets and various lawn games strewn about out here, as well, sealing the family-on-summer-vacation deal.
What was Bigfire's opening date?
June 26, 2019
What's on the menu at Bigfire?
Note that three different types of wood – cherry, pecan, and oak – are paired with many of the dishes (and, even, some drinks) to increase their flavor profiles.
Shareable Starters
Hearth Oven-baked Bread – $8.00
Bigfire's signature hearth oven-baked bread served with herbed butter, orange peach preserves
Smoked Brook Trout Dip – $16.00
Paired with house-made crackers
Skillet-roasted Mussels – $16.00
Sizzling with herb broth, white wine, chives, smoked salt, grilled bread
Oysters Rockefeller – $17.00
Oysters on the half-shell, topped with a bernaise sauce, spinach, bacon and bread crumbs
Bourbon Cheese Fondue – $16.00
served with crispy cauliower, blistered shishito peppers, grilled bread, lavosh, hearth grilled baby carrots
add hearth grilled Andouille sausage or cola braised pork +4
Artichoke Oven-roasted Dip – $13.00
Gruyere, artichoke, spinach, kale, grilled bread
Wood-charred Brussels Sprouts – $11.00
Roasted Brussels sprouts and shishito peppers, served over toasted almond smear and topped with micro arugula
Soup & Salads
Campfire Chili – $10.00
Cozy up by Bigfire's hearthstone grill with a bowl of campfire chili, served with sour cream and cornbread
Very Berry Salad – $16.00
Summer greens, pickled strawberries, glazed pecans, feta cheese, hearth bread toast, shallot jam, with house made berry dressing
Cobb – $20.00
Bigfire signature wood-blend grilled chicken, sliced bacon, corn, sweet potatoes, avocado, goat cheese, egg, almonds, honey barbecue dressing, cornbread
Wedge – $16.00
Avocado, red onions, tomatoes, egg, bacon, blue cheese dressing
Bigfire's signature wood blend-grilled NY strip + $7.00
From the Hearth
Grilled over Bigfire's signature wood blend of specialty woods. Served with fire-grilled baby carrots, crispy smashed potatoes
Bigfire Fire-grilled Steaks
Filet Mignon: 8 oz. – $42.00
NY Sirloin Strip: 10 oz. – $41.00
Cowboy Ribeye: 16 oz. – $47.00
Prime T-Bone: 24oz. – $62.00
Entrées
Hearth Grilled Chicken – $29.00
Hearth-grilled bone-in chicken breast, housemade herb dumplings, gruyère drop biscuit, red-eye gravy, fire-roasted vegetables
Colorado Lamb Shank – $38.00
Hearth grill lamb shank, braised and served over smoked cheddar grits and roasted root vegetables
BBQ Shrimp – $28.00
Blackened, cream sauce, signature coleslaw, cornbread
Beer-glazed Scallops – $34.00
Bacon, fire-grilled vegetables, charred hearth bread
Hearthstone Seafood Bake – $31.00
Wood-oven baked Northern whitefish, shrimp, cold water mussels, andouille sausage, fresh corn, red potatoes, lemon butter
Short Rib Pasta – $30.00
Garganelli, oyster mushrooms, sherry cream sauce
Dutch Oven Beef Burgundy – $32.00
Red wine, mushrooms, bacon, pearl onions, buttered egg noodles
Cauliflower Steak – $22.00
Shishito peppers, roasted vine tomatoes, warm farro salad, charred tomato sauce
Catch of the day – MP
Yukon & cauliflower purée, braised golden raisins, sautéed peas and smoked oyster mushroom
Beef Ribs – $49.00
Hearth grilled beef ribs, strawberry barbecue blaze, toasted almond crumble, green beans, pickled turnips, coleslaw
Pork 2 Ways – $30.00
Hearth grilled pork tenderloin, apple spiced braised pork belly, bourbon peach butter, cheddar grits, mustard greens, ginger gastrique
Brook Trout – $29.00
Served with fire-grilled seasonal vegetables, crispy smashed potatoes, and tarragon tartar sauce
Salmon – $33.00
Served with fire-grilled seasonal vegetables, crispy smashed potatoes, and creamy tarragon aioli
Burgers & Sandwiches
Served on a signature Bigfire brioche bun with your choice of side
Signature Bison Burger – $22.00
Red wine aioli, caramelized onions, beer cheese sauce
Bigfire Cheeseburger – $20.00
Half-pound black angus beef, cheddar, beefsteak tomato
Grilled Chicken – $19.00
Walnut pesto, peach preserves, grilled red onion, smoked cheddar
Salmon BLTA – $23.00
Bacon, lettuce, tomato, avocado, smoked caper aioli
Sides
$7.00 each
Crispy smashed potatoes
Fire-grilled seasonal vegetables
Signature coleslaw
Bigfire Fries
Sweet Corn Pudding
Premium Sides
$8.00 each
House Salad
Fire Grilled Jumbo Asparagus
Charred Wild Oak Truffle Mushrooms
$9.00 each
Loaded Smashed Potatoes
Smoked Pork Mac & Cheese
Kids' menu
Entrees
All meals served with your choice of strawberry applesauce, grapes, or fries
Chicken Fingers – $10.00
Cheeseburger Sliders – $10.00
Mac & Cheese – $10.00
Chicken & Beef Skewers – $11.00
Grilled 4 oz. Sirloin – $11.00
Drinks
Soft Drinks – $4.49
Coke, Diet Coke, Coke Zero, Sprite, Fanta Orange, HiC Pink Lemonade, Rootbeer
Iced Tea – $4.49
Sweet or unsweetened
Cappuccino – $3.99
Latte – $3.99
Espresso – $2.99
Hot chocolate – $5.00
With marshmallows
Juice – $3.19
Apple, Orange, Cranberry, Pineapple, Grapefruit, or Tomato
Milk – $3.19
2% white and 1% chocolate
Bottled Water – $5.50
Acqua Panna or San Pellegrino
Desserts
Tableside S'mores – $18.00
Marshmallows, graham crackers, chocolate, peanut butter cups for two
Each additional portion – $9.00
Dutch Apple Pie – $11.00
Vanilla ice cream
PB&J Baked Alaska – $11.00
Creamy peanut butter ice cream & concord grape jelly core, graham cracker crust, meringue, torched table side
Skillet-baked Chocolate Cake – $12.00
Flourless chocolate cake, cherries, bourbon ice cream
Dessert Drinks
Grown Up Hot Chocolate – $15.00
Premium hot chocolate, choice of liquor
Keep It Simple – $14.50
Premium coffee, choice of liquor
Drinks
Soft Drinks
Fountain soda – $3.99
Coke, Diet Coke, Coke Zero, Sprite, Fanta Orange, HiC Pink Lemonade, Rootbeer
Iced Tea – $3.99
Sweet or unsweetened
Hot Chocolate – $5.00
With marshmallows
Cold Hot Chocolate – $5.00
Semi-sweet chocolate, cocoa, milk, chocolate ice cubes
Hot Coffee – $2.79
Regular or decaf
Cappuccino – $3.79
Latte – $3.79
Espresso – $2.99
Hot Tea – $2.79
Green, earl grey, or decaf
Juice – $2.69
Apple, orange, cranberry, pineapple, grapefruit, or tomato
Milk – $2.69
2% or 1%, chocolate
Bottled Water – $5.00
Acqua Panna or San Pellegrino
Old Fashioneds & Manhattans
Smoked Old Fashioned – $15.50
Rattlesnake Rosie's Maple Bacon Whiskey, smoked over oak
The Classic – $16.00
Classic old fashioned with Bigfire Select Barrel Woodford Reserve
PB&J – $15.00
Skrewball Peanut Butter Whiskey, Four Roses Small Batch Bourbon, Crème de Framboise
Blackberry Citrus – $16.00
Spirit of the Oak Bourbon, blackberry, orange
Classic Manhattan – $16.00
Classic Manhattan with Bigfire Select Barrel Woodford Reserve and sweet vermouth
Flights
Florida-Made – $17.50
Palm Ridge Rye whiskey, Dark Door Spirit of the Oak, St. Augustine bourbon
Hidden Gems Bourbon – $17.50
High West American Prairie, Hudson's Baby, Noble Oak "Double Oak"
Specialty Cocktails
Prescription Mint Julep – $16.50
Old Overholt straight rye, cognac courvoisier, agave nectar, bitters, mint
Florida Sour – $15.50
Chairman's Reserve Spiced rum, lime juice, grapefruit juice, passionfruit puree, vanilla bean paste
Big Fire 75 – $15.50
St. Augustine gin, St Germaine liqueur, Piper Sonoma Brut, lemon juice, blood orange syrup
Summer Revel Smash – $15.50
Rebel Yell Rye whiskey, simple syrup, fresh mint, blackberries and lemon
Lakeside Punch – $14.50
St. Augustine Vodka, orange, pineapple, and cranberry juices
Maple Bourbon Sidecar – $16.50
Rosie's Maple Bacon whiskey, Grand Marnier, cardamon bitters, maple syrup, fresh lemon juice
Raspberry Lemonade – $15.00
Tito's Vodka, fresh lemonade, St. George Raspberry Liqueur
Specialty Mocktails
Rosemary Apple Cider – $9.00
Apple cider, ginger beer, apple spice syrup, muddled oranges
Blackberry Breeze – $11.00
Muddled blackberries and mint, ginger beer, spiced blackberry, crystalized ginger
Strawberry Elderflower Pink Lemonade – $11.00
Muddled strawberry, basil, elderflower tonic, lemonade
Old Rip Van Winkle Bourbon & Rye
widely considered as the world's finest bourbon, extremely rare, highly coveted, limited inventory in house, poured 2 ounces over rocks
Currently offering at market price
Old Rip Van Winkle 10 year
Special Reserve 12 year
Pappy Van Winkle's Family Reserve 13 year rye
Whiskey
A distilled alcoholic beverage made from fermented grain mash
Michter's
Slaughter House
Jack Daniel's
Bear Gully
Gentleman Jack
Old St. Pete, Sweet Corn Whiskey
Southern Comfort
Southern Comfort, 100 Proof
Rattlesnake Maple Bacon
Stranahan's
George Dickel 13 yr Bottled in Bond
Tin Cup
Uncle Nearest, 1856 Premium Aged
Westland Distillery, American Single Malt
Balcones Corn Brimstone
Balcones True Blue
Screwball Peanut Butter
Bourbon
An American whiskey made using a corn-based mash
Bigfire Select Barrel Woodford Reserve
Horse Soldier, Small Batch
Basil Hayden Toast
Dark Door Spirits' Spirit Of Oak
Bradshaw
Michter's
Old Forester
Bird Dog, Small Batch
Bird Dog Chocolate
Wild Turkey
Wild Turkey Longbranch
Basil Hayden
Booker's
Hudson's Baby Bourbon
Maker's Mark
Maker's 46
Knob Creek
Knob Creek Smoked Maple
Angel's Envy
Russell's Reserve 10 yr
Smooth Ambler "Big Level"
Blanton's
Jim Beam
Buffalo Trace
Eagle Rare
Stillhouse Black Bourbon
St. Augustine Bourbon
Evan Williams
Yellowstone Bourbon
Bulleit
Bulleit 10 yr
Rebel Yell
Rebel Yell Root Beer
High West American Prairie Bourbon
Four Roses Yellow Label
Four Roses Small Batch
Four Roses Small Batch 100 Proof
Breckenridge Bourbon
Rabbit Hole
Jefferson's Very Small Batch Bourbon
1792 Ridgemont
EH Taylor Jr, Small Batch
Devil's River Small Batch Texas Bourbon
Garrison Brothers, Texas Bourbon
Noble Oak, Double Oak Bourbon
Stagg Jr., 126.4 Proof
Smooth Ambler Contradiction
Smooth Ambler Big Level
Elmer T. Lee Single Barrel
Rye
A spicy, dry American whiskey made using a rye-based mash
Rittenhouse
Old Overholt
Bulleit
Limestone Branch, Minor Case
Palm Ridge Reserve, Micro Batch
Templeton, 4 yr Rye
Michter's
Whistle Pig Rye
Rebel Yell, Small Batch Kentucky Rye
Sagamore Spirit, Cask Strength Rye
Splinter Group, Whip Saw Rye
Wild Buck, American Rye
Balcones Rye
Knob Creek Rye
Sazerac 18-year
Thomas H Handy Rye
Draft Beers
Abita Amber – $11.50
Sierra Nevada Pale Ale – $11.50
Sam Adams Seasonal – $11.50
Bell's Two Hearted – $11.50
Lexington Bourbon Barrel Ale – $11.50
Bottles & Cans
Bud Light
Budweiser
Miller Light
Michelob Ultra
Angry Orchard
PBR
Wicked Weed Pernicious
Swamp Head Midnight Oil
Coppertail Unholy
Wine
White
Kendall-Jackson "Vintner's Edition"
Chardonnay, Fulton,California
Bottle 45
St. Hubert's "The Stag"
Chardonnay, Yarra Valley, Australia
Bottle 49
Chalk Hill
Chardonnay, Sonoma Coast, California
Bottle 60
Rombauer
Chardonnay, Carneros, California
Bottle 68
Stag's Leap Wine Cellars "Hands of Time"
Chardonnay, Napa Valley, California
Bottle 79
Cakebread Cellars
Chardonnay, Napa Valley, California
Bottle 98
Seghesio
Chardonnay, Sonoma Valley, California
Glass 15
Bottle 56
Michael Pozzan Special Selection "Annabella"
Chardonnay, Napa Valley, California
Glass 12
Bottle 45
Gravel Bar
Chardonnay, Columbia Valley, Washington
Bottle 49
ZD
Chardonnay, Napa Valley, California
Bottle 113
Honig
Sauvignon Blanc, Napa Valley, California
Glass 13
Bottle 49
Decoy
Sauvignon Blanc, Sonoma County, California
Bottle 60
A to Z
Riesling, Newberg, Oregon
Glass 13
Bottle 49
Forge Cellars
Riesling, Burdett, New York
Bottle 53
Acrobat Vineyards
Pinto Gris, West Valley Region, Oregon
Bottle 56
Sokol Blosser
Pinot Gris, Dayton, Oregon
Glass 13
Bottle 49
Dr. Konstantin Frank
Pinot Gris, Finger Lakes, New York
Bottle 64
Halter Ranch
Rosé, Paso Robles, California
Bottle 53
San Simeon
Viognier, Paso Robles, California
Bottle 56
Elk Cove
Pinot Blanc, Willamette Valley, Oregon
60 Bottle
Gundlach Bundschu Gewurztraminer
Californian Gewürztraminer, Sonoma, California
Glass 16
Bottle 60
Sparkling
Piper Sonoma Brut
Sparkling Wine, Sonoma County, California
Glass 16
Bottle 56
Chandon Blanc Demi Sec
Sparkling Wine, California
Bottle 60
Schramsberg Brut
Rosé Sparkling Wine, Sonoma County, California
Bottle 105
G.H. Mumm "Cordon Rouge"
Brut Champagne, Champagne, France
Bottle 120
Red
Canoe Ridge Expedition
Cabernet Sauvignon, Horse Haven Hills, Columbia Valley, Washington
Bottle 56
Sebastiani
Cabernet Sauvignon, Sonoma Coast, California
Bottle 45
Juggernaut "Hillside"
Cabernet Sauvignon, California
Bottle 64
St. Hubert's The Stag
Cabernet Sauvignon, North Coast, California
Bottle 75
Austin Hope
Cabernet Sauvignon, Paso Robles, California
Bottle 83
Silver Oak
Cabernet Sauvignon, Alexander Valley, Sonoma County, California
Bottle 120
Jordan
Cabernet Sauvignon Alexander Valley, Sonoma County, California
Glass 23
Bottle 86
Sean Minor "Four Bears"
Cabernet Sauvignon, Paso Robles, California
Glass 13
Bottle 49
Opus One
Cabernet Sauvignon, Oakville, California
Bottle 488
Ghost Pines
Merlot, Napa Valley, California
Bottle 60
Stags' Leap Winery
Merlot, Napa Valley, California
Glass 17
Bottle 64
Duckhorn Estate
Merlot, Napa Valley, California
Bottle 116
Oberon
Merlot, Napa Valley, California
Bottle 64
Tortoise Creek
Clarksburg, California
Glass 11
Bottle 41
La Crema
Pinot Noir, Monterey County, California
Glass 14
Bottle 53
Erath
Pinot Noir, Oregon
Bottle 53
Meiomi
Pinot Noir, California
Bottle 64
Row Eleven Viñas 3
Pinot Noir, California
Bottle 53
Three Saints
Pinot Noir, Santa Maria Valley, California
Bottle 71
Evening Land "Seven Springs Vineyard"
Pinot Noir, Eola-Amity Hills, Willamette Valley, Oregon
Glass 28
Bottle 105
Rodney Strong "Upshot"
Red Blend, Sonoma County, California
Glass 14
Bottle 53
King Estate "North by Northwest"
Red Blend, Columbia Valley, Washington
Bottle 45
Orin Swift Abstract
Red Blend, California
Bottle 94
The Prisoner
Red Blend, Napa Valley, California
Bottle 101
Mount Peak Winery "Gravity"
Red Blend, Napa County, California
Bottle 120
Flora Springs "Trilogy"
Red Blend, Napa County, California
Bottle 184
Matchbook Malbec
Malbec, Dunnigan Hills, Yolo County, California
Glass 12
Bottle 45
Michael David Winery "Inkblot"
Petit Verdot, Lodi, California
Bottle 83
Michael David Syrah Petit Petite
Petite Petit, Lodi, California
Bottle 60
1000 Stories
Zinfandel, Mendicino County, California
Bottle 64
Mount Peak "Rattlesnake"
Zinfandel, Napa,California
Bottle 101
Bigfire – photo gallery
Real guest reviews of Bigfire
Orlando Informer
Average rating:
0 reviews