Skip to: Overview | Location | Hours | Menu | Guest reviews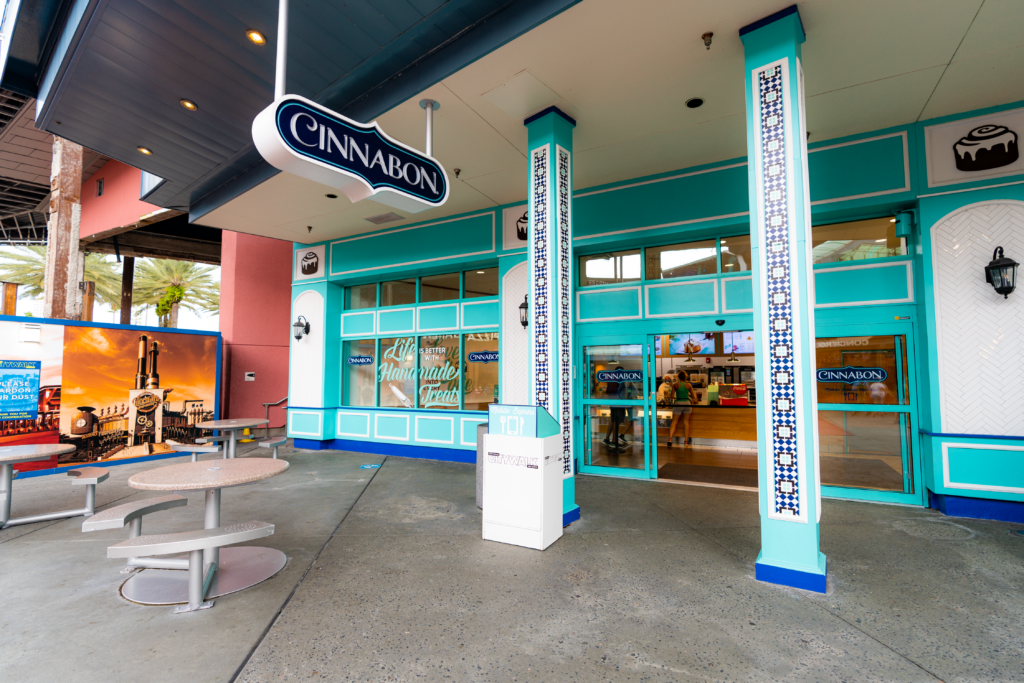 What is Cinnabon?
Cinnabon is a quick-service bakery serving up its world-renowned cinnamon rolls, along with a small selection of breakfast items and beverages. If you smell that delicious Makara Cinnamon wafting through the air as you make your way down CityWalk's main drag, towards the lagoon, you know you're in the right spot for a yummy morning meal (or – who are we kidding? – a snack any time of the day).
Its convenient location towards the front of CityWalk (plus the irresistible scent of Makara Cinnamon wafting through the air) makes this spot a popular breakfast choice among guests.
Where is Cinnabon located?
At Universal CityWalk Orlando.
Cinnabon – hours and reservations
Sunday – Thursday: 8:00 am – 9:00 pm
Friday – Saturday: 8:00 am – 10:00 pm
Hours are subject to change, and reservations are currently not accepted.
Where else can I find Cinnabon at Universal?
Over at Islands of Adventure, there is a second Cinnabon in Port of Entry, right next to Starbucks Coffee (talk about a breakfast combo!).
What's on the menu at Cinnabon?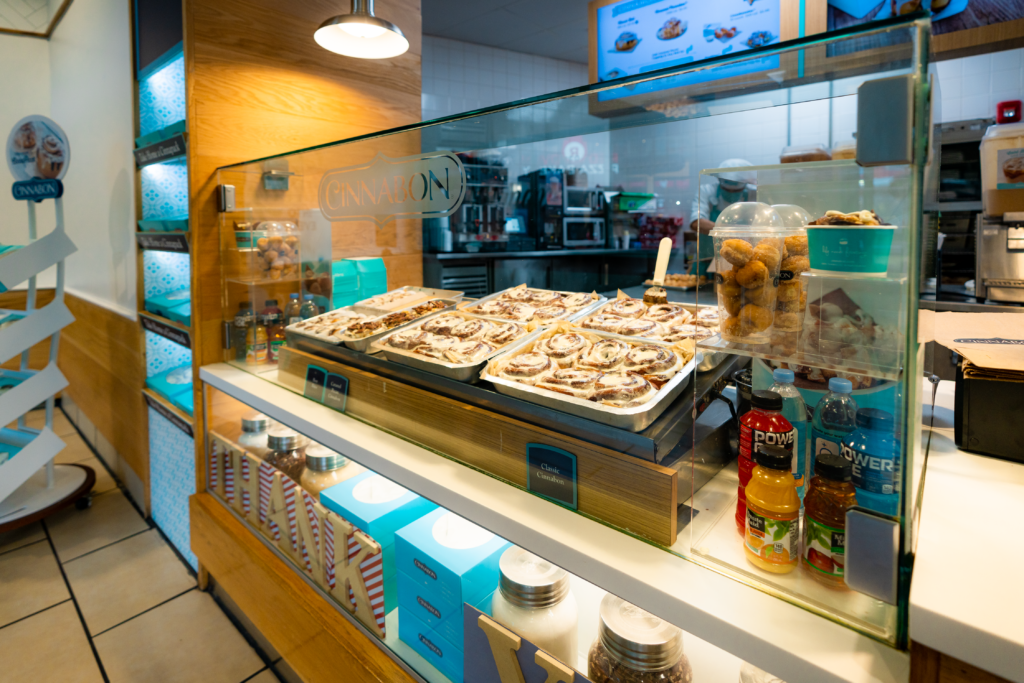 CinnaPack
Pre-packed and ready to heat
Cinnabon Classic
4 Rolls – $15.99
6 Rolls – $17.99
Extra Frosting Cup – $0.99
World-Famous Cinnamon Rolls
Classic Roll – $4.49
Caramel Pecanbon – $5.29
Center of the Roll – $4.39
CinnaSweeties 10-count – $5.99
BonBites 4-count – $4.39
Breakfast
Breakfast served Until 12:00 pm daily
Breakfast Sandwiches – $4.29
Choice of Egg and Cheese, Bacon, Egg, and Cheese, or Sausage, Egg and Cheese
Sausage Bites 3-count – $3.49
Beverages
Cold Brew Coffee – $4.79
Choice of Cinnamon Roll, Salted Caramel, or Vanilla
MochaLatta Chill – $4.79
Hot Beverages – $3.29
Choice of coffee, hot tea, or hot chocolate
Fountain Soda – $3.99
Coca-Cola, Coke Zero Sugar, Diet Coke, Coca-Cola Cherry, Sprite, Fanta Orange, Barq's Root Beer, Minute Maid Lemonade
Minute Maid Juice – $2.89
Choice of apple or orange
Milk – $3.29
Choice of 2% or chocolate
Bottled Water – $5.00
Powerade – $5.00
Choice of Fruit Punch or Mountain Berry Blast
Cinnabon – photo gallery
Cinnabon – real guest reviews
Orlando Informer
Average rating:
0 reviews
Do you have a question about the information on this page, would like to provide feedback, or did you spot an inaccuracy? Please let us know by posting in our
Orlando Informer Community
on Facebook.
OI Universal Center » CityWalk » Restaurants