Welcome to SeaWorld Orlando, the premier park for animal adorers and park lovers alike. Here, you can come face-to-face with a number of critters and jump on some big (or small) coasters. This page in our SeaWorld Center includes vacation-planning information on SeaWorld Orlando, including an overview of its park areas, attractions, and dining.
Skip to: Vacation Planning Tips | Attractions & Areas | Dining | Seasonal Events
Vacation Planning Tips
How much are tickets to SeaWorld Orlando?
One of the best things about SeaWorld is that (compared to the other big parks in Orlando) it is one of the most affordable parks in Central Florida. We recommend purchasing tickets from us here to get the best deal on your tickets to SeaWorld Orlando. You can also check our deals page for the best current ticket prices. 
What are SeaWorld Orlando's park hours?
As is the case with ticket prices, park hours will fluctuate throughout the year. You can generally count on SeaWorld to be open from 10:00 am – 6:00 pm at the minimum, with operating hours fluctuating throughout the year. In the summertime, when the sun doesn't set until 8:00 pm or later, the park will likely stay open until 9:00 pm (and the latest we have seen the park close without accommodating a special event is 11:00 pm).
What is parking like at SeaWorld Orlando?
There is one central parking lot for guests to access on their visit to SeaWorld. You can select general or preferred parking from the parking attendant. If you arrive early, we don't see a huge difference in the distances between these two parking areas. Later in the day, you might have to hike from your car to the front gate if you select general parking. 
General parking: $30
Preferred parking: $45
VIP Parking: $60
Silver Passholders: Free general parking
Gold and Platinum Passholders: Free general parking; free preferred parking when available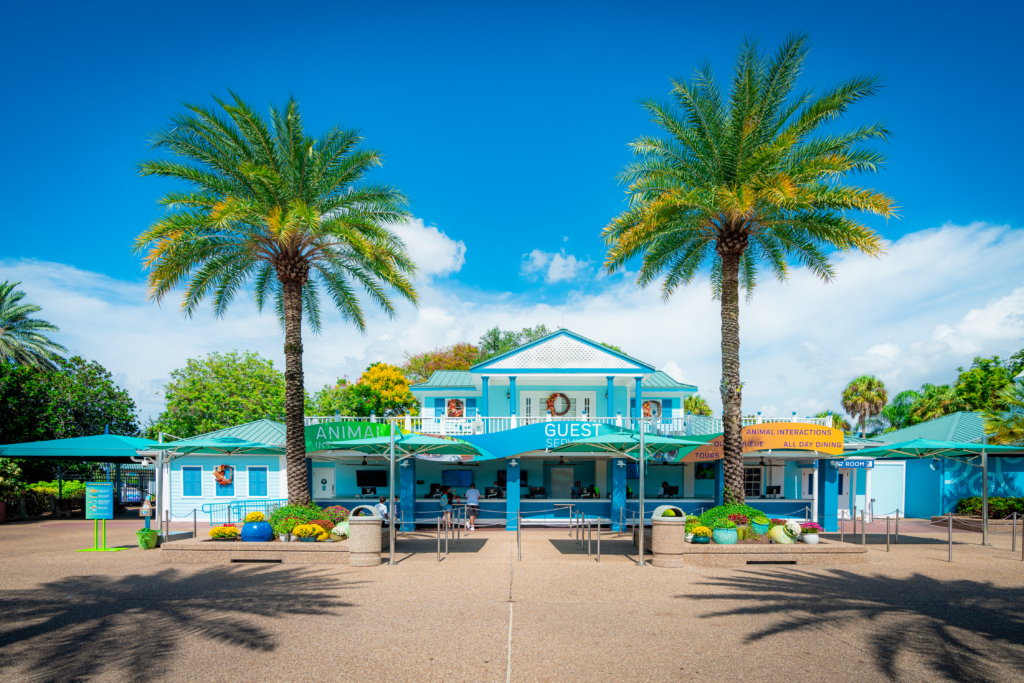 Does SeaWorld Orlando offer Express/Fast Pass?
If you are looking to skip the lines and get on as many participating rides as possible, you'll want to take advantage of Quick Queue Unlimited, which lets you do just that as frequently throughout the day as you please. Prices for this pass will depend on when you go and can range wildly. For example, Quick Queue Unlimited sometimes starts at just $15 per person per day (like during the slow season while SeaWorld is also running a promotion), but can swing up to $99 per person per day when demand necessitates. Luckily, most of the time Quick Queue Unlimited will run you somewhere in between those two prices. The attractions that participate in Quick Queue Unlimited are:
Mako – minimum height requirement 54"
Manta – minimum height requirement 54"
Kraken – minimum height requirement 54"
Antarctica: Empire of the Penguin – no minimum requirement
Infinity Falls – minimum height requirement 42"
Journey to Atlantis – minimum height requirement 42"
Ice Breaker – minimum height requirement 54″
Can I bring food, snacks, and drinks into SeaWorld Orlando?
Unfortunately, parks are cracking down on folks bringing their own food and drink with them on their adventures. SeaWorld is no exception here. So while you'll have to leave the sandwich fixings at home, you are welcome to bring your own water or refillable water bottles, or snacks for young babies and toddlers. Of course, baby formula and food is permitted, and guests with dietary needs are welcome to bring those specific foods as long as they check in with Park Security or Guest Relations upon arrival. From that point, food is subject to approval.
How many days should I spend at SeaWorld Orlando?
To get the full experience, we recommend two full days at SeaWorld Orlando. You will definitely need more days if you want to take advantage of the sister parks: Aquatica (the water park), and Discovery Cove (the immersive resort), are both in Orlando, and Busch Gardens is in nearby Tampa. That being said, you absolutely can have a great and efficient day at SeaWorld if one day is all that you have. Just be sure to prioritize your time – between the rides, shows, attractions, and sheer number of animal exhibits, you will find your day goes by quickly here!
Attractions
Eight primary areas comprise SeaWorld. While they aren't as distinct from one another as the names might suggest, each of the following areas is in fact themed to a particular element that hints at what you can find there.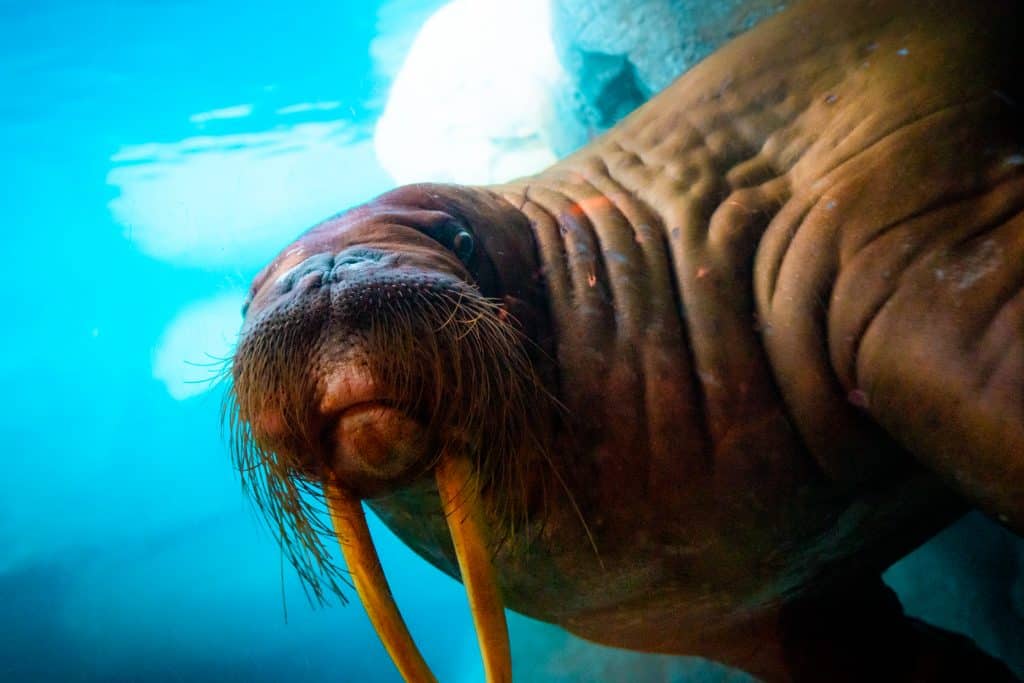 Port of Entry – The main entrance of the park. Here, you can find the main SeaWorld gift shop, Guest Relations, and wheelchair, scooter, or stroller rentals.
Sea of Shallows – Casually referred to as "Key West," this area houses the Dolphin Theater, Manta, Stingray Lagoon, and Turtle Trek. Animals in this area of the park include stingrays, flamingos, manatees, alligators, and pelicans.
Sea of Legends – In this section of the park, you can find two thrilling rides – Journey to Atlantis and Kraken.
Sea of Delight – This area includes the part of the park called "The Waterfront," which was designed to look like a seaside village. This is where you can find the Seaport Theater and the Sea Lion and Otter Stadium.
Sea of Ice – Predictably, this area is themed around the Antarctic exhibit. Antarctica: Empire of the Penguin is the only attraction here – for now. Guests can also access a gift shop and, of course, ice cream!
Sea of Mystery – This area could be called "Sea of Sharks," as it houses the Shark Encounter exhibit (where you can find an aquarium tunnel), Shark's Underwater Grill, and the Nautilus Theater. You can also jump on Mako in this area of the park.
Sea of Power – This section of the park is where you can find one of the most iconic elements of SeaWorld – Shamu Stadium. Here, guests gather to watch the impressive orca whale presentations and learn about these beautiful creatures.
Sesame Street Land – The eighth land in SeaWorld (and the only one that isn't a sea), Sesame Street Land is the perfect place to take your little ones (or yourself, if you're feeling nostalgic). Everything in this section is kid-friendly, from the design and interactive elements to the rides and attractions within it.
Dining
There are a number of places to grab a bite to eat at SeaWorld Orlando. Whether you're looking for something quick to take with you on the go, a refreshing drink to enjoy in the Florida sun, or a relaxing dining experience to share with a loved one, there are options for you here! Guests can also elect to participate in the All-Day Dining Deal, which is essentially what it sounds like. You can purchase tickets for that here. Not sure if that's the right fit for you? Check out our guide page on dining and experiences at SeaWorld Orlando here for a full breakdown of dining at SeaWorld. 
Seasonal Events
There is always something going on at SeaWorld. Click the highlighted names of each of these established favorites for full details.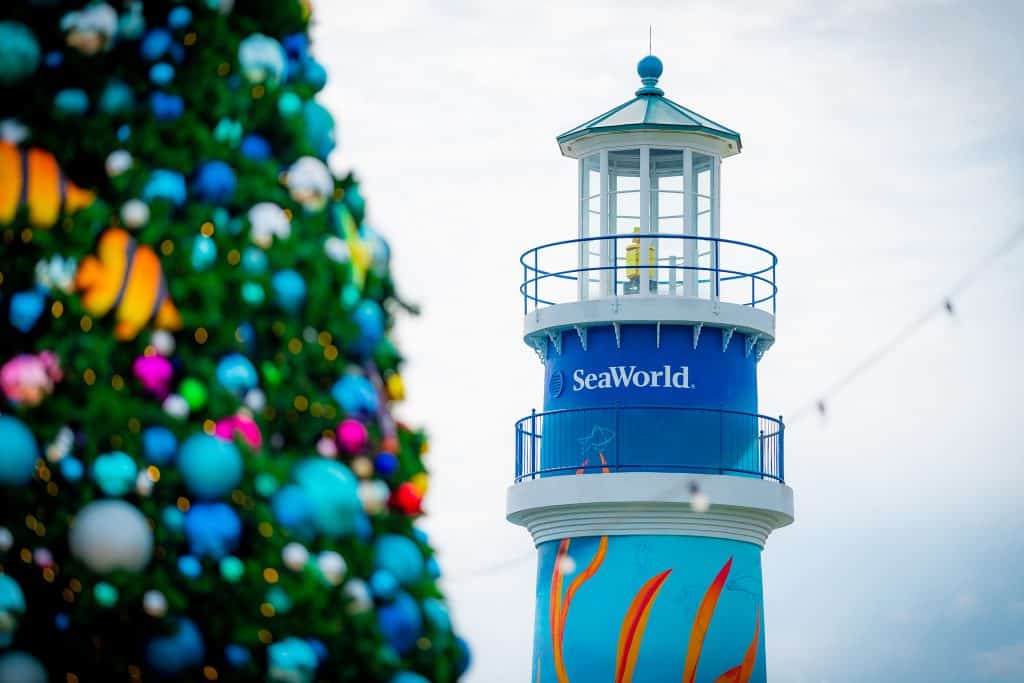 Elmo's Birthday Celebration
Come and celebrate our favorite monster's birthday! With special meet and greets and photo opportunities, this is a birthday party your little one won't soon forget. Included with park admission.
SeaWorld Seven Seas Food Festival
Running during Spring weekends, this festival allows guests to eat and drink their way around the lagoon. Didn't get to try everything in one trip? No sweat – this festival runs for nearly four months. Included with park admission.
Mardi Gras
The good times are always rollin' at SeaWorld Orlando! This festival celebrates the Gulf Coast in the form of food, drink, and good company. Included with park admission.
St. Patrick's Day Celebration
Everyone is lucky when celebrating St. Patty's at SeaWorld! Included with park admission.
Cinco de Mayo at SeaWorld
Celebrate Cinco de Mayo at SeaWorld with food, music, and live entertainment. Included with park admission.
Viva la Musica
On weekends in May, come to SeaWorld to be entertained by this festival that celebrates Latin food, music, and culture. Included with park admission.
Electric Ocean
SeaWorld brings the night to life in this vibrant summer series that celebrates the ocean. Included with park admission.
Fourth of July
Enjoy the Fourth of July with your patriots at SeaWorld Orlando. Fireworks, music, and more are all part of the party! Included with park admission.
Craft Beer Festival
Over 100 craft beers and distilled spirits are available at SeaWorld Orlando for a few weeks at the end of each summer. Included with park admission.
Howl-O-Scream
SeaWorld Orlando's premier Halloween event. A separately-ticketed, after-hours event that is only for the brave of heart.
SeaWorld Spooktacular
SeaWorld Orlando's daytime Halloween event for kids. Included with park admission.
Sesame Street Kids' Weekend at SeaWorld
This family-friendly event is hosted by Sesame Street Land. Kids can come interact with characters, get their faces painted, and enjoy other fun activities. Included with park admission.
Guy Harvey Weekend
SeaWorld Orlando hosts world-renowned artist and conservationist, Guy Harvey. Included with park admission.
SeaWorld Christmas Celebration
Enjoy the holiday season with your friends at SeaWorld. Delight in seasonal shows and taste holiday treats. Included with park admission.
All this information is just the tip of the iceberg when it comes to SeaWorld Orlando and all it has to offer! Use the rest of our guide pages in the SeaWorld Center to plan your next vacation to SeaWorld Orlando.