Skip to: Overview | Location | Restrictions | Fear factor | Fun fact | Guest reviews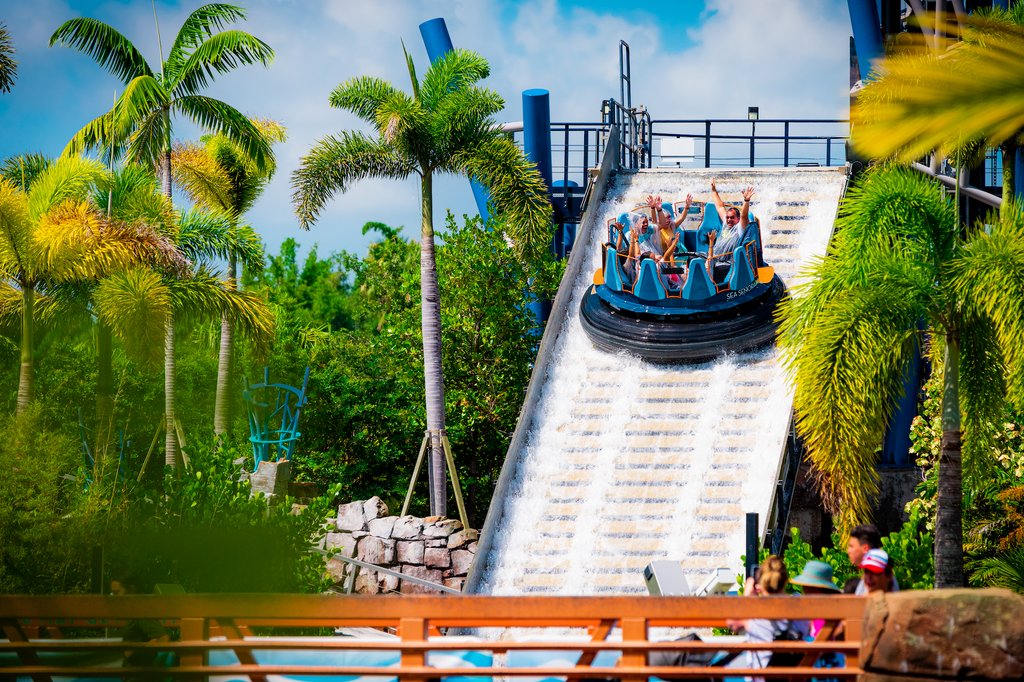 What is Infinity Falls?
Infinity Falls is one of the newest attractions at SeaWorld Orlando. A fun and action-packed river raft ride, Infinity Falls will make sure your whole expedition gets soaked! The ride features over 1500 feet of track, during which you'll navigate obstacles and surprises before taking a 40-foot plunge!
Where is Infinity Falls located?
In the Sea of Mystery at SeaWorld Orlando
Infinity Falls – height restrictions and other factors
Height requirement is 42 inches; included in Quick Queue.
Infinity Falls – what you wish you knew before you experienced it
You will get wet.
This is a raft ride, and an exciting one at that, so some would say it's the whole point! If you're not ready for that aspect of the experience, we recommend holding off Infinity Falls until later in the day (when the Florida sun almost demands you cool off one way or another), but wait times tend to skyrocket. We recommend riding it early to mid-morning and then using the rest of the day to dry off.
How scary is Infinity Falls?
We rate Infinity Falls three out of five surprise geysers. While the ride itself isn't scary, the river-adventure aspect of the ride vehicle could be enough to startle some of the little ones, and while the 40-foot drop is more fun than anything else, it is still quite the slide!
What was Infinity Falls' opening date?
October 4, 2018
Infinity Falls – OI fun fact
Each Infinity Falls raft has its own cheeky, punny name. Some of our favorites include: A Little Nauti, Rafty McRaftFace, and Sea Señora.
Infinity Falls – real guest reviews
Orlando Informer
Average rating:
0 reviews