SeaWorld Orlando has been stepping up their game in recent years to become a major contender in the theme park Halloween season. SeaWorld is in its third year of hosting Howl-O-Scream, a separately ticketed, "after-hours," adult-focused event that has joined the well-established Halloween traditions that already exist in the theme park. One of the most beloved of these is SeaWorld Orlando's Halloween Spooktacular, the family-friendly daytime event that brings tricks and treats to guests. Enjoy our guide page on how to best navigate this experience!
While we await details regarding 2024's Halloween Spooktacular, please enjoy the following information from 2023's festivities.
Skip to: Overview | Cost of Halloween Spooktacular | Plan your visit | Tickets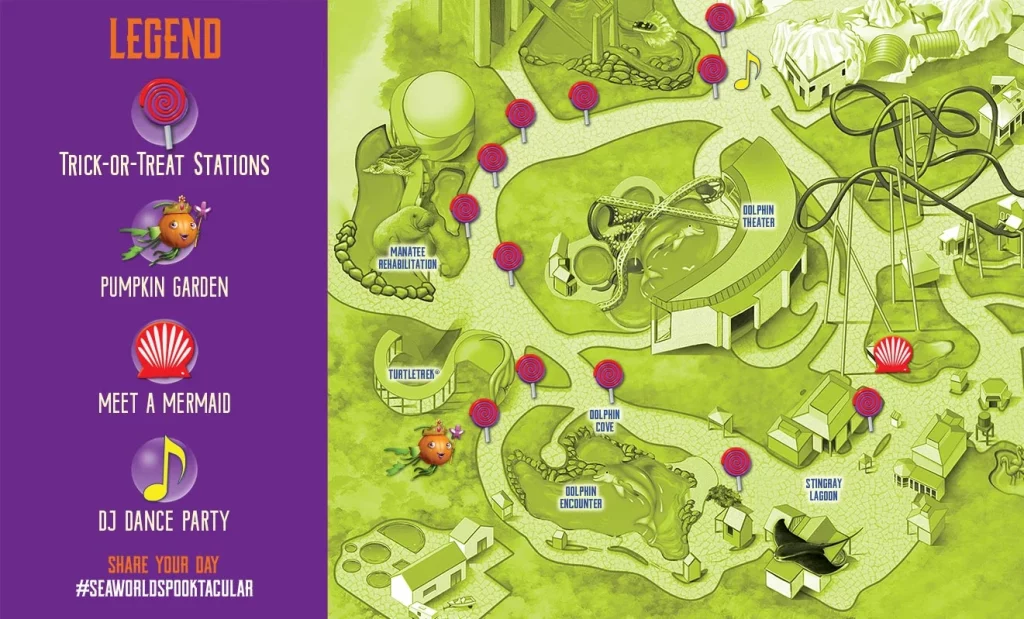 What is SeaWorld's Halloween Spooktacular?
Halloween Spooktacular is an annual, kid-friendly event that features daytime trick-or-treating. An established favorite since its inception in 2008, this seasonal event engages a variety of fall festivities, from dance parties to costume contests to face painting. In 2023, the event will run on select dates from September 16 to October 31 in conjunction with the Halloween season and is included with park admission to SeaWorld Orlando. Of course, your favorite Sesame Street characters will meet you there, and guests of all ages are welcome to dress in costume. However, for those of us ages 13 and up, costume face masks and hoods are not permitted as part of costumes. Face paint is not permitted on any guest no matter the age (unless on-site artists do the painting).
What is there to do during SeaWorld's Halloween Spooktacular?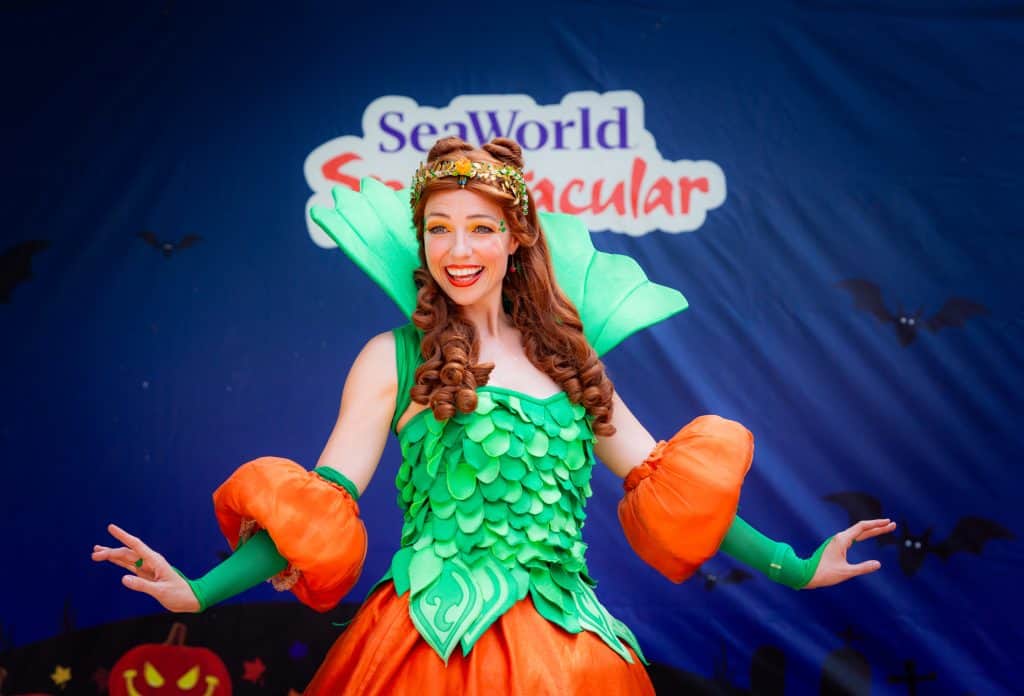 Halloween Spooktacular Activities:
Trick-or-Treat Trail
Halloween Dance Party
Meet a Mermaid
The primary attraction of this seasonal event is the trick-or-treat trail. Sometimes called "the candy trail," the trick-or-treat trail is exactly what it sounds like – a string of festive candy stations and booths for kids to play a trick, or (far more likely) get a treat! To participate in this activity, each trick-or-treater will need to use a SeaWorld trick-or-treat reusable bag (more on those later).
If you choose to sport your Halloween best, Fridays are a fin-tastic day to visit SeaWorld Orlando as costume contests are held weekly in the Journey to Atlantis Plaza. Get creative (while still following the park's rules) for a chance to win a special prize!
Trick-or-treaters can take a break in their candy hunting to enjoy the festive atmosphere on a stage featured on the trail. This stage will host a Scarecrow Halloween Dance Party, providing music for kids to show off their moves. It might be worth noting that it stays hot in Florida for a while, so if you're imagining crisp fall air and weather suited for apple picking, think again. Considering this, many families bring alternate clothing for their younger members to avoid overheating from all the activity.
In a distinctly Florida move, there are also friendly Halloween mermaids to interact with guests and heighten the fantastical experience during each event day. A number of other characters are also featured throughout the trail and vary day to day. All of these attractions can be found along the candy trail, located along the side of the lagoon at the center of SeaWorld. The entrance for many of the Halloween Spooktacular activities is typically near the Dolphin Nursery.
Other festivities…
This year, SeaWorld Halloween Spooktacular features a Pumpkin Garden, where guests can search for pumpkin fish or hear a story from the Pumpkin Queen.
Head over to Sesame Street Land for the neighborhood's not-to-be-missed Halloween parade, where Elmo, The Count, and many other residents dress in their Spooktacular best. At select times throughout the day, young and old, eager listeners gather around Big Bird's nest to hear some of his favorite Halloween tales during Storytime with Big Bird.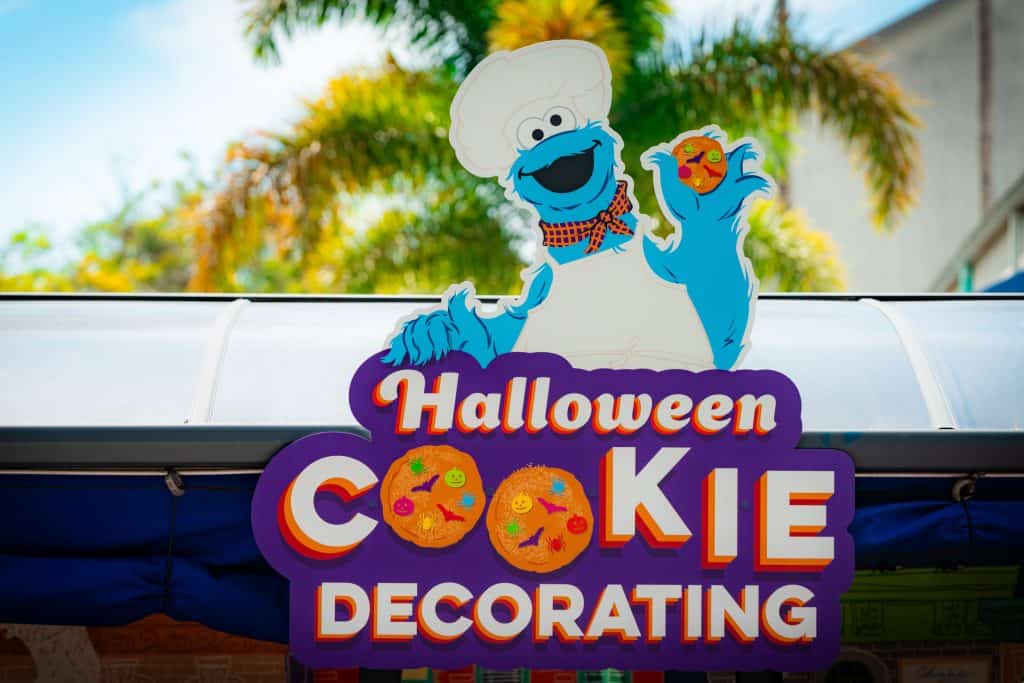 If your little one has a creative spirit, wander between Sesame Street Land and Wild Arctic for a Cookie Decorating and Craft Area. Crafts are included with your admission, while cookie decorating kits are available at an additional cost.
A final (and enjoyable) character experience is Count von Count's Spooktacular Breakfast. Families can purchase this experience to enjoy a delicious breakfast and take advantage of unique character photo opportunities at Seafire Grill. This dining experience must be booked in advance!
How much does SeaWorld's Halloween Spooktacular cost?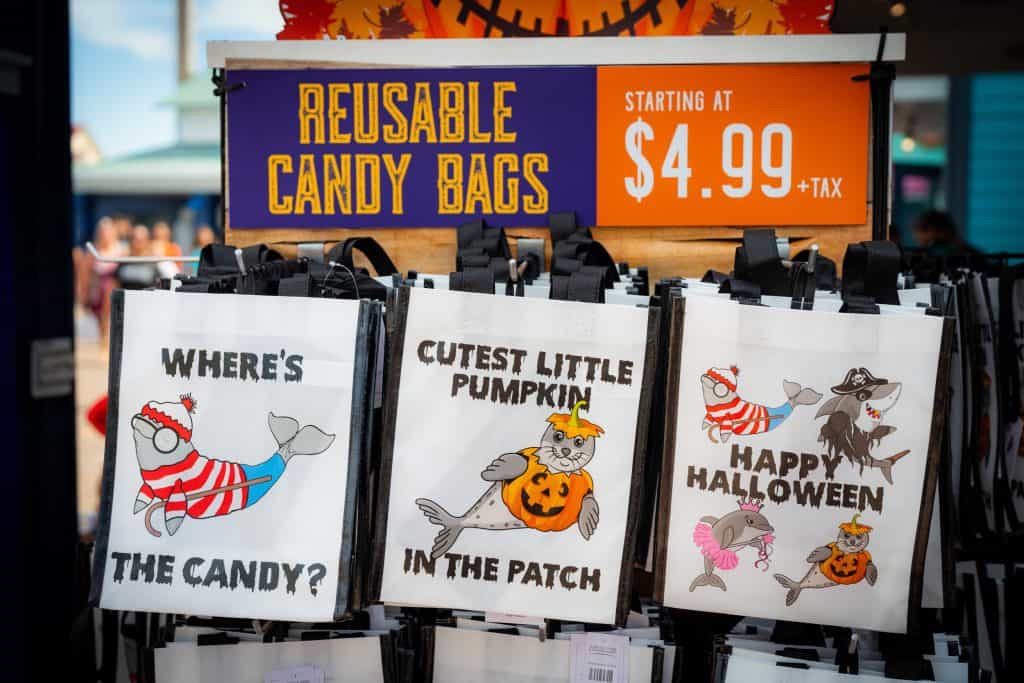 Access to Halloween Spooktacular is included with park admission to SeaWorld Orlando, and you cannot attend Spooktacular without a daytime ticket to SeaWorld Orlando. The only other cost requirement is using a SeaWorld trick-or-treat reusable bag to participate in the candy trail. These bags can be purchased across the park, with the easiest purchase being at the large gift shop (SeaWorld Store) at the main entrance. These cute bags are reasonably priced, and since they are truly reusable, you can use them any time you come back to trick-or-treat.
What other Halloween options are there at SeaWorld?
If you find Halloween Spooktacular a little too G-rated for your crowd, try coming back to SeaWorld after hours for Howl-O-Scream. Although not included with park admission, Howl-O-Scream is an affordable addition to your day, with tickets starting at just $42.99 for up to seven additional hours at the park, depending on the night you choose. You can view our guide page and get details about this event here.
Can I bring my own food and drink to SeaWorld's Halloween Spooktacular?
In the past, visitors have found bringing your own food to be an easy way to save a few bucks and increase the overall efficiency of the day, especially when there are lots of people involved. Unfortunately, most of the theme parks in Central Florida have put the kibosh on this practice, and SeaWorld is one of them. No outside food, drinks, or coolers are allowed in the park, but there are a few exceptions to this. For one, you can bring baby food and formula in with you, or (very) small snacks for a picky toddler. If you have severe food allergies, you can also bring in food to accommodate your needs, but you will need to check in with Park Security or Guest Relations when you arrive so they can clear your belongings.
SeaWorld attendees can take advantage of the All-Day Dining Deal. With this deal, you can dine at participating locations once every 90 minutes. Yep, that means you can pick up an entree, dessert or side, and non-alcoholic beverage and then do it all over again in 90 minutes. Adult tickets cost $49.99, and child tickets are $24.99. While the kids don't get the full entree option, they are able to pick up a kids' meal at participating locations every hour, all day.
The All-Day Dining Deal is valid for redemption at a variety of quick-service restaurants that offer an assortment of food choices. From classic burgers to kabobs, this is a great offer for everyone, even your party's pickiest eaters. Valid dining redemption locations are located throughout the park so you never have to venture far off your path to grab a bite to satiate your appetite.
When should I go to SeaWorld's Halloween Spooktacular?
This year, Halloween Spooktacular will run on select days starting on Saturday, September 16 and host its final day on Tuesday, October 31. Below is the 2023 schedule for SeaWorld's Halloween Spooktacular:
11 AM to 1 Hour Prior to Park Close
Saturdays & Sundays: 9/16 – 10/29
Monday: 10/30
Tuesday: 10/31
We recommend going in September if you are interested in lower crowds. Families who go in the mornings certainly tend to have cooler temperatures than those who come by in the late afternoon or early evening.
What else is there to do at SeaWorld's Halloween Spooktacular?
Of course, since Halloween Spooktacular is included with park admission, you and your family will have access to everything SeaWorld Orlando has to offer. Recently, SeaWorld Orlando was voted #1 Theme Park in the USA Today 10Best Awards, with one of its flagship rides, Mako, receiving the same accolade in Best Roller Coaster. Not into big coasters? That's OK. SeaWorld is a park that provides real variety for visitors. Guests of all ages will revel in the spectacles of Orca Encounter or Dolphin Adventures shows. Your animal lovers can come face to face with majestic sea turtles or even pet and feed stingrays. Little ones can spend sunny days on Sesame Street Land, enjoying age-appropriate rides and cooling off at the Rubber Duckie Water Works splash pad. Adults can sample the many seasonal drinks and food options that are available at kiosks throughout the park. These kiosks vary by season, but the treats they offer are always sure to complement your day at SeaWorld.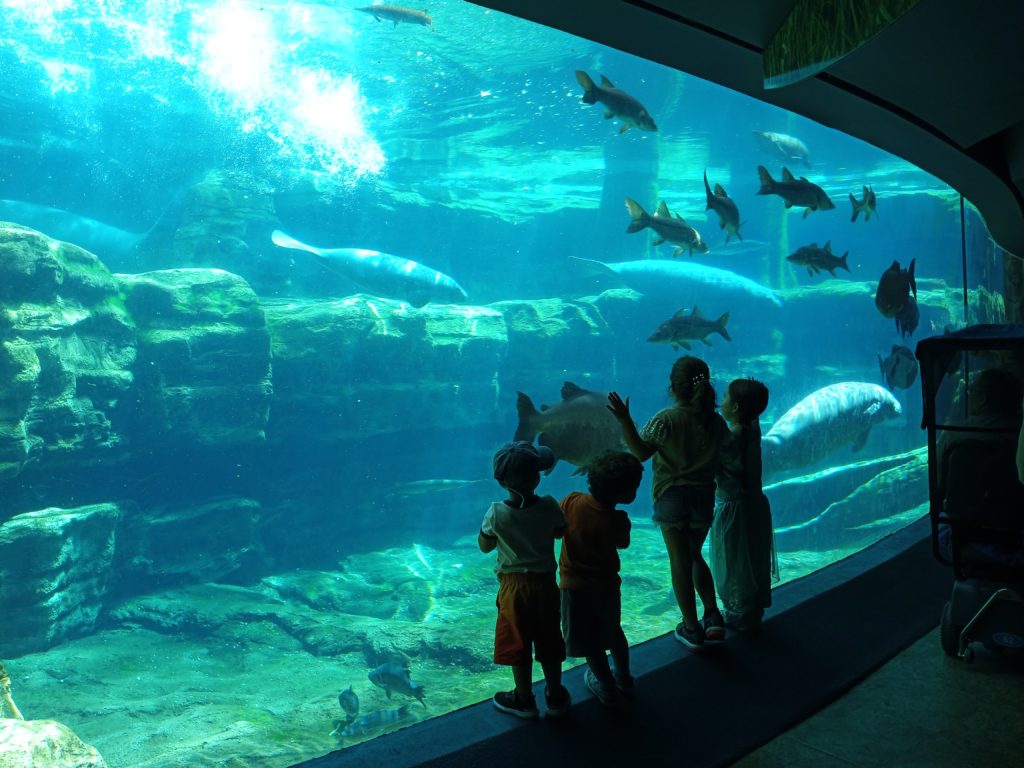 What if I want to do more?
If you find your day at SeaWorld isn't enough, there are two other SeaWorld parks in Orlando – Discovery Cove and Aquatica, and with the warm Florida weather, both are great options through the fall.
Discovery Cove is an immersive resort where guests can swim with the animals they've seen in aquariums. Comparably priced to other theme parks, Discovery Cove offers all-inclusive tickets, including unlimited food and drink, supplies such as sunscreen and a wet suit, and experiences like swimming with sea creatures. Guests can also upgrade their tickets to purchase experiences like swimming with Bottlenose Dolphins.
Close by, Aquatica is the water theme park for those who agree that a day by the pool just isn't enough. In keeping with SeaWorld standards, guests can see marine animals throughout their day, but what sets this park apart from the others are the rides, slides, and pools available for recreation and relaxation alike.
No matter which parks you choose to visit, we recommend purchasing your tickets here to get the best deal and get you started on your vacation!
SeaWorld's Halloween Spooktacular – photo gallery
---