Skip to: Overview | All-Day Dining Deal | Quick-Service | Full-Service | Specialty Dining
Where can I dine at SeaWorld Orlando?
SeaWorld has 16 places for guests to take advantage of when they get hungry. These places range from casual take-away eateries to full sit-down restaurants. This is your guide to what's available, when it's available, and what to expect there! We should note that (just from personal experience) opening times can vary, and frequently kitchens aren't firing up until around 11:30 am, which seems to be the reliable opening time for almost everything in the park.
Here is a complete list of restaurants at SeaWorld Orlando. Opening times can vary, as some restaurants may not open on particularly slow days. Those marked with an asterisk* participate in the All-Day Dining Deal.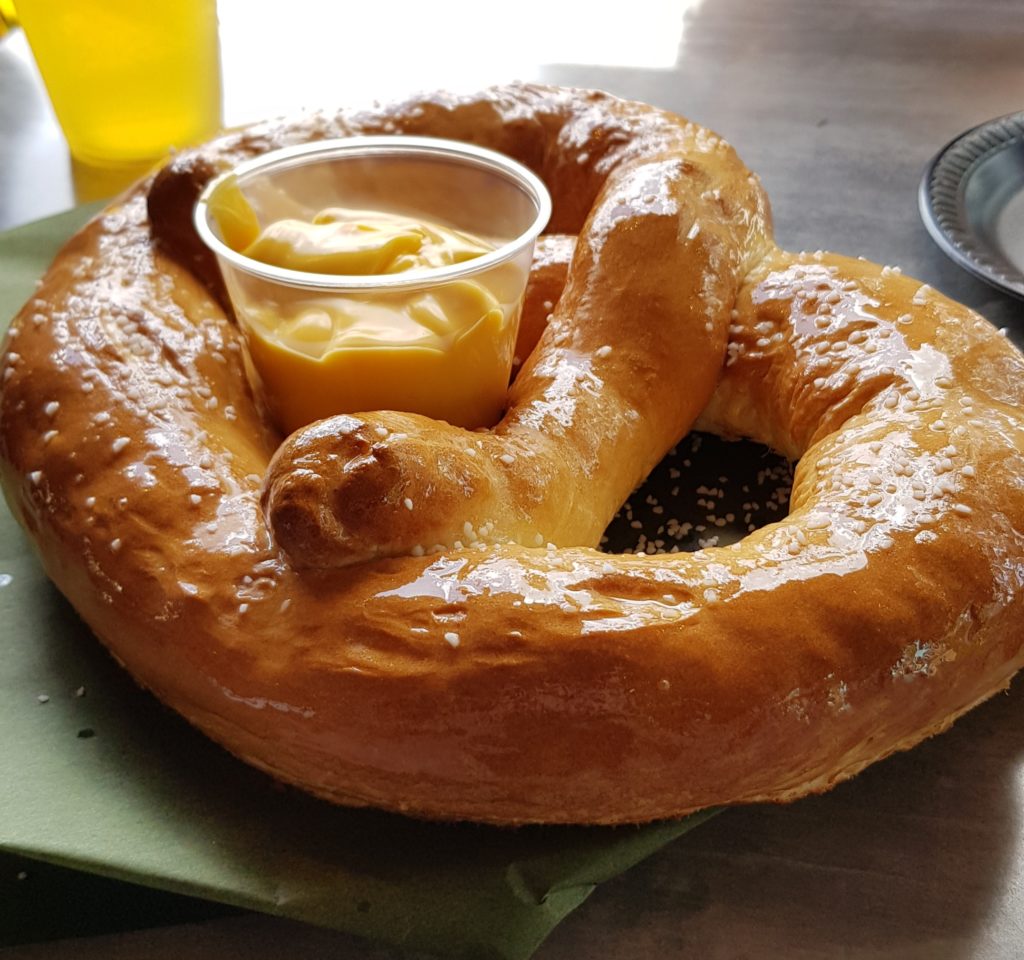 Opens with the park
Coaster Coffee Company
Seafire Grill from park open until 11:00am (breakfast only*)
Opens at 10:30
Lakeside Grill
Waterway Bar
Opens at 11:00
Altitude Burgers*
Flamecraft Bar
Expedition Cafe*
Voyager's Smokehouse*
Sesame Street Food Trucks
Glacier Bar
Captain Pete's Island Hot Dogs*
Opens at 11:30
Seafire Grill*
Mama's Pretzel Kitchen*
Waterway Grill
Sharks Underwater Grill and Bar
Opens at 12:00
All-Day Dining Deal
The All-Day Dining Deal is an upgrade to regular park admission. Once every 90 minutes, participants in this program can grab one entree, one side or one dessert, and one regular-sized non-alcoholic beverage from participating restaurants. Children participating in the All-Day Dining Deal are eligible to grab one kid's meal from participating locations every 90 minutes. That means if you spend 10 hours at SeaWorld (which is easier than it sounds) and get every meal you are eligible for, they will run you only about $7.50 each if you're an adult, and kids can eat for $3.80 a meal. You read that right – it's a heck of a deal if you and your family bring an appetite. 
Here's a quick link to our tickets page, where you can purchase a ticket with an all-day dining deal.
Quick-Service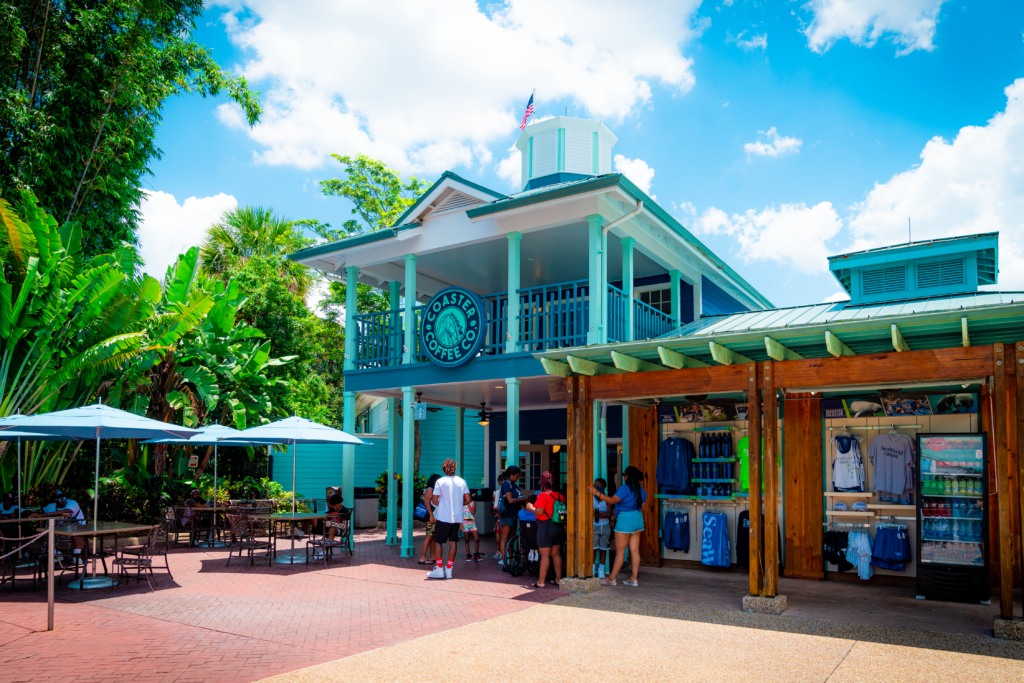 Coaster Coffee Company
Located near the park entrance, this hidden Starbucks provider offers guests coffee, pastries, and other refreshments throughout the day. You can also get an acai bowl to hold you over to the next meal.
Edy's Ice Cream Parlor
Featuring "14 Fabulous Flavors," Edy's Ice Cream Parlor is the perfect pit stop for guests looking for a respite from the Florida sun. Located near the Dolphin Nursery.
Captain Pete's Island Hot Dogs
Located in Key West by the Stingray Lagoon, Captain Pete's has a simple menu of hot dogs and waffle fries. Participates in the All-Day Dining Deal.
Mama's Pretzel Kitchen
Located near Orca Encounter, towards the back of the park. Guests can choose from a number of sweet or savory pretzels, delicious dipping sauces, and a selection of beer and wine. Participates in the All-Day Dining Deal.
Seafire Grill
Seafire Grill provides a variety of fish and chicken wraps, salads, and sandwiches for your family. If that doesn't suit anyone, there's always mac and cheese or fries, so even picky eaters can find something to enjoy here. Participates in the All-Day Dining Deal.
Voyager's Smokehouse
If you've got a hankering for BBQ, look no further. This is the place to be for briskets, ribs, or smoked chicken! Participates in the All-Day Dining Deal.
Flamecraft Bar
Located near Seafire Grill, this spot has one of the best views in the park. Take your pick from old favorites, seasonal specials, or new concoctions in this full bar. There is also a small selection of snacks to choose from – nachos, tacos, and pretzels, to name a few.
Glacier Bar
Find this hidden gem by Orca Encounter. This is the perfect spot to get a cold drink – alcoholic or otherwise – and snack on some finger food.
Expedition Cafe
Located in Antarctica, this food-court style eatery offers burgers, chicken tenders, or even Asian foods. With three main service counters, the cafe has enough selections to appease even your pickiest eater. Participates in the All-Day Dining Deal.
Waterway Grill
Delight in selections inspired by foods from Central and South America. With dishes like seared tofu or mojo chicken, this is the spot to eat if you want some spice in your life. Remember – the bar opens early! Participates in the All-Day Dining Deal (restaurant only).
Lakeside Grill
Choose from an assortment of Mediterranean fare at this brand-new restaurant. Located on the Waterfront, you can enjoy burgers and fish, or opt for a kabob. Participates in the All-Day Dining Deal.
Altitude Burgers
Located near Orca Encounter and Glacier Bar, Altitude Burgers has a menu of – you guessed it – burgers, pizza, and fries. Participates in the All-Day Dining Deal.
Full-Service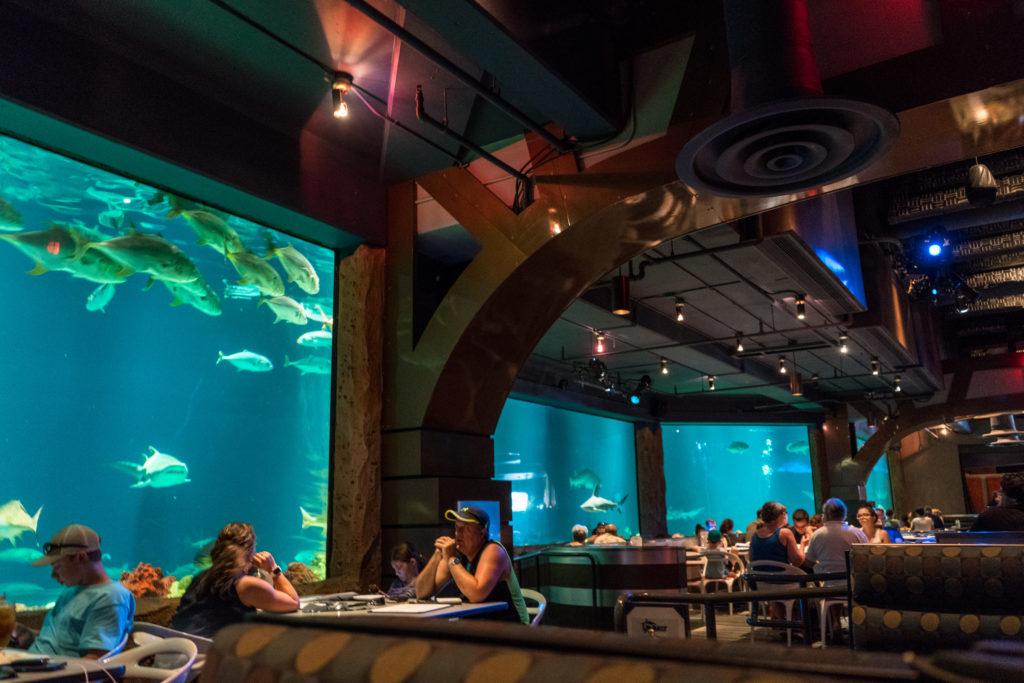 Sharks Underwater Grill
This specialty restaurant located in the Sea of Mystery is a once-in-a-lifetime dining experience. The restaurant shares walls with the shark aquarium, and guests can dine on Kobe Beef Sliders or fresh Caesar Salad and sip specialty cocktails with themed names like ""Sea Sangria" or "Mako Margarita" while watching stingrays, sharks, and fish cruise by. While reservations are not required, they are suggested – just stop by when the restaurant opens and check availability for the rest of the day.
Specialty Dining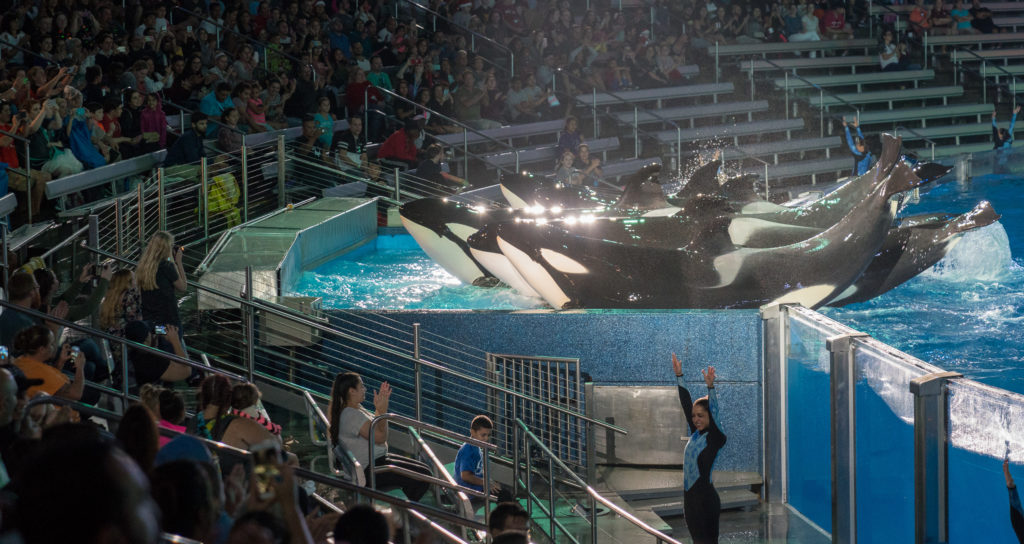 Dine with Orcas
This separately-ticketed event is one of the coolest experiences available in Central Florida. Dine with Orcas provides guests with an unforgettable meal on several accounts. This experience is a sit-down meal in a tranquil space adjacent to the Orca tank. While you and your family dine, these beautiful creatures will swim just feet from you. While the menu itself is pre-set, dietary accommodations are available, as are wine, beer, and cocktail selections.Through dinner, you will learn about Orca whales and what makes them some of the most interesting creatures on earth. After dinner, you and your family can see (first-hand) the relationships between SeaWorld animal caregivers and these powerful animals.
Ticket prices vary depending on when you go, but typically these prices range from $30 – $50 for adults and kids (ages 3-9) tickets range from $15 – $40. Children aged 2 and under get to tag along for free. Tickets must be purchased and reservations made in advance.