Skip to: Overview | Menu Selections | Cost of Seven Seas Food Festival| Concert Series| SeaWorld Orlando
SeaWorld Orlando is known for having festivals almost year-round. One of the biggest festivals of the year is the Seven Seas Food Festival. This event is included with park admission, and takes place on select dates between February 3 and May 7, 2023.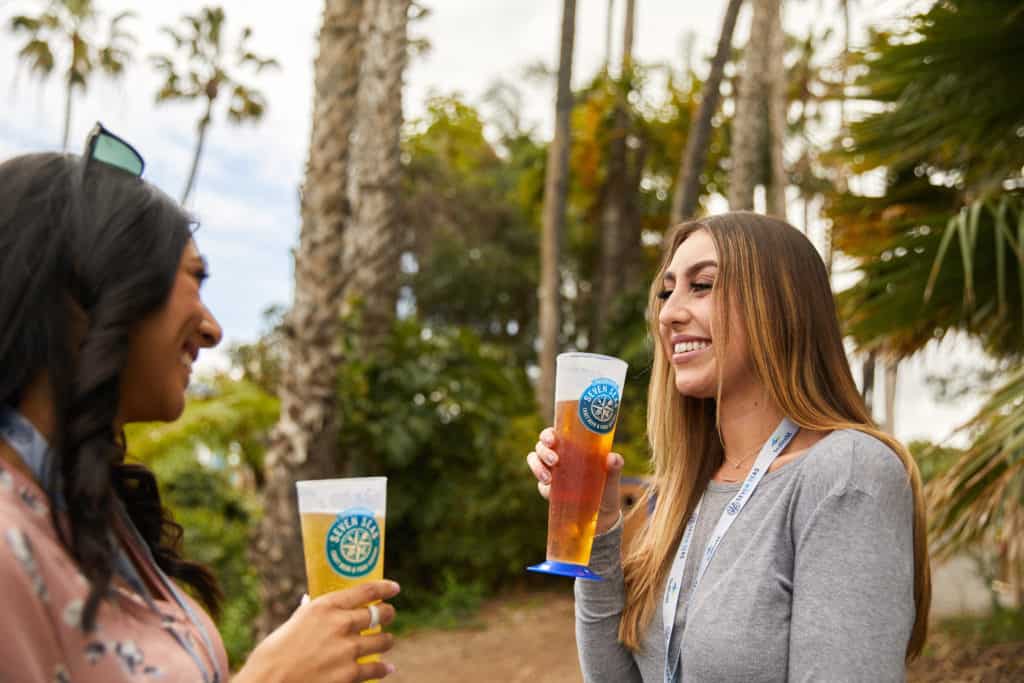 What is SeaWorld Orlando's Seven Seas Food Festival?
SeaWorld Orlando's Seven Seas Food Festival is billed as Orlando's largest theme park food festival. The event features 24 marketplaces and 26 live concerts across several weeks of festivities. Celebrating tastes and cuisines across the seven seas, the event welcomes over 200 chef and mixologist-curated dishes, and has expanded their marketplaces to include Ireland and Sicily. While the festival is very much a festival, it is (in general) a decidedly family-friendly affair, with plenty to do to entertain little ones while parents enjoy the food and drinks offered throughout the park.
Culinary Marketplace Hours, February 3 – May 7, 2022
Thursdays and Fridays: 1:00 p.m. – Park Close
Saturdays and Sundays: 12:00 p.m. – Park Close
The date range of this festival is significant, and the weather can greatly impact your experience. February in Florida is very different from May, so be sure to check out our page on Orlando weather to see what to expect upon arrival.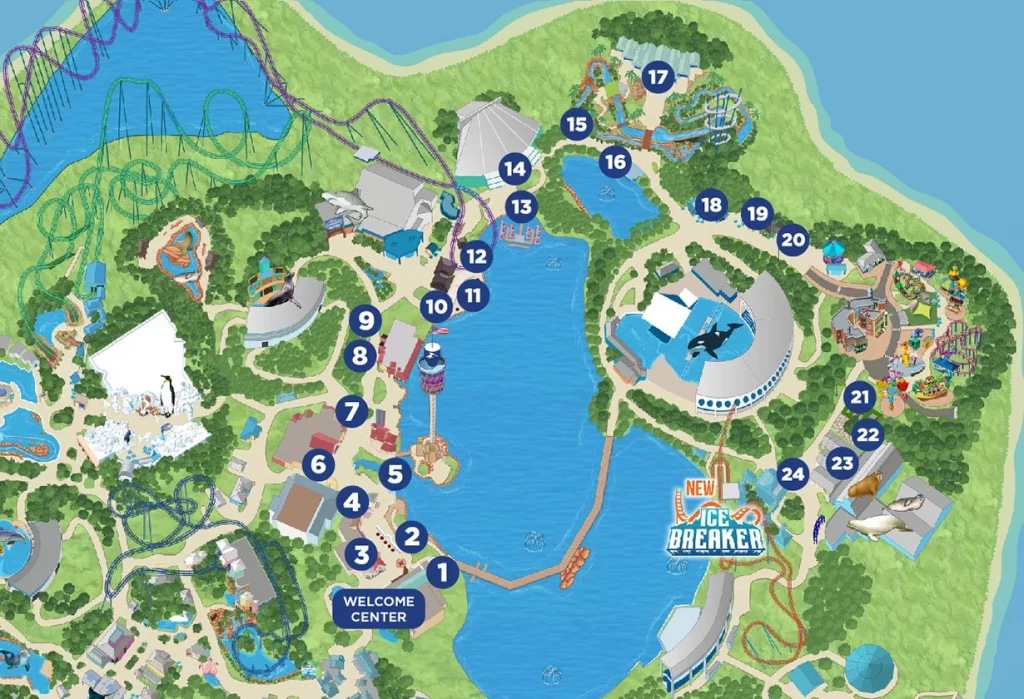 SeaWorld Orlando 2023 Seven Seas Food Festival Menu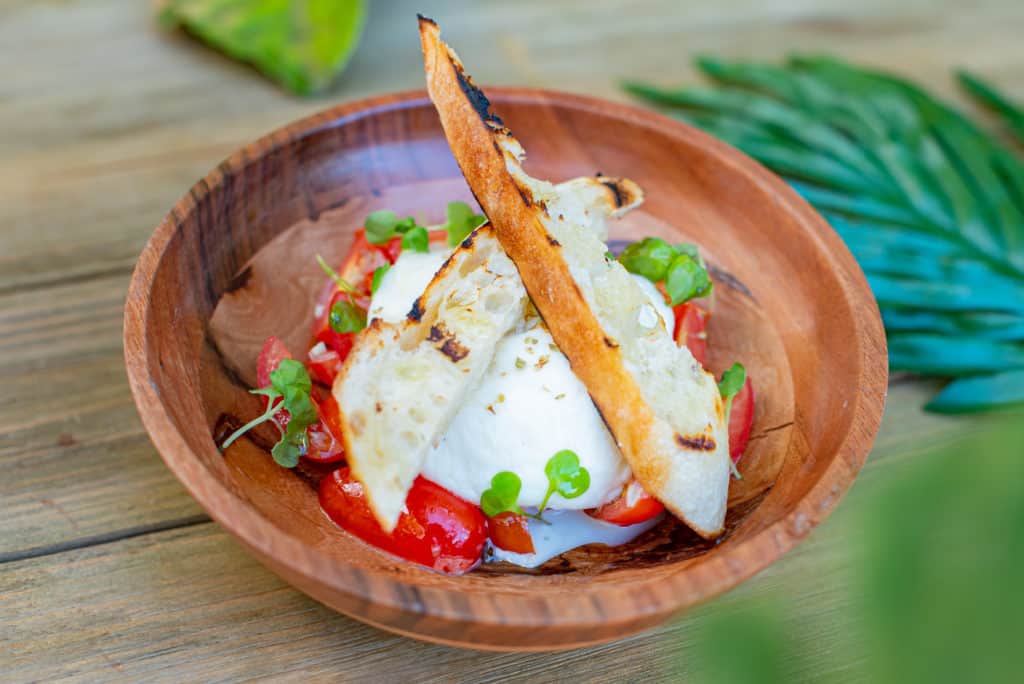 1 – Flamecraft Bar
Craft Brews
Tupac Shaporter
Ivanhoe Brewery
Strawberry Blonde Ambition
Sun Creek Brewery
Tag & Release Amber Ale
Sailfish Brewing Company
Crisp Apple
Angry Orchard Hard Cider
Duke's Cold Nose Brown Ale
Bold City Brewery
Fancy Papers
Cigar City Brewing
Floridian Wheat Beer
Funky Buddha Brewery
Captain Ron Hefeweizen
26° Brewing
Florida Sunshine
Crooked Can
Sunny Little Thing
Sierra Nevada
Strawberry Orange Mimosa
South Beach Brewing Company
Big Wave Golden Ale
Kona Brewing Co.
Walking Tree IPA
Walking Tree Brewery
Specialty Cocktails
Flamecraft Mule
Tito's Vodka, ginger, lime
Frozen Orlando Vice
Piña Colada and Strawberry Daiquiri
2 – Smugglers
Craft Brews
Cloud Chaser
Crooked Can
Two Hearted IPA
Bells
Wines
Moscato
Cà Montebello di Luigi Scarani, Moscato
Riesling, Semi-Dry
Fulkerson Winery
3 – Caribbean Moonshine Tasting
Specialty Cocktails
Marmalade Mayhem
Cat 5 Coconut
Passionfruit Prohibition
Banana Breeze
PB&C Cannonball
4 – Café De Mar
Food
Maple Hog
Cinnamon roll, bacon, whiskey maple glaze
Specialty Cocktails
Frozen Orlando Vice
Piña Colada and Strawberry Daiquiri
Strawberry Daquiri
Flor de Caña Rum, strawberry
Piña Colada
Flor de Caña Rum, pineapple, coconut
Wines
Peach Moscato
Tomasello Winery
Sangue di Guida
Girogi Costarosa
5 – Caribbean Market
Food
Smoked Jerk Chicken Slider
Smoked chicken, brioche bun, pineapple slaw, cilantro
Ropa Vieja
Shredded beef, plantains
Pineapple Dream Cake
Pineapple cake, cream cheese, whipped cream
Craft Brews
Prestige Brasserie Natonale d Haiti
Red Stripe Lager Beer
Desnoes & Geddes Brewery
Specialty Cocktails
Island Rum Punch
Bacardi light rum, dark coconut rum, orange, pineapple, cranberry
Caribbean Sunset Mocktail
Orange, lemonade, Sprite, grenadine
6 – All-American Market
Food
Classic Reuben
Pastrami, marbled rye bread, sauerkraut, swiss cheese
Lobster Mac & Cheese
Sharp cheddar mac and cheese, lobster, crispy shallot, green onion
Crispy Brussels Sprouts
Brussels sprouts, applewood bacon vinaigrette, almonds
Strawberry Shortcake A La Mode
Vanilla ice cream served with yellow cake, topped with strawberry
Specialty Cocktails
Southern Peach
Fistful of bourbon, peach schnapps, sprite, peach, simple syrup
Craft Brews
Goon Squad IPA
Brew Hub
Bud Light
Anheuser-Busch Brewery
7 – Polynesian Market
Food
Lamb Ribs
Tender roasted lamb served with Hawaiian Slaw, sesame seeds, pickled red onion, and a BBQ sweet & sour sauce
Ahi Tuna Poke Nachos
Tortilla chips, wakame, furikake, spicy aioli, toasted sesame oil
Specialty Cocktails
Frozen Polynesian Summer
Captain Morgan Pineapple Rum, coconut cream, mango, pineapple
Craft Brews
Big Wave Golden Ale
Kona Brewing Co.
8 – North Atlantic Market
Food
Fish & Chips
Deep-fried beer battered cod, sidewinder fries, tartar sauce, garnished with rosemary
Classic Lobster Roll
Brioche, tender butter lettuce, garnished with micro celery
Prince Edward Island Shrimp Fritters
Prince Edward Island shrimp, succotash, fermented spicy aioli
Chocolate Bailey's Mousse
Chocolate whiskey cake, Baileys Chocolate Mousse, whipped cream
Craft Brews
Cranberry Limeade
Lone Pine Brewing Co.
Specialty Cocktails
Moose Juice
Canadian Club whisky, raspberry, cranberry, lemonade
9 – Coaster Cocktails
Specialty Cocktails
Pipeline
Henricks gin, Tito's vodka, Bacardi rum, peach schnapps, orange juice, pineapple, grenadine
Kraken
Tito's vodka, Midori, green apple, pineapple juice
Mako
Milagro tequila, pineapple, blueberry, lime sour
Ice Breaker
Spiced rum, passion fruit, lemonade, Sprite
10 – Sweet Sips
Food
Raz Dazzle Cupcake
Vanilla cupcake, raspberry filling, vanilla frosting, raspberry
Coco Loco Cupcake
Chocolate cupcake, chocolate filling, chocolate frosting, chocolate hard shell
Boozy Cupcakes (Contains Alcohol)
Island Dream Cupcake
Pineapple cupcake, Malibu frosting
Orange Bliss Cupcake
Orange cupcake, Grand Marnier frosting
Wines
Riesling White Wine
Chateau Ste. Michelle
Peach Moscato Fruit Wine
Tomasello Winery
Moscato d'Asti Sparkling Wine
Risata Wines
Sangue di Giuda Sparkling Wine
Giorgi Costarosa Oltrepò
11 – Italian Market
Food
Burrata & Tomato
Heirloom tomato, fresh burrata, modena balsamic, extra virgin olive oil, Ciabatta toast
Italian Beef Arancini
Arancini served atop San Marzano tomato sauce, garnished with fresh basil
Palermo Fontina Cheese Meatballs
Homemade meatballs with Fontina cheese and fresh herbs in Pomodoro sauce garnished with Garlic panzito
Italian Cannoli
Mascarpone vanilla cream, cherry and pistachio crumbs
Wines
Italian Pilz
Ology
Sangue di Giuda
Giorgi Costarosa
Aperol Spritz
Aperol, Prosecco
12 – España
Wines
Cava Brut
Bodegas Pazo De Villarei
Abadia Do Seixo
Bodegas Pazo De Villarei
Vendimia Seleccionada
Vega Del Rayo
Cermeno Vedimia Seleccionada
Covitoro Bodegas
13 – Salted Rims
Specialty Cocktails
Jalapeño Margarita
Jalapeño tequila, Triple Sec, lime sour
Strawberry Margarita
Rock N Roll strawberry tequila, Triple Sec, strawberry lime sour
Watermelon Margarita
Milagro Tequila, Triple Sec, watermelon, lime sour
Smoked Bloody Mary
Tito's Vodka, smoked tomato juice, siracha, horseradish, worcestershire, salt
14 – Mediterranean Market
Food
Moroccan Grilled Lamb Chop
Boursin whipped mashed potatoes served with tzatziki sauce, micro celery garnish
Parmesean Truffle Fries
Grana Padano, fresh parsley, winter white truffle oil
Bay Scallop
Tricolor couscous, red quinoa
Baklava
Flaky filo dough layered with honey drenched walnuts
Specialty Cocktails
Mediterranean Sangria
Red sangria, red wine, cranberry juice, orange juice, lime
Wine
Nemea Agiorgitiko
Lantides Winery, Greece
Anosis Moschofilero
Lantides Winery, Greece
15 – Brazilian Market
Food
Picanha Steak
Cilantro chimichurri, three bean salad
Pão De Queijo
Brazilian cheese bread, honey whipped butter
Pork Belly Feijoada
Pork belly & black bean Brazilian stew, garnished with green onions
Specialty Cocktails
Frozen Guava Mint Caipirinha
Cachaca, guava, mint, coconut water, lime juice
Wines
Reserva Malbec
Don Genaro
Craft Brews
Brazil Loves New England
Ellipsis Brewing
16 – Asian Market
Food
Gua Bao
Grilled Pork Belly, steamed bao bun, pickled cucumber, shredded carrot and garnished with micro cilantro
Korean Corn Dog
Fish sausage, mozzarella cheese, yellow mustard, smoked ketchup
Deep Fried Dumpling
Asian vegetables served atop Ponzu sauce (vegetarian item)
Bing Su
Salted caramel ice cream topped with caramel popcorn and carmel
Craft Brews
Asahi
Asahi Brewery
Specialty Cocktails
Tokyo Rose
Shimizu no mai pure snow sake, Tito's Vodka, Triple Sec, cranberry
Wines
Shimizu No Mai Pure Snow Sake
Takashimizu Brewery
Kobai Plum Wine
Gekkeikan
17 – Waterway Bar
Food
Pipeline Surfboard Pretzel
Craft Brews
Dead Guy Ale
Rogue
Sunrise City IPA
Sail Fish Brewing Co.
Maduro Brown Ale
Cigar City Brewing
Orange Blossom Pilsner
Orange Blossom Brewing
Heineken Original
Heineken
TurboDog
Abita
Midnight Espresso
Motor Works Brewing
Awake Coffee Blonde Ale
3 Daughters Brewing
Wicked Hazy IPA
Samuels Adams
Corona Premier
Corona USA
Belgian White Wheat Ale
Shock Top Beer
Jai Alai Indian Pale Ale
Cigar City Brewing
Specialty Cocktails
Cut Water Frozen Margarita Popsicle
Cut Water Tequila Margarita
Cutwater Tiki Rum Mai Tai
Wine
Sauvignon Blanc
Stingray Bay
18 – Irish Market
Food
Corned Beef Hash
Hash brown waffle, corned beef hash, chives
Guiness Beef Stew
Tender beef stew with sweet potato and roasted root vegetables
Jameson Bread Pudding
Jameson infused bread pudding topped with Jameson Anglaise sauce
Craft Brews
Guinness Draught
Guiness
Magners Original Irish Cider
Magners
Specialty Cocktails
Irish Cold Brew Latte
Jameson Cold Brew, coffee, cream, simple syrup
19 – Mama's Pretzel Kitchen
Craft Brews
Key Lime Cider
3 Daughters Brewing
High Stepper
Crooked Can
You're My Boy, Blue!
Brew Bus USA
Tropical Hefe Hazy Wheat
3 Daughters Brewing
Luminescence
Florida Ave Brewing
Rollin' Dirty
Brew Bus USA
Mako Ale
Agua Mala
Funky Ginger Kombucha Beer
Unity Vibration Kombucha
20 – German Market
Food
Bratwurst
Smoked bacon and cheddar brat, pretzel bun, sauerkraut served with beer infused cheese
Pretzel on a Stick
Choice of: chocolate, sprinkles or cinnamon sugar
Apple Strudel
Warm pastry filled with apple filling
Specialty Cocktails
Eistee
Vodka, lemonade, iced tea
Sparkling Strawberry Punch Mocktail
Sparkling spritzer, strawberry
Wines
Riesling Dry
Fulkerson Winery
21 – Beer Garden
Craft Brews
420
Sweetwater Brewing Co.
Florida Special Lager
Copper Tail Brewing
Passion Wheat
JDub's Brewing Co.
Wavemaker Amber Ale
Big Storm Brewery
Florida Orange IPA
3 Daughters Brewing
Lager
Prestige Beer
Wines
Garnacha Gerberas Rosé
Emporio Winery
22 – Gulf Coast Market
Food
Impossible Jambalaya
Kidney beans, roasted red peppers, mirepoix, cajun broth
Bananas Foster Beignets
Rum glazed bananas, powdered sugar
Cajun Shrimp and Grits
Cheddar stone grits, royal red shrimp, andouille sausage, roasted tomatoes, green peas
Specialty Cocktails
Hurricane
Bacardi Dark Rum, passion fruit, orange and lime juices
Craft Brews
Purple Haze
Abita
23 – Mexican Market
Food
Tostada de Barbacoa
Guajillo Ancho Chile slow coked shredded beef, Queso Fresco, and pickled red onions garnished with onion and cilantro
Taco al Pastor
Mazina tortilla, chipotle ancho adobo chicken, grilled pineapple nappa cabbage, onion, and cilantro
Mexican Street Corn
Queso fresco with cilantro avocado crema garnished with tajin
Sopapilla
Chantilly cream and champurrado sauce
Specialty Cocktails
Frozen Pitaya Punch
Bacardi Rum, Triple Dec, dragon fruit, cranberry, lime
Craft Brews
Dos Equis Lager Especial
Dos Equis
Modelo Especial
Modelo USA
24 – Glacier Bar
Food
Seven Seas Bougie Doughnut
Strawberry cheesecake filling, strawberry buttercream, brown sugar crumble
Craft Brews
Toboggan Blonde Ale
Ivanhoe Park Brewing Co.
Boston Lager
Samuel Adams
Jai Alai India Pale Ale
Cigar City Brewing
Orange Blossom Pilsner
Orange Blossom Brewing
No Mames
Tripping Animals Brewing
Blackened Voodoo
Faubourg Brewery
Specialty Cocktails
Spicy Piña Margarita
Milagro Tequila, spicy pineapple, lime sour
Sparkling Mojito
Flor De Caña silver rum, club soda, mint
Wine
Vidal Blanc Ice Wine
Tomasello Winery
How much does SeaWorld Orlando's Seven Seas Food Festival cost?
Access to the Seven Seas Food Festival at SeaWorld Orlando is included with the price of admission, and guests can participate as much or as little in the festivities as they see fit. If that menu looks good to you, you're not alone. Luckily, guests have the option to purchase a sampling lanyard so you can get a good bang for your buck. With your lanyard, you can go around to any of the festival stations and get a sample-sized taste of food or drink. It's a decent deal – a lanyard for 15 samples costs only $85 ($5.66 per sample), and a lanyard for 10 samples costs $70 ($7.00 per sample). Using a lanyard is a great way to be sure you get to taste everything you want to before getting too full, or having one too many. If you decide that you don't want to use all your tastings, that's okay too. Your lanyard is valid at any festival station throughout the duration of the festival.
SeaWorld Orlando Seven Seas Food Festival Concert Series
One of the coolest things about SeaWorld Orlando's Seven Seas Food Festival is that the event includes access to live concert experiences. After you've had your fill of food and drink, settle into a concert at Bayside Stadium and enjoy the show. All the shows are included in park admission and begin at 7:00 p.m. unless otherwise noted. Here are some of the headliners.
February
4 – En Vogue
5 – REO Speedwagon
11 – The Commodores
12 – Bee Gee's Now, A Tribute to the Bee Gee's (4 p.m.) & Let It Be, A Tribute to the Beatles (6 p.m.)
18 – Collective Soul
19 – Jerry Rivera
25 – Don McLean
26 – Ludacris
March
4 – Joey Fatone & Friends
5 – Tenille Townes
11 – A Tribute to Luke Bryan and the Zac Brown Band
12 – Sean Kingston
18 – A Tribute to Styx and Boston
19 – Hanson
25 – A Tribute to David Bowie and Aerosmith
26 – Eli Young Band
April
8 – Cory Asbury
9 – A Tribute to AC/DC, Def Leppard, and Queen
15 – Chris Lane
16 – The Marshall Tucker Band
22 – Tito Nieves
23 – Kameron Marlowe
29 – The Commodores
30 – Scott Stapp
May
6 – NE-YO
7 – Martina McBride
Guests can also reserve seating in Bayside Stadium for these concerts on SeaWorld Orlando's website. Depending on the seat you want, reserved seating can be as cheap as $10 a person and go up to $70 per guest.
What else can I do at SeaWorld Orlando?
SeaWorld Orlando is a park that boasts six big rides and a number of smaller attractions. Mako, Manta, Kraken, Infinity Falls and Journey to Atlantis are all rides that will take even the most stalwart coaster lover to task. SeaWorld Orlando was also recently voted best theme park in the USA Today 10Best poll, with Mako winning best roller coaster in the same poll.
No matter what your age is, the sheer number of animals that call SeaWorld Orlando home will put a smile on your face. From seeing Orcas up close in beautiful encounters to being able to feed and touch stingrays in the Stingray Lagoon, SeaWorld is a park that shows how interconnected we all are.
Little ones will likely find their favorite spot in the park to be Sesame Street Land. A complete recreation of the place where the air is sweet, this part of the park is the perfect place to take your tot on a hot summer day. Here, younger guests can enjoy a splash pad, tyke-sized rides, and grab a treat from Mr. Hooper's store.
For a full overview of SeaWorld Orlando and everything it has to offer, check out our guide page. Even better, we hope you'll come enjoy the Seven Seas Food Festival and check everything out for yourself. Until then – cheers!