SeaWorld Orlando is known for having festivals almost year-round. One of the biggest festivals of the year is the Seven Seas Food Festival. This event is included with park admission, and takes place on Thursdays through Sundays between February 4 and May 8, 2022. Here's everything you need to know about experiencing the 2022 Seven Seas Food Festival at SeaWorld Orlando.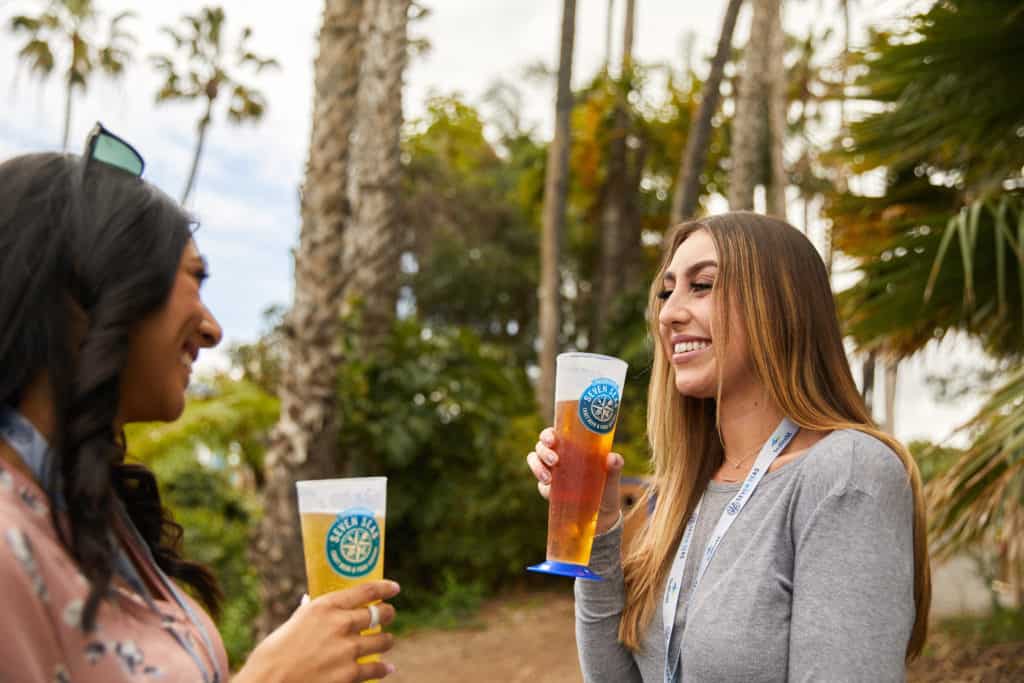 Skip to: Overview | Menu Selections | Cost of Seven Seas Food Festival| Concert Series| SeaWorld Orlando
What is SeaWorld Orlando's Seven Seas Food Festival?
SeaWorld Orlando's Seven Seas Food Festival is billed as Orlando's largest theme park food festival. The event features 24 marketplaces and 26 live concerts across several weeks of festivities. Celebrating tastes and cuisines across the seven seas, the event welcomes over 200 chef and mixologist curated dishes, and has expanded their marketplaces to include Ireland and Sicily. While the festival is very much a festival , it is (in general) a decidedly family-friendly affair, with plenty to do to entertain little ones while parents enjoy the food and drinks offered throughout the park.
Culinary Marketplace Hours, February 4– May 8, 2022
Thursdays and Fridays: 1:00 p.m. – Park Close
Saturdays and Sundays: 12:00 p.m. – Park Close
The date range on this festival is significant, and the weather can greatly impact your experience. February in Florida is very different from May, so be sure to check out our page on Orlando weather to see what to expect upon arrival.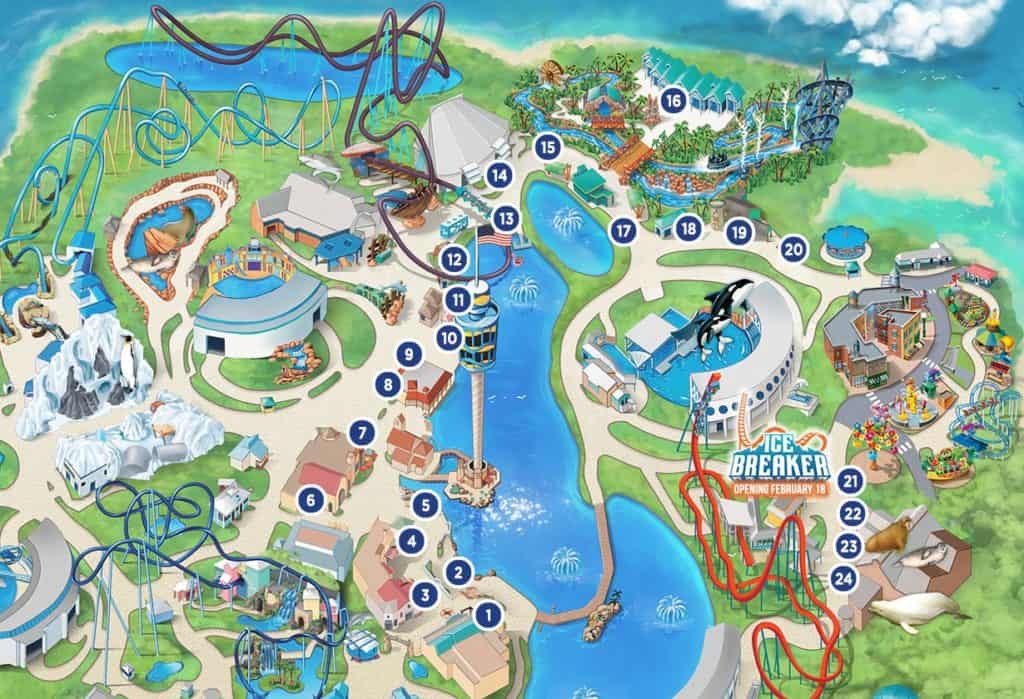 SeaWorld Orlando 2022 Seven Seas Food Festival Stations
The stations marked with an asterisk (*) offer food options as well as beverages.
Flamecraft Bar – Featuring 13 craft beers and craft cocktails (Mojito, Margarita) on tap
NEW! Sunshine Hops – Featuring a sour ale, wine, and frose
NEW! Jack Daniels Tasting – Featuring a selection of Jack Daniels whiskey
Cafe de Mar* – Featuring a variety of cheesecakes and dessert drinks
Caribbean Market* – Featuring spicy shrimp, jerk chicken hot slider, and a rum runner
All-American Market Presented by KraftHeinz* – Featuring Bristket Totchos, lobster Mac, and funnel cake
Polynesian Market* – Featuring spicy tuna poke bowl, lamb ribs, and "Aloha Lemonade"
North Atlantic Market* – Featuring clam & corn chowder, pan-seared scallops, and a wine selection
Coaster Cocktails – Featuring a collection of juice-pouch cocktails inspired by the big four: Ice Breaker, Kraken, Manta, and Mako
NEW! Taste of Sicily – Featuring an entirely new selection of wines and other Italian beverages
Italian Market* – Featuring homemade meatballs, hot mozzarella bruschetta, and tiramisu
NEW! Wine Tasting with Lakeridge Winery & Vineyards – Featuring a selection of wines
Cutwater Spirits – Featuring a selection of refreshing canned cocktails and margarita popsicles
Mediterranean Market* – Featuring hummus and chips, grilled lamb chops, and "Sparkling St. Tropez" cocktail
Brazilian Market* – Featuring Brazilian cheese bread, Mojito mousse, and Frozen Basil & Mint Caipirinha
Waterway Bar* – Featuring rotating craft brews, daiquiris, frozen cocktails, and a pretzel with beer cheese dip
Asian Market* – Featuring giant Panko prawns, pork belly bites, and vanilla ice cream
NEW! Ireland Market* – Featuring corned beef, mini shepherd's pies, and – what else? – Guinness on draft
Mama's Pretzel Kitchen – Featuring eight craft beers
German Market* – Featuring Pork Schnitzel slider, Pretzel Bratwurst, and a Frozen Jägermeister Bomb
Beer Garden – Featuring a number of draft brews and flights
Gulf Coast Market* – Featuring Gulf Gumbo, Bourbon BBQ Po'Boy, Beignets, and Frozen Hurricanes
Mexican Market* – Featuring Mini Churro bites, Barbacoa tacos, and frozen margaritas
Glacier Bar – Featuring craft beers, frozen daiquiris, and cocktails on tap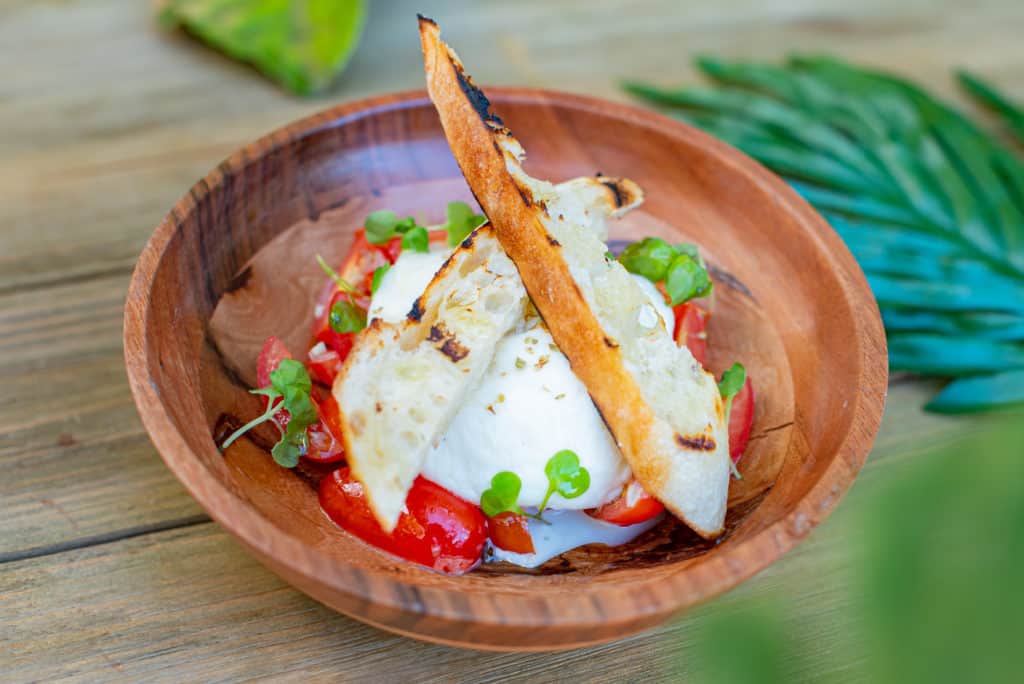 How much does SeaWorld Orlando's Seven Seas Food Festival cost?
Access to the Seven Seas Food Festival at SeaWorld Orlando is included with the price of admission, and guests can participate as much or as little in the festivities as they see fit. If that menu looks good to you, you're not alone. Luckily, guests have the option to purchase a sampling lanyard so you can get a good bang for your buck. With your lanyard, you can go around to any of the festival stations and get a sample-sized taste of food or drink. It's a decent deal – a lanyard for 15 samples costs only $80 ($5.30 per sample), and a lanyard for 10 samples costs $65 ($6.50 per sample). Using a lanyard is a great way to be sure you get to taste everything you want to before getting too full, or having one too many. If you decide that you don't want to use all your tastings, that's okay too. Your lanyard is valid at any festival station throughout the duration of the festival.
SeaWorld Orlando Seven Seas Food Festival Concert Series
One of the coolest things about SeaWorld Orlando's Seven Seas Food Festival is that the event includes access to 26 live concert experiences. After you've had your fill of food and drink, settle into a concert at Bayside Stadium and enjoy the show. All the shows are included in park admission and begin at 7:00 pm unless otherwise noted. Here are some of the headliners.
February
5 – Justin Moore
12 – Molly Hatchet
13 – LOCASH
19 – Vanilla Ice
26 – ASIA featuring John Payne
March
19 – Everclear
20 – Steve Augeri, formerly of Journey
April
10 – Flo Rida
Guests can also reserve seating in Bayside Stadium for these concerts on SeaWorld Orlando's website. Depending on the seat you want, reserved seating can be as cheap as $10 a person and go up to $70 per guest.
What else can I do at SeaWorld Orlando?
SeaWorld Orlando is a park that boasts six big rides and a number of smaller attractions. Mako, Manta, Kraken, Infinity Falls and Journey to Atlantis are all rides that will take even the most stalwart coaster lover to task. SeaWorld Orlando was also recently voted best theme park in the USA Today 10Best poll, with Mako winning best roller coaster in the same poll.
No matter what your age is, the sheer number of animals that call SeaWorld Orlando home will put a smile on your face. From seeing Orcas up close in beautiful encounters to being able to feed and touch stingrays in the Stingray Lagoon, SeaWorld is a park that shows how interconnected we all are.
Little ones will likely find their favorite spot in the park to be Sesame Street Land. A complete recreation of the place where the air is sweet, this part of the park is the perfect place to take your tot on a hot summer day. Here, younger guests can enjoy a splash pad, tyke-sized rides, and grab a treat from Mr. Hooper's store.
For a full overview of SeaWorld Orlando and everything it has to offer, check out our guide page. Even better, we hope you'll come enjoy Beer Fest and check everything out for yourself. Until then – cheers!