Skip to: Overview | Location | Restrictions | Fear factor | Fun fact | Guest reviews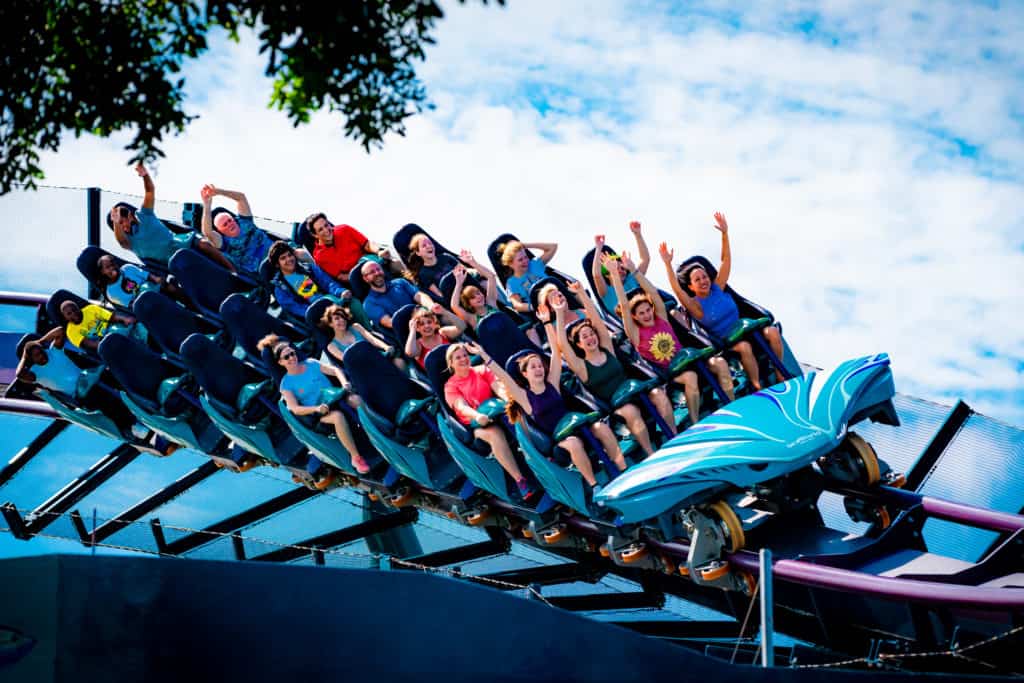 What is Mako?
The tallest, fastest, and longest roller coaster in Florida. Need we say more?
Probably not, but we will anyway. This thrill ride won Best Coaster in USA Today's 10Best Reader's Choice awards in 2021. Need more stats and accolades? Mako reaches speeds of over 70 mph and has a monstrous 200-foot drop.
Where is Mako located?
In the Sea of Mystery at SeaWorld Orlando
Mako – height restrictions and other factors
Height requirement is 54 inches; included in Quick Queue.
Mako – what you wish you knew before you experienced it
Despite all the startling statistics on this ride (73 mph speeds, 200-foot drop, 4,700-foot track), Mako is surprisingly smooth and easy to enjoy. The "big drop" happens right out the gate, so once you have that out of the way you are free to enjoy the roller coaster for what it is – a long, smooth ride that has a few minor thrills along the way.
How scary is Mako?
We rate Mako a full five out of five sharks. With speeds and drops like this, Mako is the biggest, baddest coaster out there by several metrics. All 4,700 feet of track will have you holding onto your lap bar – we guarantee it!
What was Mako's opening date?
June 10, 2016
Mako– OI fun fact
"Mako" means "man-eater" in the ancient Maori language.
Mako – real guest reviews
Orlando Informer
Average rating:
0 reviews