SeaWorld's Christmas Celebration is an annual event that brings together all the best elements of Christmas. A great place for families to enjoy the winter festivities, SeaWorld Orlando provides a number of Christmas-themed activities and holiday entertainment for everyone to enjoy. Every year, guests are invited to meet Rudolph the Red-Nosed Reindeer or Santa himself, or witness the Sesame Street Christmas Parade. Even if you don't participate in any of the seasonal fun, the entire park is adorned with festive decorations and motifs, from ornaments and garlands to more than three million glittering lights. In 2022, SeaWorld's Christmas Celebration takes place from November 11 through December 31. 
Shows and Entertainment
SeaWorld's Christmas Celebration is full of seasonal shows and entertainment designed to spread Christmas cheer. Kids of all ages can meet famous characters like Elmo from Sesame Street or Rudolph from the classic favorite Christmas film Rudolph the Red-Nosed Reindeer. This year, SeaWorld's Christmas Celebration welcomes three all-new shows.
Holiday Reflections: Fireworks and Fountains Finale
This all-new nighttime show includes a stunning fireworks presentation choreographed to favorite holiday music. Takes place at park close on select Christmas Celebration nights.
Elmo's Christmas Wish Show
In this all-new show, Cookie Monster, Rosita, Grover, and Zoe help Elmo find his Christmas wish! The monsters will encourage plenty of singing and dancing, as usual.
Sounds of the Season
This all-new concert series brings the Christmas Celebration to new heights! On select weekends, the Nautilus Theater will host live concerts and theatrical performances.
Sesame Street Christmas Parade
This guest-favorite attraction features beautiful floats and incredible performances from all your favorite Sesame Street friends. Elmo, Cookie Monster, Abby Cadabby, and others will bring your favorite holiday songs to life. Be ready to sing and dance!
Winter Wonderland on Ice
Take a moment to forget you are in Florida and witness the impressive maneuvers of ice skaters. This demonstration combines skating, dance, song, and lights to create a unique show.
Rudolph's Movie Experience
Located in the Seaport Theater, this movie incorporates special effects to create an unforgettable film experience for the whole family.
Public Ice Skating at Bayside Stadium
Want to throw on some skates and coast on the ice? No problem! Head to Bayside Stadium and enjoy this one-of-a-kind winter wonderland.
Meet and Greets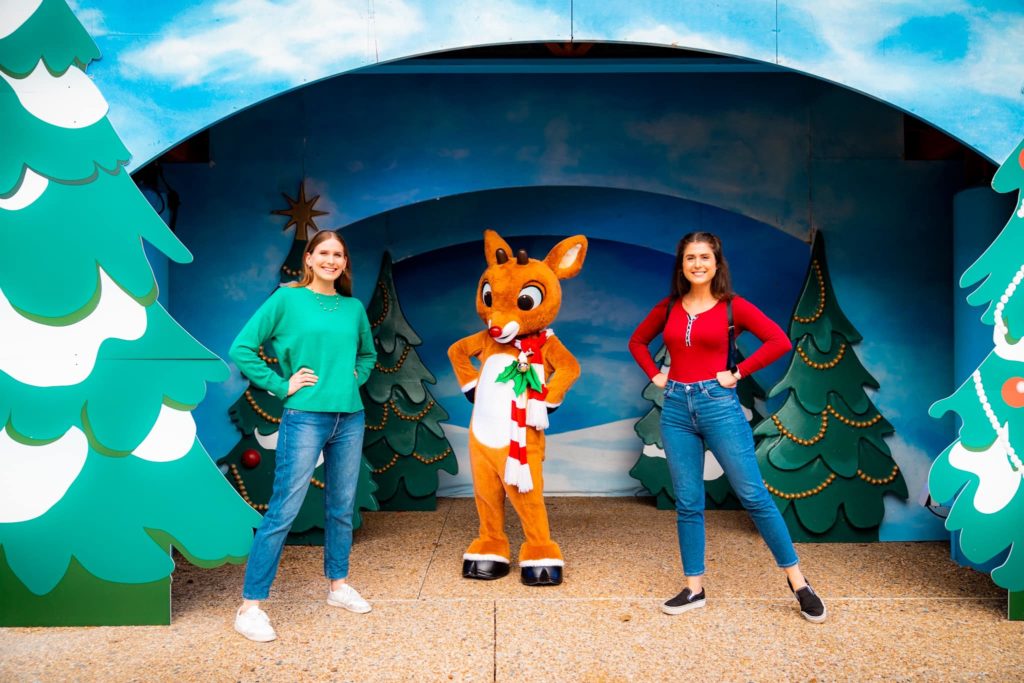 Rudolph the Red-Nosed Reindeer
In Rudolph's ChristmasTown, guests are fully immersed in the story of Rudolph the Red-Nosed Reindeer. Here, you can walk through life-size story book scenes of the classic favorite and meet Rudolph himself – but look out for the Bumble!
Santa Claus
Head to Wild Arctic to meet the jolly man himself! Children of all ages will enjoy heading to Santa's house and delivering their Christmas wishes to him directly.
Holiday Food Items
The Christmas Market is a pathway of holiday entertainment and seasonal food items. Stroll down this wonderful view of the Sea of Trees and soak in the live music while you enjoy your treats. A number of holiday craft beers will be available, in addition to Butterscotch Hot Chocolate, Peppermint Berry Juleps, or Mistletoe Margaritas.
More Celebrations
Hanukkah Celebration – Nov. 28 – Dec. 6
Celebrate the festival of lights at SeaWorld Orlando by going to Sesame Street Land. Here, you can witness a traditional menorah lighting throughout Hanukkah.
Kwanzaa Festivities – Dec. 26 – Jan. 1
Guests can celebrate African heritage in Sesame Street Land by viewing the nightly lighting of the kinara.
New Year's Eve – Dec. 31
Ring in the New Year with fireworks and festivities at midnight on December 31, 2021.
All this and more awaits you at SeaWorld's Christmas Celebration. Take a visit to SeaWorld Orlando to see for yourself! 'Tis the season.