It's not enough that Universal unleashed three of the most revolutionary rides on theme park audiences anywhere in the world – that would be 1999's Amazing Adventures of Spider-Man, 2010's Harry Potter and the Forbidden Journey, and 2014's Harry Potter and the Escape from Gringotts, but of course – and is looking to pull a similar paradigm shift on water parks with next summer's Volcano Bay. No, the company's still at it, hoping to foster the next-next-generation of attractions, as well, if its recent paper trail in the patent office is anything to go by.
Orlando Biz Journal is the culprit behind the unearthing, reporting on the slew of filings earlier this month and then again a week later. Although patents are registered all the time, with the vast bulk of them going unused – in any significant way, that is – in the parks, it's nonetheless illuminating of what Universal Creative has been cooking up behind the scenes, and it just might provide a peek or two at real, honest-to-goodness rides or shows that will be awaiting guests within the next several years, very likely at Universal Studios Florida's Super Nintendo World or, just maybe, the long-in-development third theme park.
1. Special Effects Techniques
The brand-new "special effects techniques" that Universal is currently looking into bringing into its resort would be provided by none other than unmanned aerial vehicles, those magical doodads that Amazon is flirting with delivering all of its millions of packages and Disney, of course, has just unleashed in its Starbright Holidays Christmas show.
The idea here is essentially the same as Disney's utilization thus far, using these mobile "platforms" to deliver a wide array of special effects, from lights and flames to snow and bubbles to water and, even, scent, during a performance of some type. Even better, however, the drones could be flown low enough to interact with the various actors or sets – or guests themselves, either by using the interactive wands for sale in the Wizarding Worlds of Harry Potter (for spell effects) or the TapuTapu wearable bracelets that will debut in Volcano Bay (for a specially targeted "cooling mist spray").
Other blue-sky applications include in-park games or in-ride characters, but it's important to note that Disney has also filed paperwork for similar purposes – all of which are currently outlawed by the Federal Aviation Administration. We'll just have to wait to see how the regulatory landscape continues to evolve, with the theme-park one closely following.
2. Drift racers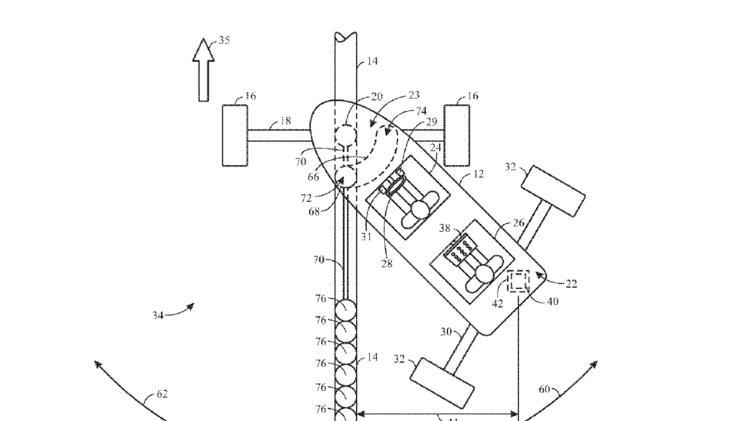 The "drift racer" is a proposed ride vehicle for a new attraction that is meant to house two passengers and to simulate – what else? – racing, along with the sensation of drifting around corners. Think practically any installment of the venerable Mario Kart videogame series, particularly 2003's Double Dash for the Nintendo GameCube, and you'll instantly get an idea of what Universal has in mind.
Here's how the patent says this one would work: the rider up front would "drive" the car by using the familiar elements of steering wheels and gas/brake pedals, while the guest in the back would be able to unleash "bonuses" along the way, such as by making his vehicle get a speed boost or by slowing down other guests' cars (oh, yeah – the paperwork is pretty clear that riders could be made to feel like they're actually racing one another instead of being isolated in a land of screens). Although there is no mention made of banana peels or various-colored turtle shells, it's obvious that Mario Kart's hallowed inventory of items, both offensive and defensive, are what the documentation has in mind here.
3. Simulator ride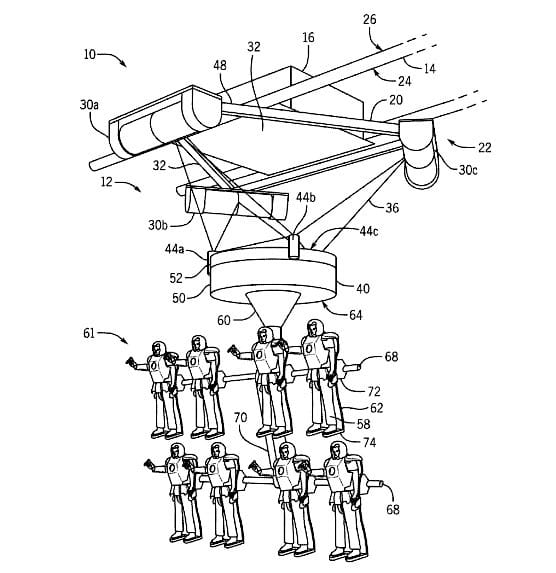 On the one hand, this is a pretty straightforward attraction type: a moving track ride. On the other hand, however, just how guests interact with it make this veer towards the novel.
Riders would strap into what could only be described as Iron Man's suit, with the patent's accompanying imagery showing them wearing a helmet, a chest covering, and a gauntlet on one arm. In this way, passengers would not only feel more immersed simply by the harness they're wearing, but also by the force feedback that the "armor" would provide (it could simulate explosions, for instance), by the gauntlet's ability to allow users to interact with the show scenery (say by a Men in Black: Alien Attack-esque point-and-shoot experience), or by the ride vehicles' positioning, making them feel like they're flying.
4. Functional mat racer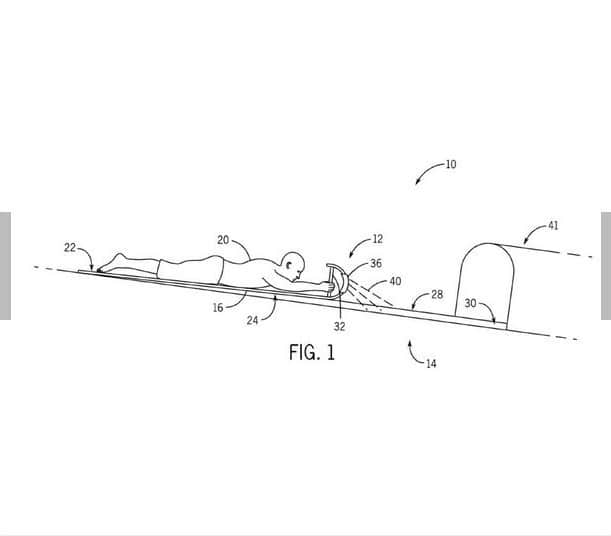 This is arguably the most interesting one of the lot.
The "functional mat racer" is a traditional mat – like the ones used in good, old-fashioned water slides – that is decked out with a number of technological upgrades in order to open up a whole new world of possibilities. Lights on the front could act like a car's headlights, allowing for night-riding, or it could feature black lights, which would reveal secret markings or features as you surf along. Even better, both functionalities could be synced to other guests' mats or music, including user-chosen tracks (echoes of Hollywood Rip Ride Rockit here), and the whole portfolio could be theoretically saved to Volcano Bay's TapuTapu bracelets for your next ride.
Then there's the screen and speakers built into the front of the ride vehicle, which would display various types of imagery to accompany the slide experience, including shots of other guests further along in the ride, in order to brace you for what's about to come.
5. Slide entry system
And this one is inarguably the weirdest.
The new "slide entry system" is meant to provide a fresh approach to, well, getting on a water slide. Let's take The Bomb Bay drop slide at the soon-to-close Wet 'n Wild Orlando – riders stand on a trap door, and then, after a brief bombardier countdown, are dropped onto the ride proper. In this peculiar variation, however, guests would wait inside a giant tube that slowly fills with water before they're, well, flushed out onto the slide – and, even better, this glass enclosure could be themed with different lights, sounds, or colors to add even more excitement, such as by making the water red and telling guests they're being transformed into vampires.
While the paperwork's illustrations show this tube filling completely with water, it's hard to believe this would actually be the case, as the possibilities for injuries or, y'know, drowning would just be too great. Maybe it just looks like it's filling up?
6. Boom coaster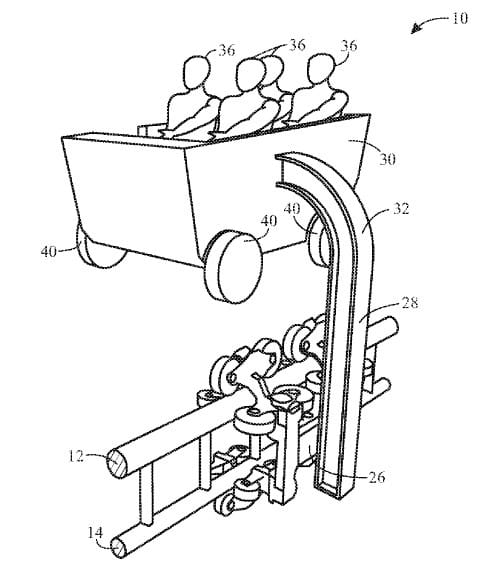 Universal's proposed "boom coaster" operates in a really interesting way. The track for the ride sits out-of-sight and has a C-shaped arm that houses the ride vehicle up above it, which can then be made to appear as if it were racing along on an elevated, separate, fake track. To get a clear idea of how this would look in practice, it's helpful to picture the mine car levels from the Donkey Kong Country franchise, wherein Donkey and Diddy Kong have to hop in an Indiana Jones-style mine car and survive a perilous series of jumps over endless chasms. The trick is that, here, the ride vehicle would never really leave its track, even though it might look as if it were plummeting through the air.
Indeed, many around the themed online world – and, even, on our very own podcast – believe this analogy is precisely the way this particular patent will end up being utilized in the parks, bringing Donkey Kong alive in Super Nintendo World right next to all the Mushroom Kingdom magic. If so, Spider-Man, Forbidden Journey, and Escape from Gringotts might be getting company on their elite list.
Have your own ideas of how these patents might end up being deployed at Universal Orlando Resort? Let us know your dream scenarios in the comments – or on our Facebook community.