Update (12/23): The Orlando Sentinel is reporting today that Universal Orlando has closed on the 474 acres of land on December 18. Universal said they would not comment on the land. A source told the Sentinel that they thought the land will be introduced in phases and that Universal will fully figure out their plan following the holiday break.
Read on for the initial story…
Moments prior to the Orange County Board of County Commissioners ignoring Universal Orlando's objections and unanimously approving the construction of the world's tallest roller coaster on Tuesday, numerous outlets began reporting on an even larger project.
Now confirmed by county commissioners Ted Edwards and Pete Clarke, Universal Orlando has the option of buying 474 acres of land approximately 1 mile away from the property they currently own. Universal Orlando Resort presently weighs in at 840 acres. You read correctly, Universal Orlando could be growing by over 55% in one purchase.
We've created a customized Google Map for this article at the bottom of the page. To best visualize what we're about to explain, it may be beneficial to take a look. Read on to learn what the future could hold.
Setting the stage
It's no secret that Universal is running out of land. Unlike Disney World down the street with 27,258 acres, Universal has quickly learned to utilize every inch of property they have. Thanks to parent company Comcast's continual investments in furthering the resort, Universal has expansions in the works or complete on all of their remaining vacant property. Cabana Bay Beach Resort was the first step in this initiative, opening on March 31, 2014. Cabana Bay took up 37 acres of the Resort's undeveloped land and added 1,800 on-site value hotel rooms.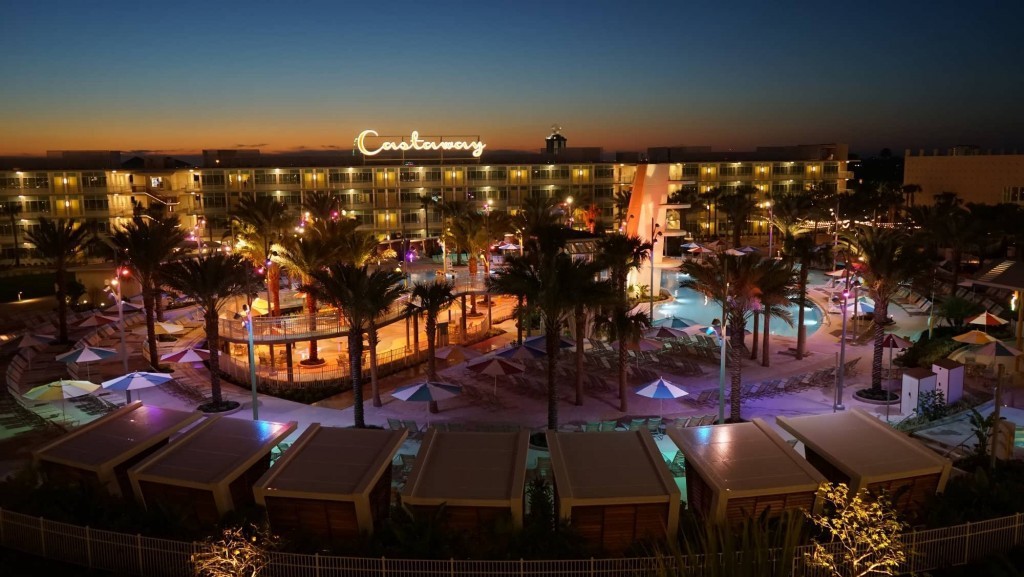 Cabana Bay Beach Resort at Universal Orlando Resort.
On July 14, 2016, Universal's fifth on-site hotel will open: Loews Sapphire Falls Resort. Sapphire Falls will hog up an additional approximately 26 acres of the undeveloped land and add 1,000 on-site mid-level hotel rooms.  Finally, in 2017 the last of Universal's unused land will be developed and opened to the public. Volcano Bay (Universal's water theme park) and a Cabana Bay expansion will both take up a combined approximately 28 acres.
One final note, Wet 'n Wild, a water park across the street from Universal that is owned and operated by them, will close right before the two above additions on December 31, 2016. This approximately 20-acres plot will be used for future developments undisclosed by Universal officials.
The pool at Sapphire Falls, opening in July 2016 at Universal Orlando Resort.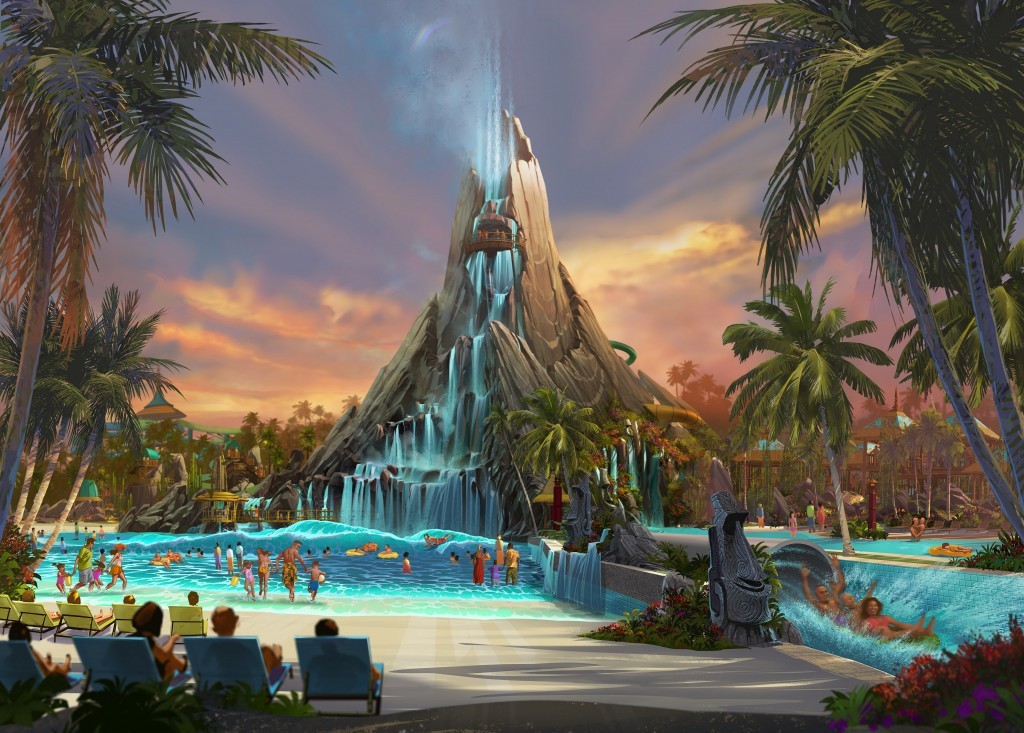 Concept rendering for Volcano Bay, Universal Orlando's water theme park opening in 2017.
A hop, skip, and a jump
So, what's a low-on-land Universal Orlando Resort to do? Buy more land, of course.
This is where the 474-acre plot for sale comes into play. An additional huge chunk of undeveloped land roughly one mile away from the edge of Universal Orlando's current property seems to have piqued the interest of Universal brass.
It's now known that Universal representatives have contacted county commissioners, confirmed they were considering purchasing the land, and expressed that they were concerned about the planning in the area. Specifically, Universal Orlando representatives were reportedly concerned regarding the approval of the 501-foot-plus roller coaster roughly .38 miles away from the one of the plots they may purchase.
Many believe this is the best explanation for Universal's hostility towards the record-setting roller coaster. In this camp is Hal Kantor, attorney for SkyPlex, who raised the point at Tuesday's hearing.
Hypotheticals
Assuming Universal Orlando does acquire the land, numerous scenarios become possible.
The most popular immediate speculation is that Universal would use the land to build their (long-rumored) third theme park. Another popular thought involves the Resort turning the new land into a dining and entertainment district and adding numerous (almost) on-site hotels. Others believe a mixture of both is the future for Universal's possible new buy.
No matter which scenario you choose, the questions that typically follow involve parking and transportation. Universal Orlando's current parking structure is somewhere around two miles away from the main chunk of the land for sale. Another obstacle between Universal's current property and the land for sale is both I-4 and International Drive, which are major roadways. The only property Universal Orlando currently owns on the other side of the two roadways is the Wet 'n Wild plot. Long story short, a transportation of some sort will likely have to be conceived (and approved).
Personally, if the land does indeed go to Comcast and Universal, I'd like to see the the largest plot (see the map below) be initially devoted to a new parking facility and entertainment, shopping, and restaurant area. Moving the parking off the main Universal campus allows for the third gate to be built, in theory, where the two old, massive garages stood. The largest plot of the land for sell could also hold a fourth theme park, if ever necessary.
As far as the Wet 'n Wild plot, I'd love for it to be transformed into a brand new on-site hotel with its own unique theme, shops, and eateries. Continuing the hypothetical, I can't imagine at least a few of the smaller plots for sale not being transformed into unique prime value Universal hotels.
Positives of SkyPlex
While Universal Orlando may not be ecstatic about its new (very tall) neighbors. There is a major positive for the Resort coming out of Tuesday's approval of the world's tallest roller coaster. It's likely that the original Universal land will have to continue to abide by the 200-feet height maximum, however any developments by Universal Orlando on the land for sale shouldn't face any issues climbing over 200 feet in height.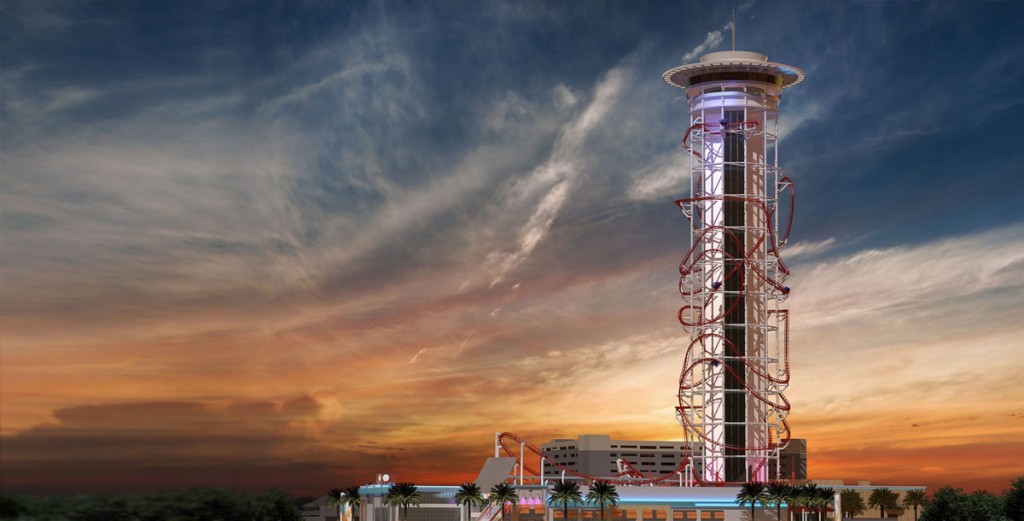 SkyPlex, world's tallest roller coaster, coming to Orlando, Florida.
Universal Orlando Resort's possible expansion – Map
We've created a map highlighting Universal Orlando's current property and a rough visualization of the land for sale. It's worth noting that the California real estate company that currently owns the land has told the Orlando Sentinel that they want to sell the land in one lot.
RED – land for sale
BLUE – Universal Orlando Resort's current property
YELLOW – SkyPlex
Stick with Orlando Informer for continuing updates on Universal Orlando Resort's unprecedented expansion. Don't want to wait years to see it all? Start planning your Universal Orlando vacation now. If you don't have the time to plan every detail yourself, Orlando Informer Travel can help! We can assist you with your trips to Universal, Disney, and more. Best of all, our services are free to you. Seriously. To get in touch, simply call (844) ORL-INFO or email us, or learn more by visiting Travel.OrlandoInformer.com.
Join the discussion in the Orlando Informer Forums and share with us how you'd like to see Universal Orlando use the land!