Location
New York
Style
Full-service Irish restaurant and pub, similar to Raglan Road at Disney Springs; open for lunch and dinner.
Two sentence insider summary
A local favorite, Finnegan's Irish character overflows like its drinks (try the beer sampler). And there are plenty of hearty entrees to enjoy here as well!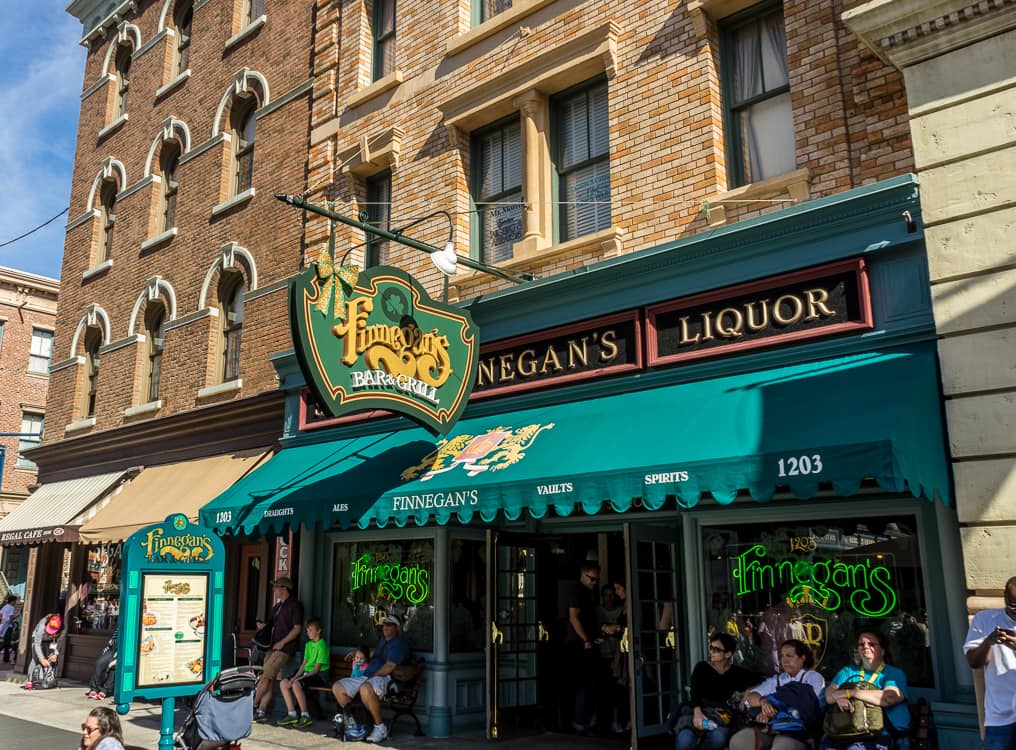 Prices
Entrees are $10 to $22 per person.
Reservations
407-224-FOOD (3613)
Reservations available here.
Royal Pacific Resort, Hard Rock Hotel, and Portofino Bay Hotel on-site guests receive priority seating.
Finnegan's Bar & Grill – full menu
STARTERS
Finnegan's Potato and Onion Webb $6.99 *OR
Shrimp Scargo $7.99
Irish Chicken Stingers $7.99
Cornish Pasti $7.99 *OR
Scotch Eggs $5.99 *OR
Reilly's Chicken Wings
SOUPS
Homemade Misty Isle Potato and Leaky Soup $4.99 *OR *V
Split Pea and Ham Soup $4.99 *OR
SALADS
Celtic Chicken Club Salad $11.99
Beef and Bleu Salad $12.99
Irish Cobb Salad $11.99 *OR
The Leprechaun's Rainbow $11.99 *V
SANDWICHES
Tipperary Corned Beef Sandwich $10.99 *OR
Dublin Chicken Sandwich $10.99
Grand Ole Burger $9.99
make it a deluxe with bacon, onions, and mushrooms $1.59
Low-Carb version: served without the but and with a side of broccoli (same price)
Gardenburger $9.79 *V
Fried Cod Fish Sandwich $11.99
Shamrock Steak Sandwich $11.99
smother your sandwich in Provolone, Swiss, American, or Cheddar for only $0.79
FINNEGAN'S FAVORITES
Irish Fish 'n Chips $13.99 *OR
Shepherd's Pie $11.99 *OR
smother your pie in cheddar cheese $0.79
Bangers & Mash $10.99 *OR
County Cork Corned Beef and Cabbage $11.99
Misty Isle Mixed Grill $11.99
Newcastle Chicken $10.99
Kilkenny Pot Pie $10.99
Guinness Beef Stew $11.99 *OR
North Atlantic Baked Cod Fish $13.99
Finnegan's Pub Sirloin Steak $21.99
Add a side salad or bowl of soup to your entree for only $2.99
LITTLE LEPRECHAUN'S KIDS MENU
Isle of Grilled Cheese $4.99
Pot of Gold Burger $5.99
add cheese for $0.75
Clovers of Chicken Fingers $5.99
Fish 'n Chips $6.99
Double Decker Cheeseburger $7.99
Make Your Own Sundae $2.99
Milkshakes $3.95
Each entree is served with choice of french fries, grapes, or apple sauce
BEER FLIGHTS
Sample 5-four ounce beer cocktails and Take Home one of our Finnegan's Souvenir Flight Glasses
Black and Tan (Guinness and Yuengling)
Blacksmith (Guinness and Smithwick's)
Black and Blue (Guinness and Blue Moon)
Black Velvet (Guinness and Cider)
Irish Shandy (Smithwicks and Sprite)
Inquire for price
Premium Draft Sampler
Guinness
Smithwick's
Blue Moon
Yuengling
Seasonal
Inquire for price
*OR – Finnegan's original recipe
*V – vegetarian recipe
Finnegan's Bar & Grill – photo gallery
Finnegan's Bar & Grill – real guest reviews