Skip to: Overview | Location | Hours | Menu | Guest reviews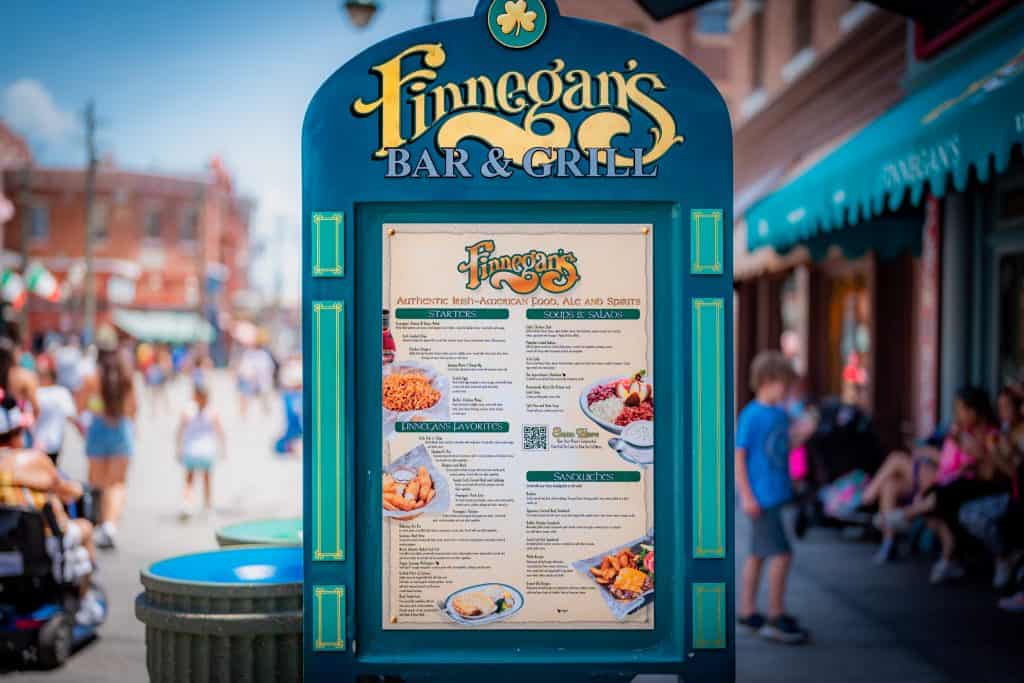 What is Finnegan's Bar & Grill?
A local favorite, Finnegan's Irish character overflows like its drinks. Finnegan's Bar & Grill serves up tons of hearty Irish fare with a menu full of unique (and many beer-battered) selections, while the friendly staff and the occasional live performers give the venue a great atmosphere. By the way, may we recommend the beer sampler?
Separate from the full-service dining that (usually) requires reservations, Finn's has a full bar that any ol' theme-park guest can walk right up to (you must be 21 or older to order alcohol, of course). For those looking for a cocktail, there's truly no better place at Universal Studios Florida. This location is popular during seasonal event nights, like Mardi Gras and Halloween Horror Nights, because it serves real-deal mixed drinks from its full-service bar – that's why we believe it's the best bang-for-your-buck place for a drink at Universal. The regular bartenders are awesome, too!
Where is Finnegan's Bar & Grill located?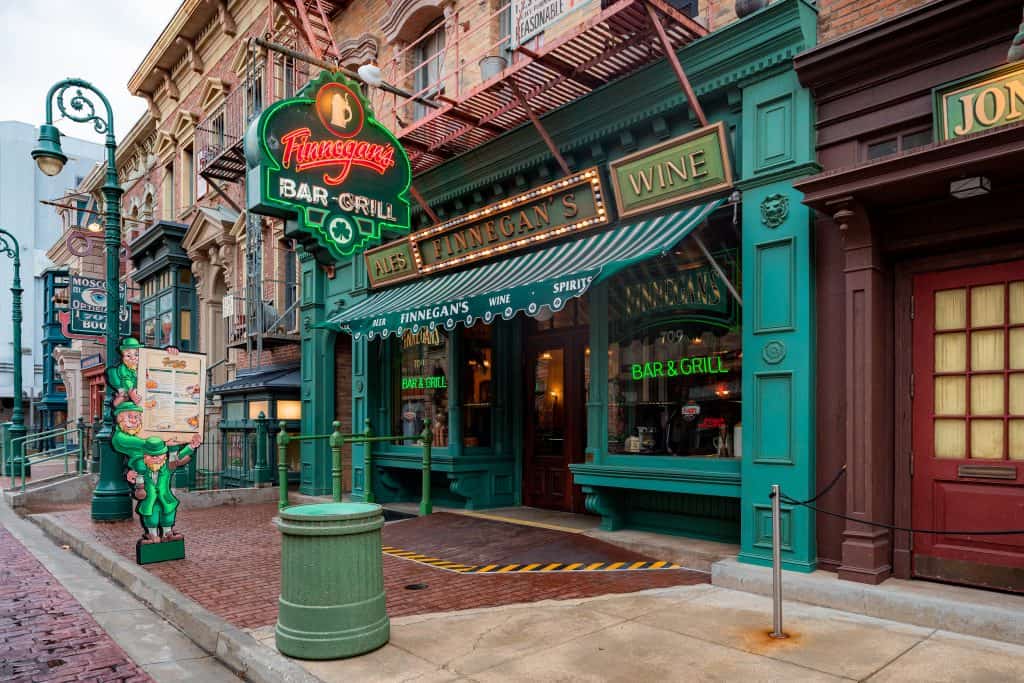 In New York, which is in Universal Studios Florida. The restaurant has entrances across from Revenge of the Mummy and on Delancey Street, where the Blues Brothers Show calls home. You'll enter the Mummy side to head straight to the bar.
Finnegan's Bar and Grill – hours and reservations
Finnegan's is open from 11:00 am until park close.
For reservations, book online (though this isn't necessary for the bar).
Finnegan's Bar and Grill – OI tip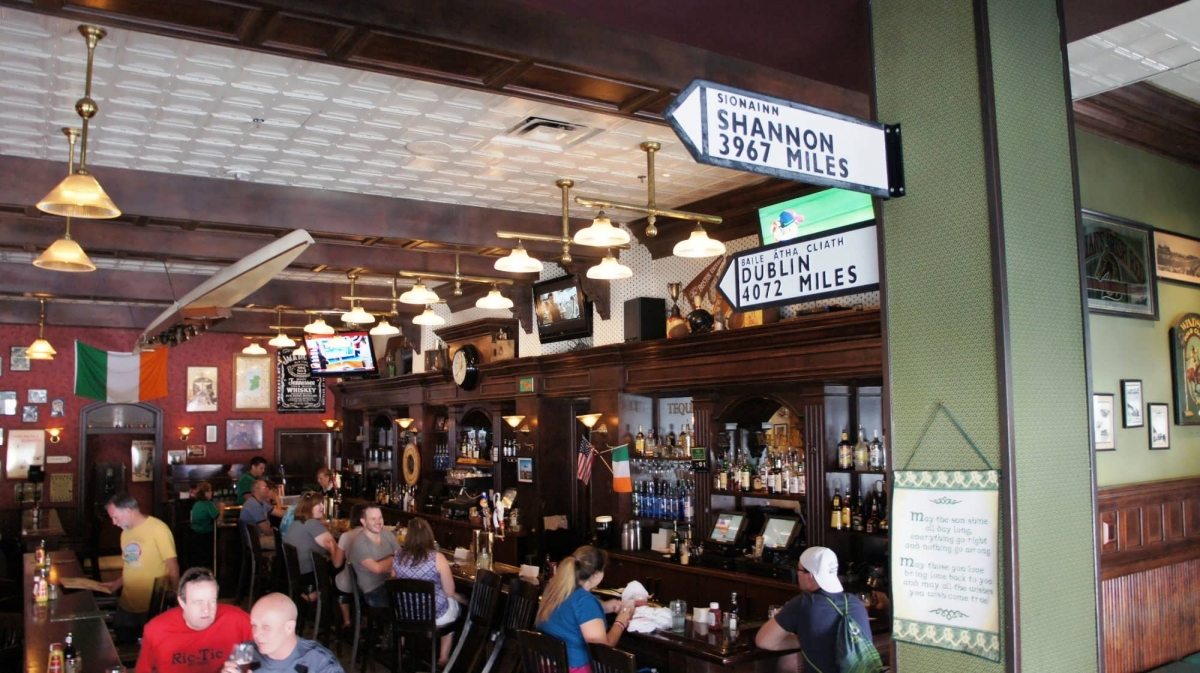 If you're looking for a free cup of water, consider stopping into Finnegan's bar (if it's not too busy) rather than waiting in a long quick-service line. The Finn's bartenders are pros, used to slinging drinks quickly, and will usually be happy to hook you up.
What's on the menu at Finnegan's Bar & Grill?
Starters
Finnegan's Potato & Onion Webb – $9.95
Thinly sliced potatoes and onions, hand-dipped in beer batter, crisply fried golden brown and served with malt vinegar
Scotch Eggs – $10.95
(Finnegan's original recipe) Hard-boiled eggs wrapped in pork sausage, dusted with bread crumbs, and fried. Served with apple beet salad and mustard sauce
Chicken Stingers – $12.95
Lightly breaded and fried chicken tenders, tossed in Buffalo sauce. Served with celery sticks, blue cheese dressing, and your choice of spicy or mild sauce
Reilly's Chicken Wings – $13.95
Fried and tossed in Buffalo sauce, served with celery sticks, blue cheese dressing, and your choice of spicy or mild sauce
Irish Loaded Chips – $11.95
Seasoned wedge fries topped with corned beef, Leicester cheese, caramelized onions, and Killarney gravy
Guinness Warm 3-Cheese Dip – $9.95
Served with freshly baked soft pretzel bread and tangy mustard sauce
Soups and salads
Celtic Chicken Club Salad – $16.95
(Finnegan's original recipe) Grilled chicken breast, bacon, aged cheddar cheese, diced tomatoes, and julienne squash over a bed of lettuce, and garnished with Finnegan's famous potato and onion webb. Choice of dressing
Portacarron Salmon Salad – $21.95
Char-grilled salmon, mixed greens, quinoa with asparagus tips, feta cheese, apple beet salad, marinated grape tomatoes, served with mustard ale vinaigrette
Irish Cobb Salad – $18.95
Diced corned beef, turkey, bacon, diced tomatoes, apple beet salad, blue cheese crumbles, and Finnegan's Scotch eggs served over mixed baby greens
Homemade Misty Isle Potato & Leek Soup – $6.95
Creamy puréed potato, onion, and leeks
The Leprechaun's Rainbow Salad – $15.95
A colorful array of fresh fruits served with strawberry sorbet
Split Pea & Ham Soup – $6.95
Puréed split pea and smoked country ham
Finnegan's Favorites
Grilled Filet of Salmon – $25.95
Lightly seasoned, topped with fresh dill butter and fried leeks, on a bed of garlic mashed potatoes. Served with steamed broccoli and a Parmesan-crusted baked tomato
Grilled Swordfish – $31.00
Char-grilled with golden beet and parsnip puree, roasted Brussel sprouts, carrot, and ginger reduction
Kilkenny Pot Pie – $17.95
A fresh pastry crust filled with chicken, mushrooms, carrots, and leek and served with root cellar vegetables
Shepherd's Pie – $19.95
Seasoned ground beef and mushrooms with a crust of potatoes and cheddar cheese served with root cellar vegetables
Country Cork Corned Beef & Cabbage – $17.95
Tender corned beef served with red bliss potatoes and root cellar vegetables
Grilled NY Strip Steak – $33.95
Char-grilled with asparagus, colcannon potatoes, roasted carrots, crisp fried leeks, Bordelaise sauce
Irish Fish & Chips – $21.95
North Atlantic fresh cod fish in ale batter with wedge fries. Served with a side of malt vinegar and tartar sauce
Guinness Beef Stew – $18.95
Country fare stew brimming with beef, carrots, and pearl onions in a Guinness-infused gravy surrounding a stack of mashed potatoes
Finnegan's Chicken – $19.95
Grilled chicken breast topped with peppercorn butter, garlic mashed potatoes, and root-cellar vegetables
Finnegan's Pork Shoulder – $23.95
Dry stout braised pork shoulder, savory soda bread pudding, roasted carrots, pickled cabbage and leeks, natural jus 
Vegan Shepard Pie – $21.95
Seasoned Beyond meat, mushrooms, peas, and carrots, topped with vegan mashed red bliss potatoes
Bangers & Mash – $17.95
Country pork and beef sausage with homemade roasted garlic mashed potatoes and root-cellar vegetables
Sandwiches
Sandwiches are served with your choice of wedge fries or side salad
Webb Burger – $19.95
Half pound all beef burger with tender corned beef and Swiss cheese on a warm pretzel bun, topped with crispy potato onion webb, lettuce, tomato and pickle
Grand Ole Burger – $17.95
Half pound all beef burger on a toasted bun with bacon, lettuce, tomato, pickle, with your choice of cheddar, Swiss or American cheese
Grilled Salmon BLT – $20.95
Char-grilled filet of salmon, lemon herb mayonnaise, baby lettuces, sliced tomatoes, and savory bacon jam served on a house-made brioche bun
Dublin Chicken Sandwich – $16.95
Marinated grilled chicken breast with aged cheddar cheese and applewood smoked bacon on a toasted bun with lettuce, tomato, and pickle
Reuben – $16.95
Tender corned beef, fresh shaved cabbage, pickle, Thousand Island dressing, Swiss cheese grilled on fresh marble rye
Tipperary Corned Beef Sandwich – $17.95
Fresh baked pretzel roll with warm corned beef topped with sautéed onions, Swiss cheese, lettuce, tomato, and pickle
Finnegan's Bar & Grill – photo gallery
Finnegan's Bar & Grill – real guest reviews
Orlando Informer
Average rating:
11 reviews
Nov 25, 2014
Great Experience
Date Of Last Visit:
November 22,2014
This was our first time at Finnegan's . The food was good, the service was good, and I would return. We had the potato and onion basket, shepherd's pie, fish and chips, potato and leek soup, and a hamburger. All were good to great except the burger....it was lacking in taste.



I recommend visiting this restaurant.
May 25, 2014
Apps For All
Date Of Last Visit:
July 14 2013
When visiting a new restaurant, I often opt to order many small plates like appetizers instead of full meals to sample more things. A shrimp scargo, a potato and onion webb, wings, and a Scotch egg later, we decided we were full (especially given that we were heading to Revenge of the Mummy right after and didn't want to lose our lunch on the guest sitting next to us!). The shrimp scargo was an interesting take on one of my favorites, escargot. The buttery garlic sauce was fragrant and warm and was AMAZING to dip bread into! The Scotch egg and wings were good, but nothing to write home about.



My favorite, though, was the potato and onion webb. It was balanced well between the two flavors and wasn't greasy (something that I find hard to achieve when frying potatoes). Throw in a few draft beer samplers (with souvenir cup!) and I'd say this is a solid choice for a meal at Universal Studios.
Nov 27, 2013
hit until the miss
Date Of Last Visit:
Nov 27, 2013
I love this place...well until this past visit when the bar tender totally under poured our drinks then gave us a huge attitude about it. We are regulars there since we have annual passes and love this bar. Its very unfortunate that they would hire someone that doesn't know her job or have people skills. The other workers however are fantastic and I would definitely go back to one of them.
Nov 10, 2013
Fun and Delicious
Date Of Last Visit:
October 24, 2013
We were in the park with a Stay and Scream ticket for HHN so I made a 4:15 dinner reservation to take advantage of early entry for the evening. We were seated immediately on arrival. Our server was friendly and knowledgeable. We had the Pot Pie and Newcastle Chicken. And drinks of course. The food was pleasantly presented and very tasty and the service was excellent from start to finish. The drinks were good and not "watered down." While we were dining orange shirted staff came in handed our wrist bands to those who had tickets to the NNH. It was a lively place with live entertainment and people coming in from the "holding pen" for drinks while they waited. It was a very enjoyable to pass the time. Will make it "must" on future USF visits.
Jul 19, 2013
Hmmmmm so good.
Date Of Last Visit:
7/08/2013
What can I say that everybody hasn't said already, its amazing.



Once you walk in you'll feel like your not even in a theme park anymore. Since having the annual pass and living in Miami I try to at least once a month drive up to Orlando to spend some time away. Its one of the best places to beat the heat, sit down and relax, maybe have a drink or 2. Bartenders are great, very friendly and fun to talk to.



Mixed drinks are made to perfection, you have to at least once a trip try them out. Mummys revenge is so goood. Nice pours on the vodka & chambord with just a hint of the sweet & sour. Just as exciting as the ride. Lots of good beers on tap even a nice Sierra Nevada IPA on there. One of the few full bars that has happy hour. One thing I wish they would bring back is Palm beer they used to have.



Now when it comes to food I haven't found anything on the menu that I don't like yet, but I did say yet. You need to start off with the Scotch Eggs, boiled eggs wrapped in sausage with a nice mustard sauce to dip in its so good. My favorite thing is the shepherds pie. So stop by and check it out, tell them Pepe (the muppet) sent you, hes always at the bar..
Do you have a question about the information on this page or would you like to provide feedback? Please let us know by posting in our
Orlando Informer Community
on Facebook.