Skip to: Overview | Location | Restrictions | Showtimes | Fun fact | Guest reviews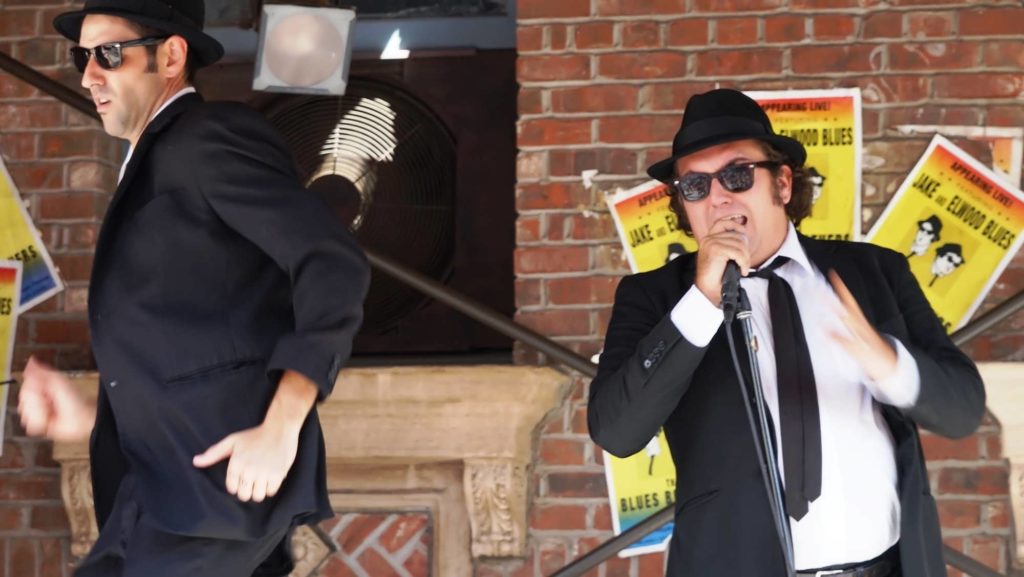 What is The Blues Brothers Show?
Based on a Saturday Night Live sketch that evolved into its own film, The Blues Brothers Show is a roughly 15-minute performance featuring Jake and Elwood in their signature black suits. The soulful duo performs a medley of songs alongside Mabel the waitress and Jazz, a live saxophonist. Even if you're not familiar with the characters, you won't be able to help but dance along to the familiar, cheerful tunes.
More of a street party than a traditional stage show, this performance brings you face-to-face with the bad boys of blues.
Where is The Blues Brothers Show located?
In New York, which is in Universal Studios Florida. To be more specific, you can catch the Blues Brothers on Delancey Street, which is the smaller alleyway that runs perpendicular with the main drag that houses Revenge of the Mummy. (You can find Transformers: The Ride – 3D across from the opposite end of Delancey.)
The Blues Brothers Show – height restrictions and other factors
This show is accessible (and a great time) for everyone. Also, please note there is no Express Pass access.
What are the showtimes for The Blues Brothers Show?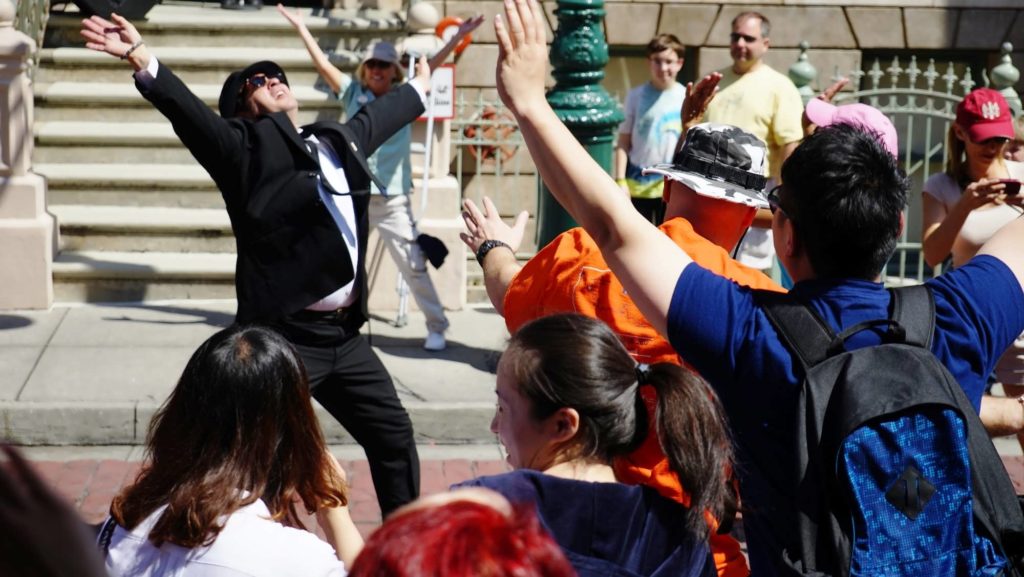 The first show is usually around 11:00 am, with repeat performances occurring every hour (or so) thereafter. Feel free to drift in and out whenever you'd like – there's no stage or strict viewing arrangement.
Sample summer schedule
10:45 AM, 12:00 PM, 1:30 PM, 2:40 PM, 3:40 PM
What was The Blues Brothers Show's premiere date?
March 1991
The Blues Brothers Show – OI fun fact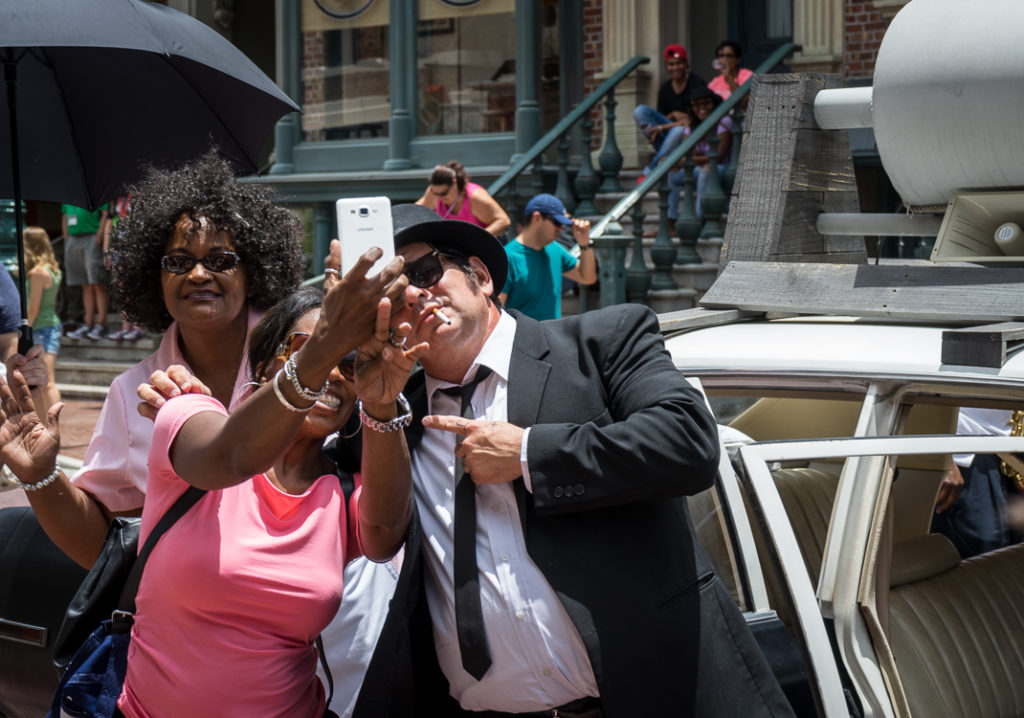 For almost the first full year of Universal Studios Florida being open, the Blues Brothers simply hosted a meet-and-greet in the same area before Universal got the rights to have them perform a show proper.
The Blues Brothers Show – photo gallery
The Blues Brothers Show – real guest reviews
Orlando Informer
Average rating:
6 reviews
May 25, 2014
Shake your Tail Feathers
Date Of Last Visit:
4/26/2014
My husband grew up watching the Blues Brothers movie with his dad, but I never really cared for the film. This live show at Universal, on the other hand, is one of my favorites. I love the entrance of the performers in the iconic car. The performers are talented and energetic and really get the crowd dancing. It's a fairly quick show, and it can be easy to miss if you do not check for show times on your park map. But if you are in the area when they start the show, you can't help but get up and shake your tail feathers.
May 24, 2014
Best Show at USF
Date Of Last Visit:
October 2013
I absolutely love this show! I grew up watching the Blues Brothers with my dad and every time I see the show it takes me back to my childhood. I know every word to every song and I dance to some of them. It's one of my favorites to see anytime I visit USF 🙂
Apr 6, 2014
Must see!
Date Of Last Visit:
Sept 2011
Universal have taken an iconic movie and turned it in to a fantastic 20 min live performance, its guaranteed to have you all up and dancing no matter what age.



We have been lucky enough to see this show on three visits now and it is still as entertaining as the first time, there are a couple of small issue's firstly they don't really advertise when the shows are on apart from in the park maps in very small print, and secondly the sound quality isn't the best but what can you expect if this is being performed twice a day every day.



Either way these small issue's wont change your overall enjoyment of this show, it is by far the best crowd involved show they have and is a must for everyone.
Nov 10, 2013
Too loud!
Date Of Last Visit:
Nov 5 2013
I love the Blues Brothers and was happy to find we were in the area only mins before the show so we stuck around. The performers were great but it was so loud that it seemed distorted and not in a good way. My kids immediately left and I followed only one song later. Kind of a sad
Jul 2, 2013
Slick and fun
Date Of Last Visit:
July 2012
The present Mrs Turner is a huge fan of The Blues Brothers film. To the point where she named her pet ferrets Jake and Elwood.



Being madly in love with Elwood, she insisted we attend a performance when we were at Universal last time.



I am not madly in love with Elwood (or Jake for that matter) and can take or leave (mostly leave) the films.



Anyway, I agreed if only to see what this threat to our happy stable marriage might have that I haven't.



The presentation of the show is underwhelming on arrival. We got there about 20 mins before we needed to and hence we were in the desired "front row"



I was becoming rather grumpy, thinking about a beer in Finnegans or anything involving air conditioning. Sarah on the other hand was bouncing up and down. I tried a reality check but she wasn't having any of that nonsense.



Just as I was getting really miffed The Blues Mobile arrived. Now' we Brits are not used to the sights and sounds of American Cars and Crowds. I believe the modern phrase is OMG!



What an atmosphere these guys created.



We were shaking our tail feathers and searching for rubber biscuits (these are songs BTW), I loved every minute of the show and I have to admit, my love rival is kinda cute.



This is a show that is not to be missed.



One of the backing singers came up to my wife, gave her a hug and called her a soul sister. This truly made her day. The Blues Brothers Show will be a highlight of our next visit. My daughter is just as mad on them as her mum and this will be her first visit at the grand age of 6. I think I need to warn Jake and Elwood......
Do you have a question about the information on this page, would like to provide feedback, or did you spot an inaccuracy? Please let us know by posting in our
Orlando Informer Community
on Facebook.