Skip to: Overview | Location | Restrictions | Virtual Line | Fear factor | Fun fact | Guest reviews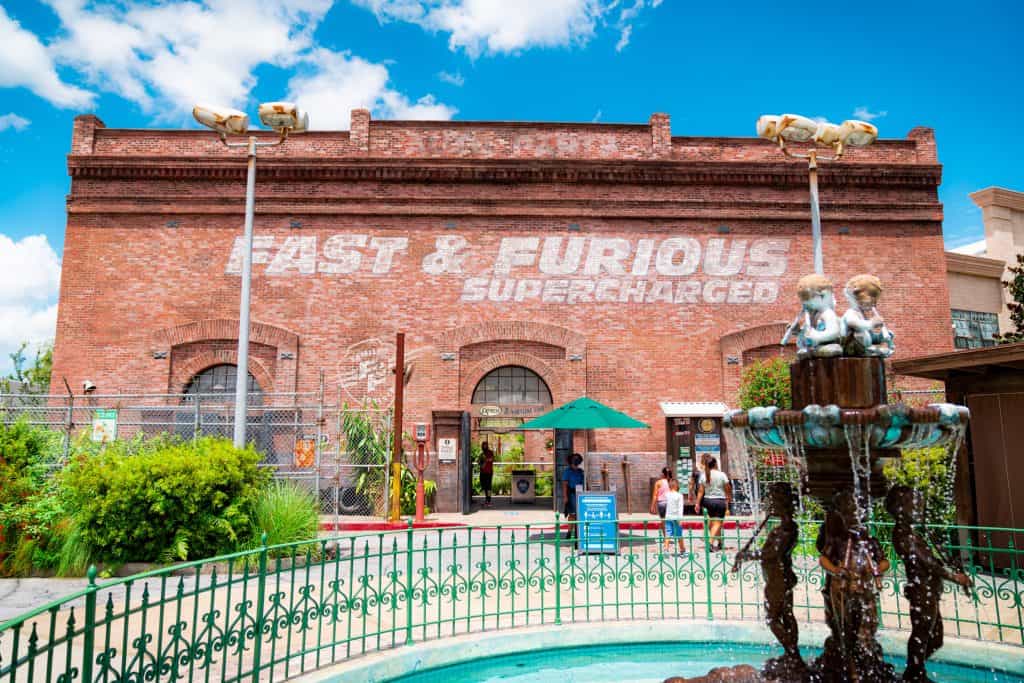 What is Fast & Furious – Supercharged?
Fast & Furious – Supercharged invites guests to an exclusive race after-party by the Fast family – only to get caught up in a high-speed chase by film series baddie Owen Shaw. It's like being put at the center of your favorite Fast & Furious films, complete with all of the insane action you'd expect.
The ride is most comparable to Skull Island: Reign of Kong, which is another transplant from Universal Studios Hollywood's Tram Tour. Guests board the same ride vehicle, and the attraction's climax is also a 360-degree "tunnel."
Where is Fast & Furious – Supercharged located?
In San Francisco, which is in Universal Studios Florida.
Fast & Furious – Supercharged – height restrictions and other factors
Height requirement is 40 inches; has Express Pass access and a single-rider line.
What is Fast & Furious – Supercharged's backstory?
Learn everything there is to know about the ride's story, and how it fits into the overarching Fast & Furious franchise, by checking out our in-depth feature.
Fast & Furious – Supercharged – what you wish you knew before you experienced it
The queue of this attraction is arguably more entertaining than the attraction itself. Overflowing with cars and details straight from the films, you'll feel like you're in the middle of the movie magic before even boarding the ride vehicle. If you're a Fast fan, be prepared to take lots of pics as you venture through the crew's headquarters.
How scary is Fast & Furious – Supercharged?
We rate this attraction two out of five Corona beers in terms of fear factor. While the ride does have loud noises and simulated heights, there's not much else to worry about.
What was Fast & Furious – Supercharged's opening date?
April 23, 2018
Fast & Furious – Supercharged – OI fun facts
Supercharged contains a surprisingly large menagerie of references and Easter eggs to the originating films and to a whole swath of Universal Orlando rides, both past and present. Here's just a quick rundown of some of what you can find:
There are two attractions that used to occupy the space that Fast & Furious now does: Beetlejuice's Graveyard Revue and Disaster: A Major Motion Picture… Starring You!, which itself replaced the opening-day Earthquake: The Big One. The queue and preshow areas contain references to all three of these predecessors, from the "Disaster Studios"-emblazoned jacket slung over a chair to a Beetlejuice figurine stashed away on a shelf to power breakers that slyly contain the opening dates of Earthquake, Disaster, and F&F (kinda) on them.
Back to the Future, another former ride at Universal Studios Florida, is also represented in the queue by way of the DeLorean's license plate hanging on the wall.
Paul Walker, the Fast & Furious franchise's original protagonist, passed away in 2013, after completing Fast & Furious 6. To honor him, Universal made sure to prominently feature photos of the late actor in the family room preshow, as well as having one of the six bottles of Corona present in the cook-out section of the outdoor line be titled over – the Fast family has poured one out for their missing comrade, Brian O'Conner.
Don't miss one of our most favorite nods in the queue: a sticker on a toolbox that proudly proclaims, "This car runs on Beetle Juice."
In the single-riders' line, there is a collection of all the car keys and "pink slips" that the Fast family has managed to race for and win over the years (hey – everyone has to have a hobby, right?). This is a veritable smorgasbord of Easter eggs in and of itself; keep your eyes peeled for the likes of Doctor Emmett Brown's time-traveling DeLorean, Arthur Weasley's flying Ford Anglia, and a keychain that, apparently, used to belong to Disaster: A Major Motion Picture… Starring You!
In the child-swap room, where the kiddos can drive remote-control cars around a miniature town, a rather noticeable Voodoo Doughnut can be found in one corner of the city.
(We have pictures of many of these goodies. Be sure to check out our photo gallery at the bottom of the page.)
And as if that just somehow weren't enough, the Orlando version of Supercharged features several exclusive elements, including two new characters from the movies and 15 "highly accurate" replicas of the cars.
Fast & Furious – Supercharged – photo gallery
Fast & Furious – Supercharged – real guest reviews
Fast & Furious - Supercharged
Average rating:
8 reviews
Jul 7, 2018
Exceeded my expectations
Date Of Last Visit:
5/18/2018
Ok so, when I say it exceeded my expectations, that doesn't necessarily mean it was good. I walked in with the bar set pretty low, but it wasn't that bad. Part of this might be the fact that I only waited about 10 minutes, as I did single riders. Otherwise, it was pretty short and I wouldn't recommend waiting more than 25 minutes.
Jul 7, 2018
Worst ride in the back park
Date Of Last Visit:
7/1/2018
We spent 5 days at Universal and visited all three parks (including the water park - which is great!) - we went on every ride - some three or four times. We lined up for fast and furious and with our express pass it probably took about 15 minutes before we were seated in the ride - and it is honestly 15 minutes I wish I could have back. The ride is such a major disappointment - it had such potential to be a phenomenal ride especially given the obvious themes of car racing, gun fights etc - and because it could so obviously be great it makes it that much more LAME that you sit in a bus for 3 minutes and roll along, jolting a little from side to side while a crappy car racing scene plays on a blurry screen outside the 'bus' windows! Seriously - it's that lame. The ride blows big jets of air/dry ice every once in a while that make no sense and are so noisy and annoying. The whole thing is just bad and so sad and disappointing that this is all they could to come up with! No imagination, no innovation, no excitement. Even my 6 year old and the kids in front of us said "what the heck was that?!" When it was over. Don't waste your time with this one - you will just be irritated and bored!
Jul 7, 2018
The Biggest Disappointment in Universal History
Date Of Last Visit:
6/30/2018
Fast and Furious: Supercharged is without a doubt one of the worst attractions in existence. I say this with absolutely no hyperbole, or exaggeration: carnival rides are more entertaining and worth more of your time when compared to the absolute disaster of a "ride" that is Fast and Furious: Supercharged. Come to think of it, although an awful shame that this "ride" replaced the former Disaster!, it is actually fitting, in that this ride is a complete and total disaster. I guess in that sense Disaster! never really left the park. I want to be clear here, I have called Fast and Furious: Supercharged an attraction, or a ride, but I honestly hesitate to call it these things. It is literally a ride, yes, in the definition of the word "ride," but it is not the figurative use of the word. This is not a theme park "ride" nor does it bear any resemblance to what you would expect a theme park ride to be. Unless, of course, you define a theme park ride as a 1 mile an hour venture into a hallway. This "ride," if I must call it that, is nothing more than a very, very brief tram ride through a tunnel on nothing more than a people mover. Disney's monorail is more of a ride.

It is abundantly clear that this "people mover" ride vehicle was constructed to simply move as many people as possible in and out as quickly as possible. It was not at all designed around what can deliver the best Fast and Furious experience in any way, shape, or form. Quick, easy, high volume, and cheap are the keys to Fast and Furious: Supercharged's design. They simply lifted the ride vehicle from Reign of Kong, which was itself lifted from the Hollywood Tram Tour, and called it a day. While the bus style tram vehicle may be appropriate for Hollywood's Tram Tour, or Reign of Kong, this is nothing short of a travesty of a ride vehicle for something called Fast and Furious: Supercharged. It goes without saying; this is completely abhorrent and inexcusable for what was supposed to be a totally new thrill ride based on one of Universal's biggest and current properties.

Universal had several avenues they could have explored here: a totally new dark ride a la Transformers or Spider-Man, a revolutionary coaster experience like Rock 'n' Rollercoaster, The Mummy or Escape from Gringott's, or a simple but effective reimagining of Epcot's Test Track. Instead, they went with literally the exact opposite – instead of refining now 15 to 20 year old tech, or perfecting a brand new technology, or even simply giving us a more appropriately themed vehicle experience (why not, you know, a car drag race?) they put us in "party busses" that drive you into a screen tunnel. That's right - Fast and Furious: Supercharged only has stationary display cars – cars are apparently not an option in this ride - you must ride in a party bus.
But there are several obstacles in your way to get on these people moving party busses. And I DO mean obstacles. Once you make it through the first section of the long, labyrinth-like slog fest of a queue, which is more themed than the actual ride by the way, you are introduced to two painfully cheesy and completely unnecessary actors.

I have been coming to Universal Studios Florida and Islands of Adventure for 27 years. I get that Universal is attempting to harken back to its younger years with live actors. Live actors were a charming part of the park. You formed special bonds with them. But most importantly, live actors were imperative to what made the ride and show experiences like Ghostbusters Spooktacular, Kongfrontation, Jaws, Earthquake, Terminator 3D, etc. so unique and excellent.
They do nothing for Fast and Furious: Supercharged. These actors are totally out of place here. Again, they are barriers – obstacles in the queue. They do not feel like they are part of the ride experience, nor do they blend with the overall experience. They feel like they are part of the QUEUE experience. If you have never been to Universal Studios Florida when it had many live actors, let me be clear - this is not at all how past actors felt during attractions like Ghostbusters and Earthquake. The actor segments in Fast and Furious: Supercharged just break up the queue and when they are over you are simply taken into more queue, not directly onto the "ride." The actors rely heavily on simply setting up videos that people in the queue watch, leaving the actors with little actual dialogue and even less purpose (they do not interact with you unlike the older attractions live actors during the shows, these actors interact directly with just the videos).

This is an embarrassing handling of interactive live actors and shows that someone at Universal remembers live actors in their queues – but does NOT remember they were part of the entire experience – not part of the LINE. It's a "Hey, remember that?" moment from someone who wasn't part of Universal years ago and doesn't know what actually made the live actors great. Louis Tully would run up on stage in Ghostbusters after the pre-show with the audience, the same guy you had just interacted with. In Terminator, the Cyberdyne assistant would appear on stage – only to be killed (usually to applause as she was someone everyone loved to hate), the Kongfrontation guide and Jaws skipper would react and respond in real time, asking questions, and acting with the guests. Not to videos. These are the places for live actors – not stuck in the middle of a queue where you literally forget them moments later.

When you finally board your party bus, you are awkwardly pushed forward with a second party bus into a hallway that has dual screens, each showing the same video to the right. Needless to say, it's nearly impossible to see if you are on the left. The acting is cheesy, the dialogue is cringe inducing and poorly written, even for a theme park, and you are instantly taken out of the immersion because nothing that's going on makes any sense. Someone's phone rings – so you in a party bus have to race on the streets. Here's a better idea for a storyline I thought up in 2 seconds: you are at an after-party with Dom, and going with him and his crew to race together in the streets and drift. Or let's add some flair: the cops get involved. Chaos ensues. Done. But that can't actually be done, because Universal Studios literally ripped the ride footage from Universal Studios Hollywood and called it a day, so the story had to be forced around that cheap lazy excuse of a ride, which was never meant to be more than a quick experience on a Tram Tour.

If you think it can't get any worse than the first set of screens, you're wrong. Immediately after the cringe-inducing introduction, you're taken into a single tunnel with a catastrophically bad, flat, bland screen curved around you. As if the horrifying and blurry mess up on this tunnel screen wasn't bad enough, the sound is echoed, chaotic and out of sync – it quickly becomes nothing but confusing loud noise. It is a true challenge to discern anything that is being said or what you are actually supposed to pay attention to.

Universal must be somewhat self-aware of how horrid the ride experience is, and how fatigue inducing it becomes. Just when you start to fall asleep from the gentle rocking back and forth of the "party bus," you're blasted with ear piercingly loud nozzles that spray fog effects which quickly jolts you awake. I believe the fog is there to simulate the bus hitting the ground. Or speeding up… Or doing basically anything. I counted at least four times of being blasted by fog, and I wasn't sure what was going on or why I was being blasted by fog. But whatever the fog was for, you'll have a front and center view of it if you are on the sides of the bus, because you can casually see below the screen tunnel at any moment. The screens do not come all the way down like Reign of Kong. But unlike Reign of Kong, below the screens you can clearly see many giant fans that blow directly on you and also blow the fog directly on you. Because the "Party Busses" barely move in this segment, and don't even match what The Simpson's Ride can do as an actual motion simulator, you're basically left sitting here staring at people's heads while you're "speeding" down badly rendered CGI highways with VHS quality display material and being blasted by fans and fog. Long ago, there was an effect on Spider-Man where Electro zaps Hydro-Man and evaporates him instantly. This used to quietly blast fog – then in later years it would blast fog and it was incredibly loud. They finally removed this element from Spider-Man, so there is no longer fog when Hydro-Man is zapped. I can only surmise the same type of ear-piercingly loud fog machine/blower is being used on Fast and Furious: Supercharged, except they use it many more times. You will leave with your ears ringing, for sure. It's not like it matters, though, you can't really understand the voices or sounds going on around you during the screen tunnel segment anyway.

As mentioned previously, they have taken Reign of Kong and converted it's concept into a long, cumbersome queue with a very short sequence on a "party bus." Reign of Kong works for this type of vehicle – Reign of Kong also has intricate set pieces that give the ride 3 separate rooms that each feel engaging and set up the story of what's going on. It also has an incredible animatronic at the end. The bus on Reign of Kong also actually takes you outside, and moves like it's in the jungle. The display quality is superb, and the audio and carnage on screen sync up quite well. Fast and Furious: Supercharged has literally none of this. You are moved into a hallway with lights, then in front of a screen, and then into a screen tunnel where nothing makes sense and your vehicle barely moves.

After all of this, the ride ends abruptly where the Tram ride ends in Hollywood and you're moved to the unloading dock where you're told it's "time to act a fool." It's too late for that – I already acted a fool by getting on this sloppy, abysmal excuse for a "thrill ride." Do NOT wait for this ride. I barely had any wait time and I was still incredibly frustrated waiting for this "experience."
Fast and Furious: Supercharged NEEDS to be COMPLETELY redone and the designers who greenlit this should be questioned. The interior needs to be gutted and this ride needs to be reimagined entirely. This kind of excuse of an attraction cannot continue operating if Universal wants to charge the prices it does, and wants to compete with Disney. If this is truly the future of Universal Studios' rides, I will not be renewing my Annual Pass. This is legitimately the first time in 27 years I am outright shocked at the decisions this park has made with its attractions. To quote Terminator 2:3D… "Get OUT of the building. You have been warned."
May 14, 2018
Terribly disappointing
Date Of Last Visit:
5/3/18
Was really excited about this new ride and enjoyed the queue experience. However, the actual ride was completely terrible. If you're short and sitting in the middle, you won't see anything. The graphics seem cheap quality and there's not much action/excitement. I really thought Universal would do a better job and live up to the brand/theme of the movies. It's a one and done ride. Won't ever be waiting in line for it again.
May 14, 2018
Dud
Date Of Last Visit:
06/05/2018
The storyline and scenes were hard to follow from my front row seat. Who are the bad guys? No 3D? Very short (a blessing in disguise) and an absolute dud of a ride. Why did the LA get the good ride and Orlando get this turd?
Do you have a question about the information on this page or would you like to provide feedback? Please let us know by posting in our
Orlando Informer Community
on Facebook.