Nestled between AMC Theaters and Splitsville sits an establishment that's signaled by a giant, turquoise donut beckoning you from the hustle of Disney Springs. The name? Everglazed Donuts & Cold Brew. The specialty shop is "Florida born and glazed" and specific to Orlando. The venue's space is wildly spirited and inviting with the brand's Italian Piaggio delivery truck, "Glaze of Glory," marking the queue and entrance. There's also plenty of selfie-spots to satisfy any social media influencer — in fact, you'll find several colorful foodie photo ops to show off everyone's hash-tagged treat at the outdoor seating area, and the inside decor offers a donut wall prime for pics. With Everglazed's one-year anniversary coming just around the bend, they've garnered an understandably large following. Equipped with this knowledge and my innate love for anything "coffee and donuts," I decided to dunk in to find out if the hype is worthy of our readership or if they're just another stale establishment.
Donut worry, fans. I got your backs in this!
The Food
Donuts: $4.75 – $5.75
Sandwiches: $9 – $13
Fries: $6 – $12
Everglazed offers a total of sixteen different donut types. You can purchase one of the eight "classic" flavors, such as the Strawberry Iced with Sprinkles or Classic Glazed, that are traditional to the donut-making craft. If you want something more unique, try one of "The Funky Bunch" — a series of donuts which are unique to Everglazed, like the Maple Double Bacon or perhaps the Peanut Butter Explosion. This list doesn't include any of their seasonal offerings (like the 50th Anniversary donut currently offered). Although donuts are what draw you into the shop, Everglazed also has a variety of savory sandwiches to devour that are sure to be a hit. They offer two different kinds of burgers, "The Funky Chicken Sandwich," and the already-viral, ooey-gooey "Griddled Cheeeeeese." Each of these comes standard with a griddled sweet bun, but guests can always add a little sweetness to their savory sandwich by substituting the buns with (what else?) a glazed donut for an extra dollar.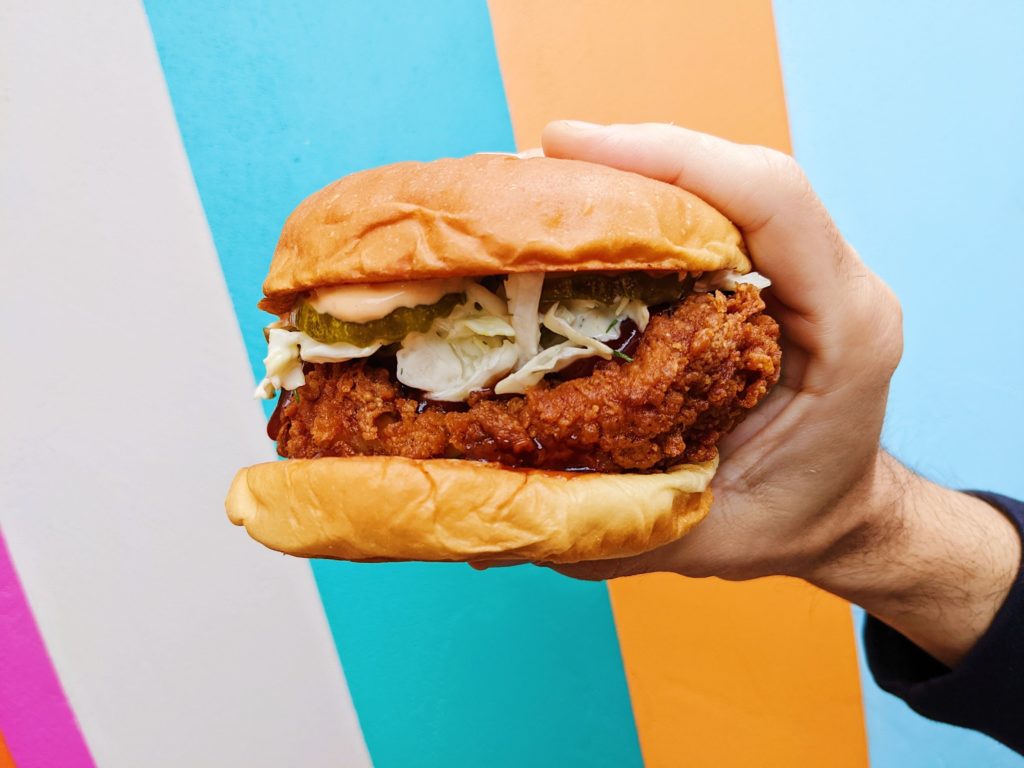 In the spirit of knowing that the world loves waffle fries, anyone looking to make their sandwiches into a meal will feel right at home here. There are three different kinds of this delicious side to choose from. You can keep it simple with their "perfectly seasoned" base form of salted and crisped to perfection or opt for "Spicy," in which case the waffle fries are sprinkled with Buffalo seasoning, drizzled with spicy mayo, and topped with scallions to bring in a few extra elements. For those that "want it all" in their lives, the "Loaded Fries" come fixed with the traditional baked potato toppings of bacon, scallions, and sour cream with an addition of tomatoes, queso, and chili, all of which will surely level the dish up a few notches.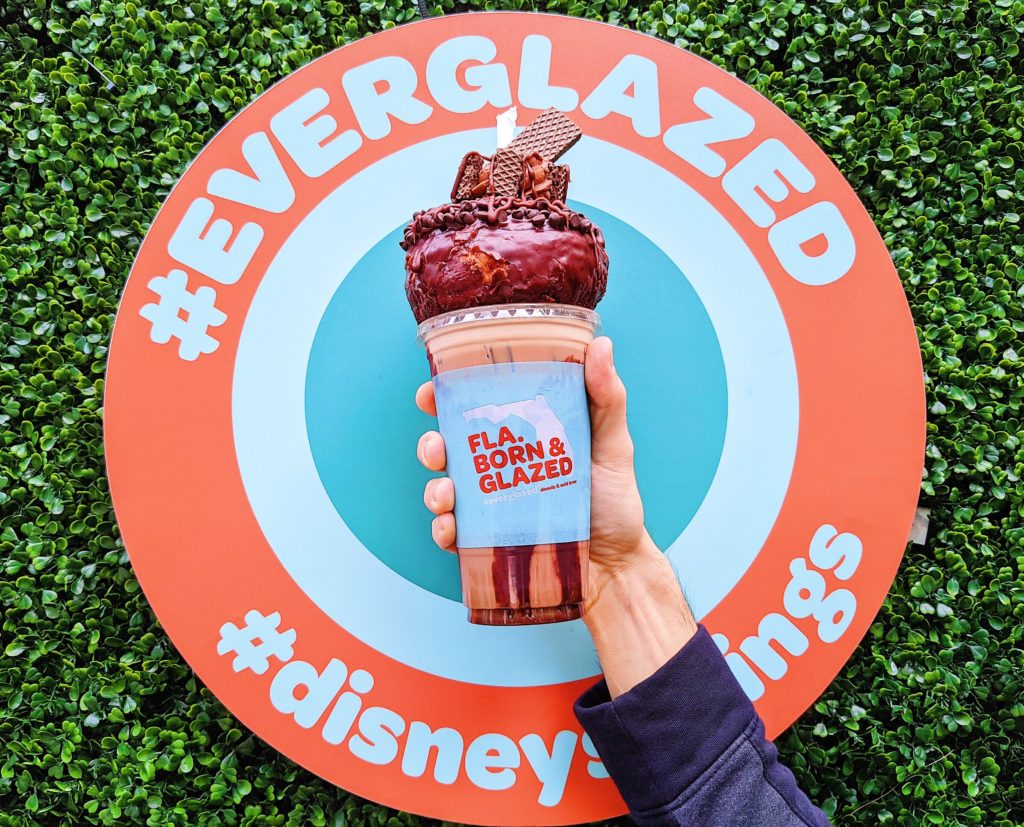 The Coffee
Regular coffee and Cold Brew: $4.50 – $6.50
Specialty coffees: $6.95
Toppers: $10 – $11
Flavors: $.50 each
Cold foam: $.75
Nothing pairs with donuts like coffee, and Everglazed embraces this fact with open arms. They offer 3 different brew types: The conventional, freshly roasted Hot Drip-Drip, the refreshing Cold Brew, and the rich and full Nitro. Diving into Everglazed's coffee rabbit hole, you'll find some fun, specialty flavors such as their Nitro and Iced flavors: Reese's, Double Chocolate and Purple Reign iced Chai tea and the menu's six "classic cold-brew" items: the Cold Standard, Peppermint Mocha, Vanilla Hazelnut, Salted Caramel, Chocolate Mocha, and Cinnamon Bun. On the other hand, you'll receive no judgement for playing it safe with the traditional coffeeshop flavored syrups: white chocolate, salted caramel, cinnamon bun, vanilla, hazelnut, or peppermint and maybe a cold foam. Either way, there's something for everyone's bean brew preference here.
As if acknowledging the natural bond between the two, Everglazed's Toppers combine five specialty beverages with their perfect doughnut pairing as a cup topper you can nibble from. Guests can choose from the Super Chocolate Topper, the Donut Shop Special, the Peanut Butter Topper, the Cloud 9 Caramel Topper, or the (vegan) Purple Topper. This makes for a sweet experience that caters itself to an easy on-the-go format as the donut sits atop the lid of you favorite 24 ounce beverage. It is worth making note that the only Topper that isn't a coffee pairing is the Purple Topper. Instead, this item pairs the Purple Glazed Ube Donut with the Purple Reign Iced Chai Tea to provide Everglazed's guests a completely vegan offering.
Everglazed Donuts & Cold Brew – The Verdict
Guided by the alluring smell of fresh-brewed coffee and daily-baked donuts, I stepped into Everglazed and surveyed the menu. Given its diversity, I sampled one of each of their more popular items: The Super Chocolate Topper, the Funky Chicken, and their Spicy Fries. Beginning on the savory side, the Funky Chicken is a fried chicken sandwich that's topped with bread and butter pickles and a ranch slaw, then dressed with barbecue sauce and spicy mayo. The chicken was delicious and juicy and its breading held a pleasant crunch despite how much sauce and slaw it contended with. The sweetness of the barbecue sauce and the spicy mayo were the front flavors, with the bread and butter pickles rounding them out to complement the chicken's taste perfectly. In my opinion, the ranch coleslaw was more of a background player that brought in some extra texture, but without any of the sides, the sandwich as a whole wouldn't be nearly as enjoyable. With that said, $11 is a high price for just a sandwich — even given its larger size — and I couldn't justify fully recommending it without the inclusion of a side or beverage.
We'll shift to sides now and focus on the star of the show for me — the Spicy Fries. The generous serving makes them shareable for two, and the move to make them waffle fries was an excellent choice. Their crispy texture was sturdy and constant while I enjoyed their flavor pairing of Spicy Mayo and buffalo seasoning. Their heat is a lingering one that's definitely present while not overbearing, and blends wonderfully with the taste of each waffle. They fries are topped with chives that appear to solely benefit the dish's aesthetics and texture, but actually elevate the flavor as another necessary backend component of every bite. I walked away knowing I'd return for another round of those fries, and I'll be dreaming about them until that day arrives.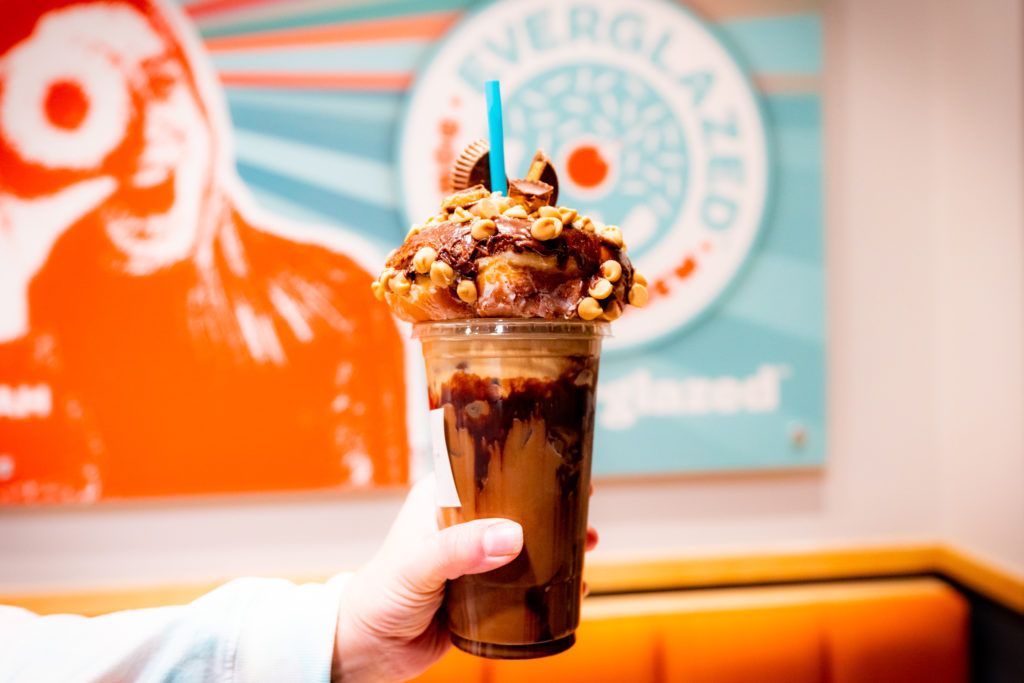 The dulcet duo of the Double Chocolate Nitro Brew coffee and the Brooklyn Blackout donut make up our visit's sweet treat — the Super Chocolate Topper. I should take a moment and mention that you'll need utensils to eat the donut. It's unexpectedly dense and loaded with toppings of chocolate chips, chocolate glaze, chocolate frosting, and chocolate wafers. With that in mind, its density isn't a deal-breaker. The texture held even after being on top of a wet beverage. The flavor was wonderful and, although it falls just short of being shareable, it's decently sized. As a combination with its nitro brew partner, the two are the perfect couple. Pinpointing to the coffee specifically, the nitro brew has a pleasant, creamy texture, and while I prefer my coffee a little more on the forefront in taste, there's an even balance of mocha to coffee in the mix. Given the price, I'd say this isn't a bad value either.
I'll leave you with a Pagnotti Pro Tip — The Brooklyn Blackout and Spicy Fries are a surprisingly rewarding pair. On a whim, I combined the two and found they're a sleeper hit. The combination of sweet, salty, and savory flavors danced wonderfully with the buffalo heat and my taste buds. Don't you dare judge it until you try it!
---
Be sure to follow Orlando Informer on Facebook, Twitter, and Instagram for the latest news, tips, and more at Universal Orlando, Walt Disney World, and other Orlando attractions.