When undertaking a vacation to Walt Disney World's theme parks, many families usually generate long lists of all the various experiences they'd like to tackle – and most, if not all, of these items are usually exclusive to the resort (such as, say, catching a particular character breakfast or, of course, hopping on a specific ride). It turns out, however, that there just may be something a little more (comparatively) humdrum that you should also think about doing while on-property: catching a movie.
Why should vacationers spend their time doing something routine thousands of miles away that they can do equally well back home? Well, for starters, scheduling down-time is a mandatory part of any on-site stay, and, especially for those individuals who are able to be on property for several days (or more), having a nice balance of activities is actually more rewarding. But much more than all this, there's also the little fact that going to your local theater isn't equal to the experience that you can receive at Disney World.
AMC Disney Springs 24 is the resident movie theater at Disney's Orlando resort, and it has a few tricks up its sleeve for your cinematic viewing pleasure – the most recent of which is its brand-new offering of Dolby Cinema. We got the lowdown on everything AMC 24 has to offer from both AMC and Dolby, and we've laid it out for you below in three specific points. Consider these the three big reasons why you should watch a film at Disney World.
We think they lay out a pretty compelling case. Let us know what you think in the comments below or, even better, over at our brand-new Disney-centric Facebook community.
1. The theater has been continually improving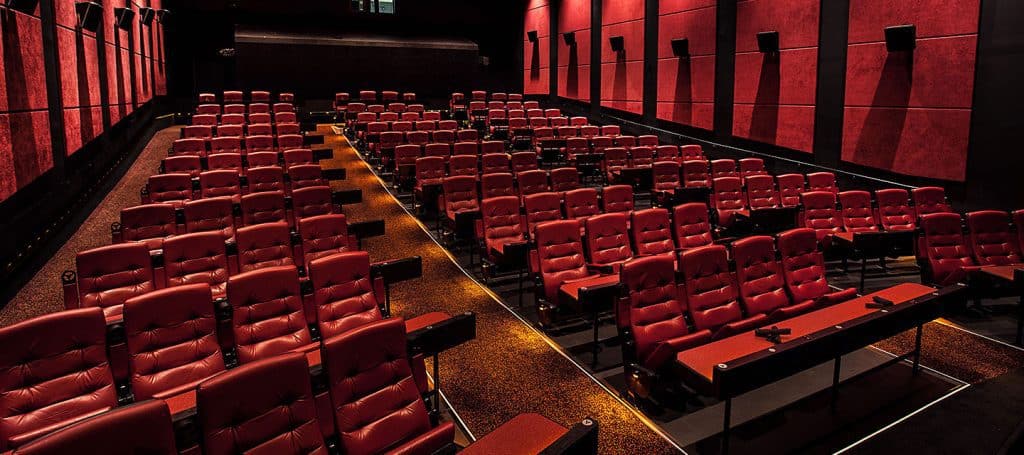 When the cinema originally opened in 1988 as AMC Pleasure Island 8, it was – as the name would suggest – part of Pleasure Island, that stretch of more adult-themed entertainment that would officially open the following year and would ultimately be shuttered in 2008. The theater stuck around, however (as did most of its retail and restaurant neighbors), and is now officially part of Disney Springs's Landing area.
But more than just the name has changed over the years – AMC has been consistently committed to updating and otherwise upgrading its Disney location on the inside, as well. The original eight auditoriums were expanded to 10 almost immediately, in 1989, and then they ballooned to the current 24 in 1997. More recently, in 2011, six of those screens were upgraded to the full-service Dine-In feature, which necessitated the adding of a full kitchen to the building – one of the very first AMC theaters across the country to do so.
And it's not just AMC Dine-In that Disney Springs 24 has been at the forefront of nationally – online ticket sales and reserved seating, Signature Recliner chairs, the MacGuffins Bar, and, now, Dolby Cinema have all made their appearance in Orlando well before moving on to many other geographical regions. As the company itself puts it, its strategic focus has been on emphasizing "the movie-going experience, making it better in a number of ways, including comfort and convenience."
2. Tons of food (and drink!) options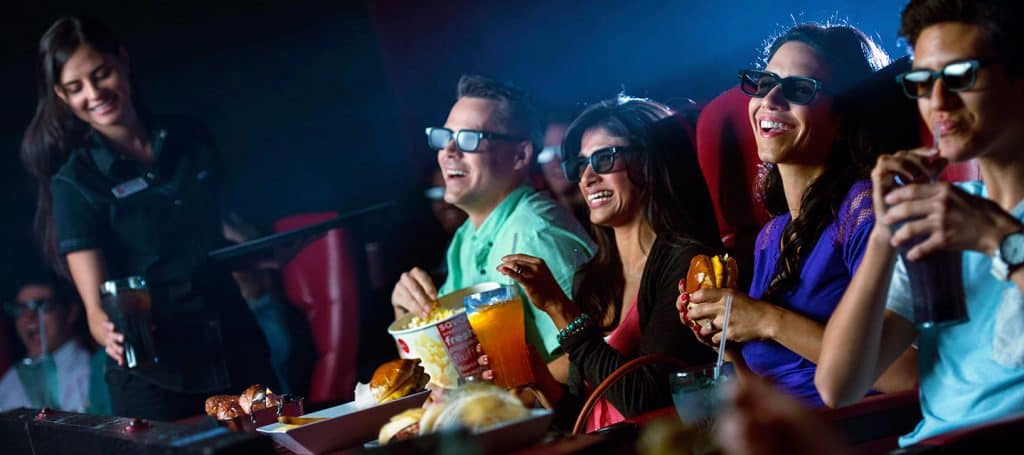 Don't feel like waiting in line at The Edison for that drink and bite before catching a film? No problem – AMC offers guests several different ways to enjoy dinner and a movie.
You're able to have food delivered right to your movie-theater seat once you've ordered it from the concession stand, or you can just push the Japanese-style service button next to your chair and order from a bigger menu (one that encapsulates appetizers, entrees, and desserts and also features the company's new Feature Fares). And, of course, if all of that fancy stuff is just too much for your popcorn-and-soda sensibilities, you can simply get your snacks the old-fashioned way, at the concession stand, and carry it yourself, the old-fashioned way, to your specific auditorium.
If you still need something to quench your thirst, there's MacGuffins Bar and Lounge, which provides a selection of beers (both domestic and imported), red and white wines, and, at certain theaters, specialty cocktails – including such film tie-ins as the current Fifty Shades Freed concoctions, which include the "marital bliss" of Something Blue and the "sweet and sultry" Forbidden Fruit. (Oh, why not? Go ahead and use your seat's service button to order something from the bar, too, while you're at it.)
3. Dolby Cinema
The last reason to spend your hard-earned vacation dollars at AMC Disney Springs 24 is also the newest.
So, what is Dolby Cinema? It's a combination of three different elements that seek to upgrade the film-going experience to a whole new level. (When these technological advancements are combined with all the comfortable seating, elaborate gastronomical options, and at-your-beck-and-call wait service, both AMC and Disney are hopeful it'll get customers out of their homes [and away from their streaming services] and into movie theaters – especially the one at Disney Springs.)
Let's quickly go over each of these upgrades. On the audio front, there's a new object-based system that incorporates overhead speakers, allowing filmmakers to institute dynamic sound that flows all around you (the official name for this is Dolby Atmos). Visually, Dolby teamed up with Christie, the famed projector manufacturer, to create an image that is "spectacularly" more vivid than the standard movie-theater quality, with truly bright brights and dark darks (dubbed Dolby Vision, its contrast ratio is 1,000,000:1). And, finally, Dolby Cinema incorporates a new design philosophy, ranging from the spatial (such as new recliners that "pulsate with the action") to the technical (a refined audio-visual pathway) – what the company calls Inspired Design.
All of which is a really long-winded way of saying, as a Dolby rep told us directly, "There's nothing quite like capping off a day at the parks than with a night out at Dolby Cinema."
–
Dolby Cinema is now available at AMC Disney Springs 24.
For even more on Walt Disney World – and all the rest of Orlando's attractions, including Universal Orlando Resort – be sure to follow Orlando Informer on Facebook, Twitter, and Instagram.