The Walt Disney World Resort is known for many things: characters, fireworks, rides, and food. But it is also a haven for coffee lovers. To this caffeinated Disney fan, there is nothing better than strolling around the park with an iced coffee in hand. Here's our top four.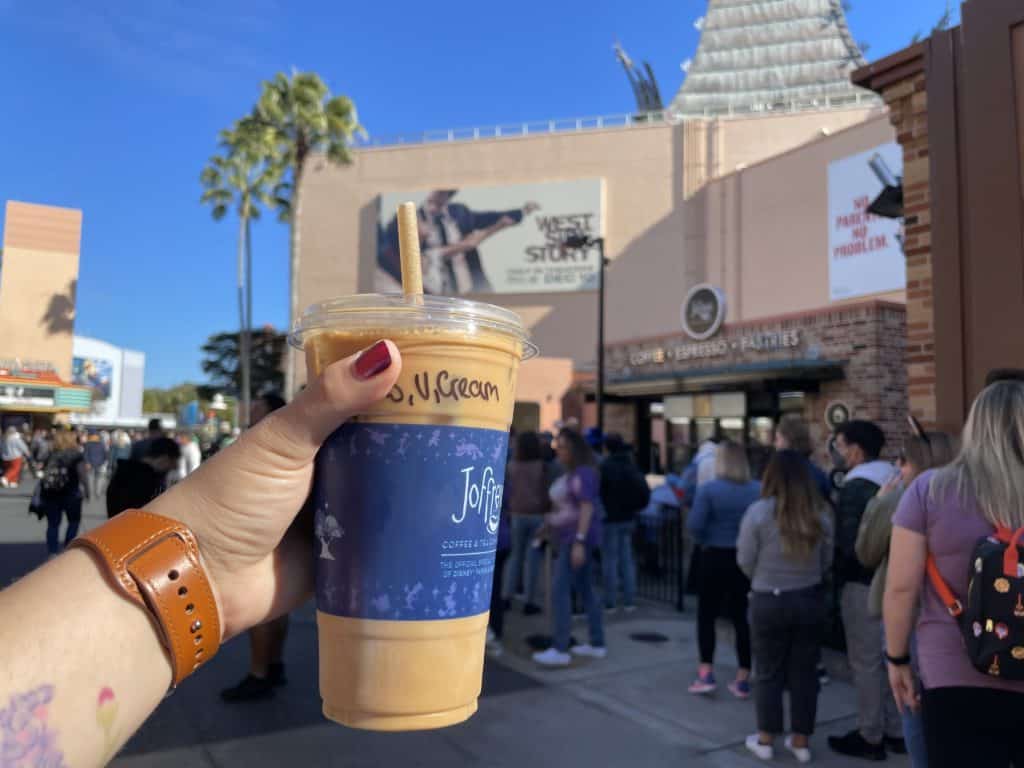 Shakin' Jamaican Cold Brew
While Starbucks and Dunkin may be the kings of the iced coffee game outside of Walt Disney World Resort, Joffrey's has it on lock in Disney World. You can find Joffrey's stands throughout all of the parks, and at every location, you will find wonderfully creative drinks and seasonal treats throughout the year. Some options that are year-round include one of our favorite delightful cold brews. Dubbed the Shakin' Jamaican Cold Brew, you can order this one with vanilla, caramel, Irish cream, or hazelnut syrup. Coffee attendants will also ask you if you want cream, which I think also makes a delightful addition to the drink. Typically, I will order this with vanilla, but I have tried the other flavors as well. Although I am normally a lover of all things caramel, I find that the vanilla is the best flavor with the Shakin Jamaican.
If you're on the hunt for Joffrey's locations, you're not alone. Disney parks feature both Starbucks options and Joffreys, so sometimes alliances can be torn. At the Magic Kingdom, you will find the Joffrey's stand in Tomorrowland by Space Mountain. There's also a stand in the Transportation and Ticket Center, between the Ferry and the Monorail.
Disney's Hollywood Studios has two locations. You can catch an afternoon pick-me-up outside of the Tower of Terror. You'll also see one outside the Pixar Place. This is one of my favorite locations because it is right by a great place to relax on a bench.
One park that has a number of Joffrey's options is EPCOT. If you're feeling pretty tired after roaming around the world, Joffrey's has you covered! You'll find kiosks outside of the World Showcase near the Disney Traders shop, one in the American Adventure, a stand outside of Test Track, and one between the United Kingdom and Canada.
At the Animal Kingdom, you'll find a Joffrey's just outside the entrance of the park. You'll also find one in the Asia area of the park near Kali River Rapids.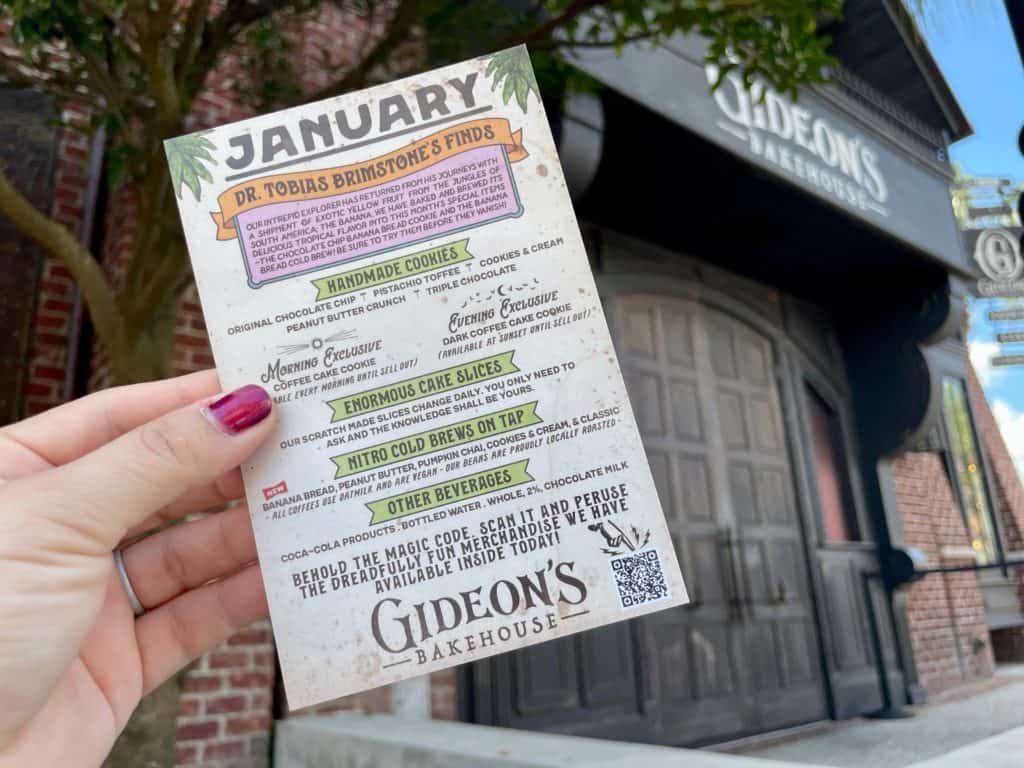 Gideon's Cold Brew
If you have a pretty intense sweet tooth (like me), you will absolutely love the cold brew options at Gideon's. The Original Peanut Butter Cold Brew one is my favorite of the options they keep around all year. Gideon's tops the beverage with a dusting of chocolate, so make sure to shake and stir your drink really well before taking that first refreshing sip. Gideon's also offers specials throughout the year, and while those are great, I have found that this option tastes even better than those.
Another thing I should mention here: many coffee places can be inconsistent when it comes to the flavoring of their drinks. That is not the case with Gideon's. Every single time I have gotten The Original Peanut Butter Cold Brew, it has tested exactly the same, and it is just so nice to know that that is always the case.
Almond Cold Brew
At Disney's Riviera Resort, you'll find Le Petit Café right outside the lobby. You will find several cold brew options here, but the Almond Cold Brew is my favorite. This is a cold brew coffee with their house-made honey-almond whip cream. It sounds simple, but as that whip melts down into the coffee, this concoction becomes something special. Sweet without being too sweet, the Almond Cold Brew makes a special trip to Disney's Riviera Resort worth it.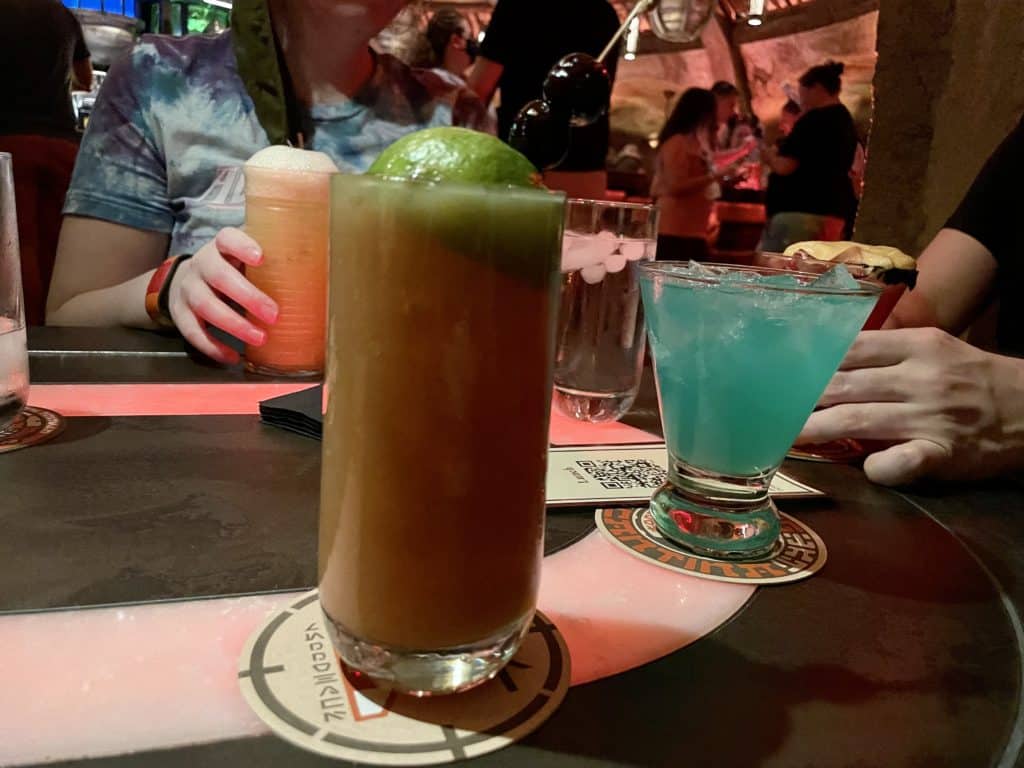 Black Spire Brew
Oga's Cantina is one of the newest watering holes at Disney's Hollywood Studios. You'll need to travel to a galaxy far, far away to get there, but it's worth the trip. This is one of the harder-to-get reservations on Disney property, but if you and your party can be flexible, try scoring one of these reservations last minute or talk to a cast member about walk in availability (which does occasionally happen, particularly if you're in a smaller party). That's where I've had the most success at booking hard-to-get reservations. On top of the immersive atmosphere, Oga's has incredible intergalactic drinks that you can't find anywhere else on property. The Black Spire Brew is under the "Concoctions without Alcohol" part of the menu. The menu says this one has Cold Brew Joffrey's Coffee, Falernum, Honey, Passion Fruit, and Citrus. That's right: coffee and juice. I know it sounds strange, but it was delightful. It's sweet without being too much, but definitely still has a nice smooth coffee taste to it. As I was finishing this new coffee favorite, I realized it's served with crunchy crushed ice. If you know, you know. Next time your adventures take you through Black Spire Outpost, give this one a spin!
---
What's your favorite coffee spot? Discuss it with 150,000+ other Disney fans in our Orlando Informer Community on Facebook. And be sure to follow Orlando Informer on Facebook, Twitter, and Instagram for the latest news, tips, and more at Universal Orlando, Walt Disney World, and other Orlando attractions.