The three year transformation of Downtown Disney into Disney Springs is essentially complete. The most recent, and perhaps most talked about, addition is Town Center. This new area is the topic of much discussion because its main feature is a large selection of retail stores that are commonly found in many upscale shopping areas throughout the country. This has lead to some concern that the Disney in Disney Springs is being overshadowed by name brand stores and third party owned dining. But fear not, you can still get your Disney fix at Disney Springs. In fact, there are many Disney items to enjoy in some unexpected ways at Disney Springs. Let's take a look at some of my favorite, unexpected Disney touches at Disney Springs.
1. The Ganachery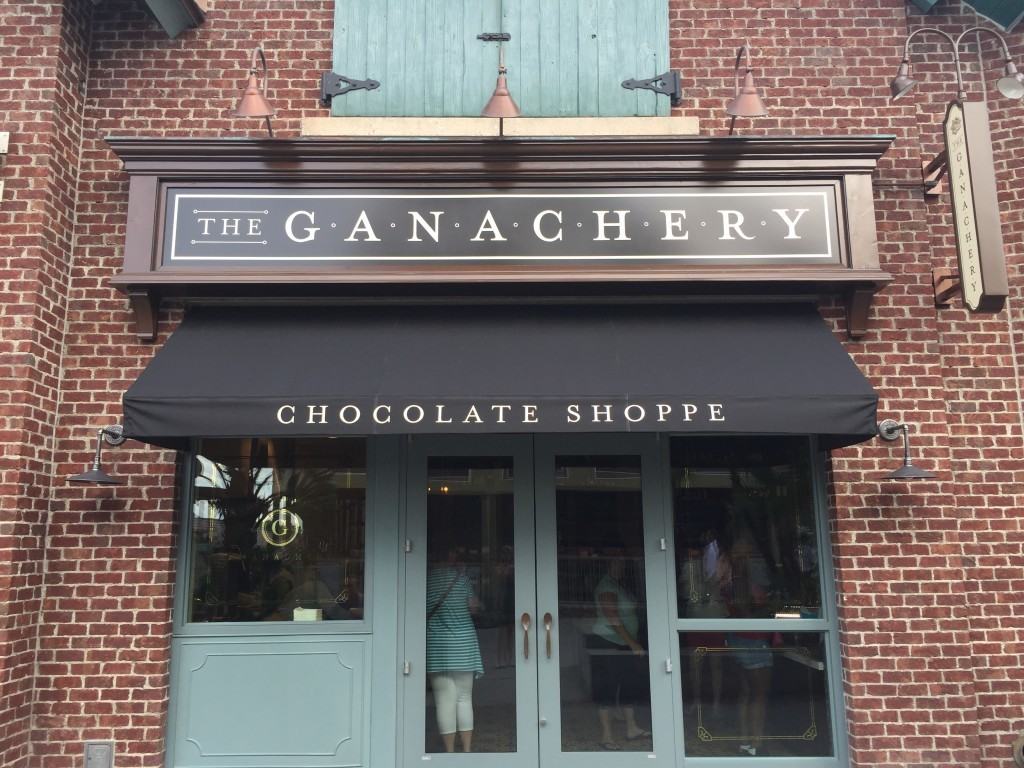 Our first stop will make chocolate lovers have heart palpitations. The Ganachery's shelves and glass case proudly display treats made of various propriety chocolate blends. You can enjoy chocolate squares filled with velvety ganache available in an incredible variety of flavors. One easy way get your Disney fix with a Mickey Pop ($6), filled with sweet strawberry ganache and adorned with Mickey icons.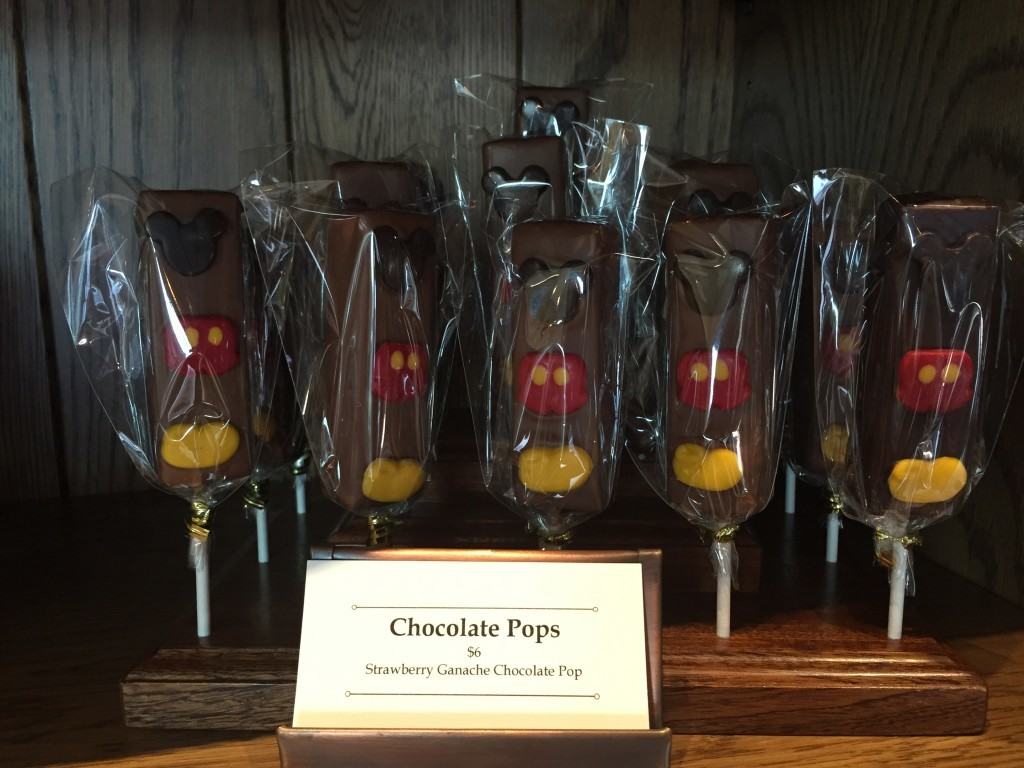 A selection of chocolate bars are also available. Each one is named after a different Disney destination or character. The flavors and ingredients are inspired by these Disney objects and make great gifts or tasty souvenirs. The prices are obviously higher than a grocery store candy bar, but the quality is definitely there.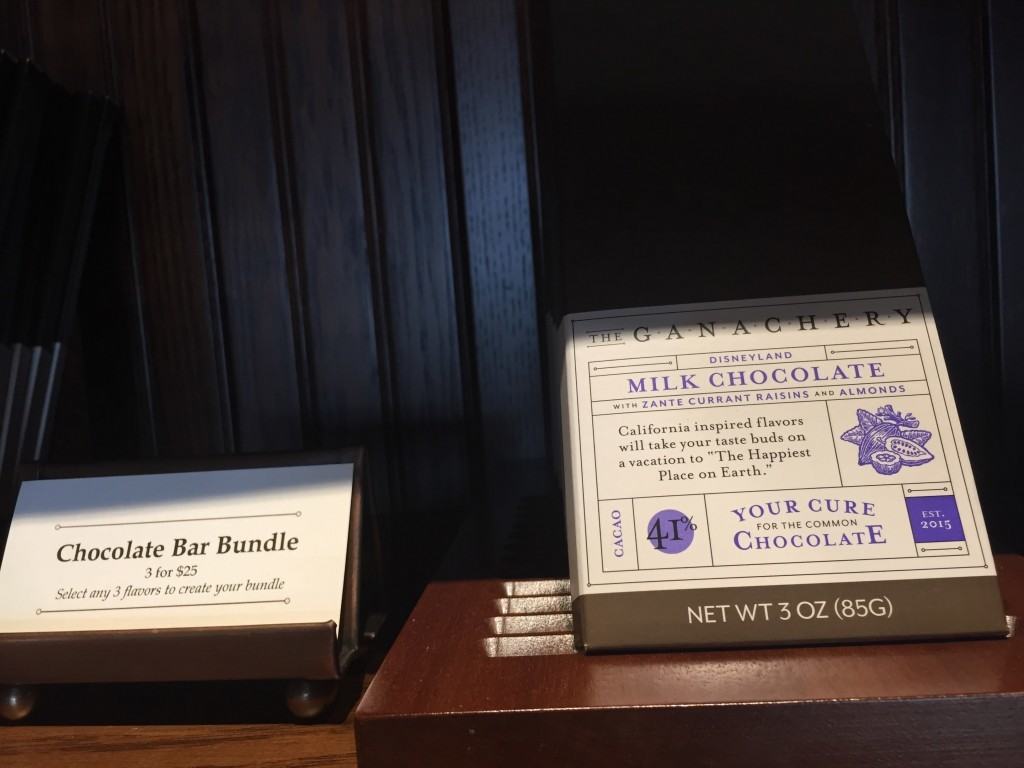 The Ganachery is Disney owned and operated. It has a "show kitchen" where you can watch as the latest batch of indulgences are created before your eyes. The store itself is well decorated and themed, well worth a peek at least.
2. Sprinkles Cupcakes
Moving from The Landing over to the brand new Town Center, you'll lots of brand new shops here, with a few dining options (more will open later this year). Inside Sprinkles cupcake shop you won't find any Disney themed treats, though there is a Mickey-fied version of the Sprinkles logo.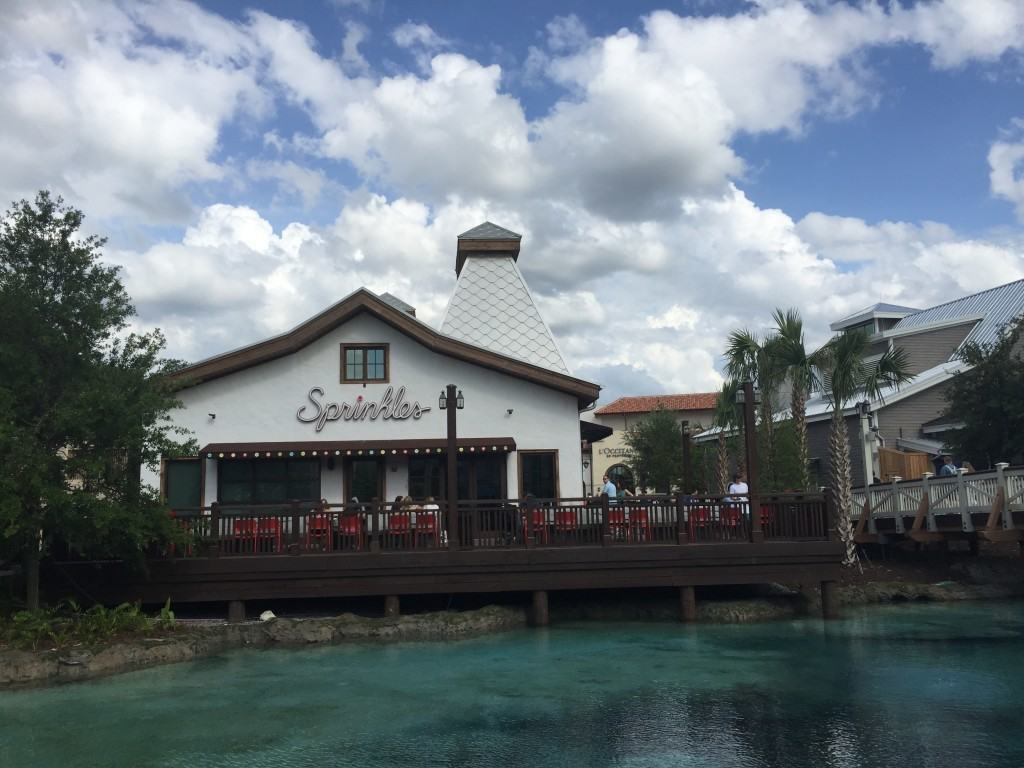 3. Amorette's Patisserie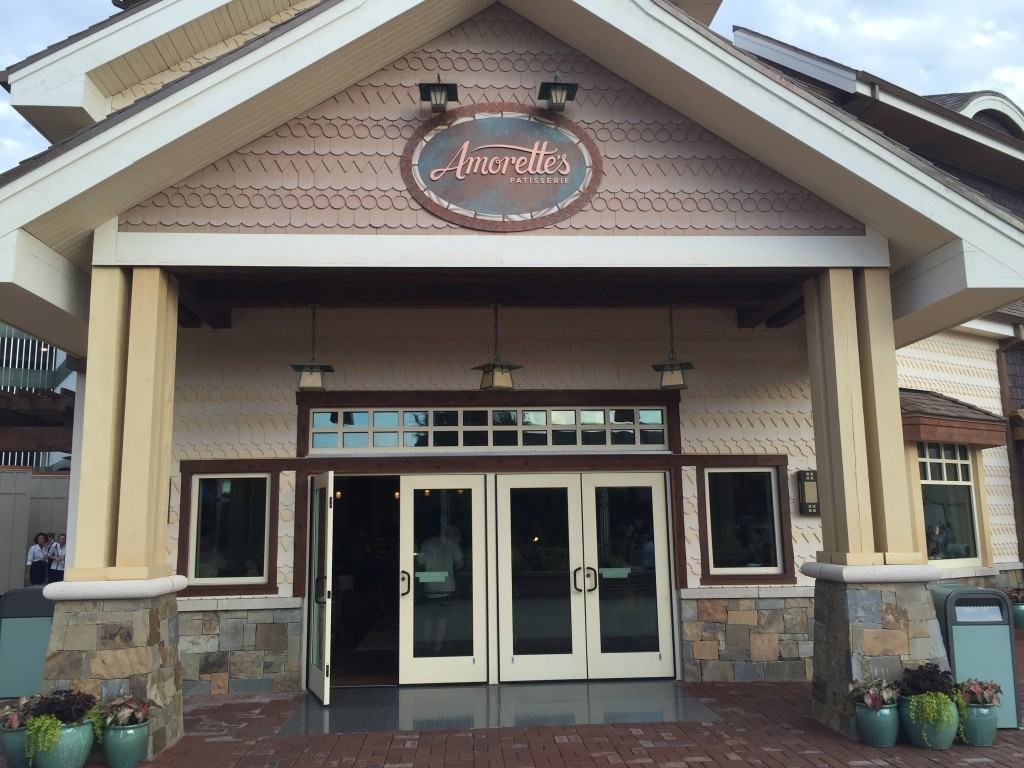 Over at the Marketplace you'll have no problem finding Disney stuff, around every corner. But there are some places you might not expect to find Disney touches. Most guests do not know that the brand new Amorette's Patisserie is Disney owned and operated. Seeing two specialty cakes, one themed to Mickey and the other to Minnie, comes as a small surprise to some guests.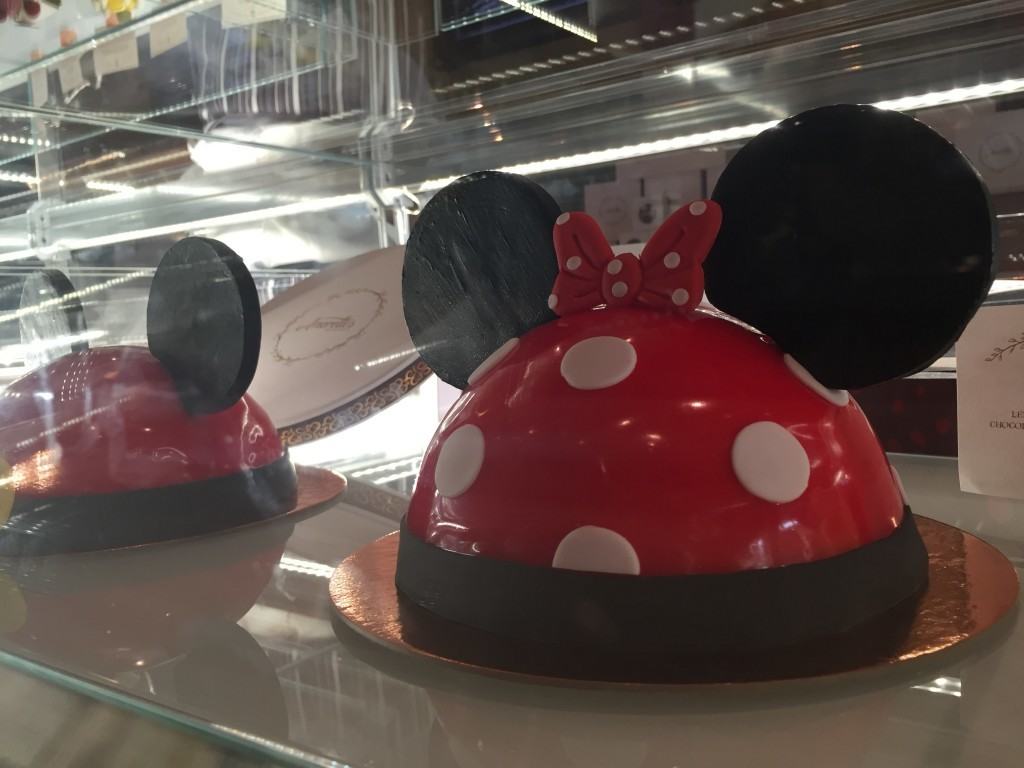 These specialty cakes actually come in three varieties: Mickey is a chocolate chiffon cake, Minnie is a lemon chiffon cake, and Donald is a vanilla chiffon cake. Each cake is $69.95 and can be enjoyed at the patisserie of course, but these specialty cakes more so serve the purpose of being able to be delivered to Disney resorts and restaurants to honor special occasions. If you want a Disney touch with your yummy Amorette's treat without such a hefty price tag, then consider the Mickey Financier ($8.00) or the chocolate mousse, topped with a Mickey medallion.
4. The Lego Store
Moving further into the Marketplace you can't miss the Lego store. This store draws hundreds of guests into its doors each day and there's an outdoor Lego play area that kids adore. Both outside and inside the shop you'll find Disney displays of characters and scenes made entirely of Legos. Even if you aren't a big Lego fan you can still appreciate and enjoy these displays. Plus they make excellent photo opportunities.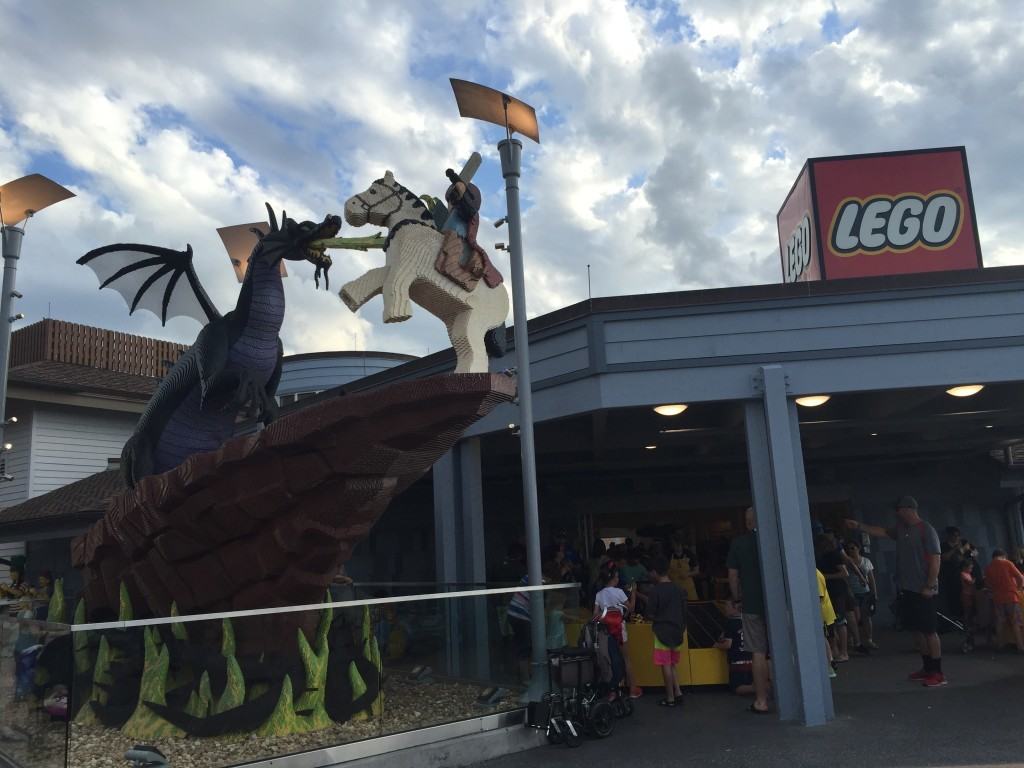 5. Basin
Around the corner is one of my favorite unexpected places to find some Disney pixie dust at Disney Springs. Basin has been at the Marketplace for years (there's also a smaller location inside Disney's Grand Floridian Resort). Here you'll find a variety of bath and body care products, all very different than your traditional bottled products. One example is their shampoo; it actually looks like a bar of soap! They have scented spheres (more commonly known as bath bombs) that fizz and moisturize your skin when dropped into the bath tub. Their sugar and salt scrubs seriously work miracles.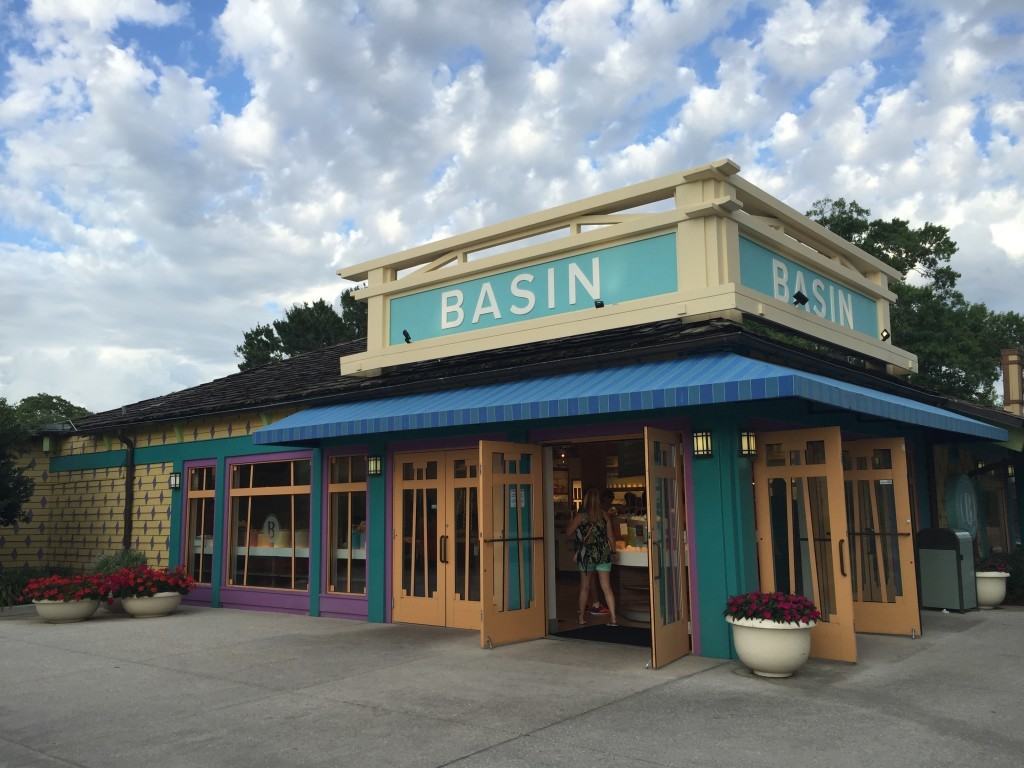 Their soap is made in large log-like batches. It is then sliced into 100 gram portions for $5.99 each. The selection of scents is pretty astounding. Once again it is Mickey Mouse who shows up to bring a little Disney touch to a store you may not expect to have Disney themed items. There are a handful of soups that have Mickey's shape mixed in like bright colorful confetti. These make some great gifts!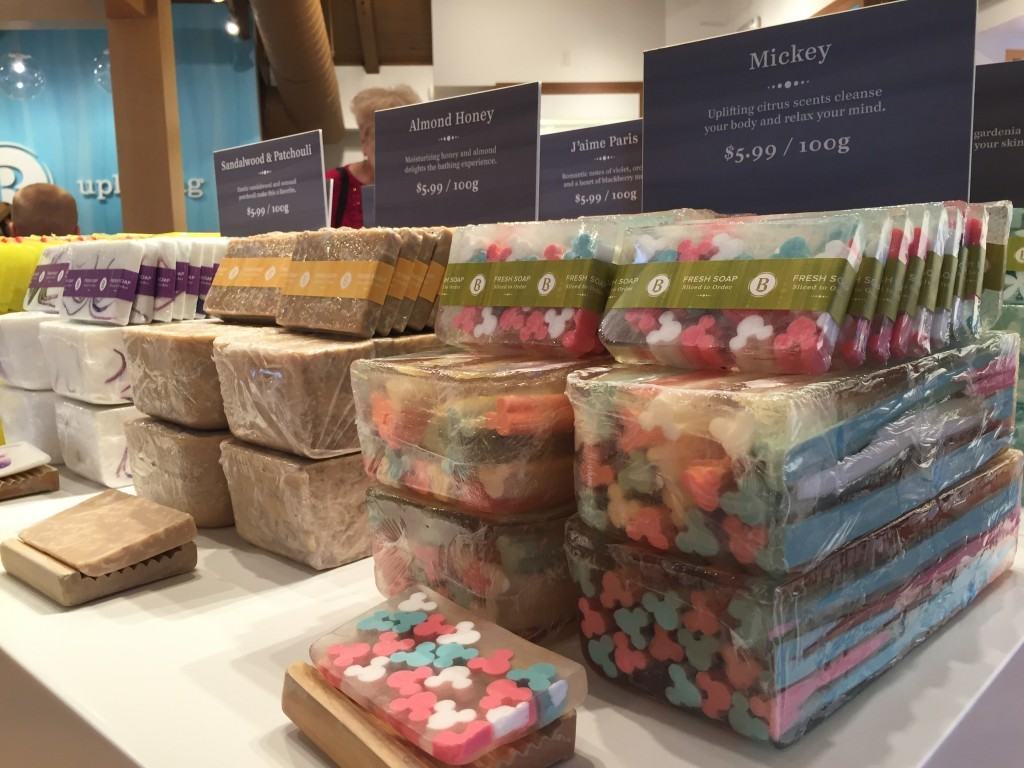 Some more dining locations have opened up recently at The Marketplace. These locations have little subtle Disney touches. Dockside Margaritas has been open about a year, replacing what was just a walk up window to grab a cold margarita and sit along the water. Now you can sit at the bar or in comfortable lounge chair seating. Most evenings you can enjoy live music here as well. The theme here is fresh Florida produce and you'll find citrus crate labels and other décor at the bar, including a reference to the Orange Bird (a cute little character created by Disney in partnership with the Florida Citrus Council back in the 1970s).
6. B.B. Wolf's Sausage Co.
Last but certainly not least is B.B. Wolf's Sausage Co. This brand new venue is across from the Lego store and pays homage to the 1930's smash hit cartoon short "The Three Little Pigs." You can choose from three full size sausages and one sampler of three slider sized sausages.
This sampler is definitely the most popular. Known as the Three Little Pigs, it comes with one Rueben style slider, one Latin style, and one chili cheese style. It's a tongue-in-cheek Disney reference, but my favorite Disney reference here is the weather vane on top of the kiosk.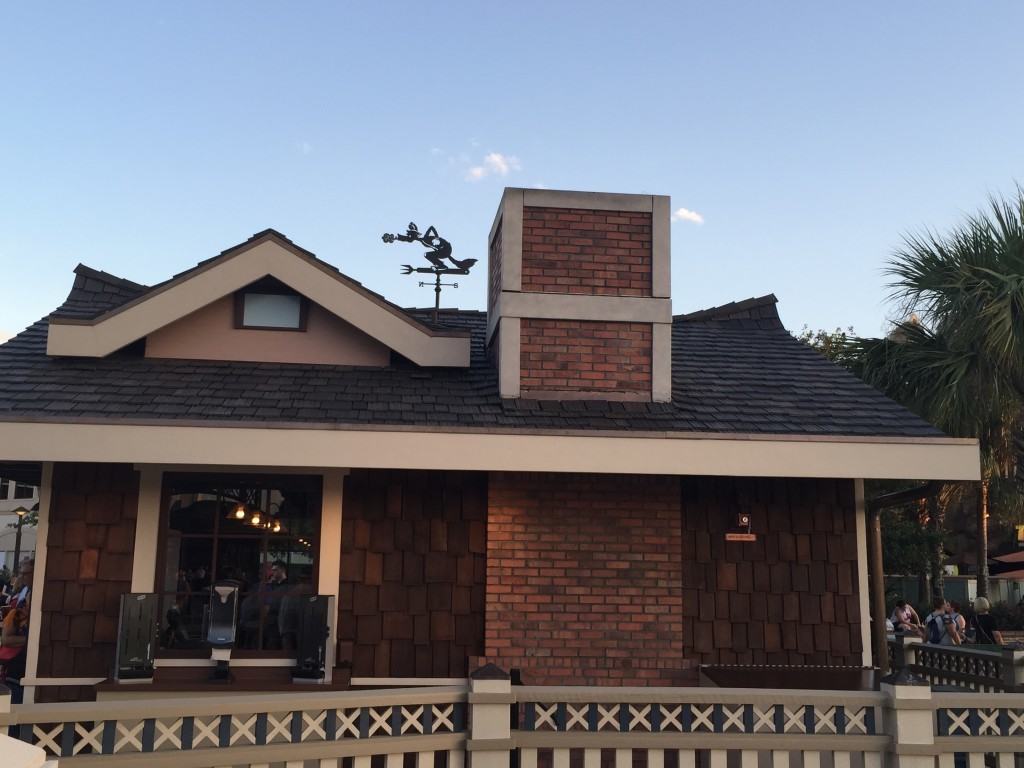 We've barely scratched the surface on all the Disney touches that can be found at Disney Springs. As you can see there are some unexpected ways to get your Disney fix beyond the Disney merchandise shops at Disney Springs. There's plenty of Disney left in Disney Springs. Whenever you make your visit to this revitalized retail and dining destination, keep an eye out for those little Disney touches!
What's your favorite Disney touch at Disney Springs that we missed? Let us know!