Orlando is home to some of the best entertainment, attractions, and experiences in the country. In fact, it holds the title of Theme Park Capital of the World! So what better way to celebrate a fun-filled day in Orlando than with an ice cream run? If you're looking for the best places to grab a cone or a cup of your flavor of choice, we've got you covered! Here are our top picks for ice cream spots in Orlando, Florida.
Beaches & Cream Soda Shop
This ice cream shop is a Walt Disney World staple for shakes and specialty sundaes. Located at Disney's Beach Club Resort, Beaches & Cream Soda Shop is only a short walk away from EPCOT's International Gateway! No matter what you may be craving, you can't go wrong with their selection of ice cream creations. A few Beaches & Cream favorites include the No Way José, the Kitchen Sink, and the Chocolate Brownie Shake.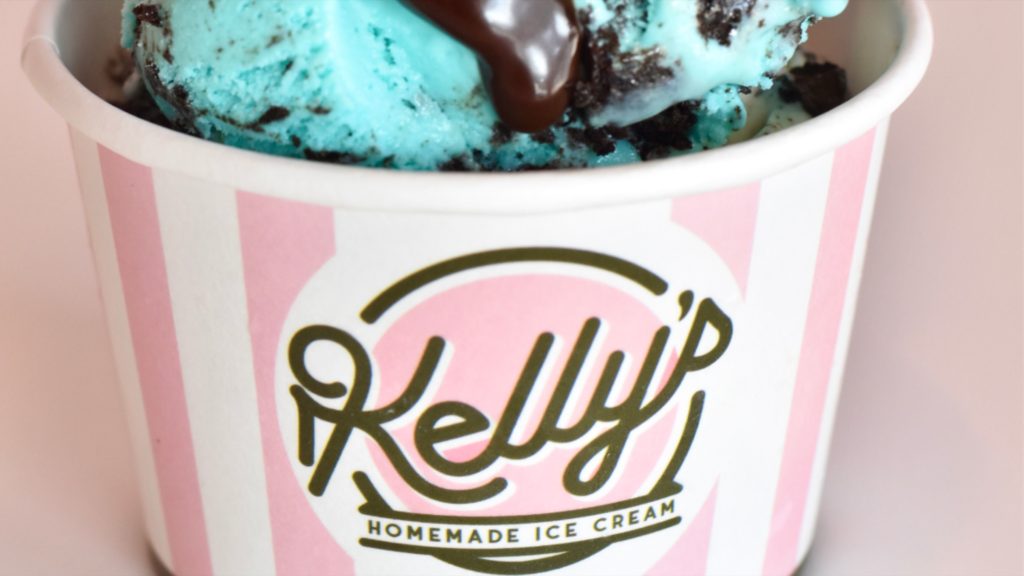 Kelly's Homemade Ice Cream
Are specialty flavors more your style? Kelly's Homemade Ice Cream might be the Orlando ice cream spot for you! This local ice cream spot has four locations in the Orlando area and all of their ice creams and sorbets are made in house. Each month brings an array of limited-time flavors, so it's worth stopping by whenever you're in the area! They even offer four-flavor ice cream flights when you just can't decide and quarts and pints to take your favorites to go.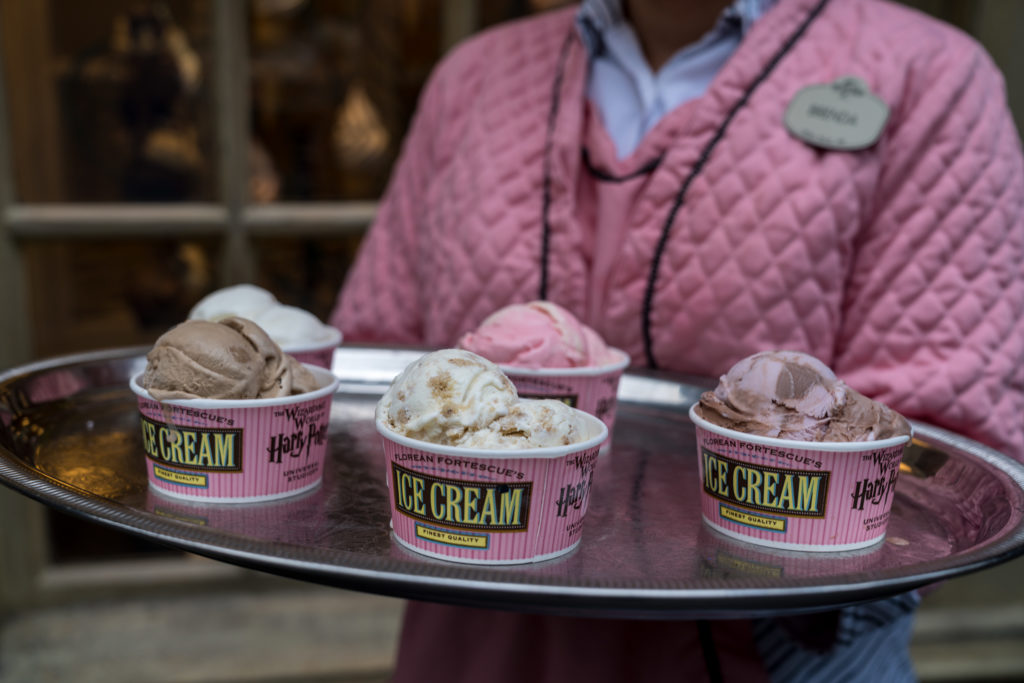 Florean Fortescue's Ice Cream Parlour
Muggles and Wizards alike can enjoy ice cream creations from this ice cream parlor! Florean Fortescue's Ice Cream Parlour is located at Diagon Alley in Universal Studios Florida. Fill your cone with an array of soft serve flavors. Their selection includes classics like vanilla and chocolate, or more adventurous flavors like granny smith and orange marmalade. This shop is also where you'll find Butterbeer ice cream!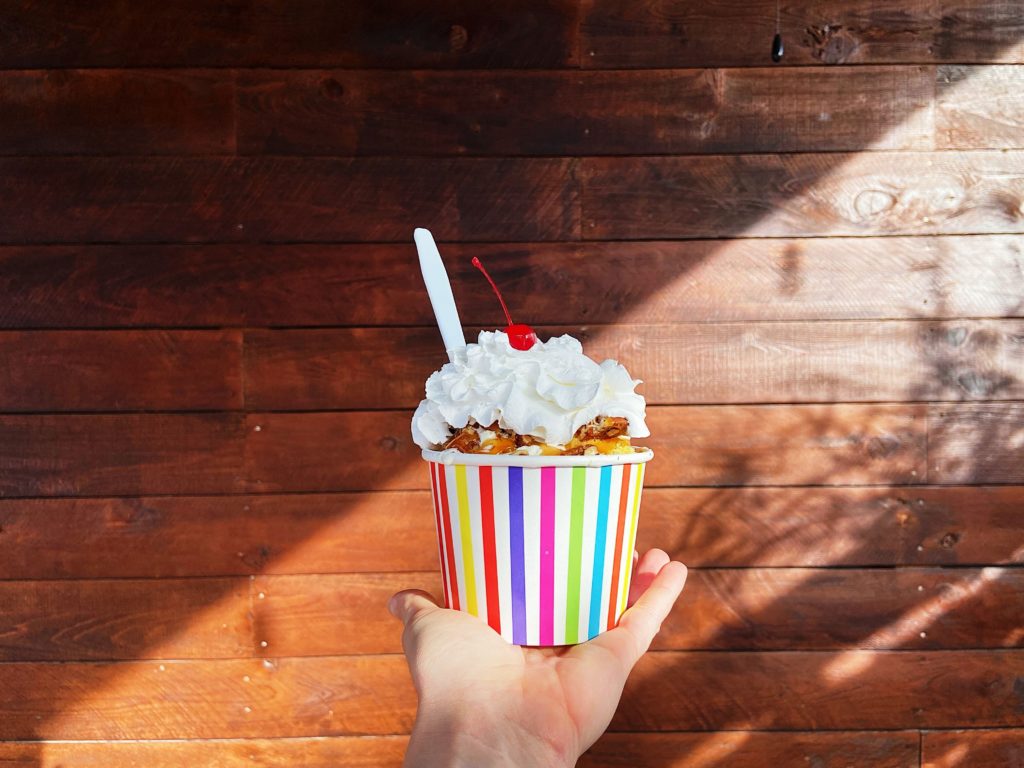 West Orange Creamery and Soda Fountain
Take a trip back to simpler times in this local take on an old-fashioned soda fountain – with a modern twist. West Orange Creamery & Soda Fountain serves Hershey's Ice Cream to create an array of ice cream concoctions. Their epic shakes are a work of art, topped with a picture-perfect garnish of ingredients you'll have to capture before you dig in!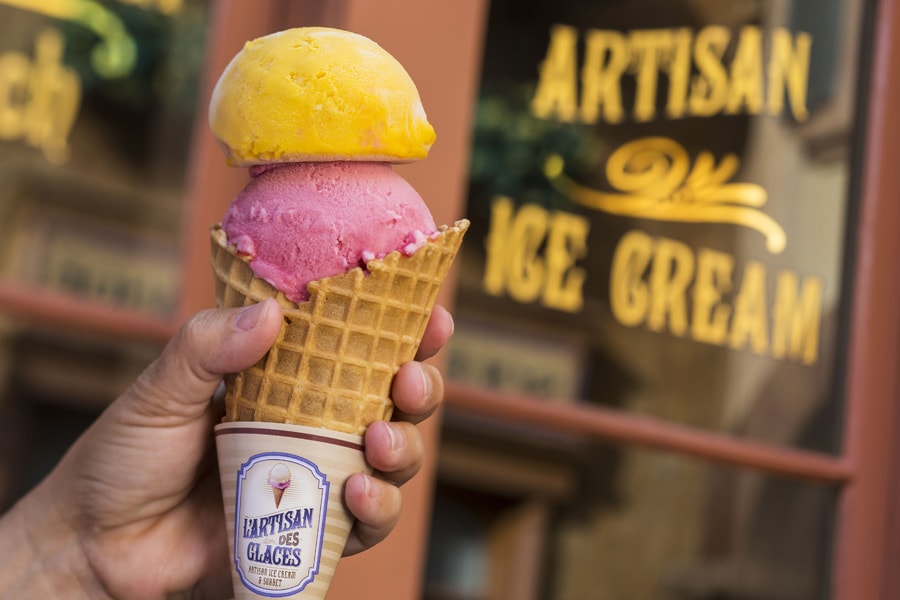 L'Artisan des Glaces
While exploring World Showcase in EPCOT, you're going to want to make a stop at this artisanal French shop. Whether you go with a classic waffle cone or one of their shop specials, their ice cream and sorbet will leave you dreaming of the France pavilion at Walt Disney World! L'Artisan des Glaces has seasonal flavors of sorbet and ice cream, which means you'll want to stop by each time you're in town. Some shop favorites are the Croque Glacé and a Macaron Ice Cream Sandwich.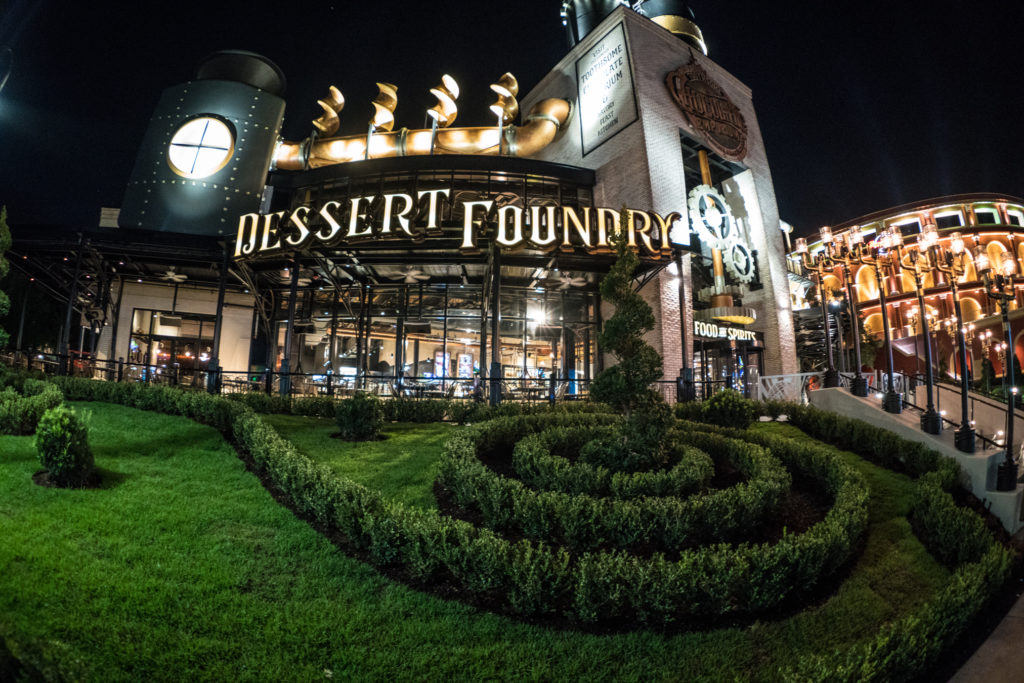 Toothsome Chocolate Emporium & Savory Feast Kitchen
If you find yourself at CityWalk craving something sweet, look no further than Toothsome Chocolate Emporium & Savory Feast Kitchen. This restaurant offers a menu that's much more than just desserts, and is known for Jacques' Specialty Shakes. With choices like Heavenly Hazelnut, Cookie Jar, and Thrilla in Vanilla, there's sure to be something for every member of your crew on the menu!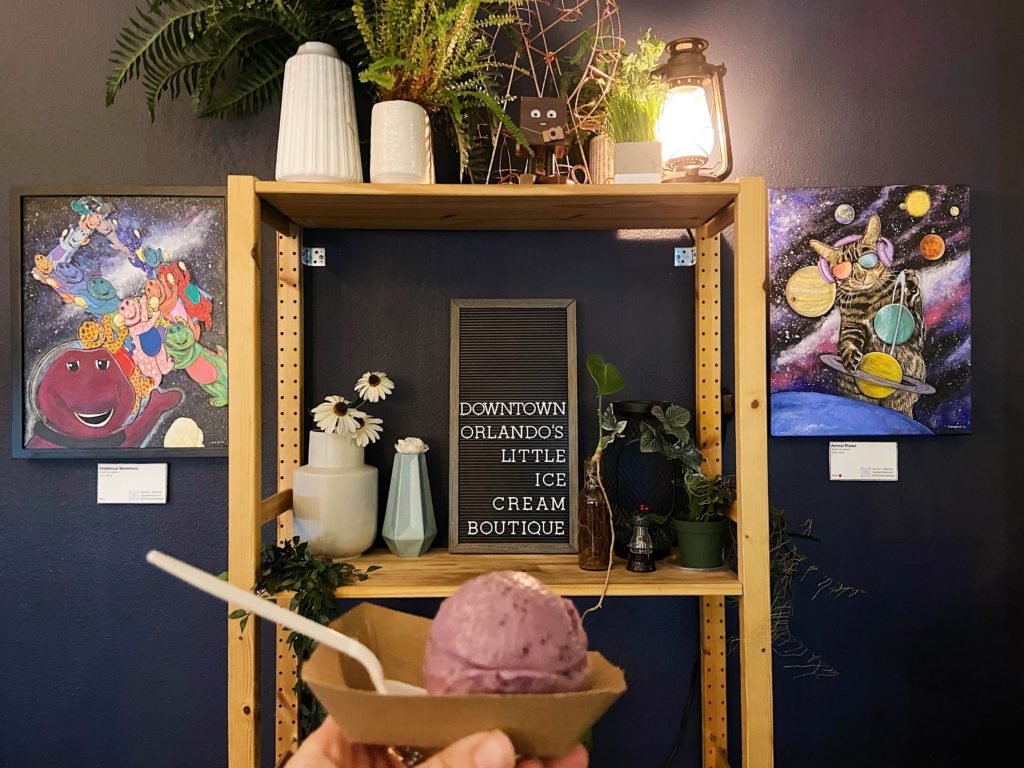 Greenery Creamery
Located in Downtown Orlando, Greenery Creamery is Orlando's first artisanal ice cream boutique. They pride themselves on serving both traditional and plant-based ice cream, made from local, organic ingredients. Order your choice of their scratch-made ice cream flavors in the form of a milkshake, cone, or pint. In addition to ice cream treats, Greenery Creamery also offers custom, handmade ice cream cakes!
Salt & Straw – COMING SOON
Our last ice cream shop on this list is one that's coming soon to the Orlando area. Disney's Shopping and Dining District has a new ice cream spot set to open in March 2022! Salt & Straw is a Portland-based ice cream chain that's excited to add Central Florida to their list of locations. Each Salt & Straw location features monthly flavors, and only time will tell what introductory flavors the Disney Springs location will be serving in March!
As you can see, the Theme Park Capital of the World has quite the selection of unique ice cream experiences. So no matter what type of ice cream delight you're craving, you're sure to find something delicious as long as you stick to this list while you're in town!
---
What's your go-to ice cream spot? Discuss it with 150,000+ other Disney fans in our Orlando Informer Community on Facebook. And be sure to follow Orlando Informer on Facebook, Twitter, and Instagram for the latest news, tips, and more at Universal Orlando, Walt Disney World, and other Orlando attractions.